10-Minute-Distiller, easy-to-use Home Distiller | A home Distiller kit for hand sanitizer with your favorite fragrance for Covid-19.
 I uploaded a video of the working prototype of 10-Minute-Distiller
and the equipment structural drawing as follows.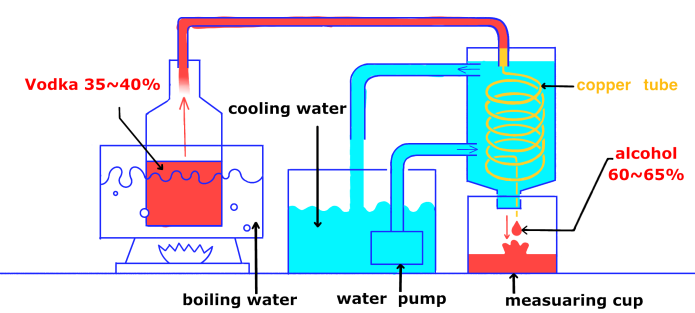 In
spring 2020, alcohol sanitizer disappeared from the stores. My daughter who just
 learned  the principle of alcohol distillation in her junior high school science class
asked her father if he could make hand sanitizer at home.
My husband watched YouTube and made the first prototype.  He found it had a risk of
fire and others.  Therefore he seriously examined the structure and materials, made
prototypes every day, repeated experiments, and finally completed 
"10-Minute-Distiller" six months later for our family.
I ordered materials for prototypes by internet and came up with the idea of adding 
a scent of orange. Our distiller kit can make fragrant alcohol with peels of fruits,
herbs and flowers.
Our daughter helped me make videos and photos.
"10-Minute-Distiller" looks like a simple device that anyone can make, however, it
has the story of the way to a safe and easy-to-use distiller kit.