1857 Gin | Crafting authentic farm to glass spirits by hand, with a lot of heart.
Our Story
We're Barber's Farm Distillery, makers of 1857 Spirits.  Our home is on the Barber family farmstead, located in the Schoharie Valley in the northern foothills of the Catskill Mountains.  For over 160 years, and six generations we've called this valley "home."  With hands in the soil, and eyes on the horizon, our family has always tried to stay true to our roots while looking toward the future.  What began as a small subsistence homestead, became a commercial dairy, and eventually a 500 acre vegetable farm.  
In August of 2011, our fields, barns and homes were devastated by the muddy flood waters of Hurricane Irene and Super-storm Lee.  As we began to clean ourselves off and to pick ourselves back up, we never stopped thinking about the future.  After three years, a lot of planning, and a good deal of faith, Barber's Farm Distillery was formed.
The Distillery
When we first started dreaming up 1857 Potato Vodka, we knew that we wanted to stay true to three simple principles that have guided our family and businesses for many years: keep it simple, do it with quality and do it with integrity.  Around here, we kind of like doing things the old fashioned way.  We like taking our time, doing things by hand, and working hard to get it just right.  At the end of the day, 1857 Potato Vodka is a true expression of these principles.  It is an exceptionally clean and silky smooth spirit.  Rather than using grains in our vodka, we embrace the creamy character of our delicious potatoes.  Instead of blending our alcohol, we cut each and every batch, by hand, at the peak of quality.  The result is uncompromising, smooth sipping, high quality vodka.  
The Gin!
After spending the last two seasons perfecting our signature spirit, we are excited to be at the threshold of our next adventure- 1857 Potato Gin.  Inspired by the fresh flavors grown here on the farm, we've instilled an incredible flavor into this gin.  On the nose, you'll sense refreshing hints of citrus which compliment hallmark juniper accents.  The taste delivers soft floral notes which are accompanied by anise, juniper, and other spices.  There is a satisfying, silky feel to 1857 Potato Gin, which is met with a fresh, clean finish.  Each sip is a chance to discover something new.  We don't really like to brag, but in this case, we'll make an exception.  It's amazing, and we cannot wait to share it with you.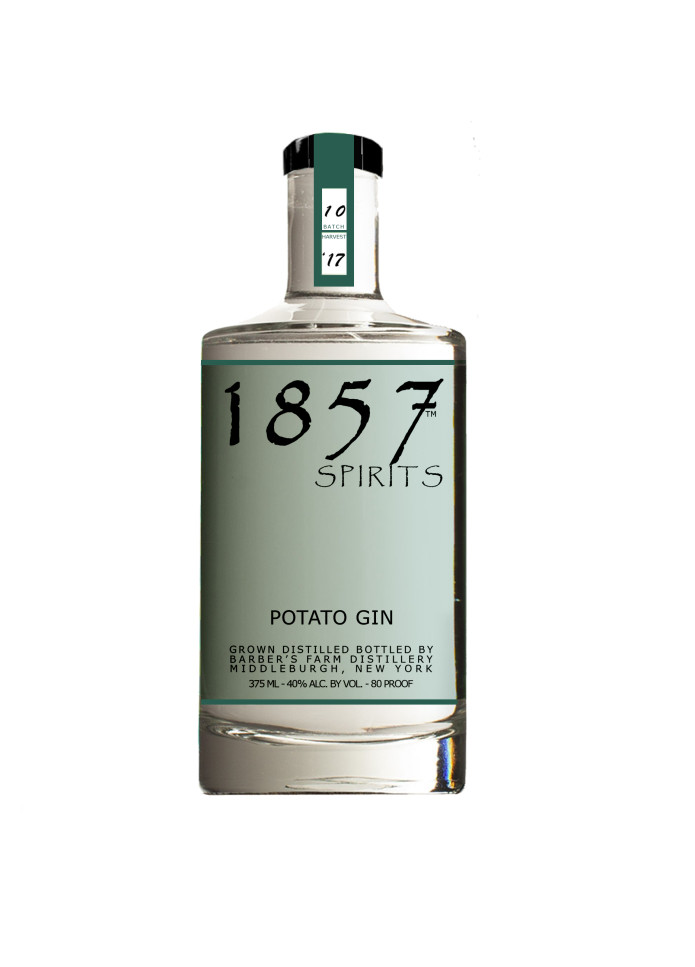 The Plan
In order to bring this gin to market, we need to essentially, replicate our vodka operation, but with specialized gin equipment.  Remember what we said about quality and integrity?  Well a big part of that is ensuring that the gin and vodka equipment stays separate.  We're talking separate stills, separate tanks, bottlers, lines, testing equipment…you get the idea.  Increasing production also requires making some essential modifications to our infrastructure to ensure that we have enough heating and cooling capacity to run the extra equipment.  
Your investment in our campaign will make 1857 Potato Gin a reality.  Every dollar means one more bottle to fill, $1,000 means another holding tank, $9,000 is a second cooker, $12,000 means a new still.  When we hit our goal of $40,000, it'll mean that we can all raise up a glass of gin together.  At the end of the campaign we'll be able to purchase the new distilling equipment, bottles, and supplies needed to bring our gin to market this year.  Each donation gets us a step closer to this goal.  Exceeding it will pave the way toward expansion into a variety of other products currently in early development!
The Perks
As a way of showing our appreciation for your support, we'd love to offer you some fun perks and the opportunity to take advantage of exclusive, never before offered, opportunities.  We've customized our signature t-shirts to commemorate this occasion and to thank you for helping us grow 1857 Potato Gin.  We're also offering a special, behind the scenes look at the distillery with guided tours.   In addition to these limited time tours, we're also excited about our exclusive mixer event which will feature signature cocktails, and tasting of rare, discontinued batches.  Please note: we are unable to sell alcohol online, or through the Inidiegogo website.  Packages including alcohol will include vouchers for the alcohol which purchasers redeem in accordance with the law.  Please contact Ford, our campaign manager with any questions about how or where vouchers can be redeemed.
Donations of $1-20:  A heartfelt, "Thank You" from all of us at Barber's Farm Distillery
$20:    (2) Shot glasses
$50:    (2) Shot glasses and (1) hat or t-shirt
$100:  (4) Shot glasses and (1) 375ml bottle of 1857 Potato Vodka
$200:  (4) Shot glasses, (1) 750ml bottle of 1857 Potato Vodka, and (1) tour pass (good for April 7 or 14) or t-shirt
$500:  (2) Tumblers, (2) 750ml bottles of 1857 Potato Vodka, and (2) tour passes (good for April 7 or 14)
$1,000:    (1) 375ml bottle of 1857 Potato Gin, (1) variety 6-pack of 375ml vodkas, (4) tumblers, and (2) tour & mixer passes on July 14, 2018
$2,000:    (2) 375ml Gin, (1) Mixed 6-pack of 375ml Vodkas, (4) Tumblers, (2) tours & mixer passes on July 14, 2018 and dinner for two with a member of Barber's Farm Distillery.
$5,000:     Comprehensive Vodka & Gin course on July 13, 2018, and overnight hotel accommodations for two along with all of the perks of the $2,000 package
$8,000:     Private gin making workshop for two – participants will make and take home their own potato gin.  A two night stay at The Little Green Cottage and dinner with the Barber's Farm Distillery family.   You'll also be sent home with an 1857 Spirits gift package and four passes to our mixer event.
Thank You
We cannot thank you enough for taking the time to share in our vision, and to learn about our plans for the future.  We also understand that not everyone is in the position to invest in this dream financially, but there are a lot of other ways you can help us to meet our goal of creating world class spirits.  Whether you share our story with friends and family, or ask your local liquor store to start carrying 1857 Spirits, you are making a difference in our world.  If you happen to be in the area, stop by the farm- we'd love to see you.
Cheers!
-Dorcas, Elias, Ford, Larry, Jim & Emily