3-in-1 Innovative ZERO PLASTIC Kitchen Sponge Set | 100% biodegradable cellulose/hemp sponge, with a natural dishwashing soap and a sanitizing dryer
Join our referral program and make 15% on every pre-order you help us to raise!


Regular kitchen sponges were proven to represent the biggest reservoirs of active bacteria in the whole house. A dishwashing sponge is 200,000 times dirtier than a toilet seat. Researchers found 362 different species of bacteria, located in sponge's porous structure, with bacterial density of 45 billion per cm2.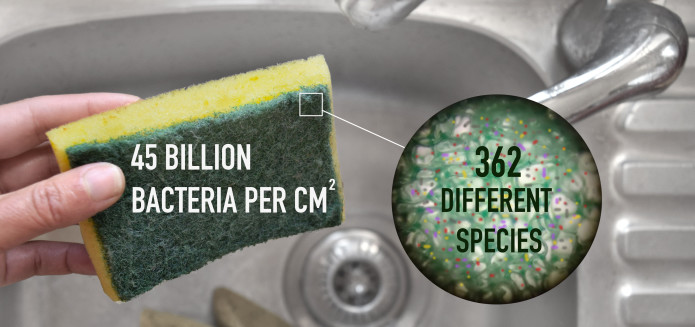 Get rid of the nasty kitchen sponges and replace them with a better alternative!

Spongik is zero plastic 3-in-1 dishwashing set. It's smart feature notifies when it is time to replace the sponge, avoiding the bacteria to reach incubation stage in the sponge.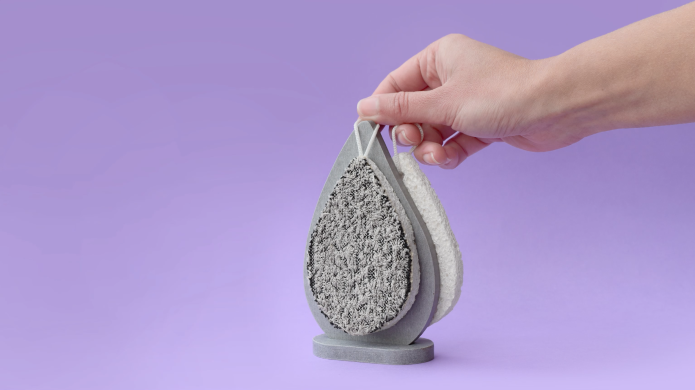 Designed to reduce all the unnecessary dishwashing plastic items,  Spongik is an environmentally friendly and a zero-waste alternative to conventional polyurethane kitchen sponges and plastic dishwashing liquid bottles. The Spongik set includes a versatile sponge dryer and cellulose sponges infused with chemical-free dishwashing soap.  All made from natural and biodegradable materials.

Smart Sponge is infused with chemical-free soap and is designed to last 20 washes. Which is approximately 2-3 weeks depending on the amount of dishwashing. The soap reduces the breeding of bacteria in the sponge and sanitizes it between washes.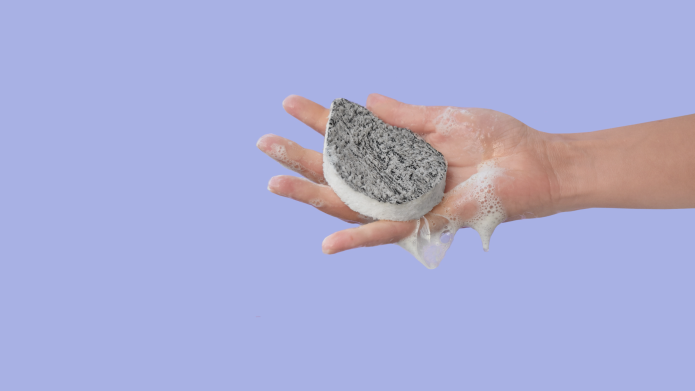 Natural soap is tough on grease yet gentle on hands, and the waste water is harmless for the planet and safe for plants, marine and aquatic life. No need for one-time-use plastic bottles with dishwashing liquid.
2-in-1 Smart Sponge is perfect for travelling & camping.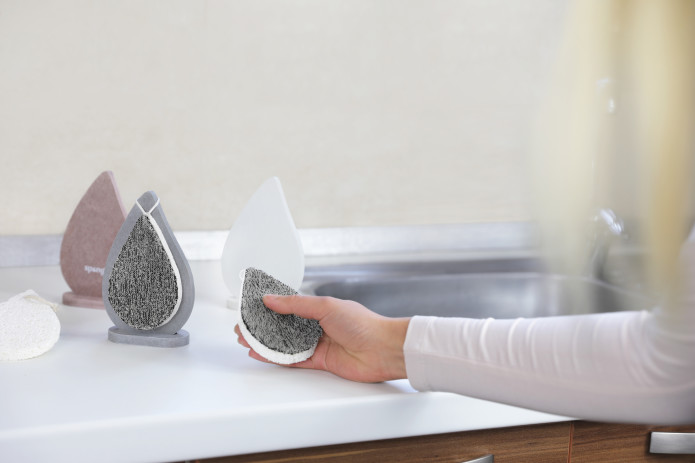 Ergonomic water drop shape perfectly fits in the hand, while the pointy edge is designed to clean hard-to-reach corners of glasses and bowls. The sponge tackles the toughest jobs, yet it is gentle enough not to scratch the dishes and the non-stick layer of the pans and pots.
All Spongik sponges and dryers are made out of natural materials that have unique properties. Cellulose sponge is naturally compressed and expands in contact with water. And Diatomaceous dryer instantly absorbs moisture.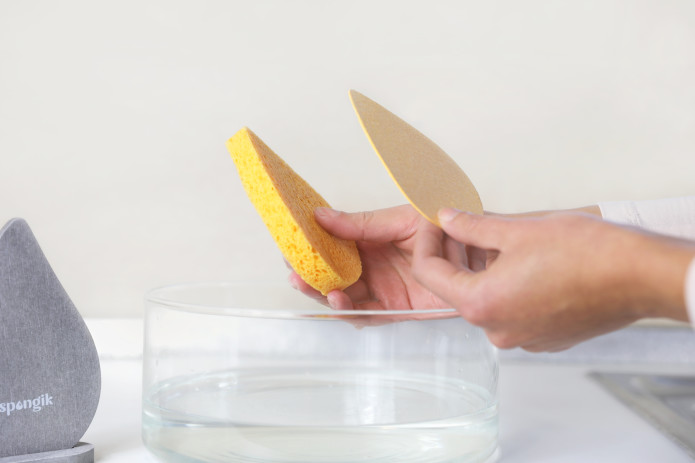 Spongik set is 100% biodegradable. Basic Sponge is made out of 100% cellulose – a natural and sustainable material that biodegrades without any harm to the environment. Pro Sponge is made out of 100% natural cellulose with the scouring pad that is made out of hemp and cotton blend. Smart Sponge is made out of the same materials as Pro Sponge (cellulose + hemp) and it is infused with natural dishwashing soap.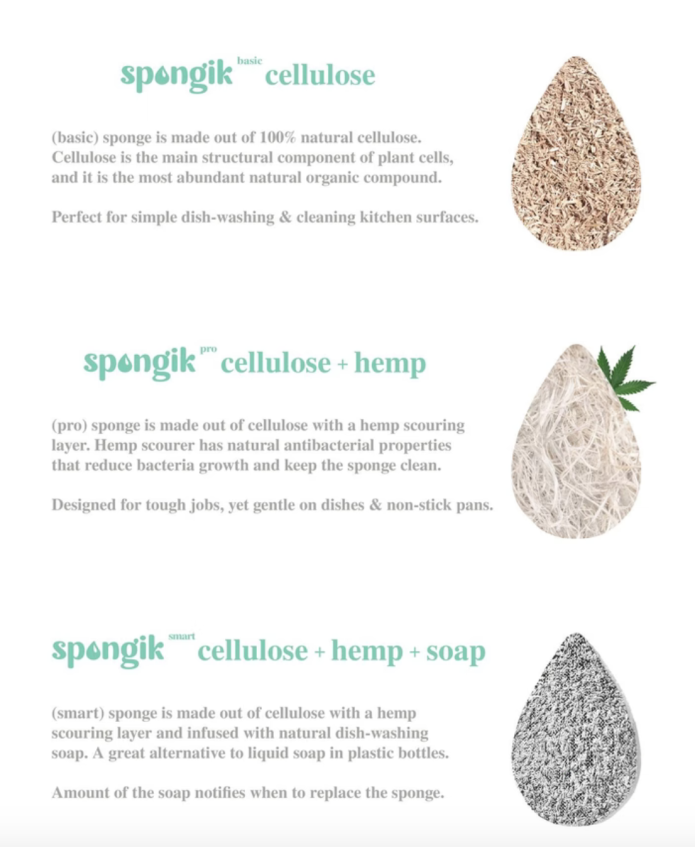 Spongik set includes a dryer, which is made out of diatomite material that instantly absorbs moisture from its surface. Diatomaceous earth is a naturally occurring mineral that is made of microscopic skeletons of algae that have fossilized over millions of years. Diatomaceous earth has versatile benefits and is a widely used in household and hygiene products including toothpastes, skin scrubs, dietary supplements, pet nutrition products, etc.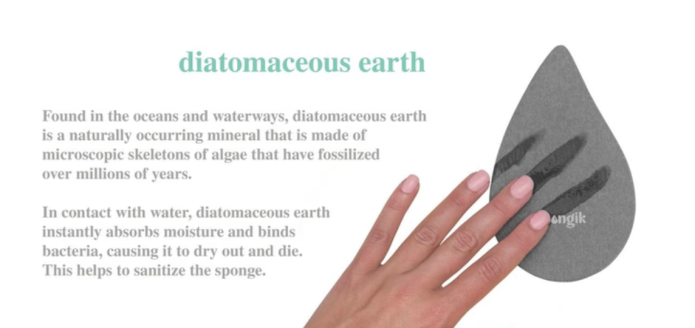 When the wet sponge is placed on the Spongik dryer, the moisture and bacteria get pulled out from the sponge. Diatomaceous material attracts and binds bacteria, causing it to dry out and die. The remains of moisture rapidly evaporate by being exposed to greater surface area through millions of pores. Quick elimination of moisture helps the dishwashing sponge to dry faster and reduce breeding of the bacteria.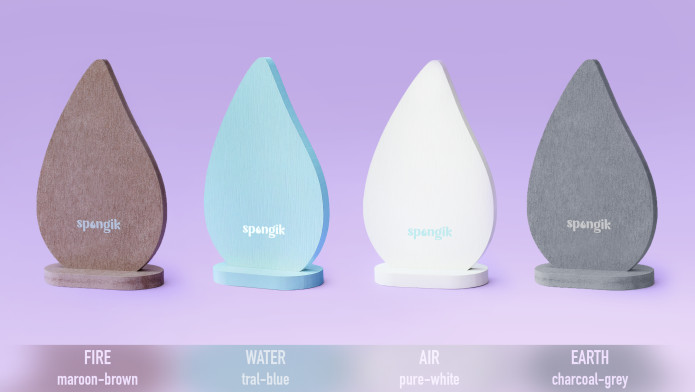 Neutral colors of the dryer complement the kitchen interior and add a designer's touch. Choose among fire shades for warm woody interior, water blues for a fresh look, air for bright and modern kitchen environment, and earthy grey for any kitchen interior.  

Spongik dryer is versatile in its design and could be placed in various ways around the kitchen sink: standing upright or laying horizontally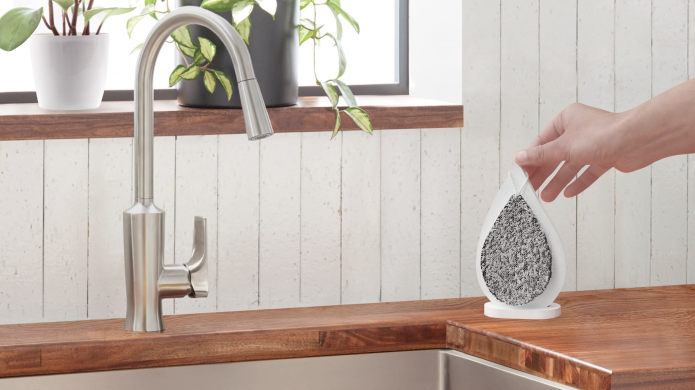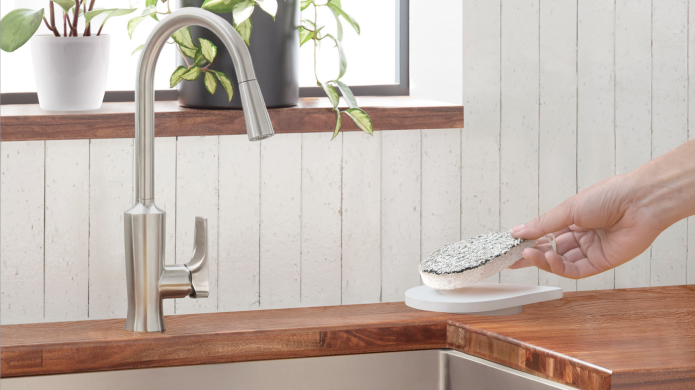 Join our referral program and make 15% on every pre-order you help us to raise!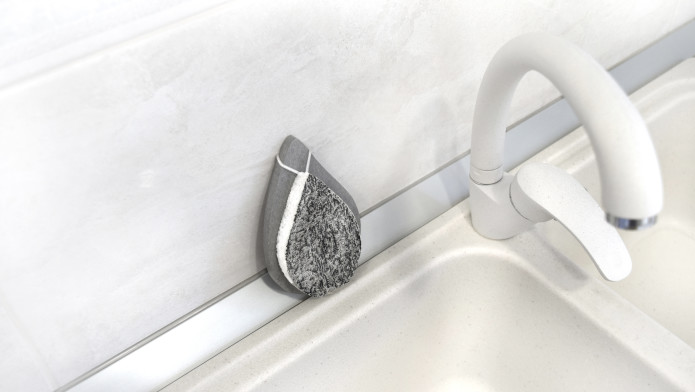 To help minimize the space in the small kitchens, Spongik could easily fit between the sink and the wall. 

There are 46,000 plastic pieces in every square mile of ocean, weighing up to 269,000 tonnes. Every day around 8 million pieces of plastic make their way into our oceans. Only 9% of plastic get recycled.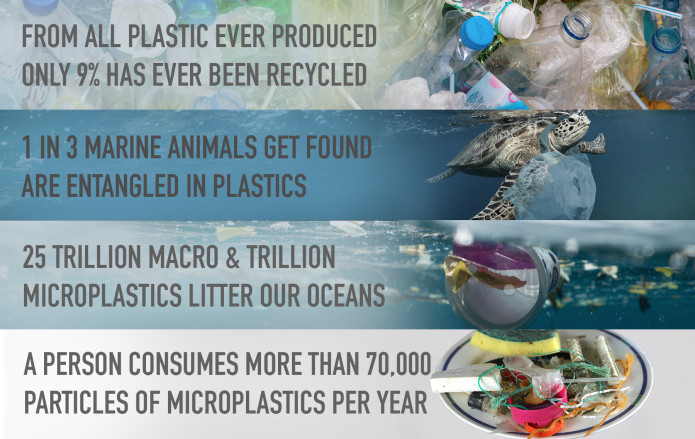 Plastic pollution from dish-washing sponges is often overlooked. However, it is an issue worth addressing. Disposed just after few weeks of use, kitchen sponges significantly contribute to non-recyclable plastic waste. Made out of 2 polyurethane polymers, conventional dishwashing sponges can't be recycled, composed or biodegrade. Around 50 billion kitchen sponges are disposed annually, and will remain in the landfills for 52,000 years.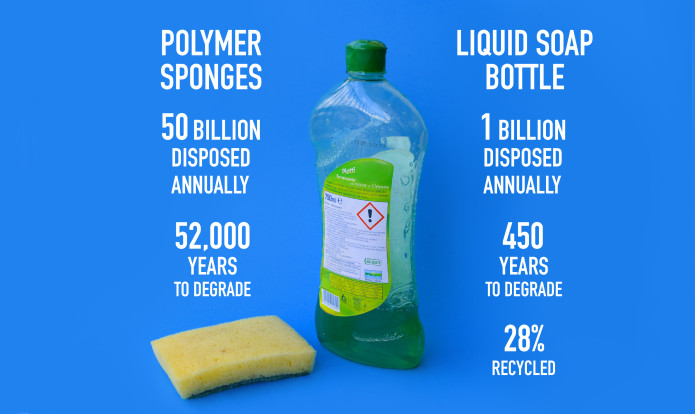 In the process of dish washing, polyurethane sponges releases tiny particles known as microplastics. Some of these particles remain on the dishes, and get ingested together with traces from chemical-based dishwashing liquid soap.
Microplastics are smaller than the width of a human hair, and there is no water filtration system that is effective enough at filtering them out. Microplastics travel down the drain and make their way into the waterways, seas, and oceans. There are estimated 1.4 million trillion microfibers in the oceans. Barely visible to the naked eye, microplastics are swallowed by marine creatures. Scientists have discovered microfibers in 114 types of aquatic species, half of which are consumed by humans.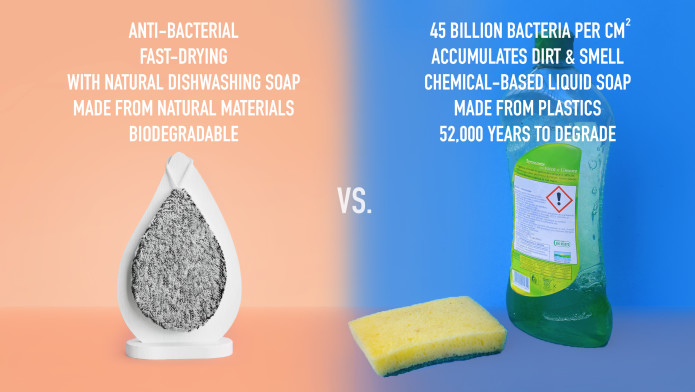 Let's take care of our health and our planet and reduce the plastic use!
Pre-order Spongik and make a difference!


Being a product designer I've always felt responsible for the items that I design. Throughout my design career I have been mainly focusing on innovation, function, aesthetics, comfort, and user experience. However, once I started living by the sea, sustainability has become a priority in my design process.

When I lived in Cote d'Azur, France I got overwhelmed by the amount of plastic trash that would get washed up on the shores during the winter months. I used to go the sea almost every day for a jog and found myself with the same monolog in my head "Why is this beautiful beach so dirty? Why do we make so much plastic waste? Will anyone ever clean this beach???" These negative thoughts didn't let me enjoy my jogs, and they definitely didn't make the beach cleaner. So instead of complaining, I decided to take the initiative and clean up the beach myself. I began to alternate my regular jogging routine with picking up trash, and little by little the beach became cleaner. The most incredible thing happened when I noticed other people starting to pick up plastic trash at the beach as well. This made me realize that if you want to see a change in this world, you need to start with yourself and set an example. Many people also want to live in a clean world, and sometimes a little motivation is all that is needed.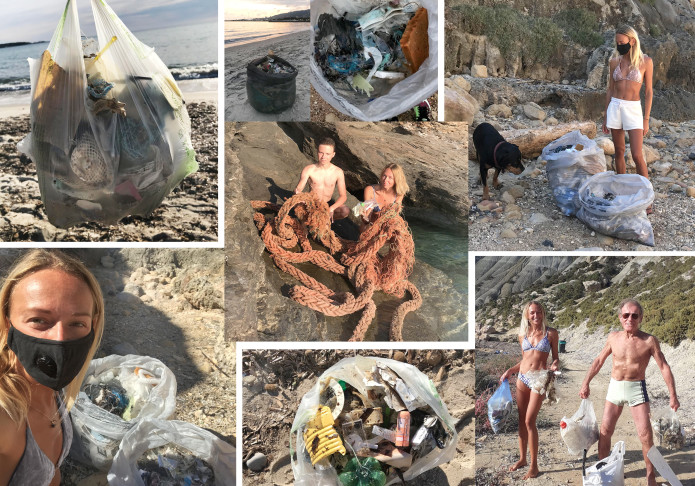 Please show some LOVE, it only takes a split second and few clicks of a button! 
Like, follow, share Spongik on social media and get plastic-free tips and Spongik updates 🙂
Facebook @myspongik
TikTok @myspongik
Instagram @ecospongik
Youtube @spongik
If you would like to write about Spongik in articles, blogs, or magazines, you can access press materials, photos and videos in this DropBox folder.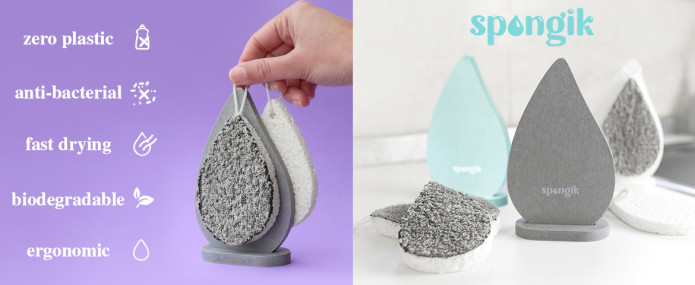 Behind the scenes. 2 years in the making
The idea for a biodegradable dish-washing sponge came to me when my mother, who was observing my plastic-free journey, asked me which sponge am I using for washing dishes. At that time I used a regular polyurethane sponge. Immediately I started searching for plastic-free alternatives and purchased a few cellulose sponges. After a more profound research I discovered that almost no dishwashing sponges on the market are 100% biodegradable. The most sustainable sponges have at least 20-30% plastic mixed into the scouring layer, despite "green" claims on the packaging. 
Seeing this gap on the market, I decided to develop a 100% biodegradable dishwashing sponge with a few unique features. 
4 out of 5 people surveyed, said they hate dish-washing sponges and wish there was a better alternative.
When you think of a dish-washing sponge, wouldn't you want it to be different, better?
Pre-order Spongik!