5 Minute Farms & 5 Minute Ferments | 5 Minutes to Start | 5 Minutes a Month to Maintain & Harvest + make Kombucha, Kefir, Yogurt & more.

5 Minute Farms turn your countertop, shelf, book case, patio, porch, desk, window… into a beautiful living food oasis. 

5 Minutes to Plant ~ 5 Minutes a Month to Grow & Harvest Plus Make Your Own Sodas, Kombucha, Yogurt, Kefir, Vinegars, Koji & More
The technology and systems can be used everywhere and by anyone willing to follow instructions and are so simple to use that we literally tested with 5 year old.
IS IT REALLY THAT EASY AND 5 MINUTES TO START?..
YES!
**We can actually plant 21+ systems per person in 5 minutes while hanging out and chatting. ** 
About 5 Minute Farms: 
Less Than 5 Minutes In 5 Simple Steps:
Step #1: Expand The Growth Media
Step #2 Fill The Vessel with Water
Step #3: Plant the Seeds in the Growth Media
Step #4: Place Planted Seed Medium in Suspension Cup
Step #5: Place The Cap / Lid Back On System… Let the seed germinate. | Give your plants Light & Love. * Super Efficient Proprietary Grow Light included with 5 Minute Farms.
What About Sustainable Harvesting? 
AKA: Harvest When Hungry™
Harvest what you need directly from the plant.
The plant keeps growing and making more fresh food.  
No refrigeration required. 
How do 5 Minute Farms work so well?
You don't have to know how our 5 Minute Farms work for them to actually work. 
Just follow the simple step by step and instructions and they will do their magic but if you want here are some videos.
 "Start a Garden in 5 Minutes or less" – 4 Minute 47 Second Video
 
For those super curious and that have 9 minutes to spare ~ here is a 9 Minute long high level overview of the "Liberty Garden 5 Minute Farms: How it Works".- 9 Minute Video

Strong Yet Flexible – Designed to last many lifetimes.
Dishwasher Safe | Microwave Safe | Oven Safe | InstaPot Safe | Freezer Safe |Big Ole Truck Safe!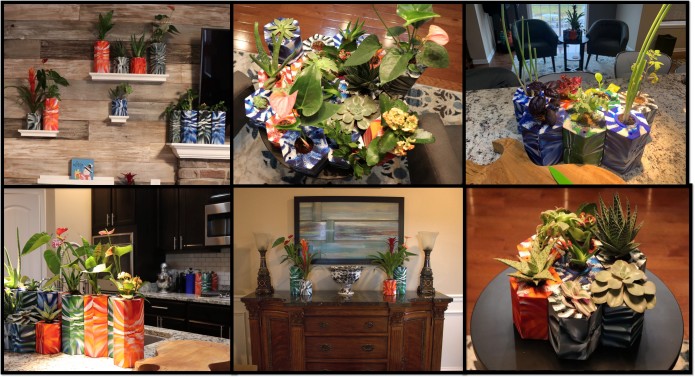 5 Minute Farm Perks Descriptions: 
5 Minute Farm Perks include everything you need but the water and love.
12 x 12 Proprietary Grow Light Capable of Growing 16 Plants in Vessels.
Choice of Seeds Collection* to get you started immediately.
Appropriate Nutrient Solution For Your Seeds & Plants.
See Rewards Description Below for Full Descriptions. 
5 Minute Farm Perks Options 4 Pack or 8 Pack:

Choose the number of 5 Minute Farm Vessels to Start With 4 pack or 8 pack.
*We recommend the 8 Pack which can be grown in 1 Square foot of space, uses the same 1 square foot as the grow light, and to optimize the production using the same 40 watts of energy.
** You can always expand later and add more farm vessels.
Choose the Vessel Size: Plants grow equally well in both sizes.
We Recommend the Standard Size for those just starting and for the most versatility. 
Standard: These are the most versatile as they are not restricted by height between where you place the light and the countertop. At 4 Inches tall they are great for growing both tall and short plants under a standard upper cabinet with light mounted.
 Large: These are the go to when we have the vertical space or outdoors and what we use when growing commercially or at scale on standard big box store wire racks or adjustable shelves. At 9 inches tall they hold 2x the water and nutrients solution extending the time between watering even further.
Combination:  2 Standard + 2 large in the 4 Pack Starter Farms | 4 Standard + 4 Large in the 8 Pack. 
5 Minute Farm Complete 8 Packs: Just Add Water 
*Perks Include 8 Vessels and 3 Different Size Options + Proprietary Grow Light
 OPTION #1: Receive 8 Large Size Vessels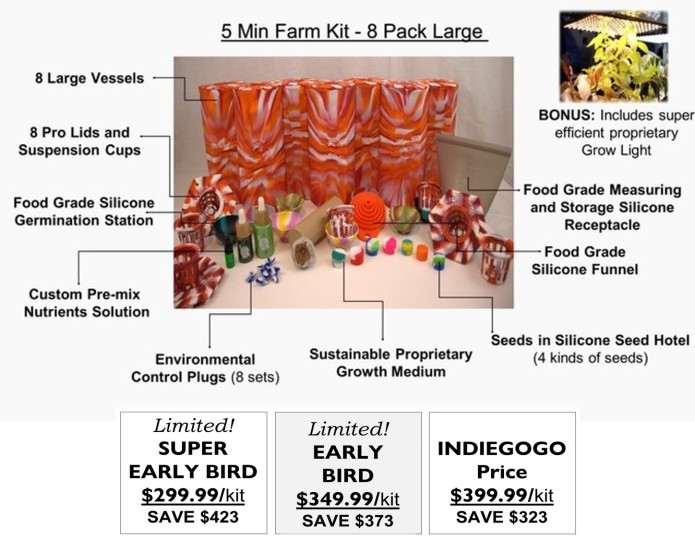 OPTION #2: Receive Combination of 4 Large + 4 Standard Size Vessels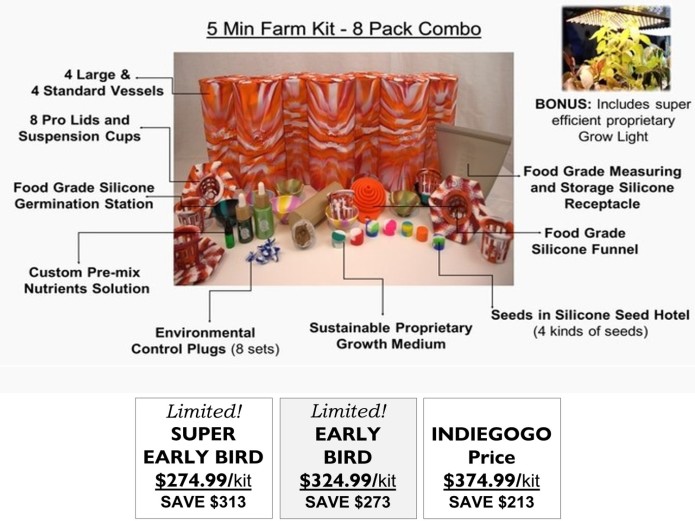 OPTION #3: Receive 8 Standard Size Vessels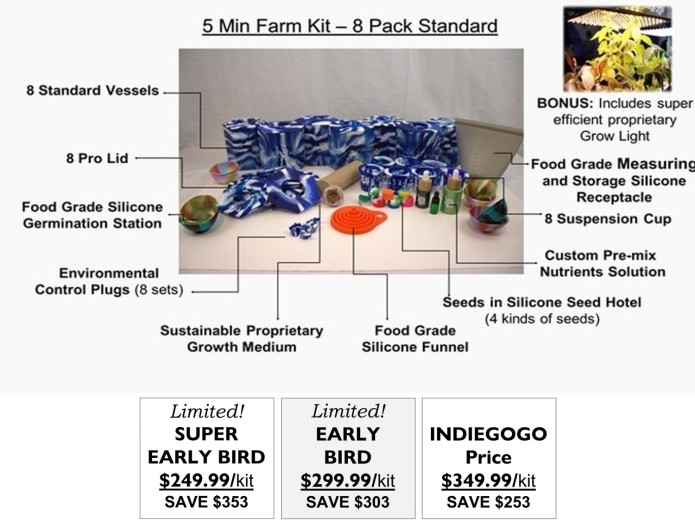 5 Minute Starter Farm: 4 Pack Starter Farms
**Includes 4 Vessels and 3 Different Size Options & Proprietary Grow  Light
 OPTION #1: Receive 4 Large Size Vessels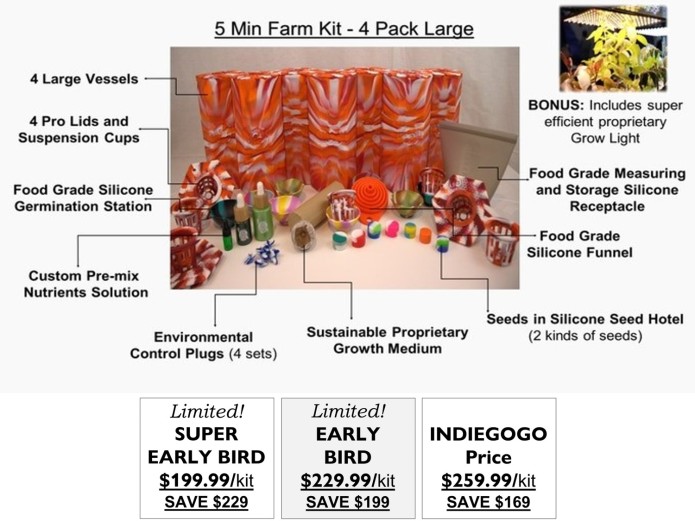 OPTION #2: Receive 2 Large + 2 Standard Size Vessels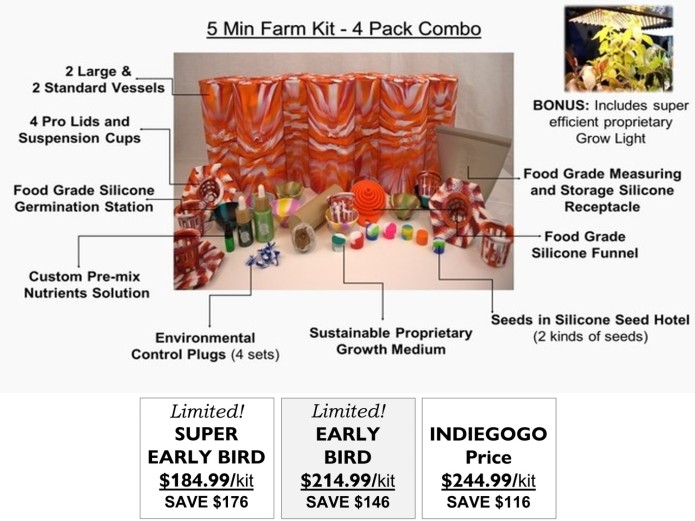 OPTION #3: Receive 4 Standard Size Vessels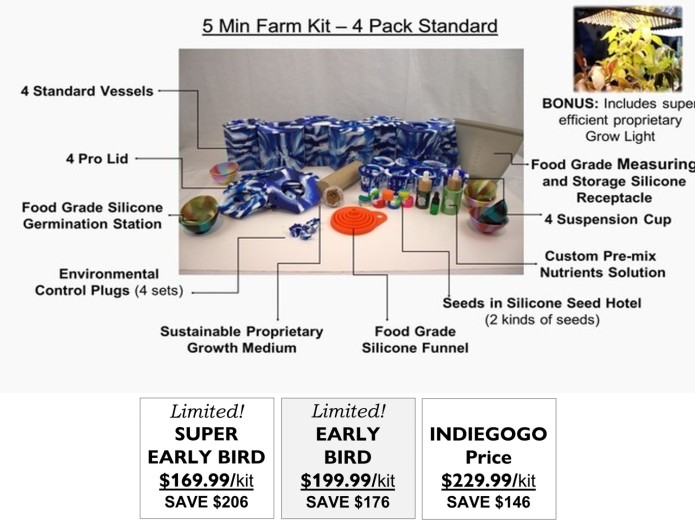 After the campaign ends, you'll be given the opportunity to customize your System. Choose the Color That Perfectly Fits Your Personality, Mood, Decor or
Just The Ones You Love!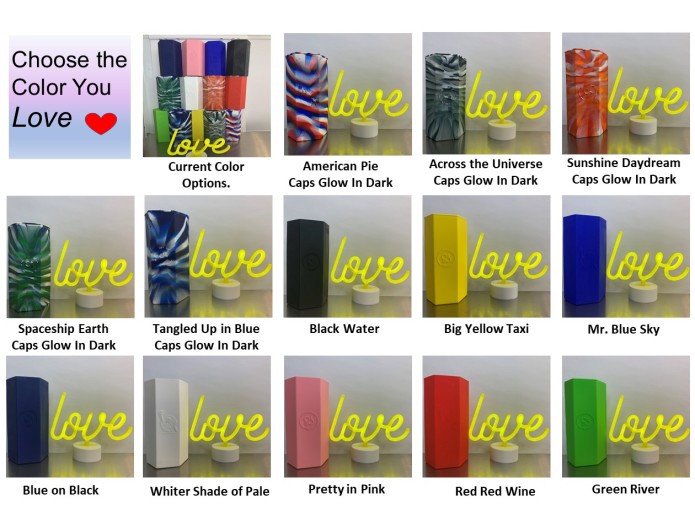 Farm Perks will also choose from seeds available on this list.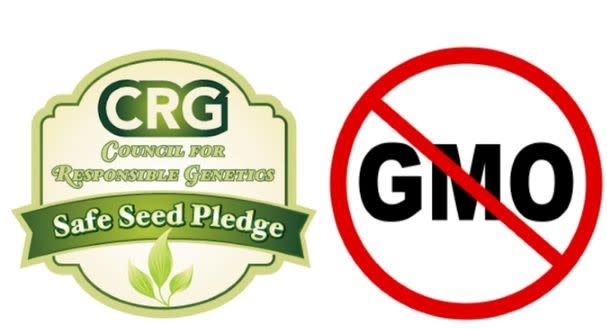 We have signed the Safe Seed Pledge (Click to See Pledge) | All seeds provided by us are Non-GMO.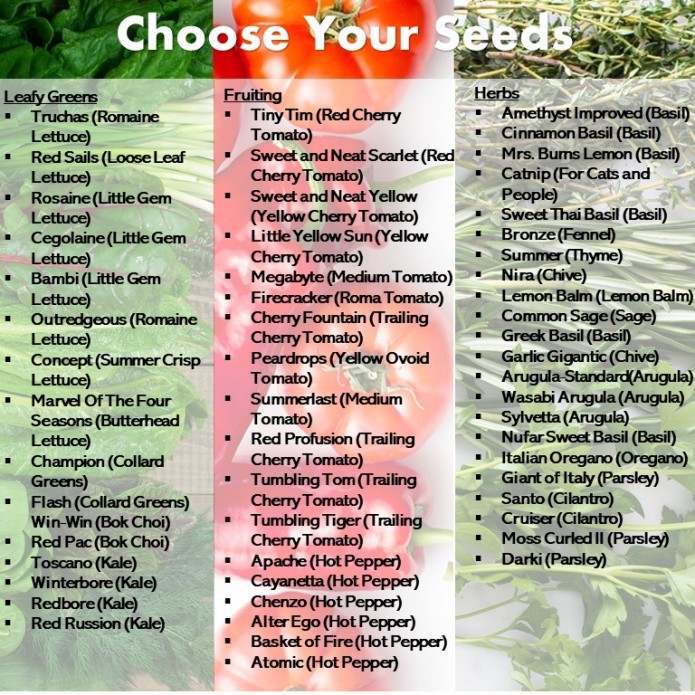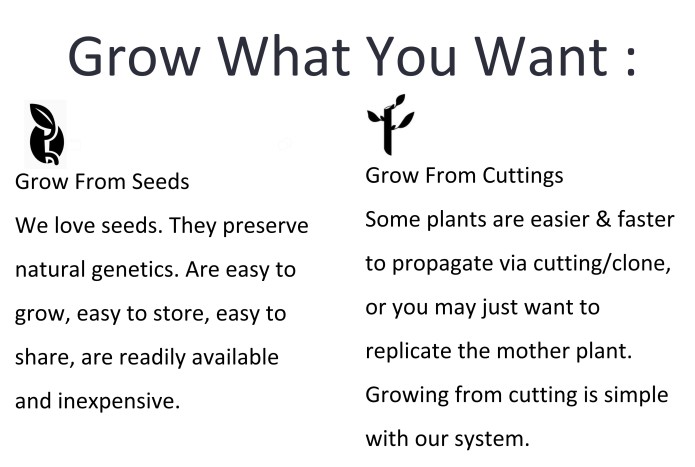 We have grown over 100 Varieties in our systems and will have complete step by step tutorials and support.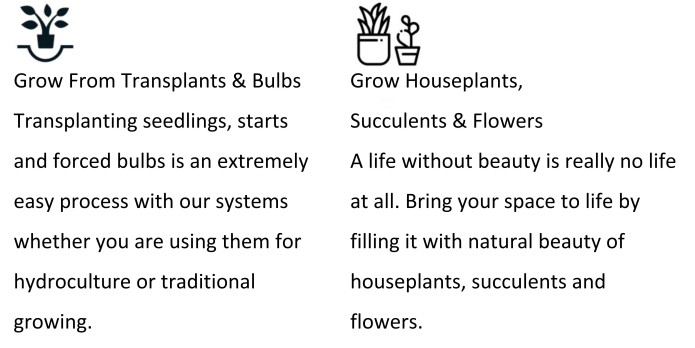 When You Receive Your Systems – You Will Also Receive An Invitation & Access to ALL of our Courses.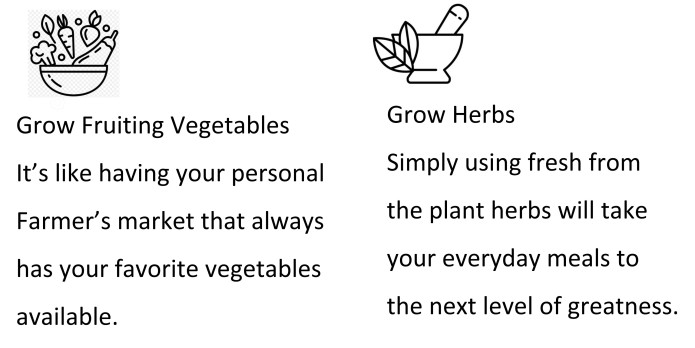 You Will Have Step By Step and Real Support If You Need It Throughout The Entire Process.
What can I grow in the systems? 
There are over 50,000+ known edible plants. 
We obviously haven't test grown them all in our systems (yet) but we have grown 100+ types and varieties of them from seed to harvest and all the way to seed again.
We have yet to find any that don't grow and grow well in our systems. 
We have yet to find any that don't grow and grow well in our systems. 
SOME of what we have and you can grow in 5 minute farms indoors…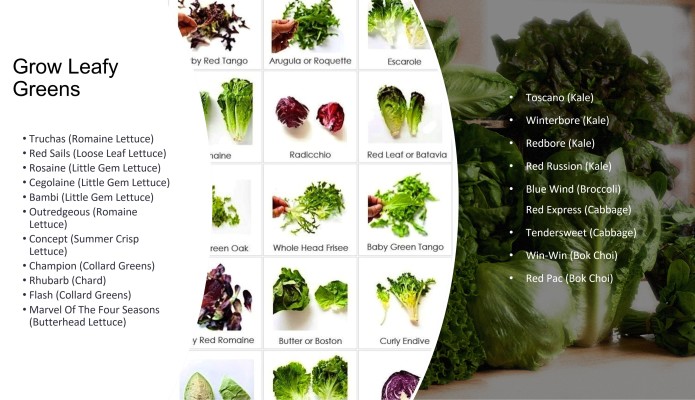 Caution: You may become a "Lettuce Snob" after growing some fresh lettuces of different varieties in the 5 Minute Farms. Yes – they really are THAT Good.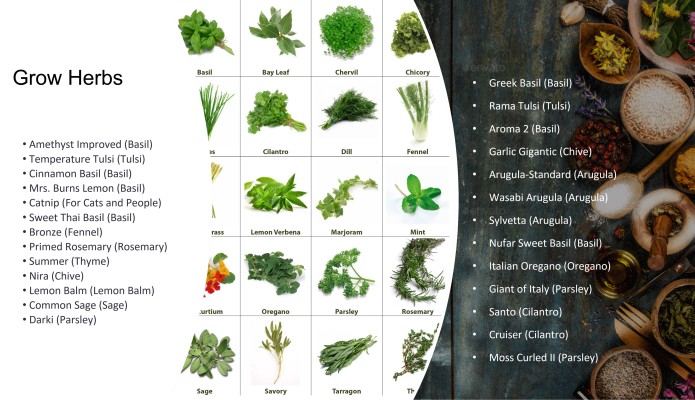 There is nothing like Real Fresh Herbs. They grow great, taste and smell wonderful and are always available.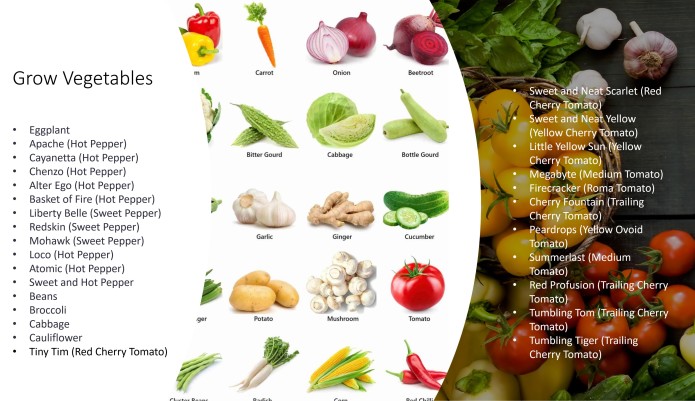 If you have ever tasted a Vine Ripened Tomato FRESH from the plant – You get it. If not here is the chance to have an endless supply – year round.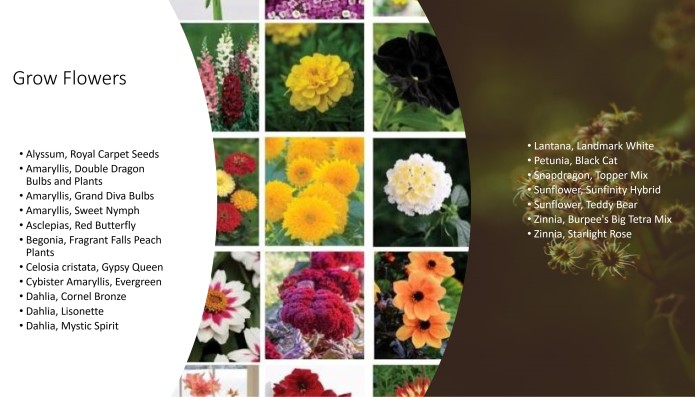 A Life Without Beauty is Really No Life At All. Imagine Having The Color and Scent Flowers Year Round.
The Advantages of 5 Minute Farms™ Systems: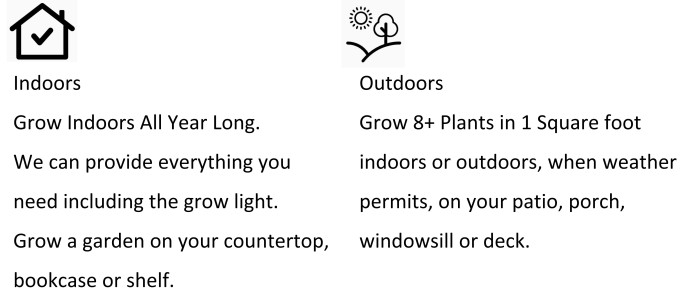 The Systems had to be able to grow Anywhere regardless of climate or limited space. | Accomplished By Grow Indoors and Outdoors 8 Plants per Sf..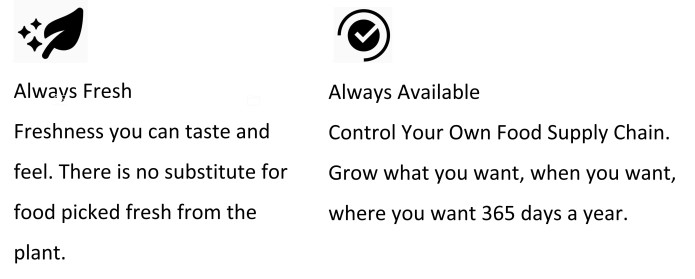 It doesn't get more Local, Fresh & Available 365 Days a Year than grown on your countertop. | Accomplished By Growing Food When and Where we Actually Need it.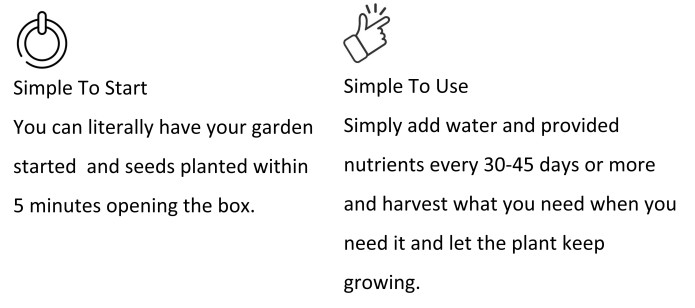 They had to be Super Simple in Time and Effort to Start, Grow and Maintain. | Accomplished By Less than 5 Minutes to Start & 5 Minutes a month and Tested with 5 Year Old.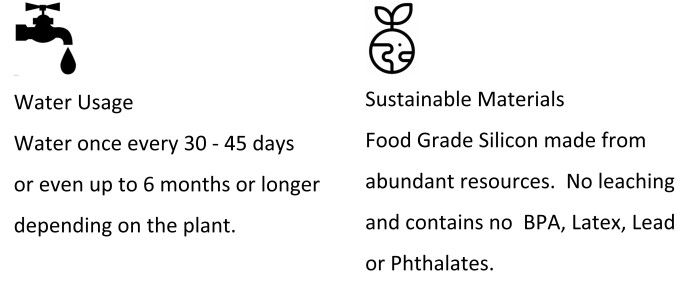 It had to be Plastic, BPA, Latex, Lead & Phthalate and other harmful chemical free. | Accomplished By Using Food Grade Silicon and Only Adding Water & Nutrients.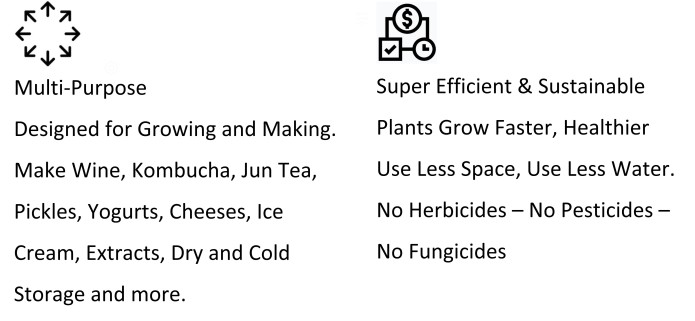 They had to be simple, efficient and give access to grow / make many local, healthy foods. | Accomplished By Inventing, Innovating and Designing Each Component To Work Together As Part Of A System of Systems.


They had to be full life sustainable. | Accomplished By Making Them Multi-Generational, Multi-Purpose and IF Recycled Breaks Down into Silica and Oxygen.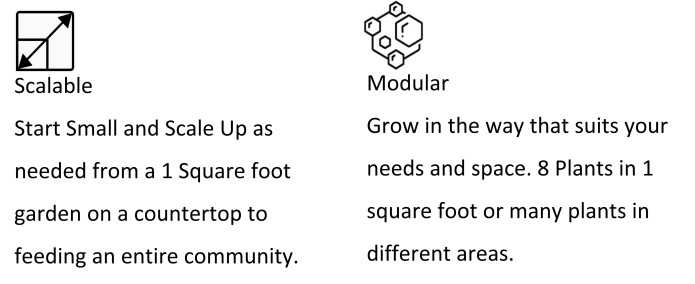 The Systems had to scale inexpensively and accommodate any space. | Accomplished By Individual Ecosystems and Small 4 Inch Foot Print.


Had to be able to grow wherever and keep growing where they are needed and be tough enough to be deployed and transported. | Accomplished By Being Portable / Vertical and Made to Last Many Lifetimes.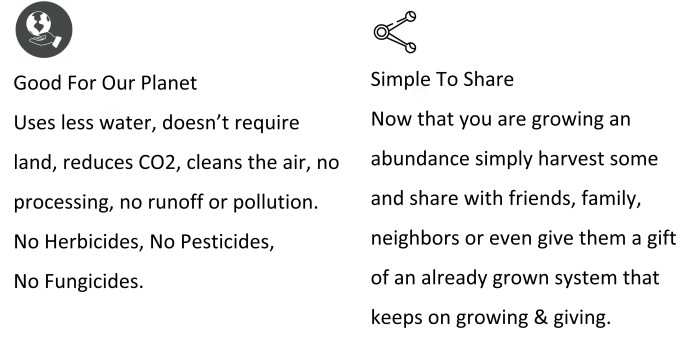 They had to be good for our planet and our communities. | Accomplished By Low Resource Requirements and Growing An Abundance Of Amazing Quality Plants In Little Space.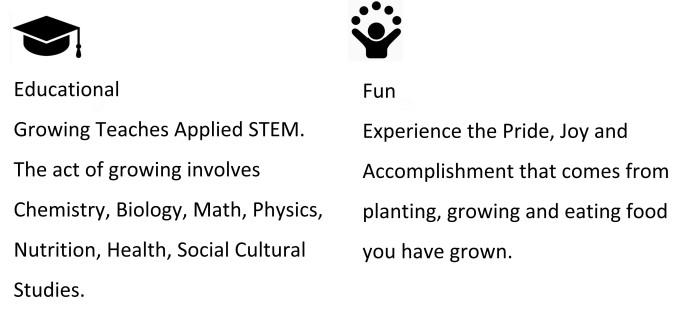 We humans are driven to learn, explore and have fun. We do what we like to do. | Accomplished By Full Support, Courses, Recipes & Instructions to Guide Along the Journey of Creativity and Exploration.
 
We Are Here To Support & Help As You Explore A Whole New World Of Possibilities.
Full Support, Recipes, and Step By Step Instructions to make the most out of your 5 Minute Farm or Living Foods Kit.
 About the Living Foods Collection
​
 
We have invented and designed Accessories, Systems, Processes, Methods, and Kits not just for gardening but are also perfect for making Yogurts, Probiotic Teas (ie: Kombucha), Natural Sodas & Kefir, Artisan Vinegars, and other living foods…
No Yogurt Machine Required.
No Soda Machine or Refills Required.
No Additional Special Equipment Required at all.
Get Started Within 5 Minutes of Opening the Box.
You can have Fresh Yogurts, Kombucha, Jun Tea, Natural Sodas, Kefir and Artisan Vinegars and more always available.
Super Easy, Very Little Time – Typically less than 5 minutes of Active Time.
One System to make them all and more. 
​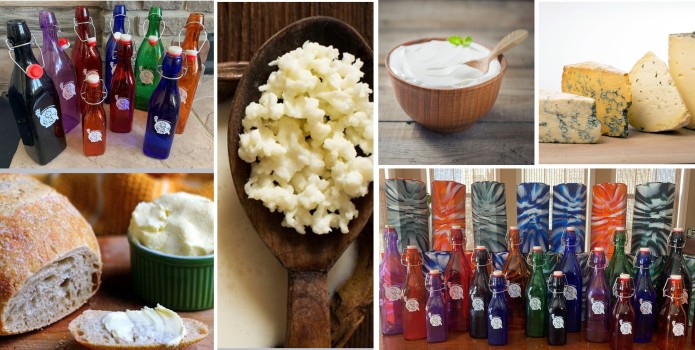 Our Living Foods Collection Will Get You Started in Making Your Own Probiotic, Fermented and Living Foods.
Living Food Kits Perks Descriptions: 
Living Food Kits Rewards include everything you need but the liquid and the love.
Choose Standard Size of Large Size Vessel Kit.
Choose What You Want Make.
Kits Include everything you need but the water, juice or milk. 
See Rewards Description and Below for Full Descriptions.
You will have the option to add even more SCOBYs, Cultures, Vinegar Mothers.
We even include choice of colors in the swing top bottles in these special Indiegogo rewards.
 
Living Foods Kit Perks Options:
Large or Standard
(1) Choose the Size Large (1650 ML/ 55+ 0z) or Standard (800 ML / 24 oz) 
*We recommend the Large which include 2 x 1000 ML Bottles as it takes about the same time and effort to double your production and allows for more diversity afterwards like multiple flavors. 
** You can always expand later and add more vessels or other starters like Kombucha to expand without having to buy more vessels or kits.
Standard Size Vessels do shorten the time waiting but not by significant amounts but are easier to store in the refrigerator or stack due to their 4.5 inch height.
Additional Thoughts on Which Size To Choose? 
 Standard: These are the most versatile as they are not restricted by height and can easily stack on top of each other inside the refrigerator or be placed on shelves that have limited vertical space. They are also great for personal on the go and taking on trips, to work, in the cooler… 
 Large: These are the go to when we have the vertical space and what we typically take on the go when we will want more or when there are a few of us like to the pool, beach, parks, picnics, traveling and making as each system just makes so much with almost the same time and effort as the standard systems. 
 Combination:  Not Sure – You can always get 1 or more of each and make multiples at the same time. 8 will fit in 1 square foot of space.
 
What can I make with Living Food Collection Kits?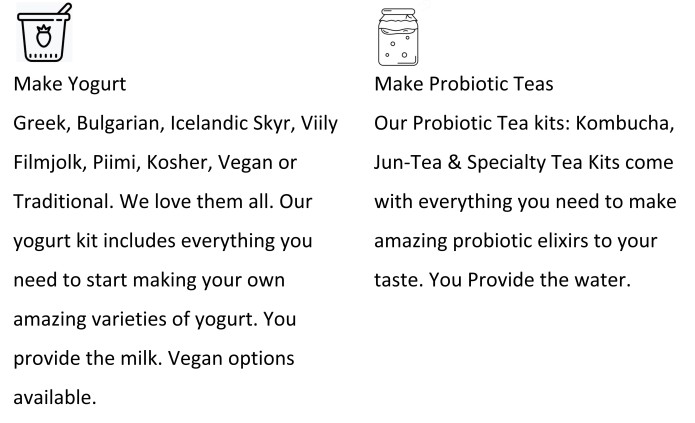 Yogurt Kits Include Fresh Cultures of many types to choose.| Probiotic Tea Kits are used to Make Kombucha, Jun Tea and Other Specialty Probiotic Teas.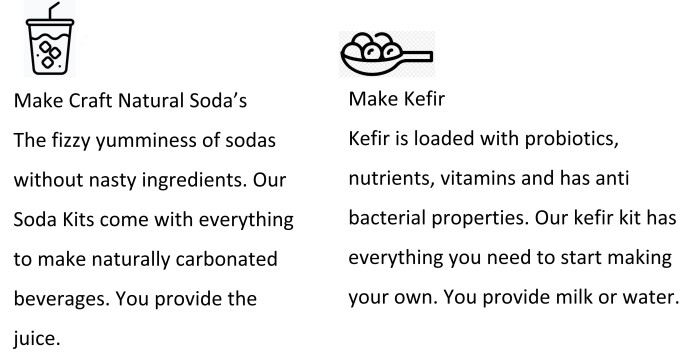 Natural Soda Kit Makes Sodas From Juices. | Kefir Kit includes the Bottles and Fresh Grains and taste SO much better than store bought.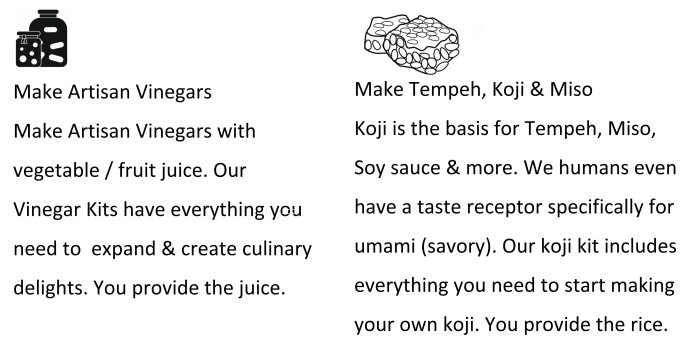 Artisan Vinegar Kit includes multiple bottles and are great for gifts. | Koji & Tempeh Kits will be made available to Indiegogo Backers First when released.
 
This is What's Included in Your Kit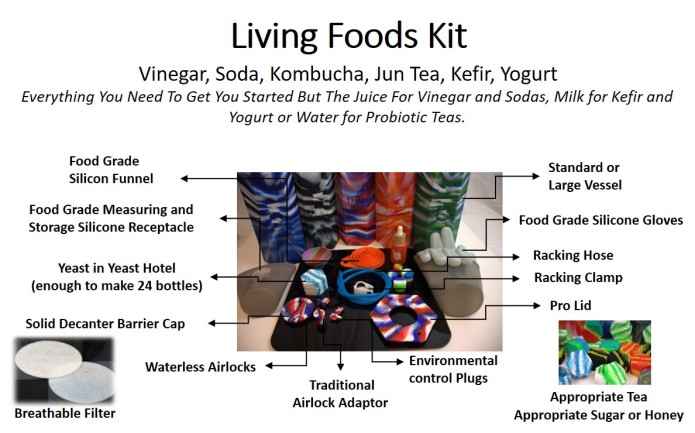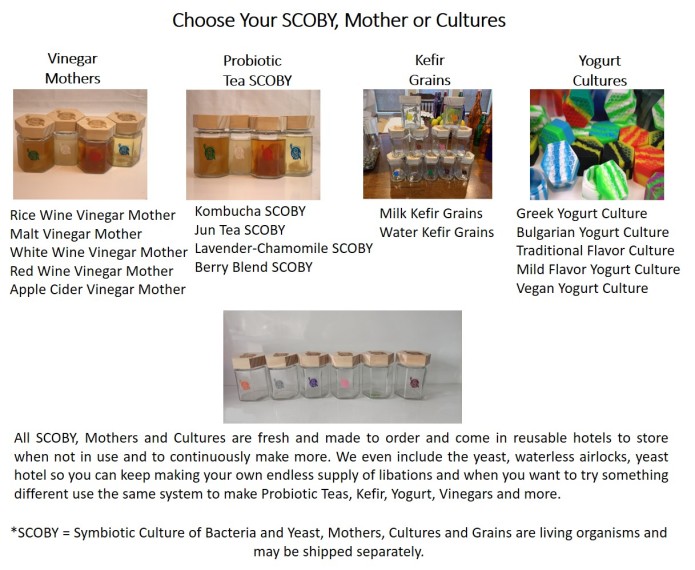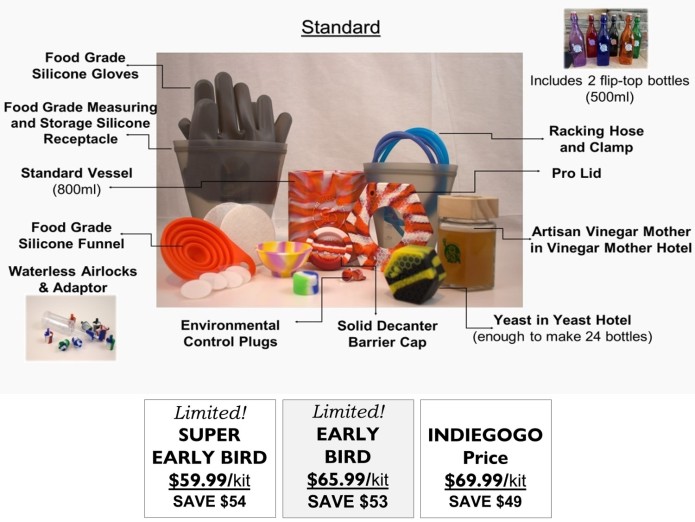 If you choose Standard: You'll get 2x 500ml Bottles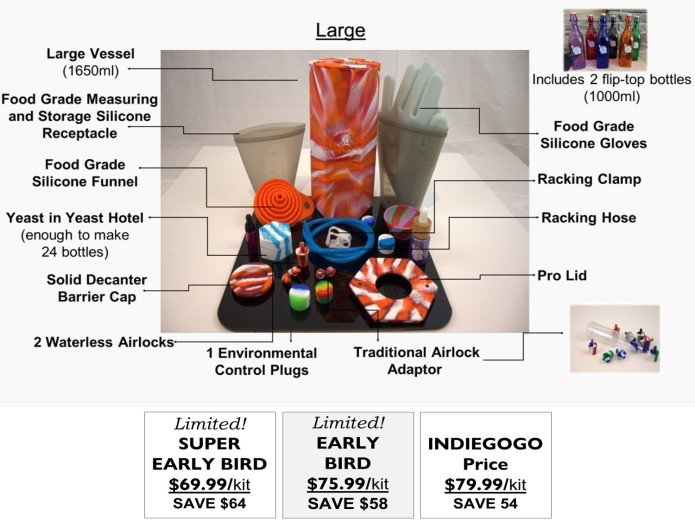 If you choose Large: You'll get 2x 1000ml Bottles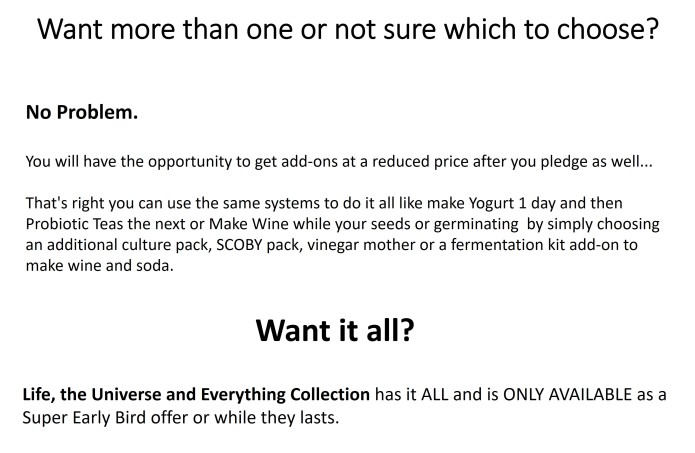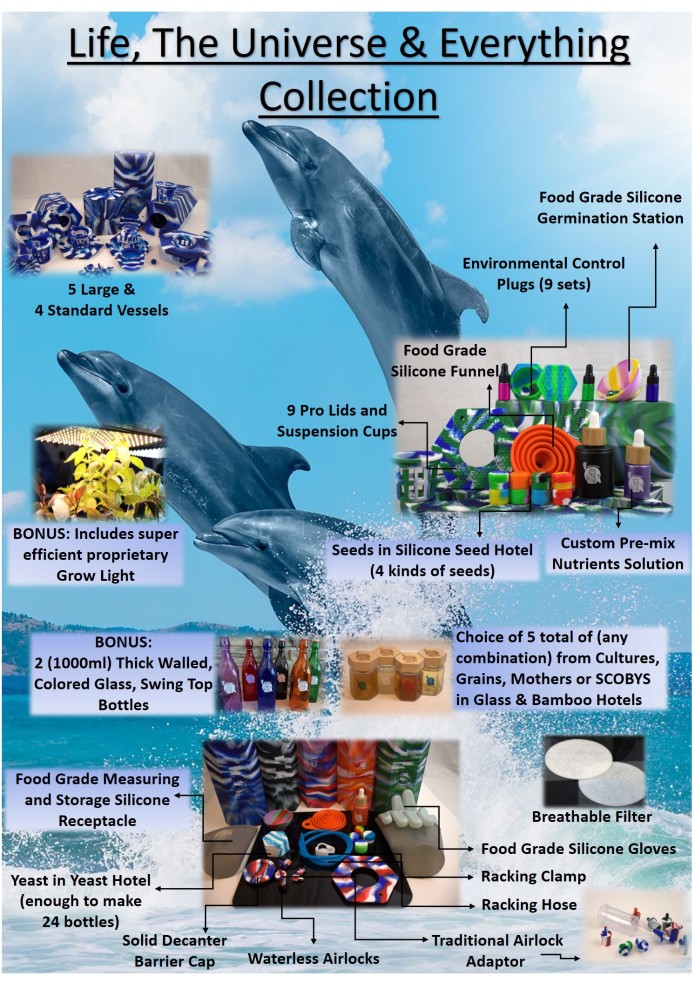 About Us and Our Company Driving Mission:
We Invent, Design, Develop and Deliver Sustainable Products and then Teach, Provide Instruction and Provide Support So Everyone Can Grow and Make Their Own Food.
"We design, develop & deliver sustainable products to give everyone access and control of their own healthy, local, food supply 365 days a year.  Everywhere!"
We believe that 5 Minute Farms™ are not only the simplest and most truly sustainable agricultural growing systems and personal food supply chain systems to date, but that together with our community we can move the needle and eventually END food insecurity in our lifetime by making sure everyone has access to the tools and the knowledge to grow and make their own truly healthy foods.
We are just like you …
We face the same struggles, stresses and problems.
We worry about our finances, our health, our children's health and like you, and everyone else that has been paying attention, we worry about what we are doing to this planet.
We worry about the day to day and what the future holds for ALL of us.
– Some days it just feels overwhelming.
Just shopping for healthy food is a battle…
•What will be available?
•How expensive is it going to be?
•How much should I buy so I have enough to last?
•Is there enough room in the refrigerator to store it?
•How much of this is going to go bad?
•Will it be available when I come back?
•What does my schedule look like to come back to shop?
•What am I going to want to eat in 2 days, 3 days, 4 days … 7 days from now?
•What is the weather going to be?
•Is there a recall due to E-coli or Salmonella? Will there be? How would I know?
•What poisons are really on my food? How would I even know?
•Why did they wrap this cucumber in plastic? 
•Why is it almost $5.00 for an already dead and decaying herb twig in a plastic box?
~ UGH – Access to Fresh, Local, Healthy Food SHOULD BE EASY – Right?  ~
Reimagining the Food Supply Chain and
What it Means to be a "Farmer"
We envision a Micro-global solution, powered by individual 5 Minute Farms growing in just 1 square foot everywhere, instead of the current and failing "centralized" system that leaves 2 Billion People to suffer and 9 Million People to Die directly due to food insecurity issues every year.
We also see the increasingly less diverse, poor selections, higher prices and lower quality. 
*That was even before the pandemic and extreme events of Fires, Floods, Droughts, Tornadoes, Hurricanes, Snow Storms, Increased Fuel Prices and Quarantines.
It can all be so frustrating and stressful – We get it.

5 Minute Farms™ & Living Foods Collection™
In the battle to simply get Fresh, Local, Healthy Food and have it Available 365 Days a year and be able to know and trust what we are putting into our bodies we invented and designed the 5 Minute Farms™ and Living Foods Collection Systems™  as 'Weapons of Mass Creation'™. 
**5 Minute Farms & Living Foods Collection Systems, Methods, Processes, Components, Devices, Utility and Designs are Protected by Copyright, Trademark and Patents Pending. 
 
The Designs, Systems and Process To Get Here:
Our goal was and is to make a material and substantive difference in the daily lives of Everyone, by making it possible for every person, everywhere to have access to local, fresh, healthy food – 365 days a year in way that was also great for this amazing planet that we all share. 
We Think Differently …
To accomplish that goal we had to look at the entire system of systems from the granular to the macro and all that entails from simplicity of use, time required, where, what and how we can grow, the impact on the humans, the plants and organisms that make up the magic that are living foods, the economics as well as the short and long term impact to the planet. 
10 + Years of Research, Development & Design…
During the course of 10+ years of research and development we consulted, collaborated and tested with Scientist and Professionals from many fields:  Medical Workers, Doctors, Dietitians, Farmers, Master Gardeners, Mycologist, Biologist, Agronomist, Plant Physiologist, NeuroScientist, Educators, Social Scientist, Psychologist, Ethnographers, Historians, Physicist, Engineers, Data Scientist, Informaticians, Professors, Designers, Manufacturers, Food Relief Organizations, Environmental Professionals, Sustainability Experts, Government Orgs, NGO's, Kids and lots of students from Ages 4 years old and from all over the world to make sure we hit our primary objectives and design criteria.
About Us, The Systems and Timeline: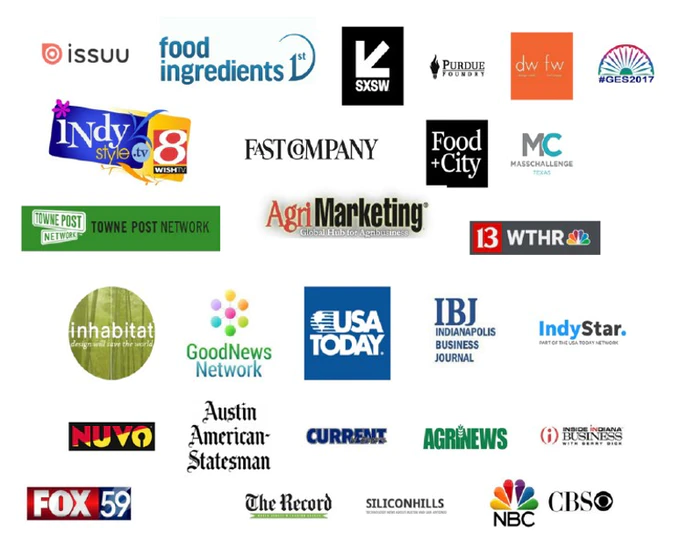 "World Changing Ideas" – FastCo | "Only Winner of Both Food+City & Peoples Choice Awards" – SXSW | Estimated 1 Million+ Plants grown in previous invented technologies & beta systems saving over an estimated 30 Million Gallons of Water.
The original inventions were superior to everything else we tested and tried BUT we knew we could better…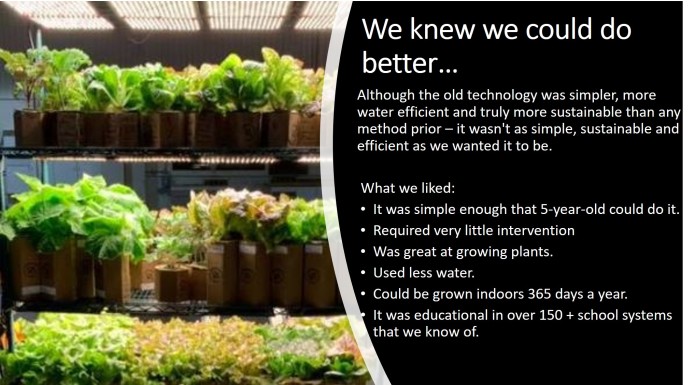 We are always working on better solutions for this Planet and those that share it. | We are also in final Testing to feed us in space and on other planets.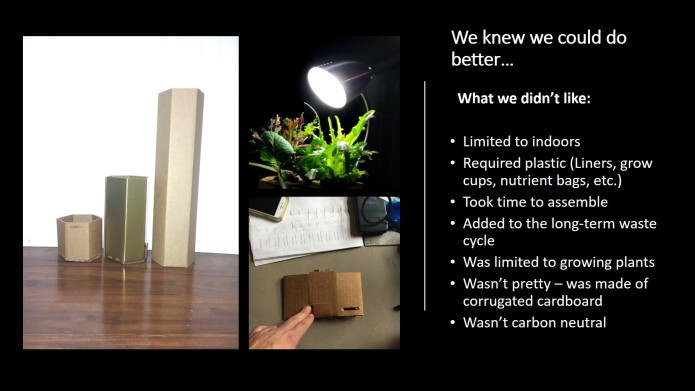 Our New Systems solve ALL of the problems from the Old Systems and they are Pretty.
That brings us to Today and this Launch…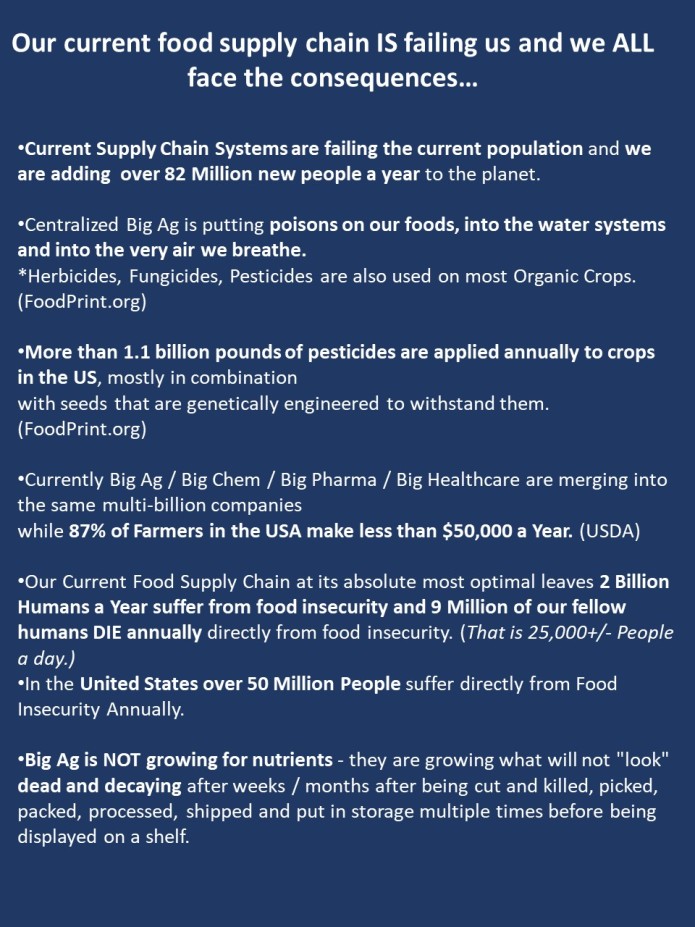 The reality is that We The People are the only ones that can save ourselves and our planet – Together.​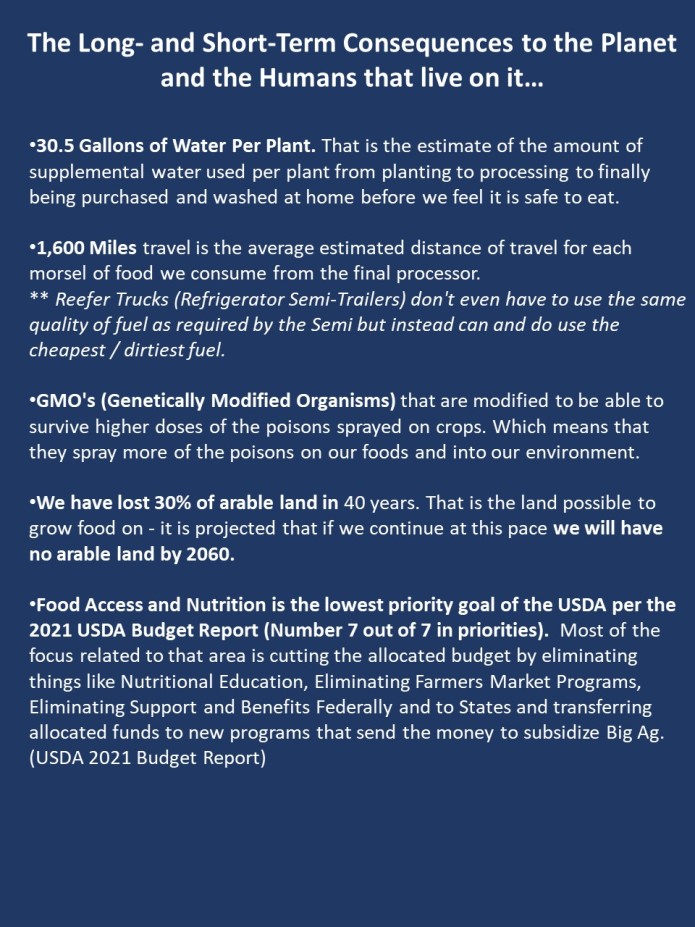 When Eleanor Roosevelt planted a Victory Garden at the White House – The head of the USDA protested because of the fear it would hurt Big Ag!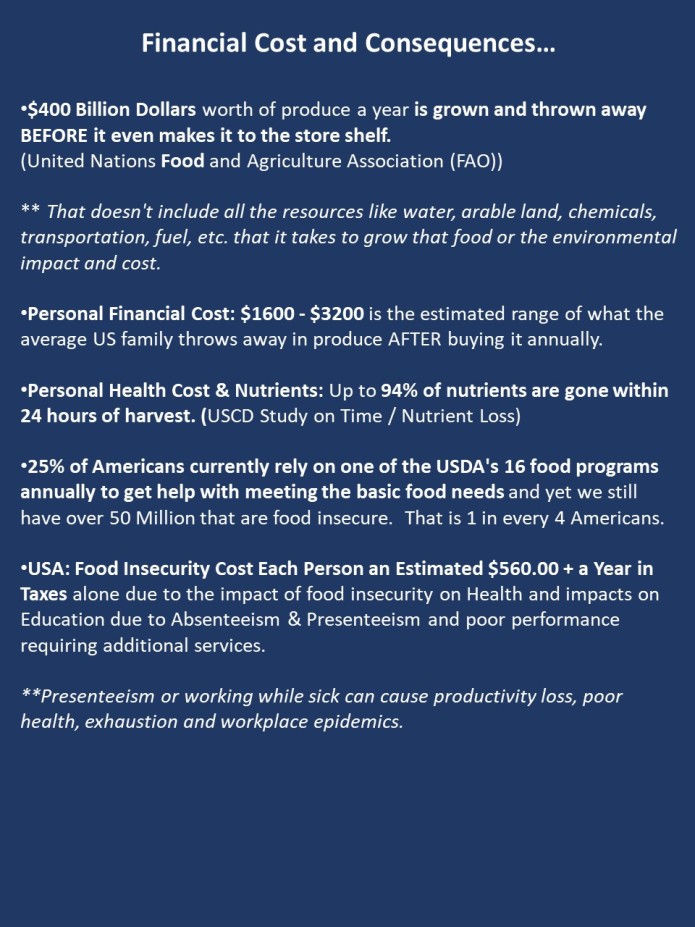 Suicide rates of Small Farmers is 2nd only to War Time Veterans while Big Ag / Big Chem get larger and have more control.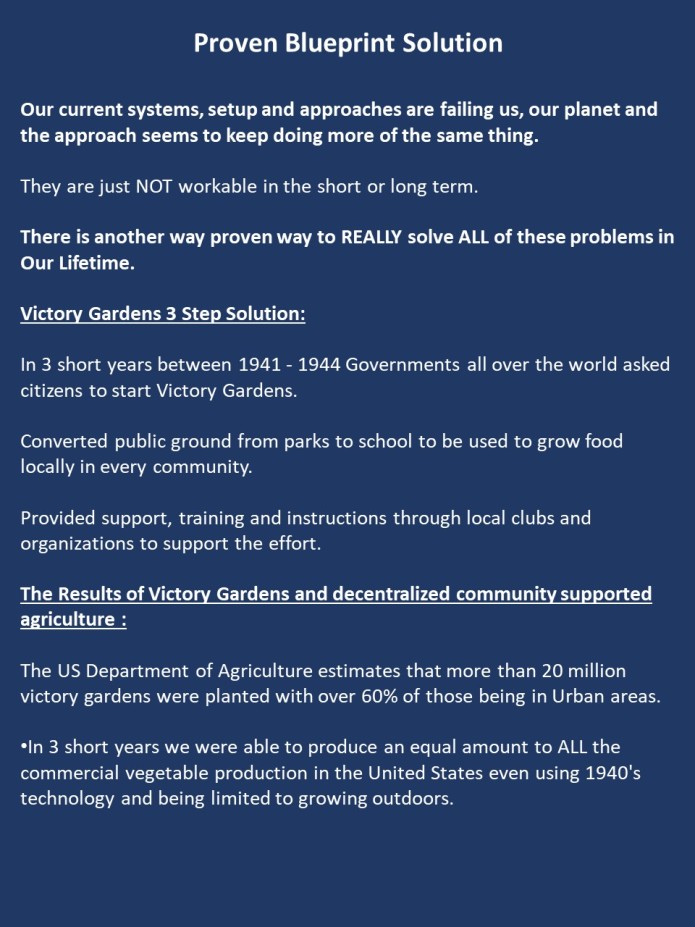 We The People Can and Must Save Ourselves, Our Communities and Our Planet.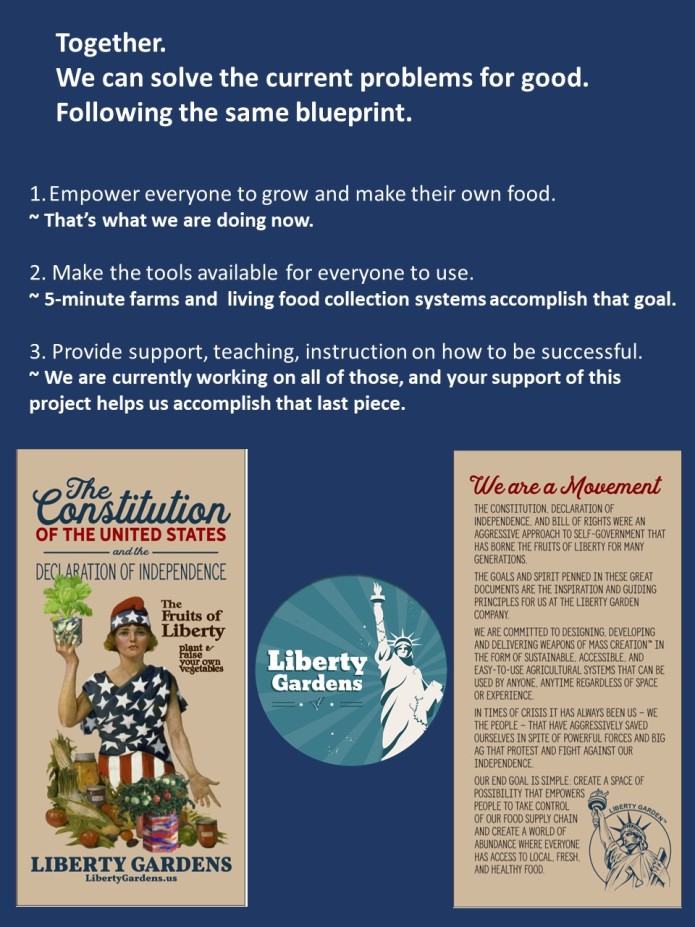 Thank you for taking action and supporting this project.
Environmental commitments
Long-lasting design
Maximizing the life of the systems and components was a priority from the very beginning and throughout the process. We fully understand that the most sustainable products are those that are used for many generations, are technology independent and can be used for multiple purposes. We consider the entire lifespan from cradle to grave in our designs including the initial materials, manufacturing processes and end of life. We strive to create products that are not just carbon neutral but that eventually become carbon negative by growing enough in them to have removed more C02 than was required to manufacture, ship and use the products. Reusable is always better than recyclable that is why we approach the designs as Full Stack Sustainable from Manufacturing, Multi Use and Materials that will last indefinitely,
Reusability and recyclability
Reusable is always better than recyclable that is why we employed Full Stack / Life Span Sustainability as a goal form the beginning. Should anyone want to recycle them: – We will reward anyone who sends our systems or components back to us for repurposing, reusing or recycling. – We will either clean and reuse, redistribute or recycle for you. They are designed to be used again and again and again – and passed down to generations and we will gladly help with the knowledge to use them and full support.
Sustainable materials
We use 100% Food Grade Silicone in our system components. Made from the 2 most prevalent elements on the planet Oxygen and Silica – they last many lifetimes and then if / when recycled break back down into Oxygen and Silica. The lowest impact is NO ADDITIONAL MATERIALS. That is why even our components are part of the packaging – we designed the systems and components to ship and work together through the whole supply chain and they are designed to nest, usable components store other components and are packed together with minimal or no additional packaging or materials required. We are very minimal in our printing and ink usage and when we do have to print on items we do our best to use environmentally friendly processes and inks like Algae Based Inks as an example – even our boxes are designed to be reused in the production of food and improvement of the environment. Our Growth medium is a renewable sourced waste material from the production of the Coconut vs. other possible mediums that involve either decimating natural resources like bogs to make pods that are wrapped in plastic or stripping arable land to put in bags and then shipped. Our SCOBYS, Mothers, Cultures are in Re-useable Glass Containers with Bamboo Caps instead of most others which are shipped and packaged in single use Plastics, Mylar or other form of waste adding materials.
Environmentally friendly factories
We have spent 2 + years working on just the manufacturing processes with our amazing partners and suppliers from using humans over robots in manufacturing when possible. Humans have bills to pay and mouths to feed. We use additive and just in time manufacturing processes and even use the "waste" and trimmed pieces from the production of our products in our other other products and components. With on-site reuse / recycling of the silicone and reusing even quality control rejects, errors or test systems we are extremely low waste. By design! It's easy to do but easy not to do.
Sustainable Distribution
Our systems were designed with the last mile in mind – thats why our components fit inside each other, use durable materials and minimal amount of packaging required to protect the items, use reusable silicon multipurpose bags instead plastic bags, use renewable sourced growth medium… We are very proud of what is NOT in the packaging – No Plastic, No Peanuts and No Styrofoam.
Something else
Our Websites and Servers are powered by wind as the primary source and we are aggressively pursuing the goal to reach zero fossil fuels and be self sustaining in our grow and production facilities including pursuing and helping establish new high water marks for ISO-17001 Sustainability Standards. We are constantly looking for ways to reduce our carbon footprint from logistics, to having employees work virtually, responsibly sourcing materials and vetting vendors on their supply chain, materials and reviewing our own totality of cultural, environmental and social impact now and in the future. We may not always get it right or perfect but we sure try and will keep trying and learning and implementing changes where and when we can.