619 Spirits Distillery &Tasting Room | Invest in History – San Diego's FIRST Urban Distillery!
* Make sure that you check out our Referral Contest!!!
Our journey to an urban tasting room.
As many of you know, we've been around for a few years now, but thanks to outdated prohibition-era laws, craft distilleries were always relegated to out of the way places. You could visit, of course, but basically we could show you the still, give you a thimble-sized taster, and send you on your way. 
But the laws for craft distilleries in CA have changed, finally, which means that we can now make our award winning products and sell them to you directly, in both cocktail and bottle form, right from the distillery! That's why we're building San Diego's first Urban Distillery and Tasting Room, a new meeting, drinking and eating experience — in the heart of North Park.
We're just weeks away from once again transforming the San Diego spirits scene, and as a founding member, you can participate in this exciting new concept!
First some brief history…
A few years ago, after a life-long love of spirits, I decided that San Diego needed its own premium vodka, so I created 619 Vodka. This super-premium handcrafted spirit received praise and multiple industry awards.
Suddenly, flavored vodkas were everywhere — and they were terrible. Really bad. Chemically altered and mass-produced concoctions using chemicals and artificial flavors. They were best suited for making adult Slurpees, but never in a fine cocktail.
In contrast, the world's finest cocktail bars produce their own single batch vodka infusions. Nothing artificial. Only the finest ingredients. It was with this in mind that we set out to create 619 Vodka Infusions. Working with noted mixologists, local farmers, and fresh locally sourced ingredients, we produced our line of limited quantity, small-batch, hand-infused vodkas.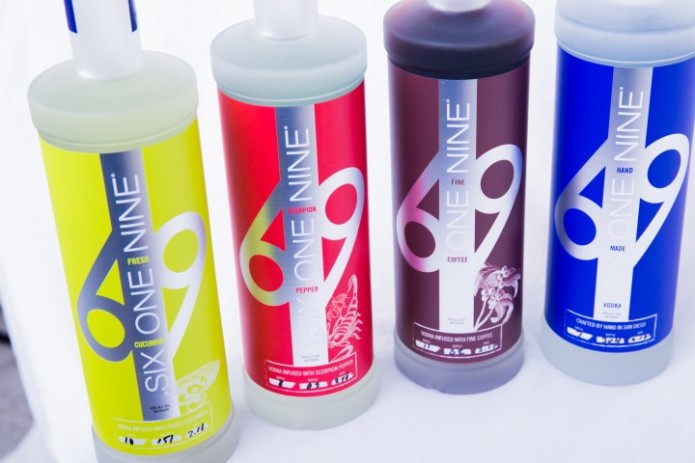 Bringing it all to North Park
This one-of-a-kind experience will bring under one roof our production distillery, our handcrafted vodka infusions, a tasting room capable of mixing any type of cocktail, a full-service kitchen, indoor seating, outdoor patios, and more. It is also a location where our fans can purchase, by the bottle, our classic 619 Vodka and our soon to be famous 619 Vodka Infusions

We conceived the 619 Spirits Distillery and Tasting Room as a gathering place for those that love a fine cocktail and the ability to share it with friends. Located in North Park, we are walking distance to many other fine bars, restaurants, and clubs.
We'll also have tours of course, as well as classes on how to make your own infusions, cocktails, etc. You'll be able to learn how spirits are made, and watch us produce cool products from start to finish!
We'll also have a full kitchen too, where our Chef Sean Ames will be coming up with cool new dishes to complement our diverse cocktail menu. And we'll be able to do cocktail pairing dinners, private events, and much much more!
And now for the pitch
We funded 619 Vodka and 619 Vodka Infusions ourselves. We've now infused (pardon the pun) all of that capital into launching the 619 Spirits Distillery and Tasting Room. With the finish line insight, we are opening this up to our friends to help us with the final push. Those friends will enjoy special access, special treatment, and any little perks that we can provide.
Imagine sitting on our patio holding court with your friends, each of you sipping handmade concoctions using your favorite spirits (hopefully some 619). Take a walk into the distillery where you will have VIP access. Give your friends a tour. Then go into the tasting room and sample our latest infusions or other favorite spirits. A great day. As a founder, this experience can be yours.
So how do I get in on these groovy perks you ask? It's really simple.
Create an Indiegogo account (if you don't already have one)
Log in (duh!)
Click on the perks(s) of your dreams, and select any perk options required.
Enter your payment info and click "Submit"!
Share our project like it's the plague. Spread it to anyone and everyone you know! 
What else makes us special?
We are local, and produce our vodka completely from scratch right here in San Diego. Some other local distilleries actually do not distill from scratch, but rather buy already distilled NGS (Neutral Grain Spirits), and then re-distill them once in order to claim that their product was distilled in San Diego.
We infuse with only fresh, locally sourced ingredients for our infusions. No fake colors, flavorings, additives, or preservatives.
Accordingly, we are able to constantly introduce new, interesting, and unique infusions, as well as seasonal products, etc.
We will be the first "urban" craft distillery and tasting room with a full bar, which means we'll be able to serve up spirits made by all of the other craft distilleries in the county.
We spent the better part of a year working with the our Federal Overlords in order to submit very specific formulas that cover literally thousands of possible infusion recipes. As far as we know, we are the only distillery in the country to do this. What this means is that we can get new and seasonal infusion ideas from concept to bottle in 4-6 weeks, instead of the usual 4-6 months that it would otherwise take.
Will my investment really make a difference?
Your investment will help more than words can convey. Specifically, you will have the chance to be part of creating a next generation urban distillery. We aren't funded by any of the giant liquor behemoths (or even the minor liquor behemoths); we are funded by YOU. We've come a long way on our own, but now we need you to help make this new place rock!
And when you're 85 years old sitting in a rocker on your porch (does anyone sit on their porch anymore?) sipping on your favorite 619 Vodka infusion, you'll have something to be proud of, besides the awesomeness of just being 85 and still drinking!
And soon, you'll be lounging on our patio, soaking in the sunshine, enjoying a Scorpion Pepper Vodka Bloody Mary, just feet from where that vodka was made! 
How are we going to spend the money?
Deck out the tasting room. We can build a regular old tasting room with a wooden bar, and some bar stools, OR we can create a crazy cool tasting room experience, complete with a hand-crafted bar and kick ass art installations by my good friend Jason Feather of JFeather Designs. Jason's art graces buildings all throughout the southwest, and that talent doesn't come cheap!
Finish paying off our killer Double Dragon Still. We've got a small still ready to go to get things started, but we've got a deposit down on a pretty awesome double columned still that will allow us to crank out spirits much faster than we can now, and will allow us to play around with making rums, whiskeys (and whiskys for the Scots in the crowd), cellos, and other cool spirits. (This baby alone costs around $40K!)

Buy equipment. Just running everything through the still isn't enough. We're going to need fermentors, barrels, storage vessels, bottling equipment, labeling equipment, and all kinds of other crazy stuff to help bring our infusions to life in the new space!
Get Roscoe a comfy place to hang. Roscoe the distillery dog loves chilling out in the middle of the tasting room, but we'd really like to hook him up with some more cozy accommodations.

*Since we can't legally ship liquor (especially in cocktail form), you'll need to come by the distillery to pick up/redeem your various perks. If you need a friend to pick things up, please just let us know, and we'll happily help out.
So what else can I do to help?
Did we mention that you can share this?
Please share this campaign on Facebook, Twitter and E-mail *using the Indiegogo tools at the top right of this page. Spread the love far and wide, or Roscoe might end up having to sleep on the floor for good! And you wouldn't want that on your conscious, would you?
* Please Note: When sharing, please make sure to use the tools at the top right of this page so that we can keep track of how many people find us based on your specific referrals! This could be important later on in the campaign! (Hint, Hint) 🙂
Recent Press
San Diego's Got Spirits – San Diego Urbanist Guide
Moonshine and Dominican beans unite: Coffee + Booze – San Diego Reader
Home of the Scorpion Pepper Vodka