7th Heaven Spices Retail Store | Looking to open our own retail store with our spice blends, sauces, dressings and specialty foods.
Our Aux Fines Herbs Seasoning In An Egg Omelette

Our Maple Sugar Cracked Pepper Blend On A Cowboy Steak Cooking On A Salt Block.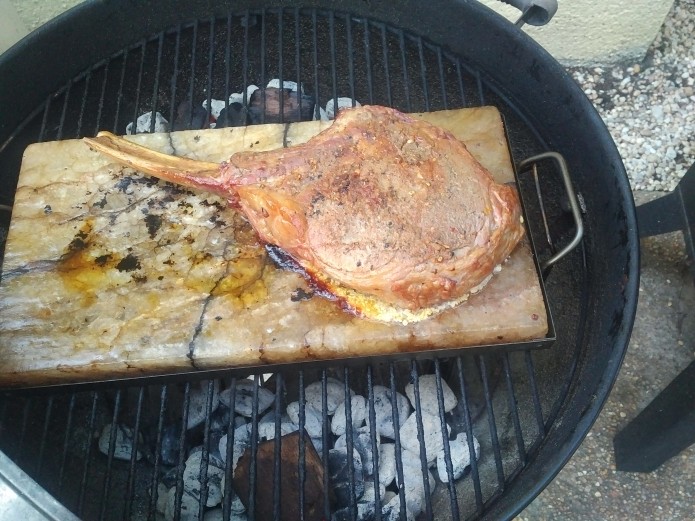 Short Summary
We are a husband and wife team who has been designing spice blends for over 20 years. My wife, Bernadette, was a teacher and day care administrator, and the cook of the family. Me, well, I will mess up boiling water, but I am the "Spiceologist" of the family, with an additional background of administrating and managing a large Connecticut State Agency in Connecticut as the Deputy Commissioner of Consumer Protection. Our campaign to open a retail store is so important to us. It will enable us to offer our many healthy and organic food items to our customers and to our community. As a backer/buyer you will enable our dream to reach fruition and thereby touch and help many people realize the value of healthy eating and the rewards of understanding and tasting great food products from around the world. Imagine spices and specialty foods from Africa, Asia, the Caribbean, Europe, South America, and other far away lands right at your finger tips. That is what our retail store is about!
What We Need & What You Get
Our campaign is to raise $35,000 for the retail store. Any additional money will be used to expand our product line. In order to accomplish this, we have offered some great perks for you to buy. Our products are very unique and represent a delicious selection that we know you will be happy with. The money will be used for:
Brick & mortar for the store including store renovation, shelving, furniture, and other construction necessities.
Purchasing of inventory and stock.
Other equipment including a spice blending machine to mix products, a labeling printer, and a POS system. 
Our retail store will be located in the Hilton Head Island/Bluffton area. If you have not visited our retail website yet, please go to: www.7thheavenspicesretail.com for additional information on our store and products. There is a list of the specialty foods we will offer along with our spice blends, dressings,  and sauces.
The Impact
By purchasing our products/perks you are investing not just in the promotion of healthy food products but also in a lifestyle. We have been successful in expanding the business and are now supplying over 30 restaurants and country clubs with our blends but we need your help to expand into other areas and markets, so you can buy our products on-line. 
Risks & Challenges
Any business has inherent risks. But our experience over the past 20 years in managing, marketing and developing our brands provides us with a unique opportunity to build our business and move it to the next level with your help.
Other Ways You Can Help
Of course we would like for you to buy our products. We have had so many comments from our customers about how they love our items. But, of course there are other ways you can help including:
Sharing us on Facebook with family and friends and asking them to share with others.
Providing us with a donation (see rewards).
Joining our newsletter (information on our website www.7thheavenspices.com).
Joining and sharing us on LinkedIn. We have 8,000 followers join them!
Use the share tools on Indiegogo (the back it button above) to get the words out about us.
And, of course, buying our products and sharing with your friends and family.
GRILLED FISH TACO WITH OUR CUBAN MOJO BBQ SEASONING