A poster that knows the weather | The first updating paper poster, never forget to check the weather again.


What is the Typified Weather Poster? 
This screen printed poster uses smart ink and a tiny internet connected computer to reflect the day's changing weather. As the weather forecast changes, so will the ink on the paper. The icons take 5-15 minutes to fully activate and will update throughout the day as needed.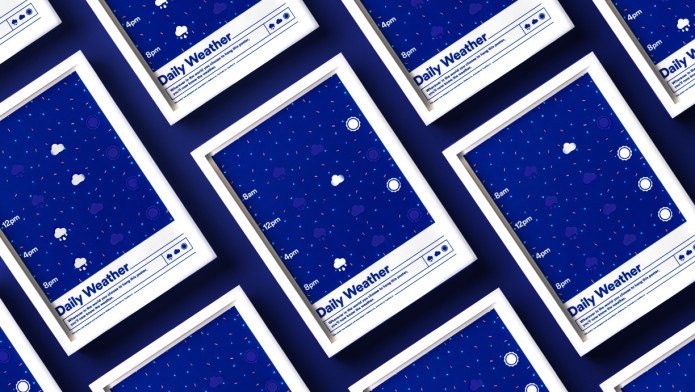 How it fits into your life
Check the weather with a glance before you leave the house.
Screen-free your morning.
Un-intrusive tech which won't compete for your attention.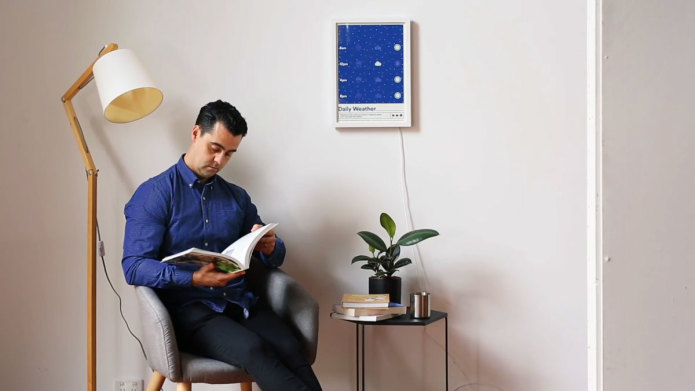 Who is Typified?
Typified is a small team who develop internet-connected products alongside a host of collaborators. We aim to release products which don't ask anything of you to do their job, but help you in your day to day life. These products will be less intrusive ways of expressing the internet and have strong Art and Design influences.
We've spent the last 18 months figuring out how a paper poster, printed with smart ink could be controlled by a tiny internet connected computer. Our first product which uses this technology is the updating Weather Poster.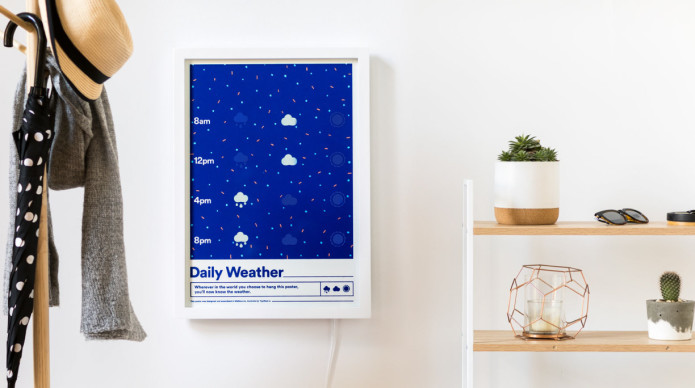 Why paper and smart ink? 
We live in an incredible age of connected information but the ways that it integrates into our lives is often intrusive and overly demanding. Screens ensnare our attention and then usually keep it for much longer than we feel good about. Because the Weather Poster is literally a printed poster without any light emitting elements, you don't have the nagging sensation to look at it like you would a phone or TV screen. We also think of the Poster as equal parts Art and Technology, it has rich colours and tiny imperfections from the screen printing process as well as exclusivity as each design is limited to a run of 500. This sits in stark contrast to screens which are produced in the millions of units.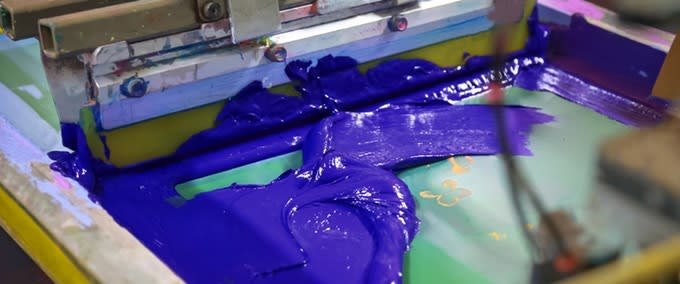 Why just the Weather? 
We think there is a place for less attention demanding products which just take care of one important task in an ultra convenient way, whilst also adding to the look and feel of your home or workplace.
How do I use it? 
Once you've plugged in the poster and connected it to your Wifi, it will never ask for more than a glance from you to do it's job. Simply, by hanging it up in your house or office it will naturally catch your eye as you move through your day.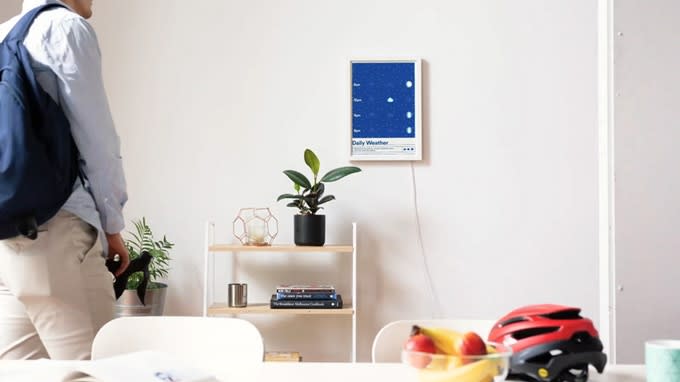 How can ink on paper change? 
Smart ink is any ink that's been engineered at a chemical level to change colour in response to a certain stimulus. Our new technology allows the tiny computer to interface with the smart ink. We don't think the internet has ever been expressed through paper and ink in this way.

What you get with the Typified Weather Poster: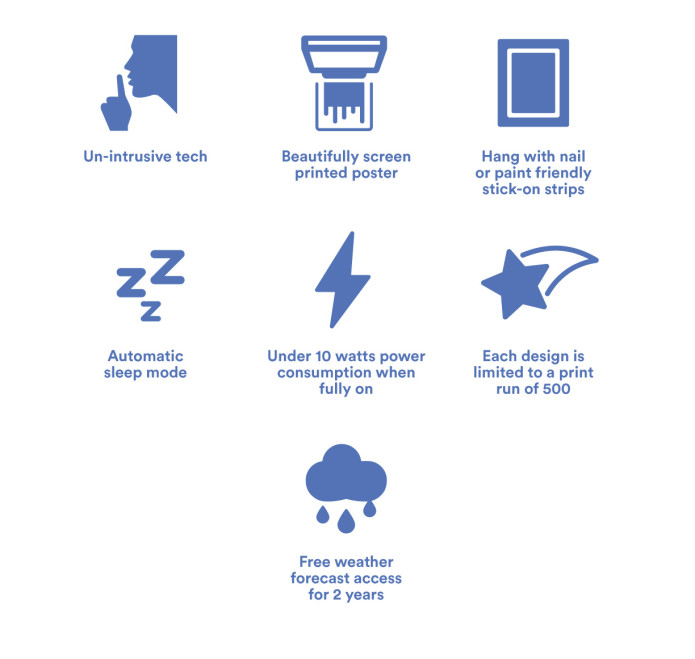 What weather can it display?
The poster shows the weather at 8am, 12pm, 4pm and 8pm. It only shows 1 day's weather forecast at a time, so if it's 4pm and the poster displays 8am sunny, this is information about the morning you've already had. The different weather types are grouped into 1 of 3 symbols; rainy, cloudy or sunny. The criteria our software uses is based on how you would dress/act according to the weather e.g. you would probably act similarly to 'thunderstorm' and 'rain', likewise with 'sunny' and 'partly sunny'. Here is a key of how we've grouped the different weather types.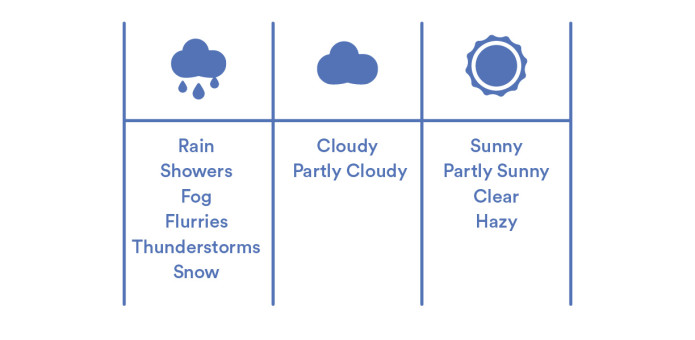 If you live in a very hot house
Past 29C/84F, the smart ink will start activating on its own. The average room temperature in Australia, Canada, America and the UK is most often cited between 18C/64F – 21C/70F. The World Health Organization recommends home temperatures to be 18C/64F for healthy adults. If your house does reach 29C/84F, it just means all of the icons will start activating and you'll have to wait for the house to cool down before checking the weather. It doesn't damage the poster.
If your house is consistently 29C/84F and over, we wouldn't recommend purchasing the poster.
Where did the idea come from? 
The original idea of an updating weather poster came at my parents house, in the UK. We were all in the kitchen, chatting and enjoying each other's company when the topic of 'the weather' came up. Seconds later, we were all on our phones, and the moment had gone. It had been replaced with us all concentrating on our little screens, our attention had shifted from the real word to our screens and then stayed there. 
The walls seemed the most accessible place to keep this ever-changing stream of information. But, from something less intrusive and stimulating than a screen. A nicely printed poster or a piece of art which could change and update seemed like a good alternative.
Product development process 
We worked for about 18 months on figuring out how the poster would work; iterating through the electronic, software, industrial and graphic design as well as figuring out how to actually print the smart ink (it's particle size is about 10x bigger than that of standard ink). There was at least two occasions where we thought we'd hit a legitimate dead end, but we eventually found ways to make it work.
Screen printing
The studio who we've teamed up with is Dangerfork in Melbourne, Australia. They're super passionate and are really into the challenge of working with our smart inks.
From their website: "Coming to life in 2010, Dangerfork is a Melbourne based boutique printing company and print gallery with the passion of having artists printing for artists".
Screen printing delivers more depth and richness of colour than other commercial printing methods. It is also far more expensive, but we feel the final result is worth the increased cost.

image: Dangerfork.com
Set up and connectivity 
Connecting the Weather Poster to the internet is easy and uses the same method printers use. Simply turn the weather Poster on at the wall, and then within the next 45 seconds, push the WPS button on your router. For corporate offices, we will supply a quick and easy setup guide for connecting the poster to enterprise Wifi networks (<5mins).
Hanging the poster
The Weather Poster has a custom back plate which allows hanging via a nail in the wall or via stick-on strips. We use the '3M' branded strips and have been very happy with them. 
The complete poster weighs 1.6kg/3.4lbs, stick-on strips usually mention their max hanging weight on the pack. If there is enough demand, we can add a reward tier which includes a set.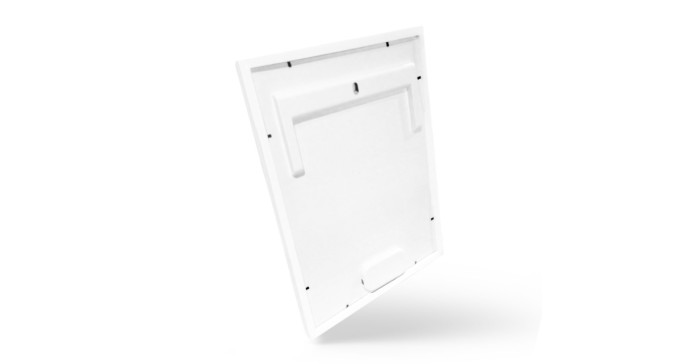 Finished product manufacture process 
The actual poster is screen-printed in Melbourne, Australia which gives rich colours that have more in common with an original piece of art than a mass produced poster. The electronic circuitry is made via modern PCB manufacture and pick and place machines. The micro computer is sourced from a Northern American IOT company. The frame is made from American oak with a glass pane. The back plate is vacuum formed and additional internal components are CNC machined.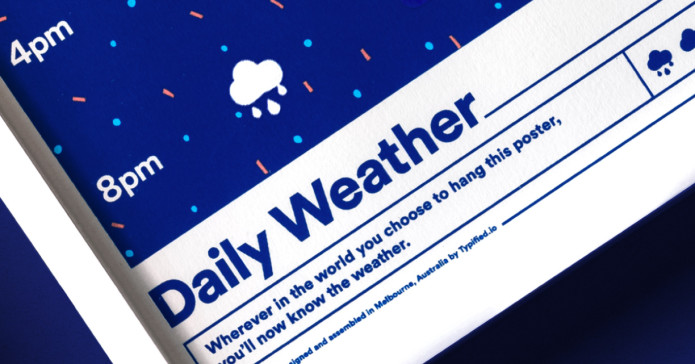 The components
 Exclusive print runs
Electronics are generally mass manufactured, with hundreds of thousands of the exact same design being produced. A lot of this is due to the minimum order quantities and the tooling costs involved in modern electronics manufacture. Whilst the electronics in our updating posters have to obey these 'minimum order quantity' dynamics, the printed poster does not. This allows Typified to release limited runs and exclusive designs.
All of our posters will be Exclusive print runs of 500, before changing the design. We will have 5 very similar designs per series, before changing the visual theme entirely for the subsequent series.
Weather forecast access 
We're supplying two years of free weather forecasts with each poster. We pay a small amount for every weather forecast requested by a poster. After this free two year period, it will be $7.50USD per year. This is less about making money and more about building a sustainable business in the long term. We will have a web page set up nearer the time, which will allow you to 'top up'.
Of course there any many places on the internet to find the weather for free, this is possible due to government backing or advertising. It is a mammoth task for our weather information provider to sustain a huge ever-changing database of all the different weather, in all of the different places in the world. When we call upon their database, they have no way of making advertising revenue. Hence, we have to pay a very small amount each time. The poster checks in with the database every hour (during the day) to make sure it has the most recent forecast, so over a year you can see how this adds up.
The Team & Collaborators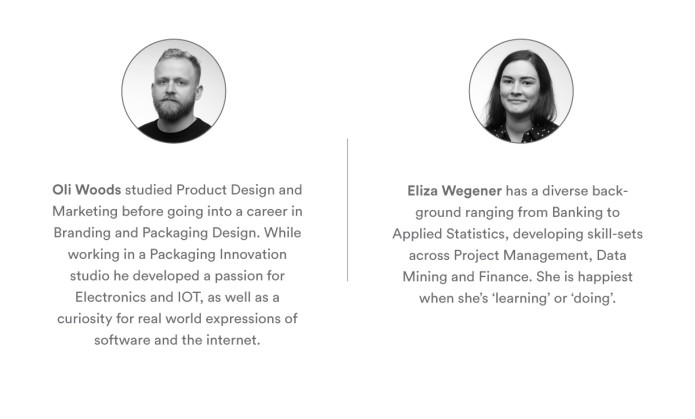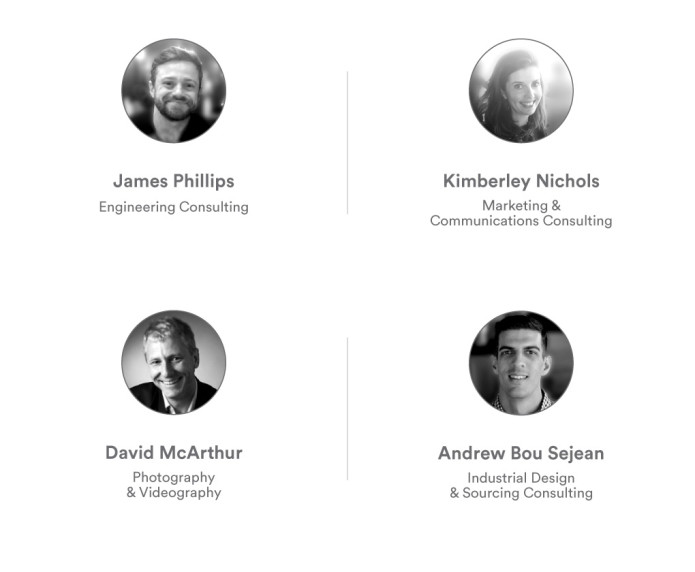 Third party help
Within our Kickstarter goal, we have included budget for an independent circuit board design review from one of the best hardware startup consultancies. They have been responsible for bringing multiple products to market, some of which are stocked in Apple stores.
We're using a company here in Australia for our electronics certification. Again, this has been included in our budgeted Kickstarter goal.
Why we will succeed
We have completely manufacturable prototypes made up entirely of components from our suppliers. All of our suppliers are ready to go and we've reviewed all of their product (apart from packaging). 
The remaining design jobs include tweaking the final circuit-board and back plate design as well as implementing a wifi connection script and automation. We've been working on this project for 18 months and were not comfortable launching this Kickstarter until we knew we could fulfil our orders and deliver on what the poster promises.
Why we need your backing? 
We need your backing on this project so we can purchase our first order, certification as well as a design review, we can bring then bring the poster to market. We truly believe you will love having a Typified Weather Poster in your home. If you feel the same way, please back us below and help us bring this new kind of product to market. 
Thank you!
——————————-
Shipping Goals
Our last two prototypes have been made entirely from our suppliers manufactured parts. There is a bit more work to be done but it's all do-able. We aim to fulfil orders within 6 months time, we feel like we can deliver a lot quicker than this but Kickstarter campaigns are notorious for delivering late so we would prefer to have this buffer.
Timeline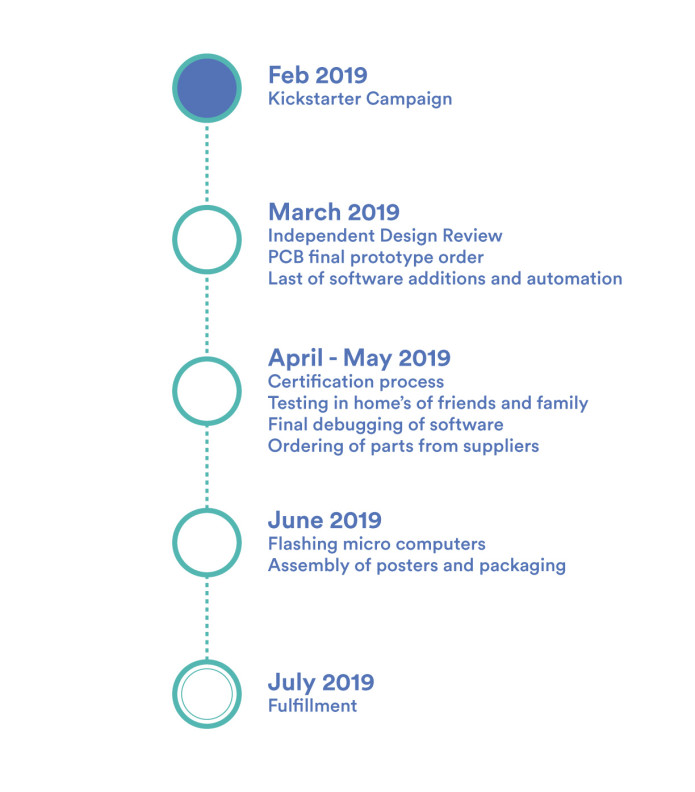 Our vision for the future
We want to create products which are less intrusive ways of expressing the internet and changing information, ways more akin to Art and Design. By hanging the Weather Poster up in the main area of your house/office, you will know the weather without any habitual change or effort. This dynamic of uultra-conveniencewhere information is effortlessly received without even thinking about it really interests us.
Risks and challenges
• We still need to file for certification, we have chosen a partner who we will work with here in Australia. The Weather Poster is fairly low power and uses a fully certified power supply and connectivity module. Paper combined with electronics is uncommon, but not unheard of i.e. printers.
• Past 29 degrees C, the smart ink will start activating on its own. The average room temperature in Australia, America and the UK is most often cited between 18c – 21c and the World Health Organisation recommends home temperatures to be 18c for healthy adults. 
If your house does reach 29c+ it just means all of the icons will start activating and you'll have to wait for the house to cool down again before checking the Weather. It doesn't damage the poster.