Air Meditator the Ultimate Meditation Cushion | Meditate on Air™ in total comfort, anywhere you go!

Air Meditator™ is the first-ever inflatable Meditation cushion on the market. It is mindfully designed for your ultimate comfort. The patented, crescent-shaped cushion has three separate easily adjustable air chambers allowing for customized size, comfort, and stability.
Everyone has their own preferences on how they like their mediation cushion to feel.
Air Meditator's three separate air chambers allow you to adjust the cushion to your comfort level.
Adjust the center chamber for optimal cushioning, spine support and pelvic tilt.
Adjust the two side chambers for hip and thigh support.
Proper position of the hips and thighs allow the knees to naturally rest comfortably.
The three separate air chambers allow for stability even when the cushion is partially inflated.
Maximum inflated size: 18" wide and 7" tall in the rear x 2.5" tall in the front (46 x 18x 6 cm). Carry case included.



We have listened to feedback from our customers and have spent the last two years diligently working to improve Air Meditator. The new version has several fantastic improvements.
1. Double welded seams for extra durability: We have contracted with a new factory that has the technology to seal each of the seams of the three air chambers with double welds creating a stronger and more durable cushion than the single weld of the original version.

2. State of-of-the-art-valves: Air Meditator's new state-of-the-art valves are a vast improvement over our previous valves and those of traditional inflatable products. Instead of biting and pinching to inflate and deflate the cushions, you simply have to blow into the valve to inflate it and push the button to adjust or deflate it. It's that easy! The new valve allows Air Meditator to be inflated/deflated in just seconds with far less effort than in the past.  

3. Air Meditator is lighter. The double welds create a more durable cushion allowing us to use a lighter material making Air Meditator easier to travel with.
4. New color options: The beige cushion seen in the video and photo is an example of a new color option that we are offering.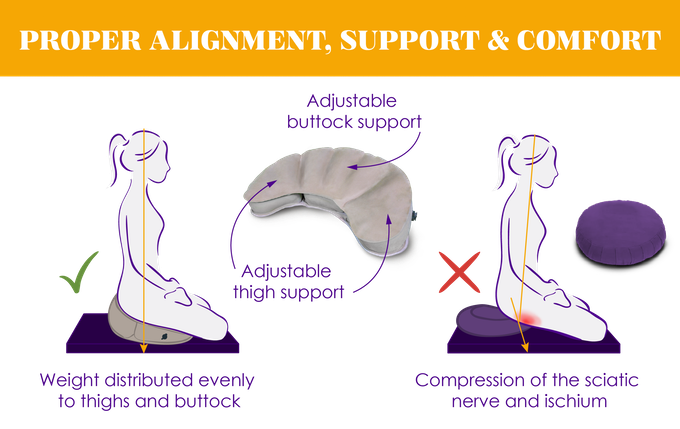 Proper body alignment is achieved when the hips and thighs are elevated allowing the knees to rest comfortably.
Correct posture: Air Meditator's adjustability results in a perfect seated posture, distributing your weight and therefore alleviating stress in the back, body, and legs.
Comfort and stability: When the body and spine are aligned, it allows for proper circulation, thus eliminating stress and numbness.

 Air Meditator weighs less than a pound (450 g) and folds nicely into a 9" x 9" x 2" (23 x 23 x 5 cm) pouch saving you space and weight in your luggage.

Our newly designed valves make inflating and deflating simple. Just blow into the valve to inflate it and push the button to deflate it.

There is no need to pinch or bite the valve as with old-school designs. Adjustments are easy. Just push the button to let out the air so that the cushion deflates to the size you prefer.

Sit in absolute comfort. Take Air Meditator with you everywhere you go and sit in comfort anywhere, any place any time!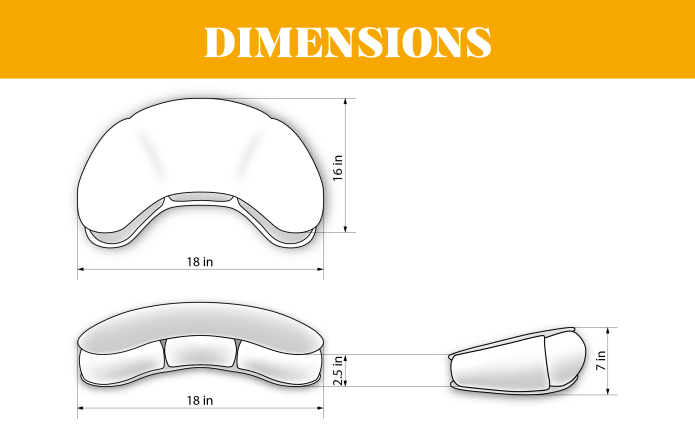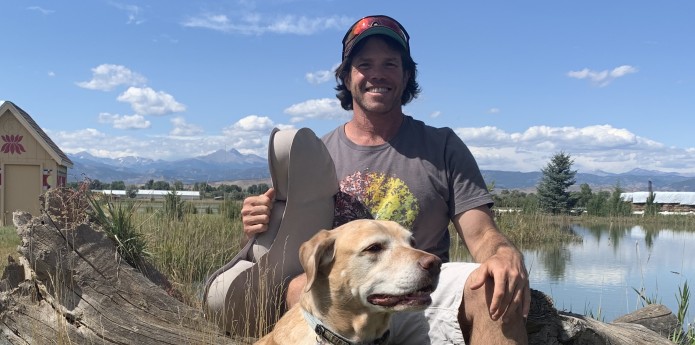 Hi, I'm Scott Salzman!
For more than two decades, I have been practicing meditation. My practice often takes me on retreats, to the outdoors and to local classes. When I travel, I continue my practice wherever I happen to land. Depending on the location, the available cushions were too big, too small, the wrong shape or not available at all.
My profession as a full-time inventor has spanned almost as much time as my meditation practice. Therefore, designing the best meditation cushion was right up my alley. I designed Air Meditator for a number of reasons. First, so that I could sit on something that met my comfort needs. It was hard for me to find a cushion that allowed me to sit without discomfort in my knees, back. buttocks, and legs. Portability was important to me as well. I needed a cushion that I could travel with and that didn't take up a lot of space and weight in my bags. Voila, Air Meditator was born.
While the cushion I designed worked wonderfully for me, I knew that not everyone would want a cushion exactly like mine. Therefore, the single air chamber was split into three, making it adjustable so that anyone who uses Air Meditator would have personalized comfort. The three chambers also add stability, keeping the air from moving back and forth, when the cushion is not fully inflated.
If you want to learn more about my other inventions, feel free to check out: Spotless Paw®, Purrfect Cat Box®, Spotless Swing®, and Groovy Glove™.