All Hands on Deck | Gloucester Brewing Company invites you to assist with our wonderful outdoor deck.
How the idea was born
It all started with a local connection that had yet to be made.  Two kids of similar vintage, both with ties to Gloucester, are making their dream a reality.  Mike Brewer currently resides in Coke with roots down in Glass and extending back through the Gloucester school system.  Myron Ware was born and raised in Newport News and grew up looking across Hills Bay toward Gwynn's Island from his grandparents' — now his dad's — house in Halliford.  The two eventually met playing volleyball at NASA in the early 90's, shortly after Myron began homebrewing beer for himself.  Fast forward to the summer of 2016, and Mike noticed a local newspaper article stating that a brewery on Main Street has been high on the Gloucester Main Street Association and Main Street Preservation Trust list of priorities of businesses to attract for some time, and was in the top three desired businesses by Gloucester residents according to survey feedback.
The concept for Gloucester Brewing Company is based on building a reputation for quality, hand-crafted beers and developing strong, collaborative relationships with businesses and restaurants along Main Street and Gloucester Courthouse.  The theme for the brewery will have a local Gloucester connection as can be seen by the logo, a deadrise coming right at you, and with the names of beers having a local feel such as Low Ground Brown, Ordinary Pilsner, DeadRYEz Ale….to name a few of the initial beers GBC has been working on using our Sabco pilot system.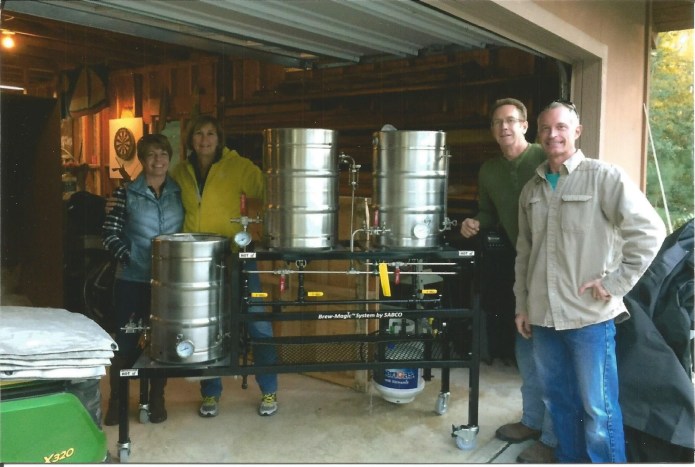 This is where we need your help!  To make this happen, we are looking for help in constructing an open-air deck on the side of our building, thus the "All Hands On Deck" theme of this crowdfunding effort.  We have not heard anyone tell us that this is a bad idea, and the people we've met while volunteering at Courthouse functions have continued to encourage us to just 'Open Now!!!'
What We Need & What You Get
We are seeking funding to create an outdoor deck that will expand our customer space and give those customers an open-air option to enjoy on their visits to Gloucester Brewing Company.
We've put together a set of perks that we ourselves would be interested in contributing towards if we were in your shoes reading this.  The perks run from the basics of showing support, to campaign-only perks that will allow you to let people know that you are a supporter that helped lay the foundation for Gloucester's fist brewery and taproom.  When you contribute, you will be recognized as a "Deck Hand", with some perks branded as such.
And if you're interested in saving shipping costs, we plan on having a Perk Delivery and Tasting event after our campaign ends.
The Impact
We have a budget, but with a building built in the 1920's as the Gloucester Ice House and last used as an engine repair shop, we are finding that estimates we'd originally made for the build out did not fully account for the amount of work that's needed to re-purpose the space for our needs.  Every penny raised in this campaign will be put back into making this dream a reality.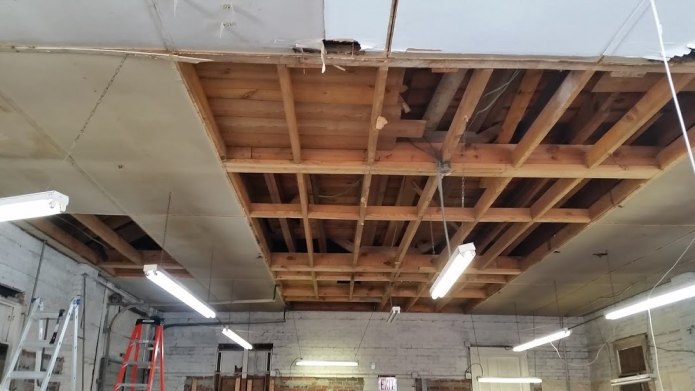 Risks & Challenges
As most people would attest, the prospect of being in business for yourself is a dream shared by many.  Starting your own business with nothing but a great idea and what's in your savings account can be both exciting and terrifying at the same time.  Mike and Myron (with LOTS of help from family and friends) have been hands-on from the start of this adventure, tearing the old engine repair shop down to the bones to get it ready for build-out.  There have been many expenditures so far, with many more on the horizon, but we've got a solid business plan with a local bank that supports us, and we have ordered our brewhouse equipment.  We are both familiar with managing projects with an eye toward being creative to overcome challenges when necessary.
We have a wide support network within the local community who have helped us along the way with advice thus far, and we are determined to overcome all obstacles that may pop up.  We're doing this and we want to bring you along to enjoy the experience.
Other Ways You Can Help
We realize that not everyone who would like to help has the means to do so.  If you aren't able to help with a donation, we would greatly appreciate you sharing our campaign through any social media outlets you enjoy and asking your friends to spread the word, even if it's by word of mouth.