All-In-Sensor: worlds first Multi-Sensor | The All-In-Sensor is the ultimative device for security & smart device control.
The All-In-Sensor is the ultimative device for security, real time informations and smart device control. 
It's the only device of its kind that can be connected directly to your smartphone.
And the lifelong update guarantee ensures that your system is always state-of-the-art.
Equipment for surveillance, environmental informations and smart device control has a huge problem:
You have to buy a lot of different sensors, a control center and a gateway, you need internet access, a WiFi connection and a lot of time for commissioning to get the result you want.
The All-In-Sensor puts an end to this expensive and complicated situation.
18 sensors and functions make the All-in Sensor particularly effective and affordable. Gone are the days of purchasing a stand-alone security system with many different sensors and time-consuming and nerve-wracking installations.
And it offers the most easy to use smart home control technology on market. Gone are the days of trouble to bring your smart home system to work. Now you need only few clicks on your smartphone, and all is working as you wish.
The All-In-Sensor is the ultimate solution for all your needs, at home and on the road.
Instead of paying over $800 for all of these sensors and functions individually  you can get  all this functionality in one device. for just $ 99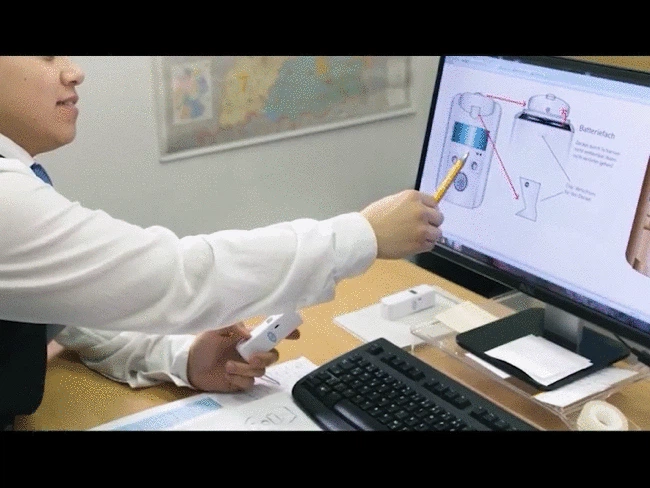 It took 4 years of continues development effort to bring this new patented technology to you.
It can monitor, protect, measure and control any environment you want. 
as home security system 
to protect your car,  RV, hotel room or your office 
Track the light, humidity, gases and water in your bathroom, greenhouse, reptile tank and have peace of mind wherever you go
Installation is a breeze with All-In-Sensor's included adhesive pad. Stick it on a window frame, a wall, a window, or any other hard surface and your ready to use it!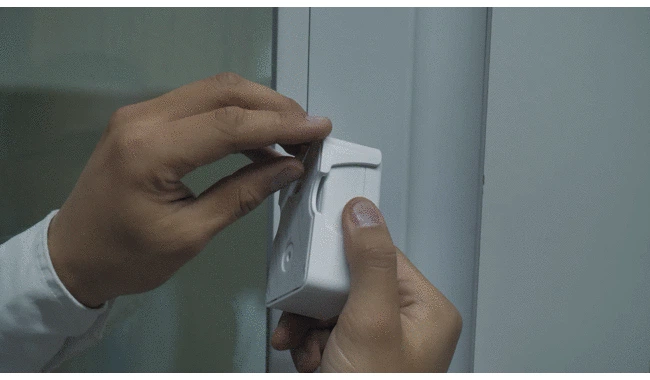 Receive instant alerts from the All-In-Sensor when an alarm is triggered. Set your preferences in the accompanying app.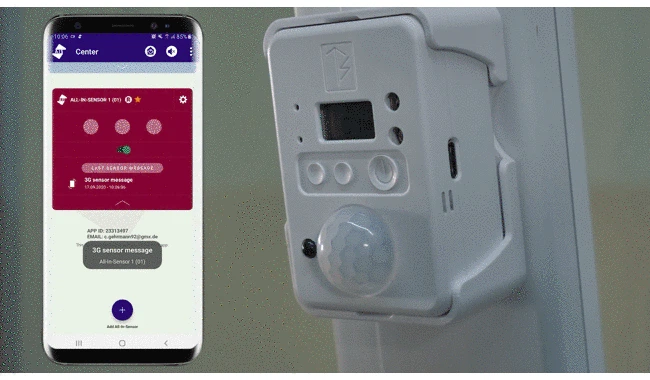 Place All-In-Sensor in your car and be notified of any disturbances.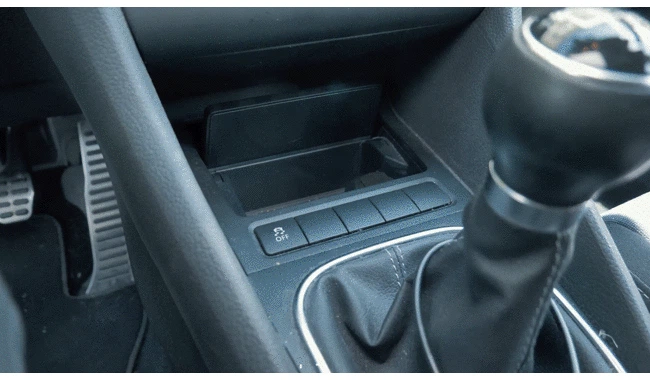 It's easy to monitor temperature and humidity with the All-In-Sensor. Place it in a bathroom, a greenhouse, or a sauna for quick and easy monitoring.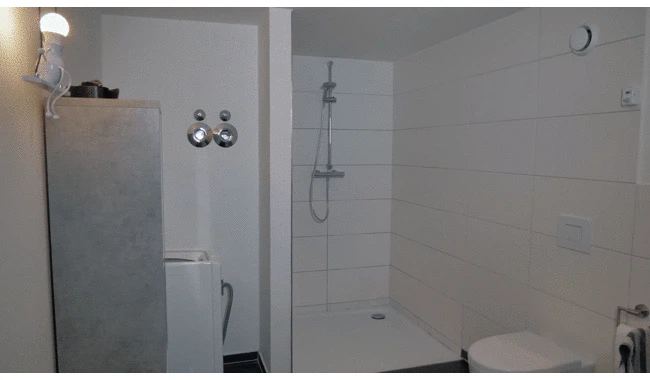 When connected to smart lights, the All-In-Sensor can facilitate motion-activated light.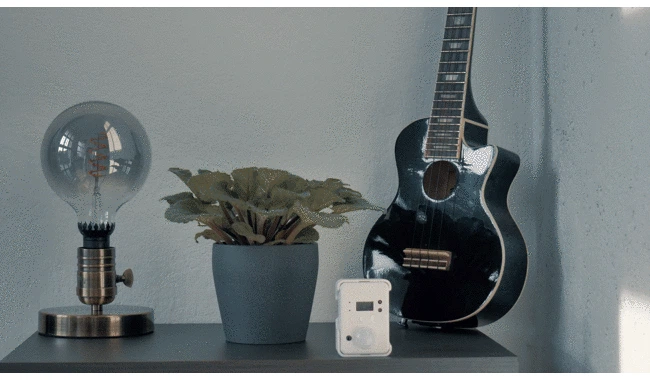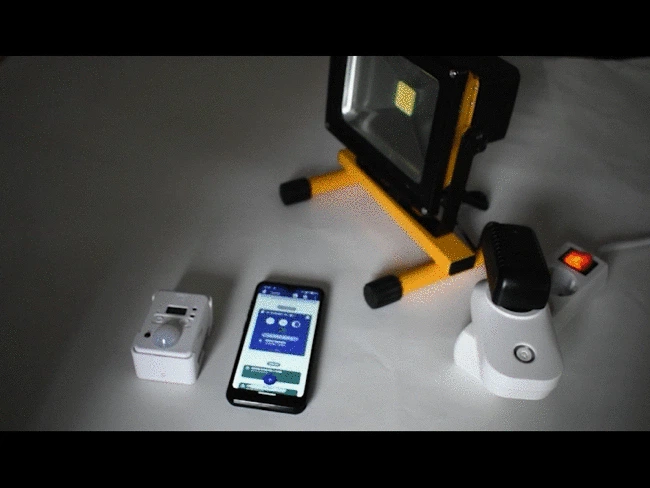 The app allows you to store multiple phone numbers. When an alarm is triggered, you can notify multiple people.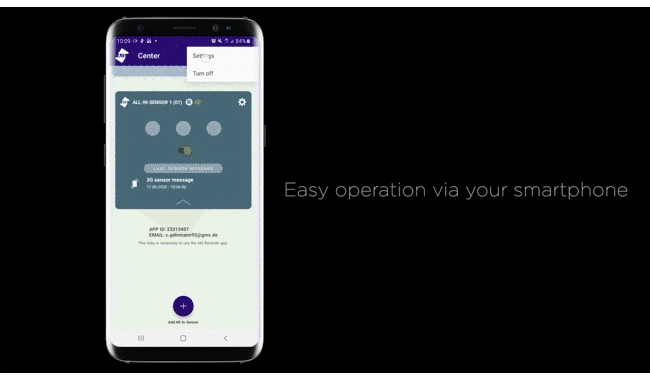 Personalize your preferences in the intuitive app. Set sensor thresholds, trigger responses, and connect smart home devices all in one place.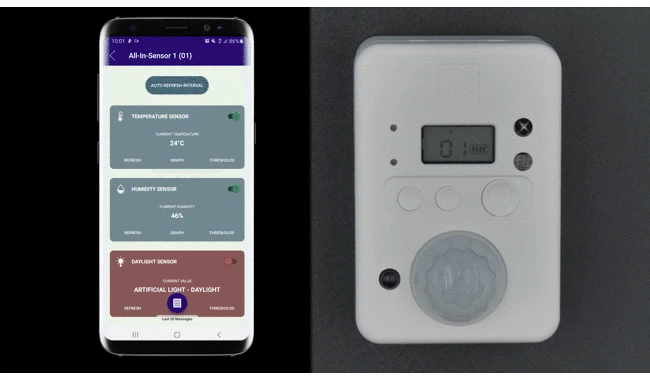 Use the app to control your smart home devices from anywhere! This allows you to respond to situations, alarms, and notifications you receive, even when you're not there.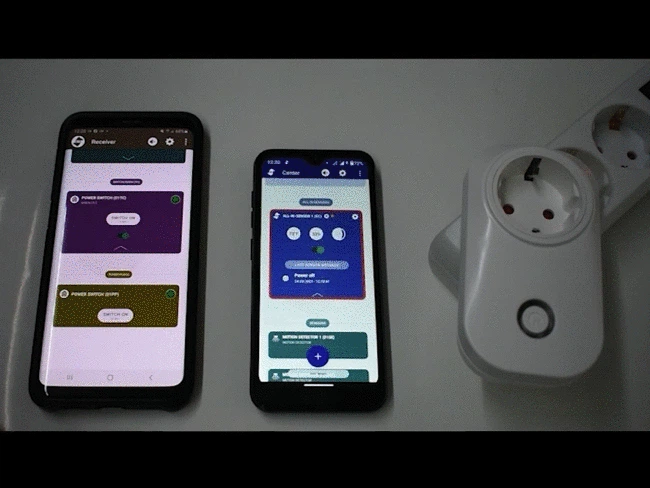 The All-In-Sensor has an endless range of potential applications, see some suggestions for use in below PDF link
With the All-In-Sensor and your smartphone, you can control, secure, measure and monitor any space you want. An All-In-Sensor can monitor a whole room up to approximately 50 square meters (540 sq ft) for all common hazards and control any of the space's smart home devices.
The All-In-Sensor is connected with a smartphone via a special Bluetooth signal. This smartphone works as a "control center". It can be your smartphone if you are in the range of the All-In-Sensor or you use the Direct-Smarter Connector if you are far away. 
It uses Bluetooth 4.2 LE and has a range of about 30m (100ft) indoors and 150m (500ft) outdoors. 
Each sensor and function can be turned on individually and adjusted to your desired sensitivity. You can also set up alarms, notifications, and even actions that are triggered if a sensor's set threshold is reached.
In case of an alarm or an event like the motion detector triggers or the room temperature rises above 30°C (86°F), the All-In-Sensor sends a signal to your smartphone. The smartphone makes an loud alarm or inform other people via call, SMS, mail or push notification.
When you use the AIS Receiver App on your smartphone, you will get the information 1 second after the event occur via Push Notification.
The All-In-Sensor app integrates with your smart home devices and allows you to respond with appropriate and immediate responses.
Say you own a vacation home that occasionally you let others rent. Before your visitors arrive, you can know the temperature, security, and status of the entire home. You can prepare it for their arrival by turning on lights, the water heater, and adjusting the thermostat. You can monitor when they arrive, when they leave, and what amenities they use. And you can make sure that the place is safe and secure when they leave.
With our smart home power plug, you have the ability to respond to any alert, alarm, or condition by turning on/off the light, radio, air conditioning, heater, or appliance. You can control your smart home devices manually, or you can pre-program a response in the All-In-Sensor app.
We are already working on MQTT for connecting the All-In-Sensor with other smart home systems like Philips Hue, Apple Homekit and so on, so that you can use them together if you like.
The All-In-Sensor app allows you to program actions that your smart home will take if certain sensor thresholds are triggered. For example, if it is night and it is dark and movement is detected, the light will switch on. Or, if there is too much moisture in the bathroom, the window will open. With a smart power plug you can switch  on/off any electric device like lights, music, air conditioning, heat and so on.
Very helpful: you create your own smart processes just with few clicks on your smartphone, the new technology allows the cooperation of up to 5 sensors in the All-In-Sensor to control your electric devices in any way you want.
FOR LOCAL USE AND CONTROL, USE YOUR OWN SMARTPHONE
If you are in the proximity of the All-In-Sensor or switches (in buildings up to 50m / 150ft or an open field up to 150m / 500ft), all signals can be received and sent directly with your smartphone / tablet.
Neither a Wifi nor internet or cellular connection is required for this.
You operate your own private local network, this is possible at any place you want.
You install the AIS Center App directly onto your Android smartphone / tablet and can use all functions directly. (The iOS App is in the works and will be available in time with All-In-Sensor delivery)
FOR REMOTE USE AND CONTROL, USE THE CONNECTOR TO ACT AS LOCAL CONTROL CENTER
If you want to use the signals over long distances, you need the Connector in the area of your All-In-Sensors or switches. The Connector establishes a connection between the All-In-Sensor and switches to your (far away) smartphone / tablet. This connection is made via a secure M2M (machine to machine) cellular connection and works worldwide. 
No data is stored on cloud servers, this gives you 100% data and hacker protection.  The DST- Connector can manage up to 99 sensors and smart switches in its environment and can be used at any place, indoor and outdoor, also moble in vehicles.
The weatherproof housing of the connector allows the use at any place and a world sim card for direct contact to your smartphone is also already cost free integrated.
The special Direct-Smarter SIM card is already included in the connector and automatically logs into the stronger cellular network, regardless of where you use the connector. Mobile use (e.g. in vehicles) is also possible.
The data volume for an average usage period of 5 years is already included on the Direct-Smarter SIM card; if necessary, it can be extended at any time for a $49.
For intensive data traffic, the connector can also be connected to the local WiFi network, the Direct-Smarter SIM card then works as a backup if the WiFi connection is disturbed. 
The Connector is delivered ready for use, no registration or contract conclusion is required and there are no monthly costs.
To connect your smartphone to the connector, you will install the AIS Receiver app for Android or IOS on your smartphone / tablet.
It enables a direct connection to the connector, the All-In-Sensor and switches.  The AIS Receiver app is available in IOS store and google play.
We proudly introduce Direct-Smarter Technology with the All-In-Sensor, a solution that requires no Internet connection, no registration of user accounts, and no complicated installations. Direct-Smarter Technology allows the All-In-Sensor to be a wireless transmitter that can be used anywhere, with end-to-end encryption and complete data protection.
Camera surveillance is an important topic. But cases of cameras being hacked keep increasing. Who knows if someone is watching you through your camera without you noticing.
With our technology, only you have access, because the camera is only active when you are using it.
—————————————————————————————————————————
 —————————————————————————————- 
 We look for dealer and distributor all over the world.
Take your chance to get one of the exclusive dealer licenses in your country.
If you are interested to cooperate with us, please contact us by e-mail.
————————————————————————————–
You want to expand your All-In-Sensor
system?
Please note that none of these

ADD-ON devices

are required for the All-In-Sensor to work.

 

The All-In-Sensor is a stand-alone, full-fledged multi-sensor device that gives you the best performance that a security and intelligent control device on the market can offer.

The devices in our ADD-ON list are only intended to show which products are available. These devices can work together with the All-In-Sensor if you want to build a more extensive security- and smart home system

 

 Click on the photo below to open the linked PDF list.

 
The All-In-Sensor is our new premium stand alone multi tool for your smartphone.
Before we started the development of the All-In-Sensor, we finished on base 
of our new radio technology many helpful components.
All of them are compatible with the All-In-Sensor.
In this Kickstarter campaign you can order them with great discount.
PIR motion detector
The motion detector detects movements in up to 10 m distance, sensitivity is adjustable in 3 steps.
Window Opening Sensor
In order to achieve a reliable security when leaving the house, it is important to be informed about the current condition of the windows. This  is why the All-In-Sensor sensor is able to detect the tilted or open position of a window.
Glass Breakage Sensor
If the sensor is mounted on a window, it can detect the break of the glass and trigger an alarm.
Subsonic Sensor
When opening and closing a door or window, an inaudible, very special air pulse is generated. The sensor can detect this impulse and monitor an area of about 120 m². This makes it possible to monitor all windows and doors in a room with just one All-In-Sensor sensor.
Magnetic Sensor
The sensor can be triggered by a magnet, e.g. by opening doors and windows.
Sabotage Detector
If the All-In-Sensor is removed from its bracket, the sabotage sensor triggers an alarm.
Light Sensor
The light sensor can detect daylight and darkness with adjustable sensitivity and trigger smart home switches when set thresholds are exceeded or not reached.
Vibration Sensor
As soon as the sensor detects a vibration with adjustable sensitivity, a signal will be sent.
Gyroscope 3 Axis Sensor
The 3-axis gyroscope sensor is extreme sensitive and the sensitivity can be adjusted from 1 – 100%. This can be used, for example, to determine whether a window or door is being opened, a vehicle is being moved, an object is being removed from its position, and so on.
Humidity Sensor
If the humidity exceed or not reach the set threshold, a signal will be sent.  This is very important, for example, in air-conditioned rooms, greenhouses, pet shops, storage rooms, etc.
Temperature Sensor
Like the humidity, a signal will be sent, when the temperature exceed or not reach the set threshold.  This is very important in air-conditioned rooms, greenhouses, pet shops, storage rooms, etc.
Fire Sensor
Each fire with an open flame generates a very special infrared light spectrum, which can be perceived by the flame sensor even at greater distances.
Due to the optical evaluation, the flame sensor is a very good addition, to smoke detectors and because it can detect fire without major smoke development in an early stage of fire development. The sensitivity can be adjusted for the individual needs.
Gas Detector
The gas detector can be connected to the All-In-Sensor via a USB-C plug and can send alarm signals or switch devices in combination with other sensors, e.g. the fire sensor.
Water Detector
The water detector can also be connected to the All-In-Sensor via a USB-C plug and can send alarm signals or switch for example a magnet valve off to stop water that is leaking out. This can be used in animal and plant breeding houses or for alerting.
Infrared Light Barrier
In contrast to the PIR motion detector, an infrared light barrier allows to monitor larger areas up to 30 m distance between sensor and IR signal transmitter. And a IR light barrier works reliably even at higher environment temperatures above  30°C (86°F).
The IR light barrier is available as pure IR transmitter for indoor use together with the All-In-Sensor or as standalone device for outdoor use.
Repeater
Even though the All-In-Sensor has high radio ranges, it can be helpful in difficult environmental conditions if a radio signal is transmitted from one sensor to the next and then to the smartphone. This is achieved by the integrated repeater function and thus enables even large and complex building structures to be secured and controlled.
Time Switch
The integrated timer makes it possible to activate or deactivate the sensors controlled by a certain time, like activate the motion detector from 10 pm to 6 am, so that the house is secured in the night. The timer can turn on the smart homes switches for a defined time, too.
Smart Home Device Control
In order to make the All-In-Sensor usable for a wide range of applications, a complete Smart Home control has been integrated. This enables the All-In-Sensor to perform tasks in the building or at any location in connection with a smartphone according to previously defined sensors and parameters.
It is planned that the All-In-Sensor is able to interact directly with switches, sockets or receiver modules in LED lamps or any electrical devices. The smartphone connector is only needed to make the settings then. 
More functions are constantly being developed, the updates are available to you free of charge.