Almond Cow – 30 seconds to Almond Milk | Make almond milk at home. Easily.
Making Almond Milk at Home is Easy! 
It didn't used to be. 
Until now, making almond milk at home meant using the blender and straining the milk through filter bags. It's fun and novel the first time you do it, but becomes time consuming and messy on a regular basis.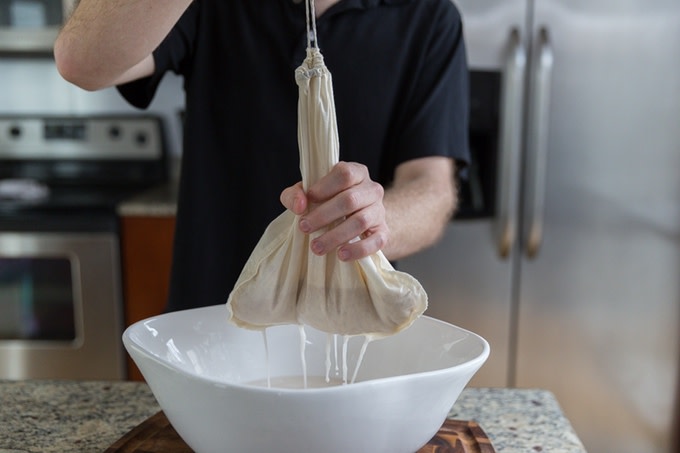 The Current Method
We invented the Almond Cow to solve this.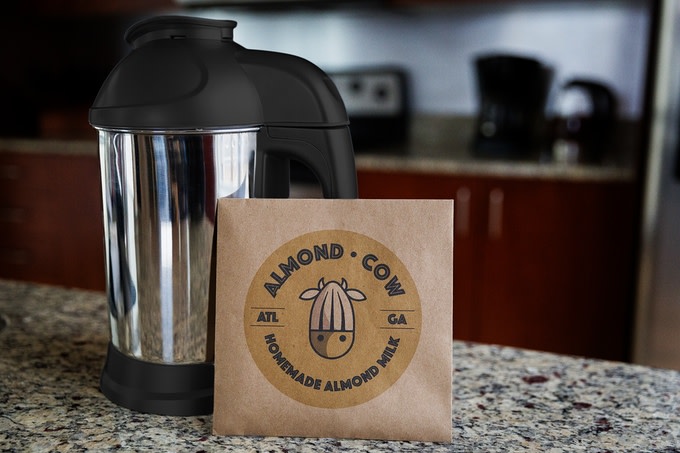 The Almond Cow
What is the Almond Cow ?
The Almond Cow is an adaptation of a blender in the same way a coffee grinder is. It is designed specifically for almonds and other hard tree nuts. It uses a durable stainless steel blade that is custom designed for dicing almonds efficiently and circulating water rapidly through the vortex it creates. As water passes through the almond pulp, it picks up the nutrients present in the almonds and flows out of the filter cup. The entire process takes 30 seconds and leaves you with 1.3 liters of delicious and ready to drink almond milk. It grinds the nuts and makes the milk, just like a coffee maker / grinder combination. 
This means three things:
Fresh almond milk without additives.
No shipping gallons of milk cross country – reducing costs and impact on the environment.
No more running out of milk.
Just almond milk. In 30 seconds.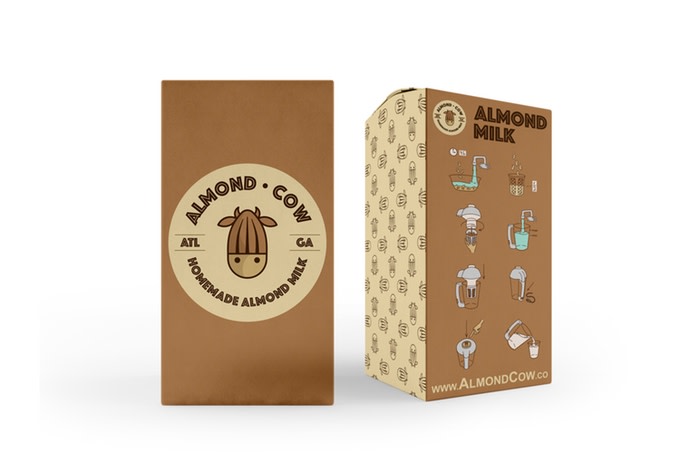 The Almond Cow
How Does it Work?
Making almond milk isn't complex. It's the time required and the mess that it creates that makes it a hassle. For us, the true design challenge with the Almond Cow was related to usability and ease of cleanup.
The Almond Cow is fully enclosed with all gently curved stainless steel surfaces on the inside, making cleanup extremely simple. There is only one moving part, the blade, which can be cleaned with a quick rinse under the tap. The filter cup is made from 100% stainless steel and can also be washed under the tap.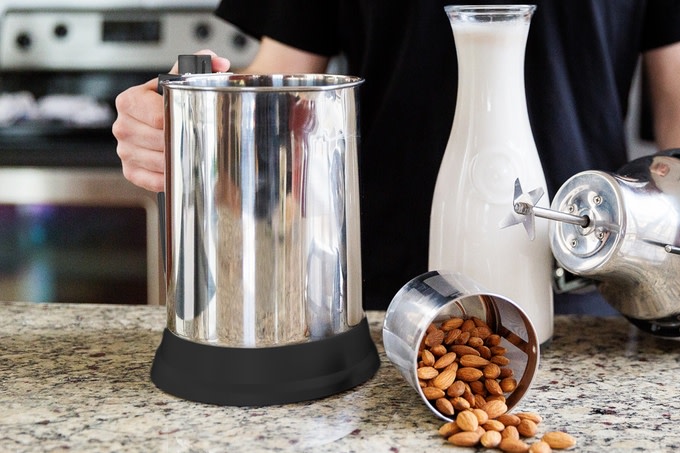 All Stainless Steel Surfaces
The end result is a machine that makes making almond milk simple and more accessible than buying it at the store. Just soak 1/2 cup of almonds for 4 hours or overnight, and you have fresh milk any day of the week.
What You Get
The Almond Cow comes with everything you need to get started:
The Almond Cow 
Stainless Steel Filter Cup
Filter Cup Drain
Detachable Power Cable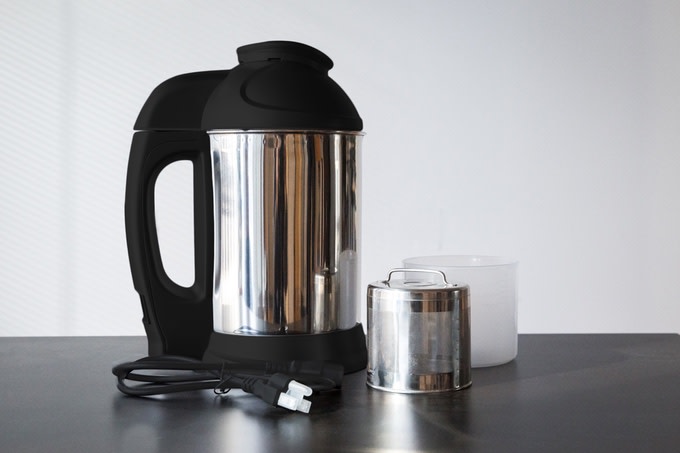 Everything Included
Future Designs
We designed the Almond Cow to make perfect almond milk every time. We cut out everything which got in the way and which was detrimental to the user's experience. The current design is the complete package – but we also hope to improve on it going forward. Here are some features in the pipeline we are currently working on:
Detachable pitcher (to store in refrigerator) 
Immersible head  
Automatic almond soaker
Almond soak and blend timer
How and Where is the Almond Cow Made?
Our goal has always been to manufacture the Almond Cow in the United States. We've searched high and wide for partners that could take on the job, but due to our size, we've been unable to convince the very few appliance manufacturers we've found in the US to make an initial run. 
Eventually, our search led us to southern China – where were we able to find manufacturers who were willing to take on an initial production run at the small quantities we would order in. It's very important to us to work with companies who have similar standards when it comes to worker treatment and who care about the environmental impact of their operations. 
Brett and I have made numerous trips to Asia to weed out suppliers who we felt were unqualified and who did not fit our values. We ended up choosing the manufacturer with the highest production costs, but who we thought operated with the guidelines we set out for ourselves. Nonetheless, our end goal is to produce the Almond Cow in the USA and bring manufacturing jobs like these to America.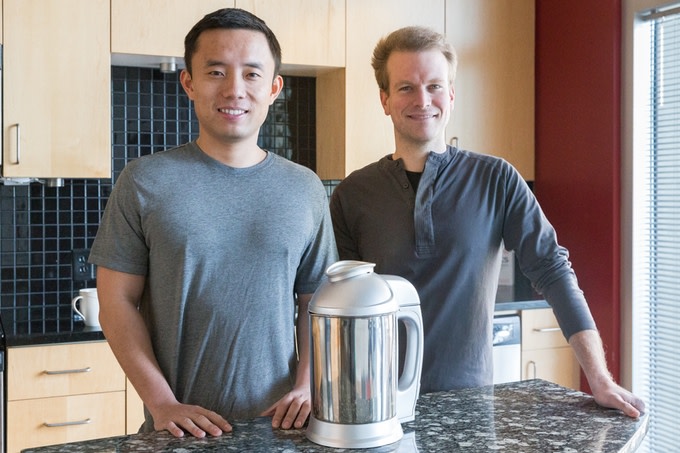 The Almond Cow Team
Who We Are and Why Are We Doing This?
Peter
I've enjoyed drinking milk since I was a kid. To me, pretty much anything goes well with milk – from scrambled eggs in the morning to turkey sandwiches for lunch to a steak at dinner. 
About two years ago, I noticed that my body didn't take milk as well as it did before.  I went to a doctor and he told me that I might be slightly lactose intolerant.  Obviously, I was surprised by this – since I've drunk copious amounts of milk since infancy. That's when I started looking into alternatives to dairy milk.
I tried several – soy and cashew being among them – but nothing gave me the texture and taste that I've grown accustomed to with regular milk like almonds. At first, I store bought all my almond milk, but after a while I started milking my own almonds (as I like to put it) because it tasted cleaner.
One of the challenges of making your own milk has always been the amount of effort required and the mess you created doing it. Even after several months of experience doing this, I still consistently managed to create a small disaster every time I stepped into the kitchen.
I am a software engineer who dabbles in electrical engineering and have quite a bit of experience designing digital products and applications.  Brett is a mechanical engineer by trade and our backgrounds were a good fit when it came to designing an electrical appliance.  
Brett
I drink a combination of different milks and normally get the one with the longest shelf life – expired milk is more of a problem for me than anything else. Getting milk on a regular schedule can be challenging. I always seem to buy too much or not enough. I had gotten used to this when Peter mentioned that he was making almond milk at home.
I assumed it was possible to do this at home, but never thought of how it was actually done.  My first impression was that it was pretty time consuming. My background is in engineering and specifically in product development, so solving this problem was right up my alley. 
I am hoping that the Almond Cow can ease more than just the hassle of making almond milk. This device could trigger a true paradigm shift with milk becoming something that is made fresh at home instead of bought at the store. This would replace the massively complex, expensive, and environmentally burdensome supply chain that defines the milk industry today.  
Where Does the Money Go?
We plan to use the funds to support the initial production run of units. Producing a new electronic appliance designed from the bottom-up is expensive without the economy of scale usually found in this kind of manufacturing. We've invested significantly in design and engineering, and all funds from this campaign will go directly toward the actual production of the machines.