Aquibear: Purifies water and boils it in 3 seconds | Compact and stylish, Aquibear is the world's smallest countertop Reverse Osmosis water purifier.
Aquibear can offer mineral water NOW!
After our campaign launched, many backers request for mineral water, not just RO water. With only 109 USD, you can get 1 NF filter and 2 PPC filters. That's 2 year package to get mineral water anytime in your home! Remember check out our add-on perks.


See the difference. Taste the difference.
Put tap water through the Aquibear RO water purifier, and you'll get clean, safe, great-tasting water every time.
Using 3-stage reverse osmosis (RO) filter system, Aquibear removes over 99.9% of the nasties that could be lurking unseen in your tap water, such as chlorine, bacteria, microplastics, heavy metals, and other contaminants.
So you're left with tasty and healthy water that you and your family can enjoy every day.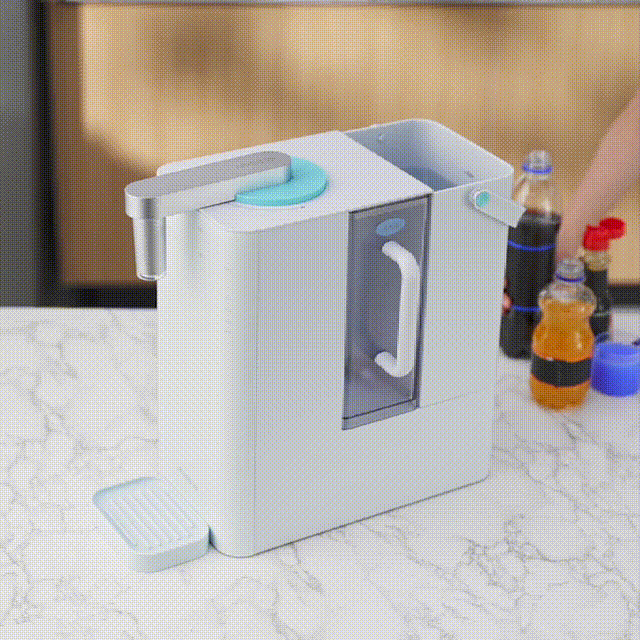 Boils water in just 3 seconds
In a rush? Want to grab a quick cup of tea or coffee before you go out? No more frustrations waiting for the kettle to boil. Aquibear puts the whole water boiling process on fast forward, so your water's boiled and ready to make your delicious tea and coffee in just 3 seconds.
Cold and great-tasting water
World's first double-water-tank design. Compares to traditional water purifiers, Aquibear has two water tanks: a tap water tank and a flexible purify water tank. The purified water tank is slim and detachable. It can be easily put into the refrigerator, even in a mini-fridge.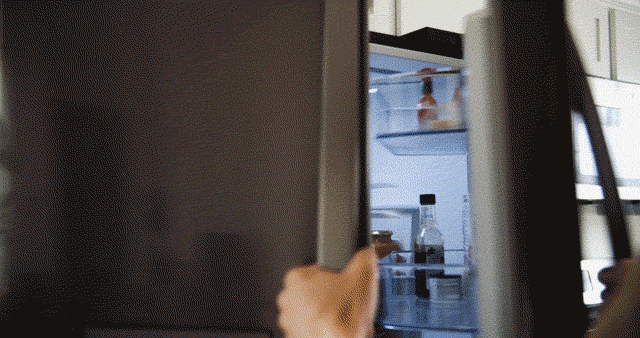 Why is Aquibear so fast?
Aquibear boils only the water you need. So there's no wasting water and energy like you do when you boil a kettle and end up throwing much of the boiled water away. And because Aquibear removes the chlorine from the water, you get fresher, better-tasting tea and coffee every time,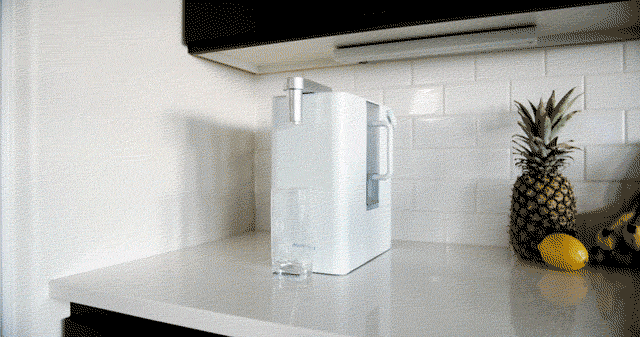 The power of reverse osmosis (RO)
Aquibear uses the best water purification system you can get for your home. Did you know that not all water filter systems remove all the contaminants from your water? The best way to ensure the purest water is to use reverse osmosis.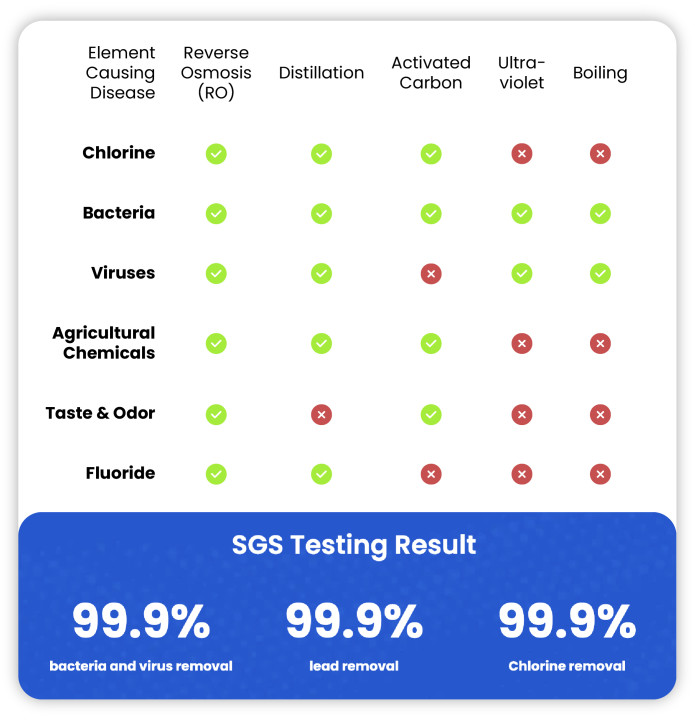 It works by using pressure to push your water through the tiny pores of the membranes and carbon filters. These remove any chemicals and bacteria, leaving you with pure, delicious water that's so refreshing to drink.

Quality you can trust
Remember, not all RO water filters are the same.
Aquibear uses the latest 3-stage RO filtering system, designed and manufactured by Hydranautics, one of the global leaders in membrane technology.
The filtering system rapidly and efficiently removes any chlorine, microplastics, lead, bacteria, viruses, and heavy metals from tap water.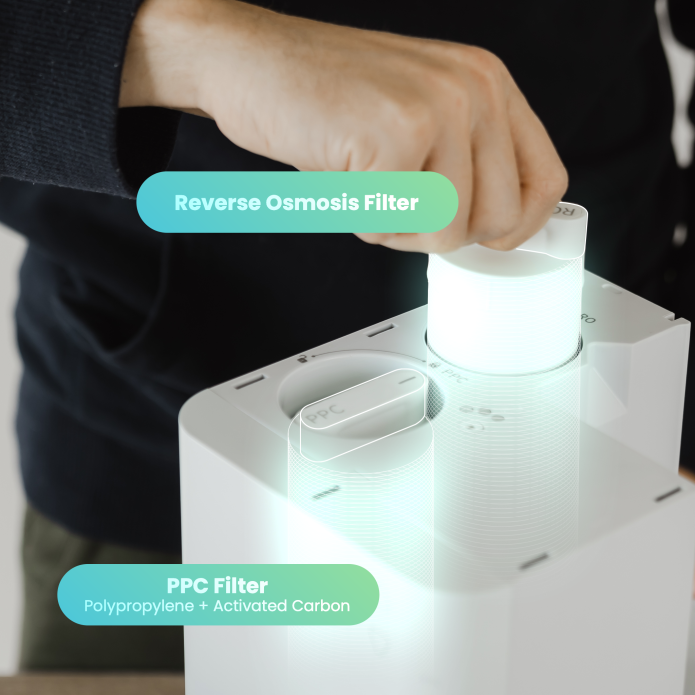 Aquibear VS Other water purifiers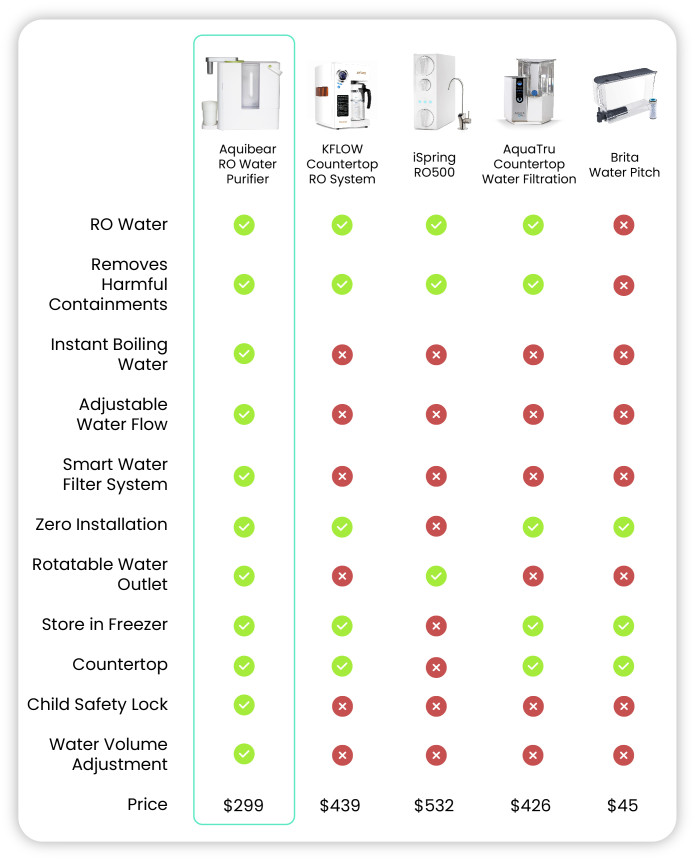 Media & KOL Reviews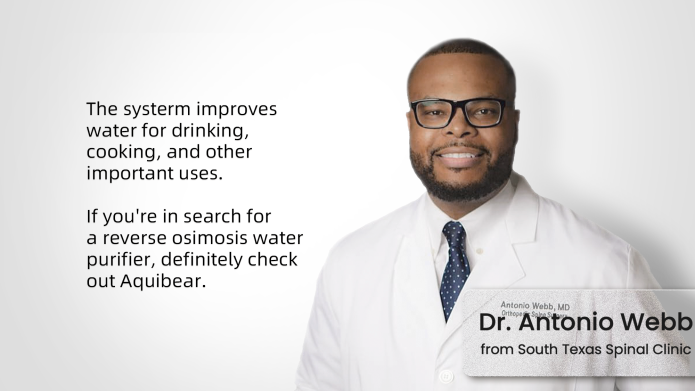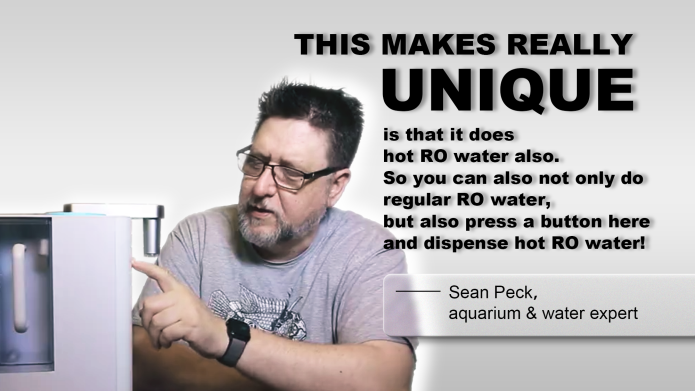 Many major media reviewers have tested Aquibear, some of them even used TDS meters to test the water, check them out:



Ready to use and easy to operate
No installation needed,just plugin and that's it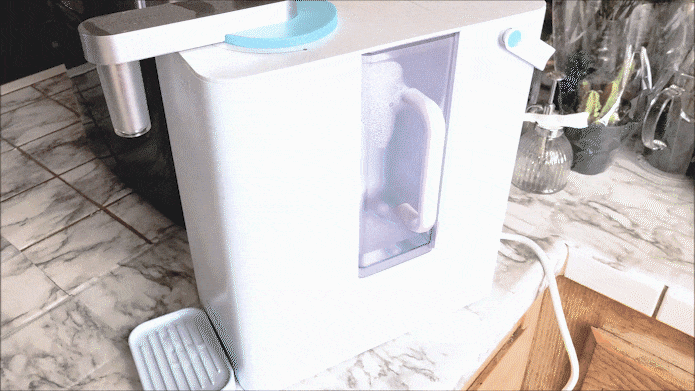 Great tasting water in the great outdoors
Use it at home, in your office, in your RV, or camper. Even take it with you if you're staying away from home in a hotel to ensure the water you drink is pure, wherever you are. After all, you don't want your vacation spoiled by an upset stomach caused by drinking water that wasn't safe!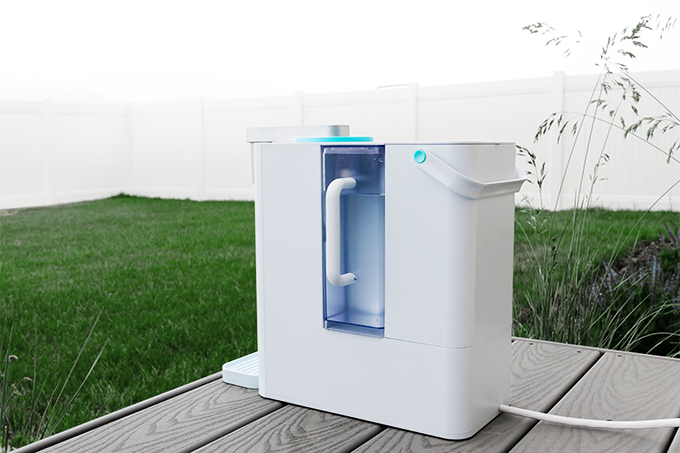 Prepare tasty tea and coffee in just 3 seconds
Love camping, exploring, traveling? We all know using plastic bottles isn't eco-friendly. But the ultra-portable Aquibear means you can ditch the bottles and take the water purifier with you. So get safe-to-drink, great-tasting water every time, no matter how far from home you are, in an RV, campsite, boat, hotel, wherever. And with Aquibear, you won't need to waste vacation time waiting for water to boil. Aquibear will let you prepare tasty tea and coffee in just 3 seconds. It really is as easy and quick as 1 – 2 – 3!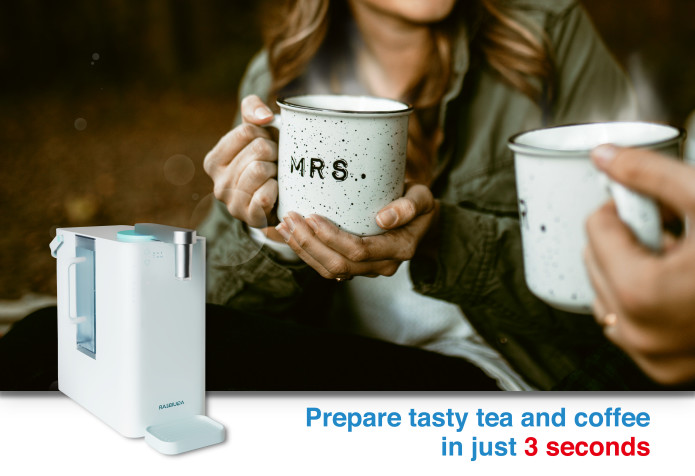 A world-first for water purifiers—2 water tanks 
Like having the latest tech on your kitchen countertop? You need Aquibear. It's the first water purifier in the world to use the double water tank design. The purified water tank is a slim and detachable tank you can store in the fridge, mini-fridge, or freezer. It gives you the convenience of cool, purified water when you need it— great for refreshing drinks in the summer.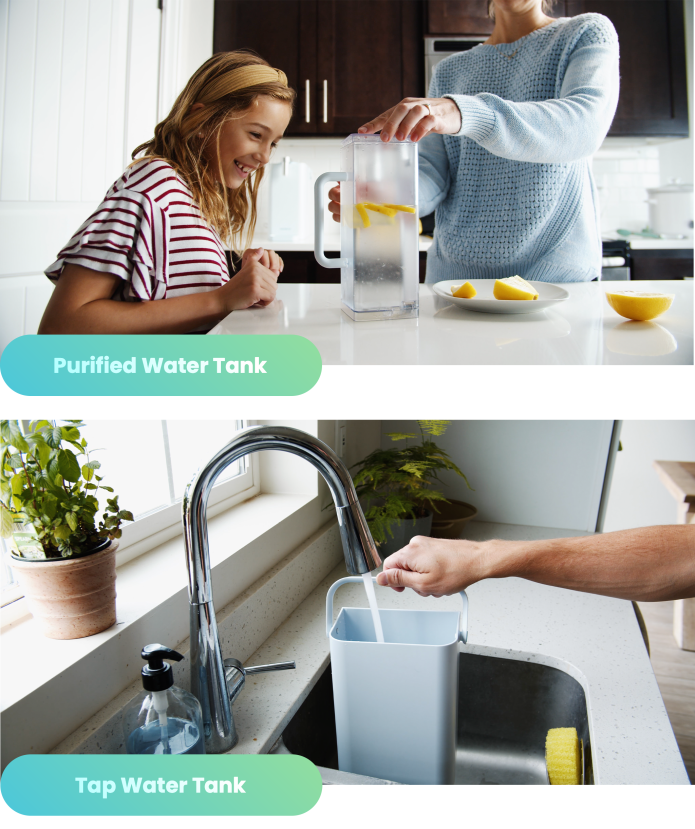 Aquibear's unique double-water-tank design makes it easy to make your own healthy and tasty drinks. Purer water tastes better, pure and simple! Having better-tasting water can tempt you to drink more water every day, so you get the right amount of fluid to help you stay healthy.
Store in small spaces thanks to its rotatable design
Aquibear can be rotated 90 degrees, so it can be stored and used in small corners in your kitchen at home or work, or while you're camping.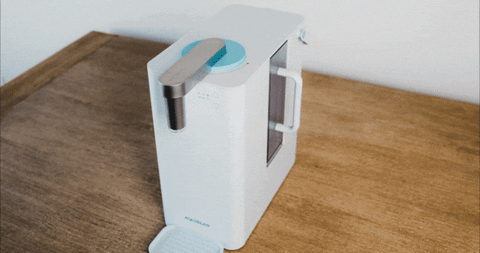 Compact Aquibear suits all places and all occasions
No matter the size of your kitchen, the compact Aquibear will fit on your countertop. And it looks as cool as the water it purifies! Its size and 90-degree rotation design mean it's portable and can be placed almost anywhere.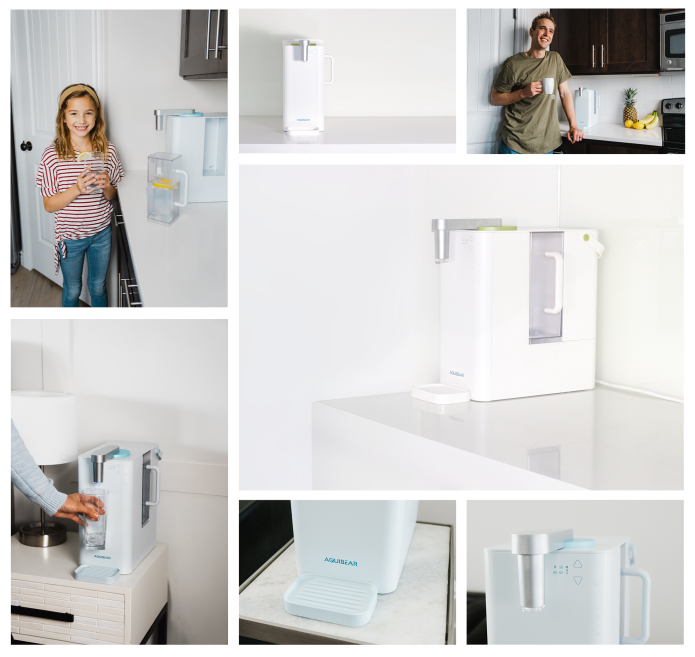 Safe to drink, safe to use 
All water purified by Aquibear is safe to drink. And Aquibear is designed to be safe to use too. To prevent any burns and scalds from hot water, Aquibear has a child safety lock which must be unlocked before the water purifier can be used. That will keep little hands and soft skin safe.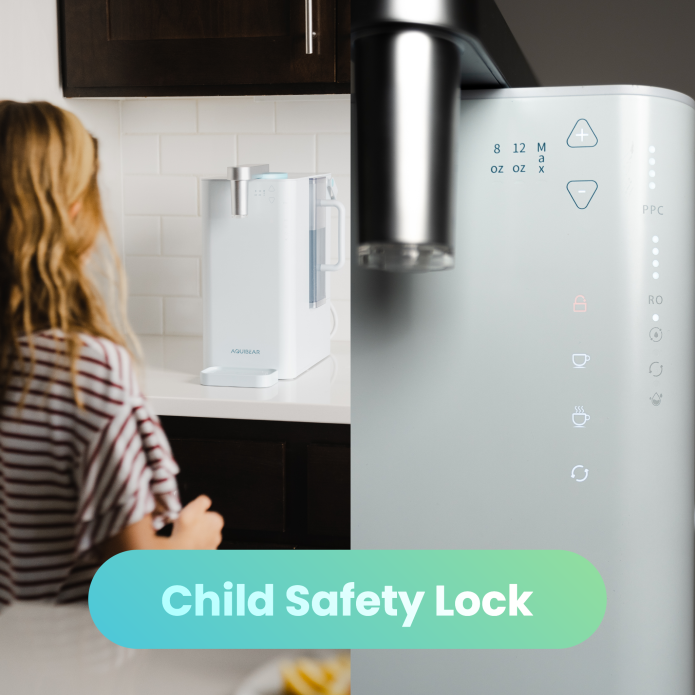 Aquibear: the RO water purifier with smart features:
• ONE TOUCH OPERATION – just a touch gets Aquibear purifying your water
•  SELF-CLEANING – Aquibear avoids the build-up of unwanted limescale and other deposits by auto-cleaning its filter every time you refill the water tank. And if you don't use Aquibear for 12 hours, Aquibear will auto clean itself.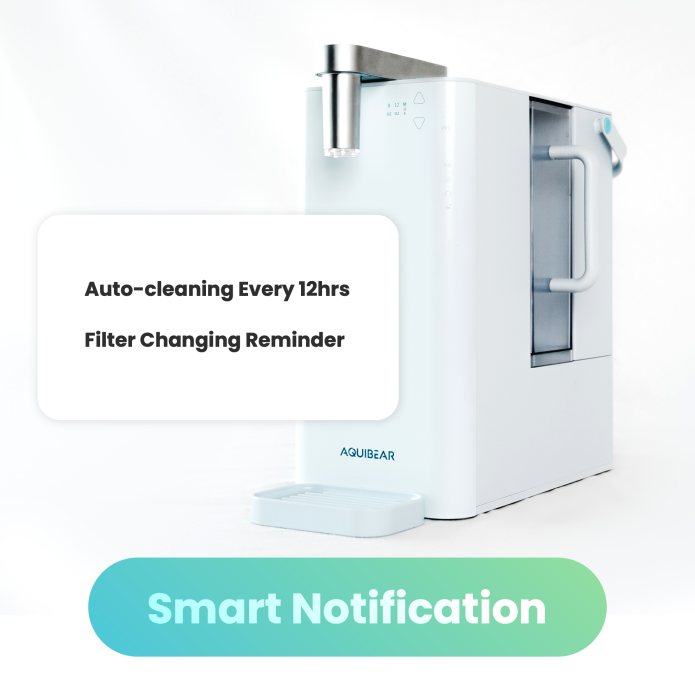 Aquibear reduces your use of plastic so you can help save the Earth
We've all seen the pictures of the plastic polluting our oceans. We all know we need to cut down on the plastic bottles we use. The Aquibear RO Water Filter helps you do that. Buy Aquibear and you can stop buying bottled water. It's better for your health and better for the Earth!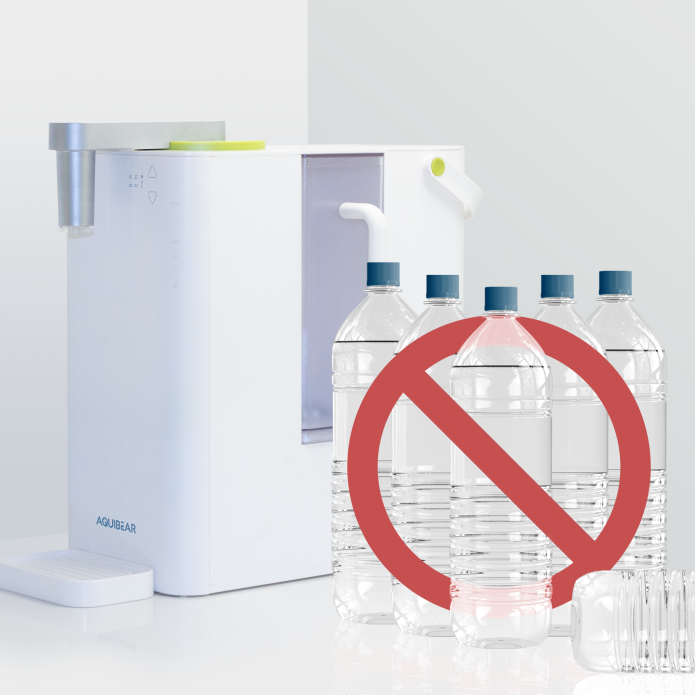 Perk

Add-On Perk

Tech Specs
120V version for US, Canada etc.

220~240V version for Europe, Hong Kong, Singapore etc.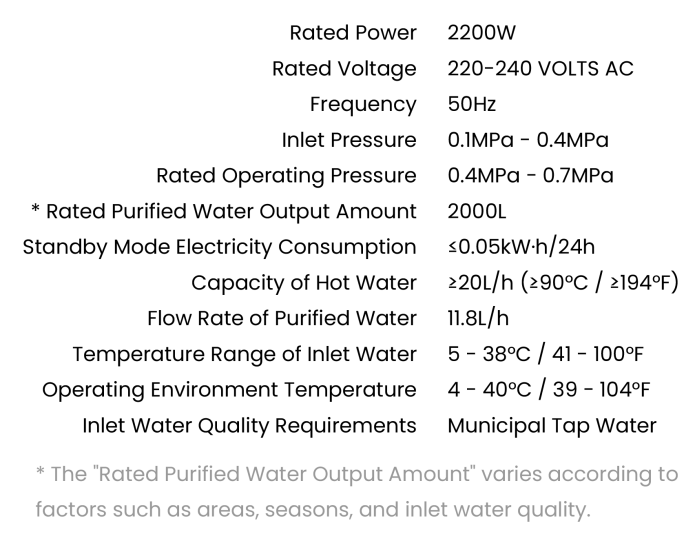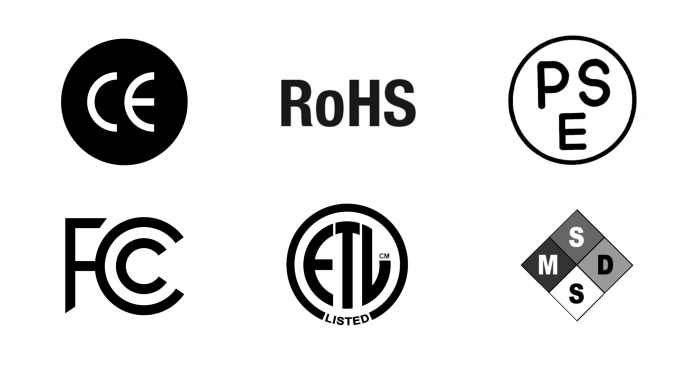 Timeline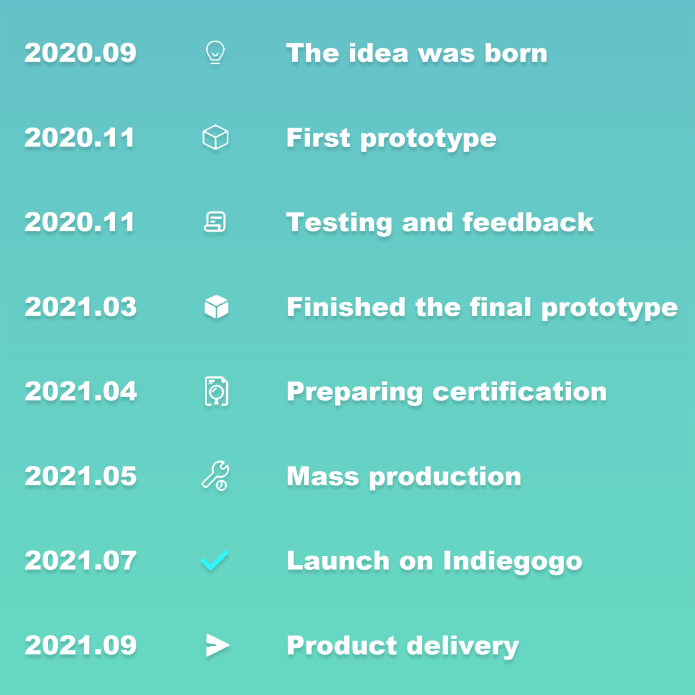 About Us
Pioneered in environment protection and reduction of carbon emissions, Aquibear takes the initiative in reducing plastic bottle usage amount by appealing for widespread use of sustainable water treatment devices.And thus, Aquibear has designed and been prepared to manufacture this reliable F10 RO purified water dispenser which can help users reduce their yearly plastic usage amount by 2190 bottles. Using polypropylene+activated carbon and reverse osmosis filtration system, Aquibear's F10 RO purified water dispenser is capable of removing contaminants and pollutants like bacteria, viruses, lime scale and heavy metals in the water to 0.0001 micron precision. Further more, equipped with instant heating module, this dispenser allows users to obtain water of desirable temperature in 3 seconds which is really of great convenience.
12 years of perseverance in water treatment industry has provided Aquibear with key resources concerning whole manufacture process including R&D technology, logistics management and supply chain coordination. Aquibear takes it as great social responsibility and mission to make this world a better place by providing people with much healthier and safer water each and every day."Water a Fresh Life"for you.