ARCO 2-in-1 Coffee Grinder | Combining the luxury of electrical and the freedom of a hand grinder.
ARCO is bridging the gap between the luxury of electric grinders and the freedom and superb grind quality of hand grinders.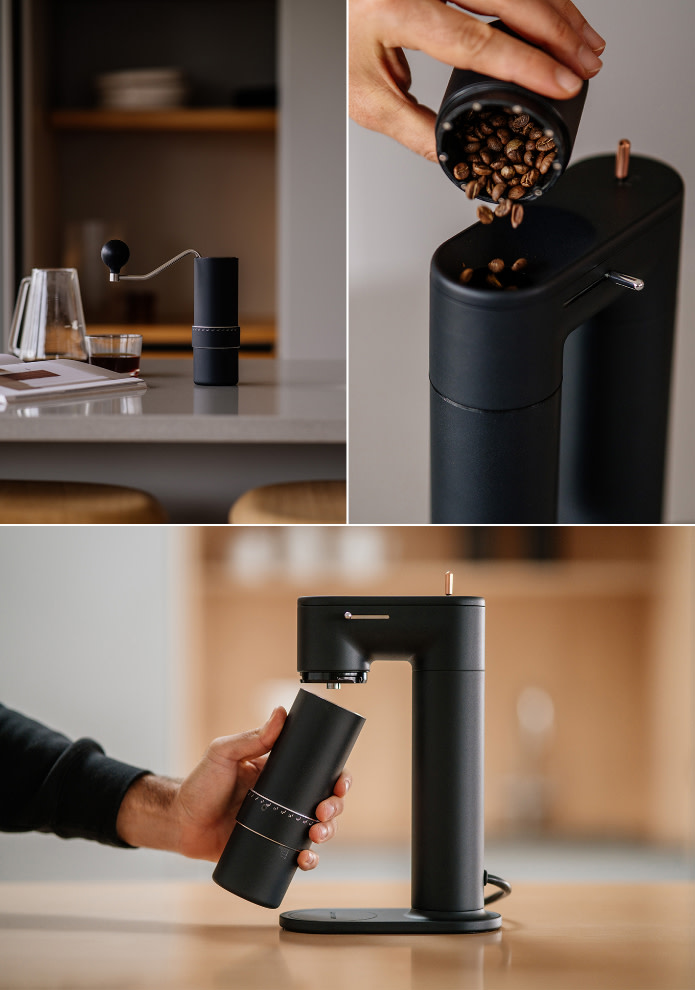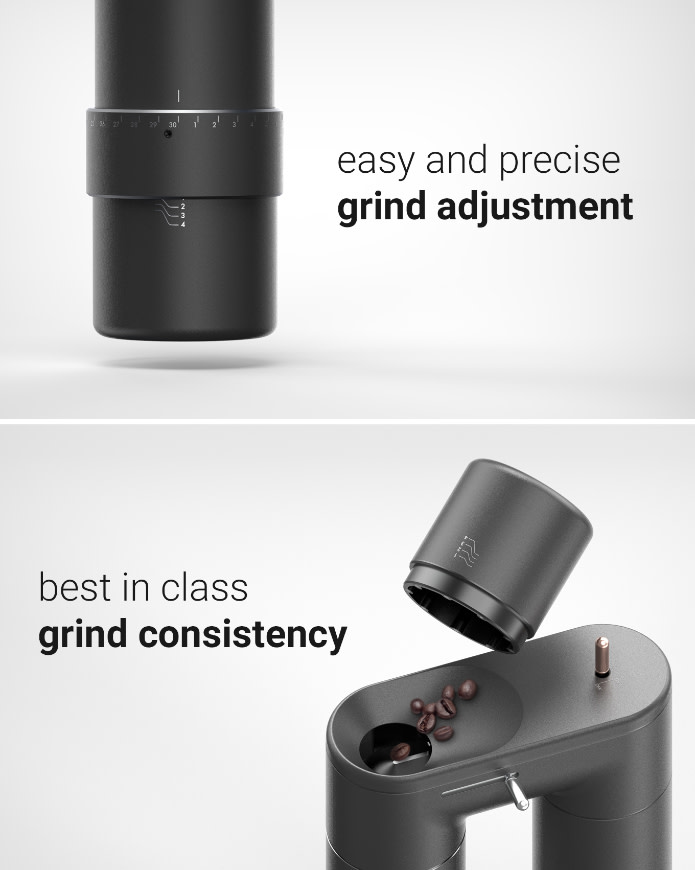 A sweeter, crisper and clearer flavor of your coffee due to grind quality.

No wasted coffee to achieve the right grind setting.

Grind up to 50g of coffee at once.

Don't kill your budget!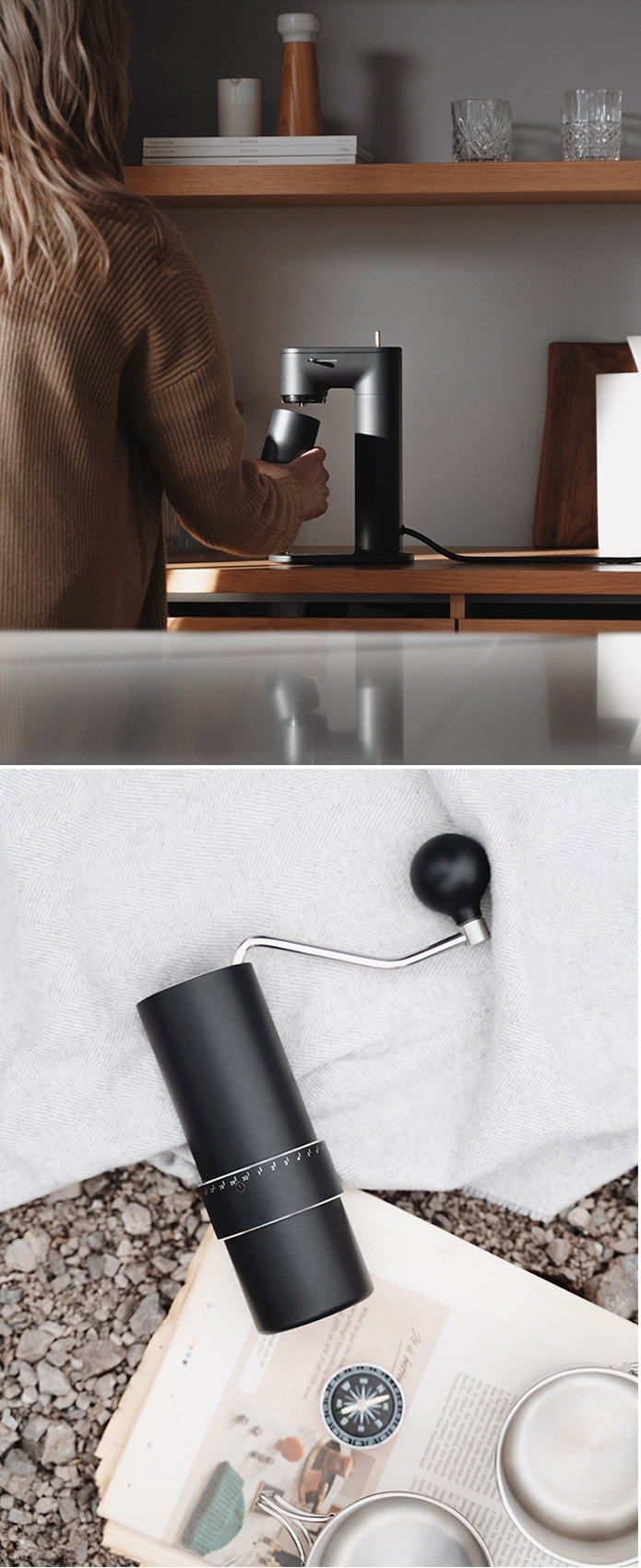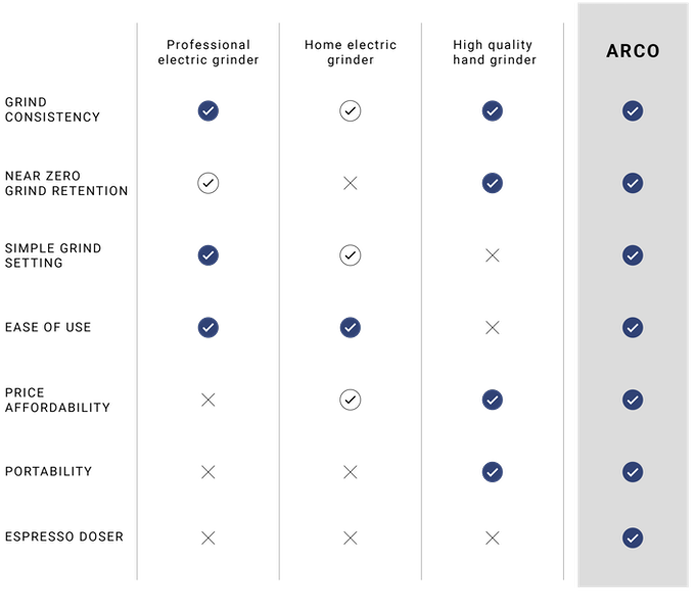 ARCO vs other coffee grinders

A hand grinder. An electric grinder. United in a seamless grind experience. Crank it up with your hands. Or connect it to its power dock. A touch of genius!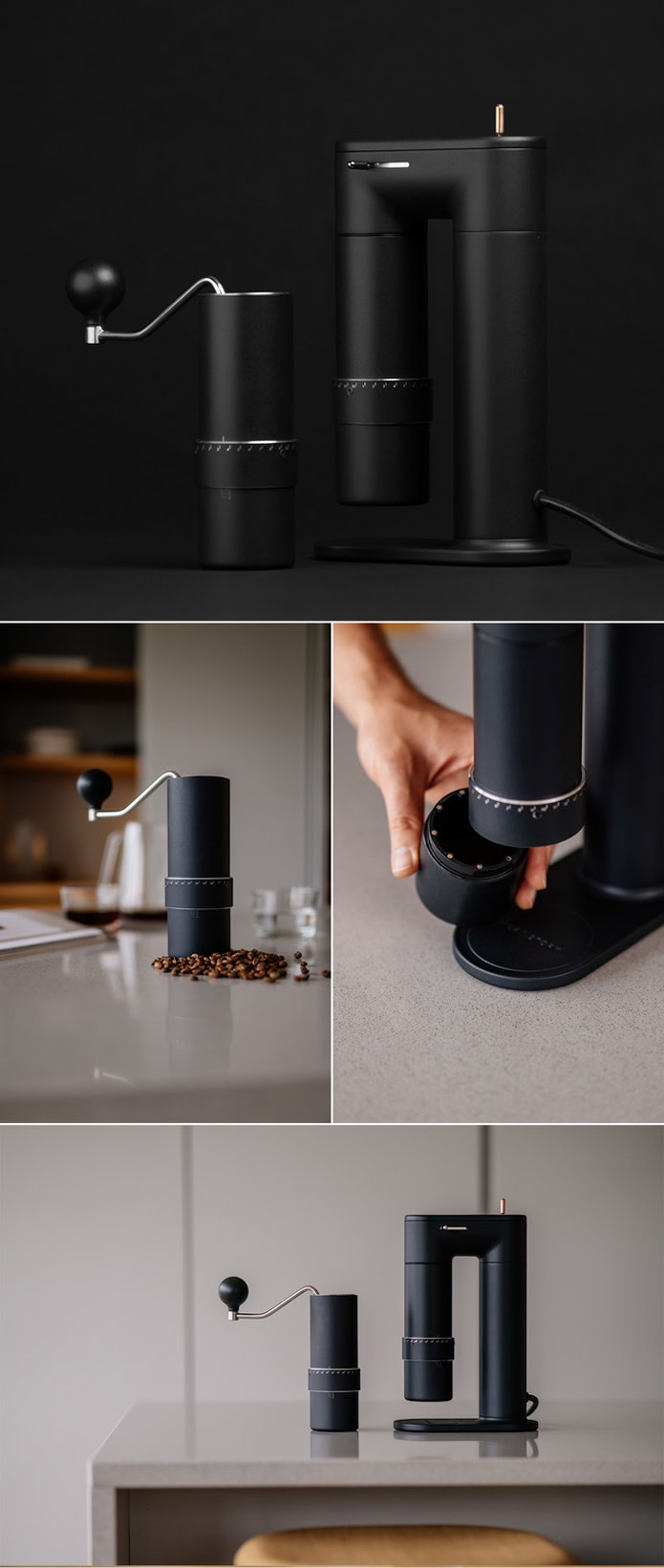 A grind for every brew method. From ibrik to cold brew are at the reach of your hand with a never before seen ease of grind adjustability.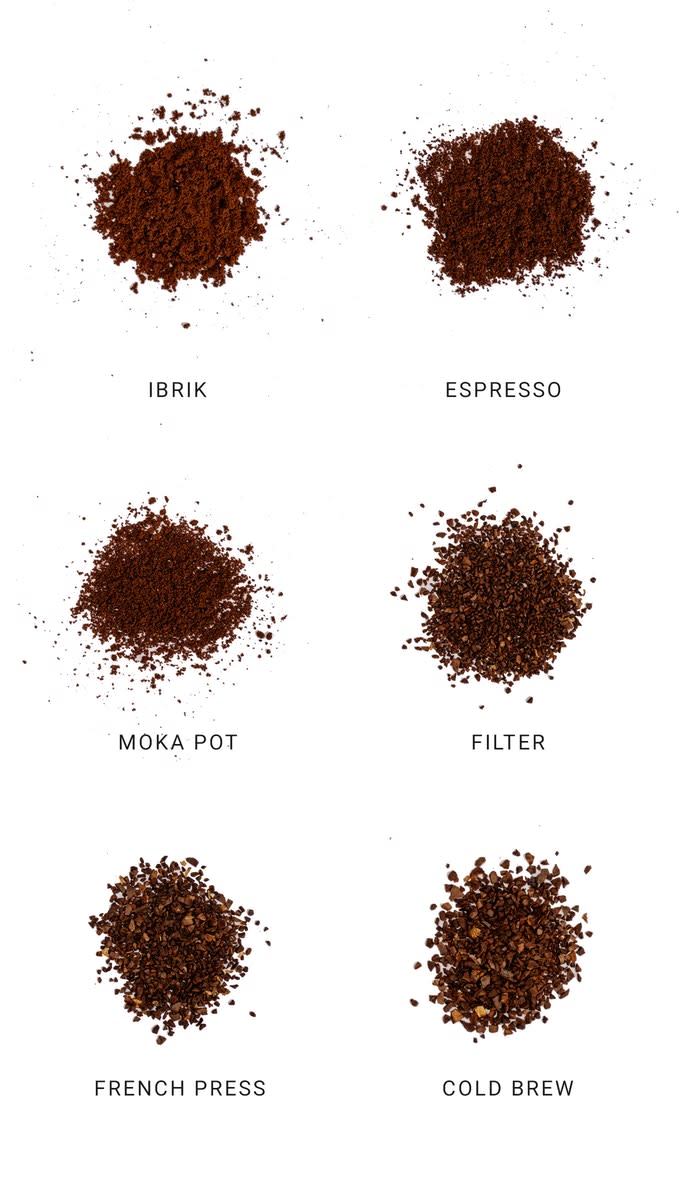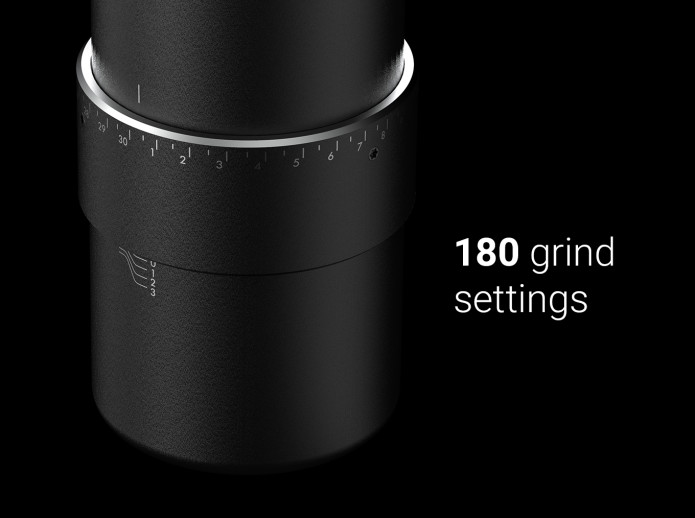 60 clicks per revolution equal 180 exact grind settings for every brewing method.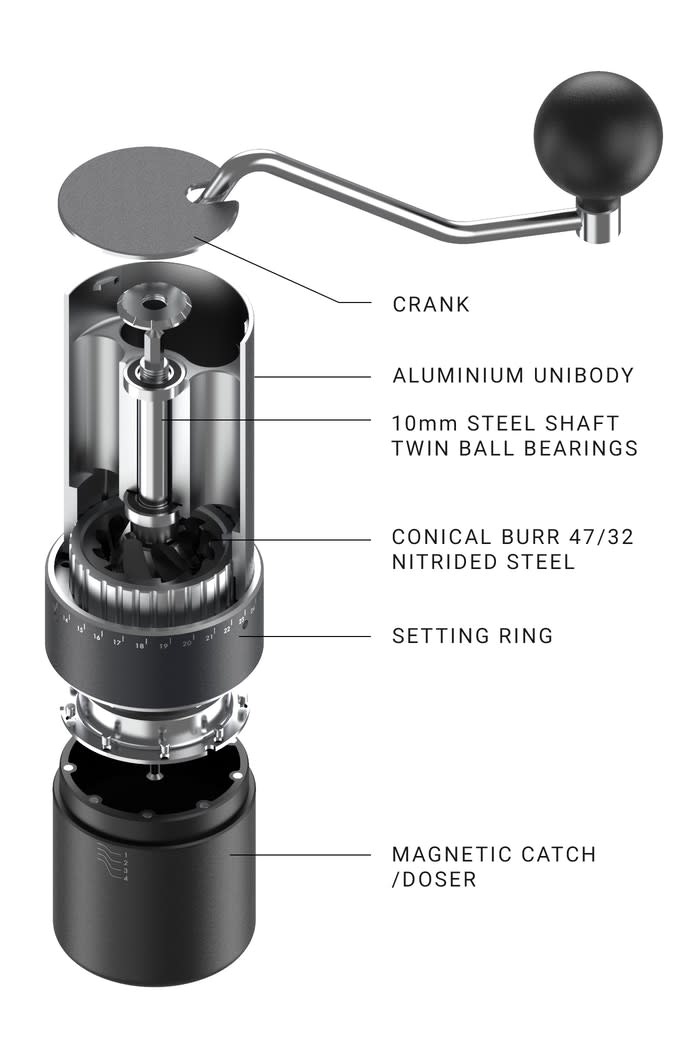 Small footprint and signature style. Simply beautiful.

A single dose grinding solution with near zero grind retention. No matter how you crank it
Single dose loading
Magnetic doser / catcher

Designed to perfectly fit your espresso basket, the grind catcher lets you dose your espresso shot with perfection.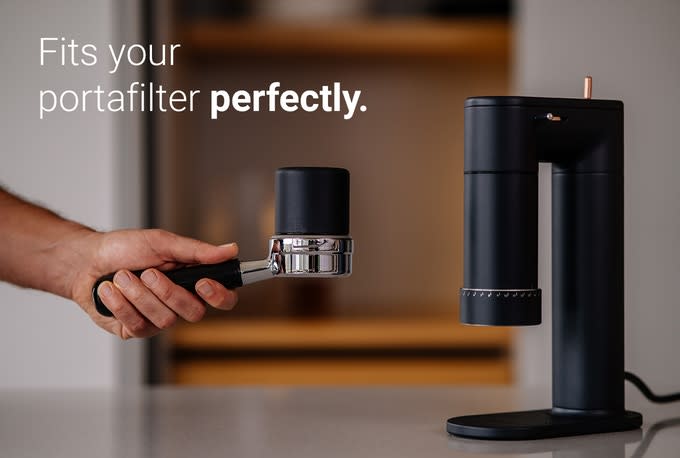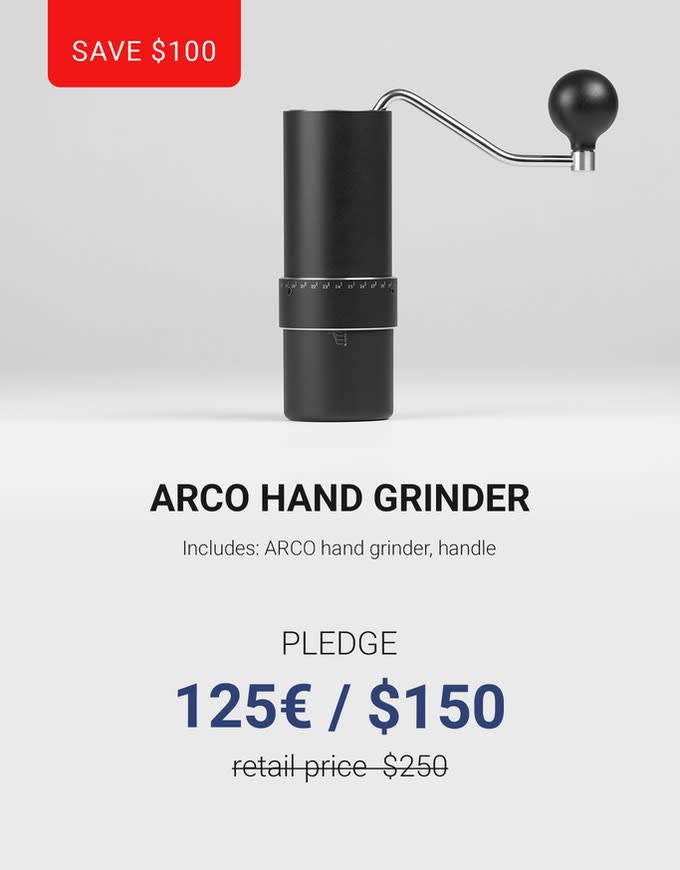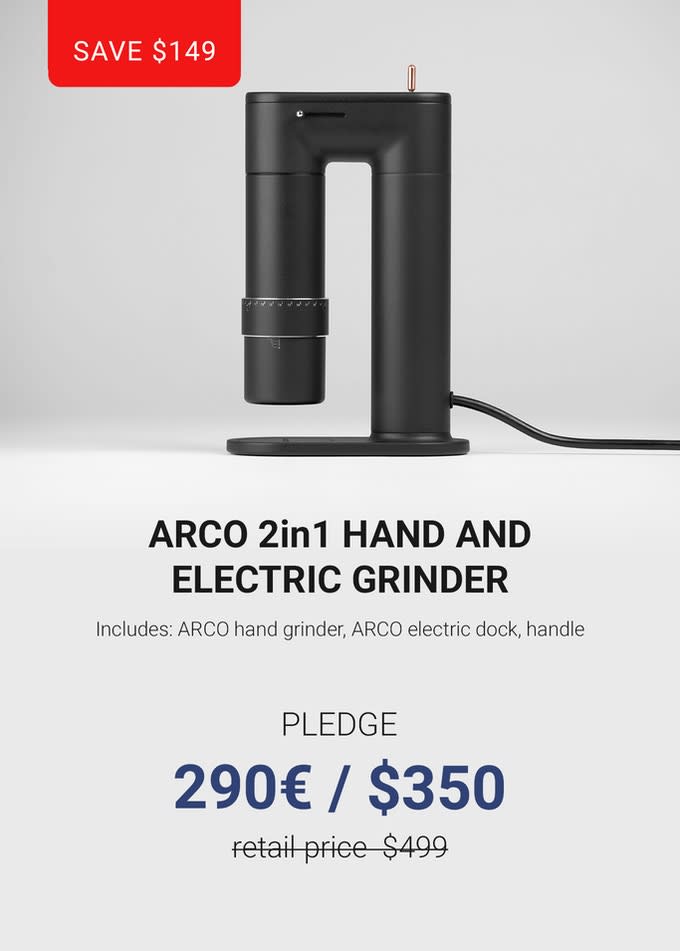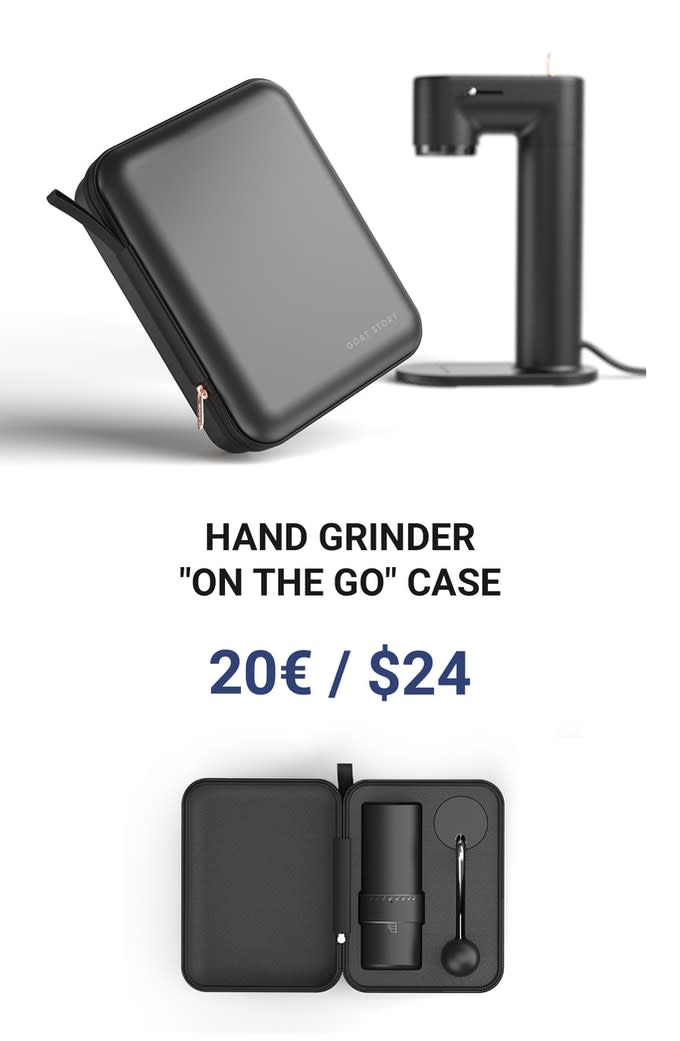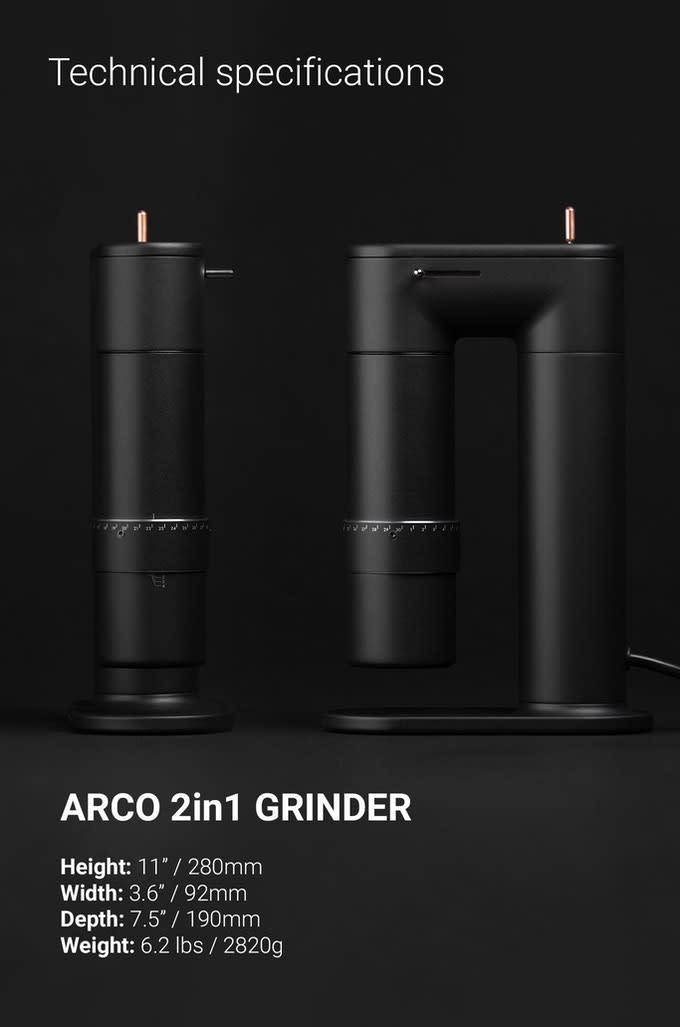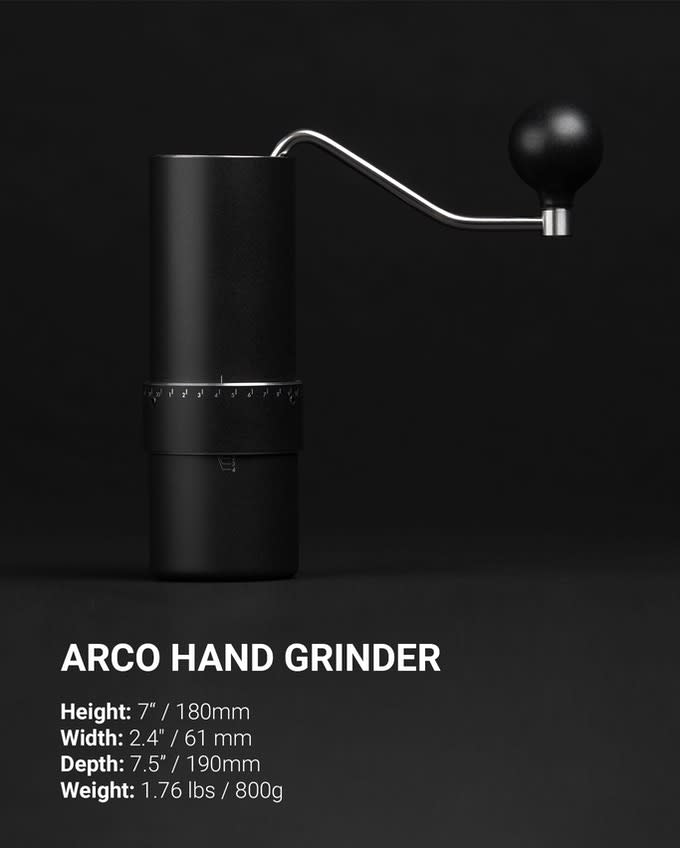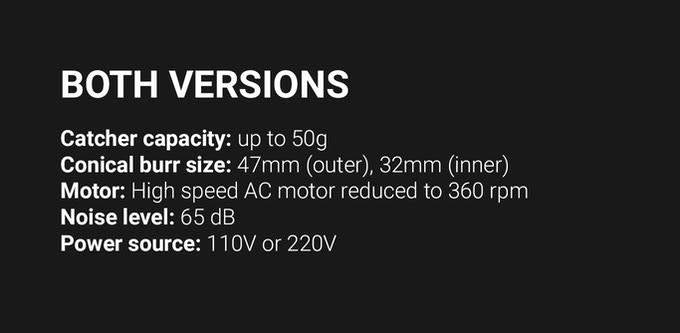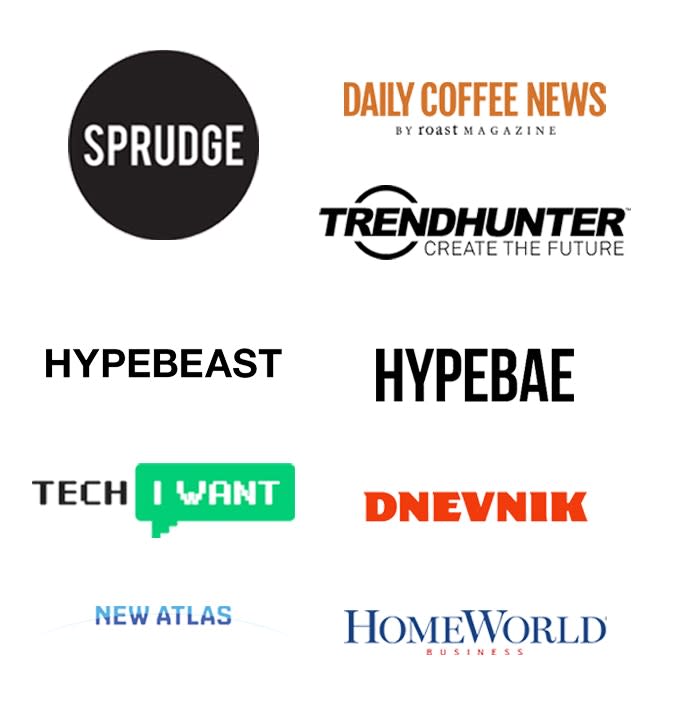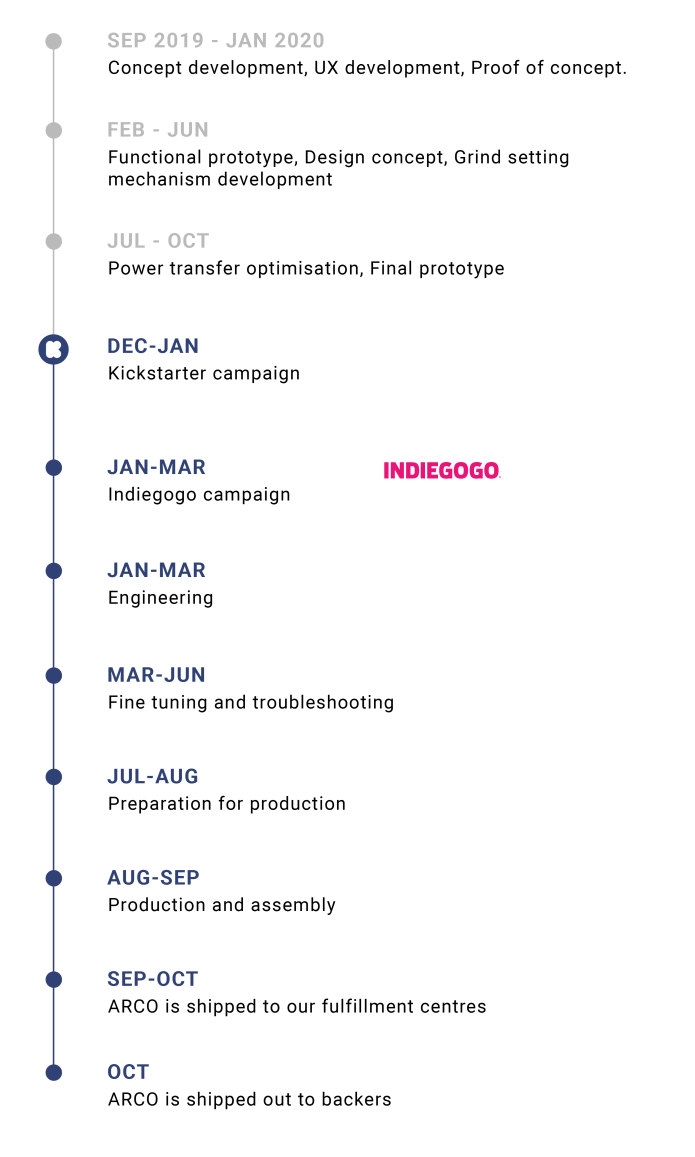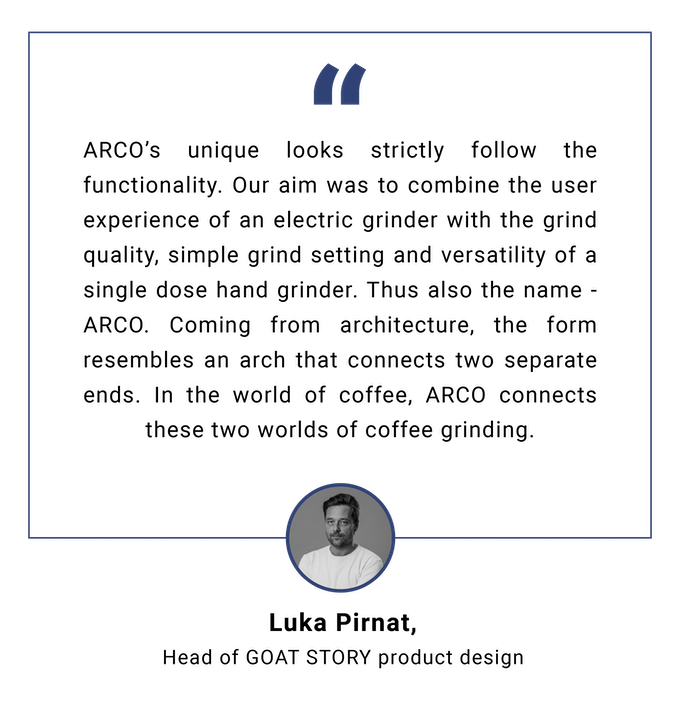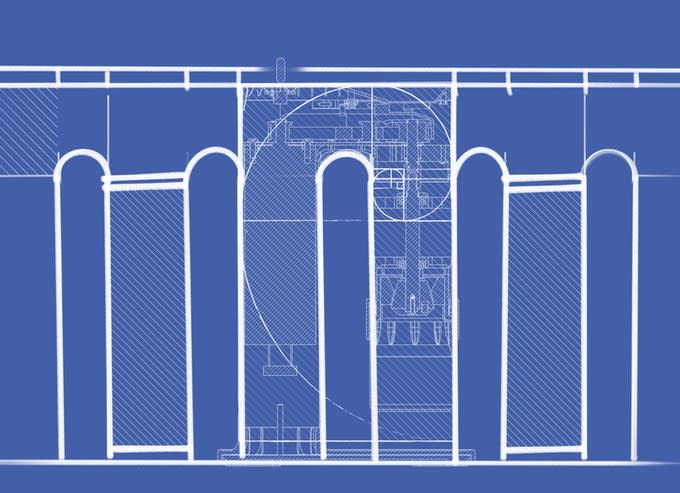 HOW IT WORKS


It's a great pleasure working and creating with such a great team.
Product design: Luka Pirnat
Product development: Nace Novak
Mechanical design engineer: Anze Lemovec
Mechanical engineer: Peter Bukovec
Mechanical engineer: Dominik Balasko 
Marketing and advertising: Dusan Maticic, Maja Vejnovic
Social media: Gasper Plahutnik;
Art director: Anja Secnik 
Graphic designers: Veronika Brezovnik, Petra Ogrin, Rok Potocnik 
Chief business development officer: Helena Felc Zveplan
Production manager: Domen Lavric
… and more than 15 other team members that made this project possible. You guys are the best! 
We also couldn't have done it without the support of our friends. A special thank you goes to:
Luka Stanovnik, Tamir Potokar Grays, Kristijan Stramic – video production
Jaka Birsa – photography
Thank you!
Anze Miklavec and Stella Korosec, Co-founders 

This project is promoted by Jellop, the ad tech power behind the best Kickstarters with 1,400+ successful Kickstarter projects with over $500M raised between them.

Risks and challenges
Since our first Kickstarter/Indiegogo campaign in 2014, we're on a journey of discovery in specialty coffee – roasting kick-ass coffee in our micro roastery and solving engineering puzzles to come up with innovative coffee gear to make your brewing easier (and tastier). Our products are hand-assembled and shipped from our headquarters, in the heart of Europe, and from our warehouse in the US. This is our third Kickstarter campaign and we're proud to say that all rewards to the 10,617 backers from the first campaign and 2,389 backers from our second campaign were successfully delivered. Our team is now even bigger and stronger, and we're ready to take your specialty coffee lifestyle to an even higher level. We have already completed an extensive durability and grind comparison test that made us certain we have created a great product. As soon as we are funded, we will be able to fine tune the grinder, kick-off the production and ship it to our backers. We have mapped out the critical path and have made all necessary precautions to ensure we can scale production if we surpass our goal. We are very confident in our timeline, but it's our core belief to never settle for a mediocre product, so we won't be compromising on the quality in order to save time. Should any production challenges or processing delays arise in terms of production or delivery, we promise to keep you updated every step of the way and deliver you the best quality product as soon as possible.