Artisan Revere: Elmax Super Steel Chef Knife | The kitchen knife made with Elmax® Super Steel. Manufactured in the US, designed to last a lifetime.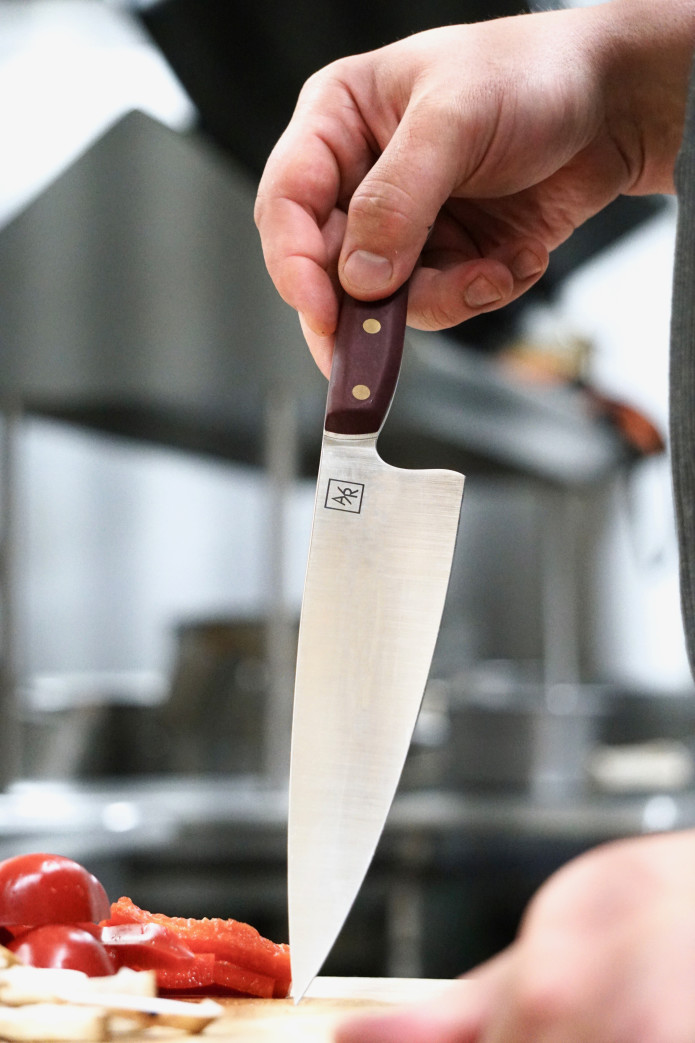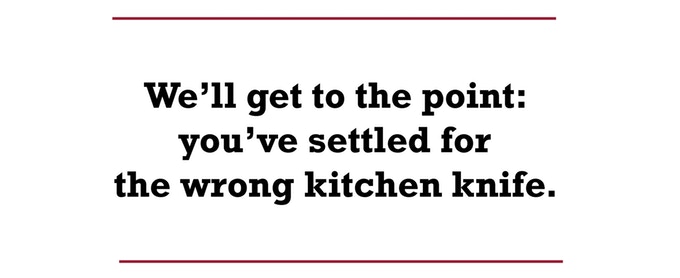 We know this because our founder David Olkovetsky, a former steel investor, scoured the market to find the perfect chef's knife—and realized it simply didn't exist. He found that even many of the most expensive options were made with low-quality steel, manufactured to meet a bare-minimum standard.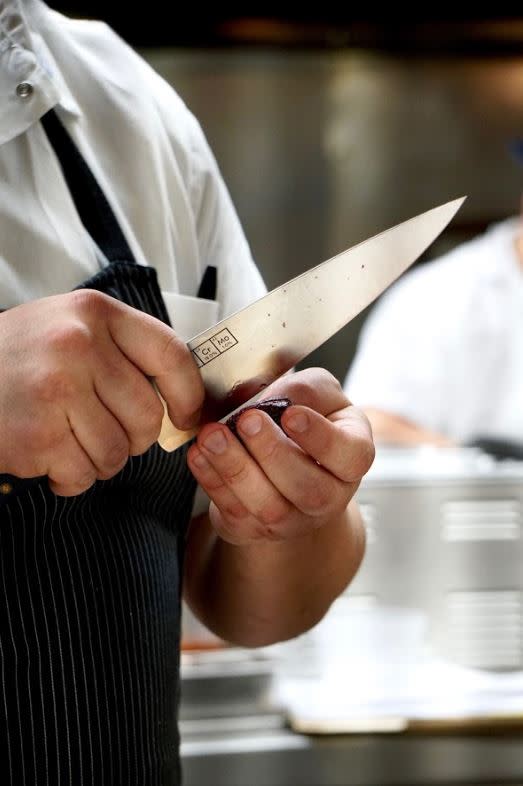 Chances are, you've experienced this already, with knives that either dull too fast, or chip too easily. It's a familiar situation, whether you're an avid home cook or a professional chef. Think back to it: You've been cooking for hours. Your Japanese blade chipped—again. Your heavy German "workhorse" of a knife is smashing your delicate ingredients into smithereens. Your hands are getting calloused from the rough edges on your knife, and your wrist hurts from a less-than-ideal grip.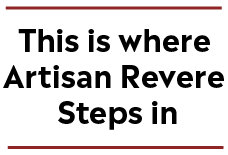 We did the research, collaborating with renowned chefs, top bladesmiths, artisans, and metallurgists to create a kitchen knife unlike any other. And we opted for Elmax® Super Steel, the same steel used in knives carried by avid outdoorsmen and U.S. Special Forces soldiers.

The result? An incredibly sharp, thin, and tough knife—the best of cutting-edge technology, ergonomic design, and old-school craftsmanship. A knife that cuts quickly and easily through any ingredient. A knife that stays sharp 2.3x longer than Wusthof, and 1.9x longer than Global, Shun, and 3.3x longer than Dalstrong.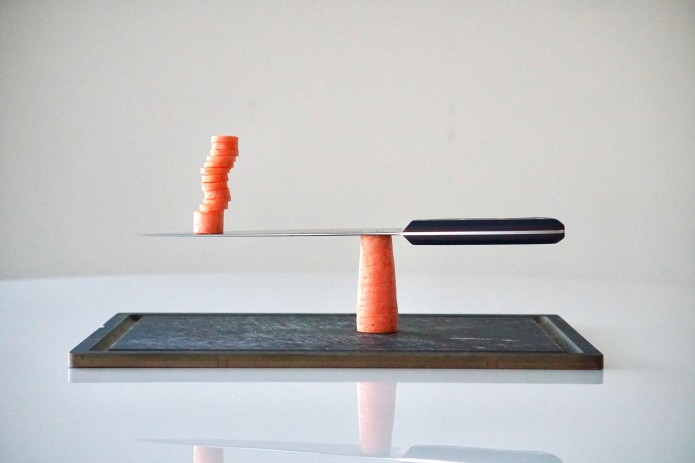 With our knife, you can cut through rock-hard squash without breaking a sweat. Transform a ripe tomato into crisp, even slices, without smashing it all over your cutting board. Slice through beautiful cuts of meat, without the tedious back-and-forth of a dull knife. Leave kitchen hack jobs behind—and experience the Artisan Revere edge.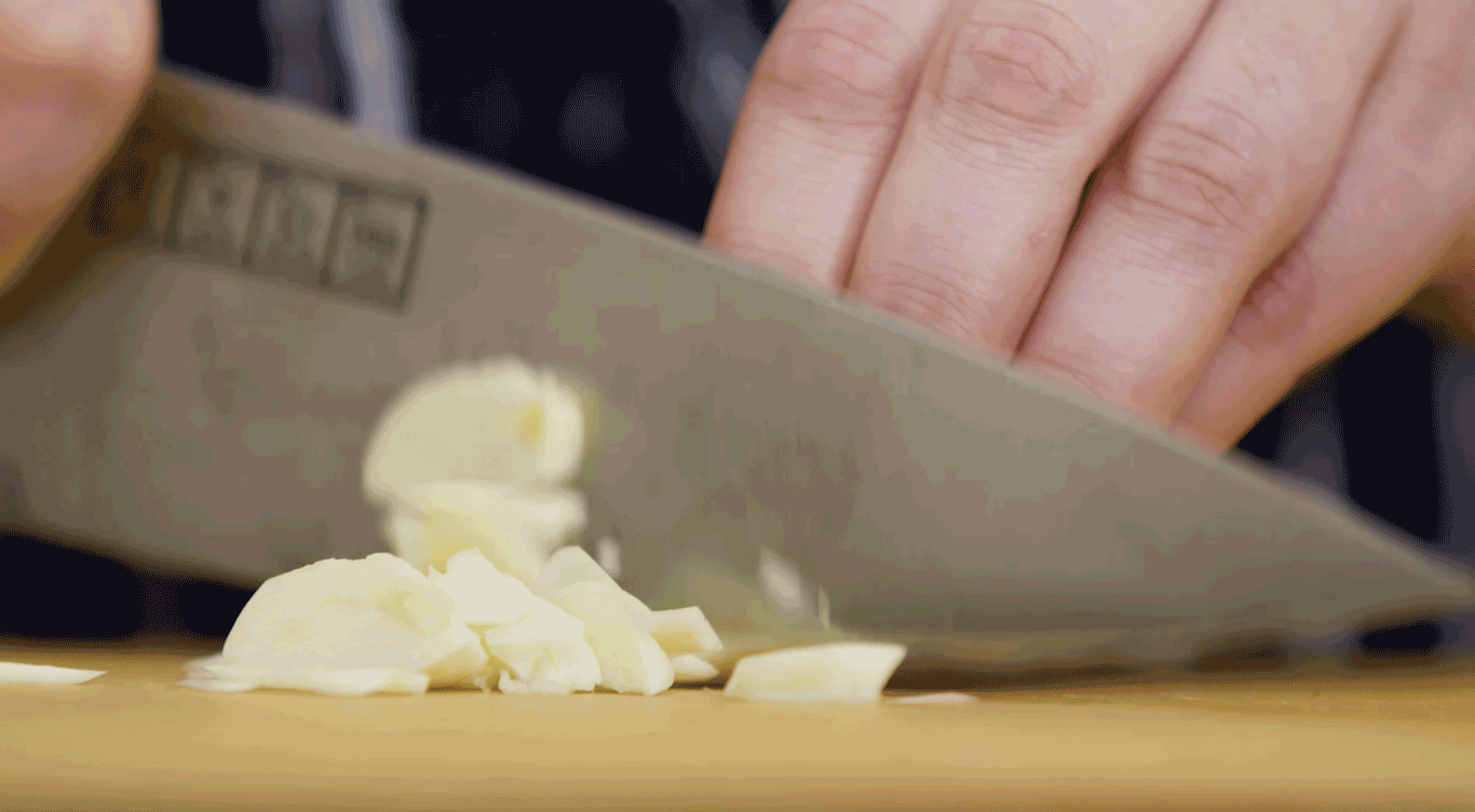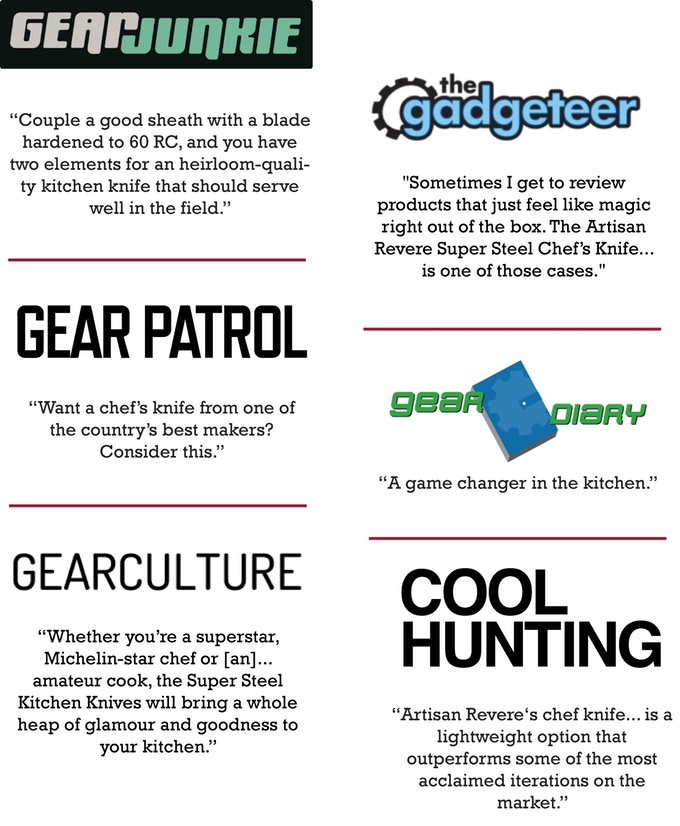 Thanks to wear-resistant and chip-resistant Elmax® Super Steel, we've created a powerful kitchen knife that's unlike anything else out there in the market. Our thin, strong, and ultra-sharp blade slices quickly and easily through any food—and stays sharp drastically longer than the standard kitchen knife. Think less time spent sweating over your prep work, and more time truly savoring the fruits of your labor.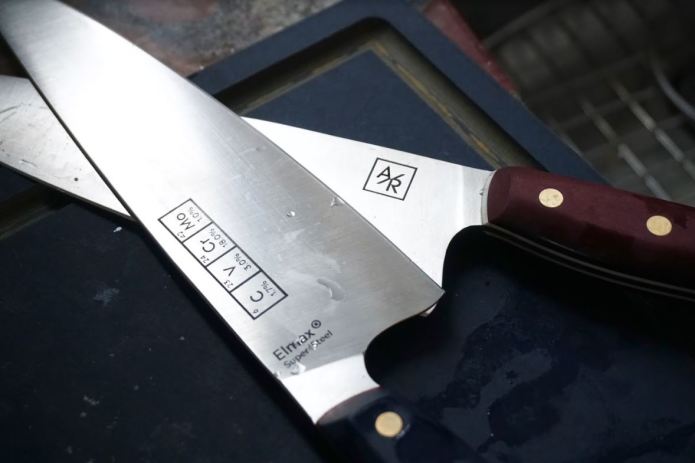 This is a 3rd generation powder steel that's normally reserved for industrial use, and for everyday carry and tactical knives used by avid outdoorsmen and U.S. Special Forces soldiers.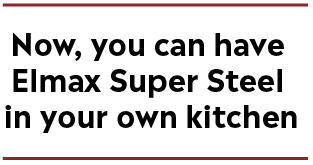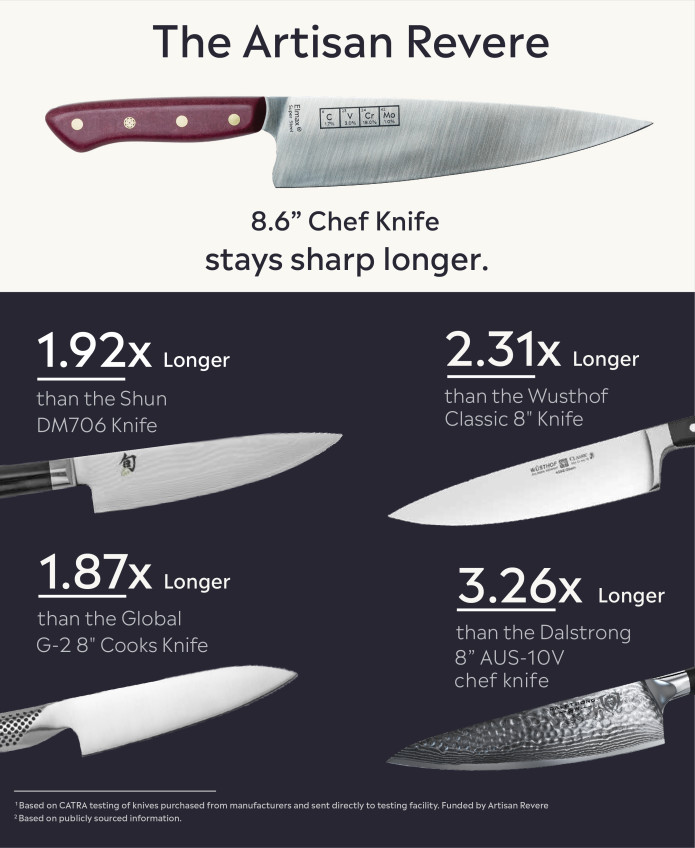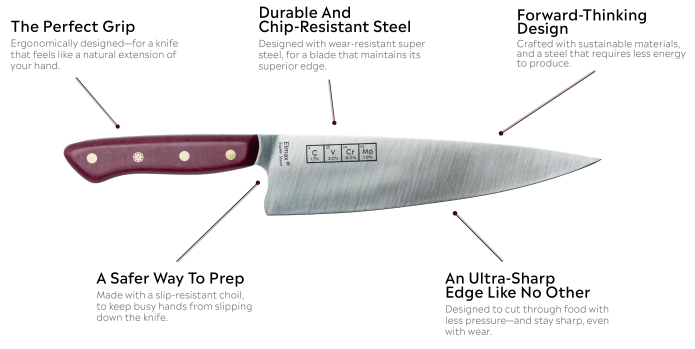 2. Fantastic edge retention. Our knife edge stays sharp longer thanks to several factors: alloy composition (we use 3% Vanadium—which forms some of the hardest carbides), Rockwell hardness (RC), and the ability to resist various impacts. Elmax Super Steel, at 60-62RC (Rockwell hardness), has better edge retention than top-of-the-line Japanese powder steel SG-2 at 63-64RC.
3- Superb toughness. We've all accidentally hacked through a bone, or scraped our knives against a ceramic plate. Good news: the 3rd generation powder metallurgy behind our knives leads to higher resistance to chipping and other edge damage—which means they can handle the inevitable mistake in the kitchen.
4. Corrosion Resistance. Based on our surveys, the vast majority of knife users don't immediately wash and dry their knives every time—and neglecting this step can make even the best knife rust or dull faster. We could wag our fingers in your face and give you a hearty tsk tsk—but we decided to make corrosion resistance of paramount importance in our design. By all means, treat your knife with care, but rest easy knowing that our knife can handle the occasional slip-up.
5. Balance. A chef knife should be balanced just in front of the handle, to provide a good mix of power and precision.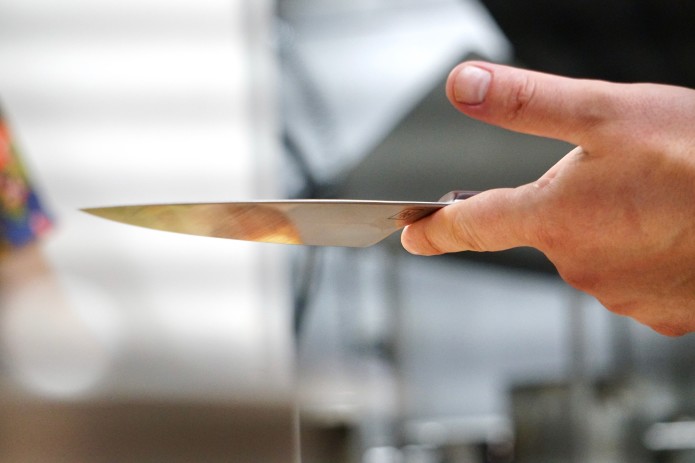 This takes plenty of time and skill to perfect. To achieve the perfect balance, we not only skeletonized the tang (the steel under the handle); we also skeletonized the handle.
6. Ergonomics. A knife should have a sharp edge in only one place: the cutting edge. There is no reason for a heel or bolster to be sharp. There's no reason for a spine not to be rounded off. These little details matter for home cooks and professional chefs who cook for extended periods of time, because they minimize blisters and hot spots. A knife should also be comfortable for large and small hands alike.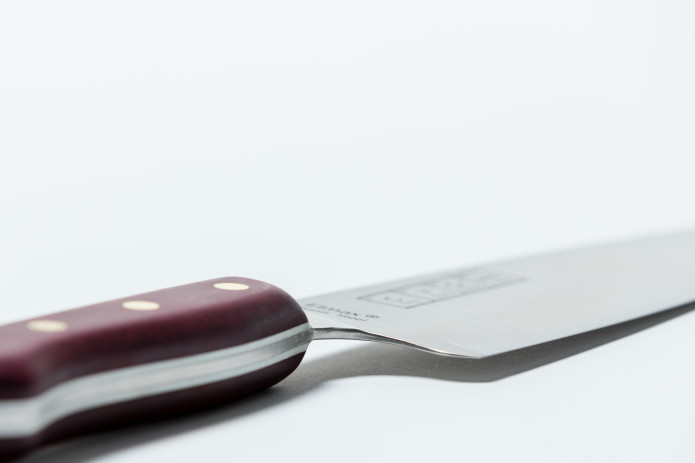 7. Sustainability. Our steel begins in an electric arc furnace, which consumes 9 times less energy than the blast furnaces used for most steel. Fossil fuels make up only 1% of Sweden's overall energy consumption; compare that with Japan, where fossil fuels make up 82% of overall consumption—and where 100% of all steel is made through a blast furnace. By choosing a quality steel from Sweden, we can see a whopping 738x reduction in fossil fuel emissions associated with the production of our steel.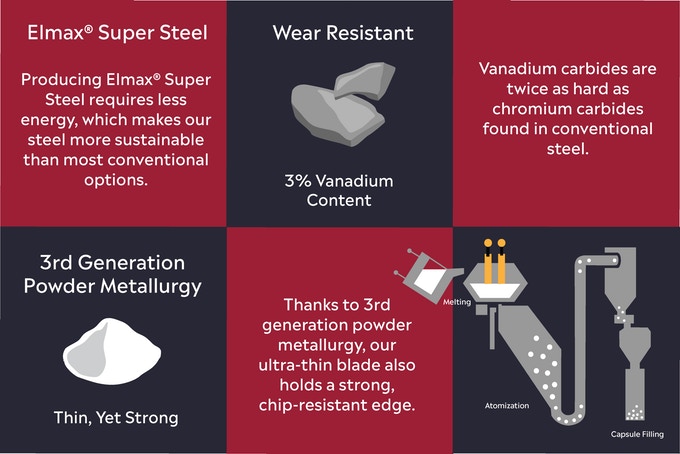 Elmax, a 3rd generation Swedish powder steel produced by Bohler-Uddeholm, is made with the latest and greatest in powder metallurgy technology. Not only is it about 60% tougher than America's top-of-the-line powder knife steel, and 240% tougher than one of the best non-powder steels; it also provides the double benefit of lower CO2 emissions and improved sustainability. In other words: this stuff is the best steel that we—and anyone else, really—can get our hands on.
We could talk for days about powder metallurgy (PM), but we'll give you the quick-and-dirty rundown. (A visual summary is below.) Powder metallurgy was invented to create high alloy tool steels with superior toughness and wear resistance. We're talking shock resistance and edge retention, for industrial tools that last longer, perform better, and require less repair.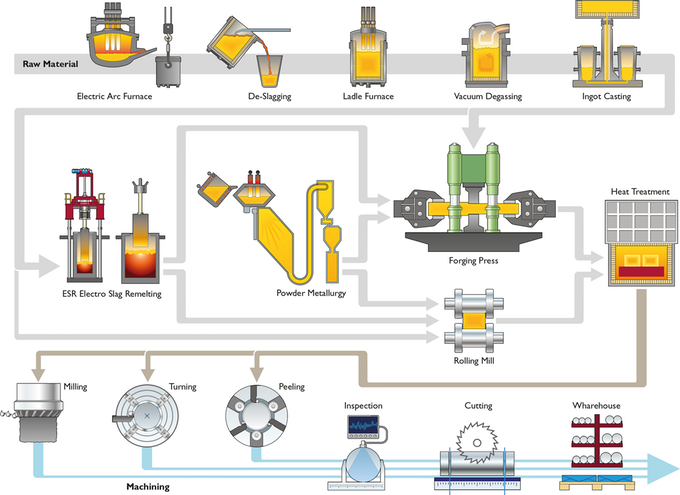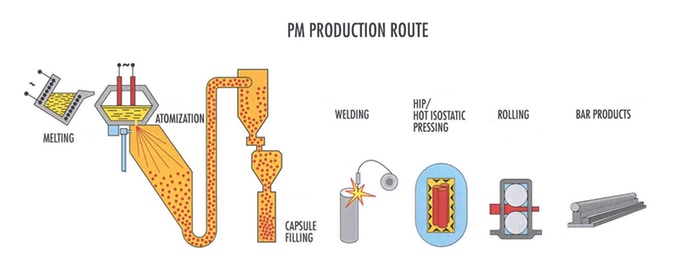 Uddeholm's PM Process


When we say we've thought of everything, we mean it. From the shape of our blade to the taper of our edge, every element has been specially engineered to make your cooking experience effortless and enjoyable.
We know the kitchen can be a whirlwind of elements—from brining liquids to stovetop flames. So we've designed our handles to be as resilient as possible, to last through even the busiest kitchen environments.

More reasons to feel good about your perfectly prepped food: The extremely durable materials we use in our handles are Rainforest Alliance Certified™, FSC certified, and GREENGUARD certified. We get our hands on the best materials we can find, with an eye toward sustainability.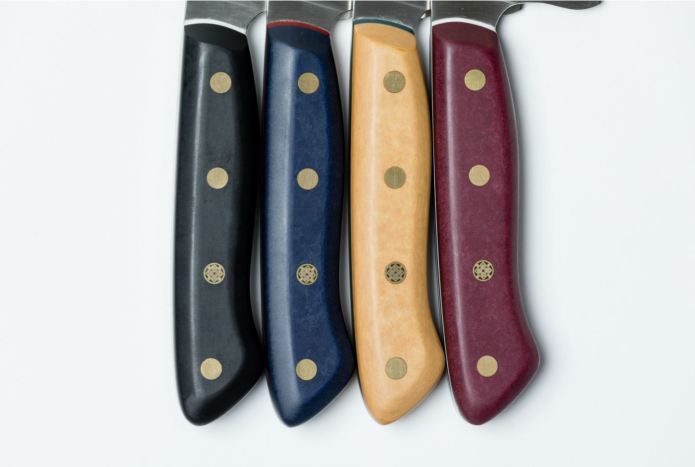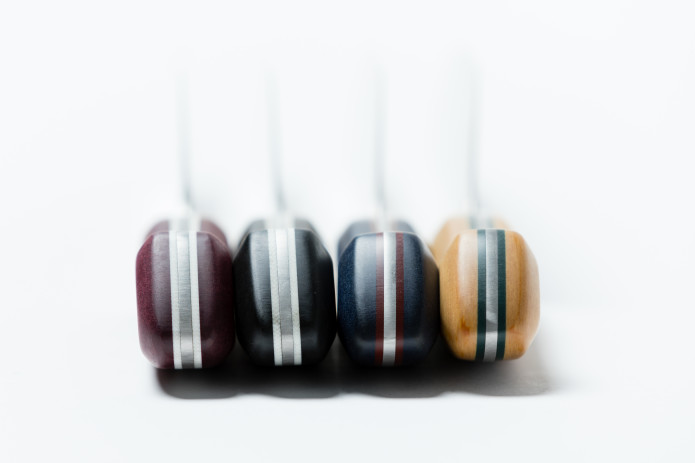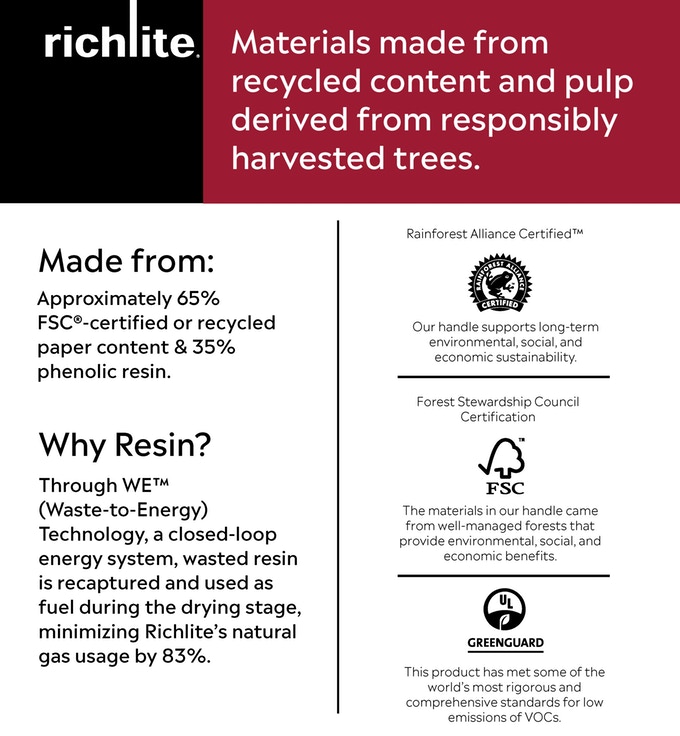 It all starts with Bohler-Uddeholm, the Austrian-Swedish purveyor of Elmax Super Steel—what we know to be the world's best kitchen knife steel.