Australia's First Bento Glass Containers | Non-toxic & waste-free meal prep with perfect portion control.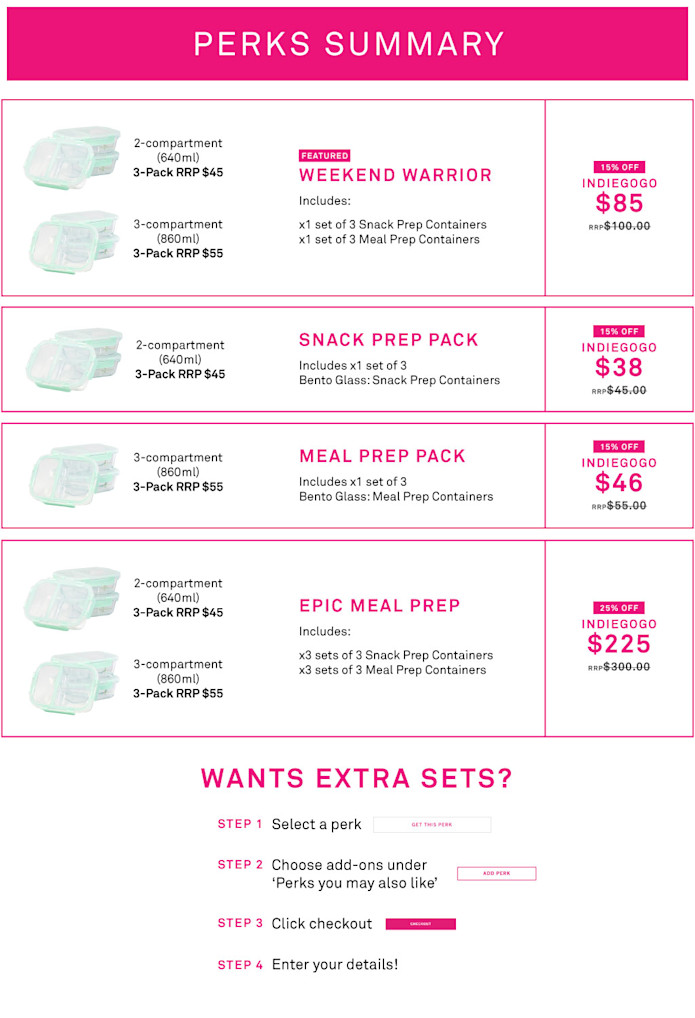 You deserve better meal prep containers. It's 2019 – plastic won't cut it.
We had a goal in mind, to create the meal prep container of the future. And we have.
Maintaining a healthy lifestyle is hard enough. You need a container that will do the job and more. So don't worry, we'll take care of those pesky downsides containers have for you. 
After the successful launch of Eco Meal Prep™ in 2016, we wanted to continue our mission to raise awareness of plastic toxins in food preparation. 
We're proud to present Australia's first Bento Glass Meal Prep Containers!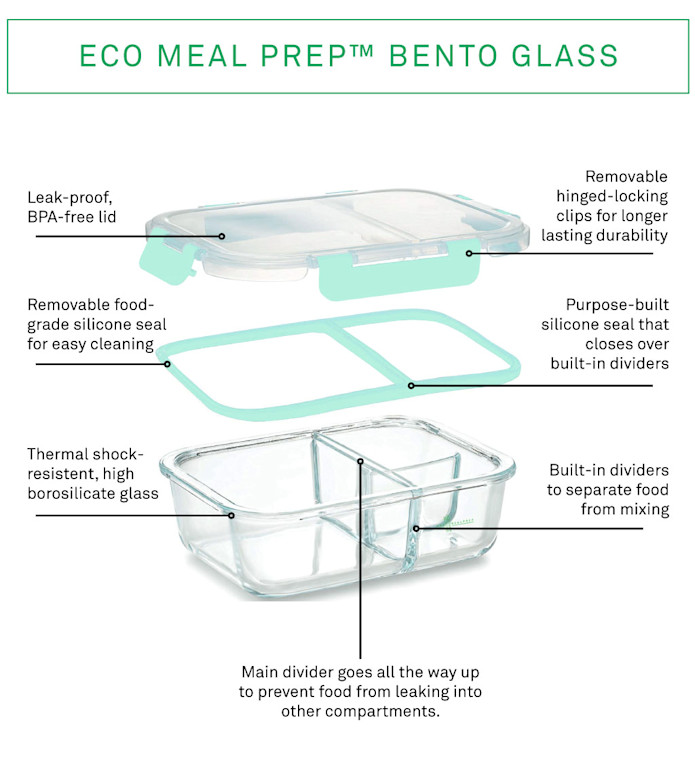 We're in the information era, where not knowing about something's effects doesn't mean it won't harm you. 
So we set out to create a container for modern day needs. A container that's worthy of 2020 and beyond.
That's a lot of info right there. Let's digest it 🙂

BUILT-TO-LAST
Durable. Durable. Durable. We manufactured Bento Glass to last.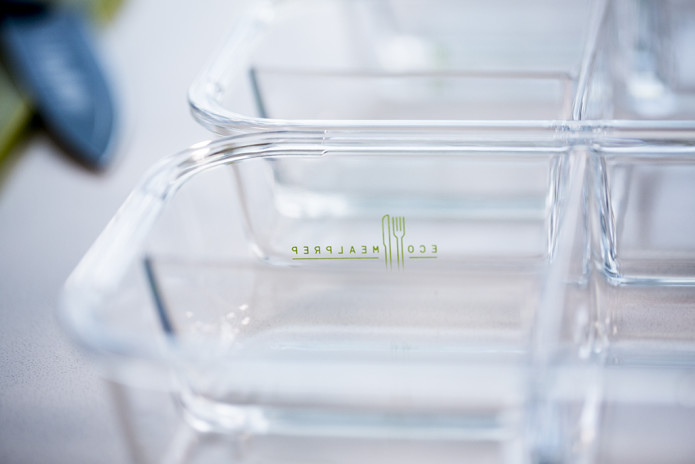 High borosilicate glass is a superior type of glass that has a much higher proportion of silicon dioxide in comparison to regular soda lime glass (80% vs. 69%), which makes it significantly less susceptible to damage.
Not to mention; it's FDA-approved!
This was a non-negotiable when creating Bento Glass. 
We want to reduce our impact on the environment, so how counterproductive would it be to create something with only few uses up its sleeve? 
We aimed for long-term benefits. 
IT'S THERMAL SHOCK-RESISTANT
It's no super-power, but this glass is made to resist extreme temperature changes without flinching.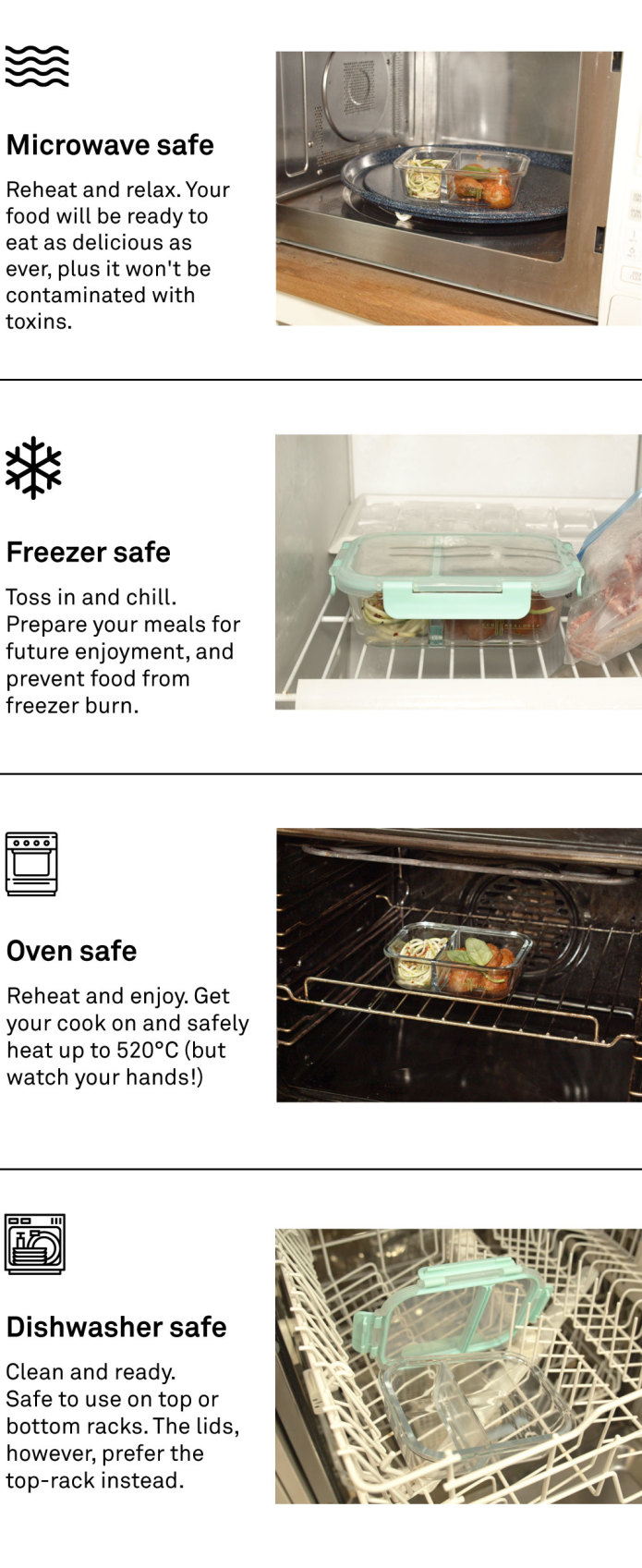 Toss it in the microwave, or oven to cook or reheat food. Toss it in your freezer for keeping. Toss it in the dishwasher for cleaning. Toss it anywhere! (not at someone). 
IT'S TOXIN-FREE
Most containers are made from petroleum based plastic which can contain harmful chemicals such as BPA, PVC, and phthalates.
This, unfortunately, means that these toxins have made their way to your food. And even worse: they leach even more when exposed to heat. 
 Fortunately, Bento Glass will have your back, even from the harms you can't see, smell or taste.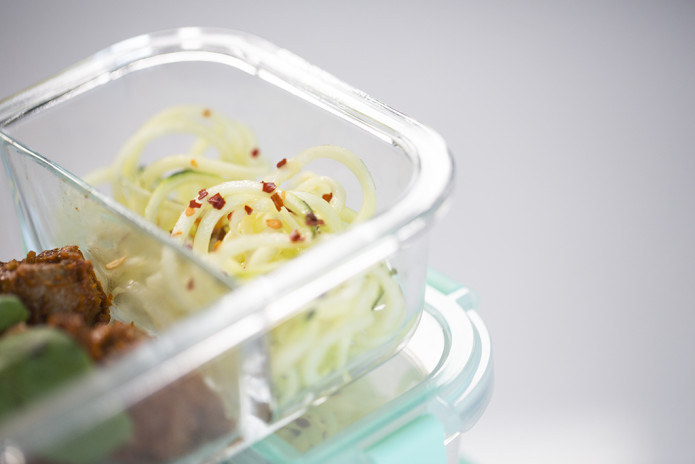 IT'S ODOURLESS
How it should be. 
You've probably felt it – a hint of last meals' dressing in your spaghetti. Suboptimal.
Unlike plastic containers, Bento Glass is resistant to odours and will keep your food fresh until you're ready to eat. 

How do you feel when you open your container and you end up with an unexpected mush of whatever-you-prepared?
Exactly.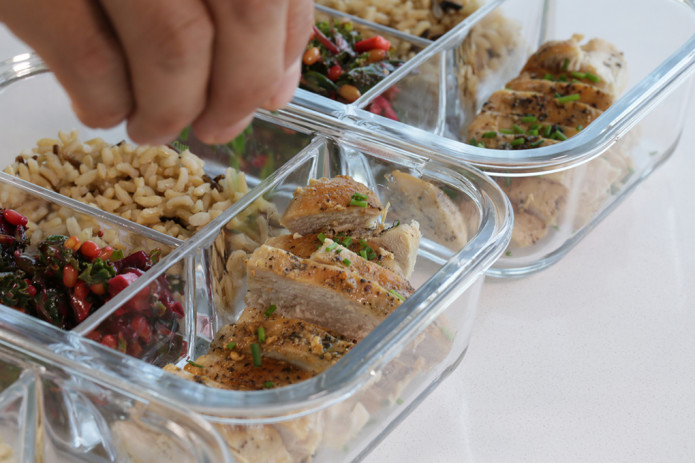 We want you to be able to control your food variety and avoid your flavours from mixing together. 
ALL-THE-WAY-UP DIVIDERS
We wanted to keep food unmixed regardless of how much you toss and turn.
We needed the dividers to do what they are supposed to do: divide. 
To achieve this, we needed our dividers* to go all the way up, keeping food in their designated compartment regardless of what might happen. 
*Only the main (middle) dividers are all-the-way-up.
AND LIDS TO MATCH!
That's right. We built the BPA-free lid for this purpose with a removable silicone seal.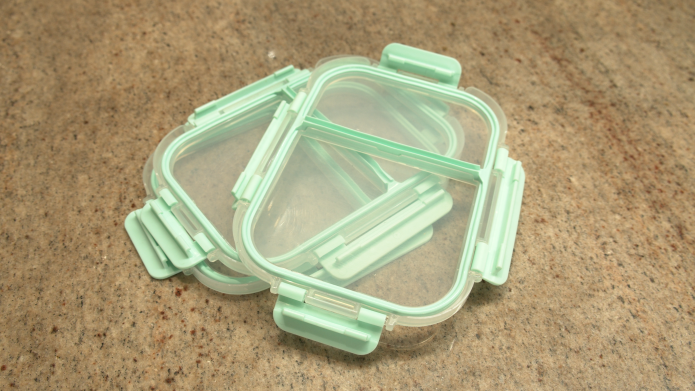 This beauty of engineering (for us) works in unison with the dividers, keeping wet foods separated from dry compartments. 
Oh, and did we mention that we made an improvement to the clips? We took our communities suggestions and made removable hinge-locks that are much more durable than our old lids. 
The lids are made of BPA-free polypropylene, and food-grade silicone.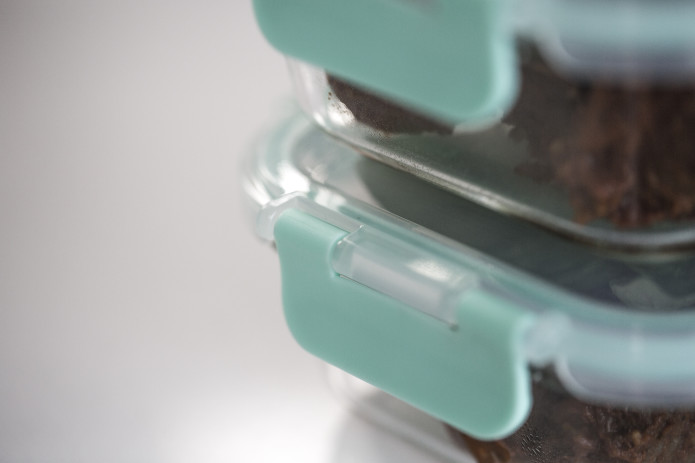 The production of plastic has increased twenty-fold since 1964 and is expected to double in the next 20 years. 
"But I recycle!" – you might think. 
Unfortunately, only 5% of plastics are recycled effectively, while 40% end up in a landfill or in fragile ecosystems such as the world's oceans.*
Plastic waste comes not only from packaging or plastic bags. There's no use for plastic food containers once they are damaged. 
And what's even worse? The rise of pre-cooked single use meals in throw-away plastic containers…
We need something better.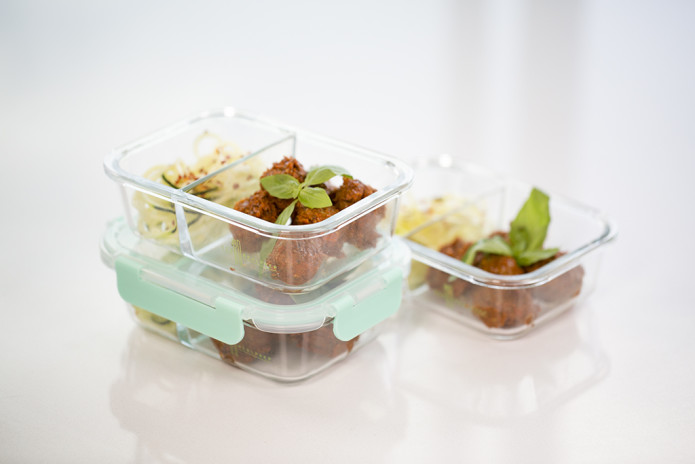 Bento Glass containers are first off: reusable.
For those of you not familiar with meal prepping, these containers tackle single-use head first. So there's a win. 
Second, Bento Glass is more durable than regular glass and can be recycled efficiently. That's another, greater win in our book!
*https://www.theguardian.com/business/2016/jan/1…

Not all meals are made equal. 
That's why Bento Glass Meal Prep Containers come in two super convenient variations! 
1. The Bento Glass Snack Prep Container – for the conscious snacker.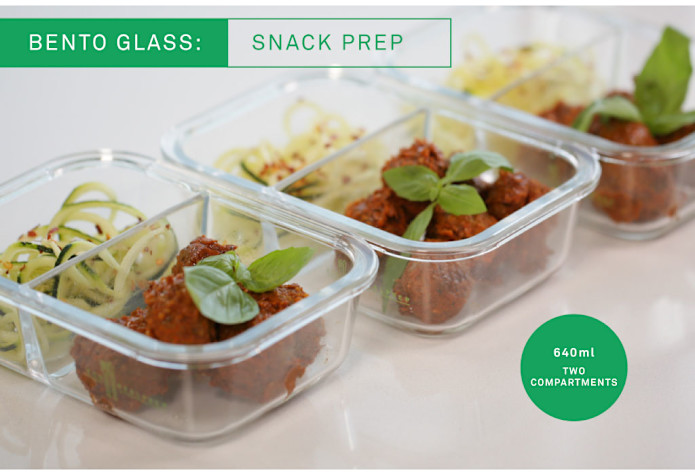 Two's the magic number – where variety meets practicality. 
It's not lunchtime, yet. But you just remembered that you brought with you those two delicious food combo's that will ease your hunger, give that boost of energy, and boom! You're ready to go!
Perfect to fit your snacks and low-calorie or ketogenic meals!
 –
 2. The Bento Glass Meal Prep Container – for heavy duty meal preppers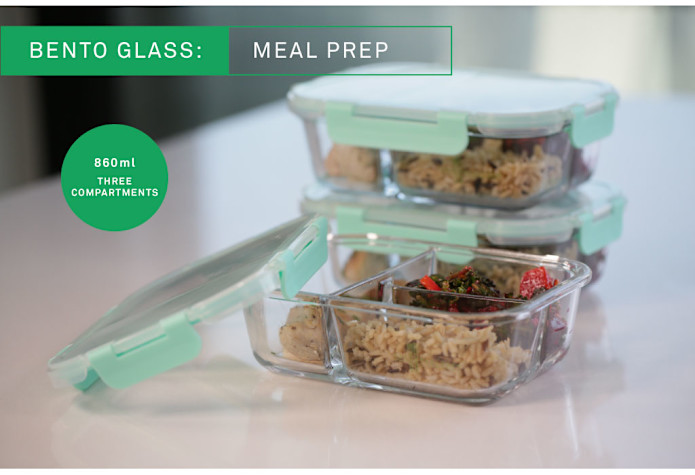 You've meal prepped and ready to tackle the week ahead, and want to keep the flavours intact and separate, as they should. 
We've got you covered. 
Three means we have a party!
Ideal for high-calorie meals and portion control. This bad boy will help you keep track of your goals and eat what you planned for, no more, no less.  

Most glass containers are often over/undersized – designed for storing leftover food in the fridge. 
We took Bento Glass one step further by prioritizing your meal prep needs. 
This means not too big, not too small. Just the right size for your meals and easy transport to your work or your gym.
Here's how they measure: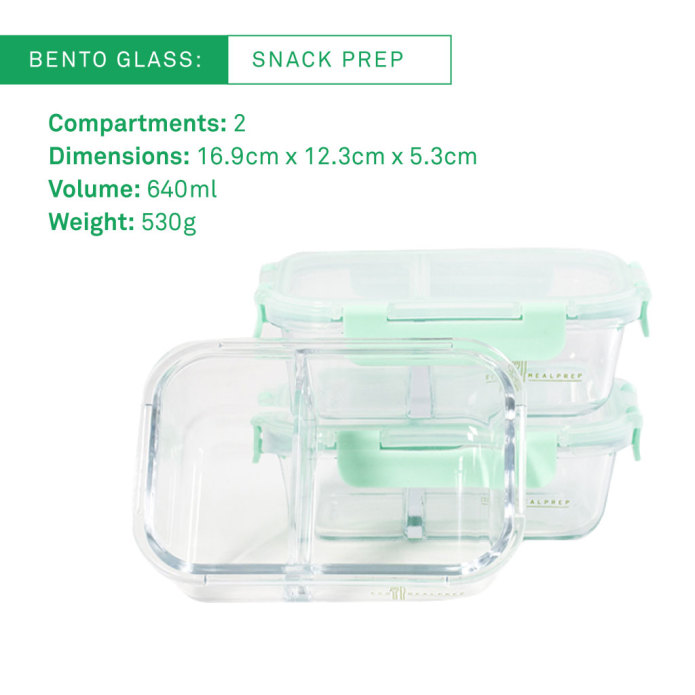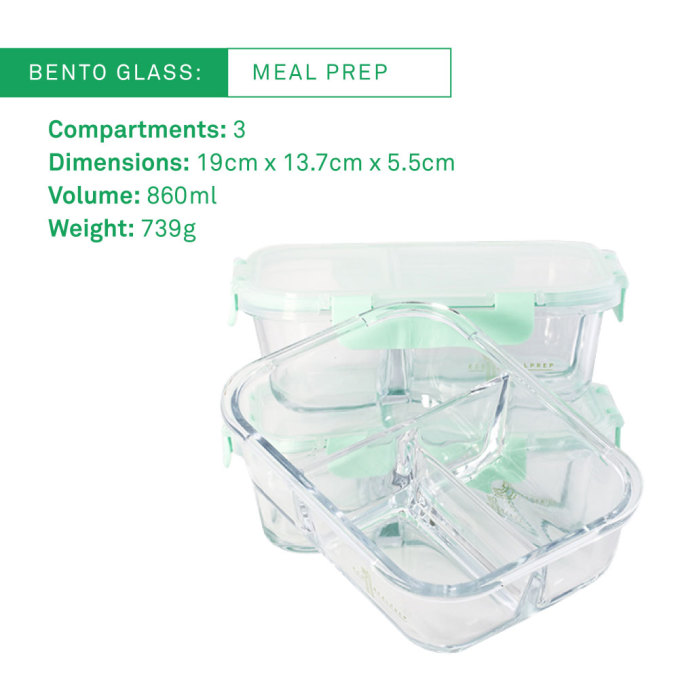 So you can pick & chose and find what works for you.
Note: all measurements are for a single container
– 

 NOTE: We've projected delivery for November at the latest to give us enough time for production and quality assurance! In the best case scenario, we'll have your orders delivered by the end of September provided we don't have any delays.

If you'd like to write about us, download the press kit here. Don't hesitate to reach out to [email protected] if you have any questions.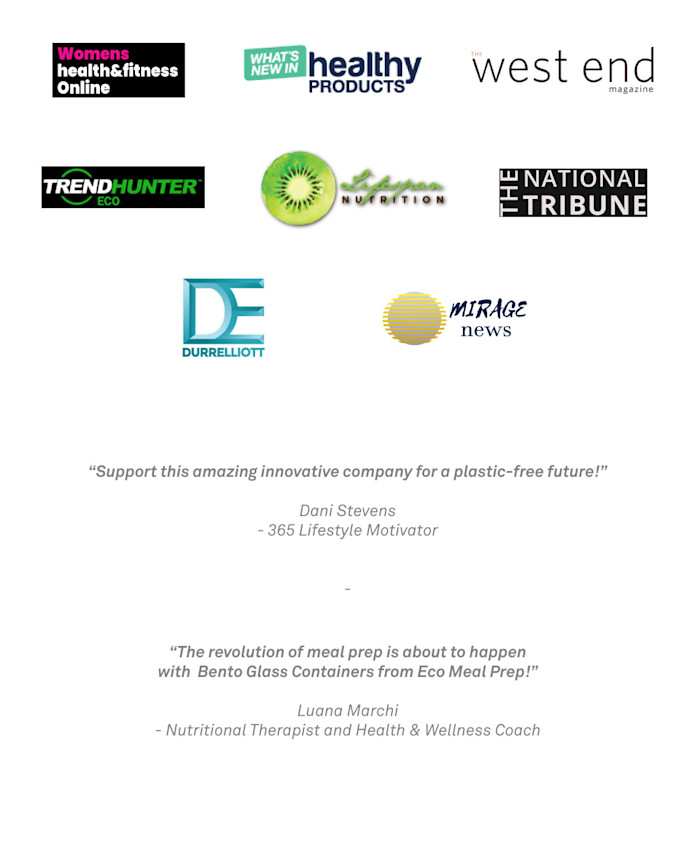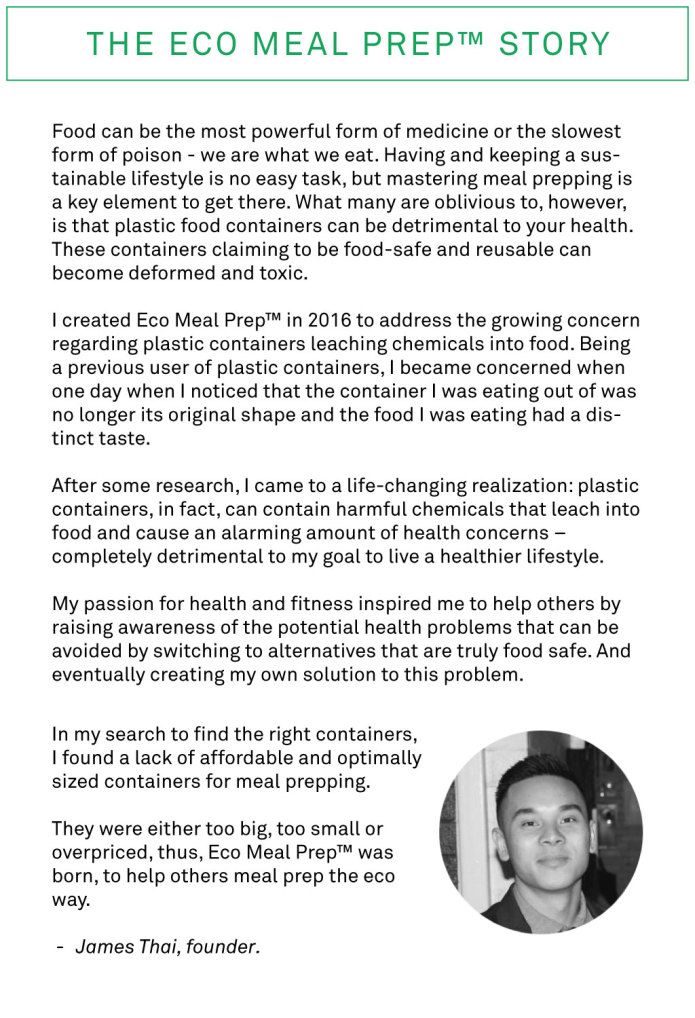 Why Indiegogo?
We're a small but passionate team at Eco Meal Prep™ and we want to make a difference. We truly believe Australia needs these containers. Only 5% of plastics are recycled effectively, while a disturbing 40% end up in landfill. 
Buying and throwing away precooked single-use meals in plastic containers may be convenient, but this quick fix is not sustainable for our health nor the environment. 
To put it simply, we lack the immediate funds to manufacture these containers at the highest quality, which is why we've turned to our amazing community. 
For full transparency, the funding of this campaign will allow us to manufacture the Bento Glass Meal Prep Containers at the highest quality and have everyone's orders shipped in a timely manner. 
It will also cover the costs of bringing this campaign to life such as acquiring prototypes, graphic design, photography, videography, content creation, marketing, Indiegogo fees and so much more!
We've given our absolute best to bring this campaign to life and we're forever grateful for your support!