AVA Byte: Smart, Simple, Sustainable Indoor Garden | Grow Healthy, Delicious Produce 3x Faster with Automatic Watering, Lighting, & Soil-Free Seeded Pods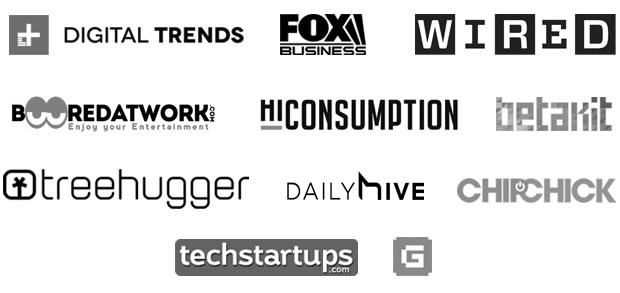 "With LED lighting that is automated and tuned for optimal plant growth, combined with a hydroponic growing system, even those who've never had a green thumb can successfully grow greens, herbs, and veggies indoors." – Derek Markham, Treehugger.com
 
"What makes this planter so great is the fact that it combines the already powerful technology of hydroponics with artificial intelligence. " – J.D. Digiovanni, HiConsumption.com

AVA Byte is the future of plant technology. Compostable plant pods grow just about anything with a push of a button—similar to how Nespresso revolutionized the home coffee brewing industry.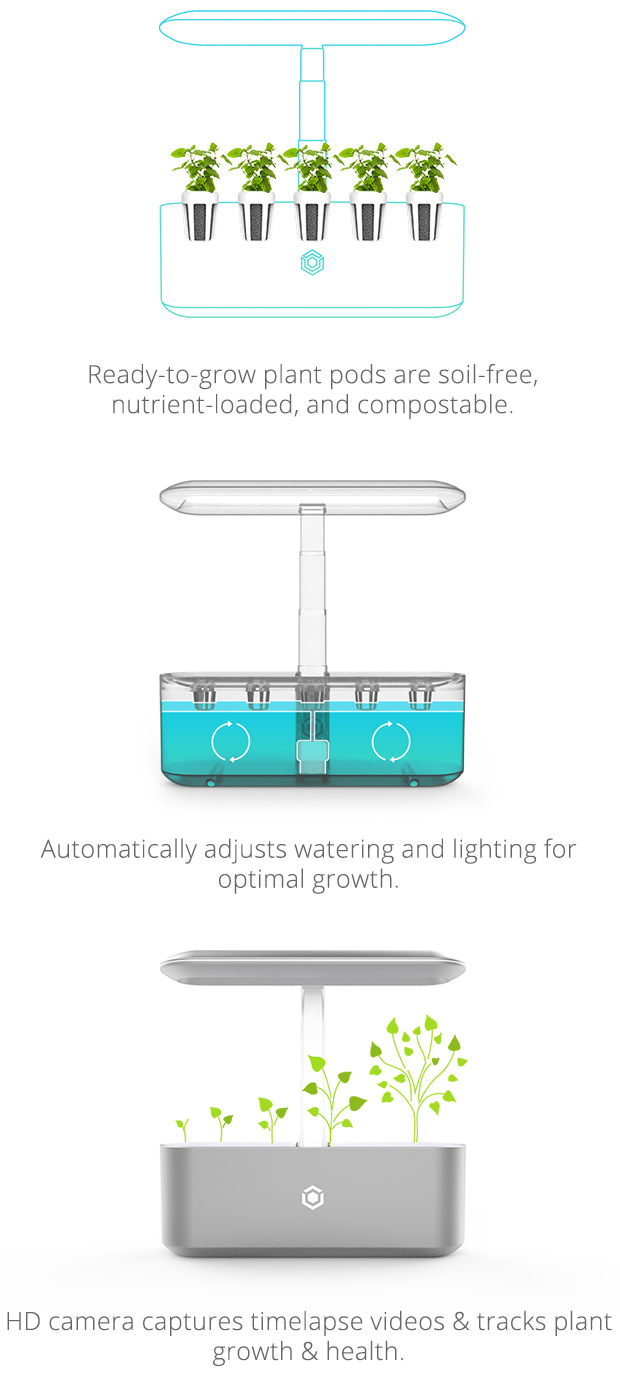 Obsessively Engineered AVA Pods
Soil-Free, Pre-Seeded, Nutrient-Packed, Compostable & Transplantable 
Each order of AVA Byte comes with 5 pre-seeded AVA Pods. Pods are formulated to the needs of each individual seed. Place the pods into AVA Byte, fill with water, sync and go.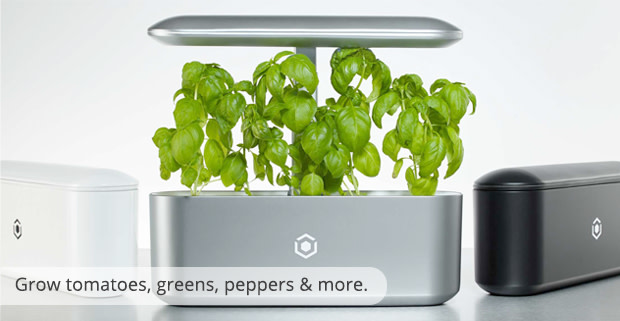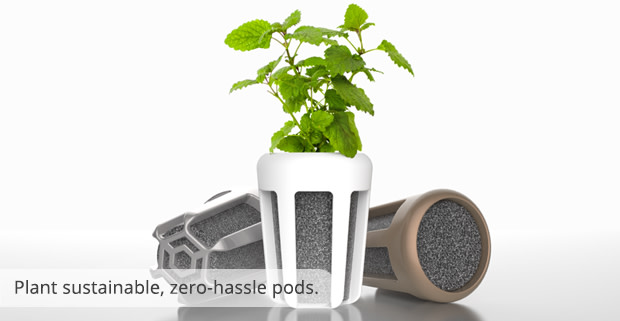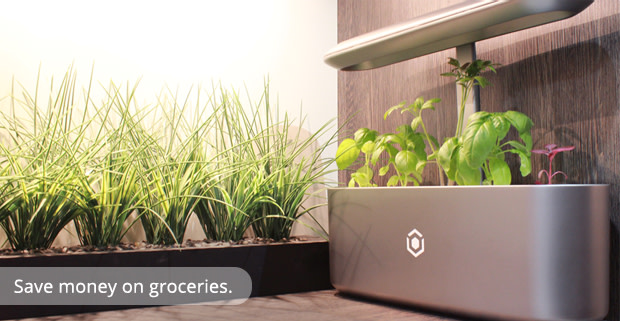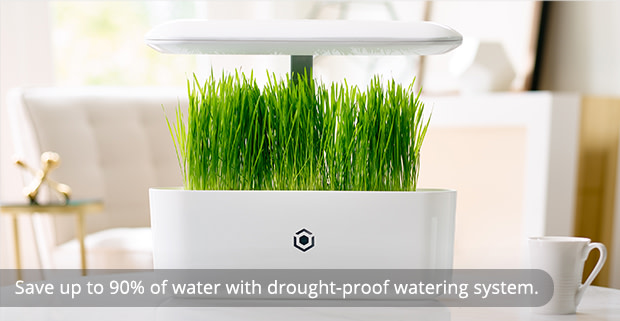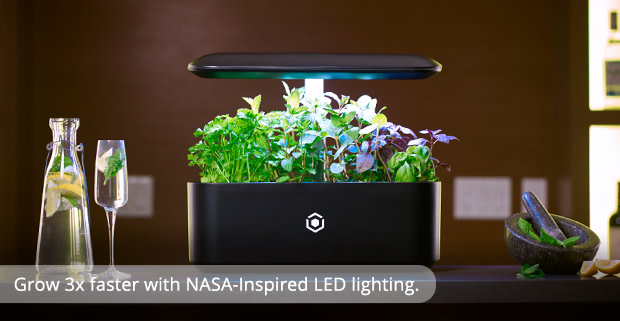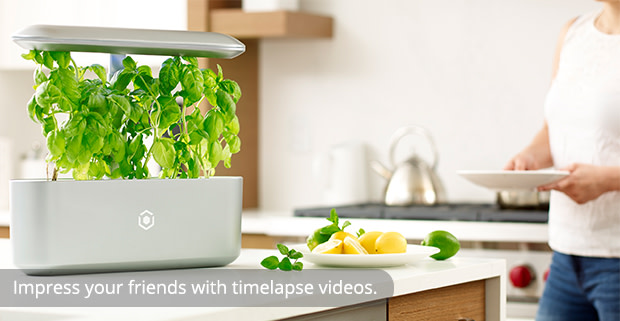 Tomatoes, herbs, salad greens, peppers, berries, mushrooms, edible flowers, microgreens, medicinal herbs, tea leaves, saplings, aloe vera, root vegetables, and more. We'll email to ask your plant preferences before delivery.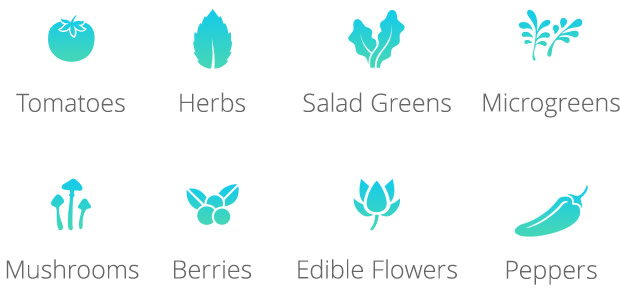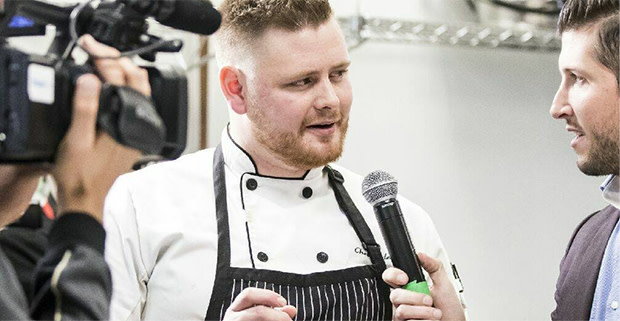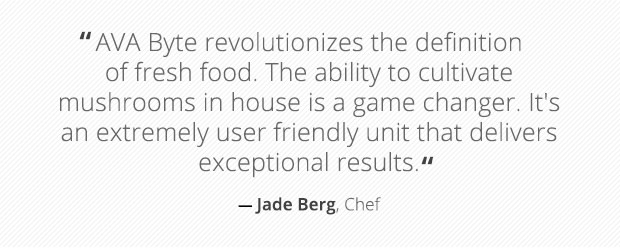 Optimize plant growth, monitor water and light levels, and plan meals with AVA's smart app.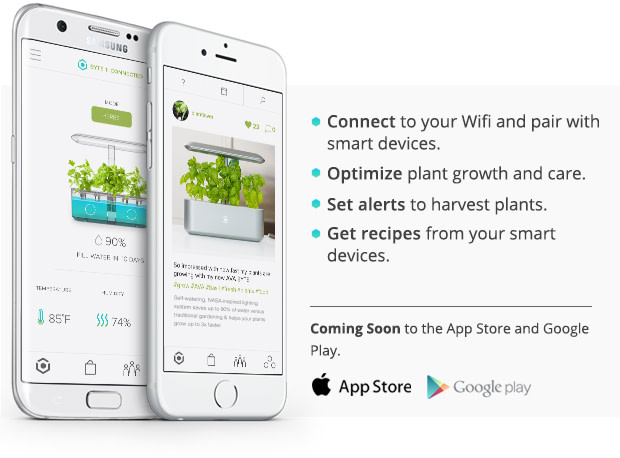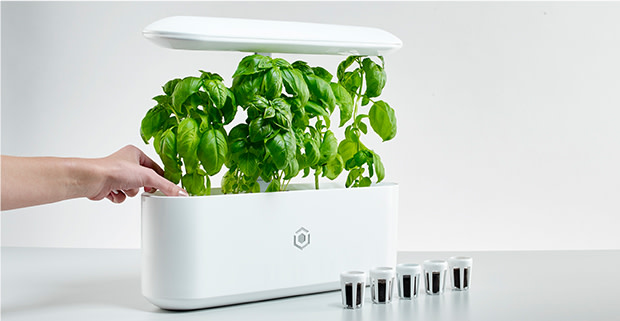 AVA Byte is a wonderful introduction into sustainable, soil-free hydroponics.


This sleek, sophisticated device may not look like a robot, but it thinks like one.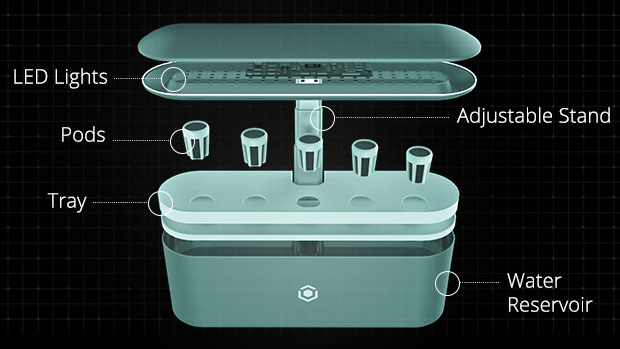 AVA BYTE TECH SPECS
Dimensions (Base): 18″ x 4.75″ x 7.5″ (45.75 x 12 x 19 cm)
Weight (Empty): 4 lbs (1.8 kg) 
Water Capacity: 0.85 Gallons (3.2 Liters)
Number of Pods: 5
Telescoping Light Height: 21″ (53 cm)
Lights: Energy-Efficient, Full-Spectrum RBG Plant-Optimized LED Lighting Panel
Sensors: Relative Humidity, Temperature, Ambient Light, & Water Level
Connections: WiFi  802.11/b/g/n
Intelligence: ARM® Cortex® M4 Processor
Security: WPA2 Security
Power: 12V DC Power Supply
Water Pump: 12V Water Pump
Waterproof: Yes
 
AVA PODS TECH SPECS
Dimensions (Outer Shell): 1.5″ x 1.5″ x 1.75″ (3.8 x 3.8 x 4.4 cm)
Materials (Outer Shell): Made from Non-GMO Corn & Biodegradable PLA Materials
Dimensions (Nutrient Pod): 1″ x 1″ x 1.5″ (2.5 x 2.5 x 3.8 cm)
Composition (Nutrient Pod): Soil-Free, Proprietary Nutrients Mixed per Each Seed's Needs
Seeds: Pre-Planted. Store in a dark, dry location until ready to grow
Compostablity: Nutrient Pod is Compostable-at-Home; Outer Shell is Industrially Compostable
Transplantable: Nutrient Pod is Easily Plantable; Outer Shell is not.
 
AVA BYTE APP SPECS
Device Requirements: iOS 7 or greater (iPhone, iPad); Android 5.1 or greater
Connections: WiFi
Home Automation Compatibility: Amazon Alexa, Google Home, Apple HomeKit
*AVA Byte is currently in the tooling phase, and specs may change slightly.
 

Hypothesize, test, repeat. We breathe the lean startup methodology, and our results show in AVA Byte's simplicity.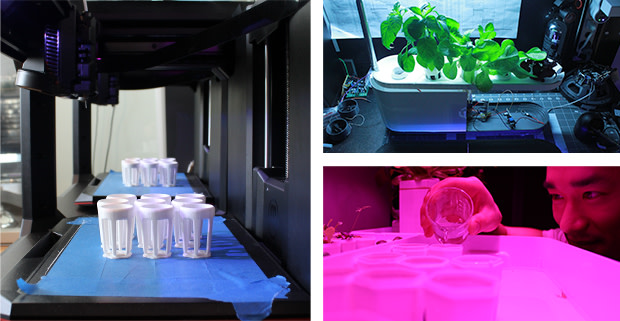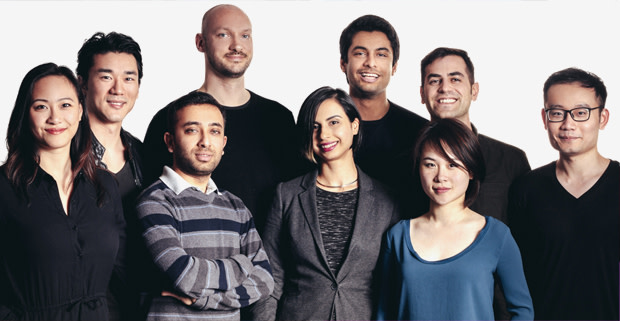 Good food is essential to life. AVA is the brain child of Valerie Song and Chase Ando, a former Chef, who met at Startup Weekend Vancouver in 2015. With the help of dozens of horticulturalists, engineers, and designers, they developed AVA Byte – a modern, space-saving smart garden that mimics nature to keep plants well-lit and watered, all year round.
Finally – you can become a master gardener with no mess, no hassle.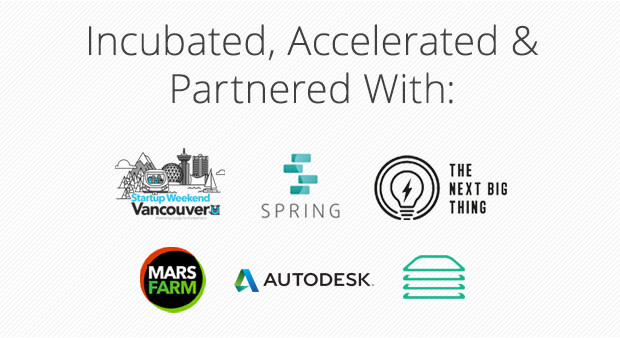 ​
We've been fortunate & grateful that the best brains in the business have vetted, backed, and supported AVA Byte from the very beginning. Won "Most Impact Award" at Startup Weekend Vancouver 2015, where it all began.



We are able to ship worldwide. VAT and GST not included. Please see reward details for the shipping cost that applies to you.

We plan to ship the product starting in February 2018*.
*Actual ship dates may vary. We will keep you notified of your product ship date.

By backing now, you'll get to own one of the very first AVA Byte indoor smart garden units plus exclusive access to prices never to be seen again.


| | |
| --- | --- |
| What is it? | AVA Byte is an automated indoor smart garden that automatically grows fresh herbs, tomatoes, salad greens, and more, at home, all year round. |
| Who created it? | The AVA Team, a team of multi-disciplinary food-lovers passionate about food, technology, and sustainability. |
| Why should we use it? | Connect to nature in a new way and go from plant killer to master gardener without sacrificing on style, space, and time. |
| How much does it cost?  | $299-320 USD at retail, but only $199 USD during pre-order (35% savings!). AVA Pods will cost about $6 USD each, and can be ordered in packs of five at only $4 USD each. Pods can be ordered online from AVA after the pre-order campaign. |
| What do we get when we order? | 1 AVA Byte, 1 power adapter, and your first 5-pack of plant pods. We'll email to confirm your plant preference before delivery. |
| Why are you crowdfunding? | We are on a mission to feed the world's transition to sustainable food with a vision of an exciting future where anyone can grow anything, anywhere. To achieve this, we need your help in bringing not only AVA Byte, but the AVA brand to life! By building our community of future foodies and sharing our vision with the world, we are able to get people excited about standing for a sustainable future. |

| | |
| --- | --- |
| What features are available? | Automated watering, Plant-optimized LEDs, Water refill reminders, Environmental sensing, Wall-mount, Camera for timelapse, IOS/Android App. |
| What colors do you offer? | White, Space Gray, and Jet Black. |
| What sizes do you offer? | One size, 5 plant sites. |
| Is it comfortable / attractive / discreet? | Sleek and compact design, beautiful surface finishes, seamlessly integrates into your life and home. |
| Which option is best for me? | Space Gray is our most popular color. Make sure to take advantage of 35% savings and stock up on a few extra AVA Pod Packs! |

| | |
| --- | --- |
| What is the uniqueness of the technology? | Grow anything from microgreens to mushrooms. AVA Byte is intelligent, connected, and self-improving. Bring your home into the 21st century. Our plant pods are soil-less, biodegradable & compostable, so it's safe for both people and the planet.   |
| What are the dimensions and weight? | The device dimensions are: 18″ x 4.75″ x 7.5″ (45.75cm x 12cm x 19cm) and weighs 4lbs.  |
| How does it work? | Plug it in, place your pods, connect to Wi-Fi using the app, and fill the water reservoir. AVA notifies you when it's time to refill the reservoir and when your plants are ready to harvest! |
| What kind of sensors are you using?  | Water level sensor, Environmental sensors (Temperature, humidity, ambient light) and a camera for Plant Vision and timelapses. |
| Will there be updates to it in the future? | Yes! We have big plans for AVA. We will be releasing new pods, new designs for growing different things, new recipes, and more.  |
| How does it integrate with other connected devices?  | Through your Wi-Fi connection. Connect it with your Alexa, Google Home or Apple Homekit. Connect it to your phone or computer.  |
| Is it waterproof? | Yes, our meticulous attention to detail demands that we make it very difficult for you to mix water and the electronics.  |

| | |
| --- | --- |
| What is it? | Yes, iOS & Android. |
| When will the app be available? | Late 2018, with delivery of the first units. |
| Can we also access app functions on a web browser?  | Yes, you will be able to connect & control your device on the AVA website as well as order your favorite pods! |
| How does the device connect to the app? | Through the magic of WiFi and cloud computing,  |
| What can we expect from the app? | Share your timelapses, try out new recipes, scroll through our pods, and much more. |

| | |
| --- | --- |
| How do I set it up? | Plug it in, sync it to your Wi-Fi through our app, plant your pods, choose the growth program, and fill the reservoir with water. |
| How do I turn it on and off? | Press the power button, use the app, or unplug the device. When you plug it back in, your settings will be saved. |
| How do I control it? | You can customize your growing settings using your AVA App or let it run automatically for optimal, consistent results. |
| What is the care and cleaning of it? | AVA Byte is easy to clean & disassemble! The water reservoir is dishwasher safe and trays are easy to clean. Just a little soap & water will do the trick. |
| Is it dishwasher safe / machine washable? | Yes, because it's 2017, and you should let the robot do the cleaning. |
| Do the pods have an expiry date? | The pods do not have an expiry date. Store them in a dark, dry location such as a cupboard or closet to keep them for longer periods.  |

| | |
| --- | --- |
| What are the recommend ages? | 5 and up, with adult supervision! |
| Where can I use it? | Apartment, home, office, classroom, remote cabin, restaurant, hotel, yacht, space stations. |
| Is it safe? | Yes, we use third party certification to make it as safe as possible. Modifying or hacking the device will increase the chance of injury. |
| What certifications do you have? | Planned certifications: CE, CSA, UL, FCC. |
| How durable is it? | We have designed AVA Byte to stand the test of time. In the unlikely case that a component fails, we have made the unit with easily replaceable parts. |
| How is my privacy protected? | We take your privacy and IoT security very seriously. We are working with experts to deliver best in class standards. |
| How secure is it? | We recommend using at least WPA2 security for your WiFi. All other data will go through standard encryption when passing through servers. |
| Can someone watch or listen to me? | No one can see inside your home. The camera is fixed downward to capture your plants and your plants only. AVA Byte does not have a microphone. |
| Are there any risks associated with use? | Improper care of AVA Byte such as not cleaning the reservoir or lid as recommended could increase the chance of bacterial growth. |

| | |
| --- | --- |
| When does shipping begin? | Oct 2018. |
| When can we expect it to reach our doorsteps? | First units – Oct 2018, Second wave – Jan 2019 |
| Where does it ship? | Worldwide, pending local seed restrictions. |
| How much is shipping? | In general, Shipping is free to the US and Canada, $10 to the EU and UK, and $20 everywhere else. Please click on the pre-order options on the right-hand side to find the shipping that applies to you. |
| I'm interested in a distribution partnership. | We'd love to hear from you! Please contact: [email protected] |
| Do I have to pay VAT / GST? | Yes. |
| What are the risks & challenges of getting the device today? | We need to meet our funding goals in order to order to pay for all the operational, manufacturing, and logistics costs. We've put together a realistic timeline and are certified by Arrow Electronics for our components and delivery timeline.  |

Is there a warranty?
We are working on delivering a 1-year manufacturer's warranty.
What is your refund policy?
Refunds are available through Indiegogo at any time during the crowdfunding campaign. After, you will need to email us at [email protected] for refunds on a case-by-case basis.
What is your return / exchange policy?
If you received your product and you aren't satisfied, you may exchange it for a new one within 30 days, shipping & handling fees not included.
How do I choose more than one reward? 
To get more than one perk, please make a new contribution for each perk.
How can I check the status of my pre-order?
We will provide supporters with access to a page where they can monitor and modify their orders.
I'm interested in becoming a Beta Tester. 
Great! Pre-order yours first, and then reach out to us at [email protected]
Why do I have to wait longer than usual?
This is not just pre-orders, you are helping AVA get through the later stages of development of the AVA Byte. We will be giving you detailed updates while we work to deliver AVA Byte to your home.
If I have other questions, who should I contact?
Press:

[email protected]

 
Investment Inquiries:

[email protected]

 
Support:

[email protected]

 
Thank you to all our friends who made this campaign possible
Pushr (video), ASTRSK (PR), Clinton Hussey (photography), Jamie Harper (realtor), Spring (incubator), TNBT (incubator), [email protected] (incubator), Hatch UBC (incubator), and Rainfactory (campaign management).

Like what you're seeing? Want to help? Just 30 seconds of your time could make the difference in growing the community. Hit one of the buttons below and tag a friend or coworker who needs this!
The more people who know about us, the larger our community will become! And the larger the community, the better we'll be able to make the product!
We can't do this without you.