Babymoon Inn of Tucson | Building Birth Centers, Growing Communities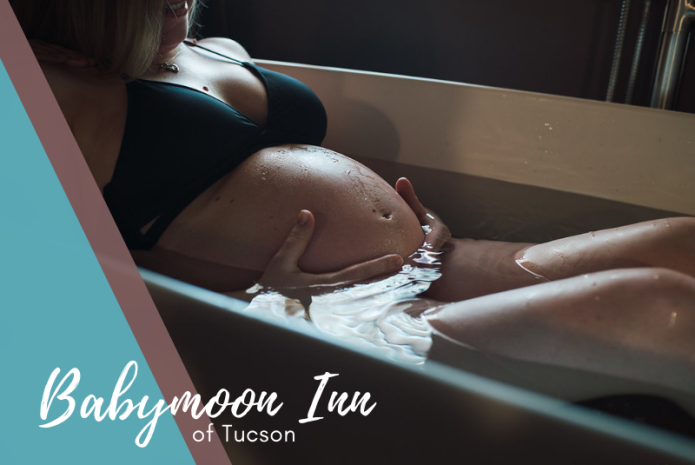 Nine years ago, Babymoon Inn opened as the only accredited, freestanding birth center in the Phoenix area, offering families the option of a low-intervention, out-of-hospital birth. Born out of the desire to provide midwifery care to more women, Babymoon Inn and its team have since served hundreds of families.
At its core, Babymoon is a small, family-owned business founded by two people who believe moms and babies are important.  We're not independently wealthy.  We're not a large corporation, nor are we owned or financed by a hospital or a physician or a private equity firm. Our efforts until this point have been entirely self-funded, and as birth center owners, it is challenging to find the resources to start and sustain another birth center without help. Our reason for wanting to expand is simple: We believe in this cause and can't help questioning, "If WE don't grow birth centers, who will?" Your contributions will help do exactly that. Grow birth centers.
We have seen lives changed by the true birth center model of care and feel strongly that Tucson families need access to their own freestanding birth center and this holistic, personalized, and evidence-based model of care. We thank you for your support.

We are currently in escrow on what we think is the perfect building to grow families and communities for years to come (we will announce the location soon!). However, Babymoon Inn is more than a building and has always been about more than just birth. We support women and families through pregnancy, birth, breastfeeding, and postpartum. We support women who have never had children and who may not ever want children through our full-scope midwifery practice. We believe in low-tech, high-touch care where clients and their providers are partners in care and make informed decisions together.
Babymoon Inn of Tucson will feature:
A full-scope midwifery practice that provides prenatal and well-woman care, contraceptive counseling, pre-conception counseling, and problem visits
A freestanding birth center with two birthing suites, each with their own bathrooms and tubs, a living room area, and kitchen (plus the opportunity to grow in the coming years)
A community space for childbirth classes, yoga, group prenatals, and support groups
Water birth
A comprehensive childbirth education program
Postpartum support groups for new moms
30-60 minute appointments
Lactation support
Group prenatal appointments in each trimester
Prenatal massage
Family centered-care
The true midwifery model of care
"If you're not changing it, you're choosing it," wrote Mel Robbins. We believe this has never been more true. Steve Jobs once said, "Your work is going to fill a large part of your life, and the only way to be truly satisfied is to do what you believe is great work. And the only way to do great work is to do what you love." This is who we are, and birth work is what we love. Together, we will pave the road for our future, our children, and the change our mothers so desperately need.
Your contributions will help purchase a building we hope will see the birth of thousands of Tucson babies. They will help furnish the birthing suites and family care rooms. They will provide comfortable seating for mommy/baby groups and childbirth classes, beautiful tubs for labor and birth, and the beds where new families will bond in the sacred, uninterrupted hours after birth.  Also, snacks.  Oh yes, there will be snacks.


The United States arguably has the worst maternity outcomes of any developed country. While other countries' maternal mortality rates are dropping, ours continues to rise.  More than 98% of babies are born in hospitals, yet research has repeatedly shown birth centers to be the optimal place for healthy, low-risk women to give birth. With a maternal mortality rate of 0%, a Cesarean rate of just 6%, and a maternal satisfaction rate of 98%, freestanding birth centers play an integral role in improving maternity care and birth outcomes in the U.S. The stakes are high and we NEED more birth centers.
While our immediate next step is to open a location in Tucson – a metropolitan city with no freestanding birth center – our ultimate goal is to expand into several cities over the coming years. Your contribution to this campaign will help grow birth centers and provide midwifery care to as many families as possible.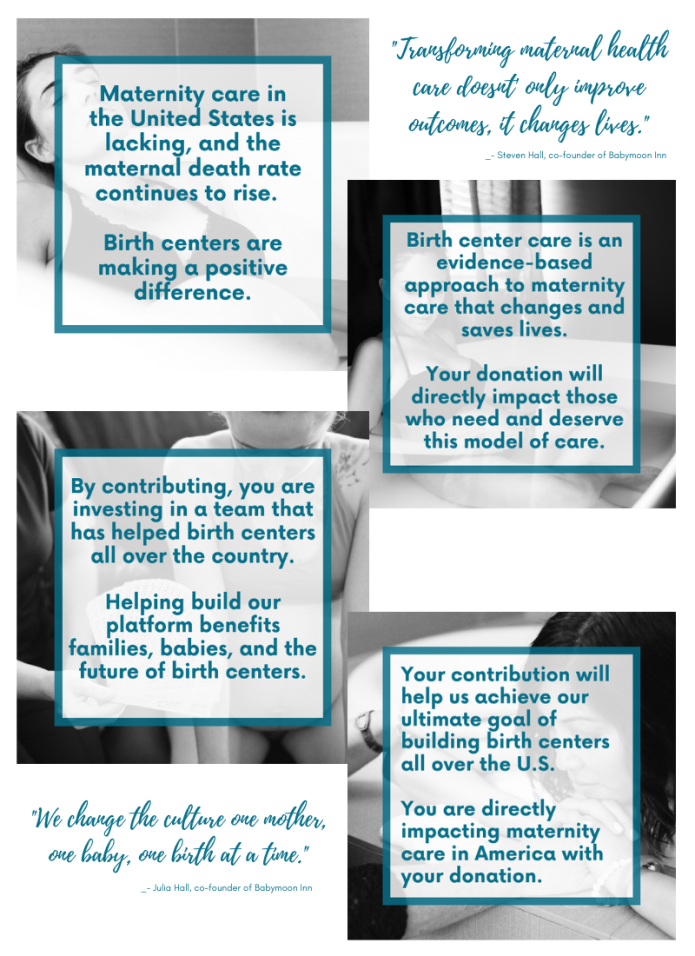 To make Babymoon Inn of Tucson a reality, we need your help! Your donations will help create a space to serve Tucson families for years to come.  If you know firsthand the impact birth centers have on communities, your life has been touched by a midwife, or you simply want to support women and babies by providing them with a safe, evidence-based option for pregnancy and birth, please consider donating at one of the following levels.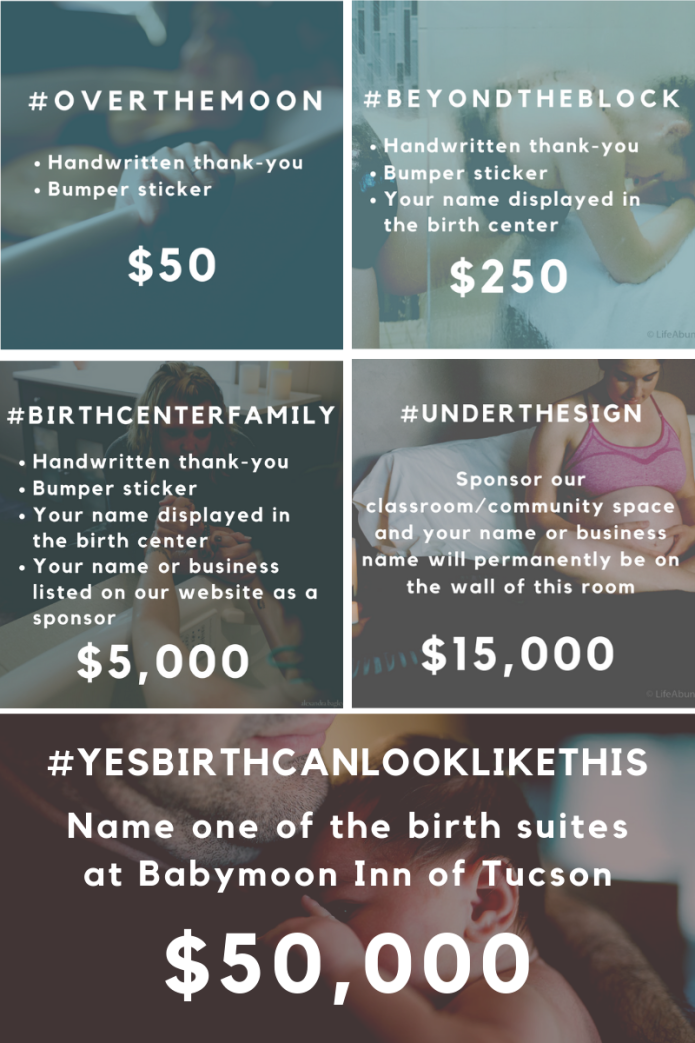 When Julia and Steven Hall moved to Phoenix after a personally life-changing experience with birth center care in Texas, they discovered there weren't any local birth centers in the Phoenix area and knew that had to change. Thus, Babymoon Inn was born and has been serving and growing families since 2010. Beginning as a single building offering out-of-hospital birth, Babymoon of Phoenix has since expanded to four buildings that include full-scope midwifery care, comprehensive childbirth education, group prenatal appointments, doula services, lactation support, prenatal and therapeutic massage, facials, chiropractic care, and primary care.
However, it is the people who walk through our doors every day that are the heart and soul of Babymoon Inn. Our clients (from first-time parents to families having their fourth Babymoon Inn baby) and our committed and passionate team members, all devoted to improving maternity care and demanding better outcomes for moms and babies, are the reason Babymoon exists and has grown to become a safe space for so many women and their families throughout pregnancy and postpartum.
Every dollar donated will help bring this model of care to Tucson families. From the bottom of our hearts, we thank you for supporting us in bringing a new freestanding birth center to Tucson.