BabyRocker: A helping hand with your crying baby | Simple-to-use, smart and portable device to help calm your baby

Hi there fellow parents,
As parents, we know this all too well; the chaotic kitchen, the upset baby, the sleepless nights. Sometimes, or rather, often times, we wish that somebody, or something, could help us take care of our youngest one such that we can chop the vegetables, go to the restroom or just get some sleep.
The BabyRocker is your helping hand in your busy everyday.

What is the BabyRocker?
A video says more than a thousand words
It works on multiple carriers!
Are you impressed? Please keep scrolling! We believe you will find it interesting!

Prototype done!
Designed and produced in Denmark. Patent pending.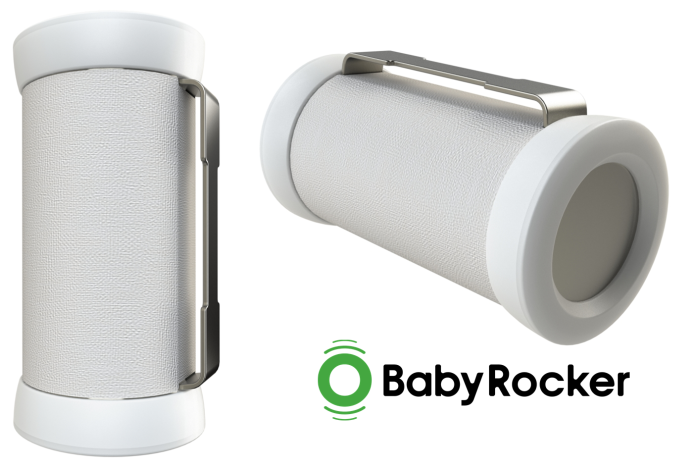 The BabyRocker is entirely designed and manufactured in Denmark. For us, it is important that it is produced using high quality materials, responsible manufacturing, and with minimum environmental impact.

Easy to carry and handle
The size of a water bottle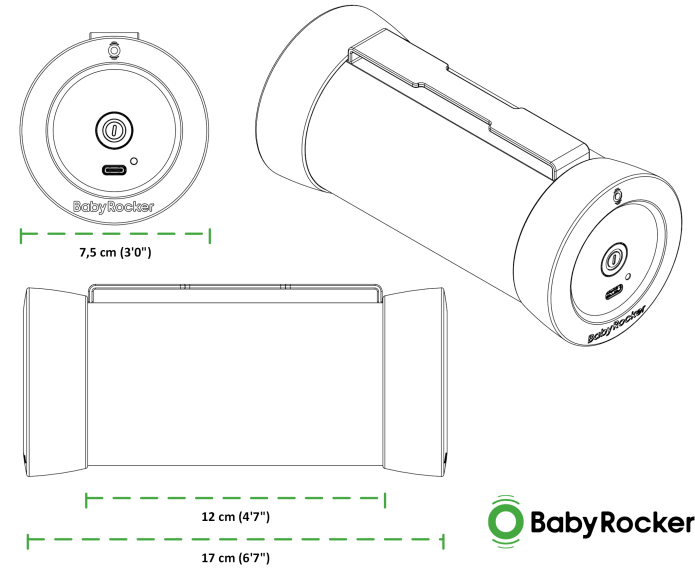 The secret behind BabyRocker's functionality is its weight and how the weight is managed. BabyRocker is approximately the size of a bottle of water (750ml or 25fl oz) and weighs approx. 1 kg (2.2lbs) making it portable and easy to handle.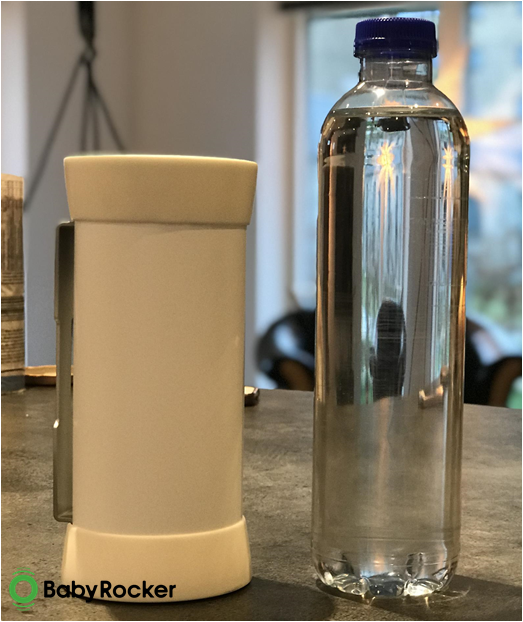 Disclaimer: The dimensions and weight of the final product might deviate from the indicated figures.

Safe. Simple. Smart
A peek inside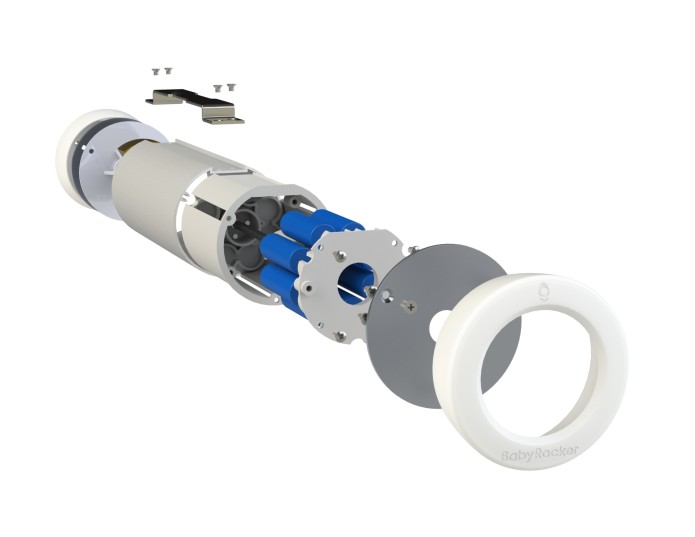 Safety is our absolute priority! BabyRocker is powered by 8 AA-size NiMH batteries. We have chosen this solution because modern AA batteries are more environmentally friendly than Li-ion batteries, and more importantly NiMH batteries have NO risk of explosion while being discharged/used. We do not compromise on safety when it comes to our little ones! 
Simplicity and convenience are invaluable attributes for families with children. We know! Therefore, the BabyRocker is super simple to use. Press the ON/OFF button and the BabyRocker will start comforting your baby. And in the case you forget, BabyRocker will stop automatically after a period of time.
Smart. The secret behind BabyRocker unique feature is in its controls. We can't reveal too much, but what we can say is that it is smart enough to determine how much force is needed to rock your baby safely and comfortably without you needing to calibrate, adjust or otherwise intervene. Just connect with your smart phone and start rocking – or just press the ON/OFF button. 

It fits in your bag
Easy to carry around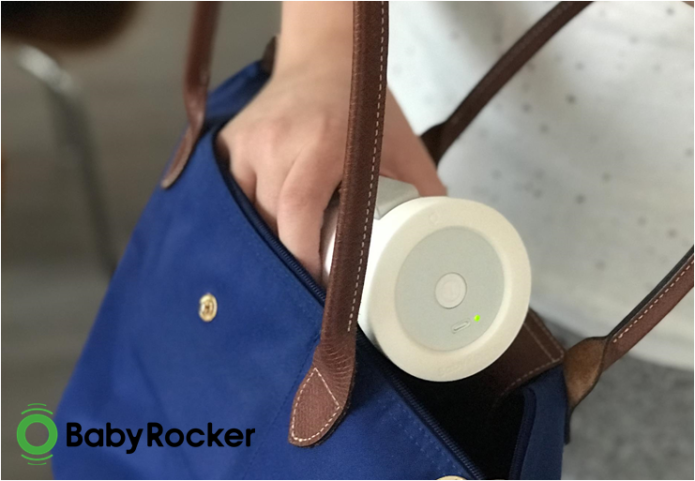 Designed and Made in Denmark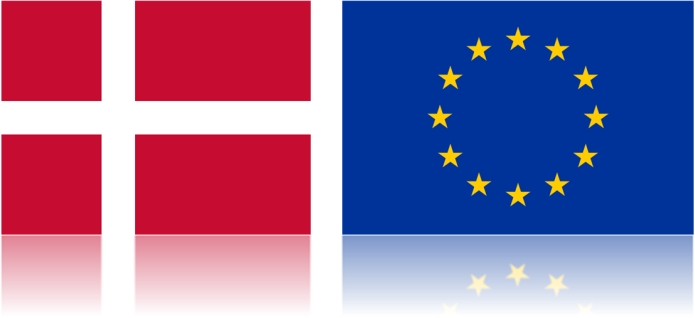 Designed and Made in Denmark
That is correct! It is designed and made in Denmark. With our in-house designers we have managed to merge functionality with simplicity without compromising quality or style.
Home to the world's happiest people and some of the most renowned designers, Denmark just has the secret sauce for making beautiful products that makes everyday a little easier for the modern family. 

The story behind
It all started with a crying baby…
The idea for the BabyRocker was conceived in the Danish suburbia of Rødovre. Alex Lisbjerg got the idea to develop a device that could help calm his second child Liv by rocking her baby-sitter. The first prototype was a creative machine which made the baby-sitter rock, but it was neither a work of art nor very smart or portable.
Alex showed his invention to neighbour Stanley Lim, who jumped in to help refine the mechanics such that the device could be scaled down the size of a big 2 liter water bottle. The journey towards a real product had begun…
But let's just remind ourselves what challenges we are actually facing every day as a parent; We are sure you recognize these below situations:
When junior cries and the pasta boils over…
Domestic duties often require both hands. It is particularly a good idea when you need to cook. Overcooked or burnt pasta rarely tastes good.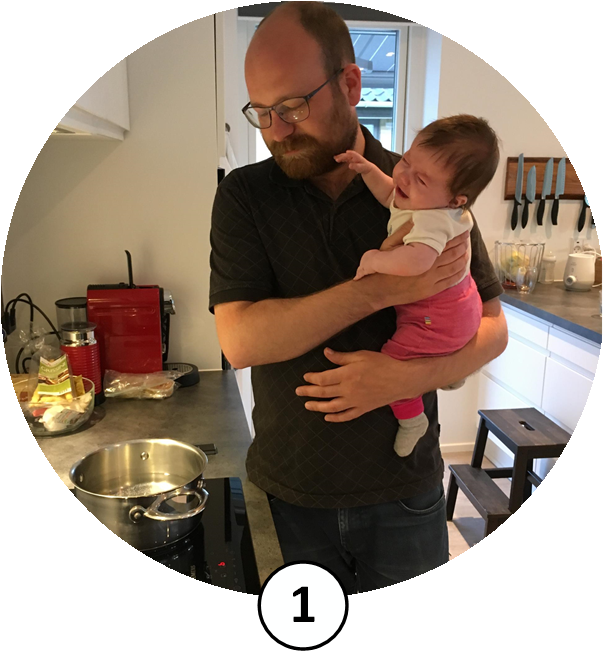 When nature calls and junior won't let go…
When nature calls, nature calls and no one is there to help you. And it is just easier if junior waits outside the bathroom.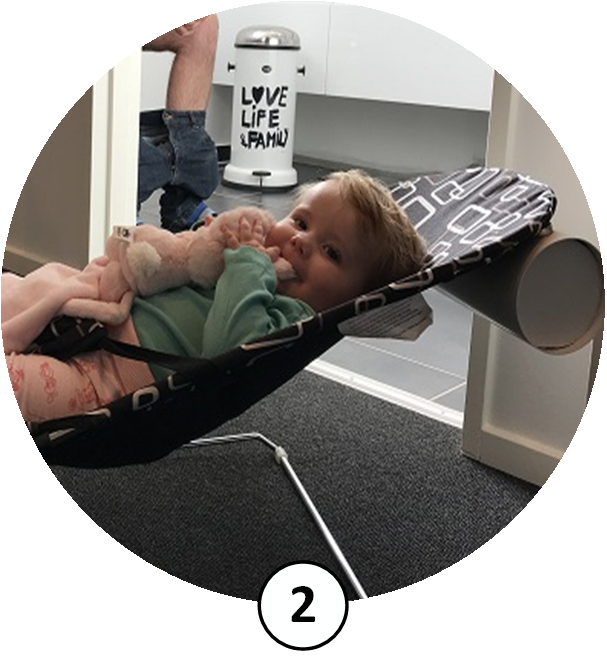 When a little more sleep gives you little more time…
Who wouldn't offer an arm or a leg for junior to sleep a little longer? Just another 10 minutes would do wonders.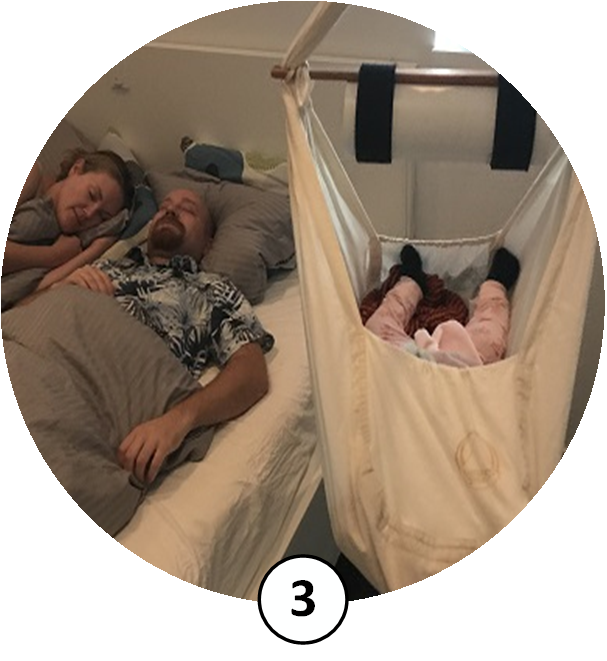 What happened when?
How things evolved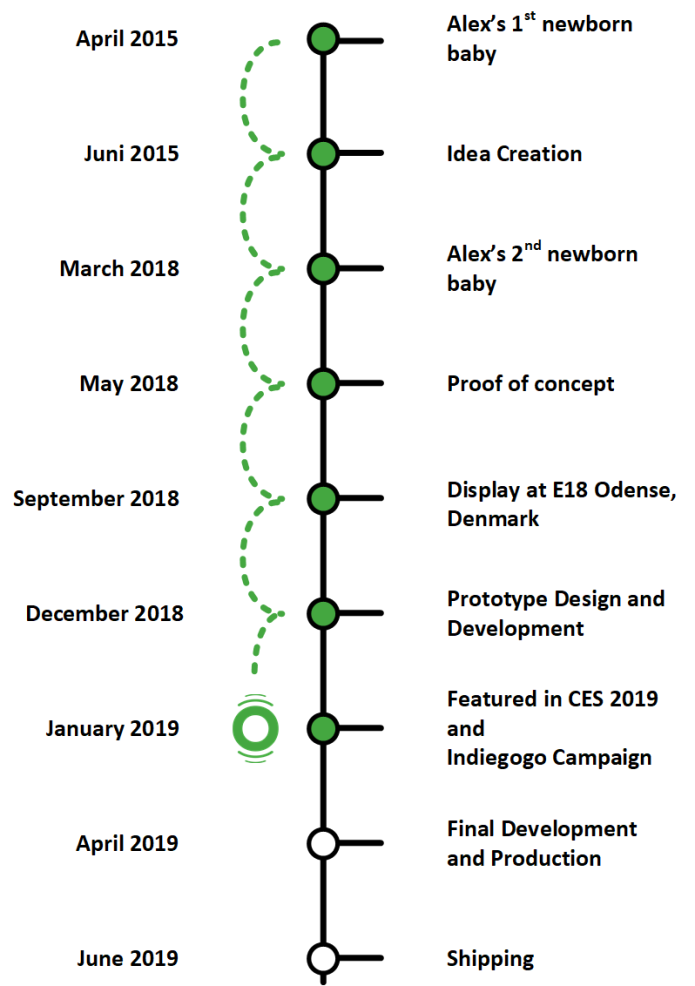 3 simple steps
and you are ready to rock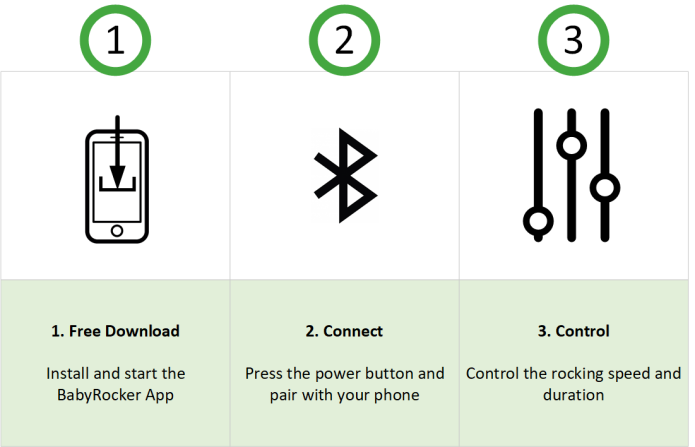 Of course IoT
The BabyRocker app unlocks additional features in your BabyRocker device. Still under development, so stay tuned!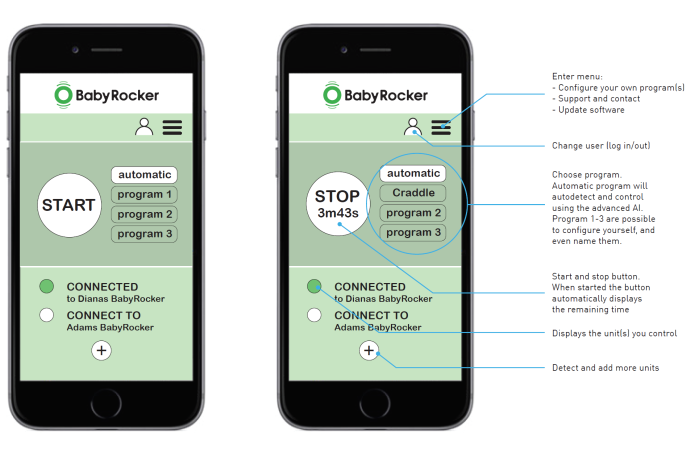 Where is it produced?
Inside the production facility in Aarup, Denmark
The BabyRocker is designed, developed, tested, manufactured, and assembled in Denmark. Top modern production lines is making the BabyRocker for you – responsibly and with minimal environmental impact.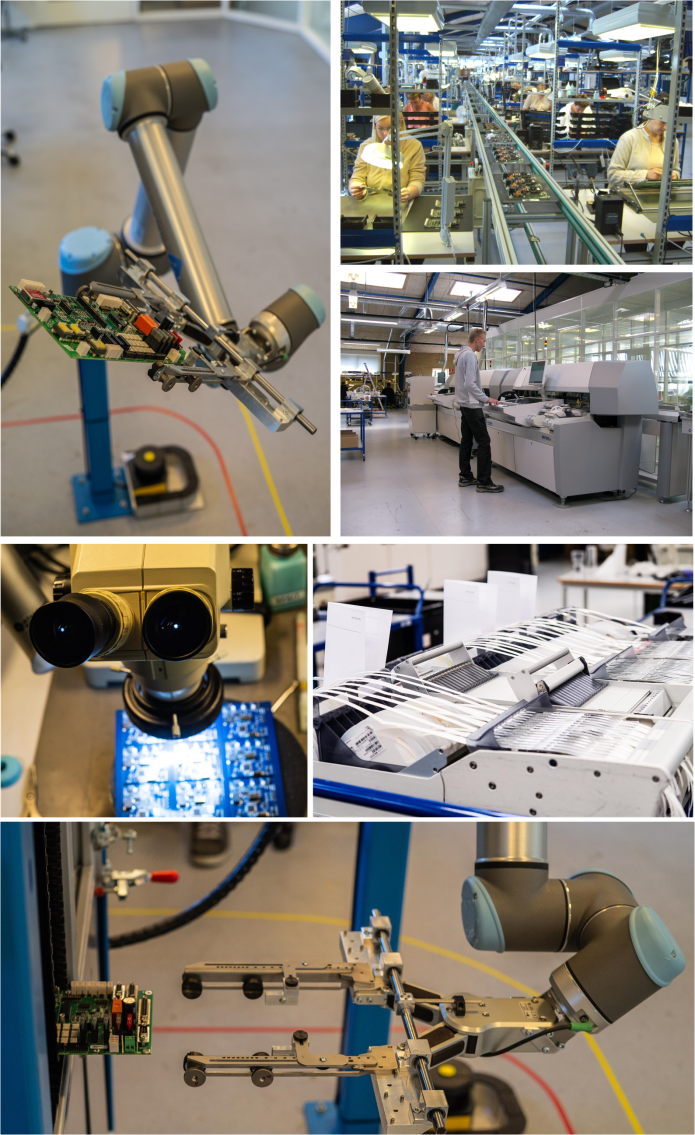 Featured in…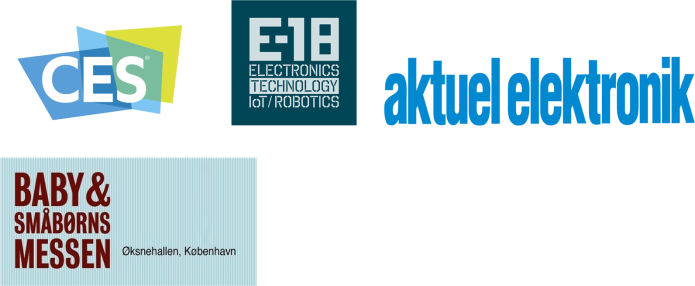 Certified by Arrow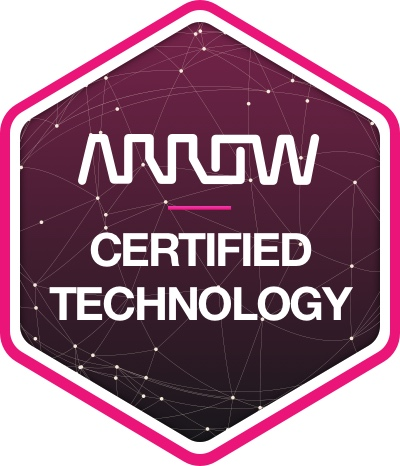 Our product is certified by Arrow Electronics, one of the largest distributors of electronic components in the world. What does that mean to you as end-user? It's complicated, but for us who work with the product, it is important to know that we are using components of certain quality standards, are traceable, has a reliable supply and work well together. 

Are you still curious?
Here are a few more photos. And of course of Instagram too: The_BabyRocker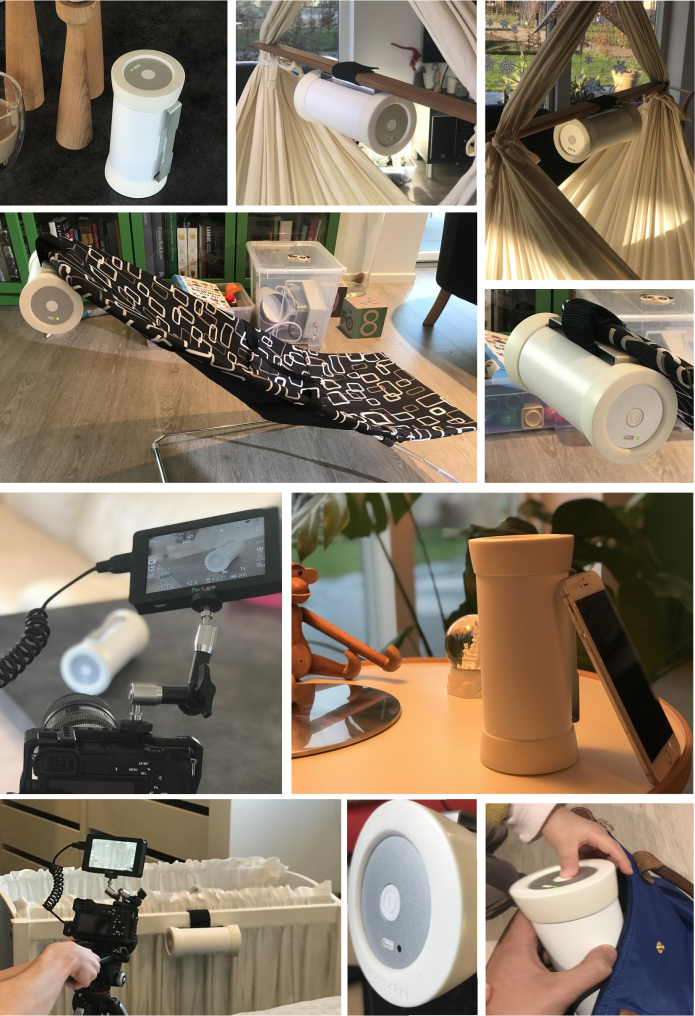 Interested in a new color?

Help us bring more personality to the BabyRocker. We are contemplating different color options, but we thought you should decide which one should be the next offer. Please help us and vote HERE!

About Us
The company is a tech-startup from Denmark, built on the foundation of the BabyRocker technology. In 2018, the idea for the product and the technology behind was conceived by Alex Lisbjerg who quickly reached out to Stanley Lim to refine the BabyRocker's design and features.
Our team set out to make the daily life of parents a bit easier by offering a helping, rocking hand. Research shows that rocking babies gently has a calming effect. So when junior cries and the pasta boils over, the BabyRocker can lend you a helping hand by gently rocking the infant in its pram, crib, sling-bed or the like.
While the BabyRocker is simple, smart and flexible, it does not replace the intimacy of the parent. 
The product idea was so well received by potential consumers from the first informal field test that the team continued to refine the product further. The underlying technology concept was so interesting and with so broad potential applications that Arrow Electronics, the world's largest distributor of electronic components, awarded the company with the "Arrow Certified" stamp, recognising the novelty and potential of the technology concept. The company's technology is proprietary with patent application pending.

Team BabyRocker
We Rock Your World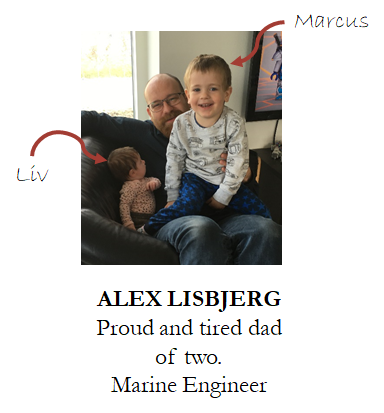 Alex Lisbjerg is the technical mastermind and problem solver. With a long track record with tech companies Alex has been paramount to solving a wide range of technical problems with novel and genuine ideas. Now, his talent will propel the BabyRocker to the next level.

Stanley Lim is the curious engineer. His ability to quickly identify and explore potential solutions to problems makes him the team's spearhead into new territories. His persistence is the worst nightmare for any technical obstacle the team is faced with.

Help Spread the Message
Share it with your friends and family
homepage: www.babyrocker.dk
instagram: the_babyrocker
facebook: babyrocker