BaHa Box :: Cloudless, Secure, and Easy Smart Hub | Enabling smarter homes with the privacy you desire, and the security you deserve.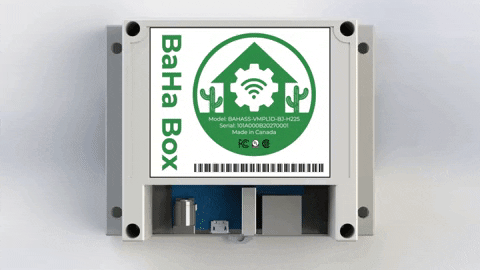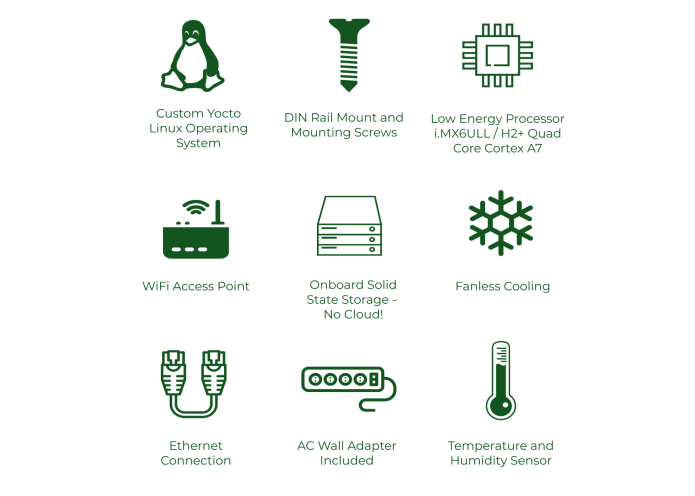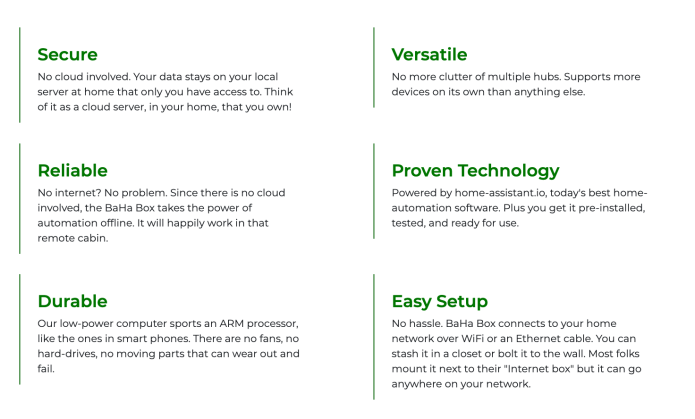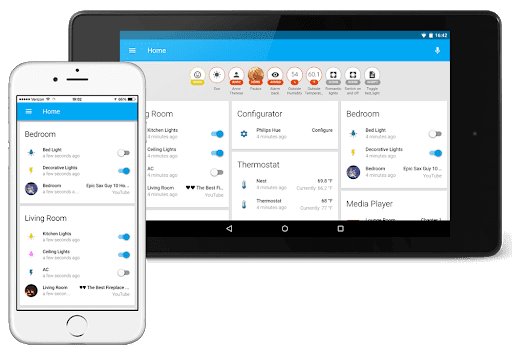 We chose Home Assistant software to make this all happen. This software is the IT for techy home automation lovers. We chose it because it is: 
Open-source software that you can customize to your liking
Integrated with over 2000 devices
Super easy to use, once set up
We see this as the best option on the market.  Unfortunately, it was not accessible to non-geeks.  So we're making it accessible to you.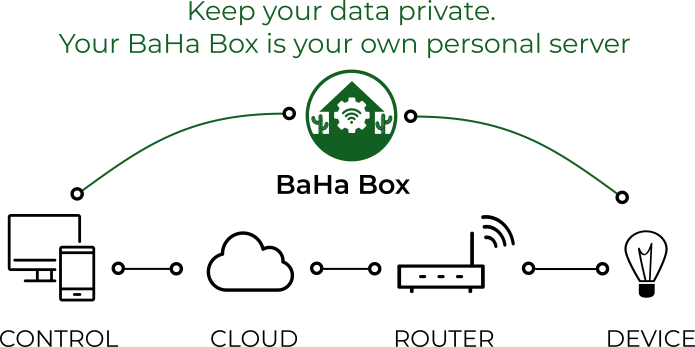 Yes, absolutely! But here are some things to consider…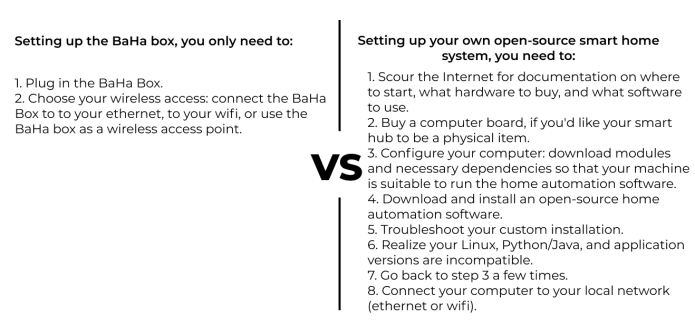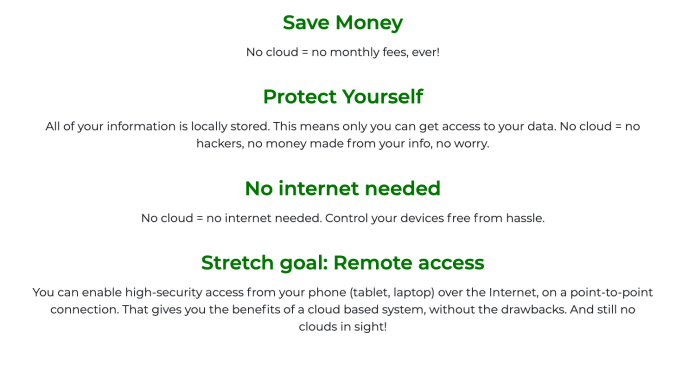 Save money by optimizing your lighting,  heating, and air-conditioning with schedules or connecting them to sensors for automatic home / away mode changes.
Help the environment by monitoring your usage to discover options for greater energy savings.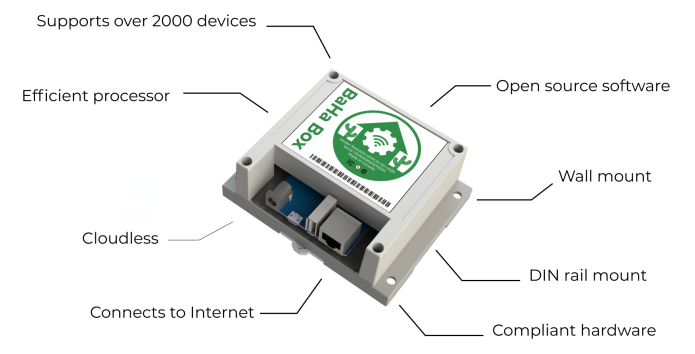 Residential-Grade Box
Allwinner H2+ Cortex-A7 processor 
Residential grade parts – for heated indoor locations only
Barrel jack power connector 
DIN rail available as an add-on
Commercial-Grade Box
Freescale i.MX6 Cortex-A7 processor 
Commercial grade parts – for heated or unheated indoor locations
More reliable storage (soldered-down flash memory) 
2-part power connector (more secure power connection) 
DIN rail included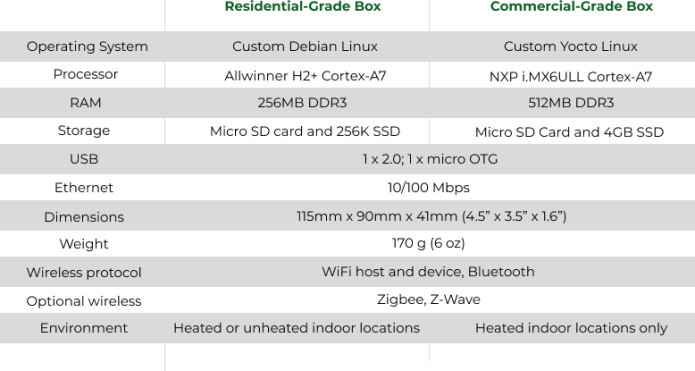 The BaHa Box is the missing link between home-built devices (neither FCC approved nor safety compliant) and Cloud-based home automation (not local & secure) for smart homes.
We know how to make high-value, reliable, embedded solutions.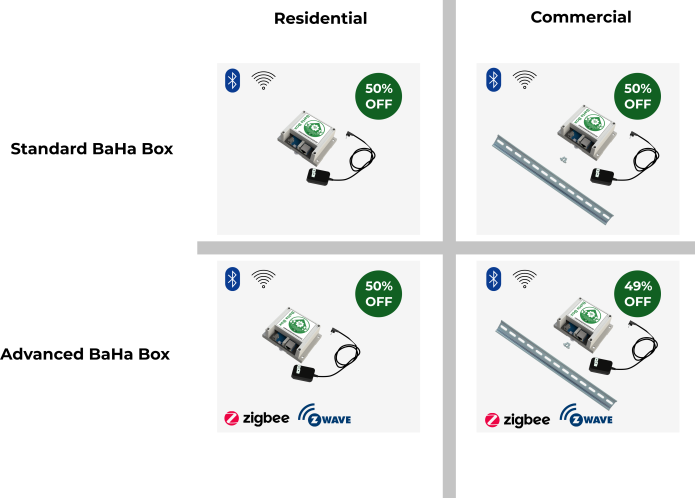 Compliance for "Intentional Radiator" (a wireless device) to FCC Class B levels (residential standard — the harder one to obtain) is always risky, challenging, and expensive.
Fortunately, zPoint Products (makers of the BaHa Box) has been making FCC certified wireless controls products (with Zigbee radios, etc.) for more than a dozen years.  
It's always a lot easier when you've already "Been there, Done that". 


We envision a world that is more collaborative. With your support, we will be able to turn any building into a smart building, and also connect them to each other. Here are some stretch goals:

Neighbourhood eBlock Watch: improve community safety. Share alerts with your neighbours. Smart homes make smart neighbourhoods.
Family eHome Watch: protect your family. Share alerts with your family, across town or across the planet.
Franchise eWatch: collaborate with other business locations. Share optimized energy strategies.  Plus, automatically send alerts to other franchises, or to the people who maintain your buildings: plumbers, electricians, security and so many more.

We've been here for a while. zPoint Products Company makes building automation and home automation accessible for all by creating low cost smart computing devices that cost-effectively enable smart rooms, smart buildings and smart grid.
We were "spun out" of Technical Solutions Inc, an engineering company with 2 dozen years experience developing Commercial, Industrial, Automotive, Medical, and Defense products, way back in 2006. 
When the recession hit, we were totally invested into new wireless products for clients in the USA that would cut energy consumption dramatically!  But the USA practically shut down.  As did zPoint Products Company. 
This product represents the resurrection of a pioneer in wireless building controls, and will be the first of many new products.  Some of those products will be complementary to the BaHa Box.
We have wirelessly enabled products for many startups, small businesses, and also worked with Honeywell and Johnson Controls on commercial energy efficiency projects. 

zPoint Products was the first company to successfully demonstrate wireless lighting control using ZigBee.  The demonstration occurred in the Zigbee Alliance booth in May of 2006, at LightFair International in Las Vegas, Nevada.
We're purveyors of "Zigbee connected End-points" (AKA z-points) since 2006.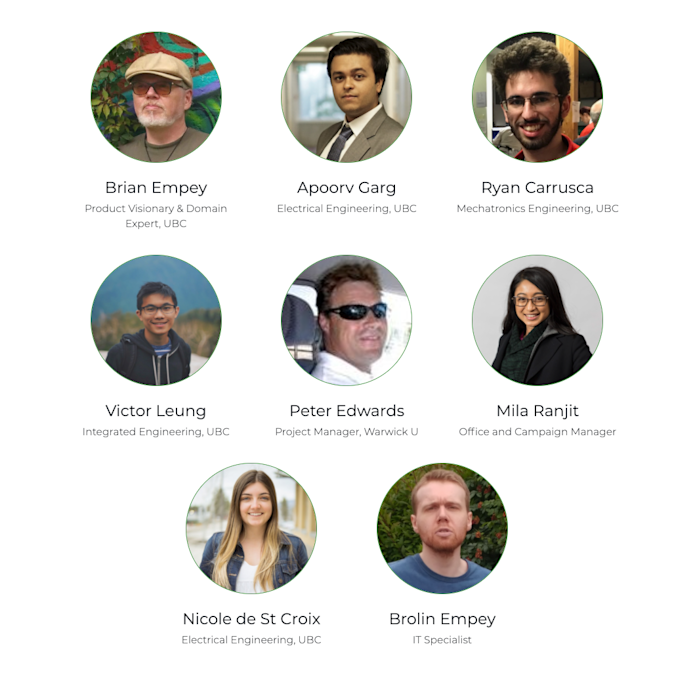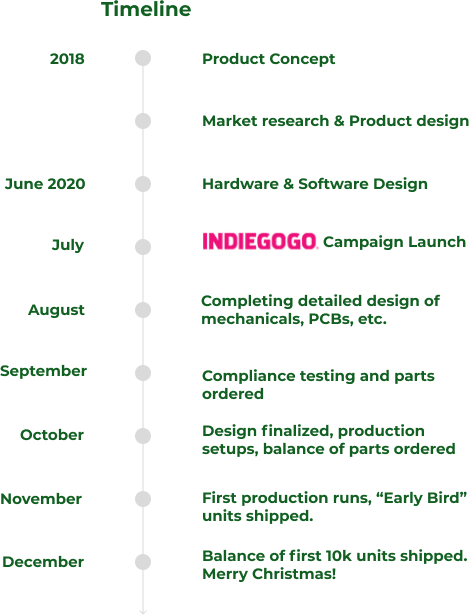 The BaHa Box is going through extensive testing so that it is perfect for production in October and shipping in November.  Right now, we're in the process of finalizing the design for its circuit boards (the brain of the Box).
 

The BaHa Box does everything a smart hub does. But we are taking it to the next level.
Backing this campaign means you'll be helping us launch the BaHa Box commercially and continue developing the hub to meet the potential we see becoming. 

When we raise $8,900, we'll be able to fund the compliance testing for FCC Class-B certification. The Baha Box will also be UL and CSA Class-2 device compliant. 
Anything beyond would mean:
$20,000: Remote access utility. Access your server from outside of your home.
$30,000: Peer-to-peer (decentralized) settings backup. Backup your data to a directory on another machine.
$50,000: Electronic block watch; Family eHome Watch, Franchise eWatch, Neighbourhood eBlock Watch. Share alerts with family members, neighbours, other franchises (and the people hired to maintain them: plumbers, electricians, solar-panel people, security etc).


The data on our product are theoretical values. The product may be subjected to changes during and after the campaign, including but not limited to product characteristics, software versions, specifications, parts and other information.
Our team may make adjustments to this page throughout the campaign and any related resources during and after the campaign to match the up-to-date data about the product. Due to the fact that changes can be made anytime, we will not be notifying you at real-time in the event that the product is modified in any way possible.

We're planning to ship the first batch in November. The BaHa Box is only available in USA and Canada for now but we're excited to launch worldwide in the near future. Please note, the price listed in perks do not include additional fees like duty and taxes.
Need help with your order? We're here to help! Give us a shout at [email protected]

Choosing to "back" our product means you're helping us continue its development and launch. We'll be using these funds to produce a product that we know our backers will love. This is why based on Indiegogo's Terms of Use, there will be no refunds or returns for items that are not defective. If you are not fully satisfied, please let us know what the issue is so that we may do our best to help you out.