Barisieur Immersion Edition with Wireless Charger | Automatic Immersion Brewer with Alarm Clock Functionality & Wireless Charging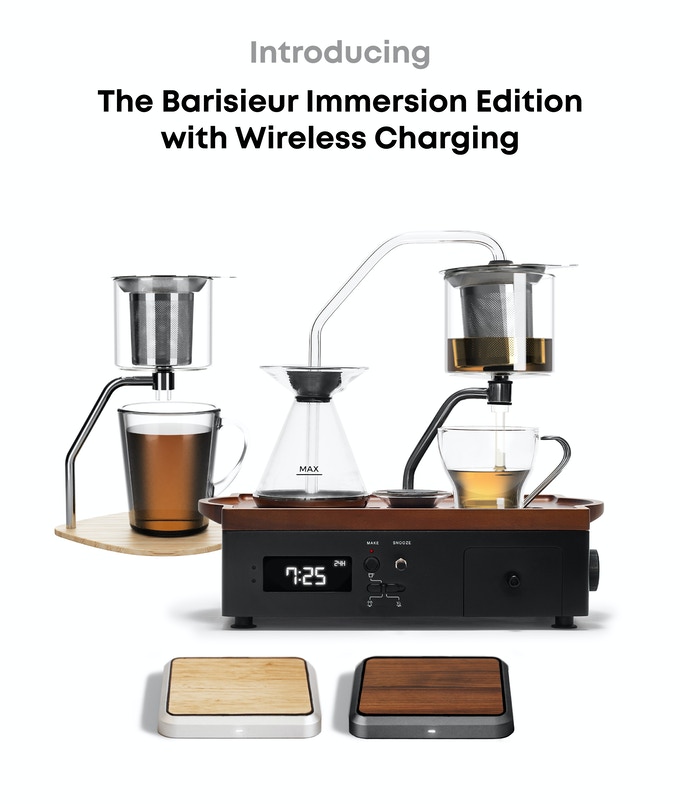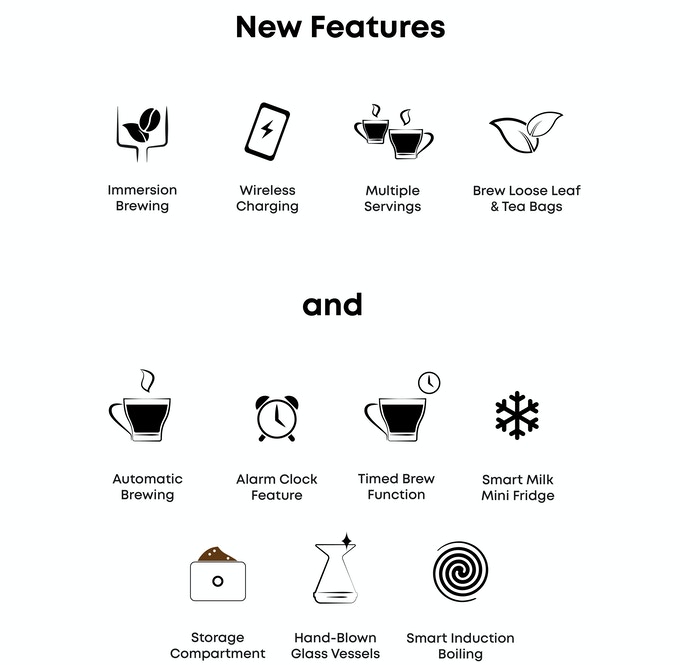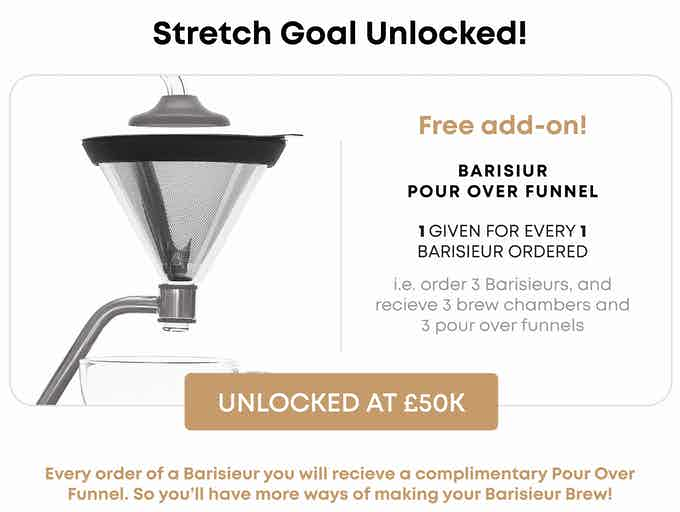 The Automatic Coffee and Tea Maker with Alarm Clock Functionality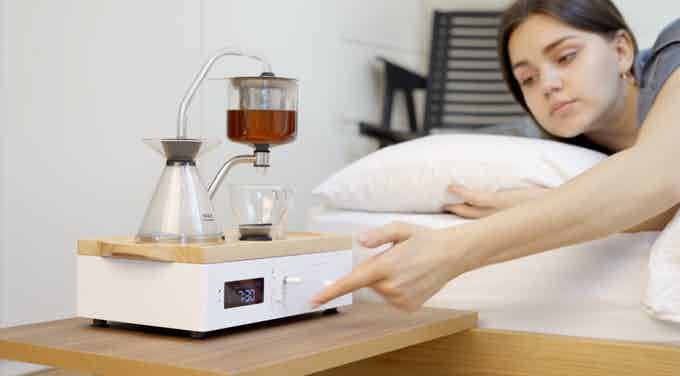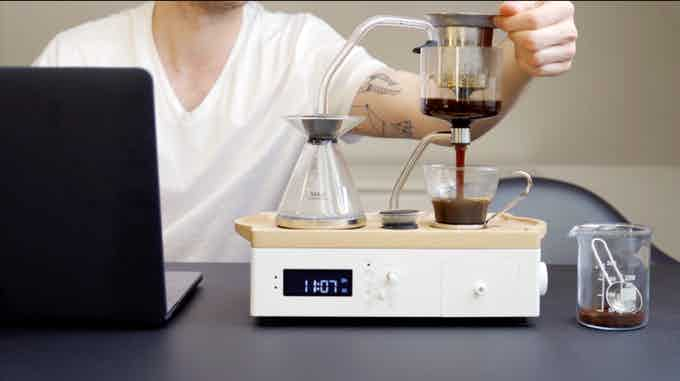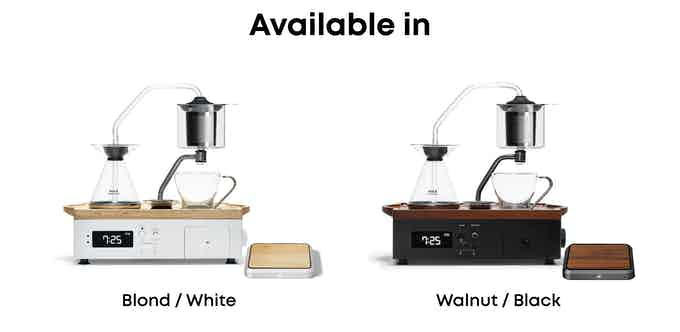 Tea made, serve
d in b

ed, with milk

Ease into the day with the sound of bubbling water and the smell of freshly brewed tea or coffee. Designed to sit comfortably by your bedside, enjoy a fresh cup of English breakfast with fresh milk, or a delicate green tea from the comfort of your covers.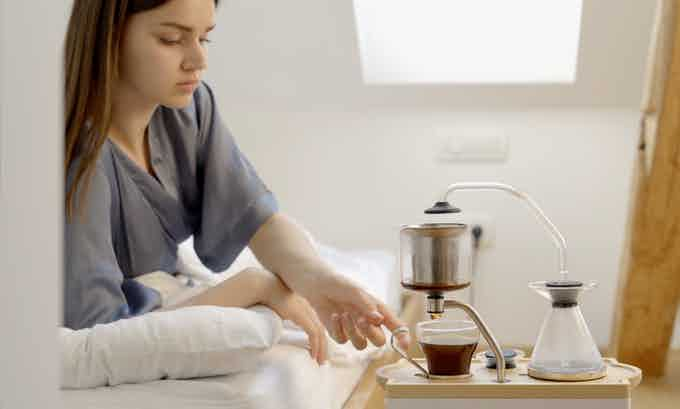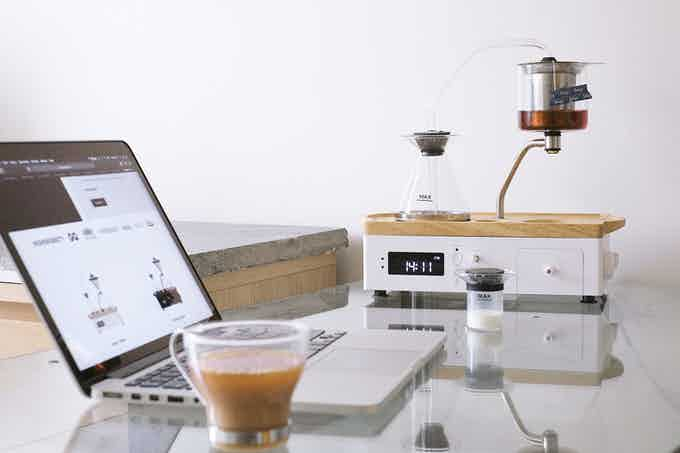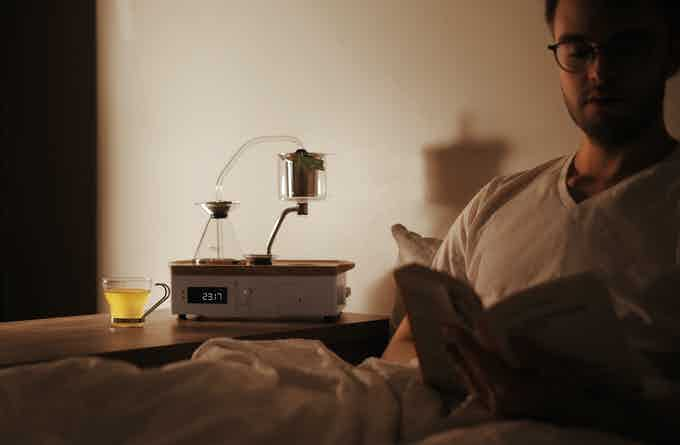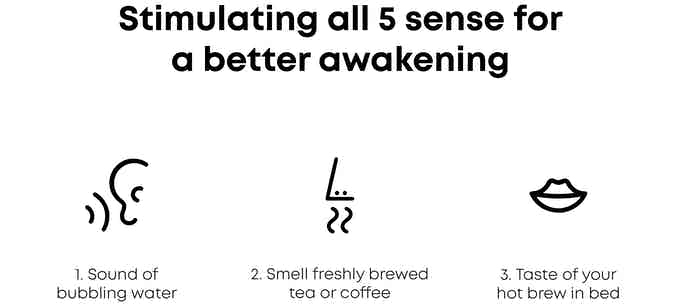 Establishing nightly & morning routines 
The Barisieur encourages a night-time routine which helps you wind down and prepare for sleep. You are more likely to fall asleep faster, get a better night's rest, and then wake up more easily, becoming alert faster.
Compared to the beeping of a phone alarm or the luminescence of a "sun" alarm clock, they both lacked two important features for us: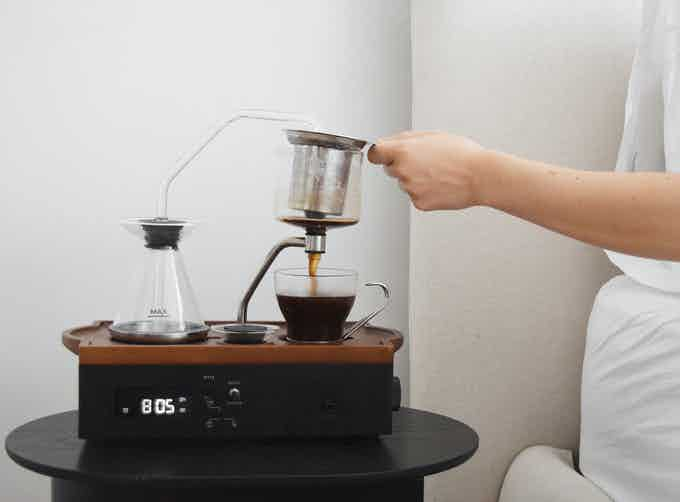 Aroma & Taste
Being stimulated by multiple senses helps you to focus and wake up more gently. A delicious smelling brew is a great way to do this. No one looks forward to that cold kitchen floor facing you and your first cuppa in the morning.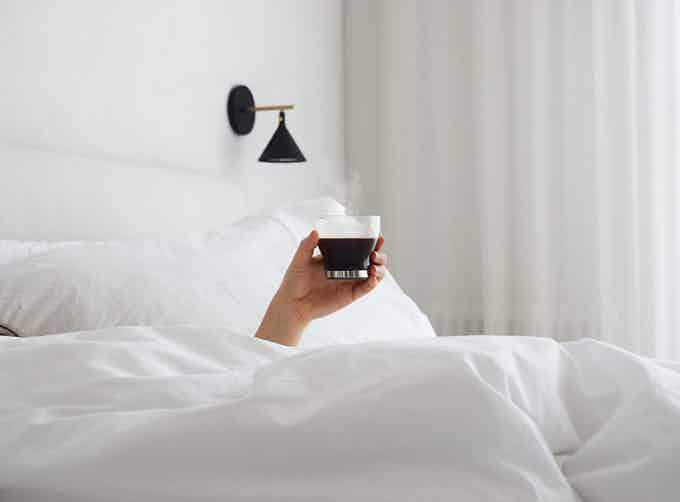 Functional Tray
You only really need to wash the cup and the Brew Chamber for the next use. However, if you decide to clean all the accessories now and then; the timber tray lifts off effortlessly to help transport. 
Brew Chamber Technology
The Brew chamber features on the Barisieur 2.0 or with our Manual kitchen brewer to help you make a perfect cup of coffee or tea every morning.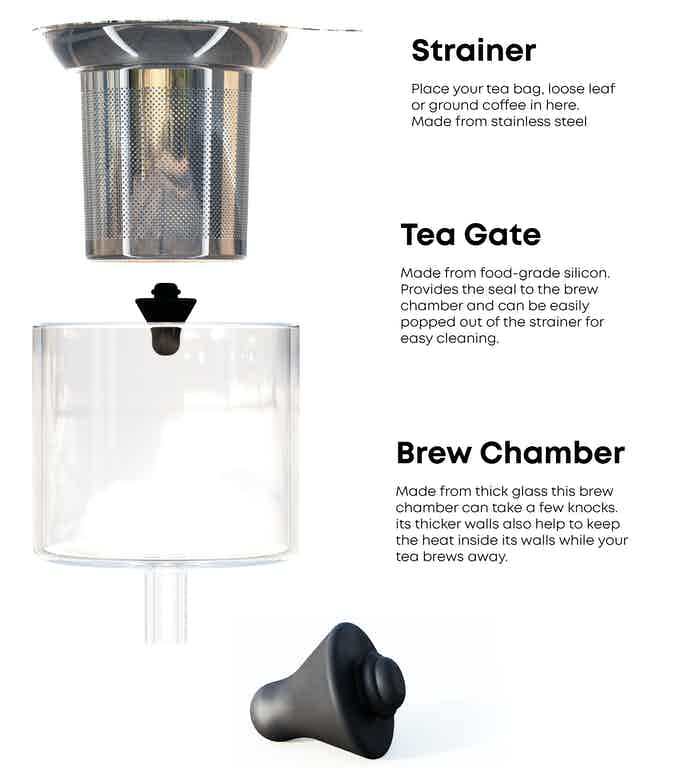 Tea Gate's Unique Design
Due to its cylindrical and conical shape, the gate provides a perfect seal when in position in the glass chamber. Simply lift the strainer up to release the brew directly into your cup.

The Manual Brewer
Take your brew chamber off the Barisieur and use it in the kitchen with our specially designed brew stand. (Available in Walnut & Blond Wood)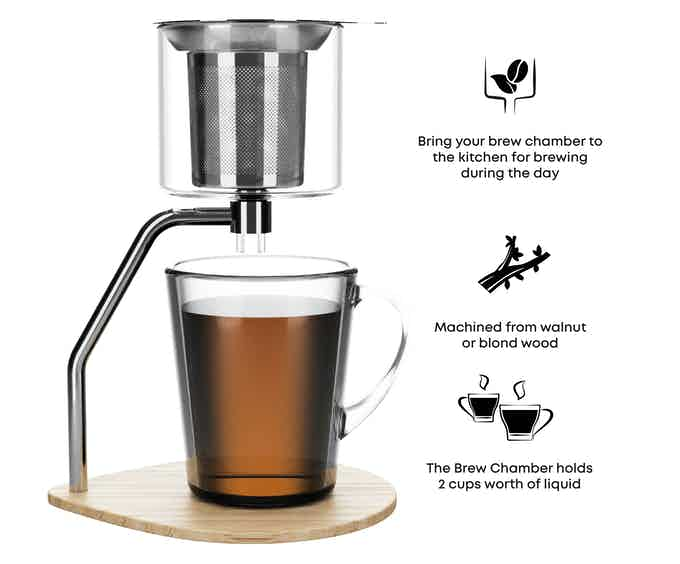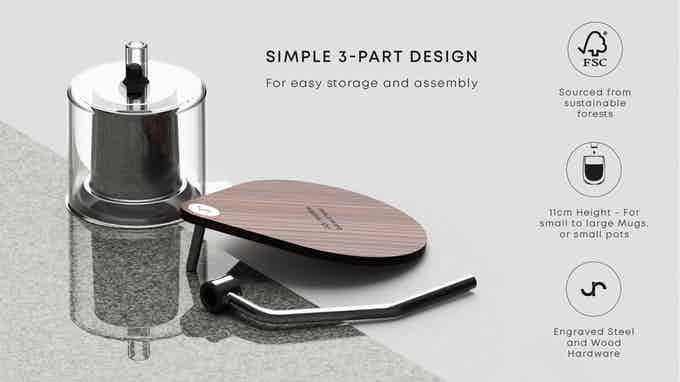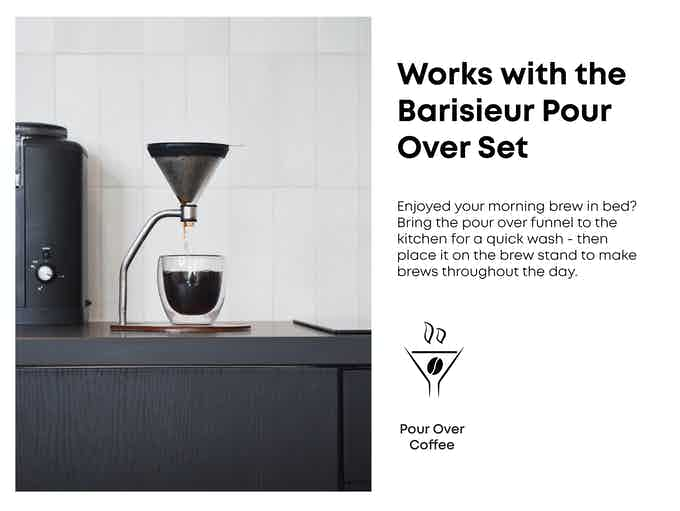 Immersion Coffee with the Manual Brewer
Cold Brew with the Manual Brewer
Coupled with the Brew Stand, the Brew Chamber makes cold brew quick and easy.
Place 1 or 2 servings of ground coffee in the chamber
Top up with cold, filtered water.
Place in the fridge for 10-16 hours
Take out and serve!
Enough for 2 cups of cold brew
The Double Walled Glass Mug
Keep your brew hot when you hit the snooze button. The insulated mugs keep your brew at drinking temperature for 15 minutes longer than with regular mugs. 
Available for all pledges – Add +£7 to your pledge to add one to your order!  

The Wireless Charger
Designed to add wireless charging to your Barisieur by plugging directly into the USB port in the back. It also works perfectly by itself.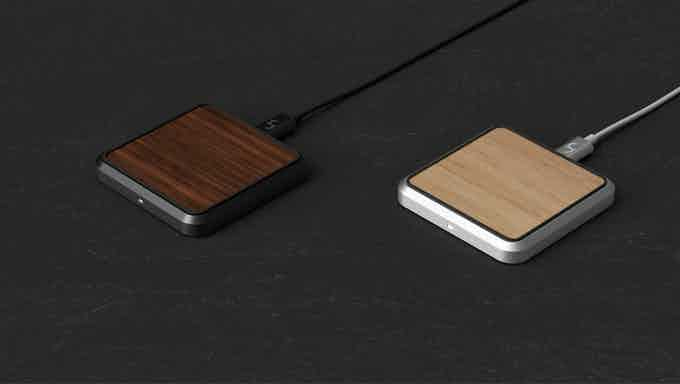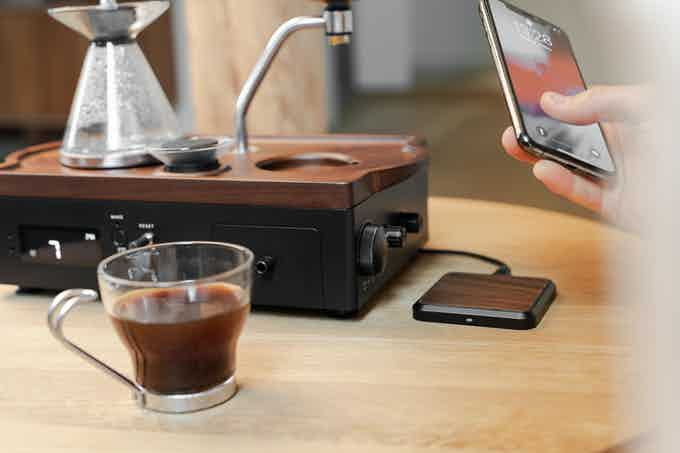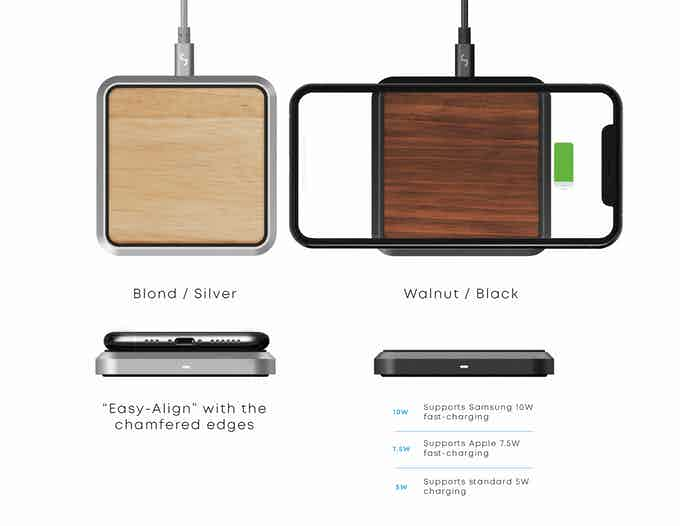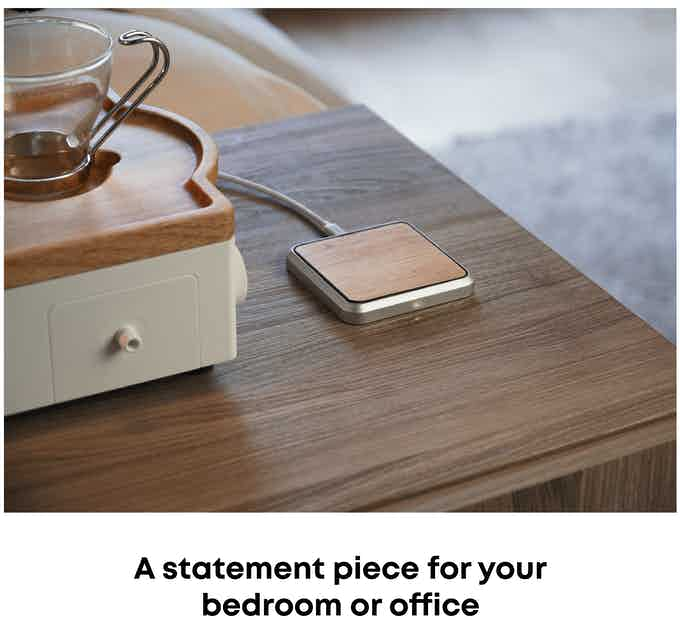 INVISI-GRIP – Secures your phone whilst it charges so it's less likely to slip off accidentally. Invisi grip gives you all the benefits of a rubberized top plate without comprising on design and aesthetics.    
Cold Milk How?
The Barisieur uses a cooling unit called a peltier cooler. Unlike traditional fridges, it has no moving parts and doesn't use hazardous substances. 
By the magic of the thermoelectric effect – one side of the fridge goes cold and one side gets warm. Resulting in the milk fridge staying at 2°C to 3°C all day, every day.
Infrared Technology, Auto-Activates Fridge
Whether you have milk with your tea or have run out. The Barisieur Milk Fridge features an infrared sensor that automatically turns on the fridge when it detects milk inside the fridge – Saving energy when not needed.

How-To: Making your First Brew
The Barisieur uses a simple set of toggles to set the time, alarm, and brew delay.
Hold the large button on the side

4 secs

to set the

time

 
Hold the large button on the side

2 secs

to set the

Alarm

 
Rotate the

Brew Delay

to -5,0,+5,+10,+15 – Allowing your brew to either start brewing before, on, or after the alarm.
Toggle down to

snooze

the alarm (not the brew)
Toggle up to

reset the alarm

for the next day
Click

Make

to brew on demand or manually turn brew off.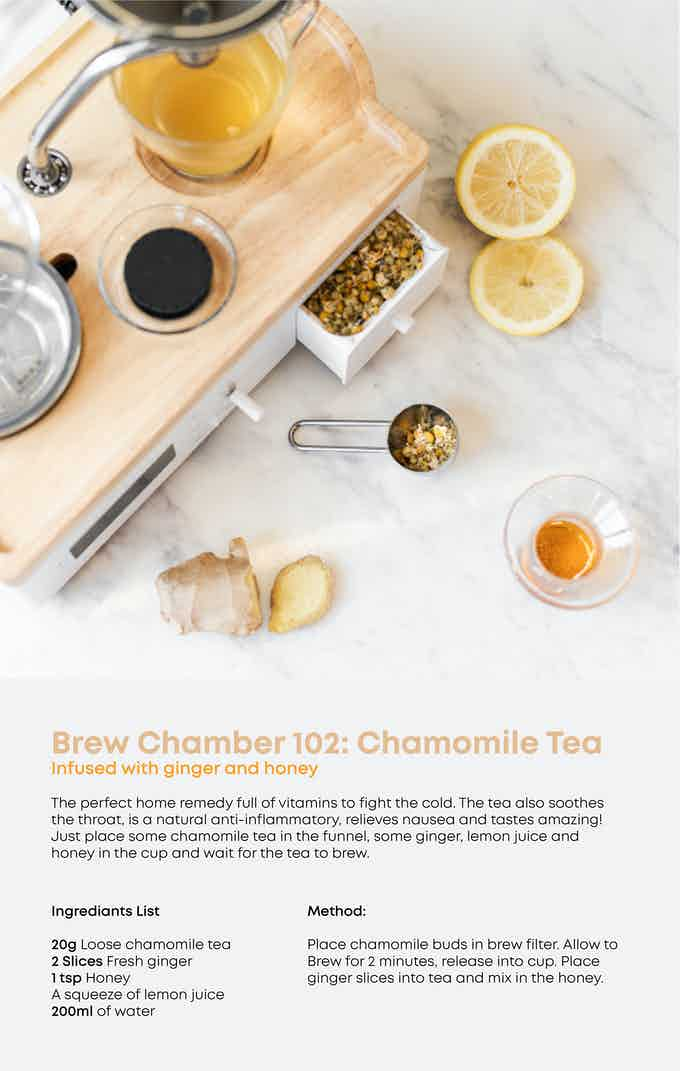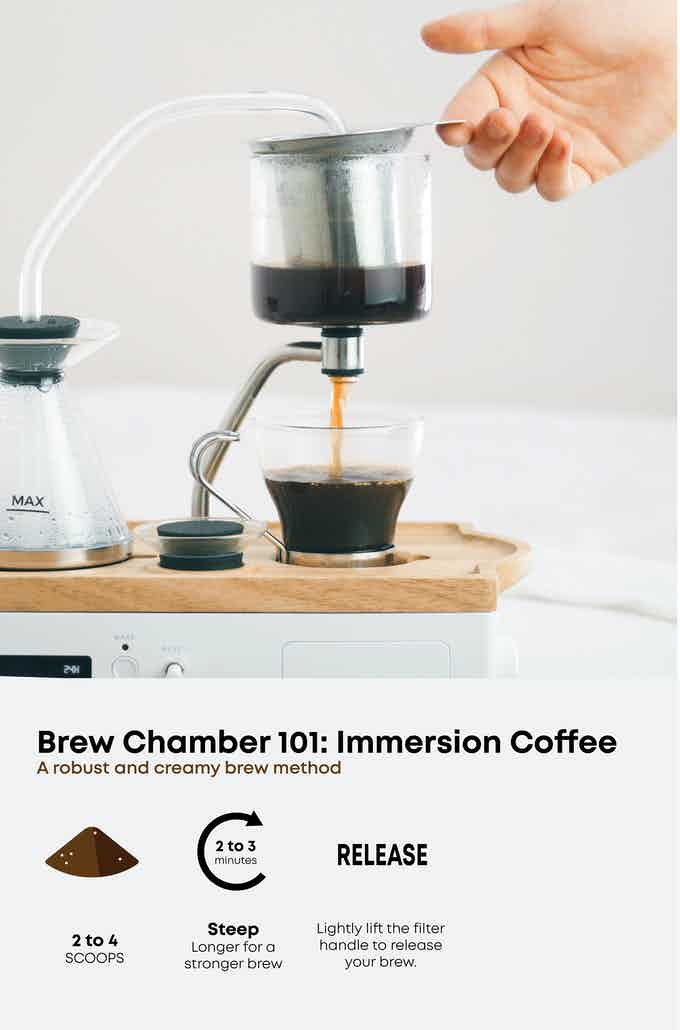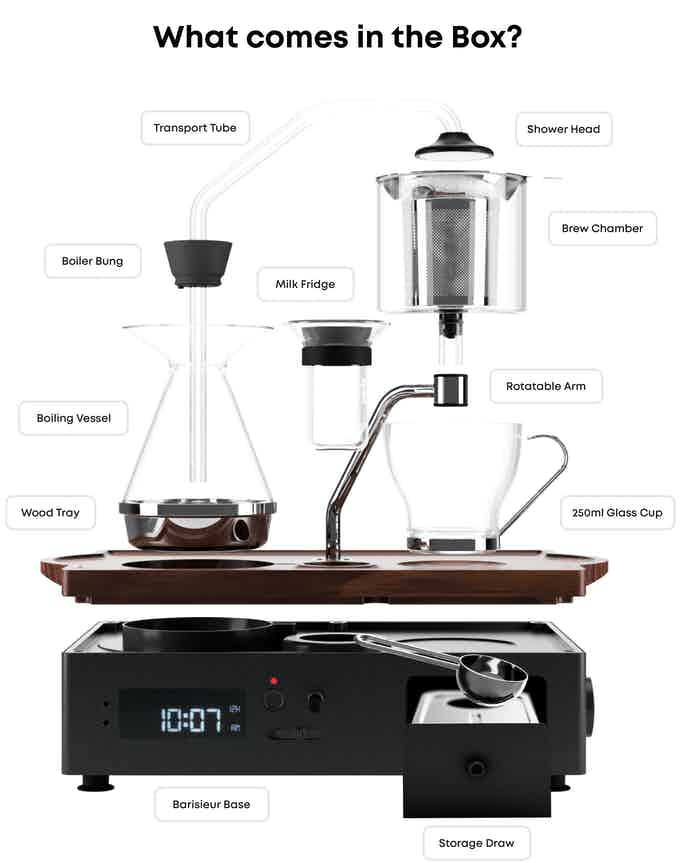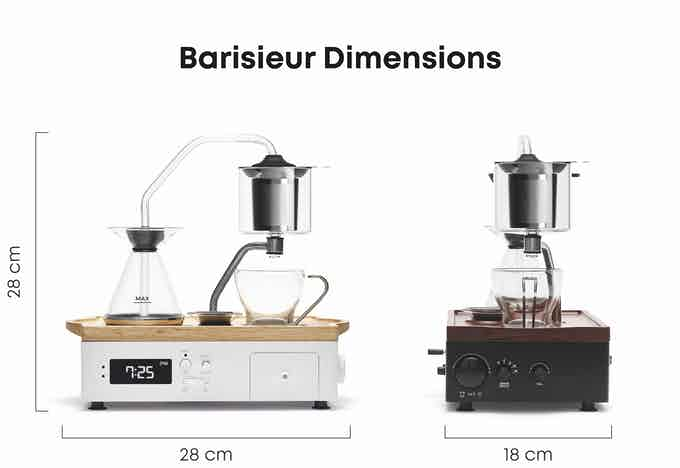 Specs and More Features
Base
Mini-Fridge: Uses a Peltier cooler, functions 24/7H, keeps contents at 2 to 5 degrees Celcius, auto-on with infra-red sensors to detect if milk is present or not.
Display: Auto-dimming and can be turned off. Displays time in 12H/24H and brew status
USB Port: 5V USB port can be used to charge a phone and other devices
Induction Heater: Uses a custom induction coil designed by Toshiba manufacturers
Alarm Sound: Can be Enabled / Disabled to accompany the timed brew
Voltage: Available in 220V-240V and 110V-130V. These two models work for every country.
LiPo Battery: Keeps time and alarm settings when the Barisieur is unplugged or power outage.
Suction Cup Feet: Barisieur Feet have suction cup designs to prevent movement 
Storage Draw: Has a built-in stainless steel lid and measuring spoon
Top
Wooden Tray: Available in Walnut or Blond Variants, both are FSC-Certified and Solid Timber
Rotatable Arm: Can be rotated back for easy access to cup. Made from Stainless Steel arm and precision bearing.
Glassware: All custom-made for the Barisieur with thick glass for durability
Boiler Bung: Features a steam vent ensuring the optimum temperature of transported water
Shower Head: Uses a 12 hole design to ensure equal saturation of tea or coffee
Press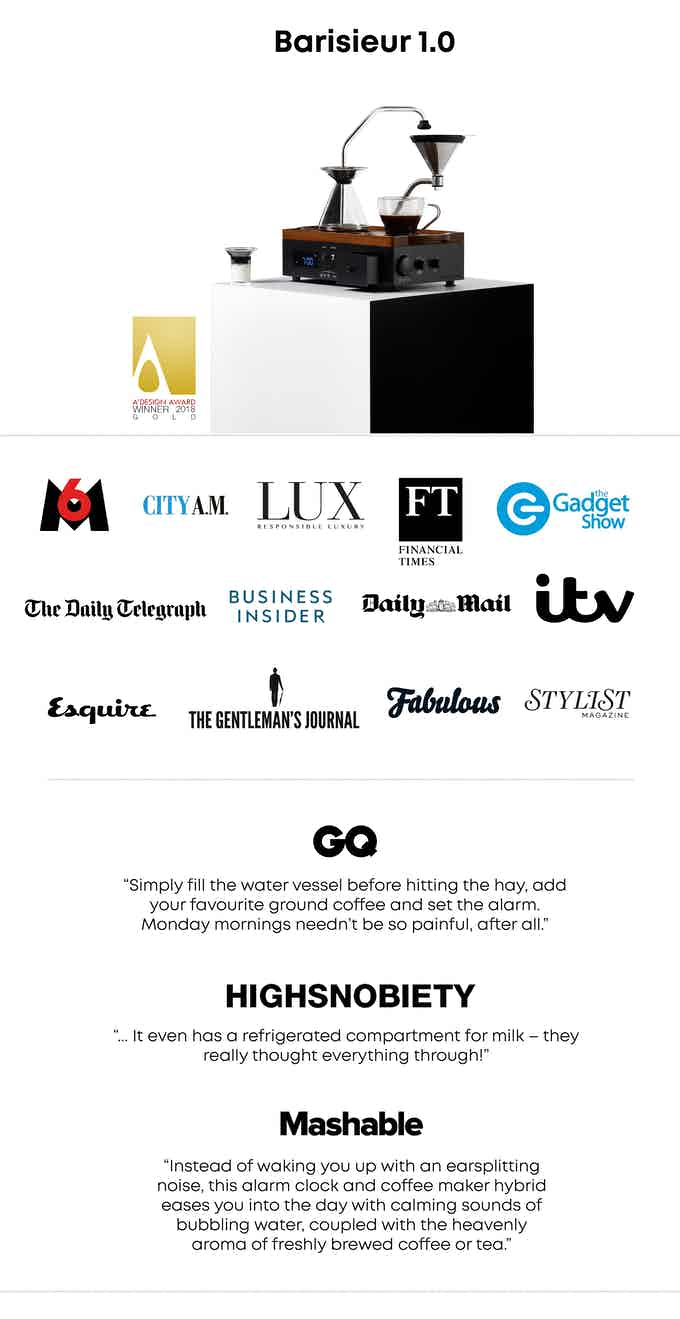 Barisieur Glass
Hand-formed glass made by Master Glass Blowers.
Our Glass is hand-formed by masters using the purest borosilicate glass available. Borosilicate glass is renowned for its superior durability, heat resistance, brightness, and clarity. All of our glassware goes through many stages of production and testing. The result is our unique set of glassware designed solely to help you make and enjoy tea as it's meant to be. We hope you enjoy using each piece as much as we do.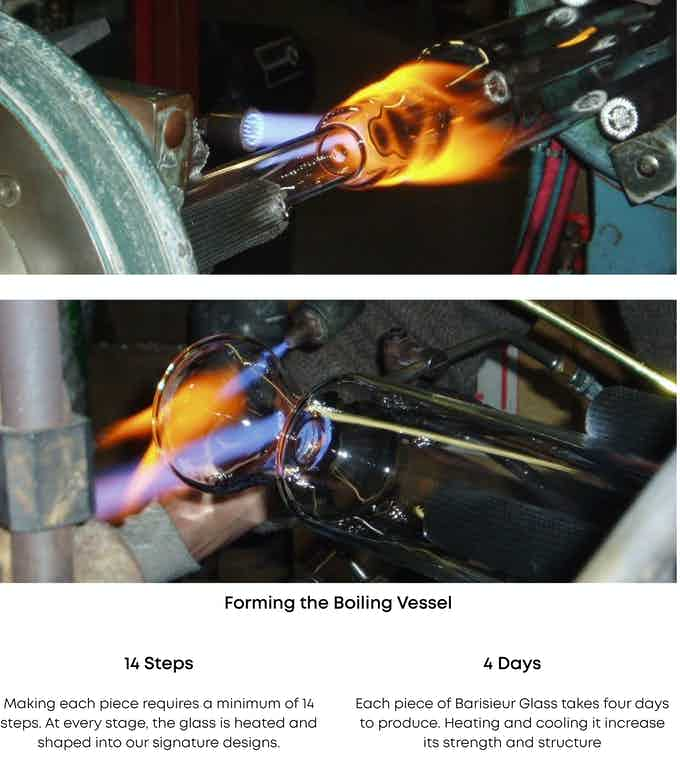 Solid Timber Construction
Our wood trays are machined from solid wood and go through a vigorous hand-finishing process. They are then treated with a stain and water repellant matt varnish so no need to worry about stains.
Coming from FSC-Certified forests we make sure that what we take is given back, so our forests stay healthy and continue growing.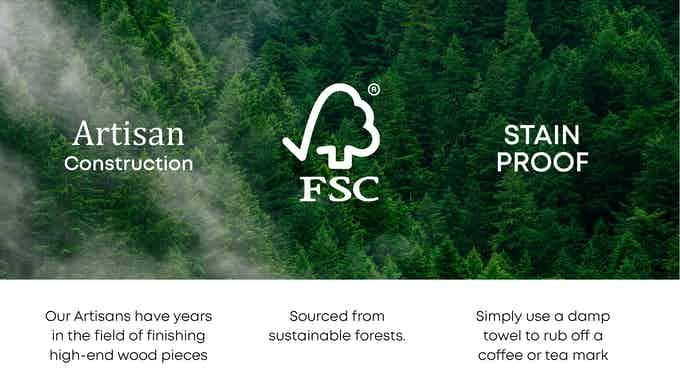 Who are We?
Joy Resolve (Originally Barisieur) made its debut in 2016 on Kickstarter with our original coffee brewing alarm clock. Since coming to market we've had incredible success working with the likes of Harrods, Selfridges, and Bloomingdales.
Brew Chamber & Wireless Chargers are our first major update to the Barisieur since our release to the market. To commemorate the occasion we decided to go back to our roots and launch it here for our Kickstarter community.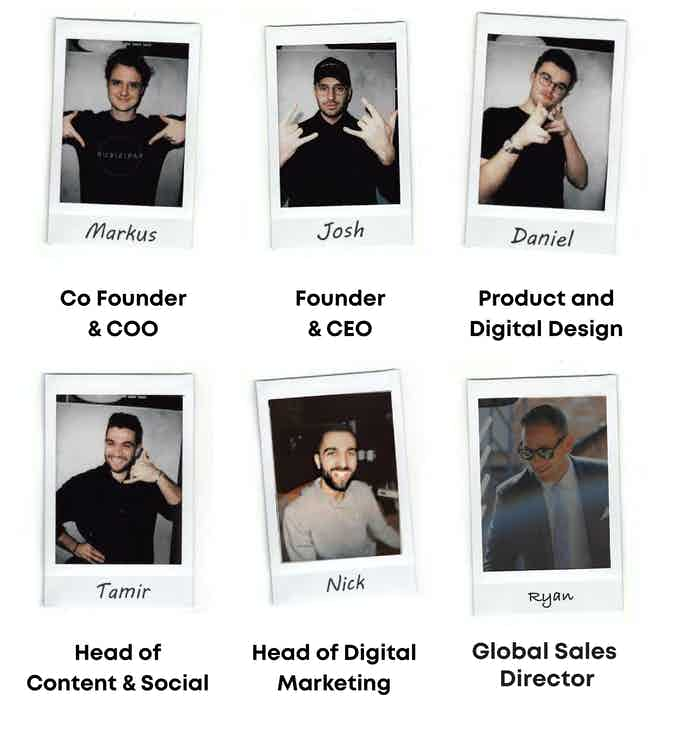 "We believe quality and timeless design is the best form of sustainability"
Extra Information:
We have a warehouse in UK, Germany, the USA & Hong Kong. We can ship World-wide with every Voltage and different Plugs.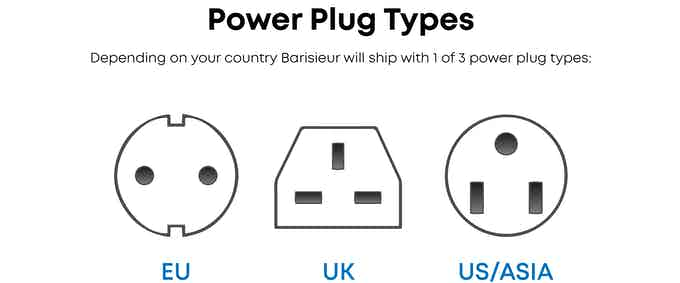 Project Timeline
With our successful campaign in 2016 and the 6000 Barisieurs we've sold, our supply chain and manufacturing partner links are strong and ready to start production of the Tea Barisieur and Brew Chamber.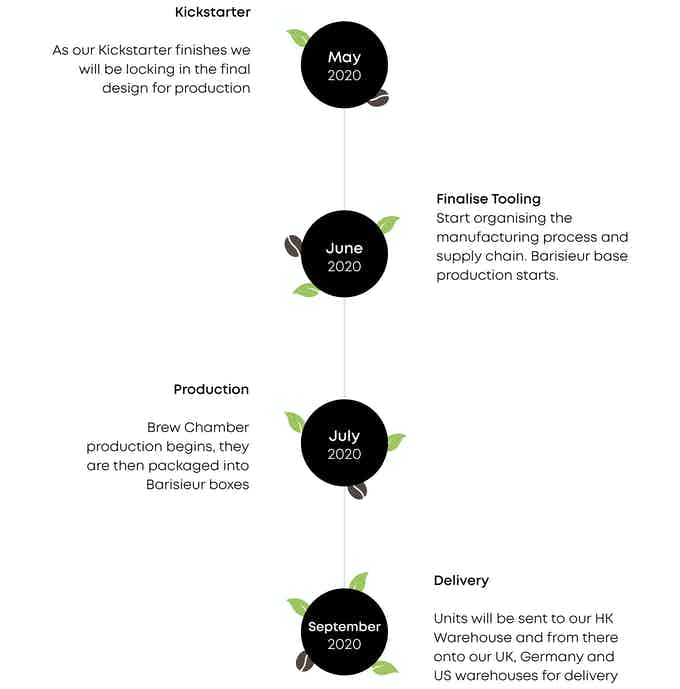 Barisieur Quality Control
Every Barisieur is fully tested before leaving the factory. That means every single Barisieur boils 2 servings of water to check it is functioning.