Base Ace 3D play platforms – LEGO compatible toy | Exciting and expandable 3D structures on which to build and play with your LEGO figures and bricks
The Base Ace Story
As a parent of two young boys, I watched them play with their LEGO bricks, (and of course I joined in on many occasions!) My eldest son spent hours creating models and then proudly displayed them on his shelf for all to see. My youngest son liked to build too, but he also liked to play and interact with mini figures on his model. Having spent hours building with his amazing creative imagination, he was forever frustrated by watching it all fall apart when he began to play.  I knew that there had to be a way to solve my son's disappointment, and this determination lead to the birth of Base Ace.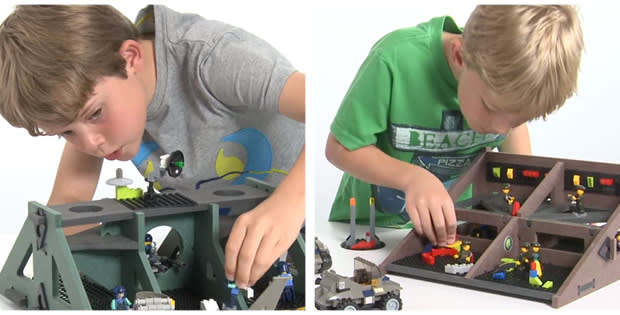 One Christmas my son said that he would like the LEGO Star Wars Death Star model. I knew straight away that I couldn't afford this present and I also knew that after many hours of building the model, it would disintegrate into a big pile of bricks within five minutes of him playing with it. With the help of their clever Grandad, I decided to make my own Star Wars Death Star from wood. I painted it and applied LEGO base plates, LED lights and sound chips. The present was a fantastic success, (and the envy of the neighbourhood!). The LEGO base plates that I stuck onto the wooden platforms gave my son plenty of room to stay creative with his building and the robust structure gave him the freedom to play without everything falling apart.

Some photos of the custom wooden Death Star that I made… and a very happy son!
And so Base Ace was born. I decided to approach the Product Design Team at Southampton Solent University for help. Between us we made prototypes, carried out testing and developed the concept. Everyone I talked to thought it was a great idea and related to it instantly.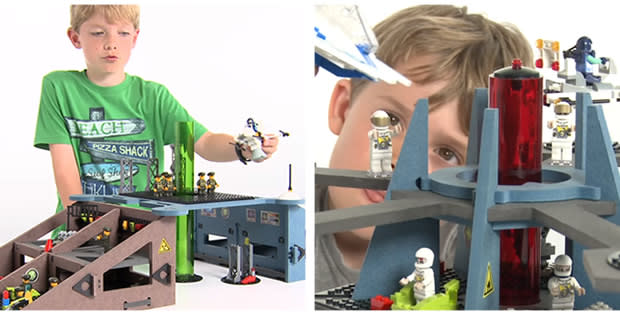 Like many families across the world, we have a huge box of LEGO and a large collection of mini figures. Instead of buying more new models, that eventually end up spread across the carpet or mixed into the box, Base Ace kits encourage children to use the LEGO they already have. The kits can make a stunning display for your mini figures and can also be used to stage those quick fire battle scenes when you don't have time to spend hours building a fortress! Base Ace is ideal for children of all ages, (and not forgetting us Big Kids too!)

The image above shows the first four kits in our range.  They can be used either way up and connected together with expansion packs to make different shapes.
The Next Step
So far we have designed four Base Ace kits and four accessories.  During the past 18 months we have been manufacturing in very small batches to test the concept here in the United Kingdom.  Our next step is to develop new kit designs and introduce new accessories to expand the range.  We need to boost our marketing to increase our sales, which will then enable us to manufacture in larger batch sizes and achieve more cost effective prices.  A successful campaign will help us to launch Base Ace into new International markets including the United States and other European Countries.

What Do You Get?
Base Ace comes as a flat packed kit of wooden parts that simply slot together to make a stunning 3D structure. Our kits have been specifically designed to secure with child safe quick clips or locking discs so no glue or tools are required. All our kits are easy and fun to build using our child friendly step by step instruction. Kits can be combined, connected and expanded to create an endless number different shapes. A variety of colour schemes are available and compatible base plates are included to provide you with multiple platforms and building areas for your LEGO bricks and mini figures.

Example: Contents of Kit 3 Special Edition
Why Pledge?
Over the past two years, we have spent thousands of hours designing, developing and testing the Base Ace concept. This period has enabled us to test the UK market with a small number of kit designs and accessories. We now need your support to take Base Ace to the next level. That support will enable us to develop new kit designs, new accessories and launch the range into new international markets. To achieve cost effective production batches, we need to purchase plastic injection mould tools to produce accessory components and we also need to buy inventory of wooden sheets. We also wish to create a marketing campaign to launch Base Ace into the United States and all European Countries. With our experience in product design and marketing, coupled with your support, we truly believe that Base Ace can be a phenomenal worldwide success.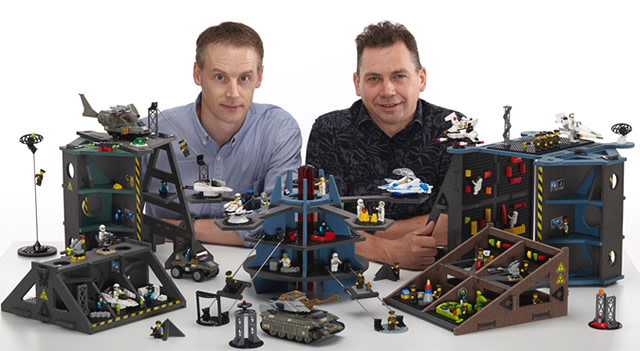 Brian Stickley (left) and Mark Jones (right)

Our LEGO compatible base plates are included with each kit but they are an optional accessory. This allows children to play with many other free-standing mini figure brands such as Star Wars Command, Galactic Heroes and Warhammer.  Our base plates are also compatible with Mega-Bloks, KRE-O, Sluban and Oxford mini figures and bricks.  

Rewards/Perks
We are offering a variety of rewards/perks to say thank you for your support.  Please see the options below and note that all rewards will be shipped from the United Kingdom.  Please check postage costs before choosing your reward.  We aim to deliver all rewards by the first week of December 2017, (or sooner if possible), so they will be with you in plenty of time for Christmas! Please also note that we have set our reward currency in US Dollars, but you can donate from any country worldwide.

Disclaimer
Please note that this product is not officially licensed by LEGO™, Mega Bloks™, or KRE-O™.  It just happens to be compatible with all of them. Base Ace is a registered trademark.