BeHearNOW Customizable Hearing Enhancement Headset | For those avoiding hearing aids due to cost, stigma or limited functionality. Try this alternative!

It is a stylish Bluetooth stereo headset that
enhances your hearing whenever you need it.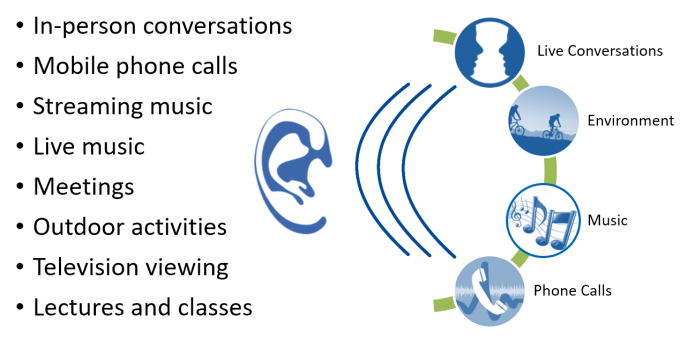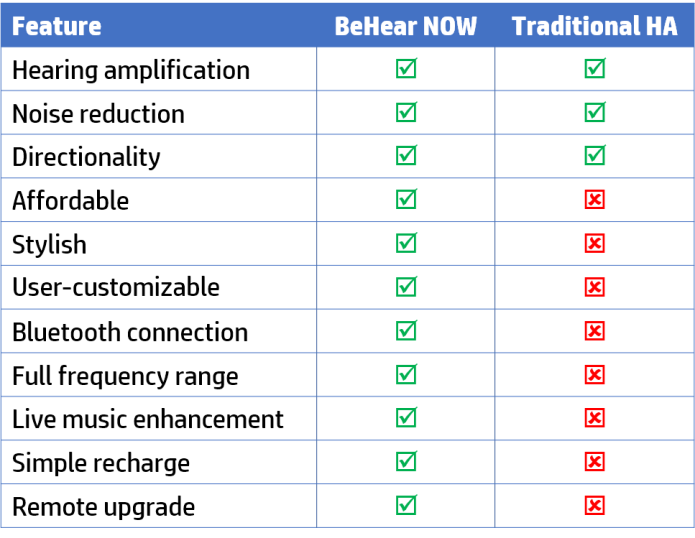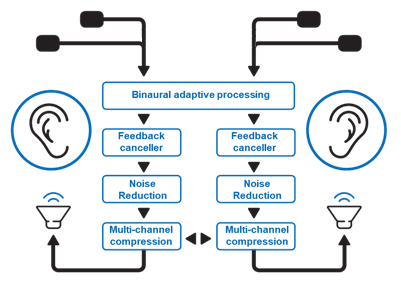 BeHear NOW shares many of the same components as the leading hearing aids, but in contrast provides:
4x stronger Digital Signal Processor running more advanced algorithms
4x microphones for ultimate noise reduction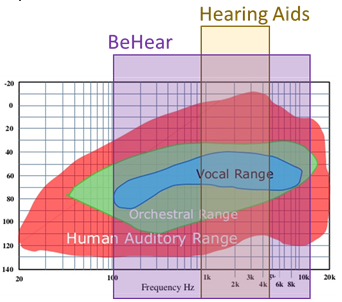 BeHear NOW supports a much wider hearing spectrum than hearing aids, well beyond human speech to include the realm of live music.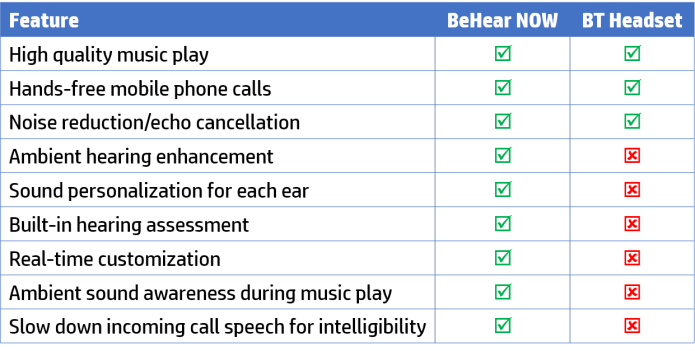 BeHear NOW is the first in a line of Wear & Hear concept products developed by Alango Technologies, Ltd. The product is ready and the first 300 units are waiting for the backers of this campaign.
We at Alango have been developing and implementing digital sound enhancement technologies in consumer goods for over 15 years. And, with tens of millions of users benefiting from Alango software integrated in various products, we know how to do it right! Our advanced algorithms reduce loud noises, remove annoying echo, and enhance speech to make it sound loud and clear.
About three years ago we decided to leverage this knowledge and pair it with existing consumer electronic devices to help you, and the people you care about, hear better for improved quality of life all around.

Features 
Built-in hearing test
Controls for hearing

Location preset selection
Volume
Real-time Best Sound Point (BSP) customization
Noise reduction setting

Controls for music play, phone call handling
Headset behavior settings

left/right ear balance
hearing mode defaults
vibration
auto-connect
Operating Systems
Android (version 4.4 and higher)
iOS (version 9 and higher)
Sample Screens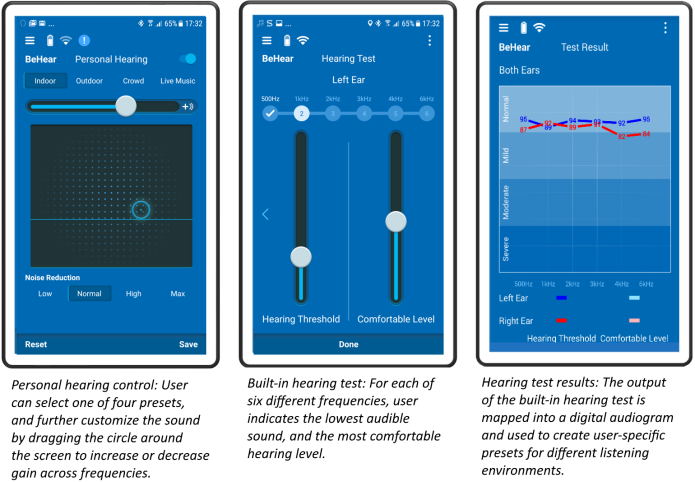 If members of the household (or its neighbors) can't agree on the television volume, we recommend the BeHear NOW + HearLink transmitter bundle: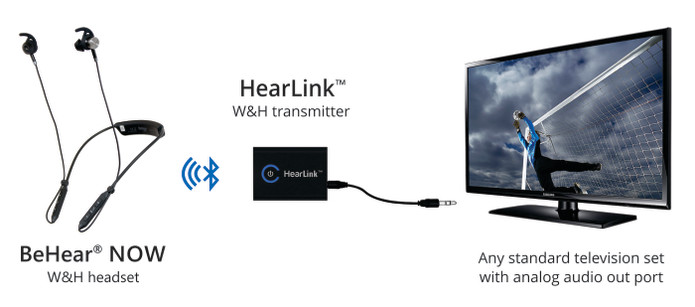 HearLink is a Bluetooth® transmitter that connects to the analog sound output found on most standard television sets and other audio devices. It sends the audio signal directly to the paired BeHear NOW headset, thus eliminating ambient noises, room reverberation, and other types of sound interference which hamper intelligibility of speech and music appreciation.
The BeHear NOW headset can be connected to the HearLink TV transmitter and to a smartphone at the same time. It allows you to watch TV with the ListenThrough technology activated (passing through important ambient sounds via the headset), and also get/make phone calls.
Main Features
Supports low latency audio streaming
Supports AVRCP commands (play/pause) for seamless operation with BeHear
AutoON (automatic 'power on' if charged from the television set USB port)
Battery operation for convenient use with portable players, mobile phones or computers
Lightweight and compact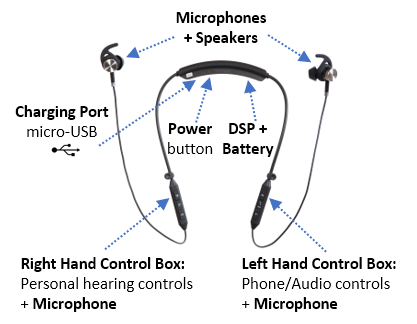 Bluetooth
Version 4.2, Class II
HFP 1.6, HSP 1.2, A2DP
Range: 10m
Acoustic Performance
Maximal Sound Pressure Level (OSPL90), HFA: 116 dB SPL
Full-on Gain, HFA: 42 dB
Total Harmonic Distortion (THD):  < 0.7%
Receiver Specifications

Speaker: 13.6 mm receivers
Frequency Response: 20 Hz to 20 kHz

Microphone Specifications

Microphones (four in total):

Ultra low-noise 74 dB SNR ECM (Electret Condenser Microphone) in each earpiece
Low-noise digital 64 dB SNR MEMS in each control box

Frequency Response: 100 Hz to 15 kHz
Battery
Rechargeable single cell Lithium Ion
Charging interface: Micro-USB
Capacity: 250mAH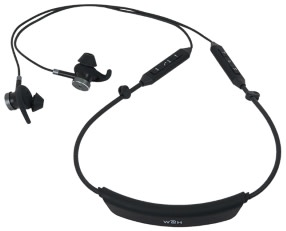 Operation Time
Hearing mode: 15+ hours
Talk: 10+ hours
Play: 8+ hours
Standby: 600 hours
Wearing Style
Neck loop (behind the neck)
Headset Weight
Agency Approvals

Our team comes from diverse professional backgrounds and cultural heritages. We work in two different offices: our company headquarters in Haifa, Israel, and a development center in St. Petersburg, Russia. While the employees listed below participate directly in the BeHear NOW project, there are more than 20 others whose collective work contributes to the product's overall development.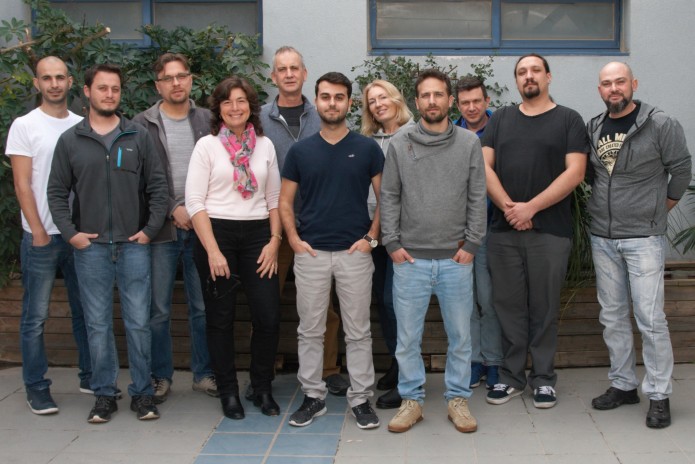 Israel-based team – left to right: Suhail Habib Alla – Audiologist and Sound Engineer; Ran Ben Ezer – Lead Embedded Software Engineer; Alex Radzishevsky – Chief Audio Engineer and Director of Product Development; Ruth Bridger – Marketing Director of Assistive Products; Alexander Goldin – CEO & Founder; Nirel ben Shabat – Embedded Software Engineer; Tatiana Borovikova – Assistive Products Coordinator; Nimrod Shiman – Audio Application Engineer; Michael Bukchin – Director of R&D; Ishay Berkovich – Field Application Engineer; Ber Bistritsky – Hardware Engineer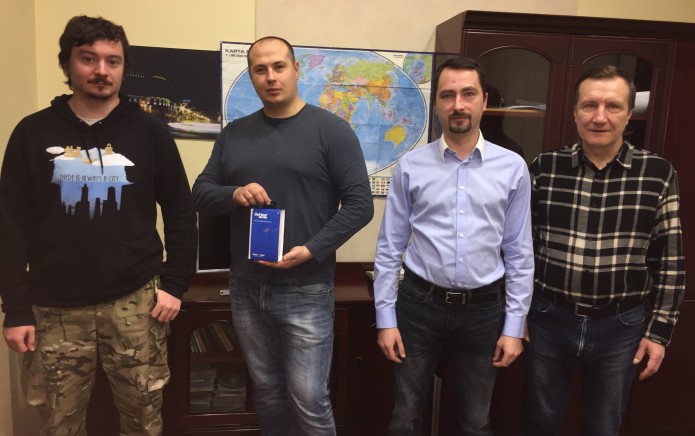 Russia-based team – left to right: Dmitry Fedotov – DSP Software Engineer; Nikolay Ermolenko – Senior DSP Software Engineer; Sergei Kib – Technical Director of Alango Russia; Andrew Mikhailov – DSP Algorithms and Software Engineer

BeHear NOW, the first member of our Wear & Hear line of assistive listening products, has been designed, developed, and its first 300 units have been manufactured. We would like your help to broaden our reach and collect information from a wide variety of hearing situations, to provide feedback about:

And if, based on your feedback, we make changes to our software, you will immediately be able to apply the update to your BeHear Now headset wirelessly and effortlessly, via the smartphone application.

"Early Adopter": Reduced price for BeHear NOW = $129 (instead of $249) + shipping (between $5 and $15, depending on your shipping location)

"TV Listening Bundle": Reduced price for BeHear NOW w/HearLink TV transmitter = $159 + shipping (between $5 and $25, depending on your shipping location)

Help us spread the word that there is a solution which can bring enhanced hearing to those people for whom a hearing aid has not provided the answer.
Bring joy (the gift of hearing) to your loved ones and colleagues who are in denial, or who are avoiding hearing aids because of cost, accessibility, stigma or functionality issues.
Increase connection with your congregation, employees, patrons by providing them with a simple tool for hearing enhancement – when they need it.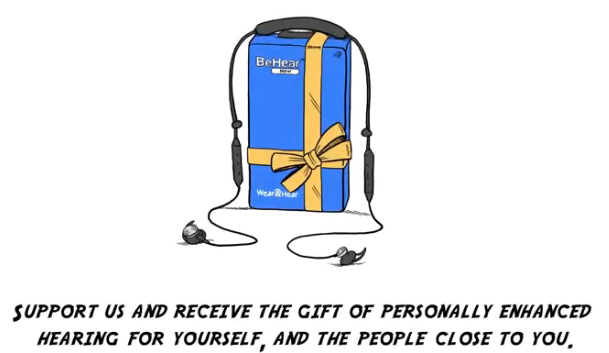 BeHear NOW is our first assistive listening product. Our tests to date are extremely promising, but we are not yet satisfied that we have everything we need to know. We believe that broadening our testing scope on this crowdfunding platform will provide us with important feedback that will guide the direction of our development in versions and products to come.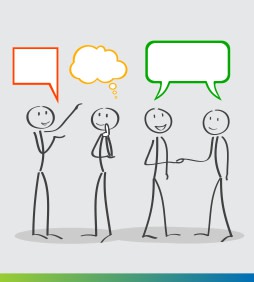 We are confident that BeHear NOW will satisfy the basic need for affordable, accessible quality hearing. Back our campaign to purchase units for yourself or someone you know and then provide your feedback. 
However, if you can't back us, that doesn't mean you can't help!:
Get the word out in your own circles
Make some noise about this campaign on social media
Use the Indiegogo share tools

How can I get in touch with you?
Visit our Facebook page, or leave a message on our Web site: http://wearandhear.com/contact/
When will the first BeHear NOW headsets be delivered?
We plan to start shipping the first units as soon as the Indiegogo campaign closes in mid-February, 2018.
What comes in the BeHear NOW box?
The box includes a headset, a USB charging cable, a travel pouch, two types of silicon ear tips in different sizes, multiple pairs of ear hooks in varying sizes, 2 pairs of wind protection covers, and a printed Quick Start Guide.
What comes in the HearLink box?
The box includes the transmitter, a Micro-USB cable for charging directly from the television (where supported) or from an electrical wall socket, two audio cables (3.5mm and 2xRCA for convenient connection to various appliances), and technical documentation.
Who can benefit from BeHear NOW?
We developed BeHear NOW to help people hear better in various situations, taking into account individual preferences and the uniqueness of each person's auditory system. Hearing loss is an example of "uniqueness" that can be addressed by BeHear NOW, and compensated to some extent depending on the listening/hearing conditions. While BeHear NOW was designed to help people with mild-to-moderate hearing loss, initial tests show that even those with severe hearing loss experience hearing improvement. You will need to decide for yourself if BeHear NOW can improve your hearing experience in certain situations.
Is BeHear NOW a hearing aid?
While BeHear NOW uses the same digital signal processing algorithms as most advanced hearing aids, BeHear NOW is not a hearing aid (nor is it a medical device).
Can BeHear NOW restore hearing?
While the advanced algorithms used in BeHear NOW can improve the hearing/listening experience, they cannot restore hearing completely.
How much hearing amplification gain does BeHear NOW provide?
The maximal gain provided by BeHear NOW is approximately 45dB.
How do I know the BeHear NOW earbuds will fit me?
BeHear NOW is supplied with numerous sets of silicon ear tips and ear hooks in different sizes and styles. We trust that you will be able to find the right combination for your ears.
How do I charge the BeHear NOW headset?
BeHear NOW is supplied with a micro USB charging cable. Use it to charge the headset from your computer, or together with a standard AC outlet adapter (purchased separately) to charge the headset from a wall socket.
How long will the BeHear NOW battery last?
in "hearing mode": 15+ hours
for phone use: 10+ hours
for music play: 8+ hours
in standby mode: ~600 hours
A full charge takes about 2 hours.
What happens if I receive a phone call when I'm listening to music?
You can choose whether to accept or reject the call, either by pressing buttons on the control box (located on the headset cable) or using your mobile phone.
I wear glasses. Can I wear the headset at the same time?
Absolutely! The earbuds are "in ear", with nothing resting on the back of your ear (where your glasses sit).
I don't want to have the buds in my ears all the time. How can I prevent the headset from slipping off my neck?
The earbuds include magnets and will stick together (even through the wind protectors) in front of your chest.
How do I get the smartphone application for the headset?
Download the "W&H BeHear" application from Google Play or the Apple Store. It will be available just before the products begin shipping.
Which operating system does the BeHear NOW smartphone application support?
The BeHear NOW smartphone application supports both Android (from version 4.4 and up) and iOS (from version 9 and up).
Can I use the headset without a smartphone?
Absolutely! You can benefit from the ambient hearing without a smartphone. The smartphone is necessary if you want to run the BeHear NOW control application, but the headset itself includes 7 built-in control buttons that allow you to use it autonomously. You can pair BeHear NOW and use it with any Bluetooth device such as a feature phone, music player, laptop, etc. and use it for hearing enhancement, phone calls or listening to music or other recorded audio.
Can I use the headset without Bluetooth?
Yes. You do not need Bluetooth to benefit from the ambient hearing functionality. However, without Bluetooth you will not be able to stream audio from your mobile phone or music player directly to the BeHear NOW headset.
Is the headset waterproof?
No. This would have added extra cost. We are creating a different model for our "Wear & Hear" family called BeHear Active which will suit people with active lifestyles.
Is there a product warranty?
Yes, we offer a limited 1-year product warranty against manufacturing defects.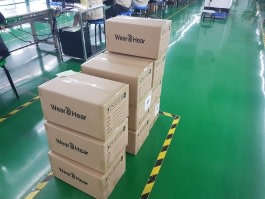 One of the 300 hundred units in these boxes could have your name on it! Act fast to claim it in the Perks list…