BheemUP: This Bed Incliner Makes your Bed, Better. | Lift Any Bed | Monitor Sleep, Posture and Vitals | Connect to Smart Home Devices | AI Powered Advice
The BheemUP system is comprised of 2 parts. 
The BheemUP frame, which lifts any bed, like a hospital bed, but better. 
And the BheemSense Lite sensor system, which tracks sleep and posture, over your ENTIRE bed, and connects to smart home devices too.
The BheemUP frame
This isn't a hospital bed. It's YOUR bed made better.
You don't need to buy a heavy, expensive bed frame. This attaches to your current bed frame and mattress, no matter what make or model – guaranteed. If it doesn't, we'll refund you. 
No extra purchases. No heavy new frame. It's perfect for you, OR your parents.  
Assembly. 
It takes less than 15 minutes.
Or – we'll send it out pre-assembled!
 
Our provisionally patented design features custom bumpstocks, which adheres the BheemUP Frame to any bed frame securely,  no matter if it's wooden, metal, or a divan. It telescopes, and adjusts its width to fit any mattress size – from Singles to California Kings. Bed end legs attach and stops the mattress from sliding down. 
Pre-assembly will cost extra, as it involves a higher shipping cost + labour costs on our end. You can add this as an item when you make an order.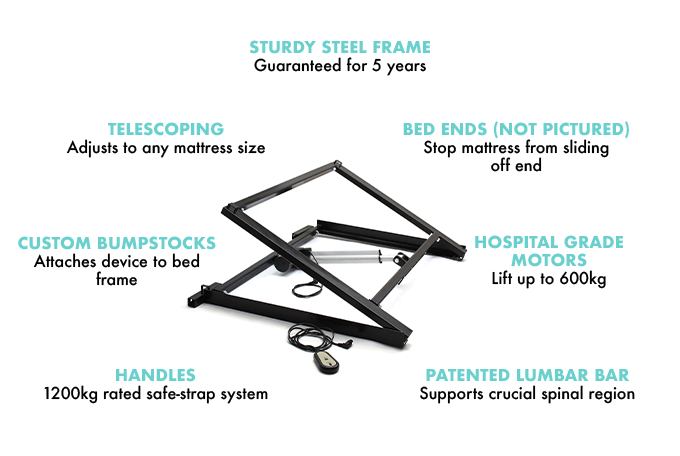 BheemUP comes out of the box like this.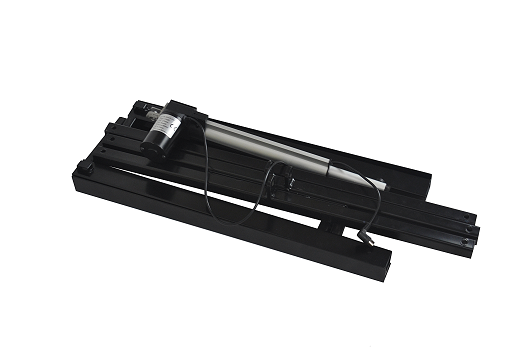 Assemble it off the bed first.
Don't put the bolts in right now. Don't worry, the hinges are already affixed on the unit.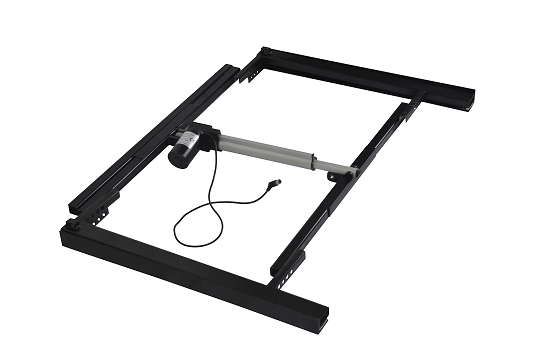 Align to your bed and mattress.
Adjust the width to have the angled bars cup the mattress. This adjusts to fit any sized model – from Singles to California Kings.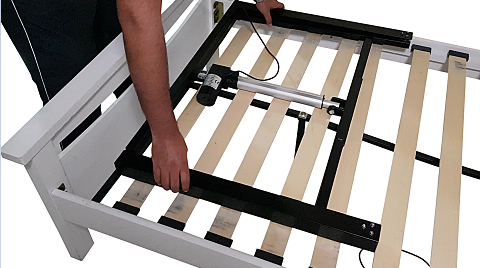 Secure the BheemUP Frame to your Bed Frame
Using our patent pending custom bump-stocks, and 1200kg rated straps, this securely attaches to any bed frame (whether it's a duvan, platform, or traditional wooden slat bed frame), guaranteed. If it doesn't – we'll refund you. 
These bump stocks have a custom hook handle which attaches to straps which adhere to the opposite end's bed legs to secure the device, using your current bed frame's already designed weight. The bump stocks also have rubber backing to eliminate chances of damage to your bed frame.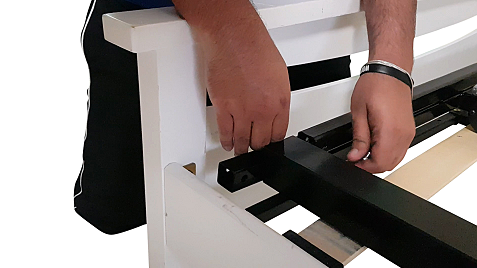 Every bed frame is different. Our patented clamping system highlights how this latches and secures BheemUP to your bed frame's side panel, no matter what angle, or length it is.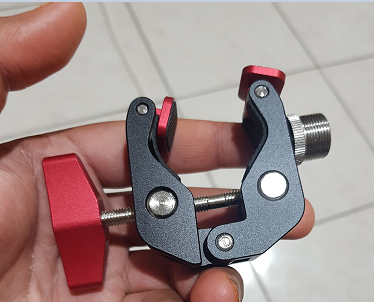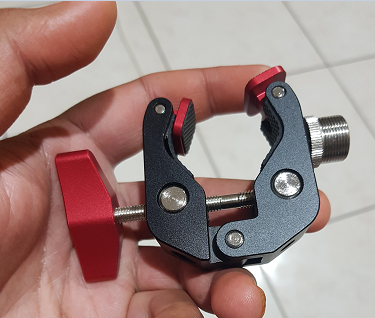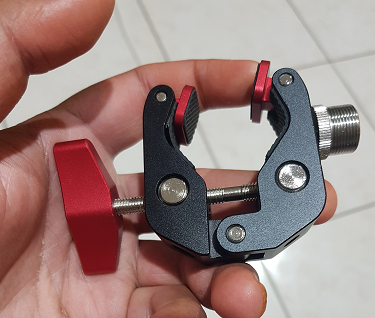 This is the clamp bit on its own, which attaches to the custom bumpstocks and adheres to the bed frame.
Attach the bed ends.
This secures the mattress on the other side, stopping it from sliding off.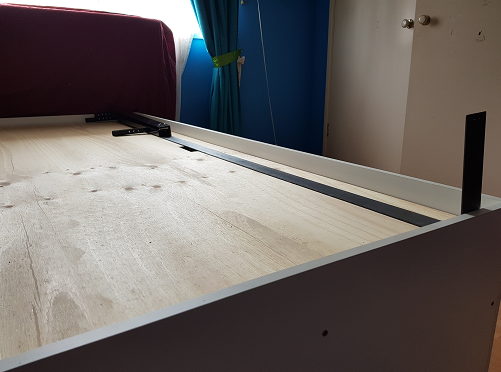 Then plug it in! And away you go!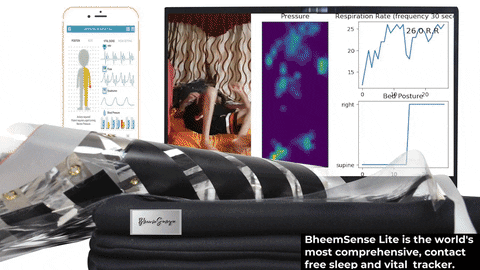 And the BheemSense Lite system makes BheemUP Smart too. 
BheemSense Lite is our provisionally patented sensor mat. It sits on top of your mattress and uses a combination of our in house stretch fabrics and proprietary algorithms to monitor movement, heart and breath rates, over your ENTIRE upper body.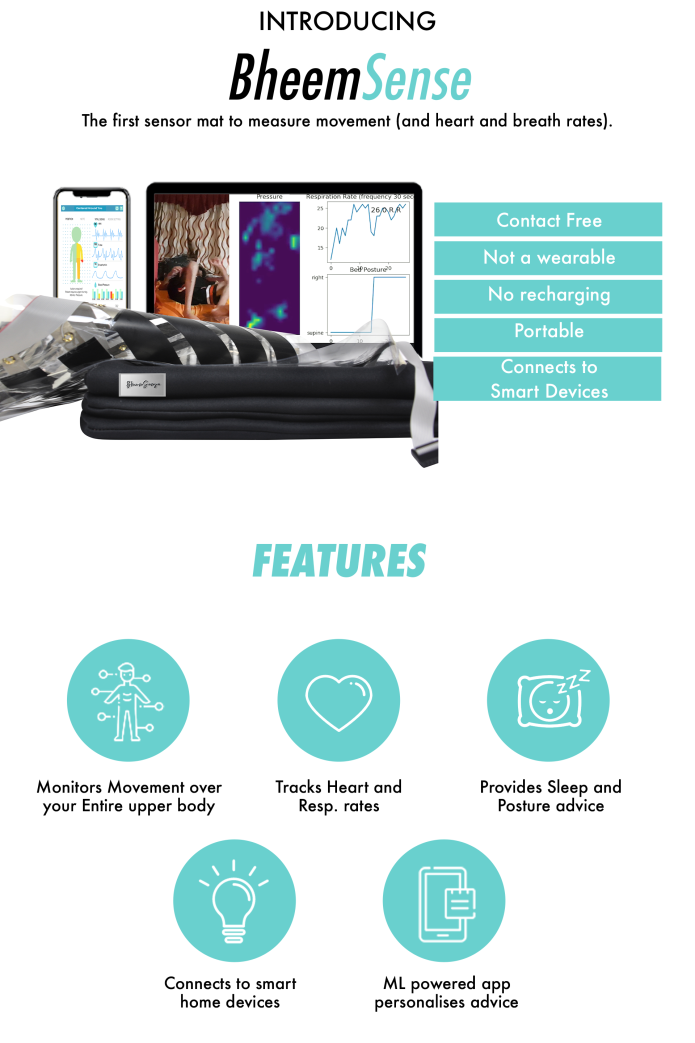 It's the first consumer device that does this (current whole body sensor mats are too expensive for even hospital ICUs to use).
It tracks sleep, and posture in bed. It monitors vitals. And it tracks symptoms like back pain and reflux via our app too.  
It comes in its neoprene, waterproof, cooling fitted sheet. Simply place it on your mattress, plug it in, connect to our app, and put your regular bed sheets over it – and away you go!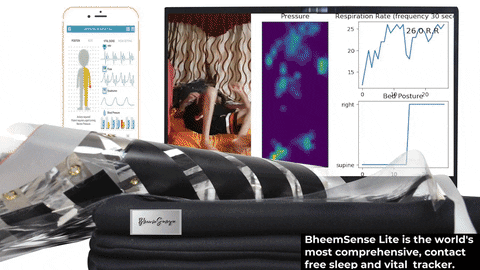 It measures micromovements, and estimates muscle tone – the most accurate markers of sleep phase – through our movement mapping algorithms. With this, you can set alarms that will ONLY wake you up in light phases of sleep, ensuring you start every day refreshed. Over time, via our machine learning powered app, it learns from your habits, and makes your room the perfect sleep cave.
And when you combine it with the BheemUP Frame, it also tracks and improves posture with evidence based postural rehabilitation, and guided stretch reminders that are personalised to YOU.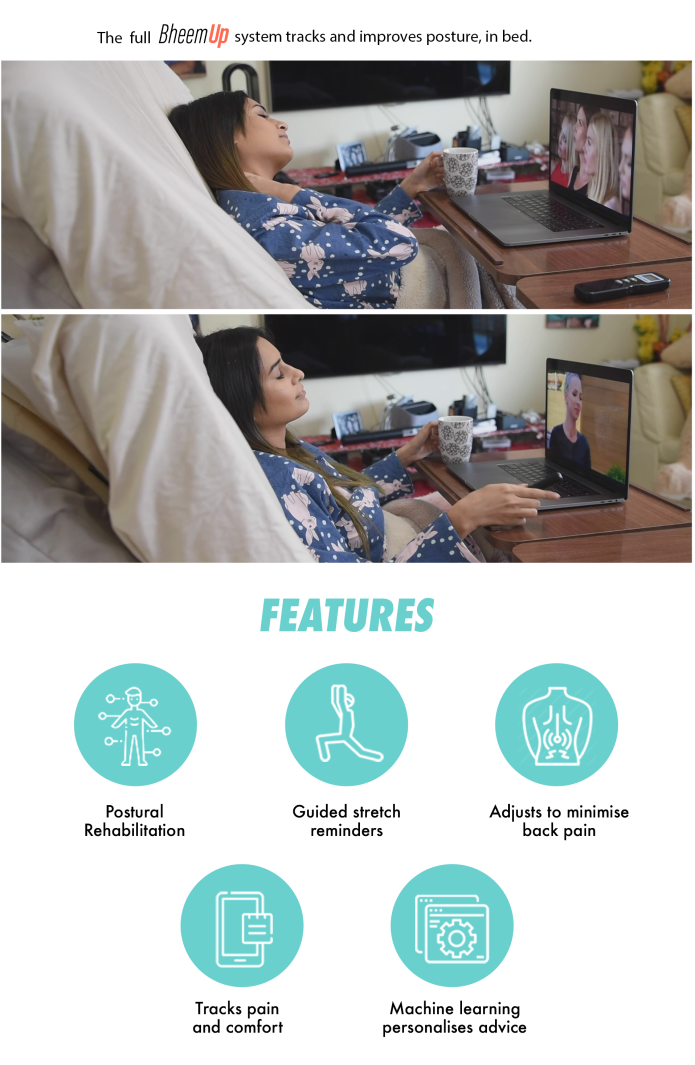 Plus it's NOT a wearable. 
No recharging, or uncomfortable patches, masks or apparel, required. 
You can take BheemSense Lite to work, and put it on your chair too – it's super light, and comes with a smooth, neoprene (or polyester) cover.
The BheemUP system will make your life easier, and more comfortable. 
Check out the sensors in action below.
The App
Our sensors are the first to monitor movements. The app allows you to toggle between detailed insights and graphs showing every wakening at night, or evidence based, AI powered sleep, comfort and posture scores. You can even track symptoms and monitor these over time. 
The app also integrates with smartwatches, and with Alexa and Google Home too. Our sensors' tech also vibrates, and allows you to set smart, vibrating alarms that wake you in light sleep only. 
InDemand purchasers who get BheemSense Lite or the full BheemSense system, get a lifetime subscription to the app – including opportunities to test upcoming products too!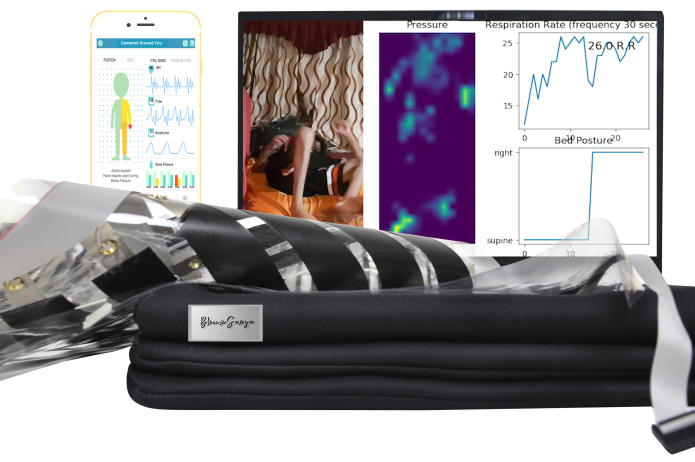 We Know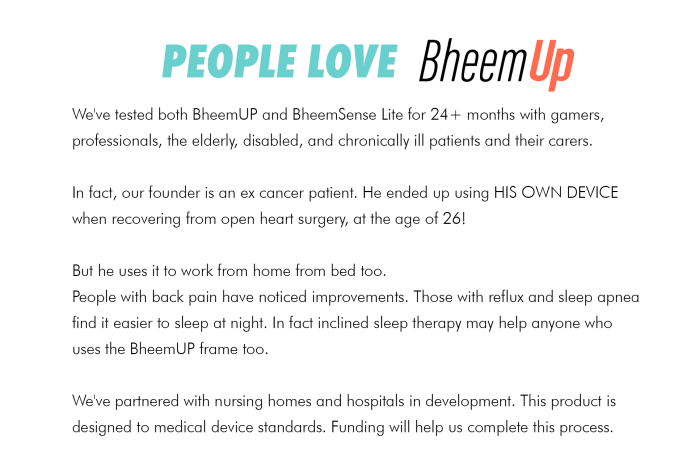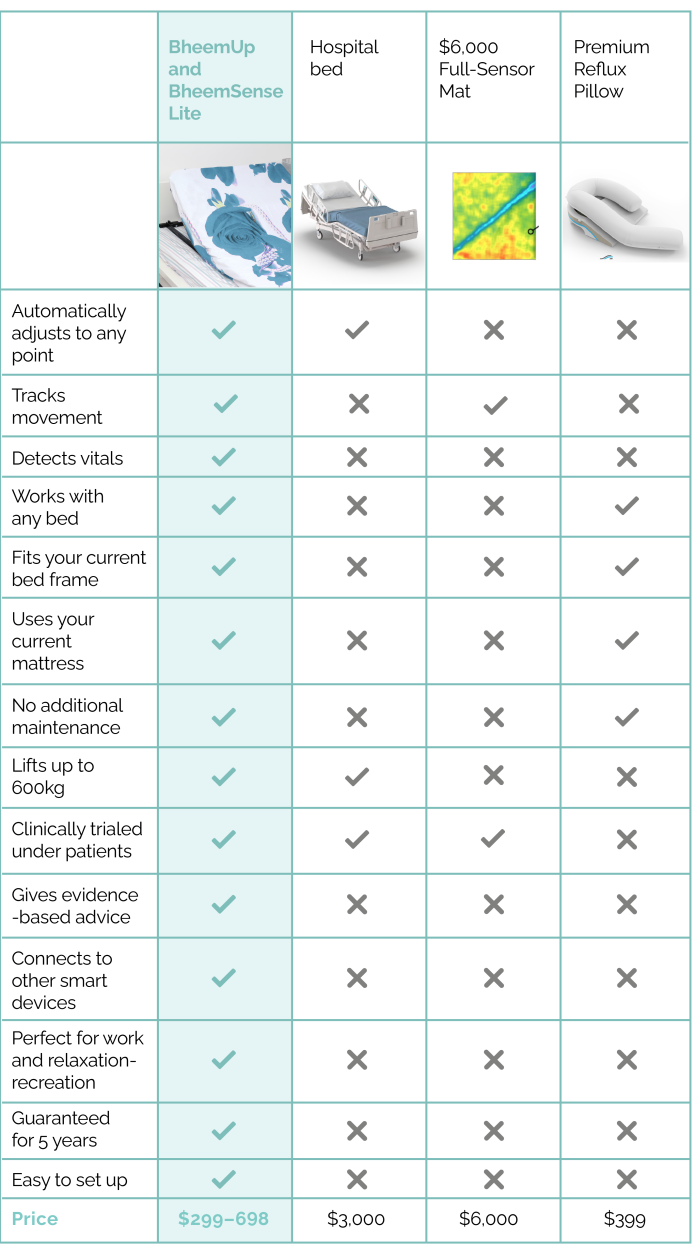 This cool setup shows BheemUP in action. Influencer and gamer Bethany uses BheemUp while in bed! A regular Kogan monitor, with a clip on side monitor, and Steelkey Series keyboard and of course, BheemUP, made her bed the perfect gaming bed. 
But we also sent one out to her parents, who appreciated being lifted easily without having to buy a complete new setup. 
It's perfect for you, AND your parents!
Pick your Perks and pre-order BheemUP now!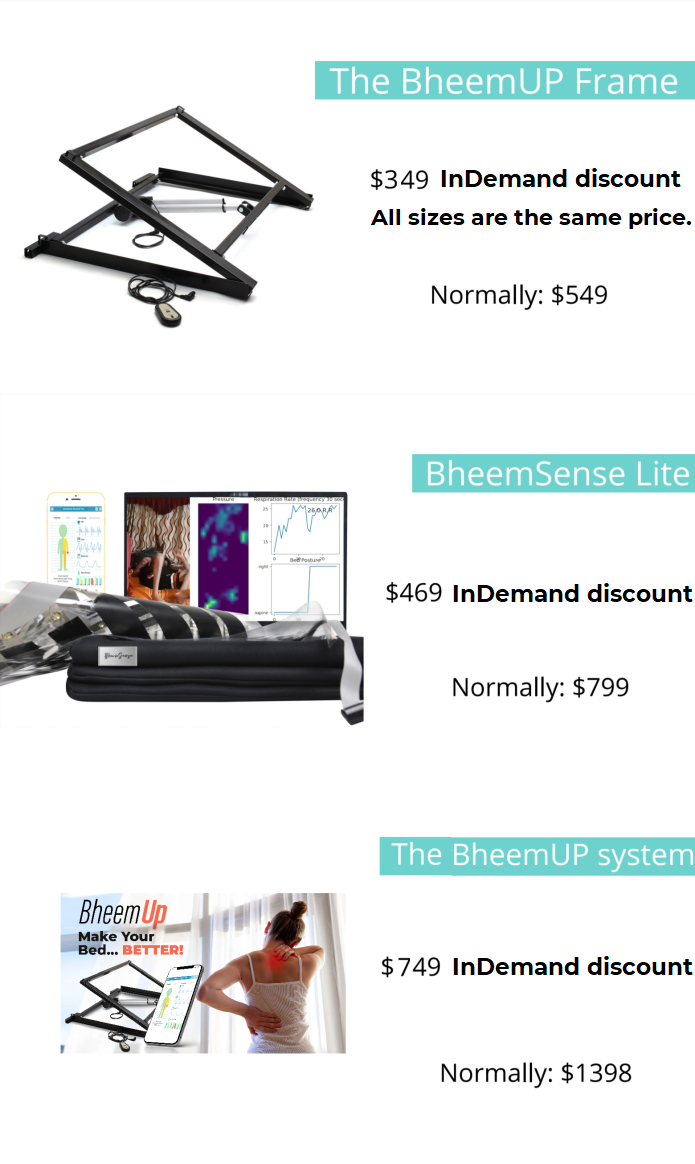 After your purchase, you can choose to add any of these additional options on too!
 Our Team. And How We Give Back.  
The BheemUP System was developed with several hundred patient, and user, consultations. 
Our founder is an ex-cancer patient. He needed his own device after getting, and dying on the table during open-heart surgery (he was only 26). 
When Nikhil couldn't lift more than 1kg with his arms, post sternotomy, he ended up NEEDING his own device! But he still uses it to work from home, in bed, to this day.
His own experiences drove him to develop this. In fact, Bheem Health was started by our founder after he lost 2 friends in a week to these issues. He's personally faced each of these complications himself. 
But it's not just for patients. One in 5 people suffer from severe insomnia regularly. And especially during COVID-19, with more people #WorkingFromHome from Bed – maintaining proper posture in bed is vital.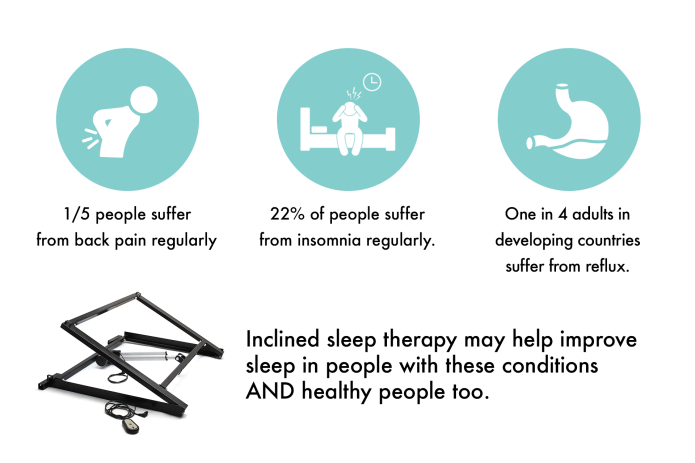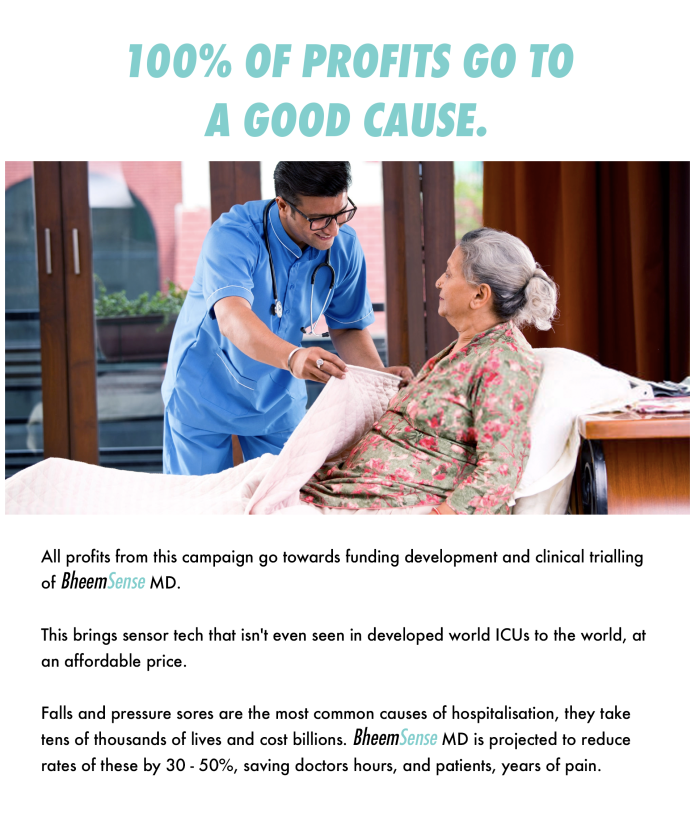 Our Team
Our founder is an ex cancer patient, cancer researcher, and also, a medical student. His personal experiences drove this project into existence. In fact – he ended up needing BheemUP during his treatment!
Despite Nikhil getting open heart surgery last year, which delayed development,  and cancelled contracts due to COVID-19, we've been working on supplying clinics and working with developing world NGOs, and further securing their manufacturing chains.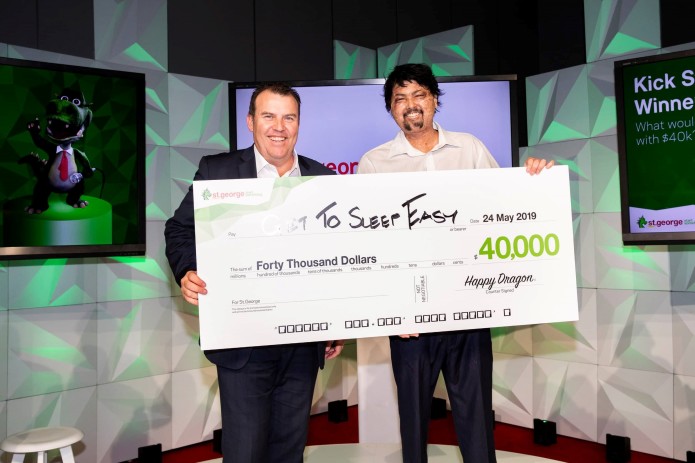 Our engineers have decades of experience. Though this is a consumer device, it is being designed to medical device standards. 
Our CTO, Nicholas Rabey, is the genius behind the BheemSense Lite system, and our experienced team has ensured we adhere to medical standards, and that our quality assurance processes are world class. They have decades of experience in the Ciscos, Accentures and Microsofts of the world.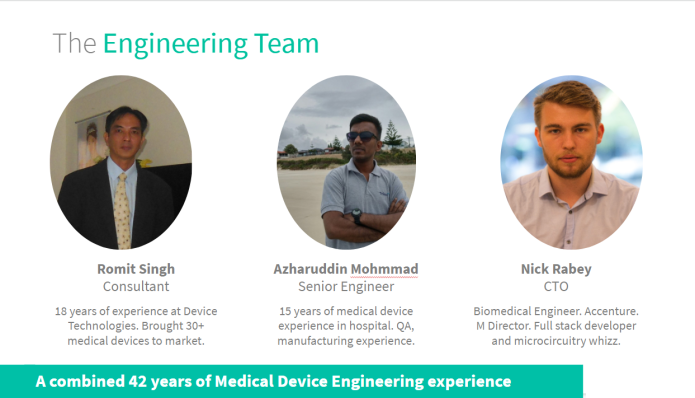 We are incubated in Australia's top engineering and business university (University of New South Wales), have gone through several accelerator programs, are Australia's Student Startup of the Year, are the winners of TEDxSydney's Kickstart Competition (1st out of more than 1,000 applicants), Global Earth Tech finalists, and are IABCA's Innovation of the Year, 2019-20. 
We've also received several government, and not-for-profit, social enterprise, grants. And we've won several cash and in-kind prizes which have aided us in our journey.  These are only some of our highlights.



 Manufacturing and delivery
We've got headquarters in North America, where our distribution centre is located.
We also have impressive, active mentors who have run and delivered successful Kickstarter campaigns. Ex CEOs of Fortune 500 companies, and national managers of Companies like Cisco advise us, and have advised us in securing supply chains during COVID-19. 
Our manufacturing partners have been supplying hospitals, and hospital bed companies, for over 15 years. Our frame is guaranteed for 5 years, and our motors have standard 1-year warranties. We've worked with leading, national nursing home chains, (around the world), ICU doctors, and home care nurses to develop the BheemUP system. 
Most importantly, patients and users with conditions ranging from back pain to heart failure were consulted, and have been trialling our products for more than 24 months now!
We want to go to homes first, where we can test our algorithms en masse. And YOU will be part of that too, and receive lifetime updates by becoming a Kickstarter backer. All backers get lifetime subscriptions to our app.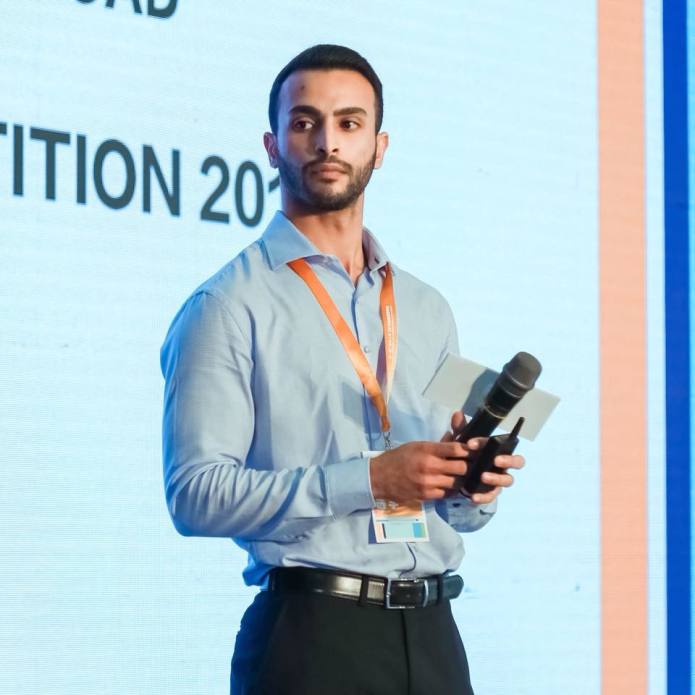 One of our engineers at the OTEC Summit in China. He helped inspect our highly reputable manufacturing partner, who already supply several medical device products.
For a full press kit – email us at [email protected]