Billies1000 – Saves cash spent on lean proteins!! | The #Billies1000 saves cash + gives a lifetime of home made protein. NOT a conventional dehydrator!!
People building beautiful bodies in the gym like to consume Deer, Kangaroo and Ostrich and other lean-Beef Jerky's (or Biltong). However these protein lovers can spend thousands of $$$ dollars a year on these or on expensive protein powders. Now they can make their own lean proteins at home which can then be carried for whenever they need a quick protein snack.
The current meat dehydrators on the market offer no control and thus seldom achieve those great umami flavours, ours has both a unique webserver and Bluetooth(R) for the ultimate Flavour control.
People find the current volumes inside the off-the-shelf dehydrators simply too small!. With ours and by turning a simple knob, adjustment of the heat engine output is achieved allowing for an enclosure upgrade path from: 50 litres to 200 litres and with all the Webserver and Bluetooth Flavour control, that you demand! 
Super quick and easy to deploy…
Start your own business at home making Biltong or Jerky with unbeatable flavours using our recipe book and our unique Bluetooth Flavour control technology!!
The "How To "  video below, shows how quickly a unit can be deployed at home on any enclosure or container of your own choosing. In the video we use a $10, BPA-free, plastic container from our local Home Depot….
Using any container of your choice and you will be making your very own delicious Beef Jerky, Dried Fruit, Biltong in no time at all:
Short Summary of this unique Flavour Enhancing Machine
My name is Ian Boake, I am an electrical and electronics engineer and love helping people to make things at home which makes their lives much easier and saves them money. I started by making my own food dehumidifier using an incandescent lamp and a desktop fan, that unit I called 'Revision 1' back in 2016. I showed a few fellows at work (Western Power in Western Australia)  and we started a friendly competition to see who could make the best tasting Beef Biltong (Biltong is remarkably like Beef Jerky, but uses different spices). I have a blog showing all the electronics systems I have worked on over the last couple of years, all geared toward making your life easier: http://www.ianboake.com
I have since refined the concept over the last 4 years and now want to put it into full production, this is 'Revision 12' of the original concept based on many people's feedback.  It has a Bluetooth interface to set-up the Wi-Fi connection to your local router, all of which is cleared illustrated within the supplied instruction booklet and much easier than anything that we have seen on the market.  The controller then serves a intuitive webpage that can be viewed on your mobile device for monitoring the process – "the recipe", as it were. The recipe book tells you what to watch for on the webpage, no matter whether you are making Beef/Venison Jerky, Fruit Leathers, Biltong or Dried Fruit…. 
There is also a convenient adjustment knob which  allows you to adjust the heat engine output based on which  enclosure size you have attached it to. The heat engine is simply attached to your enclosure with four little screws and nuts that we supply  (the manual guides you on which setting is best for which delicacy). It is so simple!!
The aspect of this system that I hope appeals to people is that by dehydrating meat with that great umami flavour – owing due to our unique Bluetooth Flavour control system they saves heaps of cash!! Fruit and vegetables etc may also be done and then these dried foodstuffs then no longer leads to waste or the rather exorbitant costs of buying these delicious items from retailers. 
Jerky or Biltong lovers can spend thousands of $$$ dollars a year, and why when it is so simple to do it at home using the Billies 1000 unit and recipe book.  More importantly the foods really taste delicious!! We provide a free recipe book on how to set the controller to get the best tasting foods from 4 years of experimentation and which spices to use… The controller can get the best umami flavour for Beef Jerky, Salami, or Beef Biltong from hundreds of hours of testing various set-points.
Why this campaign? If we can set-up a production line for these Billies-1000 DIY systems we can get more units out to people all over the world.
You can see one of these working bees where I helped a group of folks to make their own dehumidifiers, this was a previous version of the unit as compared to the unit that this campaign is about. This latest unit is very much orientated towards much quicker deployment in around only 10 minutes with no electrical wiring required!!
What We Need & What You Get
The input materials for the units and production workshop to fabricate these units in volumes (1000 per month), will cost about $45,000 and is what we need to really get going.
We will get people the first large volume produced units at 25% off the usual list price!
If we don't reach the full goal, we will still make the units, it will however take longer to get them out as our current process has insufficient automation to do volumes.
The Impact
Saving Beef Jerky, Beef Biltong or Dried-fruit lovers, thousands of dollars a year, by empowering them to make these great treats themselves at home!
These units could also potentially be used by people around the world to dehumidify their farmed fruits and sell higher-value items without the need for refrigeration.
It also gives one of the best umami favours for Beef Jerky, Salami and Biltong, which are traditional foods for many nations (although going by different names). Your contribution allows us to produce a higher volume of these units, thus helping more people and putting the best umami flavours into homemade Jerky, Biltong using the tested set-points from our very own Recipe book.
We have also learnt an incredible trick which we reveal in the recipe book to keep the original flavours of dried fruit – these thereby tasting much better than what comes out of conventional dehumidifiers!
I am a professional electrical engineer with nearly 30 year's service to various industries and have thus made sure these units are completely safe with certified components (safe if used according to our instructions provided). We also made an amazingly simple Bluetooth user interface where you send a letter to the controller and it responds accordingly. We also tested it with a few young folks to ensure that it is easy to use and follow. 
Everybody who has tried these units, raves about how easy it is to use and how delicious the dehydrated (desiccated) foods are, especially since they are now able to make these at home thereby saving them heaps of cash $$$.
Risks & Challenges
The key risk here is that this product is not successfully scaled to get it out to a broader group across the world. We will however still make low volume units.
The production process to scale is well understood in terms of injection moulding and printed circuit board production using a reflow oven etc.
The required equipment has been identified and a raw material supply chain already set-up and needs to be scaled-up to feed the higher volume production process.
Other Ways You Can Help
If you don not want to contribute you can help drive up sales volumes by hitting Like and subscribing to the YouTube video channel, this is the video where we show the unboxing and assembly of the units here:
https://www.youtube.com/watch?v=Rd1UKWHeALY
You can also share this campaign using the Indiegogo social media sharing tools with your friends and family, especially those who may be interested in making their own delicious Beef Jerky, Biltong etc and a saving heaps of cash $$$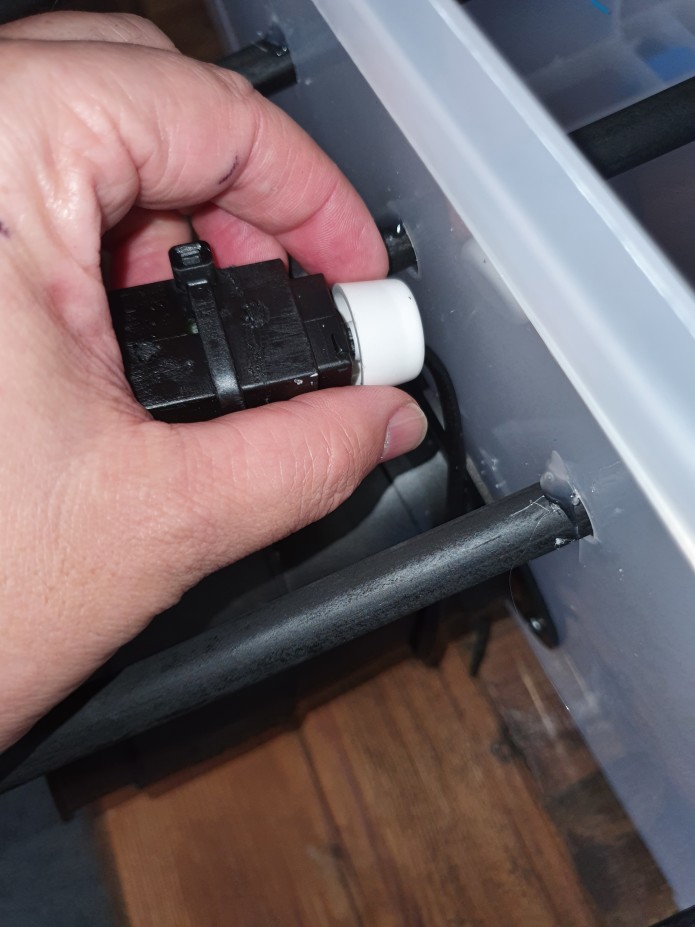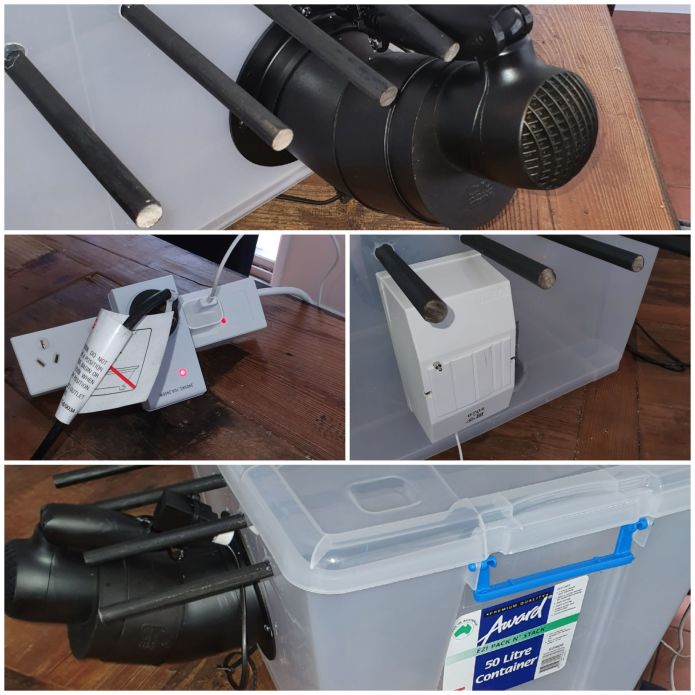 The webpage shows the progress and is key to getting those great umami flavours especially for Beef Jerky and Beef Biltong.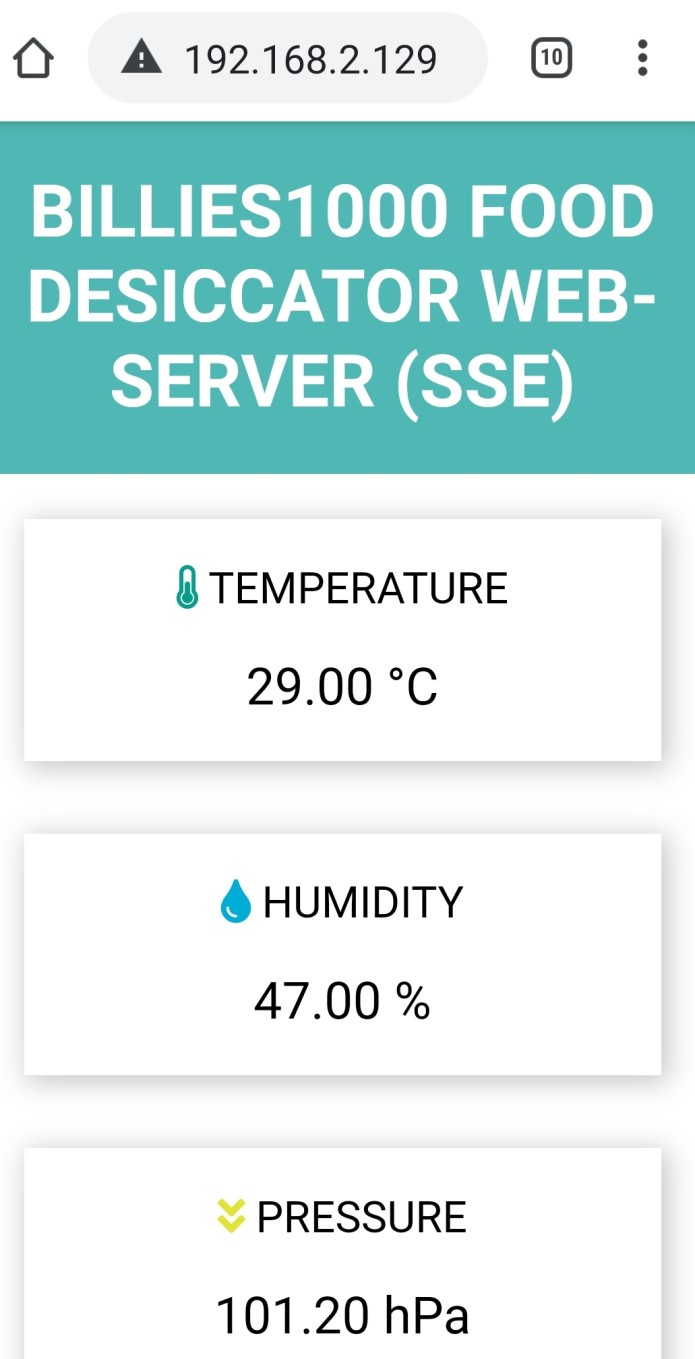 Some folks even find nice Wooden cabinets to attach their Billies 1000 systems to as below: