Blossum Mask Bag – Clean & Reuse your Masks Simply | Store, Carry & Clean disposable and fabric masks
Introducing Blossum Mask Bag
Clean and Reuse your masks – Simply
Blossum Mask Bag is a textile heating bag, the size of a purse. When connected to a power source, the heat enables to clean the masks that have been worn. Blossum Mask Bag can be used with both disposable and fabric masks. 
How It Works 
Simple, Quick & Effective
Benefits 

Anyone, Anywhere, Anytime can clean the masks they've been wearing. The Blossum Mask Bag can be taken anywhere, plugged into a powerbank, a cigarette lighter, a computer or a power socket.  

Using heat, at 70°C-158°F for 60 minutes, the Blossum Mask Bag cleans the masks from elements which do not survive at high temperatures. 

Disposable masks, which are widely used, are composed of more than 90% plastic and take up to 500 years to decompose. Reducing their consumption is becoming a challenge for waste management on our planet. Cleaning masks with heat also reduces the number of wash cycles for fabric masks.   

All masks can be used in the Blossum Mask Bag including disposable masks. After heating cycle, you will be able to reuse your mask. With the Blossum Mask Bag, save money by reducing your mask budget.
Technical Product Focus
A 3 Step Operating Process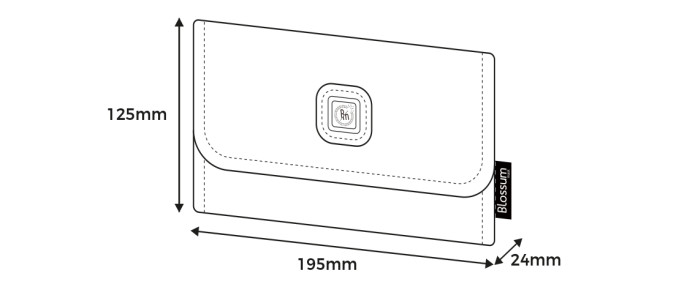 What's Inside ?
Uses microcontroller technology to manage the right cycle : reaching the desired temperature 70°C-158°F, heating cycle duration & temperature cooling.
Temperature sensor to guarantee inside temperature
Flexible NTC Thermistor IPX3 and Japanese aluminum foil with high temperature resistant silicone => allowing a flexible and long-lasting device

Which  power sources ?
 The Blossum Mask Bag  is equipped with a USB plug that connects to any DC 5V-9.5W 2A minimum power source :
Portable charger or powerbank
USB power outlet
Car lighter
Computer USB port

For which type of masks ?
The Blossum Mask Bag  is designed for all types of washable fabric masks and disposable masks such as 3-ply surgical masks, FFP2. (4 cycles recommended as the maximum for disposable masks – without overriding manufacturers's recommendations of use).

Is the Blossum Mask Bag Labelled ? 
All requested validation have been carried out. The Blossum Mask Bag is compliant with the following norms & marks : FCC, CE, RoHS, REACH

We Ran Tests
The effectiveness of the Blossum Mask Bag has been tested by independent laboratories.
Here are what the beta users think about their experience :
I must say thank you to Blossum Mask for their new invention. It just means I can give my lecture with my homemade mask on in the safe knowledge that I can talk to my students. I have another one in here already prepared for my next course so it means I don't have to be walking around with my bag full of masks or throw any away. So thank you very much Blossum Mask. Sam – English University Lecturer
Just a quick message about Blossum Mask Bag. This little pouch changed my life. Instead of taking a full box of disposable masks when I travel to Paris for business every week,  I just need to take 2 and this Blossum Mask Bag. Then I can respect the rules. That's it ! Easy, compact, I highly recommend it. Pierre-Yves – French Business traveller 
I've been using the Blossum Mask Bag for more than 7 days now and I am very satisfied with it. I use it when I need to clean my mask after wearing it for a while. Very good product. I recommend it to everyone. Arnaud – French Real estate agent
When you also travel as much as we do, there is one thing you must have in your backpack – the Blossum Mask Bag. It doesn't just save you money, you also do something good for the environment. So what are you waiting for ? Flynn – German Backpacker
I am currently working in Taipei and take the metro everyday. I have tested Blossum Mask Bag, it helps me to save my mask in a clean and safe place. I feel it is a great product. Julie – Taiwanese metro user
Hi, I am Pablo, bar owner. We have been using lots of masks. But we have been trying the Blossum Mask Bag for a week, it truly is a money saver and it is also better for the planet. Pablo – Chilean bar owner
Blossum & Totem tech Story
Use technology to support well-being and health – each and every day
The Blossum Mask Bag is the result of a Franco-Taiwanese collaboration.
We constantly think about what society and people need using the skills and experience available within our team. In late March 2020, the situation was getting very serious, masks and other PPE were in big shortage. As we had experience making heating products before (Totem Tech) & anti-pollution masks (Blossum), we came up with this idea of using heat to clean masks. 
The original idea was to extend the use time of each mask & to store it in a safe place between use.
The Team
An international team with their own specific competencies

Rewards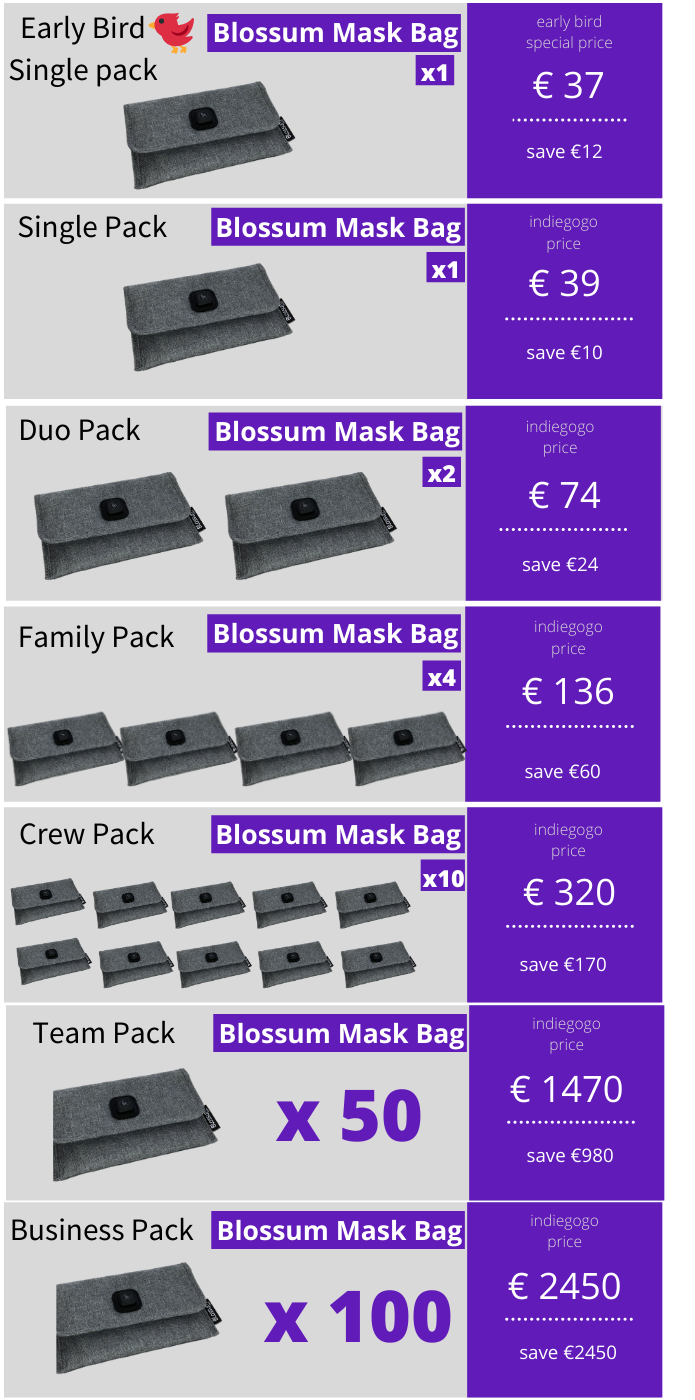 IMPORTANT : Our products are set to go through certification for commercial release in the US, Canada and European countries requiring FCC or CE certification at this stage. Therefore, we can only ship to these locations. We sincerely apologize if your country is not listed yet, but ultimately we will open to more countries. To the rest of the world, we are coming soon.
Next Steps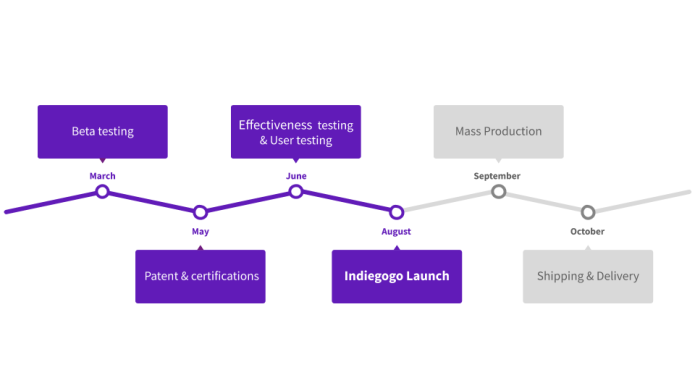 Why Indiegogo and What if we raise more than the initial goal ?
This Indiegogo pre-sales campaign will allow us to start mass production.
At this stage we have invested in R&D, patent, certification & effectiveness testings. Our products are set to go through certification for commercial release in the US, Canada and European countries requiring FCC or CE certification.
Therefore, if we raise more than the initial goal, we will start asap additional certifications to be compliant with Asian norms and in a second step develop a colour collection of Blossum Mask Bags.
Risks & Challenges
Parts and suppliers are already in place and a trial manufacture has been conducted. Once the mass production begins right after the campaign is over, we will work closely with the factory to ensure that production is at capacity to minimize any possible risk of delay. 
However, it is important to understand that unexpected things may happen along the way, which are very hard to predict now. For example, delays in shipping can occur due to external factors  such as travel restrictions.
So we feel that the risks of us not delivering a great working product as shown above, are close to zero. We are extremely confident and dedicated in delivering our products to everyone who needs one.
If any delays were to occur due to such circumstances, we will definitely consistently update all our backers with full transparency and of course, aid you with any of the doubts you have along the way.
Other Ways You Can Help
Some people just can't contribute, but that doesn't mean they can't help:
Make noise about this campaign.
Feel free to share it on your social accounts!
Thank you so much for your great support!