BLUEGRASS CREAMERY: Grassfed Soft Serve in C'Ville | Organic, grassfed soft serve and vegan ice cream + GF cones + community + art bus + happiness + you!
Table of Contents
Our Story
The Goods

Ingredients

Funding & Stretch Goals (with special stretch rewards to go along)
Pledging & Perks (i.e. ice cream!)

Pledging for Out-Of-Towners
Referral Contest
T-shirt Design

Our Impacts

Community & Lawn Games
Sliding Scale Pricing
Profit Sharing & Charitable Contributions

Risks
Other Ways You Can Help

Hi! I'm Graham. I love ice cream.  But don't we all, really?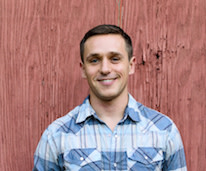 I became inspired to open an ice cream business after visiting Ireland in the spring of 2017. Irish ice cream (mostly soft serve) is incredible. It's because all the dairy in Ireland is grass fed. I meant all of it. I couldn't bear the idea of leaving grass-fed ice cream behind in Ireland; I wanted to share it with my community. So I decided to make it happen. Soon after, I left a ten year career in sustainable food and online grocery and Bluegrass Creamery was born.
I called upon an amazing crew of friends and supporters, and after a few months of work over the summer and fall of developing recipes (several hundred tests) and piloting production, we're ready to begin slinging cones full time at IX Art Park in Charlottesville come early April.
But now we need your help for our final push. We're asking for your support by buying ice cream and other goodies in advance. No gimmicks here! Every pledge is backed by real product at retail price!
Your support now is an essential ingredient to bringing Bluegrass Creamery to life, and with it, healthy, out-of-this-world ice cream for everyone, regardless of dietary needs.

As we first launch, we're keeping things quite simple. We believe the wholesome quality of the products and their ingredients will complement that simplicity to delight just about everyone. With time, we hope to add more flavors, toppings and products as customers demand and our little stand will allow.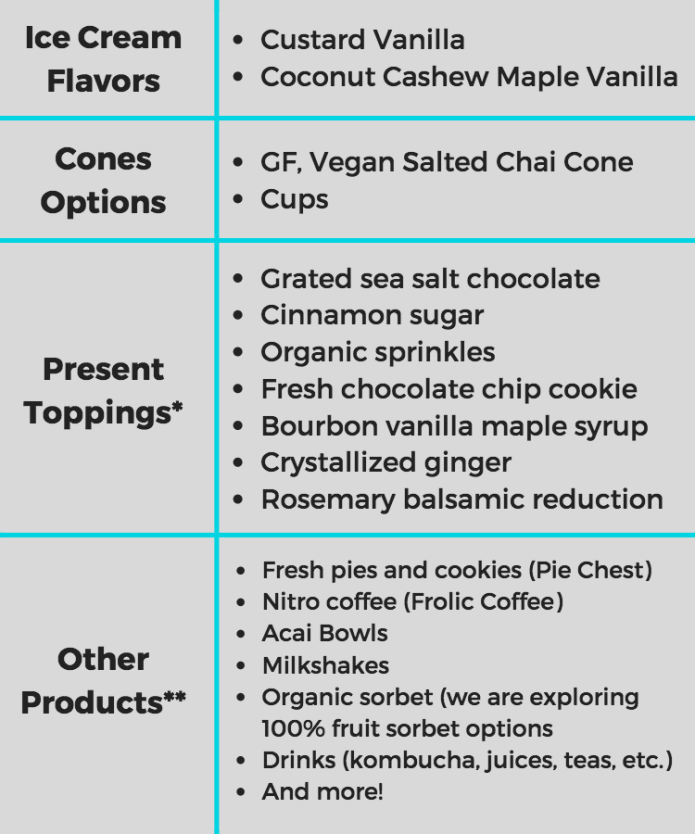 * Want more topping choices? See our stretch goals, below! You can also tell us if you want other topping choices. We would love to hear from you!
**We plan to phase some of these products in over the first six months of operations.
Ingredients
We use simple, wholesome recipes with as few ingredients as possible, including:
Grassfed and organic milk and cream from Trickling Springs Creamery (from Maryland and Pennsylvania, which is as local as you can get for grassfed organic)
Organic, homemade, nut milks
Organic, fair-trade, raw, unrefined cane sugar
Organic maple syrup
Organic and/or pastured eggs (local, when possible)
We also use organic and local ingredients whenever possible in our flavorings, toppings and cones.
Please find below a list of ingredients in our ice cream and cones: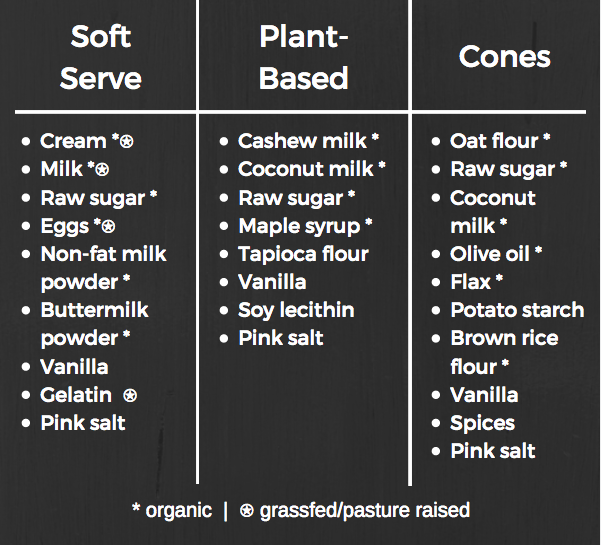 We can launch this business with $5,000 of pre-sales community support. This will cover launch cost such as:
First months rent at IX
Starting inventory
Some important remaining mechanical work on the bus and
A few new pieces of equipment we need
Stretch Goals
While $5k would be dandy, our sincere hope is to raise $10 -$15K. As a result, we're implementing at least two stretch goals (if we break through those two, we may well add more!). If we raise more up front, it will allow us:
A healthy operating cushion for our first months
To hire help and expand hours
Add more complexity to our business in the form of added toppings, etc.
Room for the delightful marketing we've dreamt up, and random acts of kindness for the community
See here our stretch goals, and the super-special universal perks (everyone wins!) they unlock:



Pledging is easy! Just look to the right. We've got a variety of exciting perks available to you. Most of it is ice cream. Every pledge (except for "big thanks") comes with real stuff attached at retail prices. Our ask is simple: believe in us enough to help us make this real and you'll receive, in short order, first dibs on the best ice cream in town, as well as scoops and heaps and swirls of our gratitude.
Important notes:
All cones referenced in perks are defined as our "little size."
We will ship/give you tokens equal to the amount of cones noted in your perk. You can then exchange these tokens for cones.
Everyone who pledges at any level will be automatically entered into a drawing for 1 month of free ice cream.
We hope to ship all pledges in late March or April. If you live in Charlottesville and would like to pick your pledge up at the stand during our opening week, we can do that too! It's probably also the fastest way to get your whipped products.
Shipping will cost either $1 or $2, depending on the pledge.
Pledging For Out-Of-Towners
Do you want to support the Bluegrass Creamery vision, but don't live in Charlottesville? The ice cream cones included in your pledge tier can be donated to our pay-it-forward fund. These cones will be given when someone has had a terrible day — the kind of day when an anonymously gifted ice cream cone might make a real difference.
We are also considering shipping ice cream if we get enough interest.
Referral Contest
We have launched a referral contest so you can enjoy free ice cream! And recently, we updated the contest rules to make it even easier to get free ice cream!
You can participate and win in two ways:
For every single friend you refer who back the campaign, you'll get an extra ice cream cone added to your perk for FREE. i.e. if 3 of your friends back us,  you get 3 extra cones (limit 5 extra cones per referrer).
The person who refers the most backers will win 1 free month of ice cream!
In order for us to track your referrals, you must:
Sign into Indiegogo
Visit the Bluegrass Creamery Campaign
Use the sharing tools near the video, just to the right of the "BACK IT" button

You can see your custom link by clicking on the link icon, right next to the mail icon  (your referrer ID is the set of numbers after the bluegrasss/x/
For more information on how referrals work, please read this article on Indiegogo.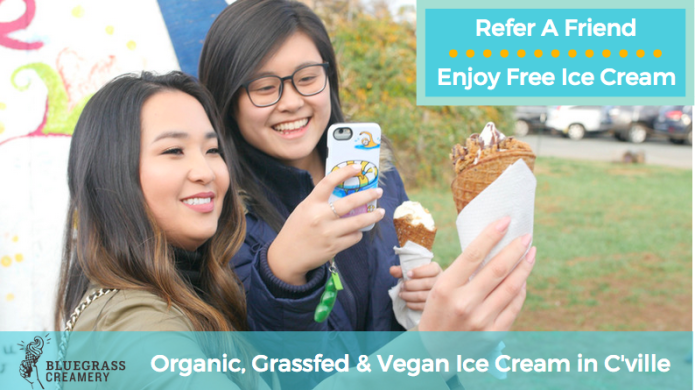 T-shirt Design
This is our intended t-shirt design, if you are curious. Give us feedback!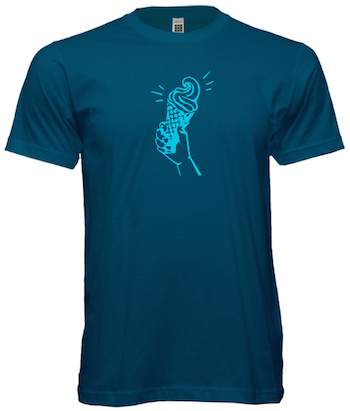 We believe our community wants healthier local ice cream options. We know that Charlottesville is missing nut-milk based vegan options. When we say "our," we mean you, too. Your contribution will help bring something new and delightful to the community.
Community & Lawn Games
Beyond the product, Bluegrass Creamery is excited to take up residence at IX Art Park and do our part to make the art park vibrant. As the only business actually out on the lawn, we'll be invested in making it a marvelous place to share. You bring your friends for a day at the park, and we'll provide the ice cream and games, from bocce ball to cornhole and more.
Sliding Scale Pricing
We also believe in bringing people together from all walks of life. That's why we're choosing a sliding scale pricing model. Ice cream is beloved by almost everyone, and we choose to make it accessible. By supporting us up front, you'll help make this dream a reality. Below, please see an example of our planned sliding scale pricing.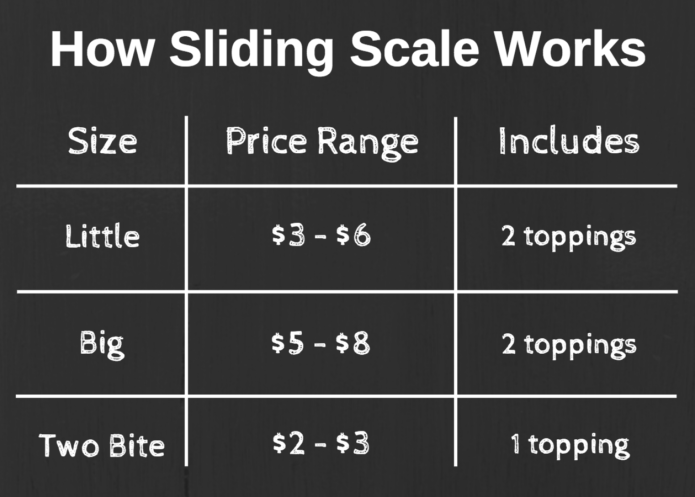 Profit Sharing & Charitable Contributions
In addition to being a CSB (community supported business), Bluegrass Creamery believes in cultivating an incredible place to work, and giving back to the community. A portion of all net profits will be donated to local charitable causes, while another portion of profits will go back to employees through our profit sharing program.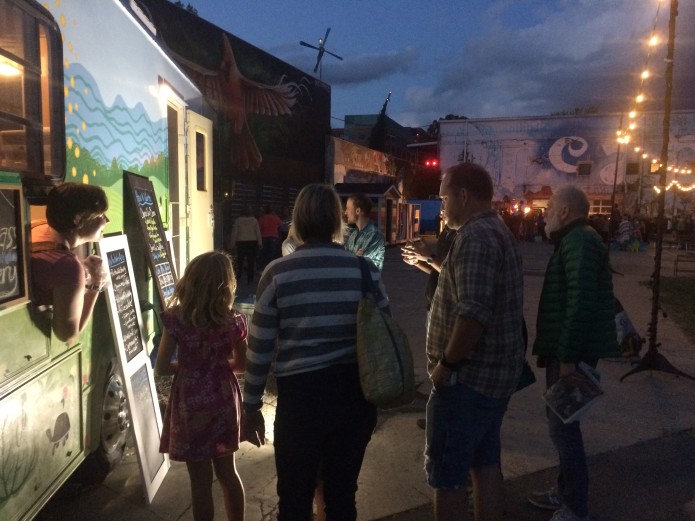 Risks & Challenges
This is is a CSB (Community Supported Business). The success of this business depends on community support. We are choosing to use very high quality ingredients and provide ice cream at a comparable price to other places in town. People showing up to play frisbee in the art park and picnicking with ice cream will make it all work, but there is always risk to a new venture.
Some specific foreseeable risks include:
Not raising enough to cover ongoing operating costs combined with slow sales for many months
Learning the ropes as to changing sales, week to week and across seasons
People taking advantage of the sliding scale without need
Too much demand out of the gate, resulting in our being swamped
Worldwide vanilla shortages
Zombie apocalypse
The good news is that our team has well over a decade of experience in R&D and operations in both small and large companies, from building teams, to managing costs, to scaling production to systems design, implementation and optimization. This isn't our first rodeo, as they say. We've intentionally chosen an simple business model (for example, we're launching with only 2 types of ice cream) to help us deliver an incredible product and service from the start. Our team has has also worked on a number of successfully funded crowdfunding campaigns before, raising from tens to several hundred thousands dollars. We have a high level of confidence that Bluegrass Creamery will launch and we will deliver you an amazing product.
Other Ways You Can Help
Share our crowdfunding campaign on social media!

Indiegogo has some sharing buttons. Try 'em!

Tell a friend about us!
Come visit in April! Bring a friend!