BLUVY – The Ultimate Shower Gadget | Showering Reinvented | Fogless Mirror | LED/UVC Lights | Bluetooth Speakers | Apps & More
If you missed the video, scroll up and check it out.
Want to experience showering like never before?
Upgrade your shower with BLUVY, the ultimate shower gadget! Whether you want to get the best shave of your life, zap away that nasty pink mold at the bottom of your shower, jam out to your favorite tunes, or contemplate your life decisions while watching Netflix with BLUVY, you can do it all! 
              

New slim design!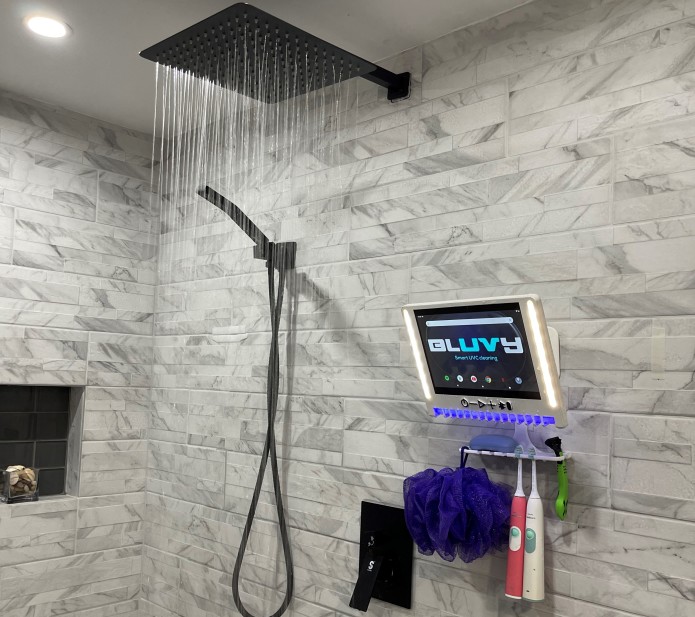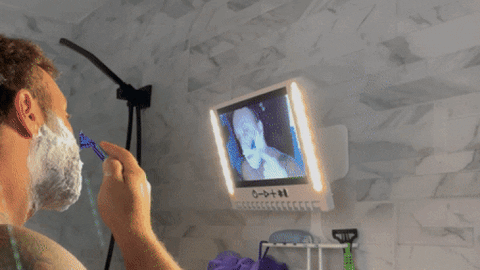 Get a clean shave in a hot shower
without having to wipe a foggy mirror! 
The smart way to shave in the shower, with a multi-function display.
 The electronics on Bluvy keep the display warmer than your bathroom mirror, the water vapor condenses on your mirror but leaves Bluvy fog-free. 
 Unlike mirrors, instead of reflecting light, the display emits light and works much better in foggy environments than mirrors. 
 Zoom in for a closer look.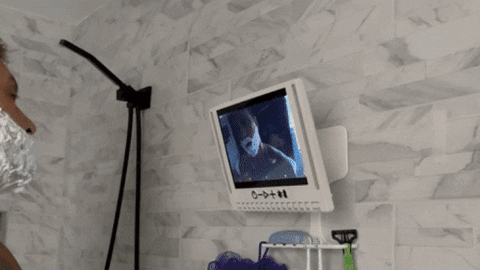 Does your shower have good lighting?
 If not, you will love to shave using Bluvy's LEDs. 
Powerful LED lights that give you a clear view.
So bright, that it needs to be dimmable.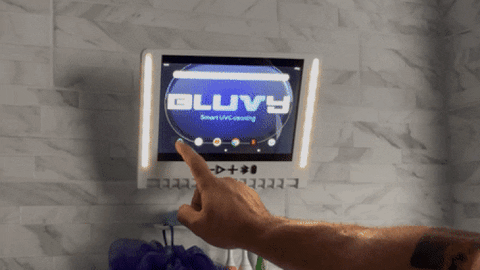 Download any of your favorite apps available on the Google Play Store.
3GB RAM, 32GB Storage, 1080P Full HD Display, Pie 9.0, Bluetooth 5.0, 5G Wi-Fi.
10-inch touchscreen.
Create the ultimate shower experience​.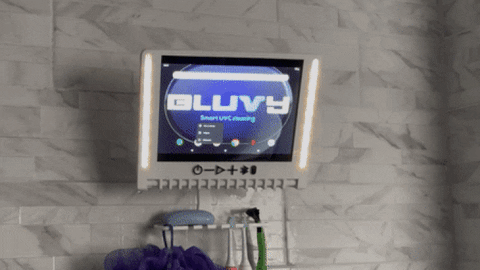 High-Power Dual 3w Drivers
 Perfect for shower singers and dancers. 
Unbelievable Sound power with enhanced bass.
Enjoy your favorite music or podcast in the shower.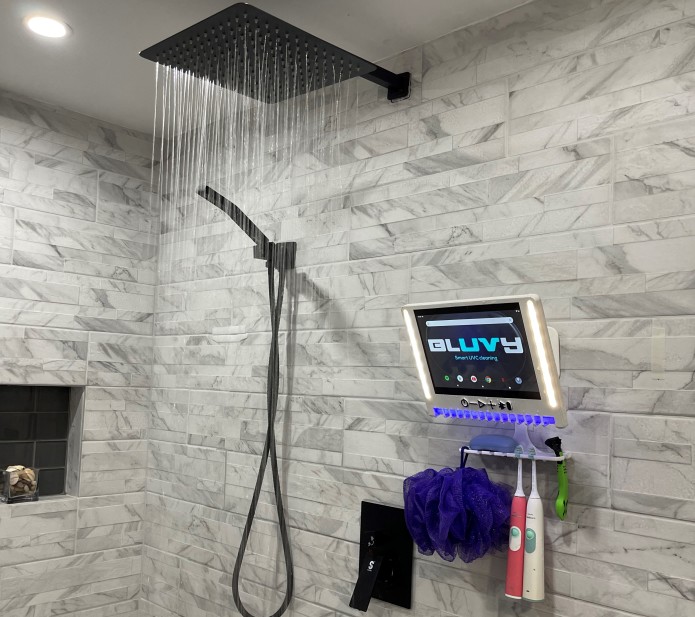 Control Bluvy with your voice.
 Just say "Hey Google" play my music or any other command.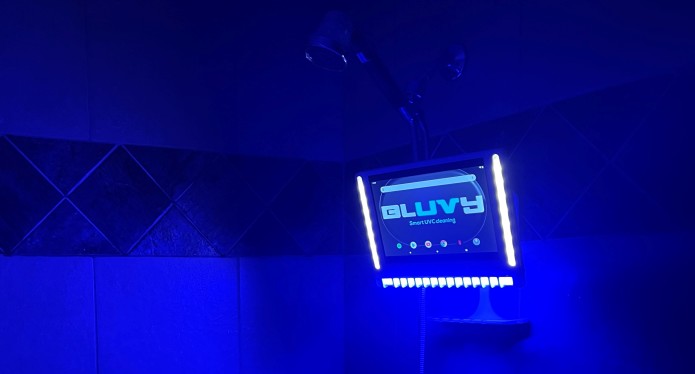 Powerful UV-C Light and Ozone Technology: Sanitize using short-wavelength ultraviolet light, with a press of a button.
 The Ozone produced by the UV-C light cleans corners and curves difficult to reach and deodorizes the air. 
Press the on / off button, 30 seconds later the lamp starts working, 30 minutes later the lamp will turn off automatically.
Long life, the UV-C lamp theoretical life reaches up to 10000 hours. 
Featured on




YOU WILL GET THE NEW BLUVY SLIM!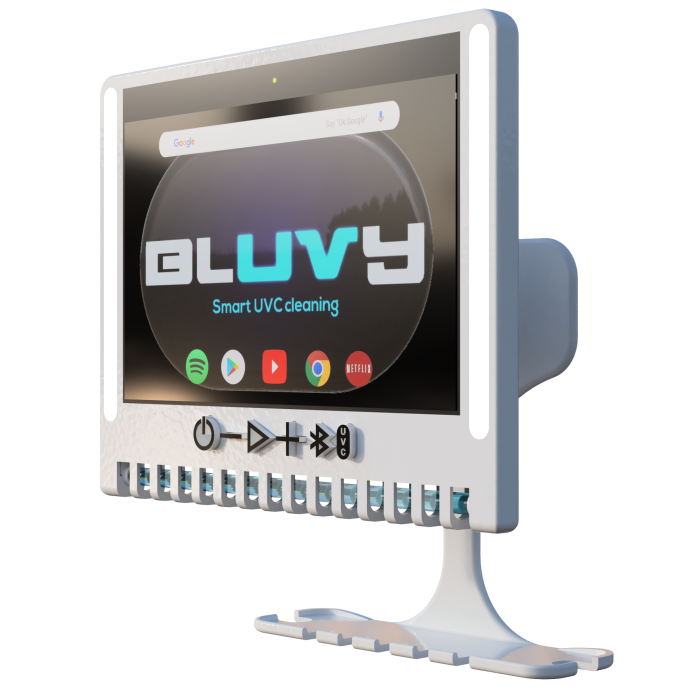 Same features, slim design!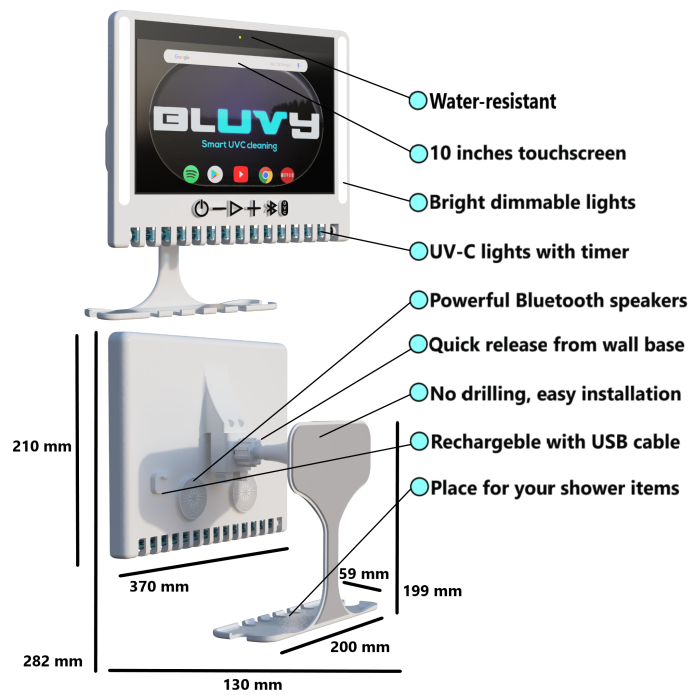 Rechargeable Lithium-ion battery. 
Over 20 hours of battery life.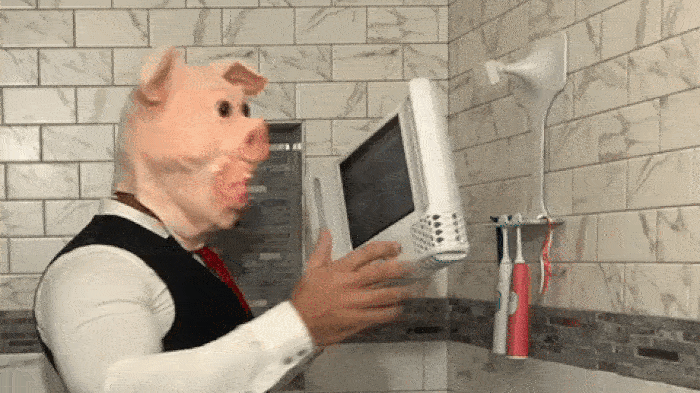 Easy installation, no drilling required.
 Bluvy comes with double-sided adhesive pads on the wall base mount. 
 Quick-release from wall base mount for recharging. 
Upgrade your shower time routine.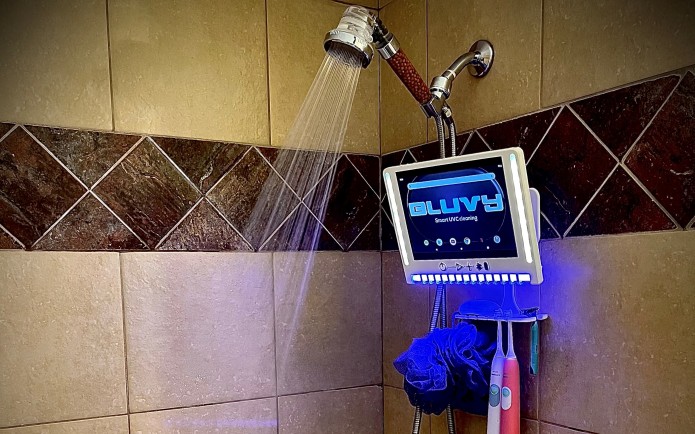 Prototype notes.
The photos you see here are of the prototype. Improvements in the production model will be made.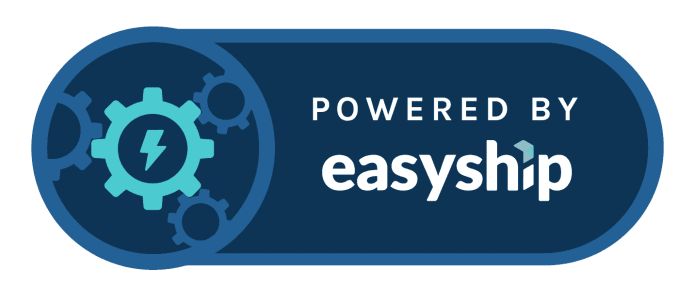 We're pleased to let you know that we've partnered with a global fulfillment and logistics company, easyship.com who is very experienced at fulfilling large crowdfunding orders.
 All shipping, taxes, and fees will be collected separately via Backerkit once the campaign is over.
 The following table assumes the purchase of one Bluvy package. This is a professionally prepared estimate and prices may go up or down depending on your choice of accessories and global shipping rates when we get to the fulfillment stage. We will strive diligently to achieve the right balance of shipping speed and cost efficiency for our backers.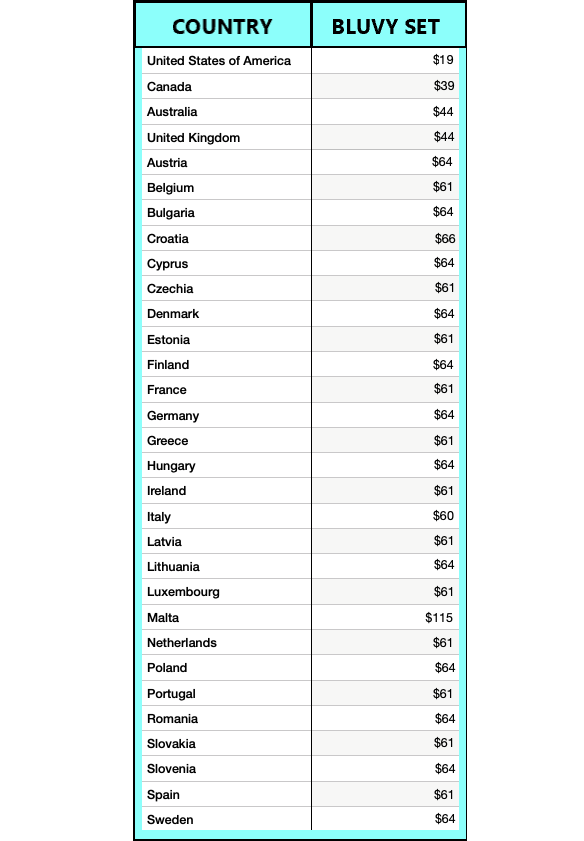 We ship worldwide, if your country isn't listed we will still ship to you at the lowest possible rate we can secure.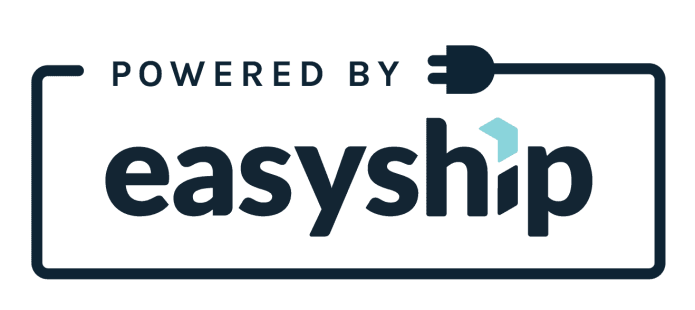 Risks and challenges
Our goal and mission are to bring not just this product to life, but many more, and we want you to be on this journey with us. However, no project is without risk, especially if it involves unexpected occurrences. Should a problem arise that may put us off track, we will make sure to fully brief you of the situation through the backer updates section, act promptly to solve it, and brief you again in detail of the outcome. Some of the challenges we anticipate are mass production and delivery. We have a well-prepared logistics structure for mass production to fully deliver on our promises, however, there is always a chance to run into challenges when it comes to handling international orders.