Bobelo: The 1st Self-Carbonating, Healthy Beverage | Carbonation reimagined to be healthy, flavorful & sustainable with a pressure regulating bottle.
Bobelo's patent pending self-carbonating formula has zero sugar, zero artificial ingredients, low-calories, and is packed with vitamins and electrolytes to fully replenish and refresh! It also comes with a reusable, patent pending pressure-regulating bottle to keep your Bobelo beverage carbonated and cooler for longer.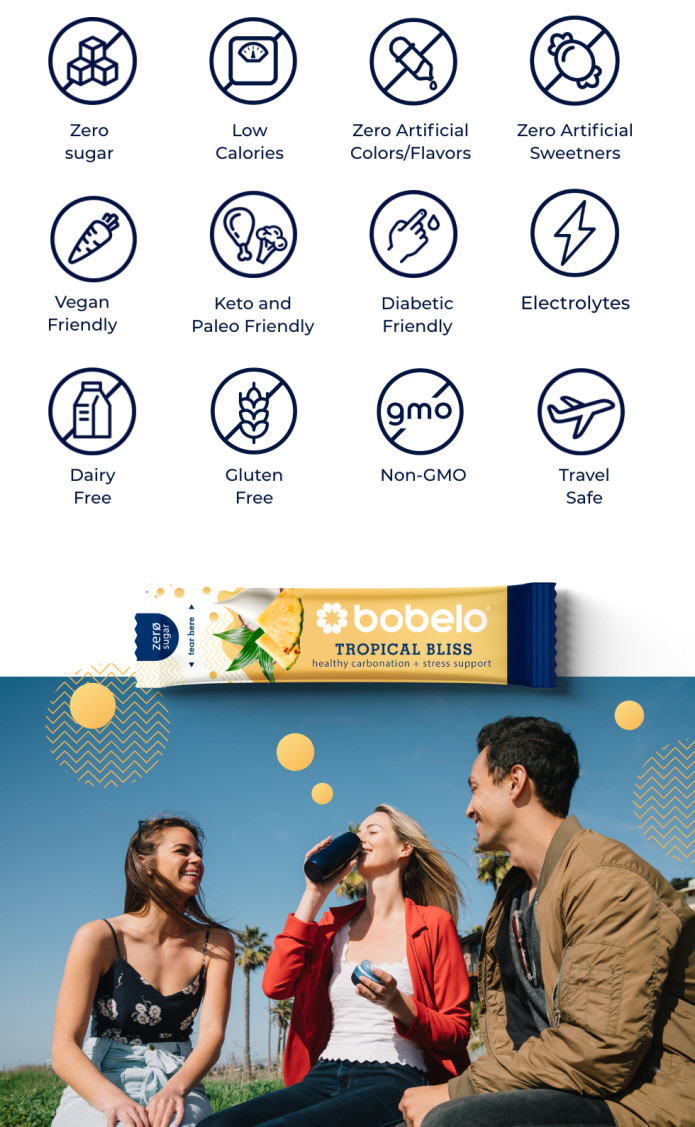 Bobelo is the first ever drink mix to create real carbonation from powdered ingredients. No cartridges or machines necessary. This isn't your grandma's alka seltzer, an "effervescent" vitamin packet, or an excessively carbonated drink that burns in all the wrong ways. It's fresh and smooth carbonation from your pocket, wherever you go!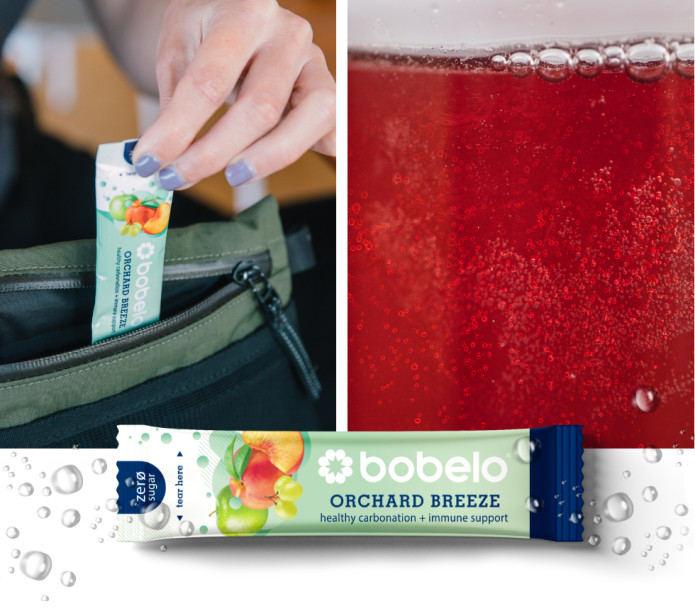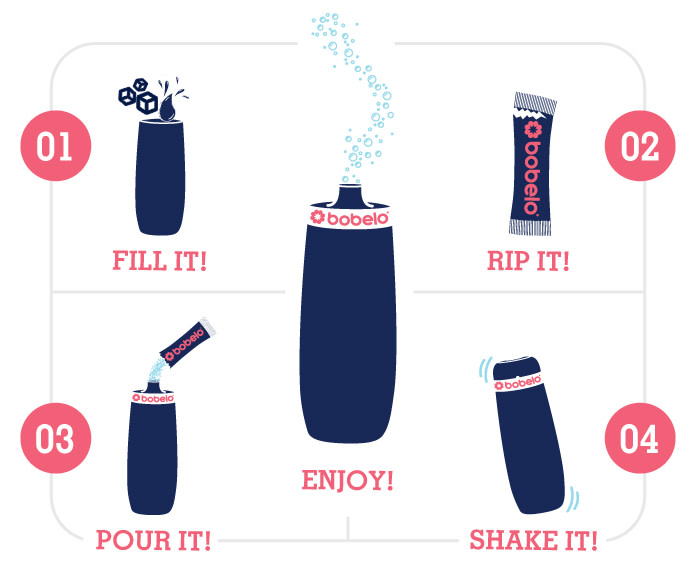 Bobelo reinvents how you hydrate with the first ever patent pending self-carbonating drink mix & reusable bottle.
Soda is killing your waistline and sparkling water is dulling your taste buds. It's too much of a sacrifice.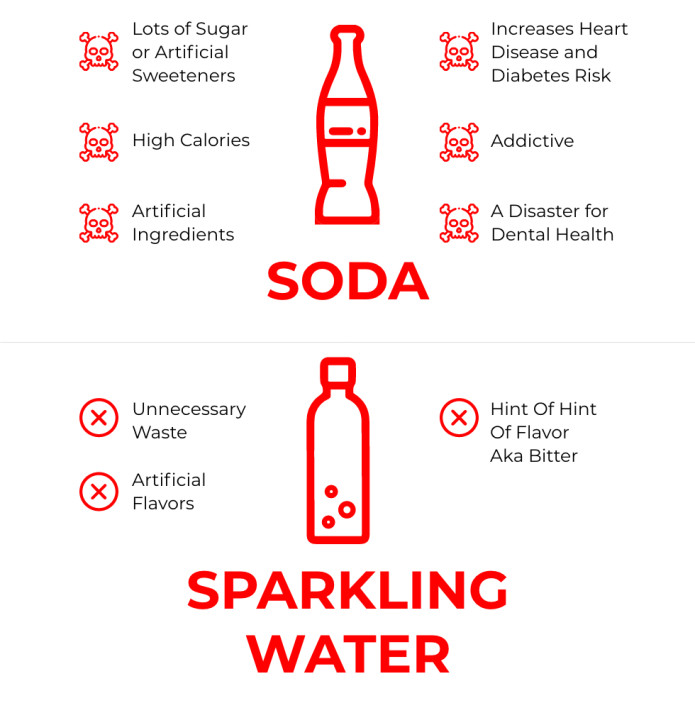 Bobelo is healthy and bursting with fizzy flavor. We don't drive a water truck near a lemon tree and call it lemonade. No flavor "hints" or "essences" here– all natural full flavor and nothing else.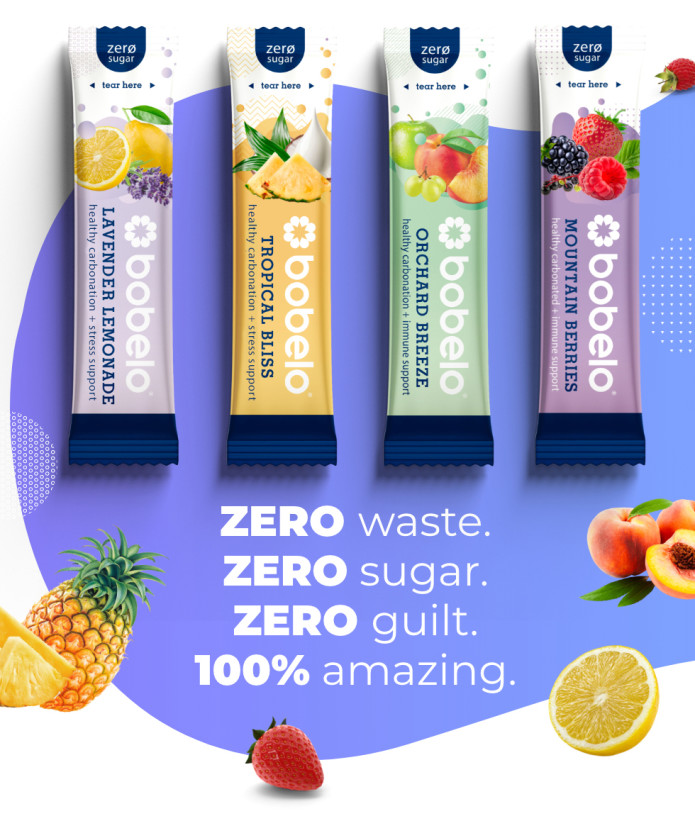 Loaded with hydrating electrolytes, healthy ingredients & bursting with flavor from real fruits & botanicals, Bobelo keeps you hydrated wherever life takes you. ZERO waste. ZERO sugar. ZERO guilt. 100% Amazing.
As a certified benefit corporation, it is ingrained in our DNA to do good for people and the planet. We only create and sell products that fit within that mission.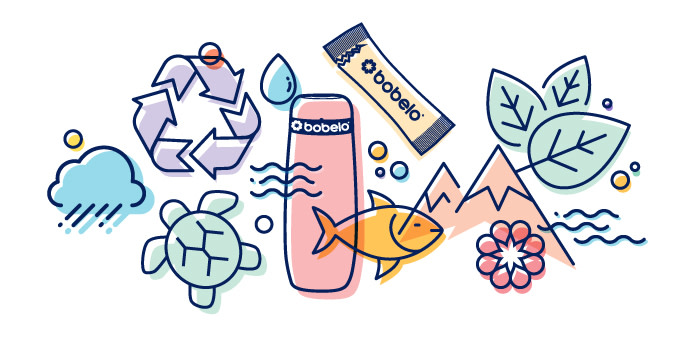 We are a B-Corp Certified company because we believe in using business as a force for good.  We are devoted to making a difference for people and planet.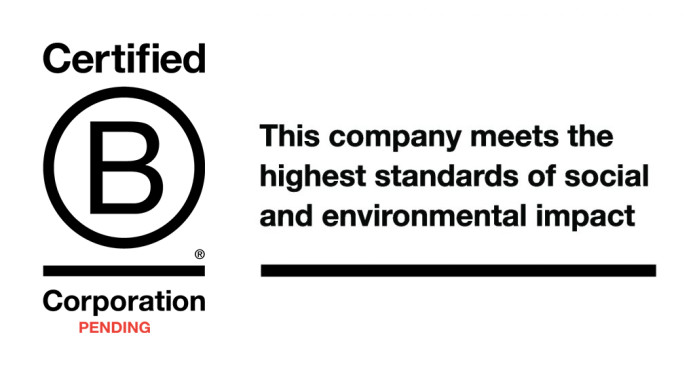 We partner with 1% for the Planet to preserve the wonders of our Earth for current and future generations. We're also working with Utah-based Recyclops to create our own consumer recycling program to help us achieve zero waste as a company. 

Whether it's a bottle or a can, most beverages come in single-use containers. Take a stand against single-use waste with Bobelo's reusable water bottle and recyclable stick packs.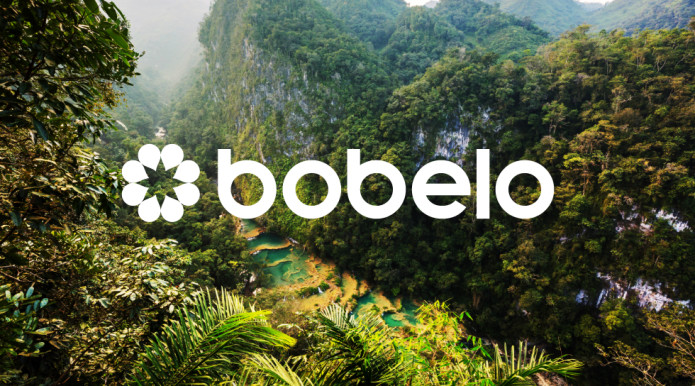 Sodas, sparkling waters, and other carbonated beverages on the market don't hydrate well because they are either full of unhealthy ingredients or missing key electrolytes.
Bobelo takes the chore out of staying hydrated.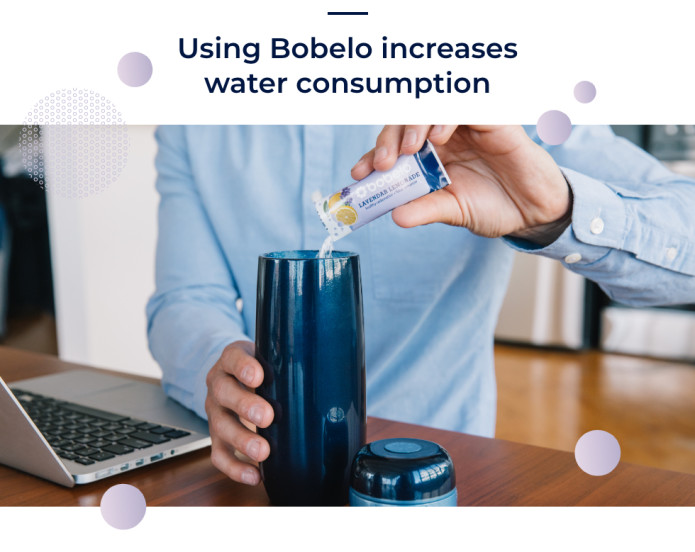 Carbonated water is known to reduce sugary soda intake and increase the average American water consumption by 43%. In addition, what makes Bobelo a great hydrating option is the multitude of electrolytes in each packet. Each pocket-sized pack is loaded with as many electrolytes as leading sports drinks without the artificial junk, sugars, or plastic waste.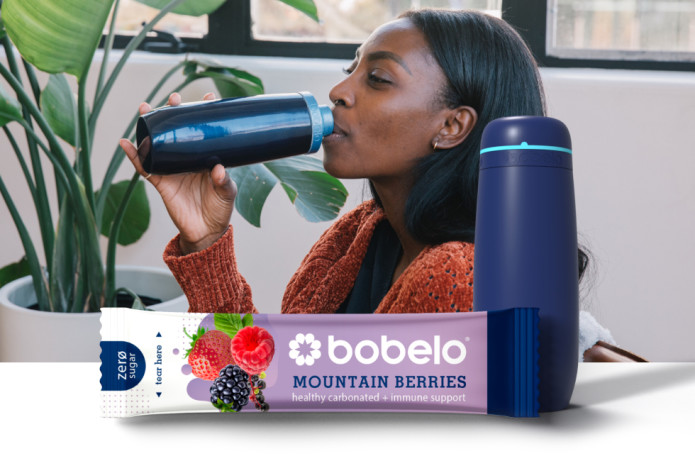 Bobelo is rich with vitamins, minerals, and made using only the highest quality real fruit extracts. We believe in being transparent about our drink mixes and that begins with our ingredients.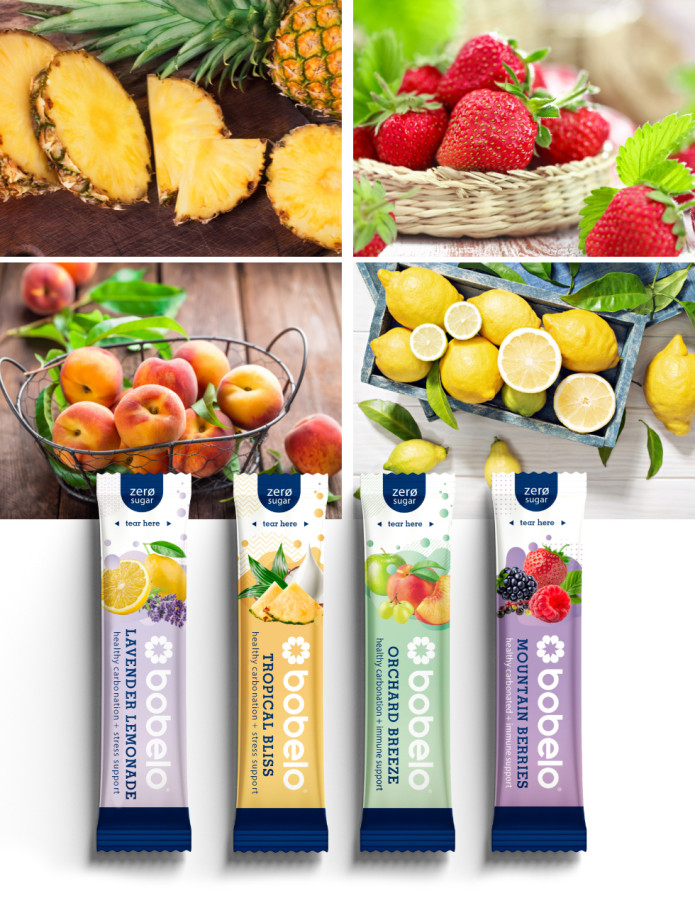 We believe in flavors you can actually taste. These are the first four flavors we are introducing–but we are just getting started.


The Bobelo bottle is patent pending and uses cutting edge technology to keep your beverage fizzy and cold for up to 24 hours. It regulates the amount of pressure in your bottle, keeping it carbonated and fresh for the optimal experience.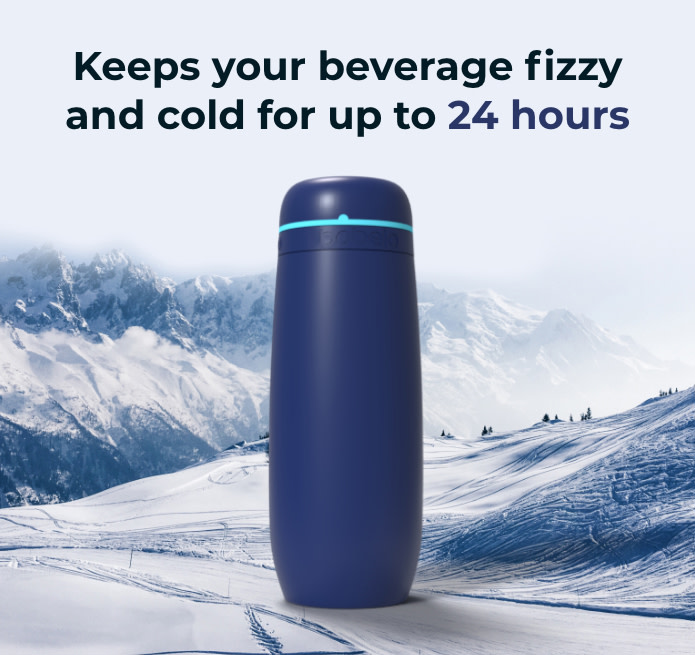 Creating fresh carbonation builds pressure. Plastic water bottles will expand and potentially pop the lid due to this pressure, not to mention the amount of waste one more bottle creates. 
Bobelo's lid was invented to maintain and regulate carbonation. So whether you're flying, hiking, exercising, or at work, Bobelo was made for any pressure you put on it or in it.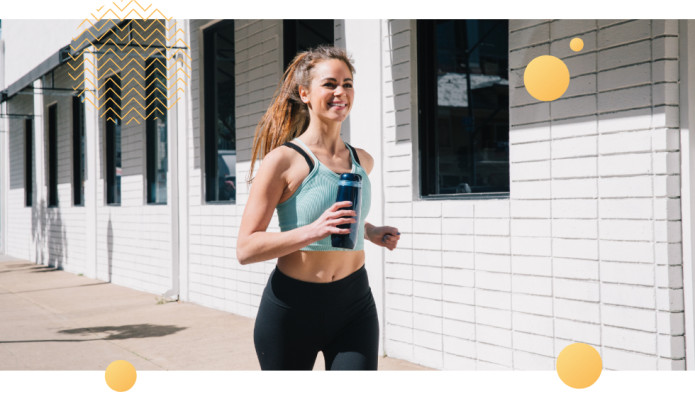 Using consumer preferences as the backbone of design, the bottle was made with only the best quality materials. It is a double insulated, high-grade stainless steel bottle with food grade silicone for the finest hand and mouth feel.
Thoughtfully designed to fit in almost all cup holders, pantry shelves, bags, and hand sizes, no detail was left unexplored giving you the best possible drinking experience.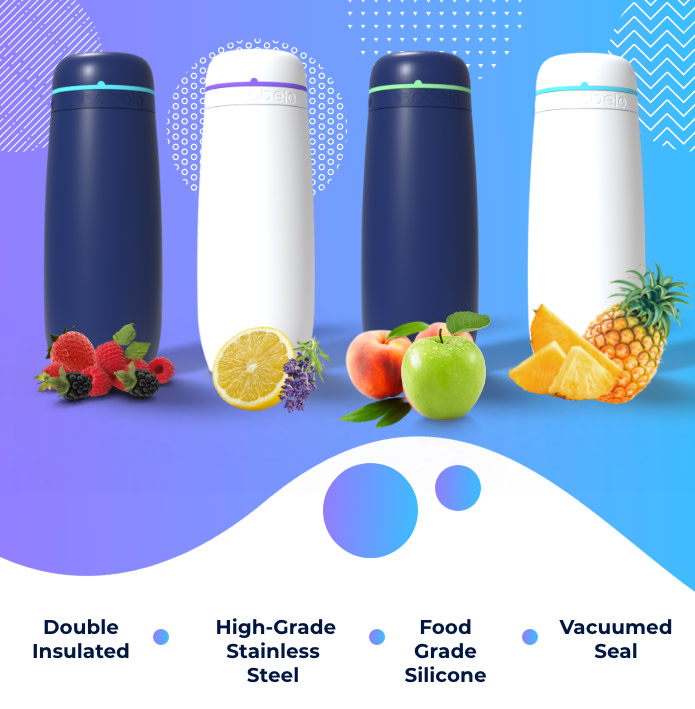 Forget lugging around back-breaking cases of water, sparkling water, or other clunky beverages. Carrying beverages in bulk has never been so simple or lightweight. Easily fit 30 packs of Bobelo on your shelf, in your pocket, or in your backpack. In fact, a 12-pack of sparkling water equals 722 Bobelo stick packs.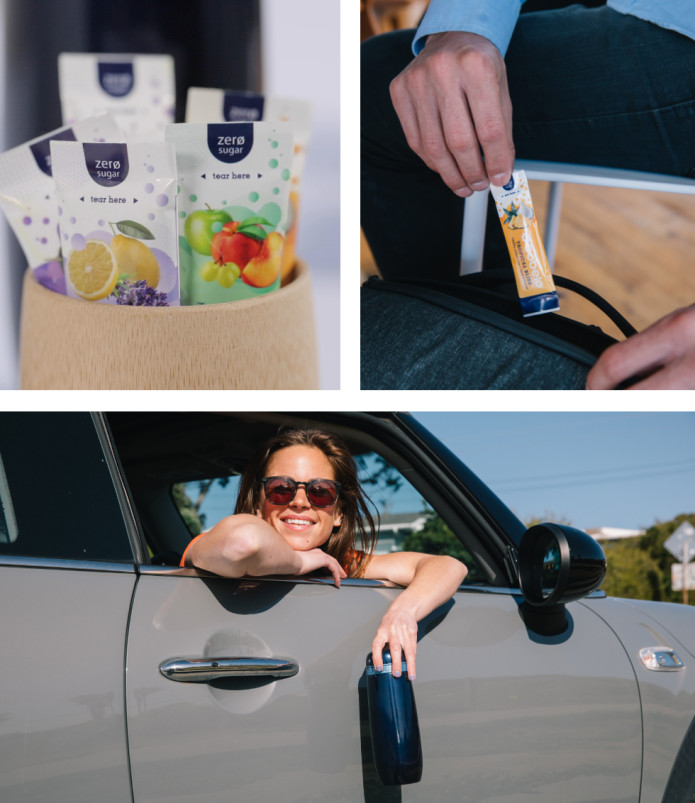 Bobelo easy-tear stick packs are 97% less plastic compared to bottled beverages, and are easily recycled through Bobelo's custom in-home recycling program.

With the Bobelo bottle and carbonated mixture, you can change the way you drink your bubbles forever. Live better with this healthy, hydrating, full flavored, self-carbonating, and sustainable beverage and stop sacrificing with unhealthy soft drinks and tasteless alternatives.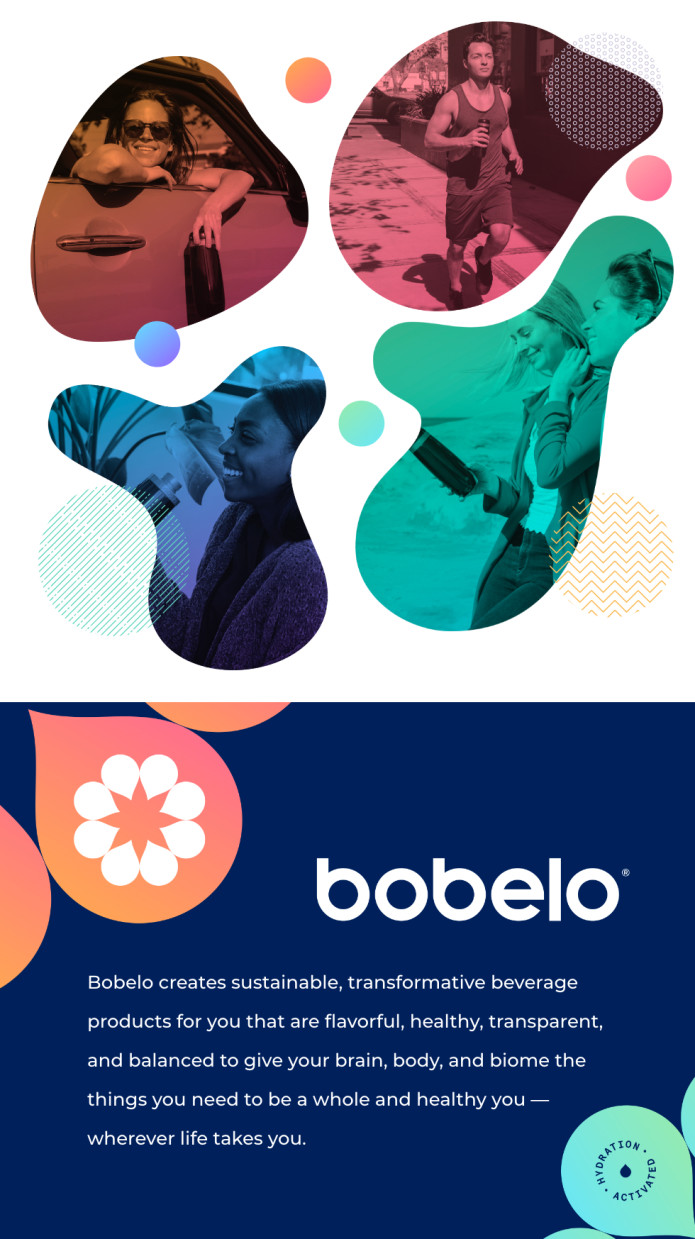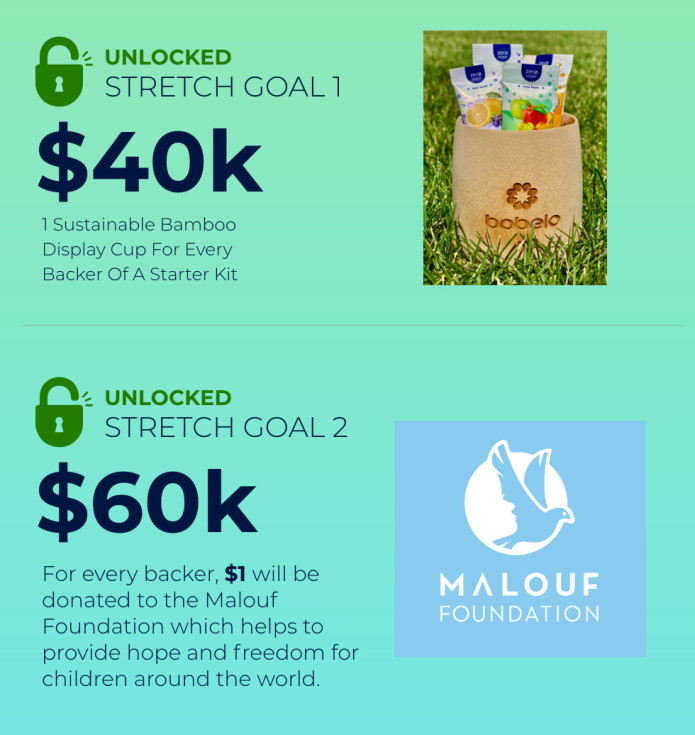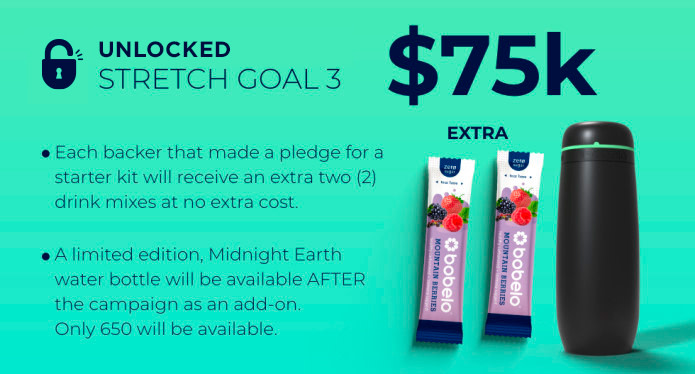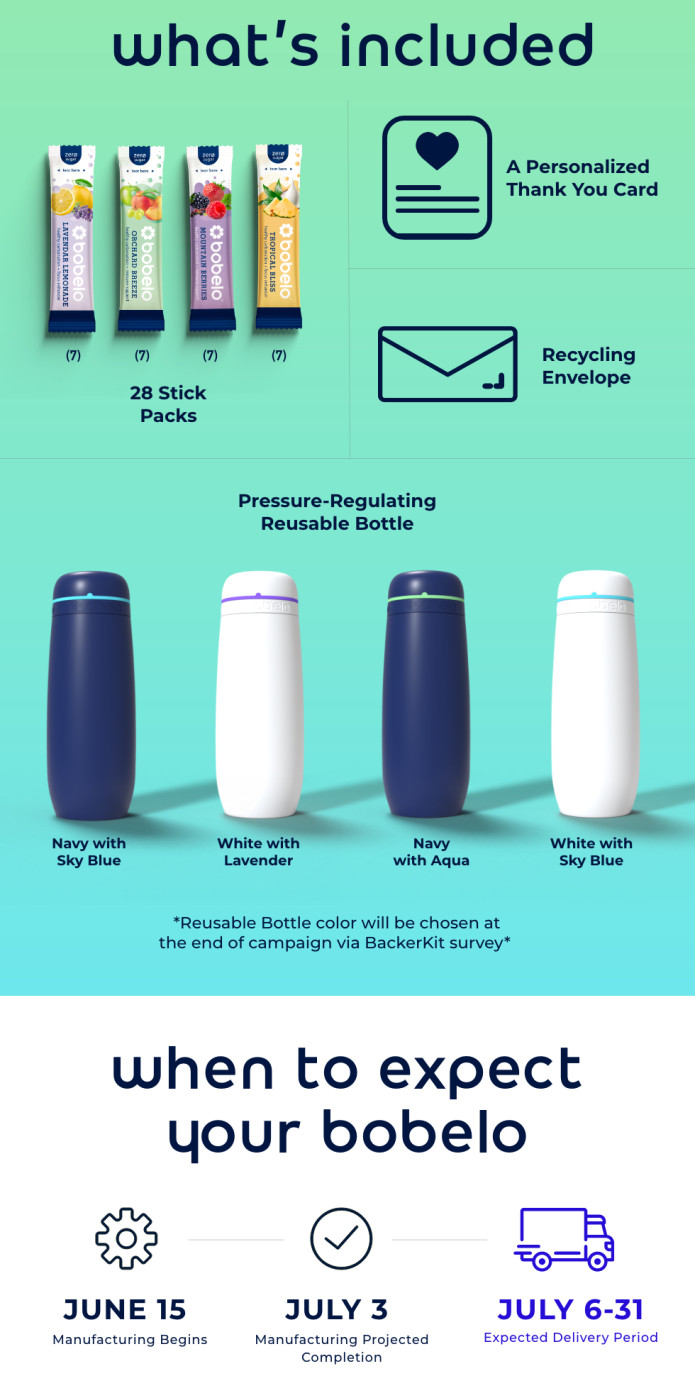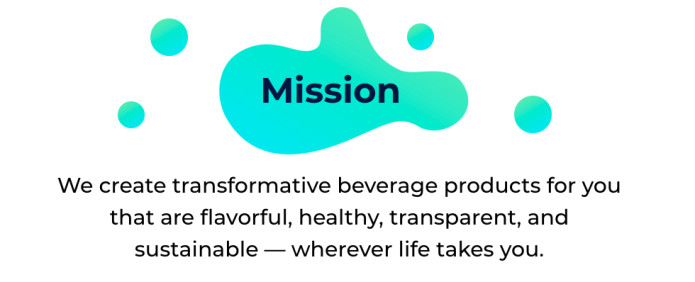 Hi, I'm Stephen, founder of Bobelo. A few years ago, I discovered a life-changing problem while seeking tranquility in the lush Olympic Mountains. During a hike to a breathtaking waterfall, I noticed plastic water bottles and aluminum cans littering the area. It hit me pretty hard how the beverage industry I was working in was damaging the environment and I immediately became determined to make the industry better.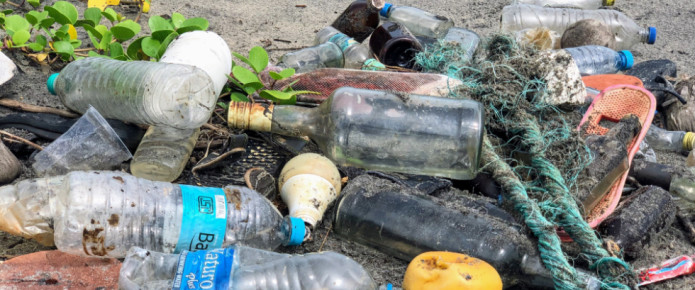 After extensive research and contemplating ideas and solutions, I realized the industry was not only unsustainable, but typically used lower-quality or unhealthy ingredients that lacked transparency consumers wanted and deserved, and there was no way to fix the problems I had discovered from within the industry as it was structured. I was determined to create an earth-friendly, healthy, and flavor-bursting product that people could trust and enjoy.  Shortly after leaving the beverage company, I sought out like-minded people and partners and spent thousands of hours developing what I believe will be the beverages of the future and hopefully a catalyst for change to put people and the planet first when delivering beverages consumers deserve. Voila, Bobelo was born.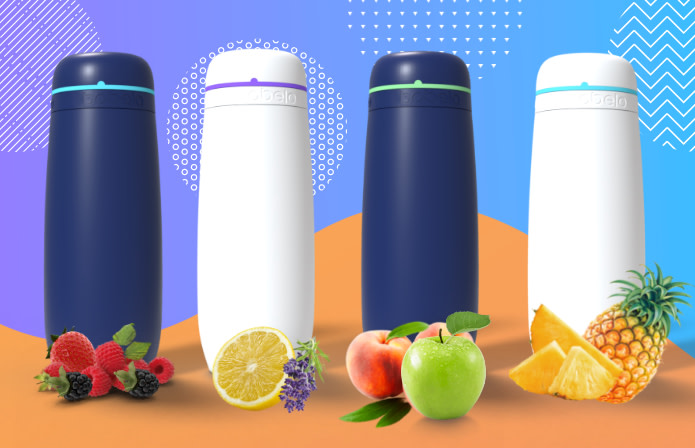 Bobelo began in our basement.
With no funding, or technical experience, we rolled up our sleeves and got straight to work in our basement to take on the Goliath beverage industry. Using good old fashioned drive and grit, we found experts in nutrition, chemistry, and design to deliver a sustainable, great-tasting, and healthy drink we all deserve.
We want everybody to consider what they are drinking. We truly believe we can be the first self-carbonating beverage option that is healthy, hydrating, made with real fruit flavor, and fully sustainable. Consuming a beverage shouldn't come with sacrificing your health, your taste buds, or the health of our planet.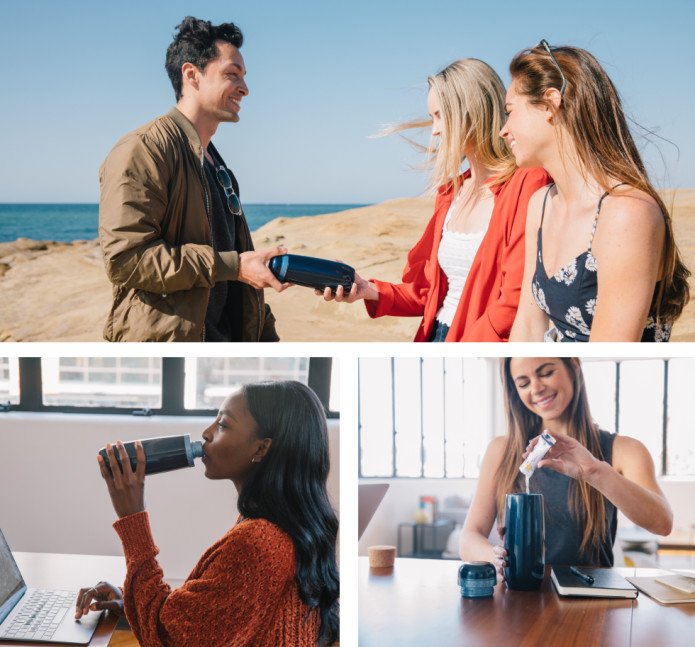 Our water bottle and first four flavors are only the beginning. We want to continue creating products that transform the way you drink. Our future drink innovations will focus on your brain, body, and biome to address your health holistically.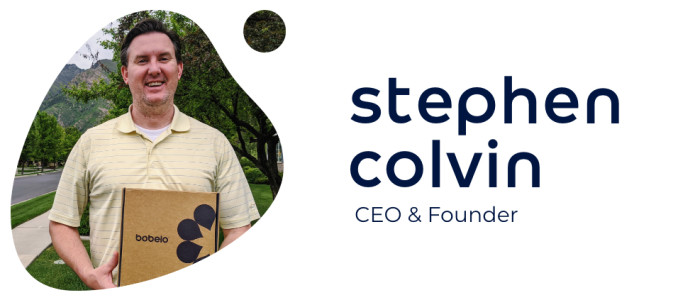 As a husband and a father of SIX, Stephen understands the challenges consumers face in the choices they make on a daily basis.  The blood, sweat, and tears it takes to raise a large family are reflected in his work on a daily basis. Stephen has spent 15+ years developing innovative products, services and business strategies all over the world.  He studied innovation, strategy, neuroscience (Duke continuing education), and entrepreneurship and has graduated from top universities like Stanford and IE Business School (Spain). He is a voracious student of consumer needs and trends, and strives to improve consumer experiences through disruptive products that put people and planet over profits.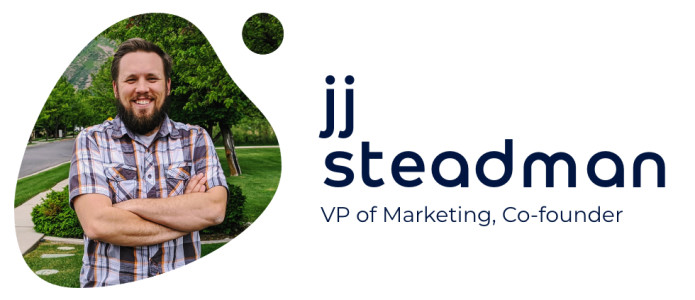 JJ loves to disrupt and challenge traditional thinking, which is why Bobelo is the perfect company to create and launch in 2020. JJ has been an entrepreneur and been involved in marketing and e-commerce for the last 10 years. He is a father of three and married to his adorable Jr. High crush. He loves cooking and mixing new flavors (drinks, BBQ, sauces, etc.), classic cars & shows, sports, personal development and business podcasts, traveling, and being outdoors with his family.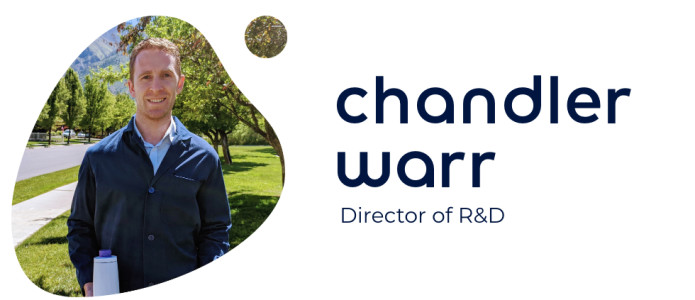 Chandler lives at the crossroads of technological innovation and practical application. His goal is to mold and merge different technologies together and create something new and something practical to every day people. As a PhD candidate, he is the author of several research articles in 3D printing, material science, and microfluidics. He is a 3D printing and prototyping expert with extensive experience in CAD and has been involved in several product development campaigns.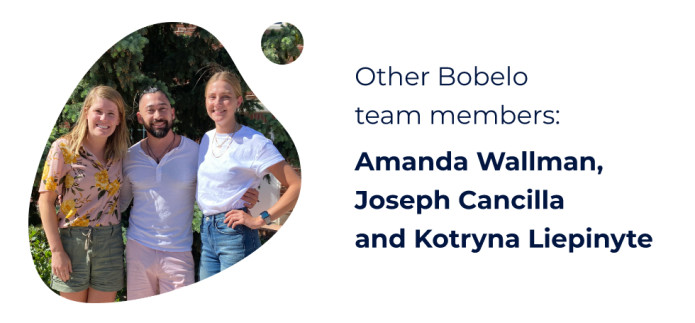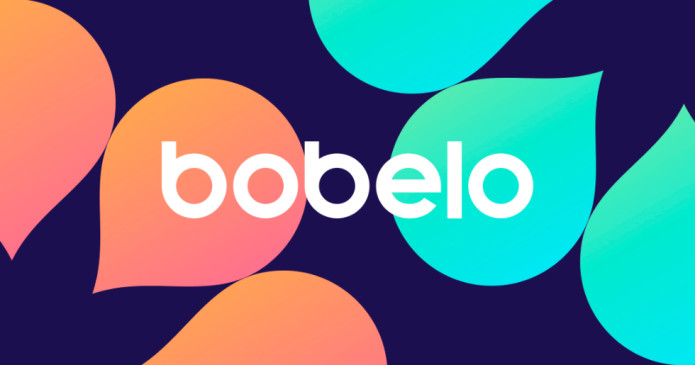 A global team of Certified Kickstarter & Indiegogo Experts. LaunchBoom is the top crowdfunding marketing agency with the proven formula for crowdfunding success.