BODU: Unibody Damascus Steel Kitchen Knives | Hand crafted forged steel. Dishwasher safe. Lifetime guarantee. Razor-sharp. 73 layer 60HRC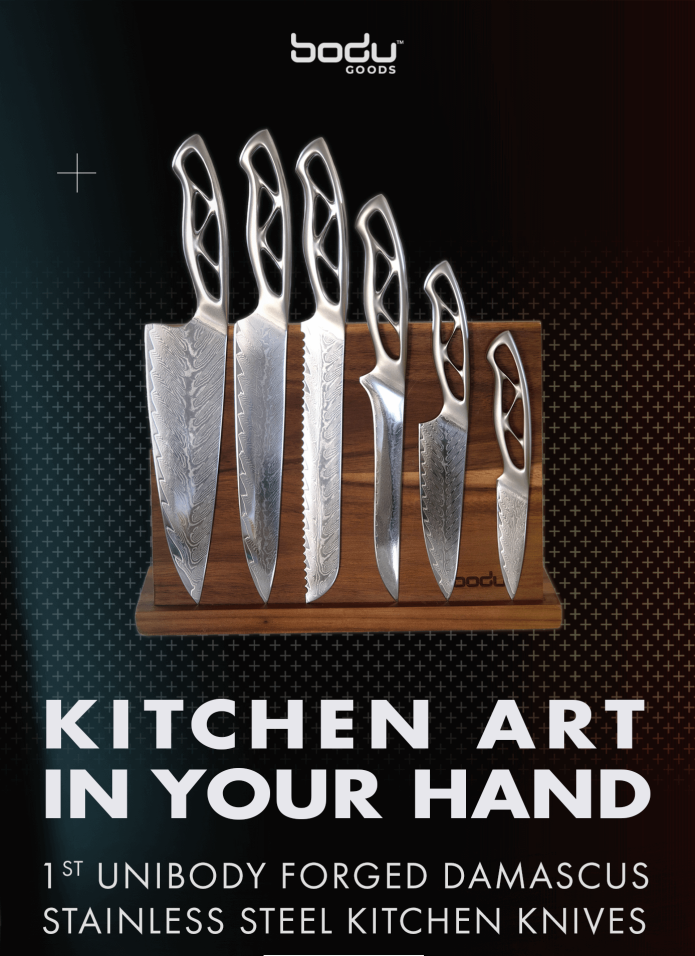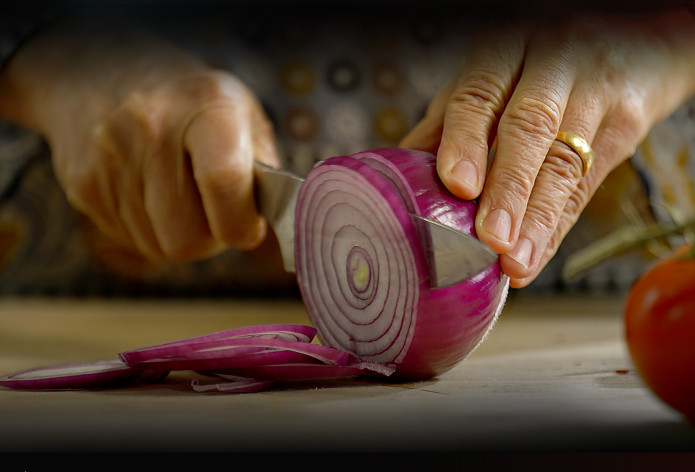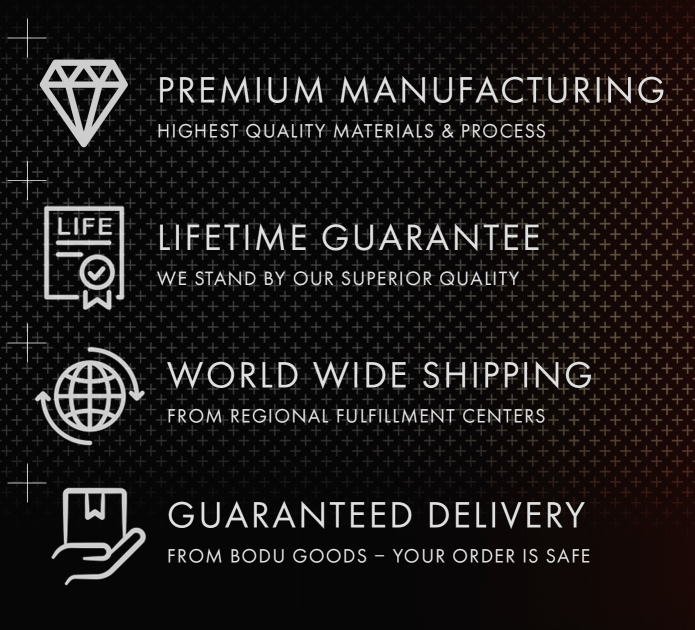 Designed & based in Santa Cruz, California, USA
Bodu Goods mission is to bring Beautiful, Functional, Durable products to your home to last for generations. From a team with decades of experience in manufacturing & delivering.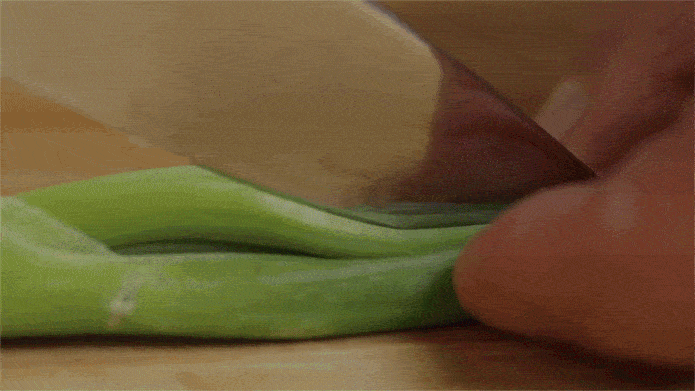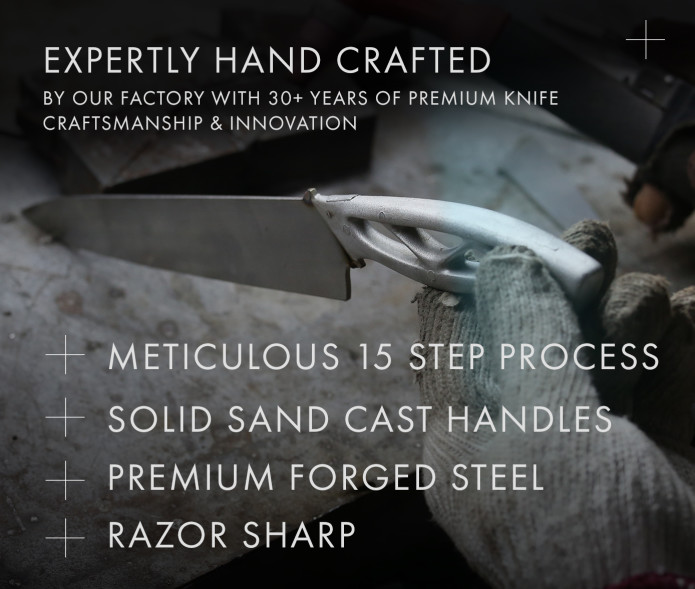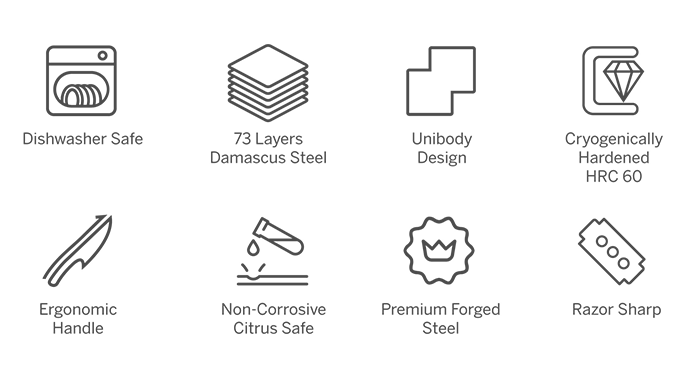 DISHWASHER SAFE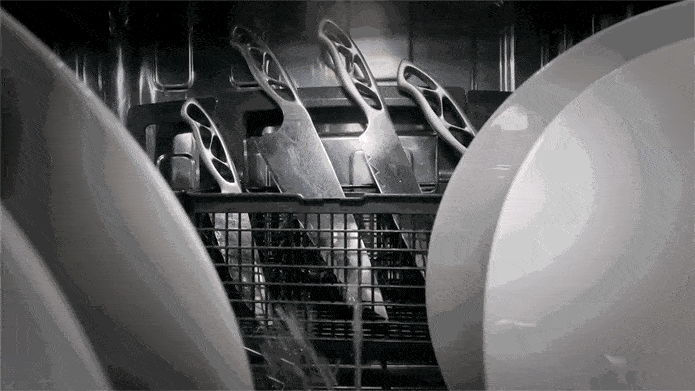 Bodu knives are specially crafted to resist corrosion from water and acids (citrus, tomatoes, etc.) without voiding our lifetime guarantee.
Because of our unique handles, there are no rivets or wood to worry about early knife failure or trapped bacteria & viruses.
CITRUS SAFE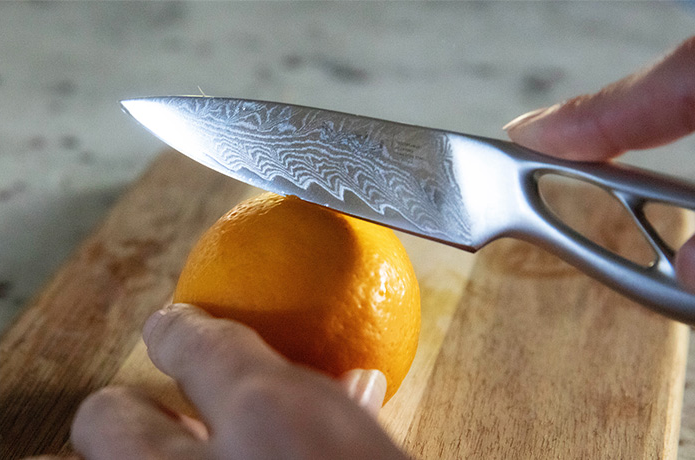 Bodu knives are resistant to tarnish from citrus or acidic foods.
LIFETIME GUARANTEE
We stand by our knives with a lifetime guarantee from manufacture defects and will replace your knives if they do not meet our high standards in quality and workmanship.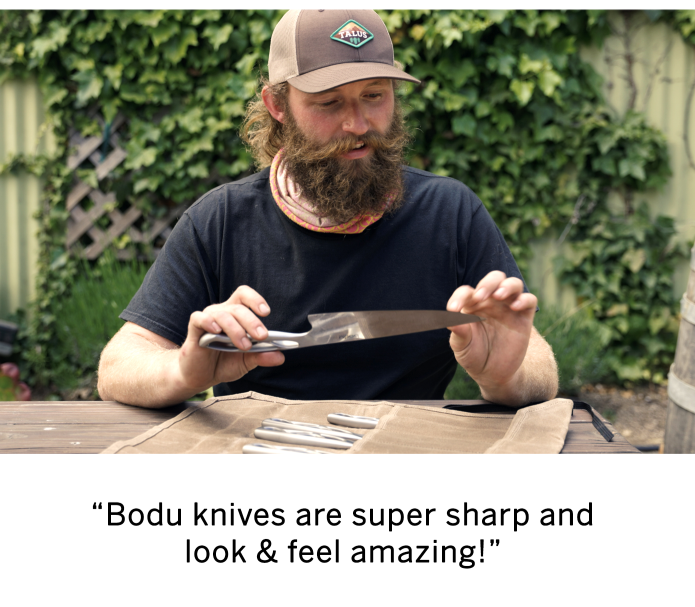 Click on the video to play…
Click on the video to play…

WHY CHOOSE BODU KNIVES
Choosing kitchen knives can be overwhelming. The wrong choice often ends in ruined knives or blades that will not stay sharp.
Currently on the market is:
1. Inexpensively priced knives that use inferior steel or ceramic that does not last. Many of these knives falsely advertise their steel and use cost-cutting manufacturing processes.
2. Mid-tier priced knives that use plastic and wood handles that warp, melt, separate with blades that don't hold an edge and often lack balance, aesthetics, and longevity.
​3. Premium-priced knives that are expensive and require extra care for the blades and handles.
Bodu is changing the game
Our knives are designed from the ground up to perfectly balance beauty, functionality, sharpness, ease of maintenance, and lifelong durably at an affordable price.
The difference is in our:
Unique knife design
Choice of premium materials
Rigorous manufacturing process
Direct to consumer model
It's a combination that makes Bodu knives truly unique and designed for a lifetime of enjoyment.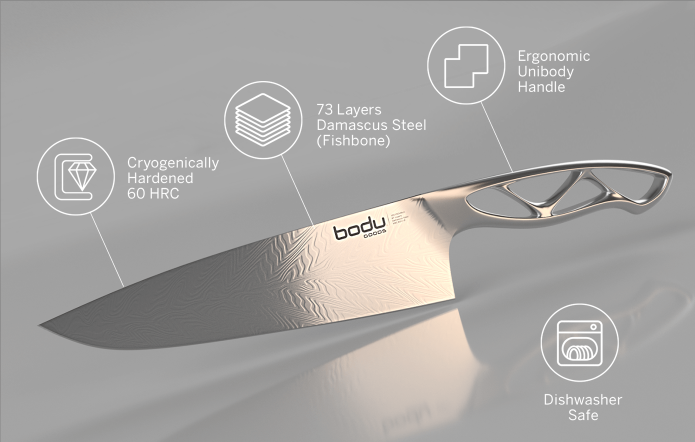 Manufactured in our factory with over 30+ years of experience. Combining traditional artistry with modern-day technology improves quality, efficiency, and cost.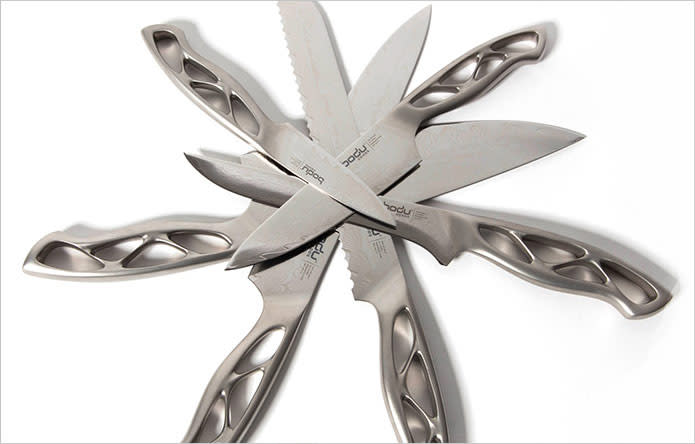 DIRECT TO YOU
Traditional retailers mark up the products they sell between 50 and 100%. Bodu skips the middlemen markup and passes the savings directly to you with our pre-order campaign here on IndieGoGo.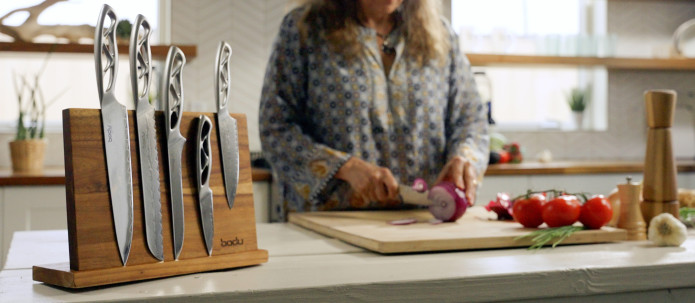 KNIFE SPECIFICATIONS
A perfect balance of artistic beauty, functionality & durability
6 purpose-built highly versatile knives
Made from 73 layers of premium 316 stainless Damascus steel
Layered steel (not folded)
Forged steel (not stamped)
High carbon 10Cr15CoMoV core for durable razor sharpness
Cryogenically hardened steel to 60 HRC
15° double bevel edge for razor sharpness & durability
Solid sand cast handle made of premium 304 stainless steel (no fillers)
Welded handle for strength & durability
Rigorous 15 step manufacturing process
No hollow voids or multi-materials to trap food and bacteria
Perfectly balanced for everyday use
Dishwasher safe
Citrus resistant
Lifetime guarantee from manufacture defects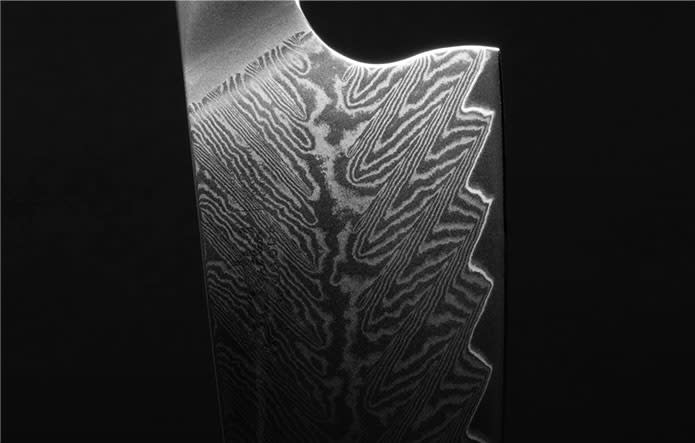 Unlike other knives that use stamped metal, Bodu knives are hand-crafted, forged steel. 
Made from premium Damascus (layered) 316 stainless steel around a high carbon 10Cr15CoMoV core for beauty, durability and razor sharpness.

THE RIGHT KNIFE FOR THE RIGHT JOB
To ensure every kitchen need is covered, we designed a six-piece knife set based on extensive feedback from both home chefs and professional cooks.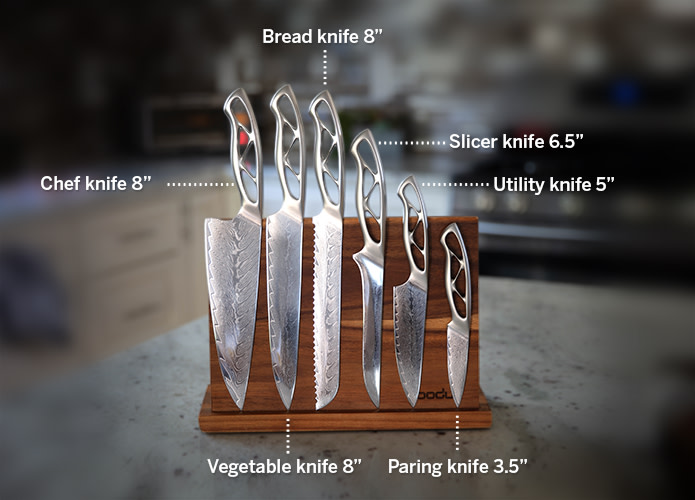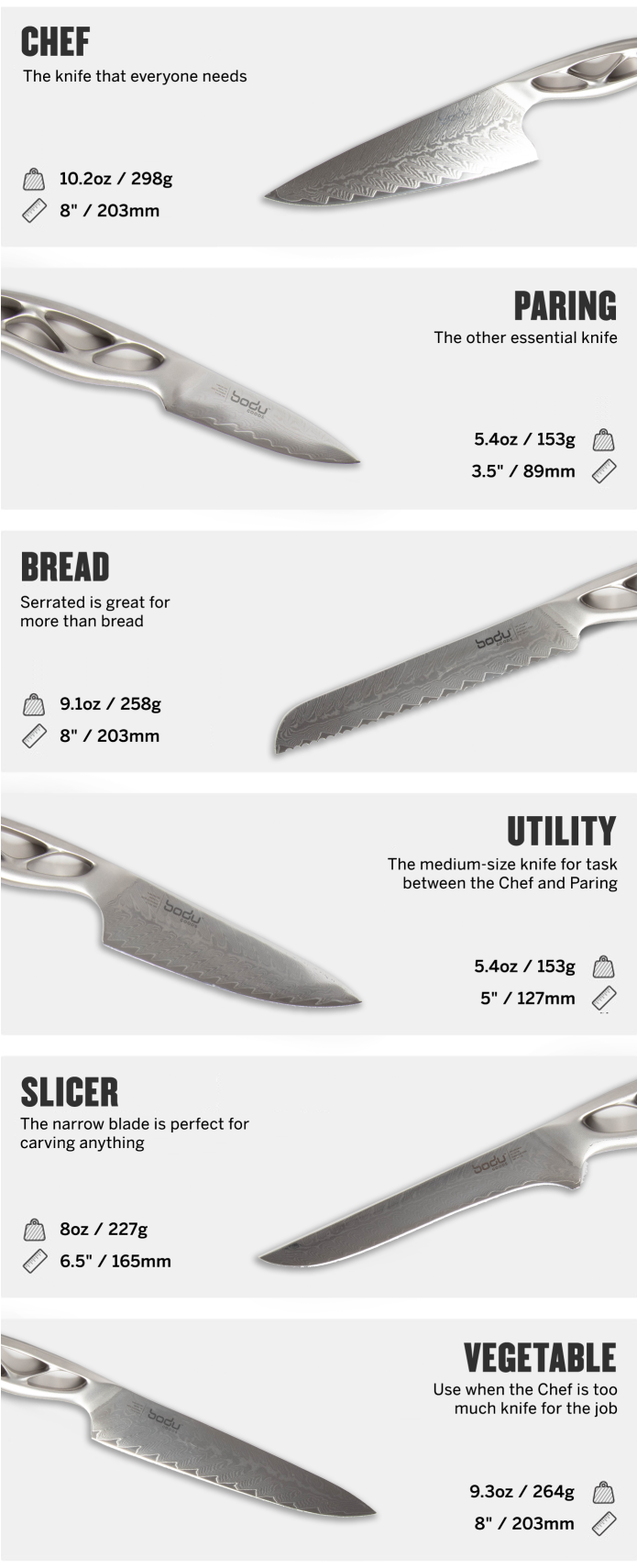 KNIFE HOLDER
We've updated the design of our knife holder based on feedback from our beta testers. The knife holder is available as an add-on for the 3 knives and 6 knives sets. You'll also have the option of adding the holder to your order later in the campaign.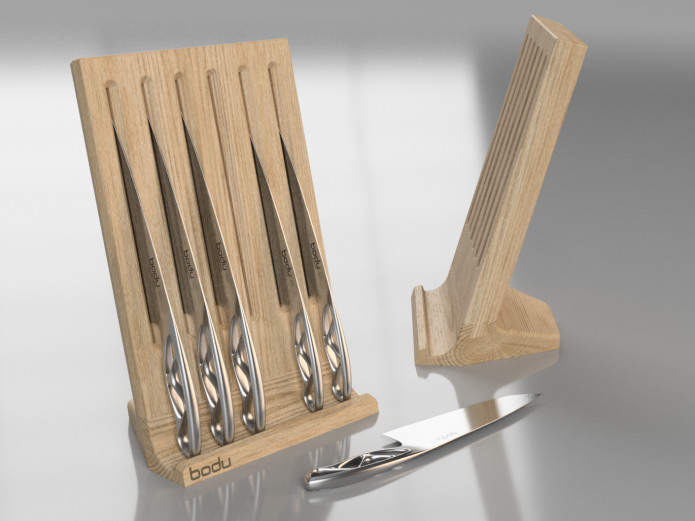 HOW TO ORDER
Click on the "Back It" or "Select a Perk" button
Choose between the Full Set of Six, Basic Set of Three, or Single Chef Knife
Add the optional Knife Holder
Enter payment details
No need to enter shipping address. We will reach out to you to collect your shipping address closer to shipping time in November.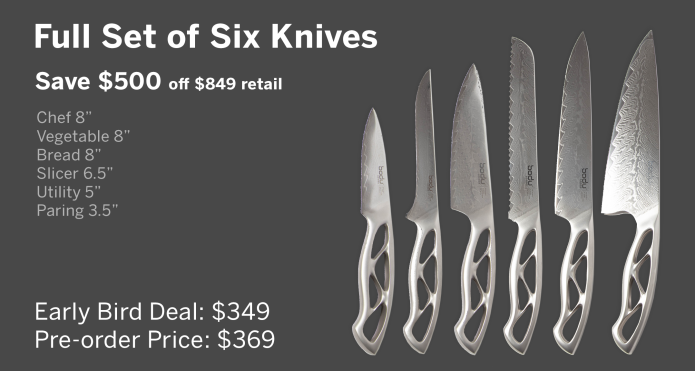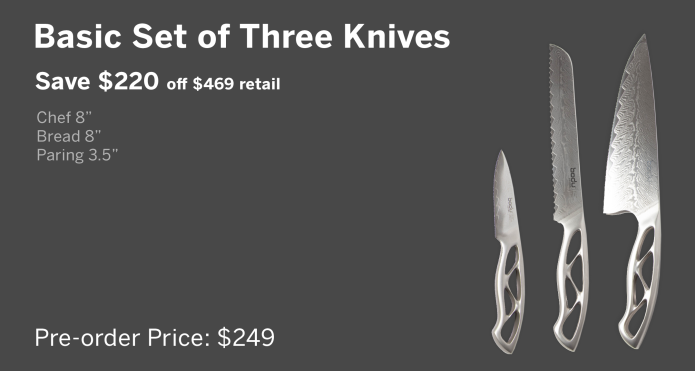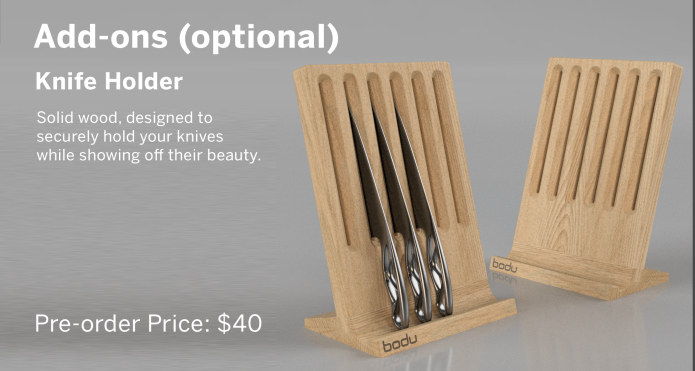 SHIPPING COSTS & ADDRESSES
Your shipping address as well as shipping cost will be collected a few weeks before shipping in November.  We will contact you via email as well as via updates on our IndieGoGo page. Estimated shipping cost to USA addresses is expected to be under $35 for the set of 6 knives. Our promise to you is full transparency and at cost (or less) shipping fees. We are doing it this way to make it easier for everyone to get their knives delivered to the correct address.

DESIGNED FOR LIFE
Bodu knives were created because of the team's personal experience with ruined knives. It only takes one accidental ride through the dishwasher to ruin a wooden handle.
Or one forgetful night after cutting lemons and not properly cleaning to tarnish most knives.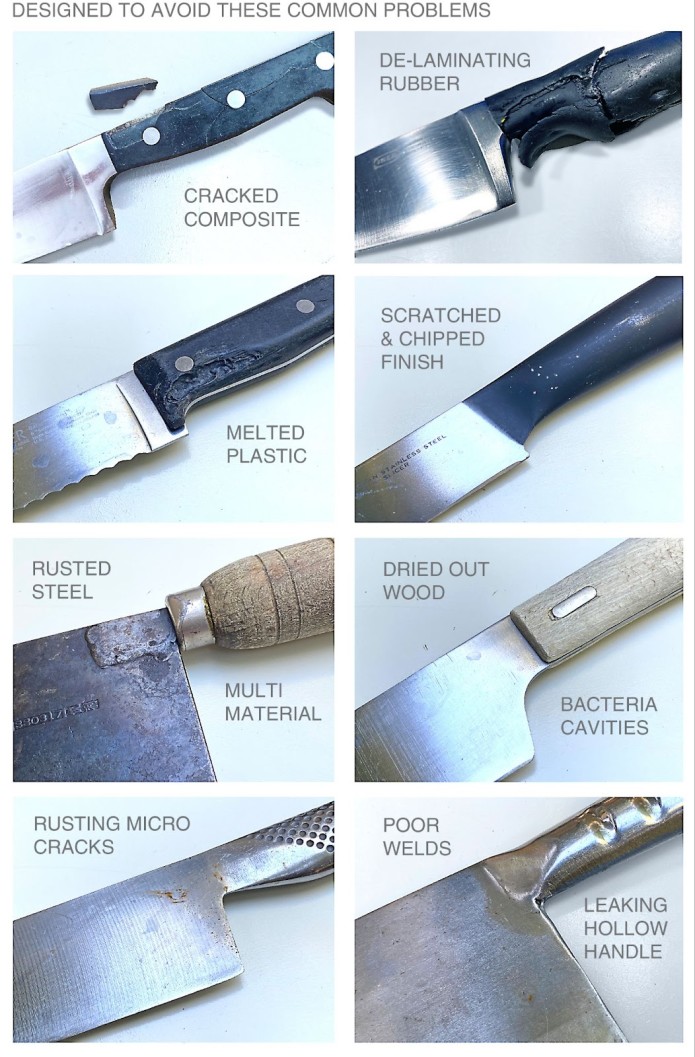 Bodu knives went through dozens of design iterations and prototyping before arriving at the final design.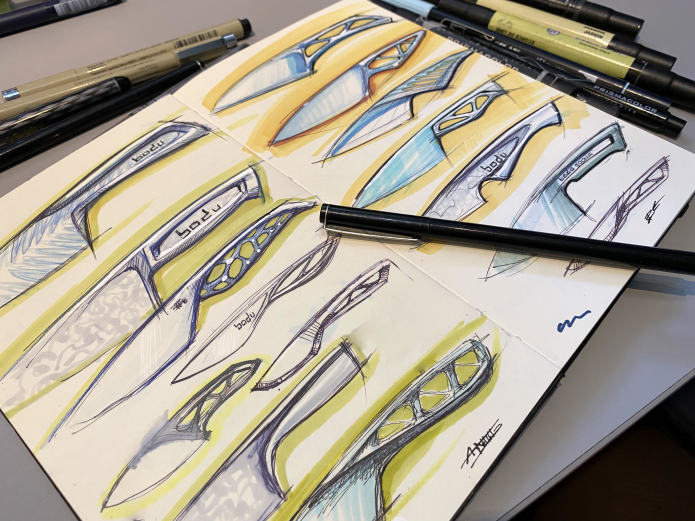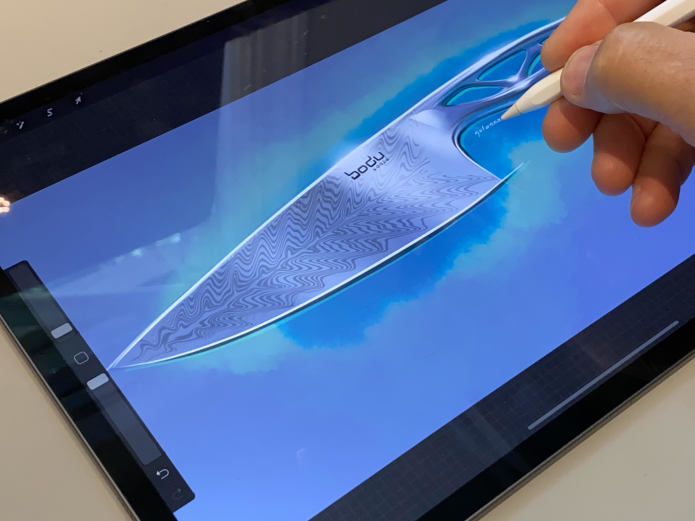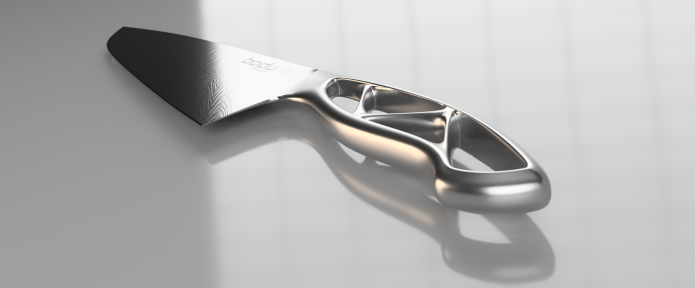 Once the Bodu team was satisfied with the knife design, they turned their attention to the manufacturing process.
Not only are Bodu knives made of the highest quality materials, great lengths are taken during manufacturing to ensure a lifetime of performance.
Bodu blades are made of 73 layers of premium steel.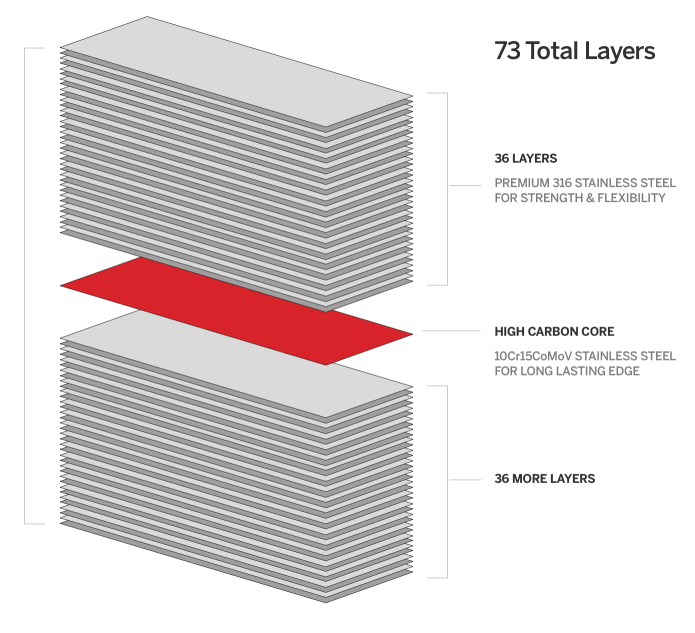 The inner core of 10Cr15CoMoV steel provides a durable, razor sharp edge while the surrounding 72 layers of 316 stainless steel provide rigidity and protection (for a total of 73 layers).
Without the outer layers, the knife would be too brittle and less resistant to water and acidic corrosion. Without the core layer, the knife would not maintain a sharp edge. It's the perfect balance of beauty and functionality. 

MANUFACTURED TO PERFECTION
All Bod knives go through a rigorous 15 step process during manufacturing. While innovations in manufacturing technology helps keep Bodu knives affordable, absolutely no corners are cut or expense spared.
Bodu's 15 Step Process

The processes for making Bodu knifes:
Laser cutting the blades:
A computer controlled laser cuts out the desired profile of the knife blade from the welded stack of 73 layers.
Forging:
The fishbone pattern is power hammered into the red hot blade. Then the still red hot blade goes through flattening rollers.
Thermal process:
Vacuum heat treatment. (1100 degrees) Ice hardened by quenching in temperatures below sub zero(with liquid N2). With this process, the structure of the stainless steel material changes and the blade becomes hard. Finally, tempering (@400 degrees) for 8 hours. This results in a blade that is not only hard and tough but also elastic.
Steel handle casting:
The steel handle is sand cast and ground. The handle is then prepped for welding.
Handle welding to blade:
The handle is welded to the blade and the weld is ground smooth.
Periphery polishing and surface grinding:
The periphery of the blade is polished with a polishing belt. A computer-controlled whetstone adjusts the shape of the knife. Then the surface of the blade tip is thinly ground using a surface grinding process.
Blade leveling and grazing:
The blade leveling process consists in polishing the blade edge with a particular polishing material. Then, the entire blade is more finely polished using a grazing process and the entire blade is polished.
Mirror polishing / Abrasive blasting:
To obtain a finish finer than that obtained by the grazing process, the blade is inserted between two rollers and is polished with a mirror finish.
Abrasive blasting:
The blade is abrasive blasted by shooting glass beads at it. The slight differences of the steel's surface hardness, where one layer meets another, is accentuated and the unique topographic patterns appear on the blade. These patterns are the designs that characterize Damascus kitchen knives.
Knife polishing:
The assembled knife is polished by expert craftsmen.
Printing / marking:
Each kitchen knife has a laser etched mark printed on it. The mark includes the brand name, blade chemistry, structure, hardness, and lot ID
Wet type blade edging:
By grinding and pouring water on the whetstone, it is possible to avoid the production of friction heat which greatly increases the smoothness and the cutting quality of blade's edge. Only workmen with many years of experience are allowed to carry out this important process.
Final touches:
All burrs (ragged edges formed during grinding) are removed using tanned leather.
Inspection and Packing:
The cutting quality of knives' blades are checked individually. In order to insure maximum sharpness in cutting and durability, the blades should have a specific blade angle. The blade angles of the knives are strictly inspected and controlled with measuring instruments. Then, the completed knives are carefully packed in boxes and shipped.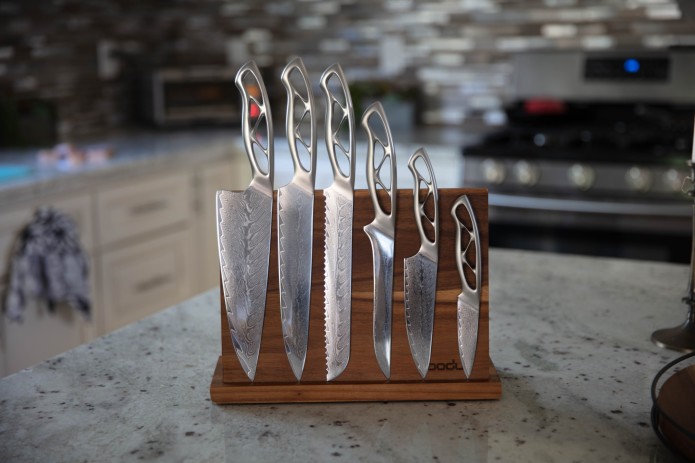 WHY PRE-ORDER ON INDIEGOGO
Our dream is to create a home goods company supplying sculpted, utilitarian products at affordable prices. By pre-ordering Bodu knives on IndieGoGo, you're helping make this dream a reality.
To keep costs down (and pass along the savings to you), we're collecting pre-orders on IndieGoGo for a limited time.
IndieGoGo is a crowdfunding platform. That means our pre-order campaign only lasts for about 30 days. You can cancel your order without any questions during the campaign. We want you to be 100% happy with your decision to pre-order Bodu knives!
After the campaign ends, IndieGoGo sends us (Bodu) the funds raised which we use to manufacture and deliver the knives to you.
Manufacturing is ready to go. We do not expect any significant delivery delays.
TIMELINE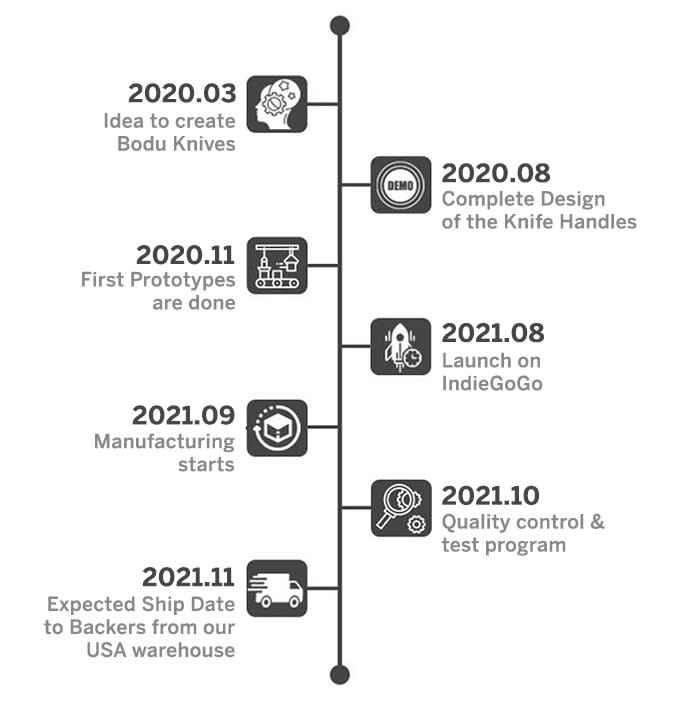 MANUFACTURING STATUS
Thanks to our early backers here on IndieGoGo, we have started the first phase of manufacturing ahead of schedule!
The images below show how the sand cast handles are meticulously hand welded to the blades for strength, durability, and precision.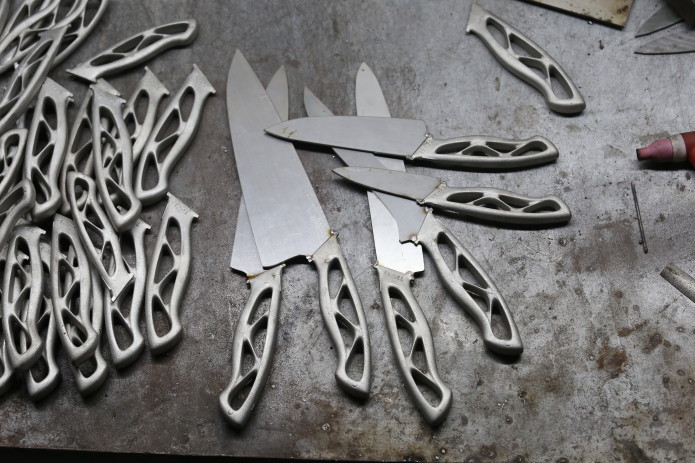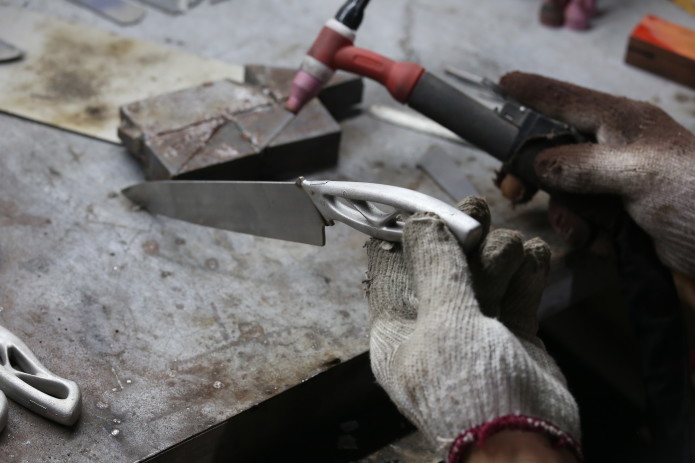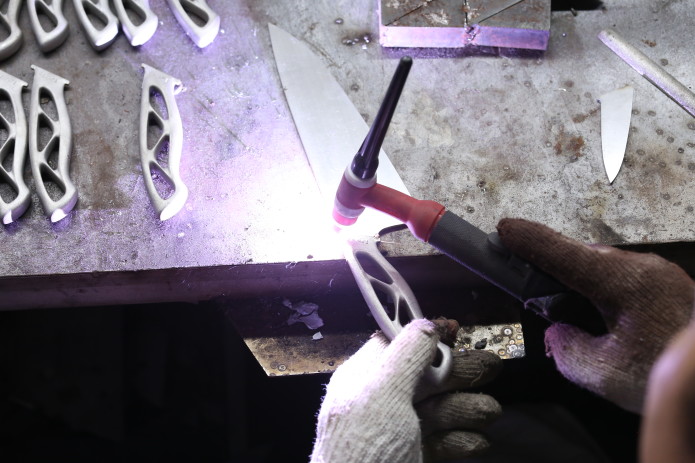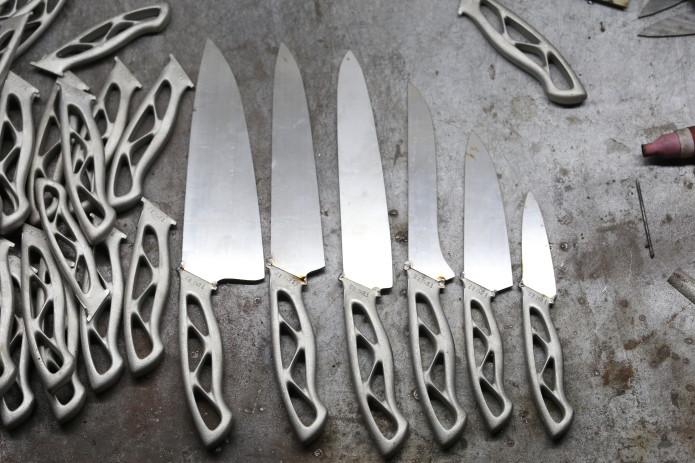 ABOUT US
We want to create products that we use every day and that others would want as well. We want art and function in our lives and hands every day. We started with kitchen knives because they are the essential tools in a kitchen. We turned to Damani Thomas, owner and head chef of Oswald Restaurant in Santa Cruz, CA for assistance in selecting which knives would be most valued for the home cook.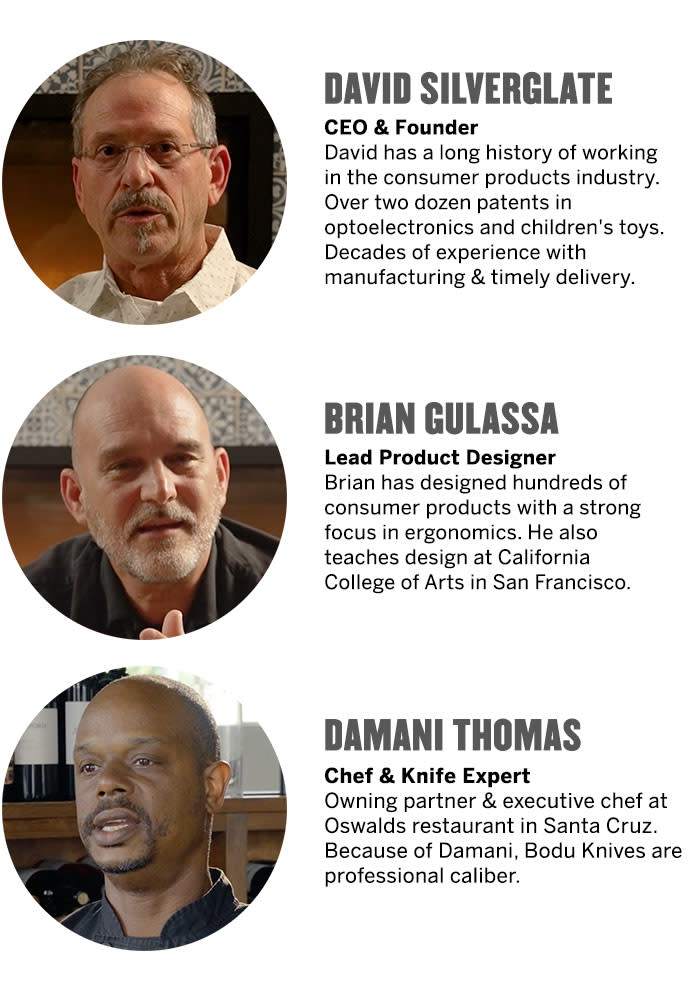 Thank you for your support! We know you are going to love your Bodu knives as much as we do. They are truly works of art for everyday use.
Questions or comments?
Let us know. We're here to help! Send us a message on IndieGoGo, comment on the page, or drop us an email at [email protected]