Botanium Vega – Simplified Indoor Gardening | Featuring a long-lasting water tank, large growing space, grow light and app connectivity.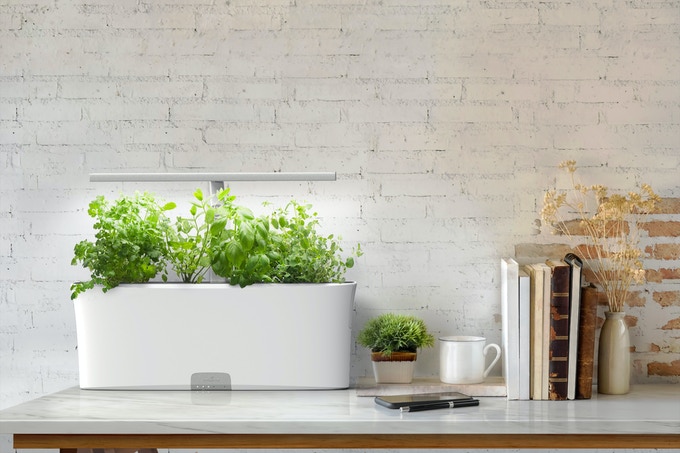 Botanium Vega is a compact, easy and effortless way of growing. Its a hydroponic pot, which means it grows plants like chilies, herbs and tomatoes without soil. It waters the plants automatically.  Leave it for a month and get back to a healthy plant.
Botanium was first revealed on Kickstarter early 2017. In only 5 days we were fully funded with 1420 backers from all over the world. In the end of same year we shipped around 2500 units to 65 different countries. We are now ready to launch our second product – Botanium Vega.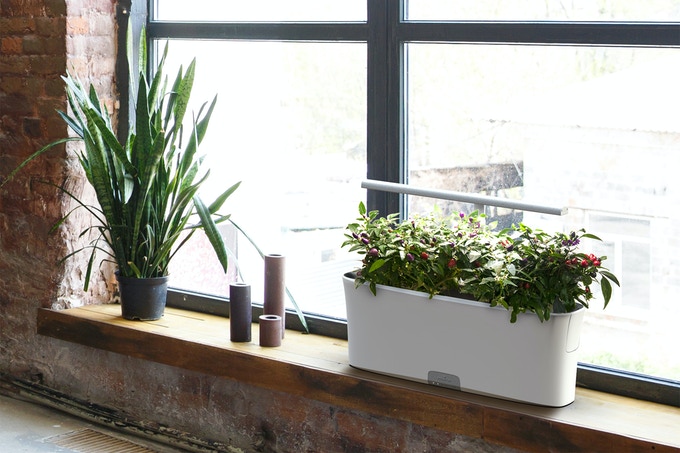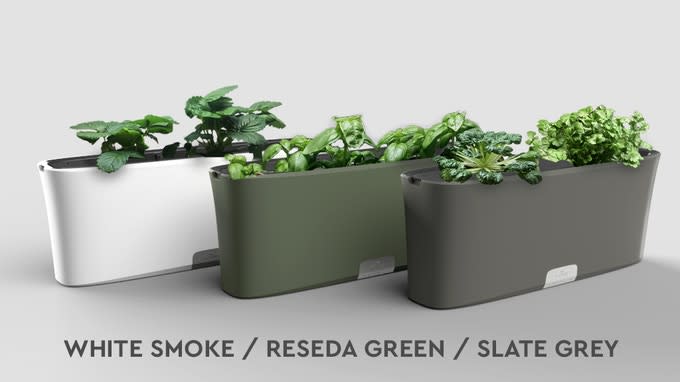 Botanium Vega is minimalistically designed self-watering planter that enables you to grow herbs and veggies using soil-less growing technology. 
Plant a seed, plug it in and you can leave it alone for weeks as it takes care of the plant for you. You get more productive plants and there is no need to worry about over or under watering, the most common ways to kill plants.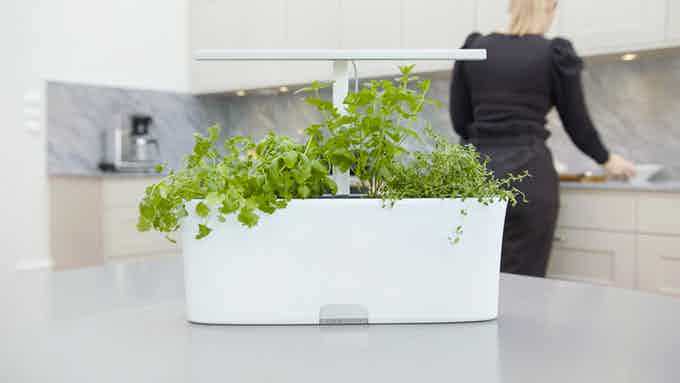 There is a rising demand for ways to grow your own food. In a modern busy life, tending to a plant's needs might be your last priority. And even if you do have time, you might not know how to keep it alive. Enjoy growing herbs or chili without effort. Botanium Vega takes care of the plant for you, thanks to automated, soil-free growing. Botanium Vega comes with a wider design than its predecessor with room for up to four plants.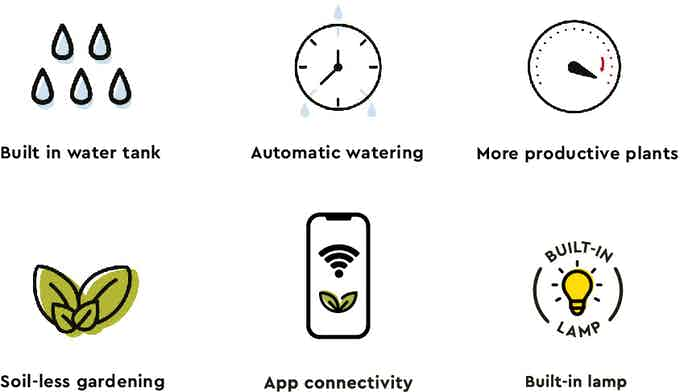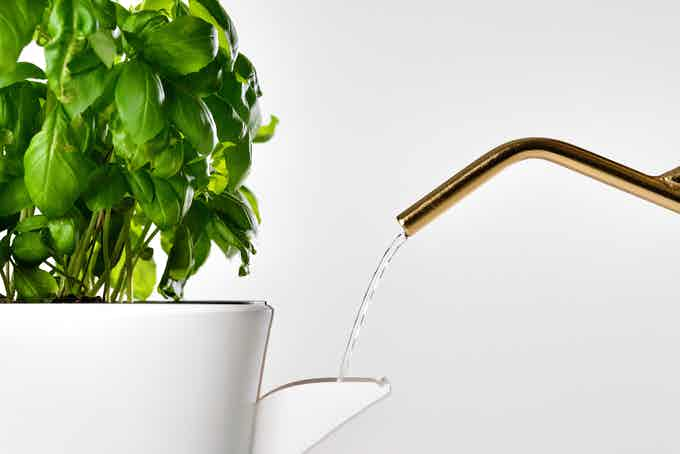 Built-in water tank with automatic watering
Vega features a water tank with room for 5 liter (1.3 gallon) of water. Compared with our first Botanium, this is 5x the volume and 25% more water per plant. (if you grow four plants in it). Thanks to this, the water lasts for many weeks.
Vega automatically waters your plants multiple times per day. We have also made it possible to change this schedule so that you can make it water every hour or just once every day.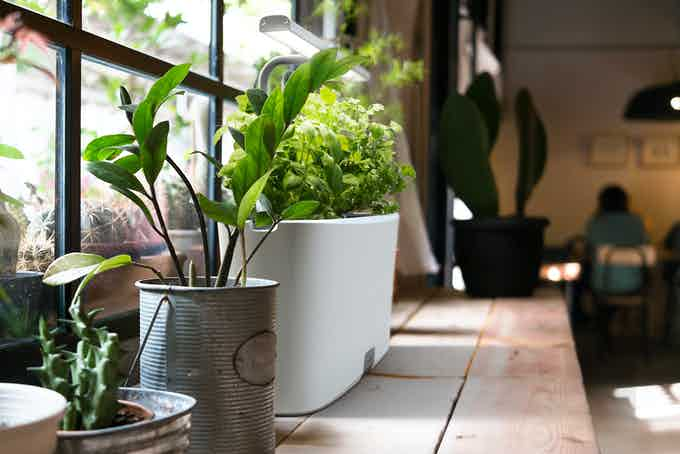 Soil-less gardening – more productive plants
Botanium Vega uses soil-less – so called hydroponic – gardening technology to grow plants from seed. This has many advantages – the plants can grow larger using less roots, and they will also regrow quicker after harvest.
This also enables the Vega to automatically water the plants without needing to measure the moisture in the soil.
App connectivity + built-in lamp
By popular request, our new Botanium Vega is connected to your smartphone using the Botanium app. Use it to get notifications when you need to refill it, and to monitor your Botanium when you are away from home.
We also include a powerful 20 watt LED growing light that enables you to grow anywhere – even during the dark winter. It can be adjusted in height and controlled through the Botanium app.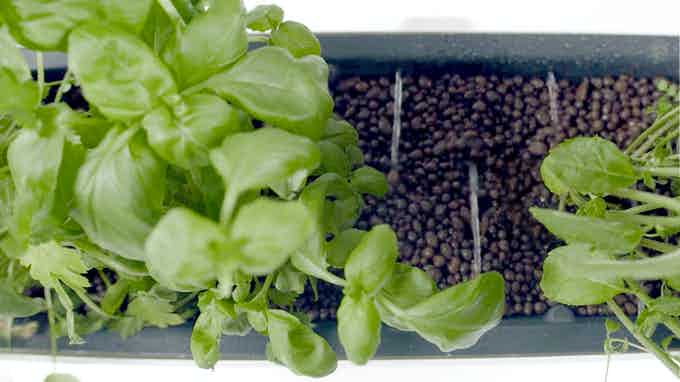 Hydroponics is simply growing without soil. The roots need water, nutrients and oxygen, all of which can be provided in a more efficient way than in soil. Botanium's porous growing medium absorbs a lot of water, while also providing an aerated environment for the roots. 
The benefits of this are not only quicker growth and more control, but also a simpler approach to growing.
The great thing about hydroponics is that you can never overwater the plants you grow. Therefore, you don't need to take into account things like letting the soil dry out before watering again (and not waiting too long so your plants wilt).
  All you need to do is to fill the reservoir when you see the water level getting low. The water lasts several week (depending on the plant, light and heat)
>


At Botanium, we believe that gardening should be simple and available to everyone, even to those living in a city or without much time to take care of a plant. We want to change how greens and herbs are produced indoors, making it possible to bring out the gardener in everyone. 
Grow basil
Basil grows quite fast and is a good alternative for the impatient grower. As it needs a lot of water, it thrives in the Botanium where it gets watered often and evenly.
Grow tomatoes
Like its' relatives chili peppers, potatoes and tobacco, tomatoes originate from South America. It is a fast growing plant that thrives in hydroponic systems like Botanium.
Grow chili
What makes chili growing so rewarding is that even a small amount of chili lasts a long time – in contrast to strawberries for instance, which you easily can eat faster than it grows.
You can also grow rocket salad, thyme, oregano, strawberries, mint and much much more.
How to start growing
Plant a seed in the growing medium
Fill the water tank with water
Add the included nutrients
Connect the Botanium Vega to electricity
Let Botanium Vega take care of the plants for you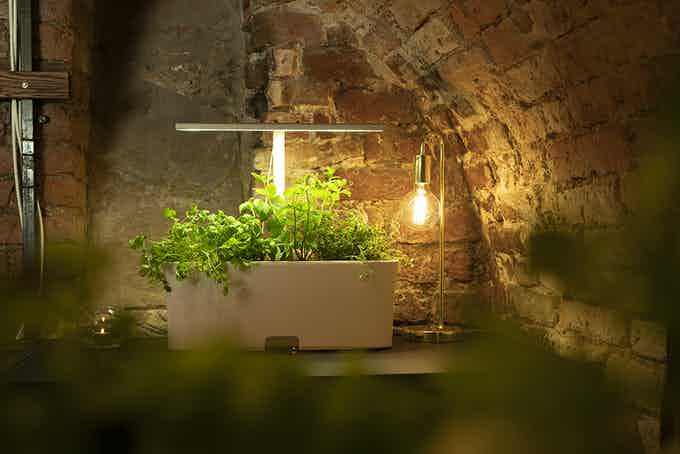 The lamp is equipped with state-of-the-art LEDs that are attached to a lamp screen made of extruded aluminum. This screen does not only eliminates glare, but also works as a powerful heatsink that makes it possible to run the LEDs cool – making them run efficently at 175 lumen per watt.
The lamp can be removed if you have a sunny window and you don't need the extra light.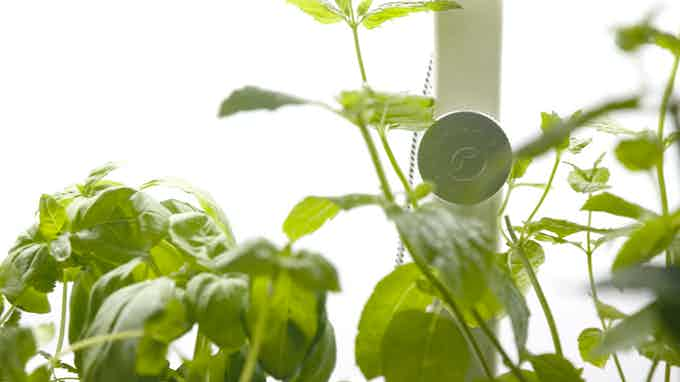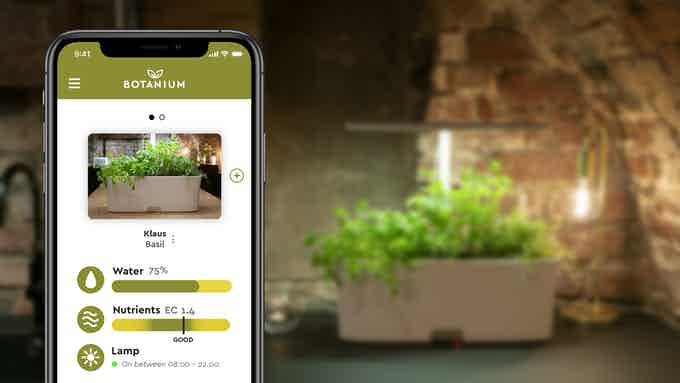 When talking with Botanium users, it was clear that a highly requested feature was app connectivity. And we listened! From the very start, it was important for us to make an app only if it made sense, and if it could be useful. We didn't want to create an app that is just another gimmick. The Botanium Vega has optimized default settings in place that doesn't require you to use the app – but it does add extra controls and features.
The Botanium app is connected to Vega with wi-fi, so you can keep track of your grow wherever you are.

Water level
Keep track of the current water level and get notified when the water level runs low. If you plan to be away from home a few weeks, you can easily check if you need to refill before leaving.

Nutrients 
Different kind of plants have different nutrient demands. The Botanium app calculates the right amount of nutrient based on the plants you grow. Specify what you grow, and it will tell you how much nutrients you need to add each time you refill the water.
Lamp
Turn the lamp on and off from your couch. You can also schedule when the lamp turns on or off, so that you don't need to be disturbed by it early in on a sunday morning.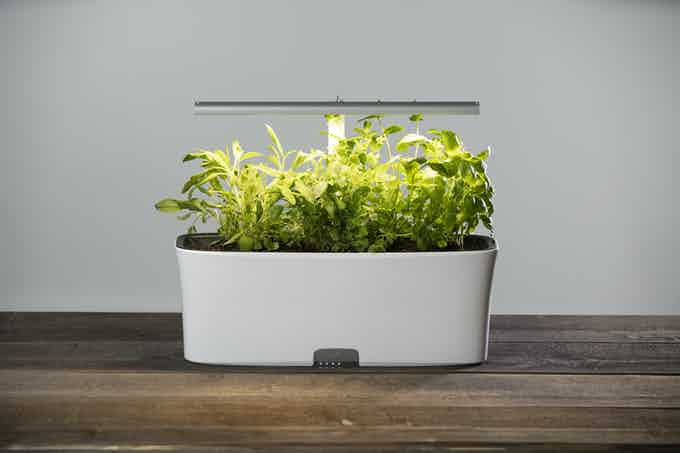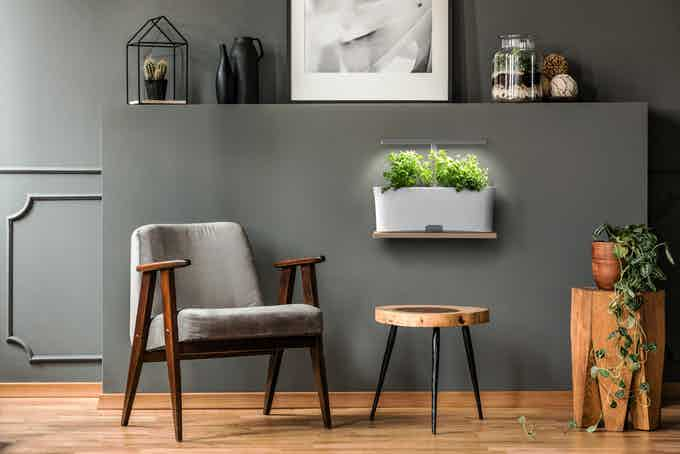 Botanium is designed in Sweden, a country that embodies the Scandinavian design movement. This style – often referred to as minimalist – developed during the Second World War, with clean, simple lines and a strong emphasis on functionality. A common theme in this tradition is that beautiful and functional objects should be available to all.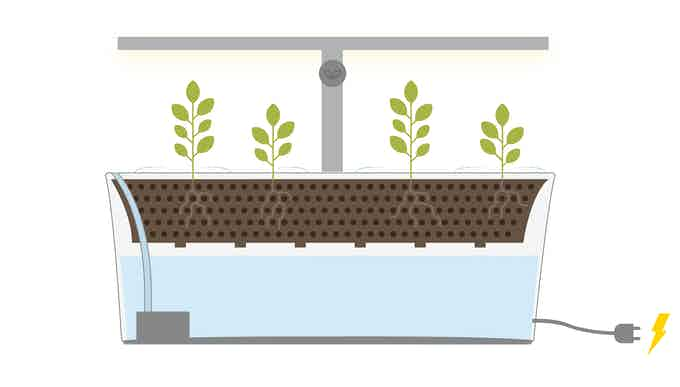 Botanium Vega consists of a 5 liter water tank and a growing container. A water pump moves water up to top, and distributes it evenly over the growing medium. It trickles down and returns back to the water tank, so it later can be reused.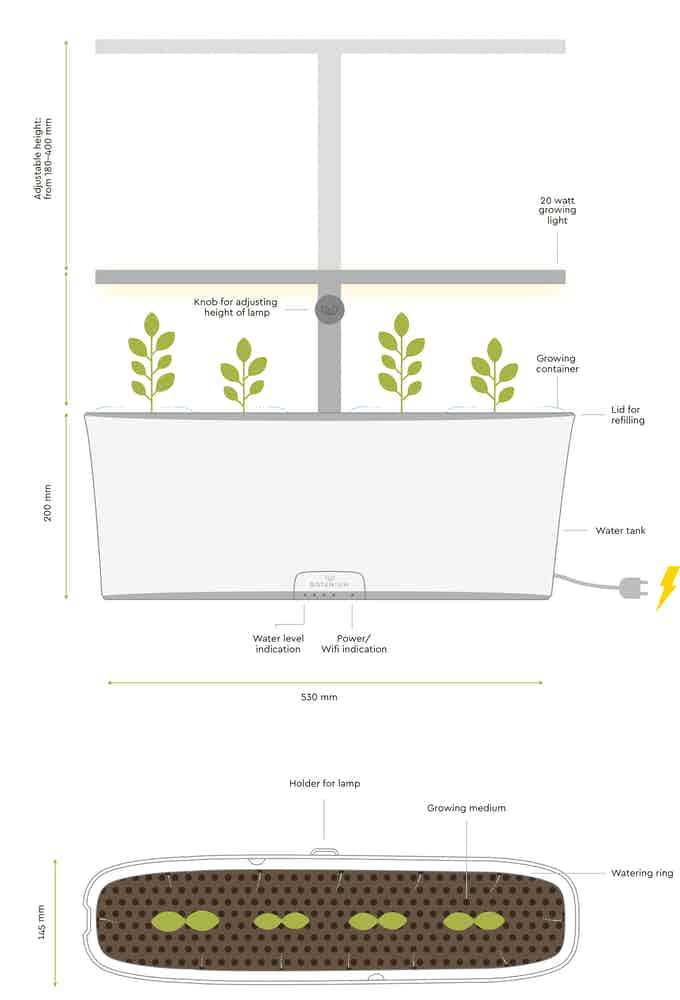 Dimensions: 530 mm (20,9″) x 145 mm (5,7″) x 200 mm (7.9″) (without lamp)
Color: White (if the stretch goal is achieved, two additional colors will be unlocked.)
Plug: Vega will be shipped with plugs for Europe, US, UK and Australia/New Zealand.
Power: 12V
Lamp: 20 w LED light, 200 ppfd @ 100 mm
Connectivity: Wi-fi
Usage: Indoor use only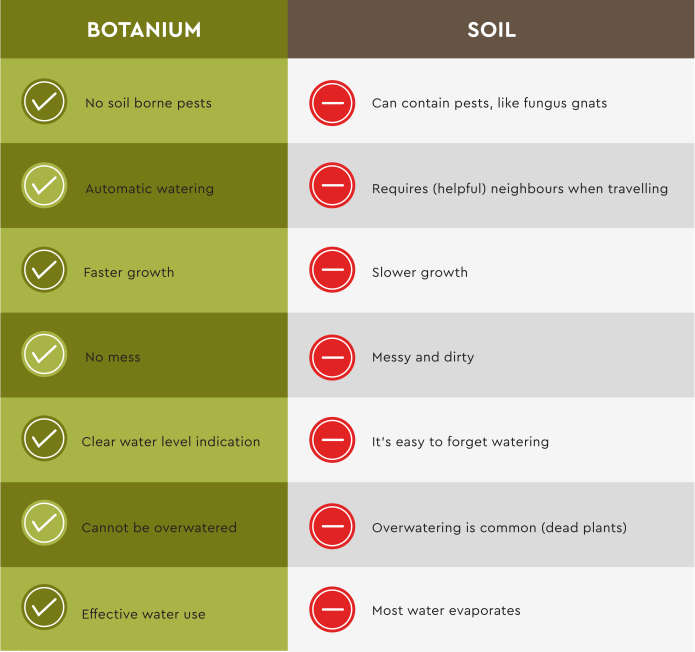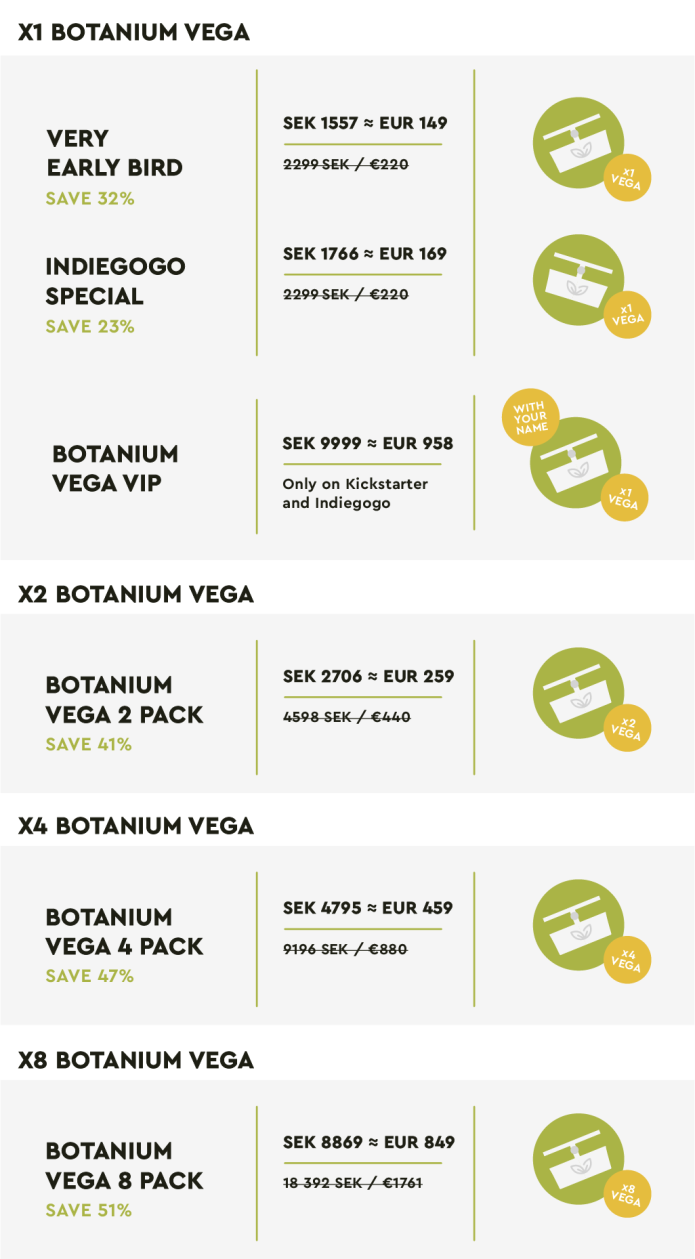 We have been testing several functioning prototypes over the last year to make sure that it works as intended. Since Vega is the evolution of our first product, we have applied what we have learned from that and improved it.
It is important to us that it does not only work as intended and looks good, but also that the design is user-friendly and intuitive.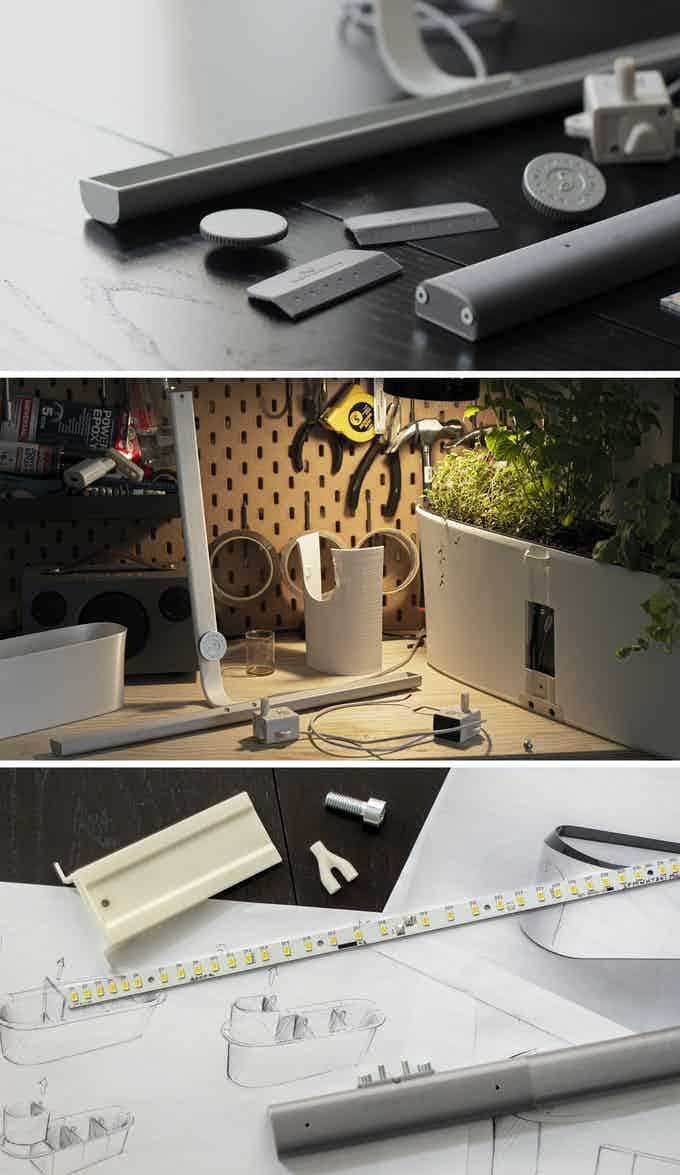 Botanium was founded in Stockholm in 2016 by a group of designers and engineers with a passion for creating innovative products that enable everyone to grow their own food without compromising their modern lifestyle. We strive to accelerate and simplify urban gardening, enabling everyone to be a grower.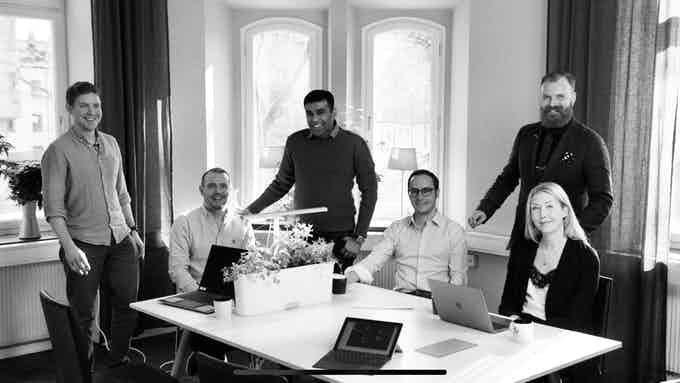 We are glad to have such a competent team that can make Botanium Vega a reality!
Rasmus Tretow – co-founder and industrial design
Johannes Roselius – CEO, co-founder and development engineering
Daniel Tärning – sales
Jessica Svensson – marketing and communications
Kartik Karuna – electronics
Mario Sanchez – co-founder and electronics
Jérémy Halldén – app development
Viktor Rosendahl – interaction design
Beatrice Menis – graphical design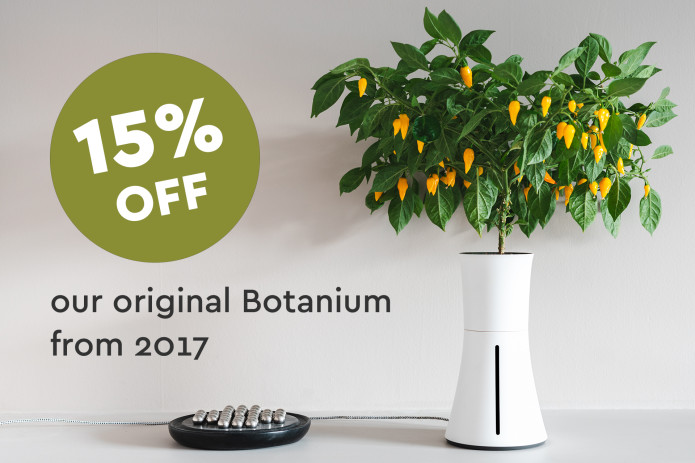 Wanna grow in a Botanium now and can't wait until 2021? During the campaign for Botanium Vega, we will offer you 15% discount on our first Botanium that was first revealed in 2017 on Kickstarter and Indiegogo. It features the same hydroponic watering system as Vega in a more compact design. Head over to our webshop botanium.se and use the code INDIEGOGO15​ or click here.
Thank you!