Boxscoop 2.0: World's Fastest Cleaning Litter Box | Modern, intuitive + clean in 6-seconds. This cutting-edge design leaves other litter boxes in dust.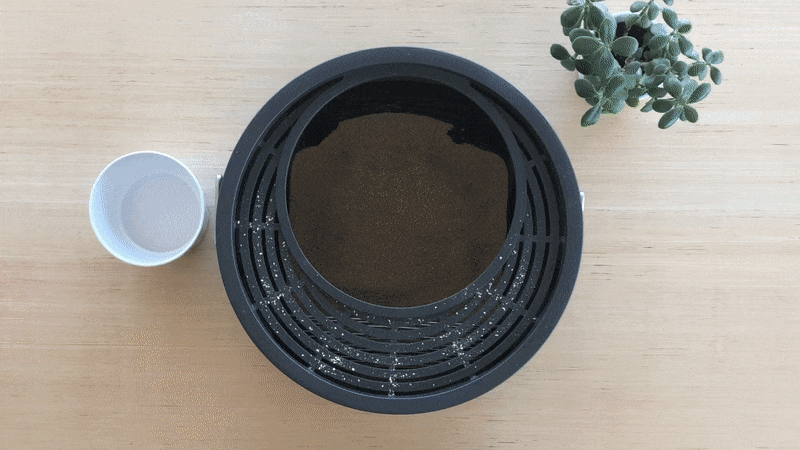 Hello. This is Boxscoop.
The litter box is a real struggle, for all of us. This system will change that but before we explain the intricacies, we would like to tell you how it came to be. From a young age I have been passionate on design, efficiency and simplicity. When I grew up I became an Engineer. Michelle and I are both passionate on fairness and respect for all creatures. The disconnect between integrating the litter box into the household and having it ethical for our cats drove us crazy.
From the start of 2017 through to Oct. 2018 we stood by helplessly watching my sister face an aggressive breast cancer; I coped by spending copious amounts of time fixated on designing a better litter box. We approached it from a completely different angle demanding the utmost efficiency with zero compromise. The vision was to create the perfect synergy between human AND cat needs.
James + Michelle
First, we need to meow this out.
Boxscoop has modern aesthetics and because your eyes cannot catch the corners (there are none) it appears smaller than it is. It's an illusion… it's not meant for 25 lb cats but it is bigger than a standard litter box and far more ergonomic to the way cats move.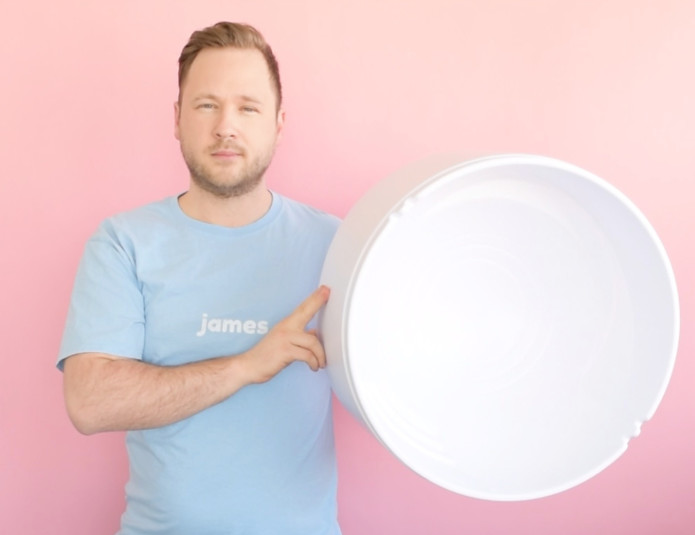 A Zero Compromise Solution.


Boxscoop is chore free to maintain, raises next to zero dust, and is designed from cat behavior studies for cat comfort… plus, it's modern and looks nothing like a litter box.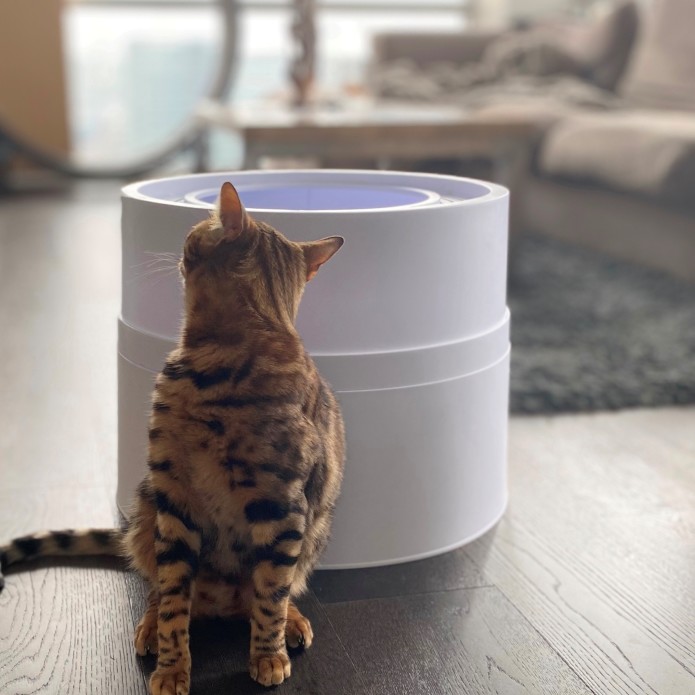 We released our first model in July 2018 and the feedback was incredible. We recorded every detail and consistently analyzed for improvements. Success to us is making the most number of lives better. We brought the first model to market ourselves; we can do infinitely better together with you.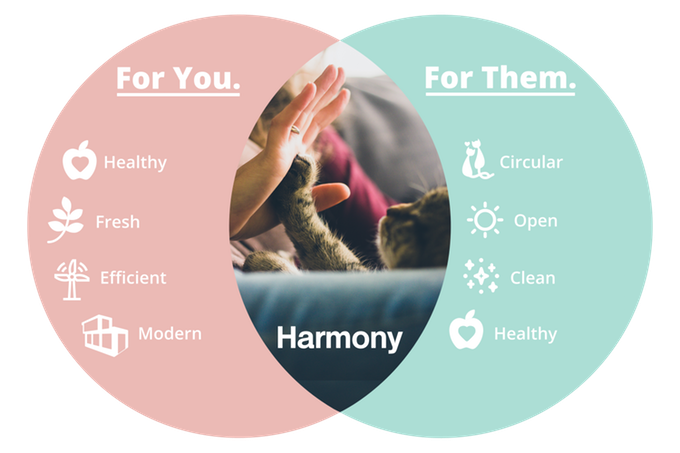 We've now shipped 6000+ Boxscoops!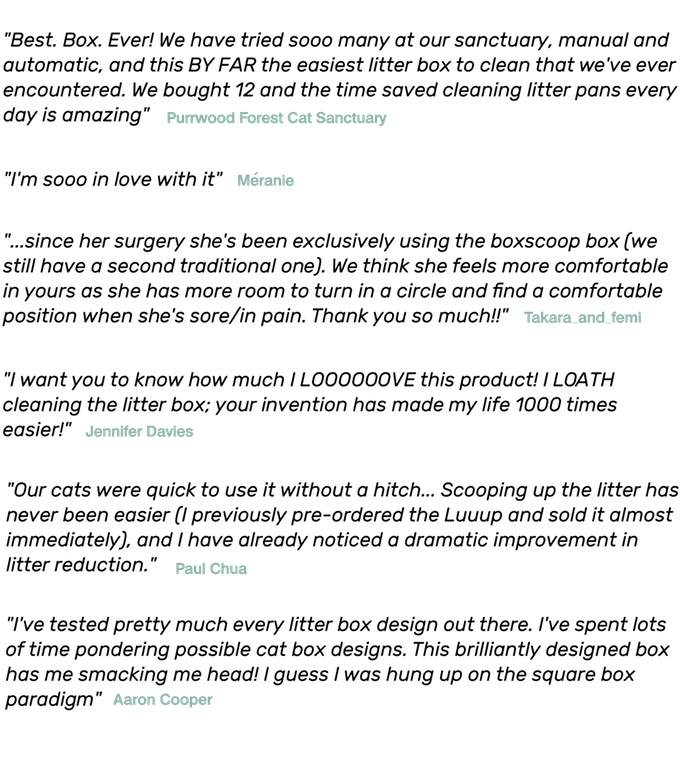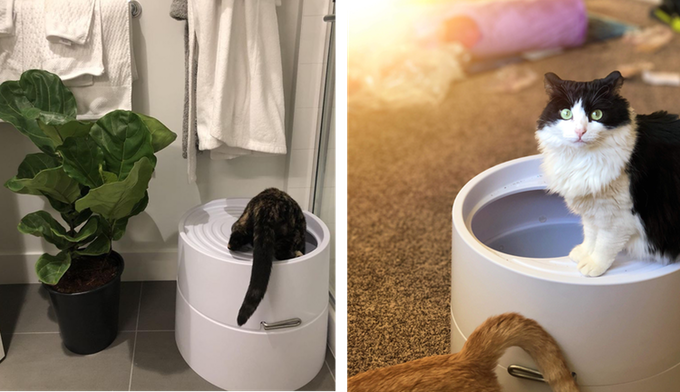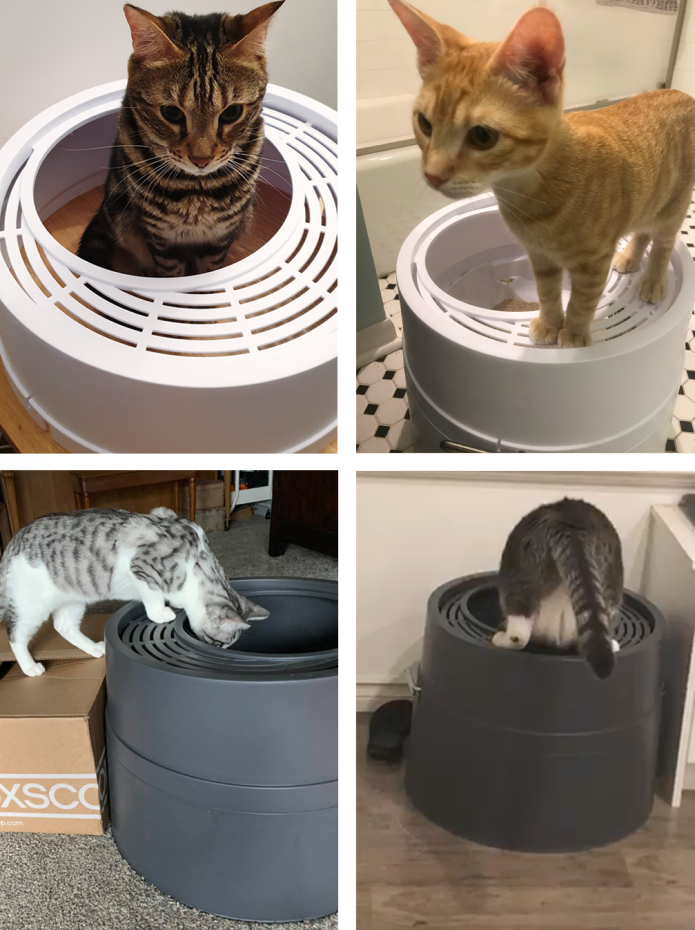 Minimalist design
When dealing with pee and poo, the fewer components and seams the better. The container, scoop and cover are all precision made. Ridges and contours are elegantly carved into the surface to allow it to slice through the litter like this. The design looks simple because we over-engineered for simplicity. Creating this sized container with precision in one piece requires a machine capable of pressing the equivalent weight of 330 cars!
The cover on 2.0 is designed to securely fit without any clips, because who wants to fumble with clips every time they go to clean the litter box! It's actually so secure it's essentially dog proof!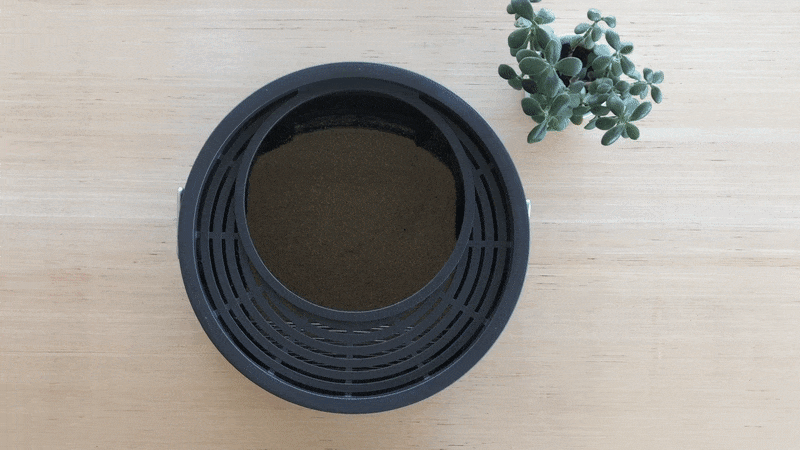 5 days and 2.7 minutes total spent on the litter box, including removing/replacing the cover and tossing the waste in another room— and that's daily cleaning with a 14-15lb cat. This is real life with Boxscoop.
A standard clay litter in a standard litter box with one large cat costs ~US$ 220 per year. Boxscoop is extremely litter efficient and saves hundreds in litter costs: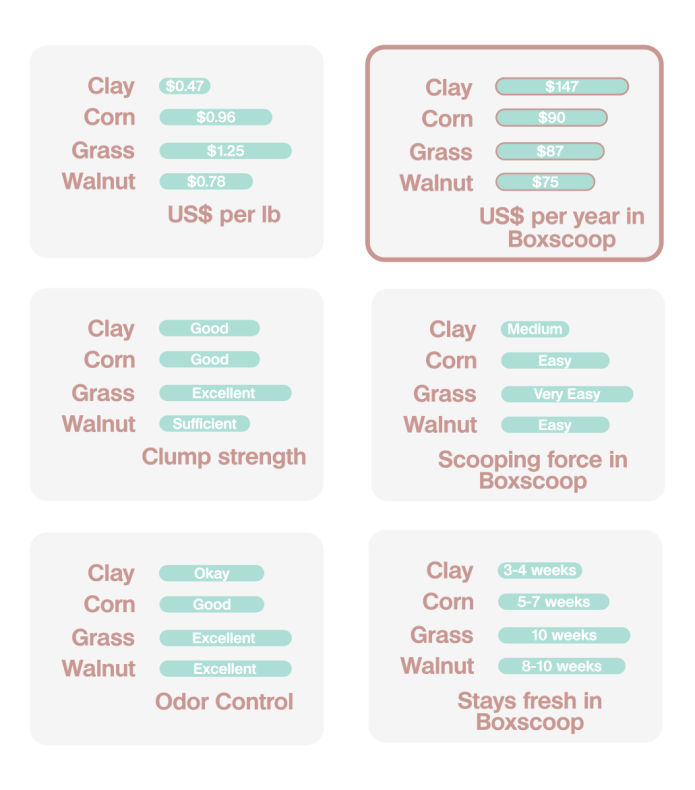 *Annual costs calculated are approximations based on one large cat (12-15lbs). For full experiment and results, please see our blog post: The cost of cat litter


From surveys, 52% of our backers use clay litter and Boxscoop is ~35% more litter efficient than a standard litter box with clay litter. From the 6000 we've shipped in 2019, that translates to at least 500,000lbs less clay litter being consumed per year. That's a big deal, and with every new Boxscoop 2.0 shipped, the number will keep increasing.

We engineered features into the design to perform even better with alternative clumping litters like corn, grass, walnut, wheat and more. These litters are lighter, healthier for cats, biodegradable and they stay fresher longer, saving you money while saving the environment and your cats health.
This is Boxscoop with a Walnut based litter: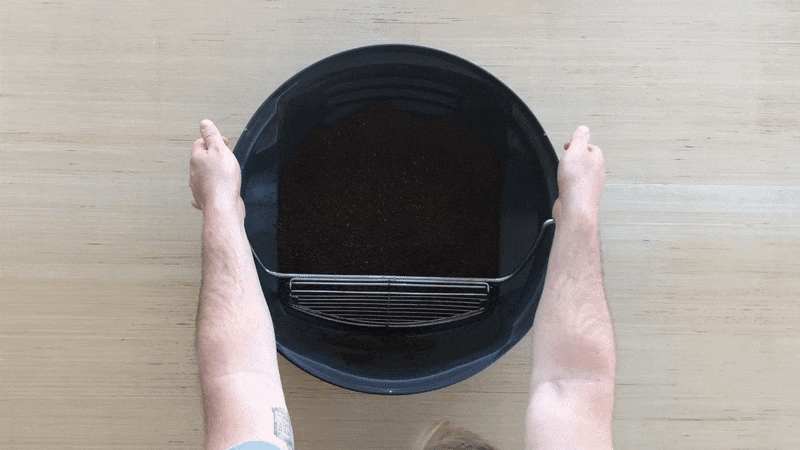 Grass litter compliments almost all other clumping litters, especially clay. It's typically odor and dust free and it clumps and absorbs odors and moisture amazingly well.
If you have a clay litter you love, mixing 30-50% of a grass litter in with the clay will keep the litter fresher and extend its life. It also lightens heavy clays and makes them even easier to scoop!
*Dr. Elsey Ultra and other similar coarse grain clay litters are sludgy and require more scooping force in Boxscoop. If you'd like to use a coarse grain clay, we highly recommend mixing in 30-50% of a grass or walnut litter.
This is Dr.Elsey's Ultra with 50% Grass litter added: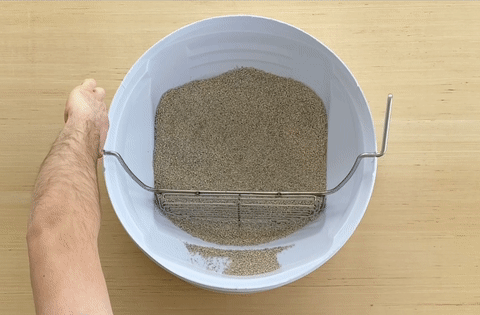 Boxscoop components are 100% recyclable— and we package without the use of plastic.
We're also currently developing a toss container that will seamless attach to Boxscoop so you can scoop, toss and compostable bag quickly! The toss container holds and dispenses rolls of compostable doggie waste bags.
This accessory will be available for your Boxscoop in April 2020, and as a Boxscoop backer you can pre-order it directly from our site at 67% discount.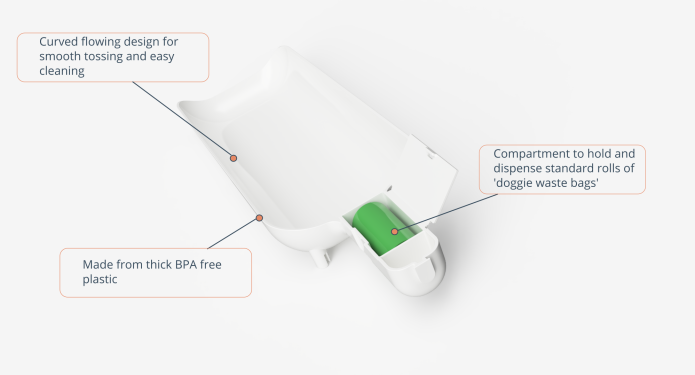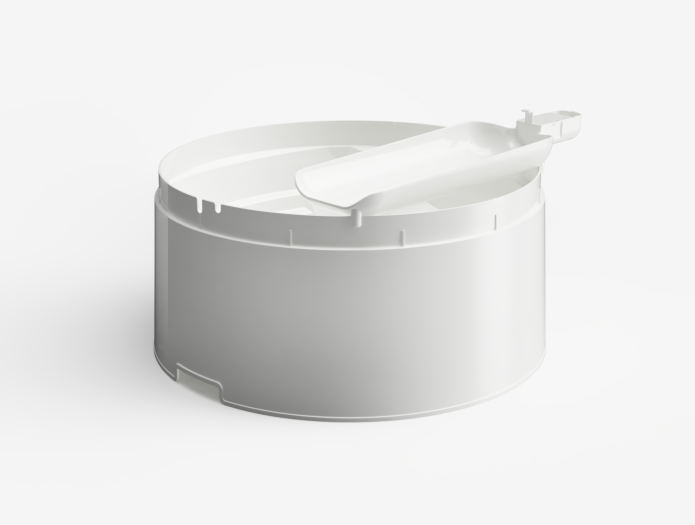 Cats have 200 million odor-sensitive cells and it's our mission to make daily cleaning easy, so your cats have one of their most basic and overlooked needs fulfilled—a clean comfortable place to do their business.
Do you have 20-30 seconds a day? Thirty seconds is ¼ the time it takes to brush your teeth and the scoop will run through all the litter getting those little nasties out; it's a rewarding feeling and your cats will thank you with extra purrs
Boxscoop 2.0 is recommended for cats up to around 15lbs that are agile and can easily jump up on to a couch. The scoop can also be stored outside, or Boxscoop can be used with the cover off for cats that want a bit of extra room.
Boxscoop Curve XL is available on our website for cats up to 20-21lbs. If you are interested in Curve XL click the link below:
Cat weight: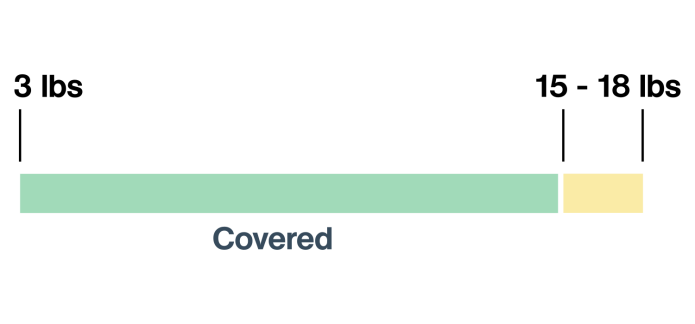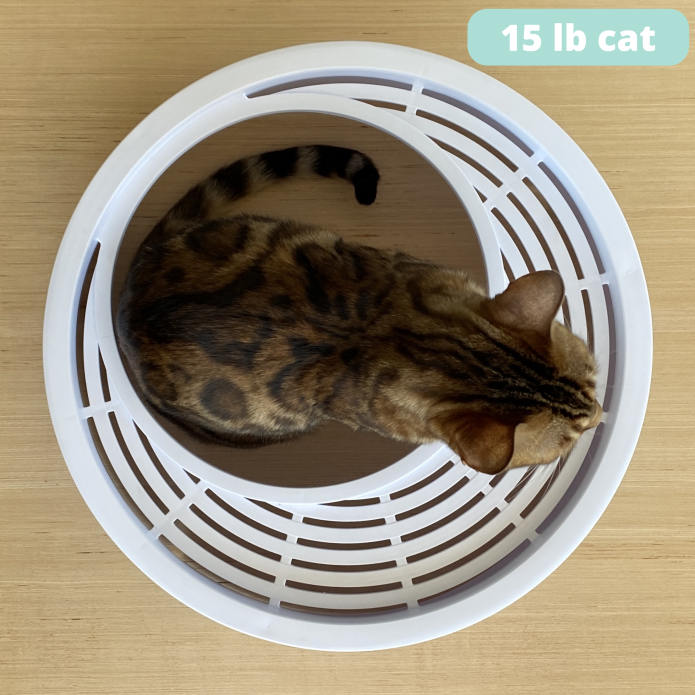 Inside Boxscoop cats can freely turn and the open top gives them visibility to everything around them. They feel safe, secure and always have the option to pounce out if something makes them uneasy.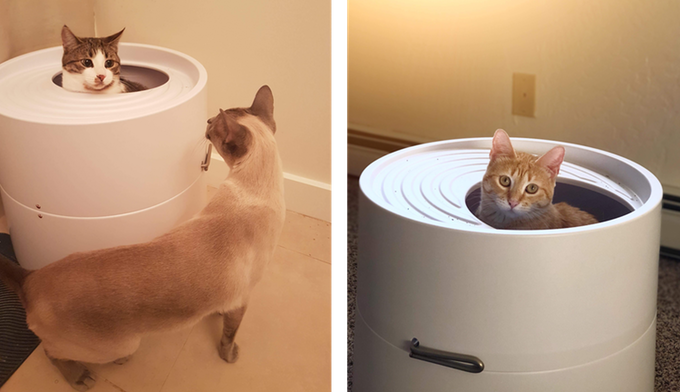 *Photos from our original model. Boxscoop 2.0 is even more open on top.

80% of cats take to Boxscoop like "ducks to water" the other 20% require more time. The design works both with and without the cover; this way the skeptic cats can adjust at their own pace. 
Purrwood forest uses them both ways throughout their no kill sanctuary.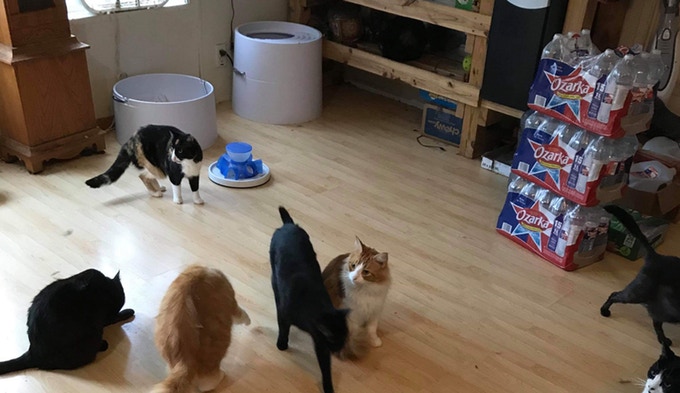 It's time to say goodbye smelliness…
The beauty of having no corners or seams makes sanitizing the whole litter box so easy and rewarding.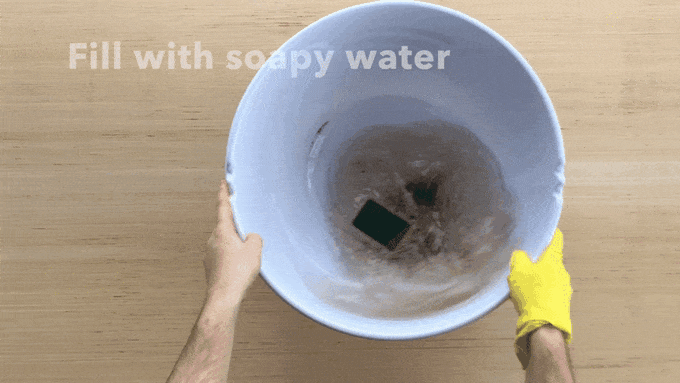 For an extra deep clean you can let the scoop and container sit in a vinegar/water solution.
…and hello to Boxsoop
You can have your very own Boxscoop 2.0… you just have to help us create it for you!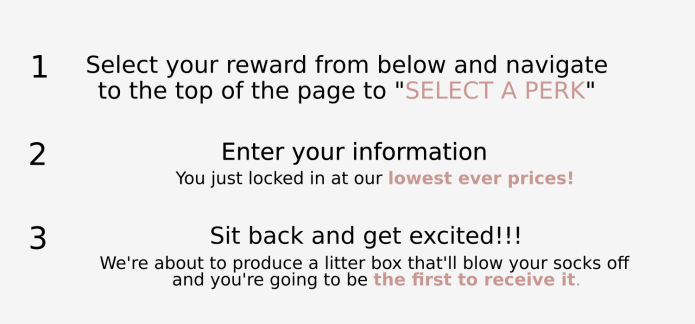 This was our timeline from 2019. We successfully produced 6000 Boxscoop 2.0s in 2019 and fulfilled Shipment #1 and #2 on time! We've now finished production for our March 2020!

Hey, this all just kinda happened.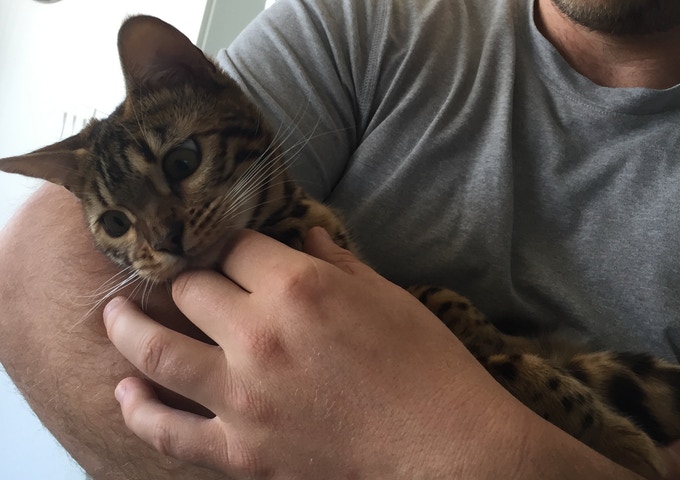 Boxscoop began with Arthur, a Bengal that started her life being mistaken for a boy. Arthur loved to dig, she was a cat after all!! but she hated being enclosed; Michelle disliked the dinosaur litter box in our closet and I felt the design efficiencies of litter boxes were absurd. 
On Feb. 21, 2017 I wrote this: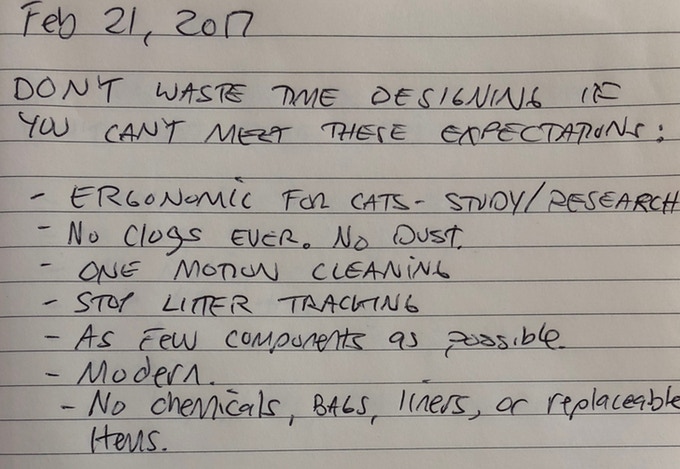 In July 2018, we released the original Boxscoop. It received incredible feedback but it also could be far improved. It was our first attempt and we funded it ourselves. It was an exciting time we felt we were making a real difference! Then on October 6th, while running around chasing a feather Arthur collapsed. She was only 2.5 years old and completely had our hearts… She had a genetic heart condition called HCM and just like that little Arthur was gone… and then 15 hours later my sister took her last breaths as well. 
The easy thing to do would be quit Boxscoop… but this was inspired by Arthur, and encouraged by Kristy. They planted the seed and we are beyond inspired to take Boxscoop to the next level.
James + Michelle