BrewDog Craft Beer Hotel & Sour Beer Facility | We are launching the world's first craft beer hotel, The DogHouse, along with a sour beer brewery
**STRETCH GOAL ACHIEVED!!**
With such an overwhelming response to our campaign, we introduced a stretch goal, and successfully smashed $200,000! With these additional funds, we will be able to build a rooftop residents' bar at The DogHouse, serving a selection of the amazing sour beers brewed right next door! The following perks are now available to redeem! Get sharing it with your buddies!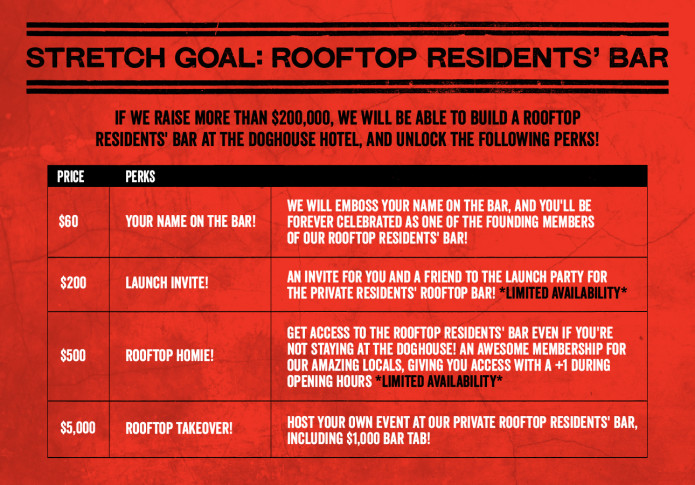 Hello, we are BrewDog.
In 2007, BrewDog  was born on the rugged coast of North East Scotland. Over the past 10 years, we have grown to become UK's best selling craft beer, we export to 60 countries and we run 49 bars across the world. We started out with a mission to make other people as passionate about great craft beer as we are, and that's still our mission today.
Our first craft brewery in the US launched this year in Columbus, Ohio. We are now offering the opportunity to get involved in the world's first crowdfunded craft beer hotel, attached to a brand new sour beer facility, all located on our site in Columbus.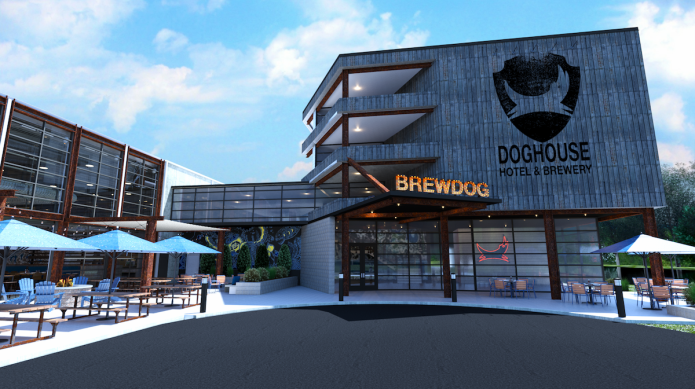 By supporting this project, you will be staking your claim on one of our most ambitious projects to date. This hotel will provide a complete experiential environment in which to truly immerse yourself in the world of craft beer. From waking up to a view of our sour beer foeders and the smell of freshly mashed malt, to hop-infused spa treatments and beer breakfasts, and even amazing craft beer on tap in your bedroom – this hotel will have it all.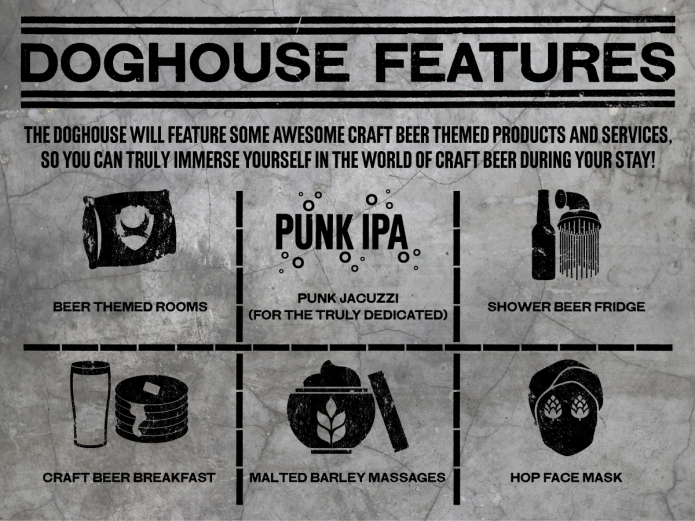 Why The DogHouse?
We want to create the top craft beer destination on the planet. Our brewery in Ellon, Scotland has become a destination for craft beer fans across Europe, and we want to build an even more amazing beer destination stateside. With The DogHouse focused on amazing craft beer from BrewDog and our favourite breweries worldwide, we're creating the ideal environment in which to immerse yourself in the ultimate beery weekend.
Forget Disneyland. This is the new happiest (or hoppiest) place on Earth.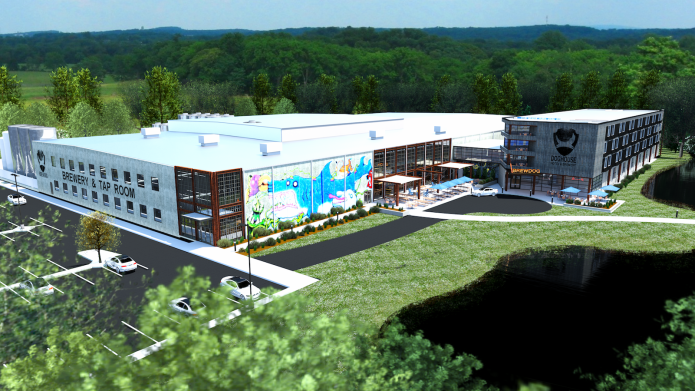 Sour brewing provides the opportunity to experiment and innovate with the weirdest, most wonderful styles of beer the world has to offer. By building a dedicated sour beer facility on site at our brewery in Columbus, Ohio, we're setting ourselves up to start building some insane recipes without impacting on our day-to-day brewing. 
 
What We Need & What You Get
The BrewDog hotel & sour beer brewery will cost $6million to build and furnish, and the proceeds of this campaign will enable us to fast track the project through to completion. As you can see, the designs are well underway and we should have these finalized by June 2017. The build will then be accelerated in order for the hotel to be operational by Q3 2018.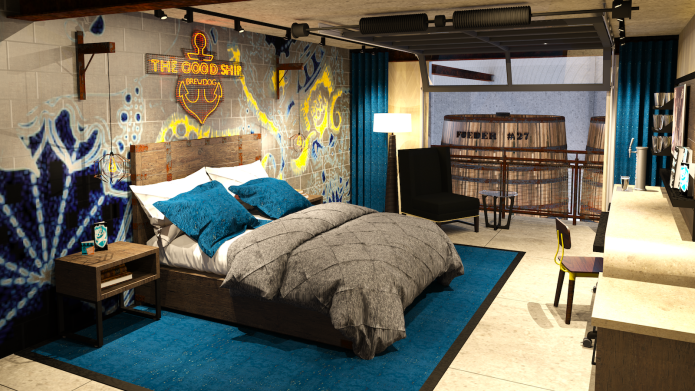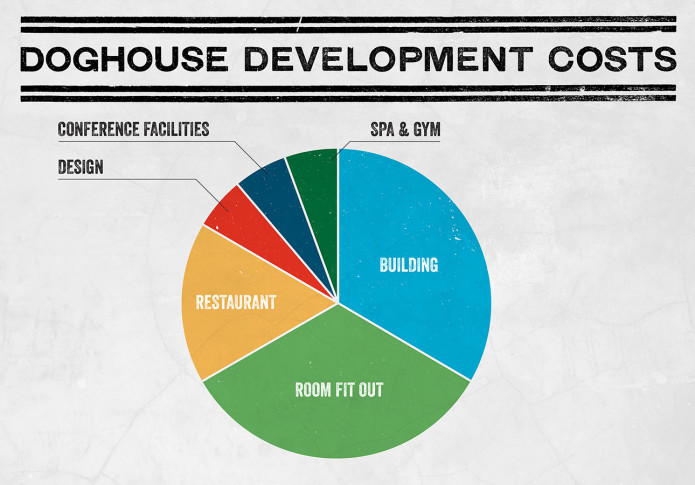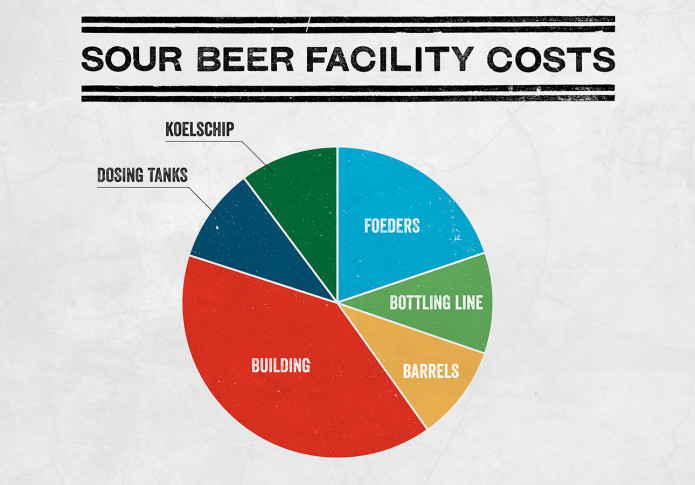 DogHouse will have craft beer at its core. We have already started work developing some craft beer spa treatments, with bespoke hop oils (to emulate your favorite beers) and malted barley massages, as well as a 'hoppy feet' pedicure to put a spring in your step before a brewery tour! Fully immerse yourself in the world of craft beer during your stay, enjoy craft beer infused breakfasts, lunches and dinners, with beers paired to every course.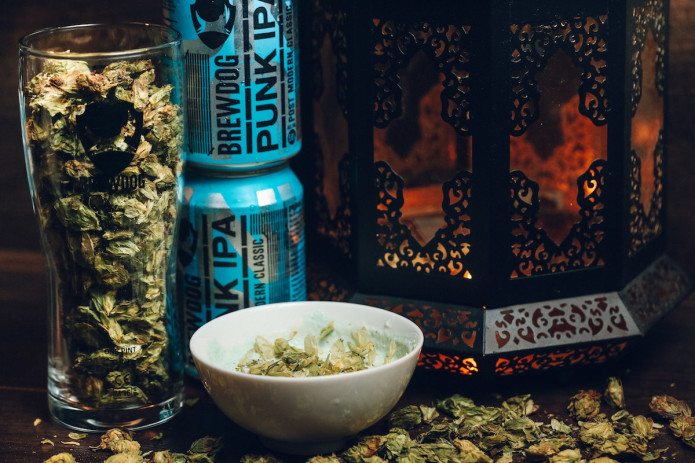 Our rooms will also all be themed around the world of BrewDog beer, with specialist suites that take you on a tour of our history, design, and passion that goes into every beer we make. We will also be installing shower beer fridges into our en suite rooms, so you're never more than arm's reach away from a chilled can of Punk IPA.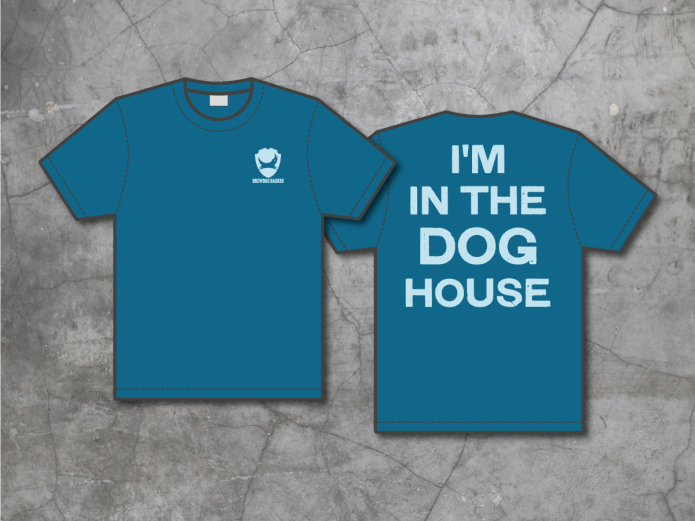 By backing our DogHouse and sour beer facility project, you'll unlock some amazing, money-can't buy perks and rewards that will elevate your visit to our brand new brewery and beer-themed hotel!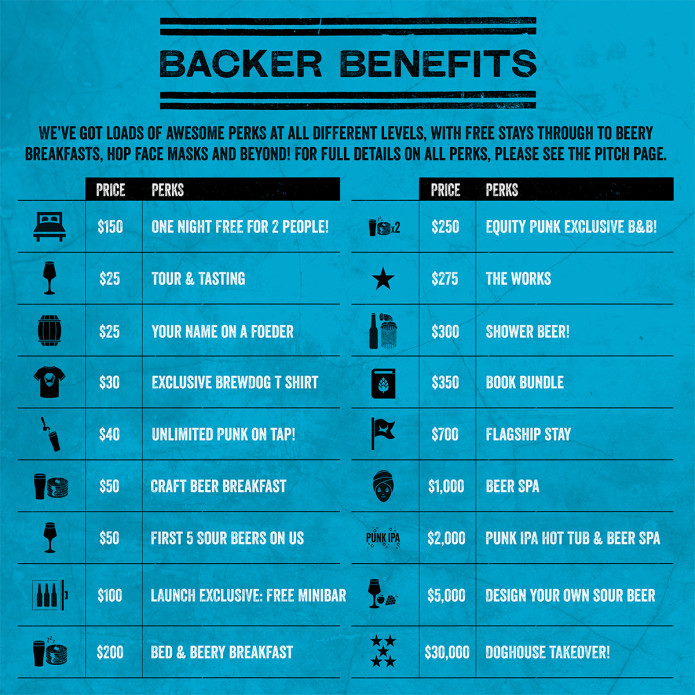 Read more about each perk and the items included on the pitch page.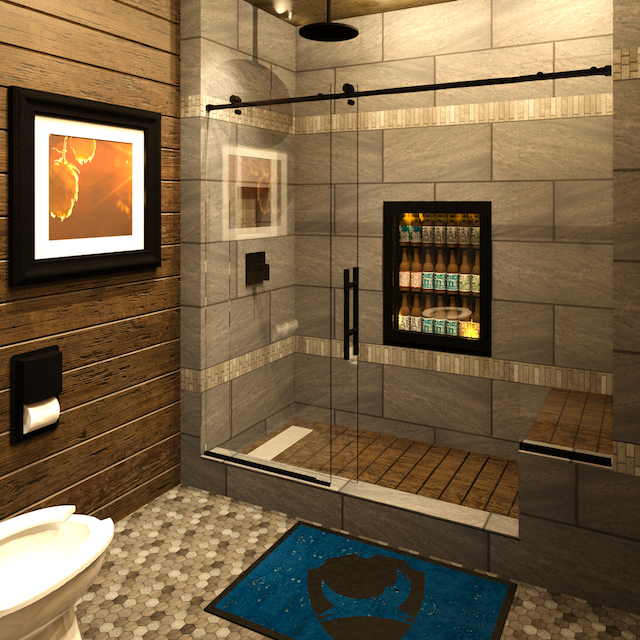 As well as being a part of the world's first fully-immersive craft beer hotel, you'll also be supporting the creation of 80 new jobs in the Columbus area, and further contributing to BrewDog's positive impact on the local area.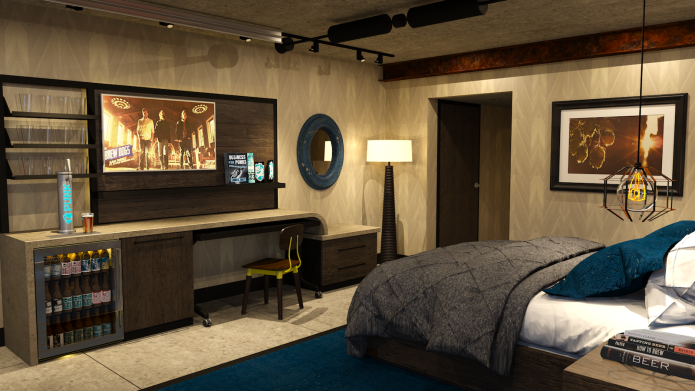 Risks & Challenges
BrewDog owns the land on which we intend to construct The DogHouse, and we have established great connections with the City of Canal Winchester. The local authorities are fully supportive of our mission and goals in the region, and the brewery is located just 10 miles away from downtown Columbus with plenty of travel links on our doorstep. Although this will be our first hotel worldwide, we have an expert retail division with extensive experience in the hospitality and hotel industries.
Our 100,000 sq ft brewery is partially funded by 'Equity for Punks USA', via which we have raised $3.75million to date. You can join our global community of 55,000 craft beer renegade investors, and own a stake in BrewDog USA Inc. by buying shares right here.  
Provided we hit at least our minimum raise on Indiegogo, we have the balance of funds required in the profitability of the business to launch as per our timeline. All funds raised over the minimum will just allow us to move faster, and welcome you guys in before the general public!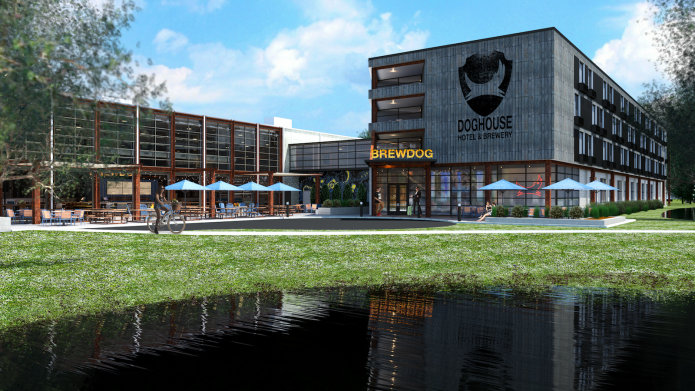 The Team
BrewDog was launched in 2007 by James Watt and Martin Dickie. The pair set out on a mission to make other people as passionate about great craft beer as they were. Ten years later, they have together grown the business from brewing beers by hand in a garage in North East Scotland, to one of the world's most exciting craft breweries. James and Martin have recruited a crack team of ambitious, experienced individuals who make up 'Mission Control'. Here's the skinny on BrewDog's US senior team: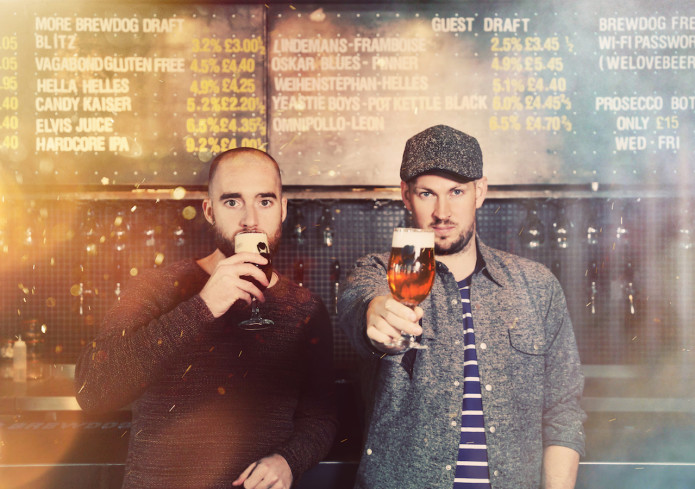 James Watt (Above, right)
Captain & Co-founder James Watt was a fully qualified deep sea Captain, having earlier completed an honours degree in Law & Economics. He traded in being a salty sea dog to become a BrewDog in 2007, pursuing his passion for great craft beer by setting up the company with Martin Dickie. James was awarded Great British Entrepreneur of the Year in 2014, and is one of only 13 Master Cicerones worldwide.
Martin Dickie (Above, left)
Beer Pirate & Co-founder Martin Dickie has a first class honours degree in Brewing & Distilling from Herriot Watt University. He is a renegade artist on a mission to change people's perceptions about beer and challenge their tastebuds. Along with James, Martin hosts the hit international TV show Brew Dogs.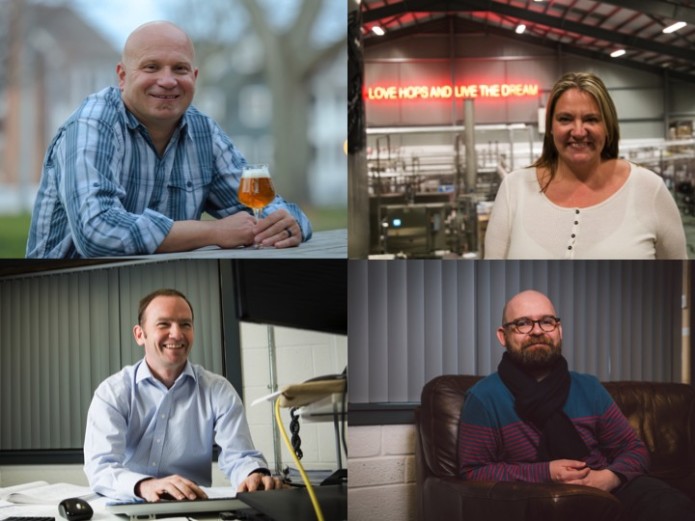 Allison Green (Above, top right)
People Director Ally joined BrewDog from B&M Retail (a FTSE 250 listed company) at the beginning of 2016 with the brief to make BrewDog the best employer. Ever. 
Neil Simpson (Above, bottom left)
Finance Director Neil Simpson joined BrewDog in August 2012 bringing with him over 20 years of experience, (10 of which were at partner level). Neil is a qualified chartered accountant with the Institute of Chartered Accountants in Scotland.
Tim Hawn (Above, top left)
Head of Production at BrewDog's Columbus brewery is Tim Hawn. For the past nineteen years, Tim has brewed beers for Boston Beer Company and Pete's Wicked Ales, as well as a large multinational brewer, and held the position of Brewmaster at Dogfish Head Craft Brewery.
David McDowall (Above, bottom right)
Retail Director David joined BrewDog PLC from G1 Group PLC, where he held the position of Group Operations Director for six years. He has experience managing over 50 sites and is responsible for overseeing the strategic growth and management of our global bar division.
Richard Kilcullen (not pictured)
Sour brewing expert, Richard joined the good ship BrewDog in early 2017 from Wicked Weed, where he held the position of Head of Sour Production. Richard will play an integral part in the set up of the sour beer facility in Columbus.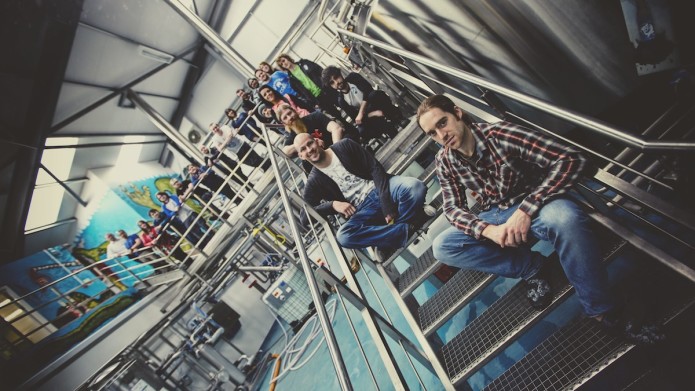 BrewDog
From our Scottish Head Quarters we export our beer into 60 countries worldwide, we have 49 amazing craft beer bars in 11 different countries, and our new brewery in Columbus Ohio is now open too. We are laser focused on two things as a business; beer and people. We are on a mission to make other people as passionate about great craft beer as we are, and we want to be the best company to work. Ever. We've also done some pretty insane stuff in our time, like brewing a beer at the bottom of the ocean, and driving outside the Bank of England in a tank to launch our Equity for Punks investment program. Here's what some other people have said about us in the past: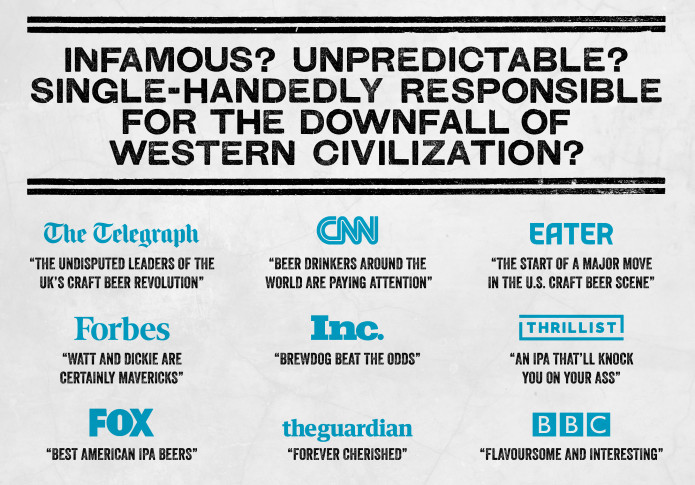 Equity for Punks USA
If you want to join our legion of 50,000 craft beer fans across the world, check out Equity for Punks USA, where you can invest in our US business, BrewDog USA Inc. By investing in Equity for Punks USA, you'll get access to even more extra special perks including:
Owning equity in our company
Lifetime discounts in our bars and online shop
Tours of both our breweries in Ohio and Scotland
Exclusive beers including the world's strongest beer, The End of History
Signed books
Merch
Small batch whiskies
Your name on one of our fermentation vessels!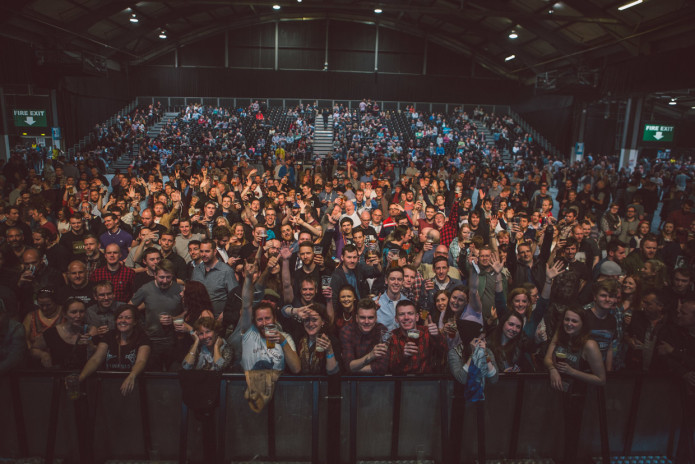 FAQS
When will The DogHouse open?
Assuming we hit our funding goal, we are hoping to launch The DogHouse by the end of Q3 2018. The plans are already a work in progress, and design should be locked down by the end of June 2017. As and when we develop new ideas and designs, we will share them with backers!
Why Columbus?
We found a great site with amazing utilities, logistics and expansion potential in Columbus Ohio, and after spending only 24 hours in the Discovery City, knew this was where we belonged in America! There is a huge opportunity for our beers in the Mid-West, and there are no other mid-sized craft breweries in the Columbus area. Columbus is within 500 miles of over half of the US population, so we're well located for distribution as well as travel. The reception from the local community has been absolutely incredible –  we love (LOVE) the city of Columbus.
Can you send me my awesome sour beers through the mail?
Due to various laws as well as restrictions on alcohol offered through perks on Indiegogo, we're unable to send you any beer. Sad face. However, we will provide vouchers for these, and you can come and collect your beers from our brewery once they're released! We'll keep you posted on when you can expect them to be ready for collection, and you may as well book a night in the hotel while you're in town! What better excuse than to spend a night in The DogHouse than checking in on your investment? You can thank us later.
Where can I try your beer?
BrewDog beer is available to sample from our DogTap taproom at our brewery in Columbus, Ohio! You can also try our beer around the world in any one of our 60 distribution markets (served by our Ellon brewery), in any of our 49 bars globally, and you'll soon be able to get amazing BrewDog beer across America once we release our first beers out of Columbus!
Can I see your website?
Sure! Visit brewdog.com!
I have some questions – can I talk to you?
Sure thing! Email [email protected] or if you've backed our campaign, you can head to the comments and talk to us there!
Love hops and live the dream
BrewDog x