BROOMBI: Smart Broom with Quadruple Cleaning Power | A Broom Better Than a Vacuum – The World's First Silicone Broom & Patented Smart Dustpan


We clean regularly around the house to keep our spaces fresh.  But are your methods of cleaning really the most efficient way? Do you use various cleaning tools for picking up debris, wiping, and sweeping, but still find specks of contaminants that remain? Though they may be unseen, vacuums and ordinary brooms will scatter and redistribute dust. Not being able to clean to perfection can increase stress levels and the frequency of cleaning!
THE ORIGINAL BROOMBI

Patented 4-blade edge with quadruple cleaning power
VS
TRADITIONAL BROOMS
Traditional brooms can be inefficient even after several sweeps
Advanced Technology in a Broom!
We developed Broombi to clean any mess perfectly and efficiently with a single sweep. Broombi is extremely effective in sweeping up various debris, fine dust, liquids, human hair, pet hair, and broken glass pieces.
Cleans gooey kitchen messes with ease!
And is easy to clean and maintain – just rinse
Never cry over spilled milk again
Adjustable length handle – up to 55″ for any type of cleaning job
Even windows!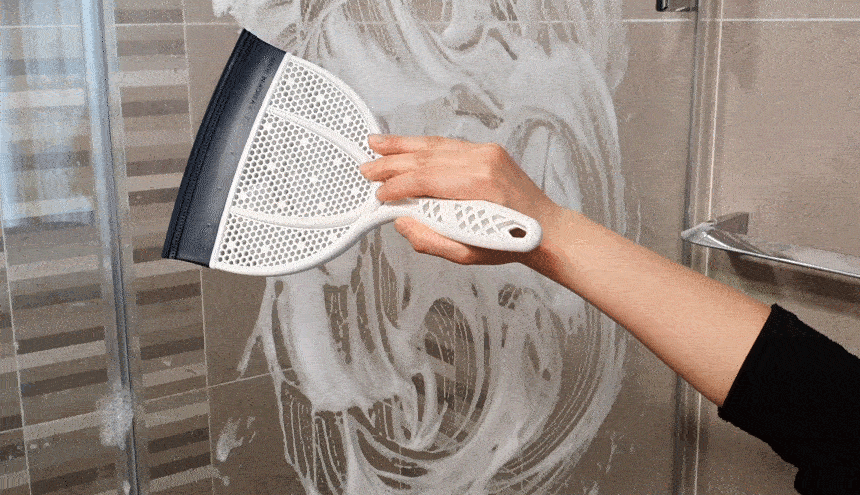 And mirrors, shower walls…your bathroom buddy:)
And kitchen friend!
Pet owners will love Broombi – clean pet hair on so many things
Rugs, carpet, sofas, chairs, pillows…
(TOP) Ordinary brooms will leave unseen shards and get caught in bristles.                     (BOTTOM) Broombi will pick up every last speck
And very durable – made from strong, flexible materials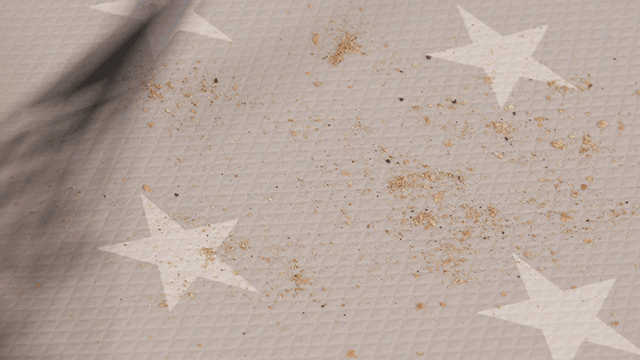 The patented quadruple edge blade captures fine dust and keeps it from disbursing
Reach hard to clean areas effortlessly
Ugly messes – no problem with Broombi!
But we didn't settle here. The upgraded Broombi Ver. 2 will be the best broom you will ever own. Broombi Ver. 2's patented quadruple blade design was improved to increase traction on various surfaces while maintaining a smooth feeling when sweeping. We used modern technology to not only fix a few issues with the original  (Ver.1) but greatly improve it, enabling Broombi Ver. 2 to clean extremely efficiently. This "smart broom" will save you valuable time keeping your house clean and increase the quality of your life.

How Does It Work?
PATENTED QUADRUPLE BLADE
The Broombi Ver. 2 was designed with a quadruple-layered silicon blade. Each blade is optimally shaped to clean various surfaces. The special patented frame design directs wind flow to prevent dust particles from escaping the electro-statically activated broom blades.
Patented Quadruple Blades sweep up everything in its way!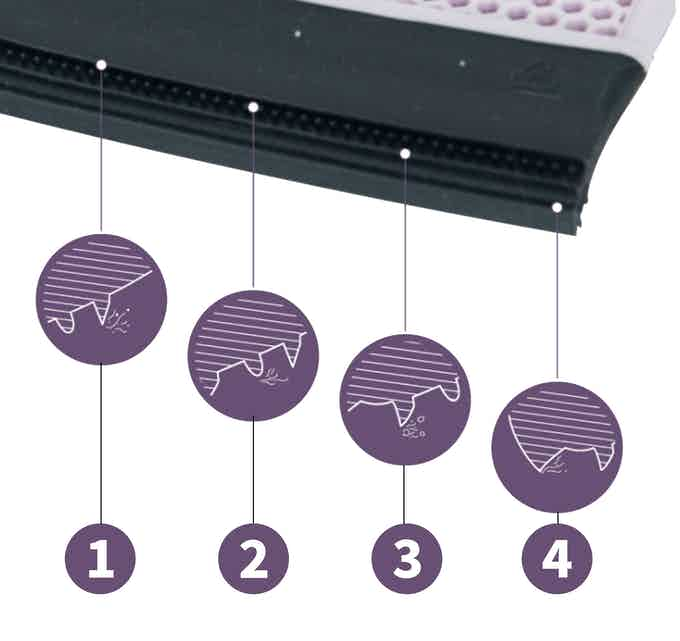 Patented Quadruple Blade & Unique Frame Design
1. The first blade attracts dust particles with static electricity that activates when rubbing against the floor. The static electricity acts like a magnet, sucking in even the tiniest dust particles. 
2. The second blade specializes in collecting hair – perfect for pet owners. The second blade layer scrapes out hair and dust particles deeply planted in rugs, carpets, and fabric. 
3. The third blade sweeps in and attracts the dust and hair that has been scraped out. 
4. The last blade once again sweeps in the tiniest dust particles that still might exist. With a single sweep, your cleaning results are quadrupled!
ELECTROSTATIC POWER
Static electricity is activated when used, attracting dust like a magnet!
Electrostatic Power is activated when in use
Patented Dustpan with Smart Features
The Broombi Dustpan works in perfect harmony with the smart broom. It includes a patented semi-automatic retractable bin – a unique feature not seen in any other dustpan until now! This addition alone where the dustpan easily "opens and closes" without having to do so manually,  frees up your hands and saves your back from constant bending. The Broombi Dustpans' innovative ergonomic design, with other several  "smart features" make cleaning a breeze!
Semi-automatic retractable standing dustpan
We've all had experiences where the litter you swept up into your dustpan overflows. The Broombi Dustpan was designed with an asymmetrical 0.04" slim edge, different than regular straight-lined rubber edge openings. This design enables the Broombi Dustpan to stick to the floor tightly and scrape up liquid contaminants and tiny glass shards with ease. The Broombi Dustpan's unique design incorporates a 15°retaining wall that prevents any litter from escaping, eliminating the need to sweep up twice.
We can't say that we're done cleaning without being able to dump everything out. Don't let your litter overflow or spill onto the floor again before it reaches the trashcan. The smart design incorporates a curved "retaining wall" that enables you to easily remove debris without spilling. The debris in the dustpan is collected to one side and can be dumped into an opening as small as a food jar without spilling!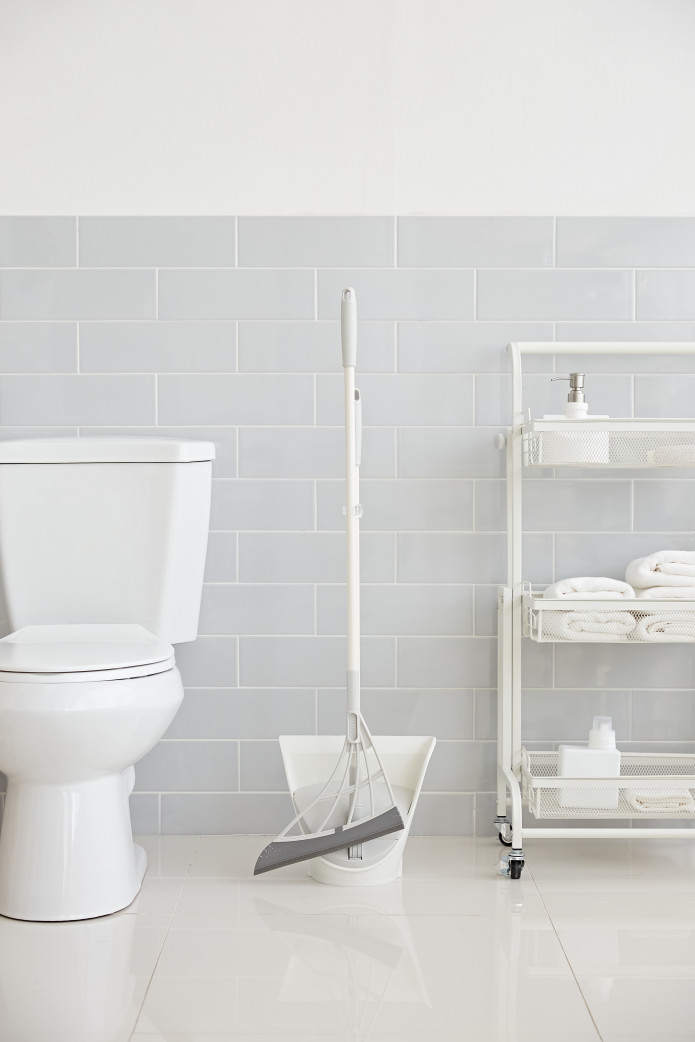 Elegant design – compact storage
NO SPILLAGE WHEN EMPTYING!
No double cleaning!
"Flush Wall" makes emptying easy
No spills – no mess – smart design!
Our first version was super popular in Asia, our upgraded version is even better!
We debut the first version on QVC Japan and received an incredible response. We're very excited to launch our new model on Kickstarter!
Why Clean with Broombi Ver. 2
This is not your ordinary broom. Broombi is a super-efficient daily cleaning tool – no need for rags, washcloths, scrapers, or other cleaning equipment. Broombi handles fine dust and liquids with one sweep and removes contaminants from so many surfaces including carpets, all indoor floors, rugs, tiles, and more like a charm. 
When Broombi sweeps, floors glisten!
Light, Convenient and Hassle-Free!
Ordinary brooms can weigh 2 ~ 5 lbs. The Broombi Ver. 2 is made from lightweight materials – weighing in at only 0.7 lbs! Broombi is lighter than a can of soda (or beer) and easy enough to use with one hand, yet extremely durable.
The adjustable length handle can stretch up to 55" to tackle any job around the house – under beds, couches, and high windows. Broombi relieves stress on your neck, waist, shoulders, and joints by being able to adjust the length to match your height.
The adjustable, easy twist handle is super useful and convenient.
Broombi is Advanced Technology in a Broom
Broombi provides a wonderful cleaning experience you can't have with ordinary brooms. You can see with your own eyes the powerful magnet-like effect as it sucks in all contaminants. Broombi is one-of-a-kind intelligent cleaning equipment that acts like a broom plus a vacuum cleaner.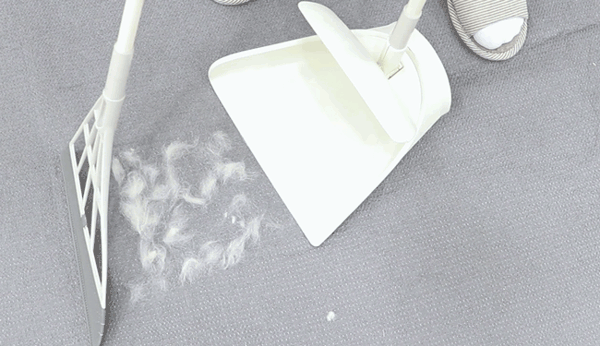 How is this possible? We designed Broombi Ver. 2 quadruple-edge blades with a unique POE material that "magically" attracts dust. The blades create static electricity that sucks in contaminants. Even the tiniest dust particles not visible to the human eyes won't escape.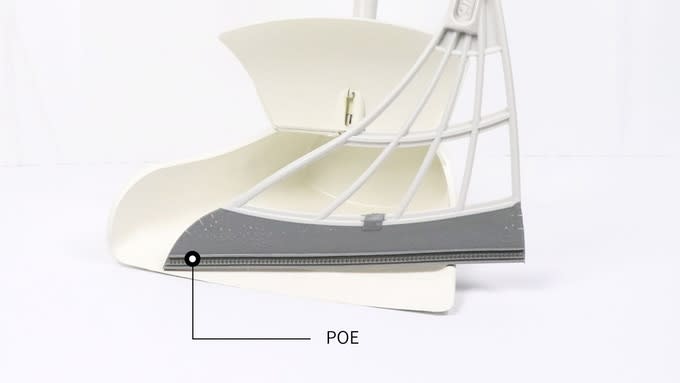 Have you ever felt frustrated while sweeping the floor with your broom as specks of debris get missed? Eliminate that feeling with Broombi! We've employed a special grid-shaped frame design that directs wind flow in a certain direction so that dust doesn't scatter out around the broom and back onto the floor. The patented design lets air flow through and prevents any gathered dust from escaping.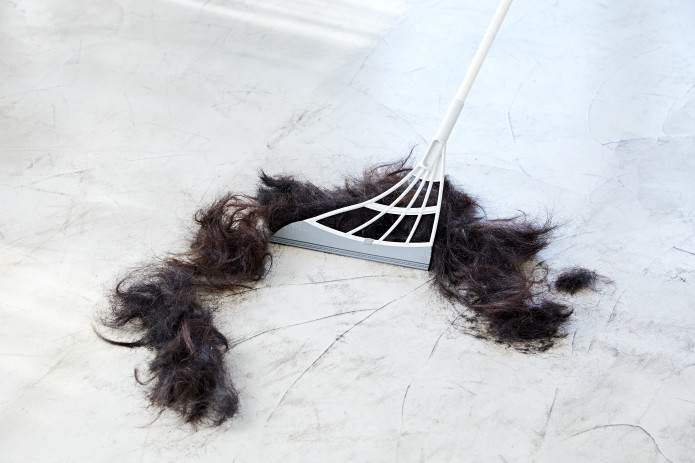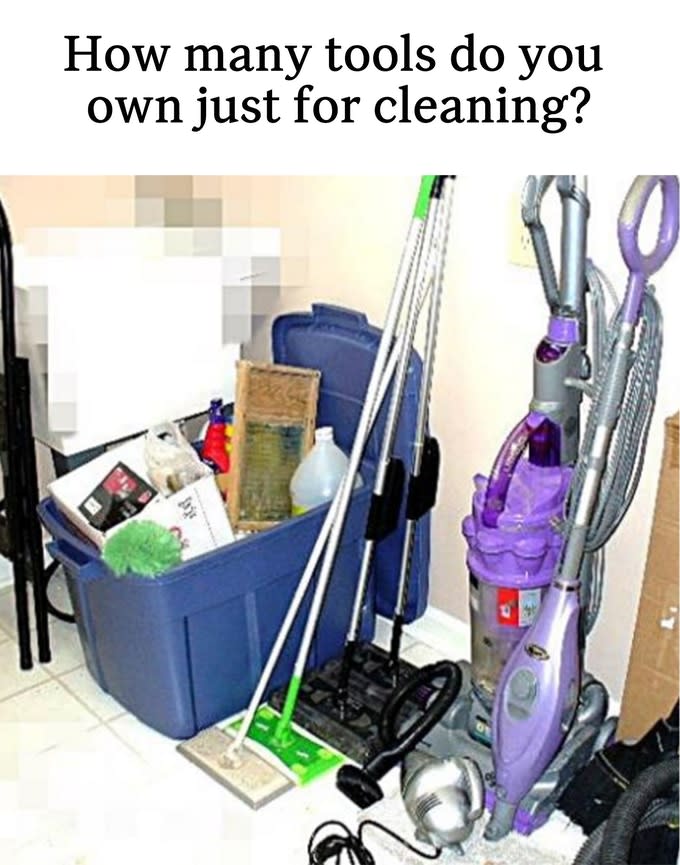 EXTREMELY EFFICIENT
We've all purchased different tools to keep our houses clean.  Products such as sticky rollers or disposable mop wipes are used to pick up dust and pet hair, but they require numerous refills. Other cleaning tools, including standard brooms and vacuum cleaners, can redistribute some of the dust particles again. But the Broombi Ver. 2 patented design works "magically" by utilizing the magnetizing power of static electricity created from the quadruple blade design to clean and capture all dust particles.  And best of all, it doesn't require any wasted refills.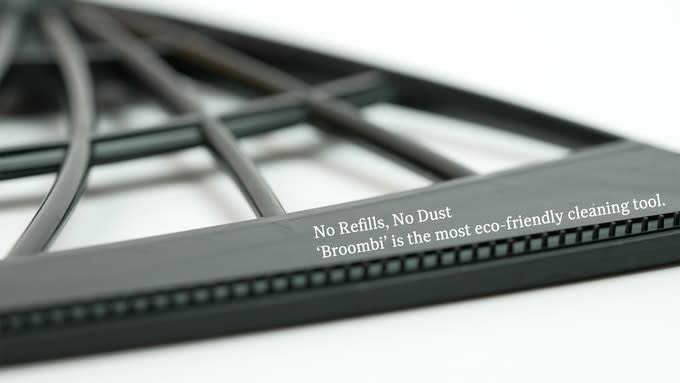 DURABLE AND ECO-FRIENDLY
Broombi is made from high-performance materials that can handle high heat and low temperatures. With a durable non-slip handle and no disposable or replacement parts, Broombi will last for years. This amounts to hundreds of dollars saved and a great reduction in disposable waste products.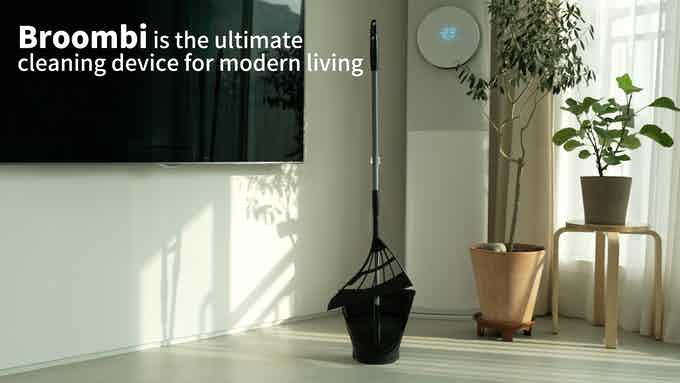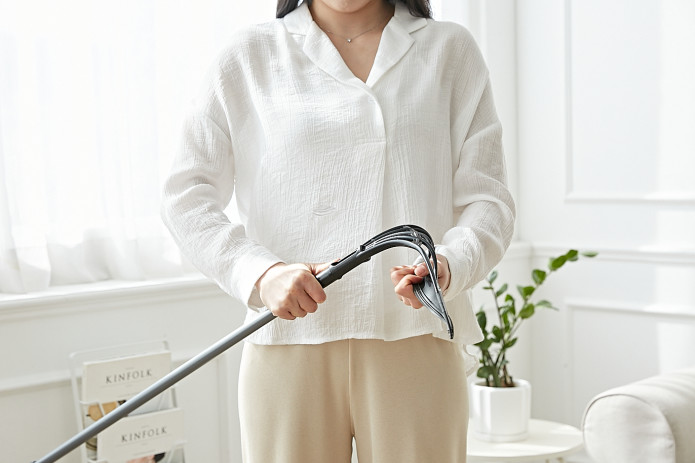 Bends, but doesn't break – very durable
A PRODUCT YOU CAN TRUST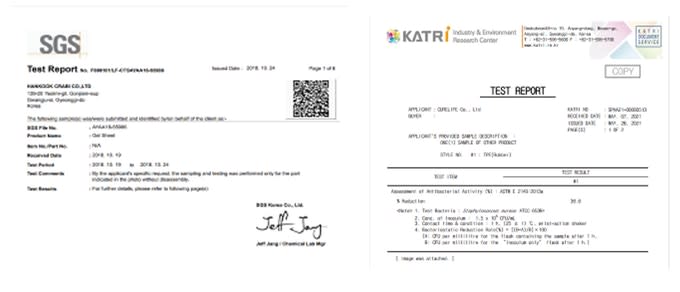 Tested from accredited labs
In researching materials, we examined regular plastic through tensile tests, and the plastic was found to easily bend due to low extending rates. And as time passed, it turned white and due to crystallization, consistently broke, making it no longer usable.
But the unique materials used in Broombi do not stretch out or bend at all. From careful utilization of materials chosen through a series of anti-bacterial, safety, and other various product tests, Broombi is durable, and you can use it with peace of mind knowing it was thoroughly tested.
Detergents used to clean and for disinfecting the cleaning products themselves cause environmental pollution. It can also be very time-consuming just to completely clean a dirty broom with soapy water.
With Broombi, you can eliminate the tedious process of cleaning or disinfecting cleaning equipment. It literally only takes seconds to wash Broombi. Just rinse in running water and let it dry out. Save the planet and save your valuable time with Broombi.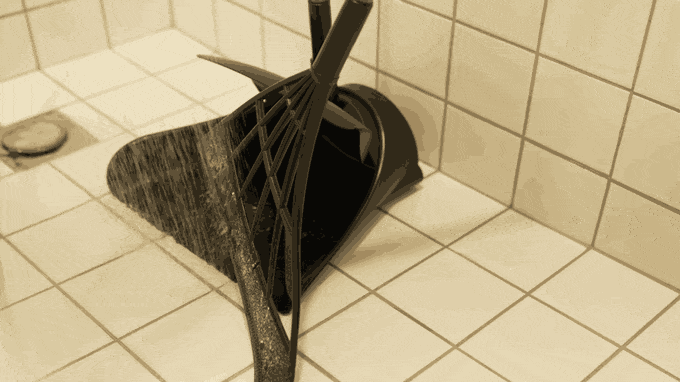 No harsh detergents, no disposables – just sweep and rinse – the Eco-Friendly way to go!
BROOMBI DUSTPAN WITH OVERFLOW PREVENTION
The Broombi Dustpan prevents overflow with a specially designed retaining 'Flush  Wall,' allowing contaminants like raw eggs or spilled liquids to be swept up easily and smoothly without spilling. The 'Flush Wall' not only enables Broombi to  sweep all sorts of contaminants but also allows you to empty the dustpan into  narrow or smaller trash bin openings with precision and no spillage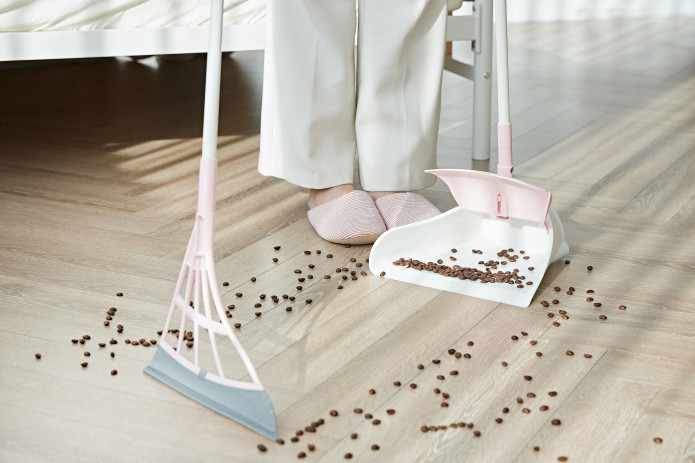 SEMI-AUTOMATIC – SMART DESIGN
A semi-automatic folding feature allows users to open and close the dustpan without touching or bending over. This keeps hands clean from contaminants in the dustpan and saves your back from constant bending. You can easily open the dustpan with the tip of your feet. When finished, simply tilt back the handle to activate the semi-automatic closing feature.

A PERFECT PAIR
The Broombi and the Broombi Standing Dustpan are a great pair that work in perfect harmony. The dustpan comes with a tightening clip made specifically to attach the broom. Broombi and the Broombi Dustpan combined in one can be stored without taking up much space, completing its duty as the perfect cleaning tools for modern living.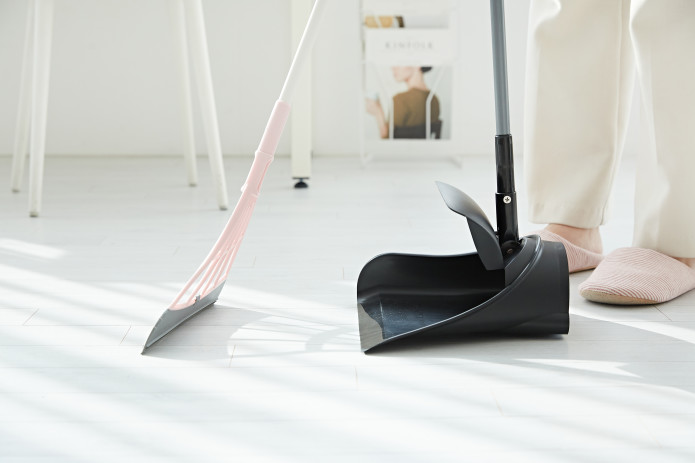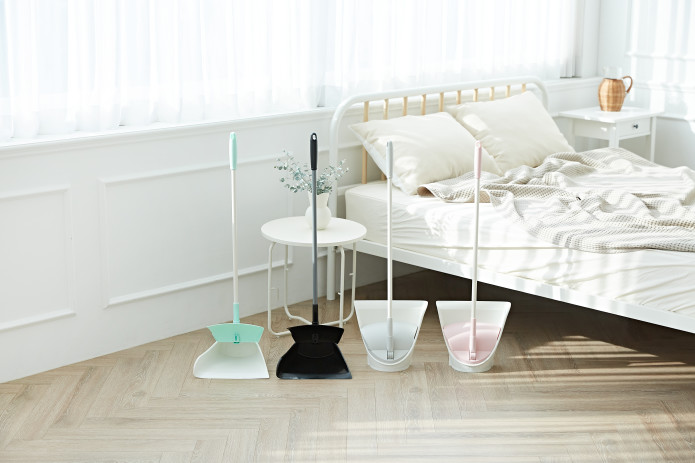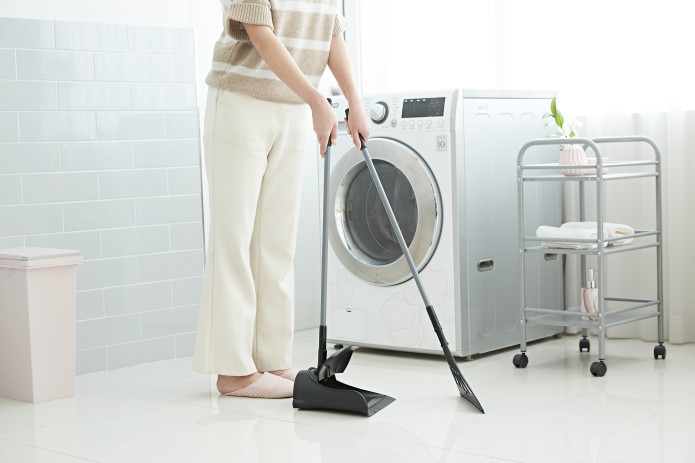 The Broombi Brush & Broombi Mini
For those who want to clean even the tiniest dust particles in tight spaces or different angles, the Mini Broombi and the Broombi Brush have got you covered! Leave the Mini Broombi & Broombi Brush in charge of cleaning tight spaces like windowsills, countertops, desks, pillows, vanity, mirrors, sofas, pet beds, and more…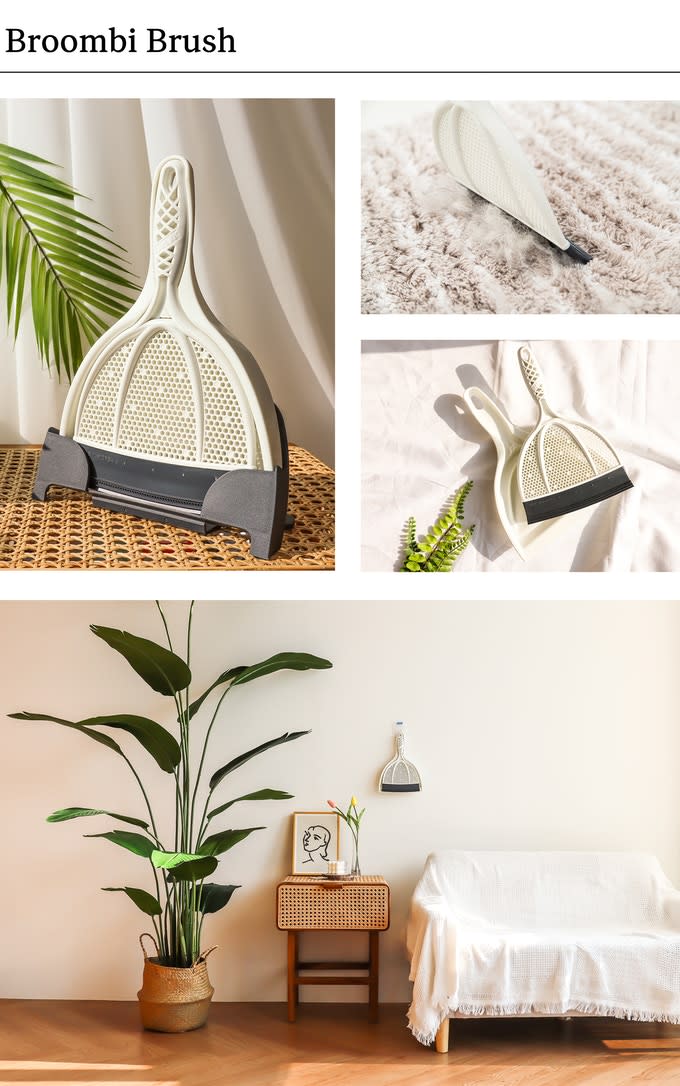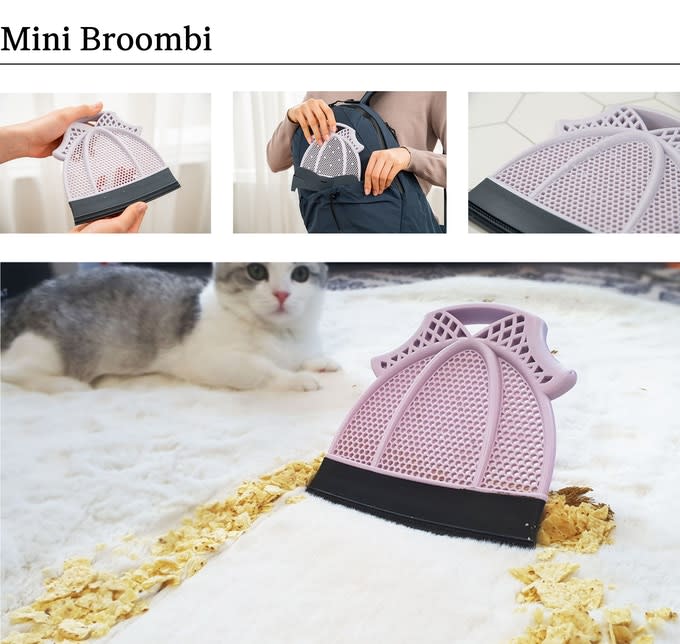 HOW TO USE THE STANDING DUSTPAN
SEMI-AUTOMATIC RETRACTABLE 
Open the dustpan in its standing position by gently lowering it with your foot. When it is opened to 90°, you'll hear a "snap", and the locking system goes to work holding it tight during cleaning.
After cleaning, hold down the dustpan with your foot and tilt the handle back slightly 10°until it makes a snapping sound. It will then unlock, folding the dustpan back up automatically to its original standing position.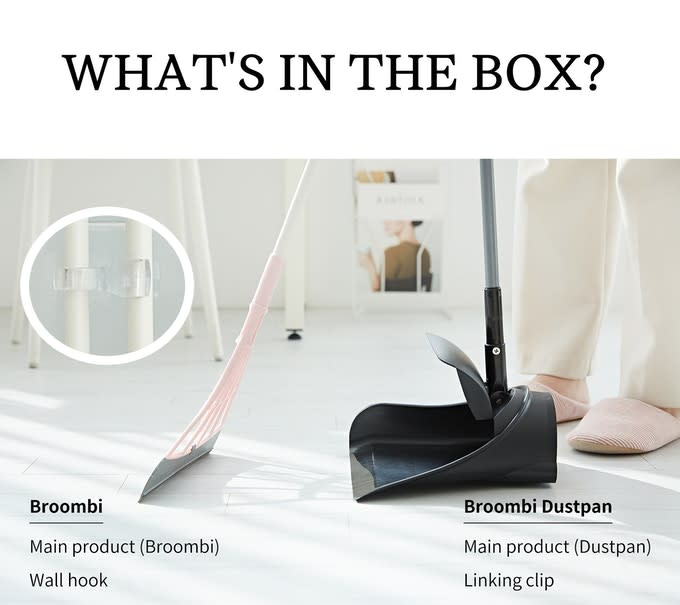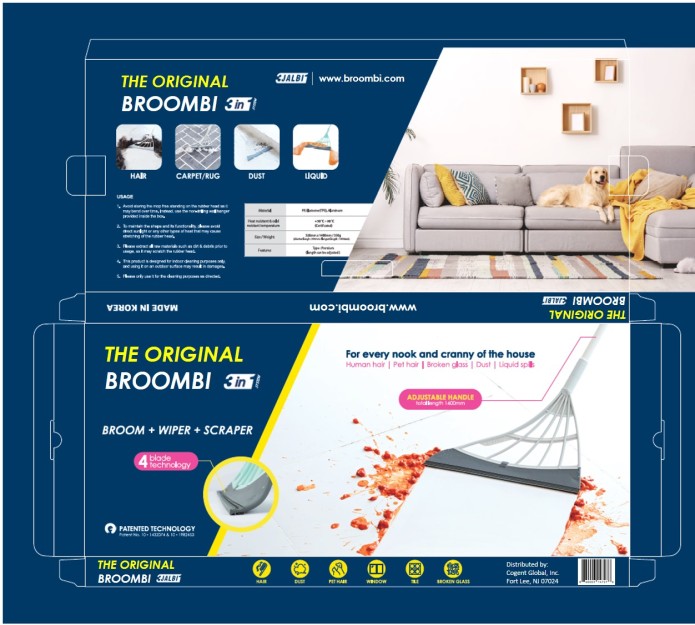 Box design is ready to go, we need your support to print and fill them!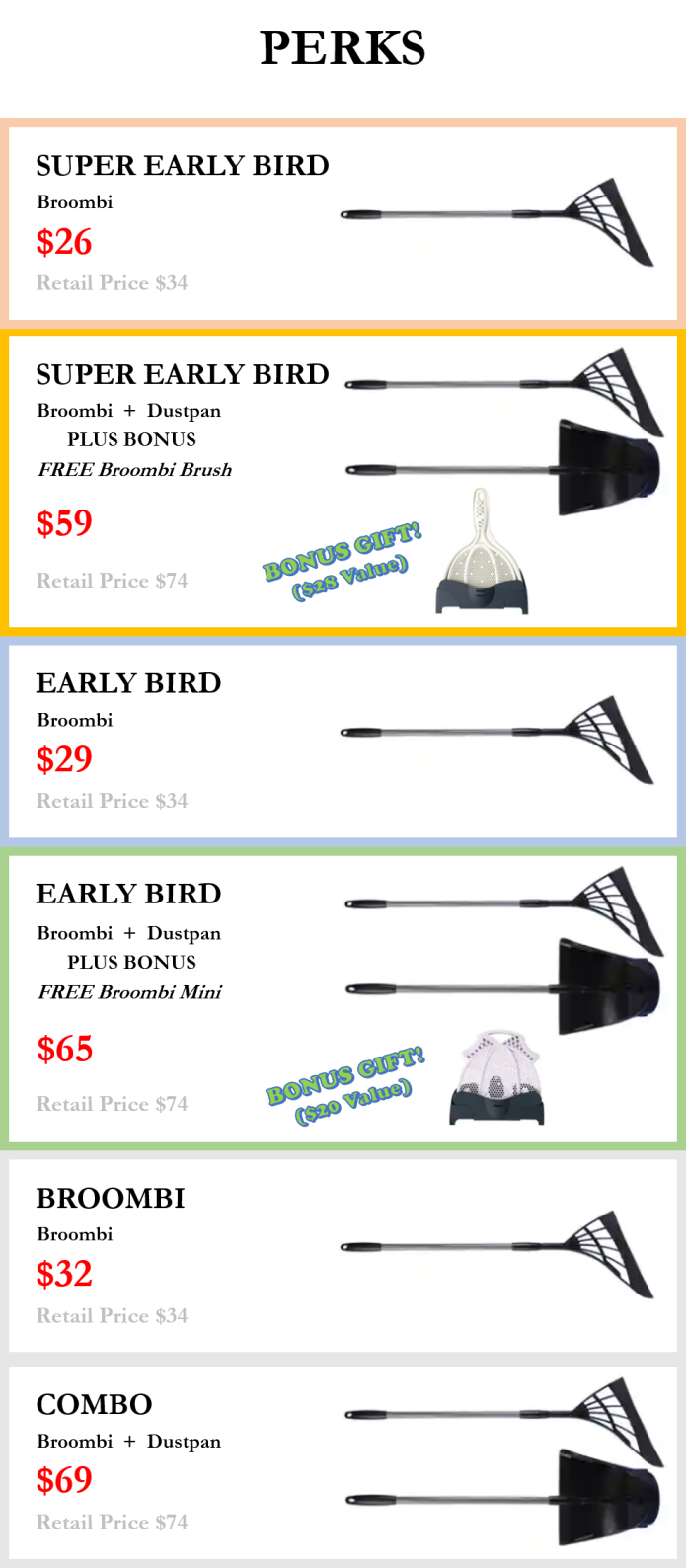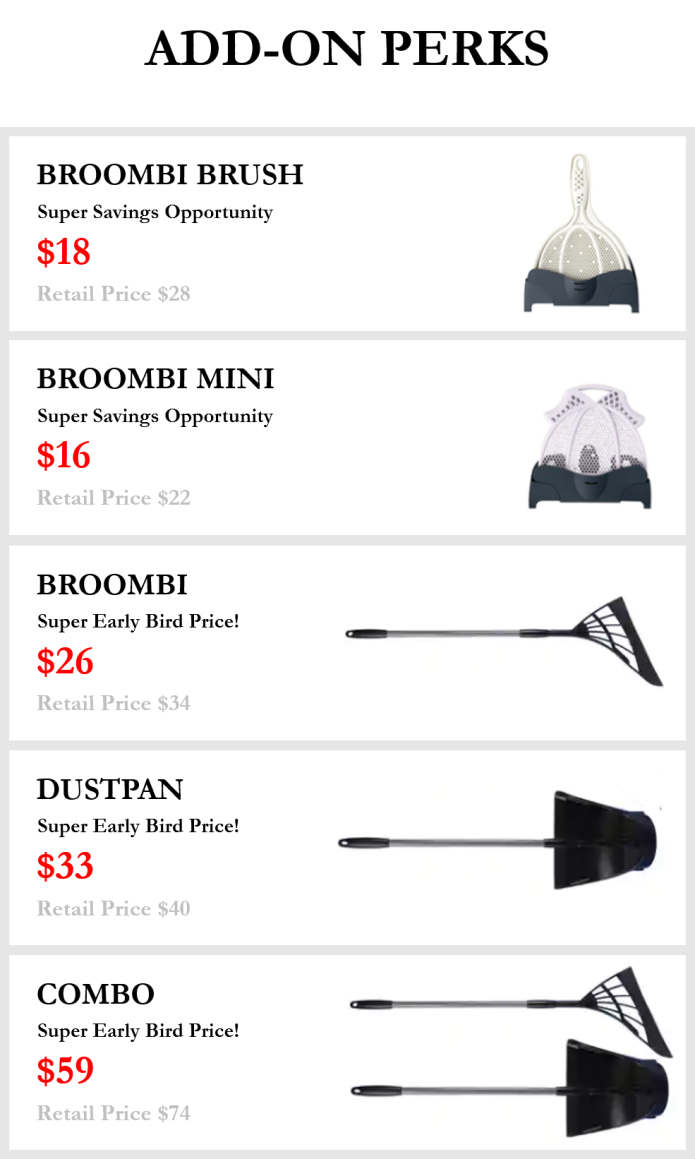 About Our Project:  "Broombi Ver. 2"
The Original Broombi is a patented product that was first launched in 2019 in select countries. We call that product "Broombi Ver. 1". It was very successful and received many great reviews. "Broombi Ver. 1" was the culmination of five years of research and development. After the launch of Ver. 1, we took extensive surveys and received a lot of great feedback from our initial backers on what they wanted to see improved. Thus, we began a new project to make a good product even better. "Broombi Ver. 2" is the result of that project and is now here exclusively on Indiegogo!
The product description will describe all the technical aspects of "Broombi Ver.2", but we begin with the main differences to "Broombi Ver.1".  Although they may not seem like a lot of changes, in fact, they pertain to the core technologies and are very critical. These "upgrades" change the composition, efficiency, and functionality and literally make "Broombi Ver.2" a new product. The changes took years of research, testing, and refinement and we hope that you will support our campaign to help us finalize our project and realize our dream of bringing Broombi Ver. 2 to the world!
Core Technological Upgrades Made to Broombi Ver.2 (from Ver.1)
Upgrades to the key pieces:  The Blade & Frame
Upgraded the blade corners
A. Compared to the blades mid-section, the previous version had an issue of not being able to equally distribute power to the edges. After upgrades (as shown in the images below), the sweeping power is stronger and is now distributed equally along the entire blade.
B. The previous version had an issue where the blades gradually got bent out of shape and curved when Broombi was stored in a standing position (with the blades on the floor). But the new and improved Broombi Ver.2 blades do not bend or deform while stored standing. The blades retain their shape, maximizing the efficiency and life of the blade.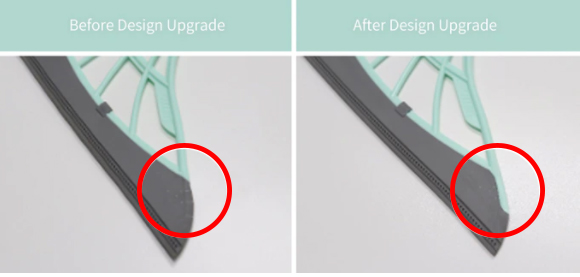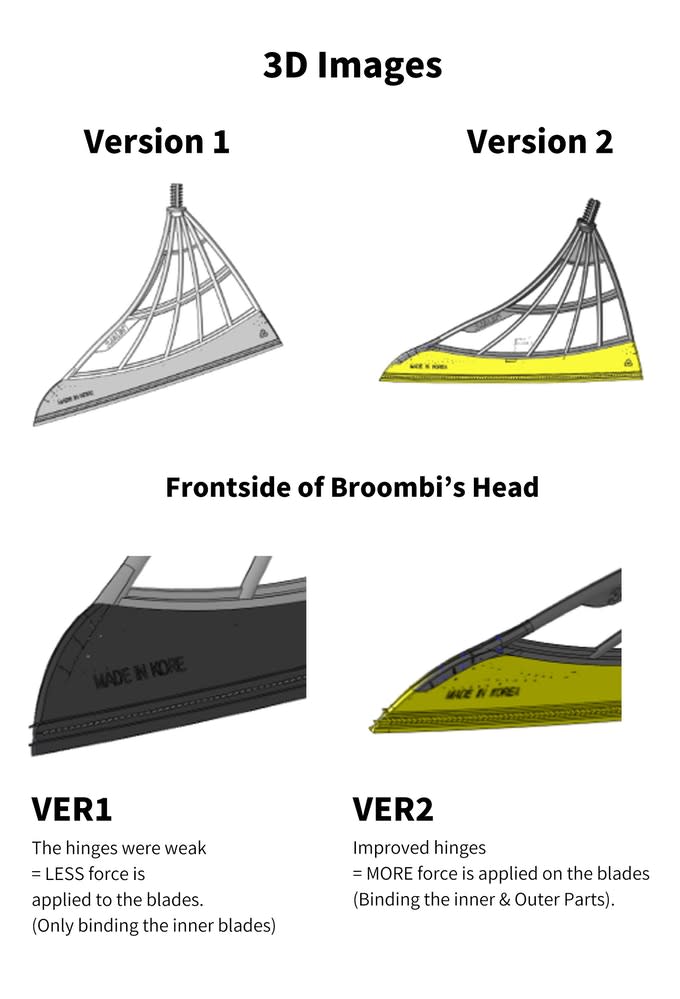 Upgraded the blade edges
A. As shown below, the corner of the blade's edge are now structured in a trapezoid-like shape. This upgraded structure allows the blades to make a larger area of contact and better sweeping efficiency, especially along the edges.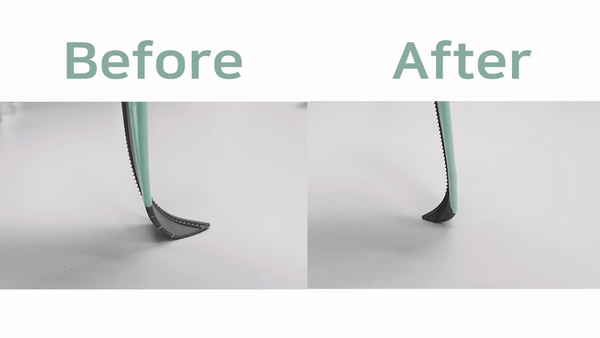 Upgraded by adding a 4th sub-blade
A. The previous version (Broombi Ver.1) contained three sub-blades. We added a 4th sub-blade to Ver.2. The Broombi Ver.2 can make full contact with a surface with four sub-blades. The difference results in significantly increased cleaning power and efficiency, especially with fine debris and on rougher surfaces such as rugs and carpets.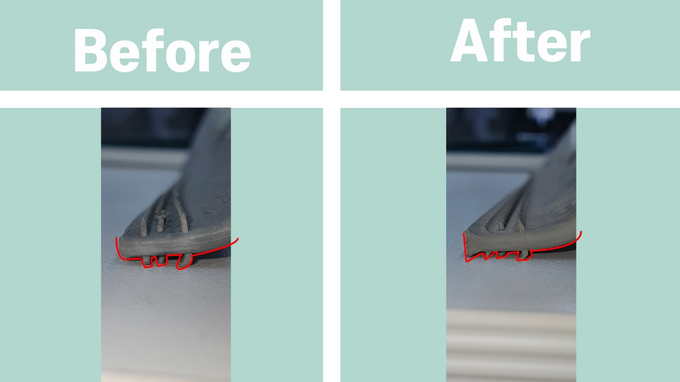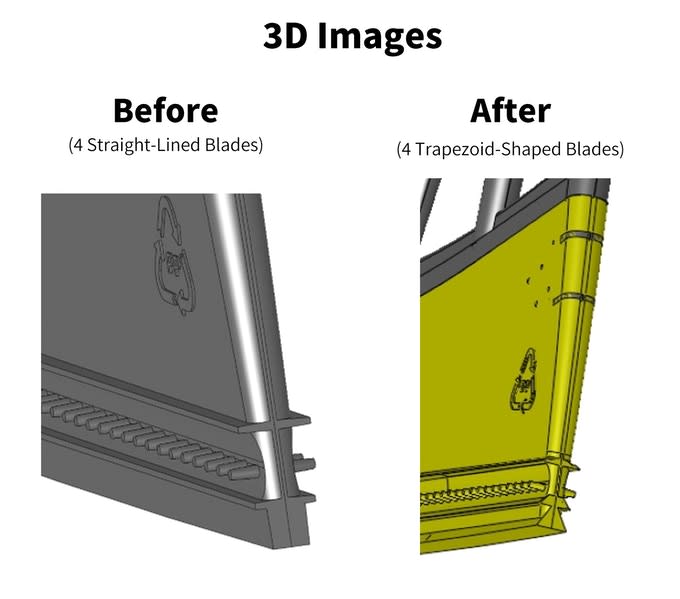 Broombi's sticks are expandable now! Only on Broombi Ver.2!
Now no one has to bend over to sweep up debris into a dustpan.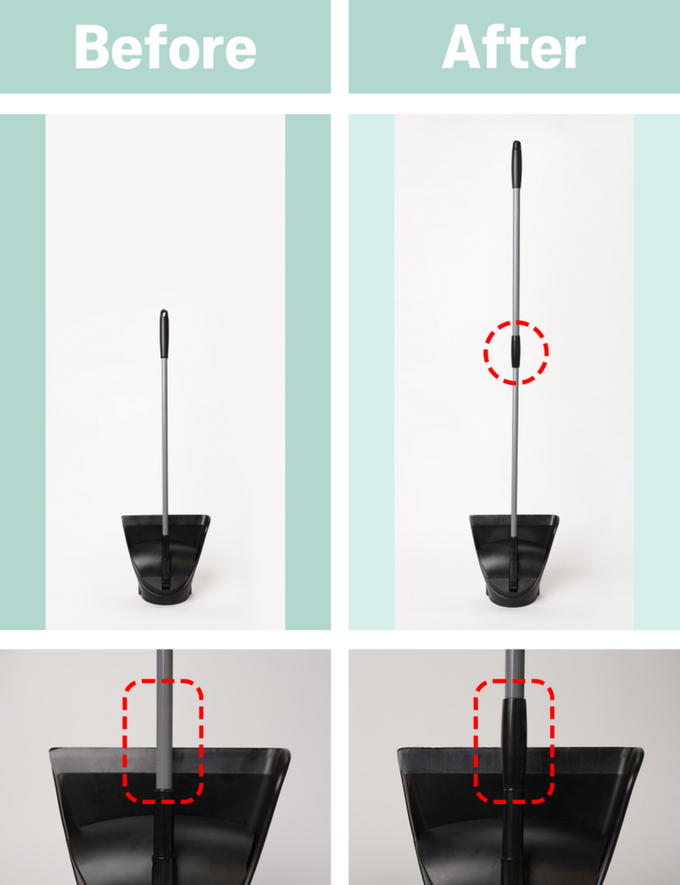 Now our backers will be able to experience a new, true smart broom with intelligent features and years of research, development, and testing, available exclusively now on Indiegogo! 
OUR JOURNEY
Curelife is a company born among a group of friends with a vision to manufacture better household products. Broombi was created from the idea of developing a smart, super-efficient, all-in-one cleaning device that would function as a broom, scraper, and wiper and made of lightweight, but durable materials employing smart features that utilized modern technology. We introduced Broombi Ver. 1 in 2019, after developing our first prototype in 2014  through 5 years of research and development. Shortly thereafter, we began improvements and have now completed the development of Broombi Ver. 2.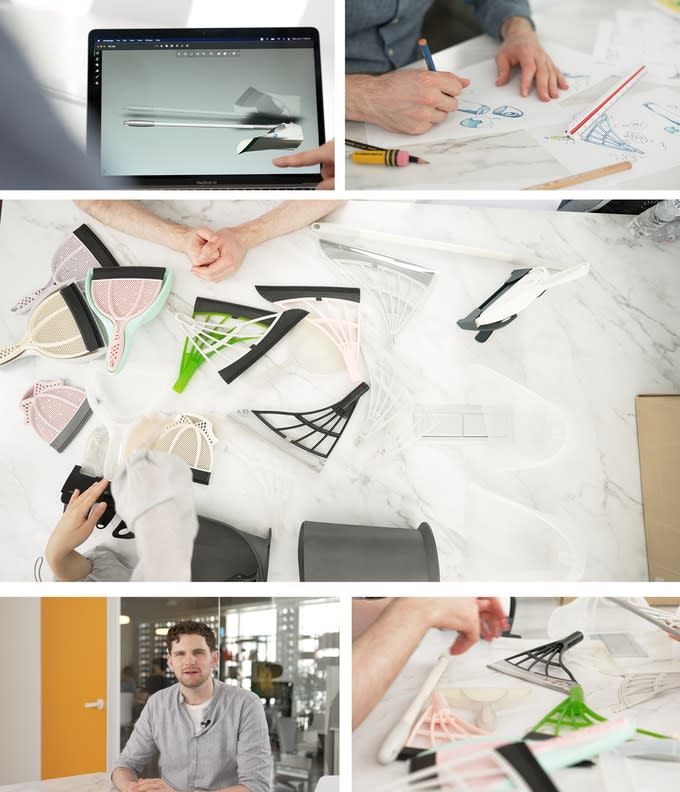 GLOBALLY PATENTED
We performed hundreds of tests on dozens of different potential models before finalizing the development of a "smart broom" that could sweep,  scrape, and wipe super-efficiently with minimum effort. Our patent has been approved internationally in 40 other countries.
AVAILABLE NOW EXCLUSIVELY ON INDIEGOGO
The Original Broombi Ver. 1 gained tremendous popularity in Australia, Japan, and Europe. The new and upgraded Broombi Ver. 2 is now available to backers here on Indiegogo! We've improved and elevated the performance and quality of this version from the previous Broombi Ver. 1 by creating a fresh new design and boosting durability, efficiency, and safety.  We are proud to introduce Broombi Ver. 2 to the world, now available on Indiegogo and we need your support!
TIMELINE & MILESTONES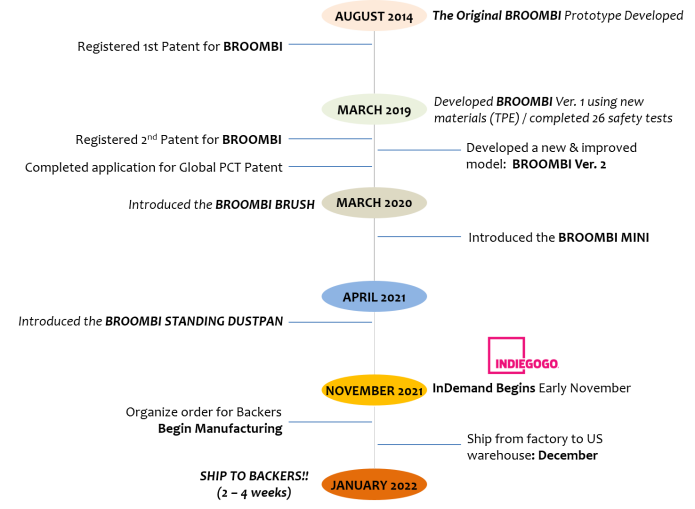 SHIPPING & RETURNS
We expect to begin shipping rewards by Dec – Jan. 
All units will be shipped out after a complete inspection held by our Q & A team. 
Please contact us with any questions regarding Broombi:  [email protected]
Returns are subject to a 20% surcharge plus shipping costs (we incur commission charges regardless of returns).
WHO WE ARE
We're All About Cleaning!
CURELIFE  has been designing, developing, and distributing brooms and dustpans for over 8 years. Thanks to the tremendous amount of feedback and high interest from our supporters, we were even more determined to develop the Broombi Ver. 2, which exceeds performance and quality in every way from Ver. 1.
As of this campaign, we have conducted numerous tests and inspections on finished products (not prototypes) for over a year and now we are ready to show the world our proud creation. We need your continued support again to have a successful launch and to help us overcome the challenges of mass production and logistics.
Thank you in advance to our backers for your unfailing love and support!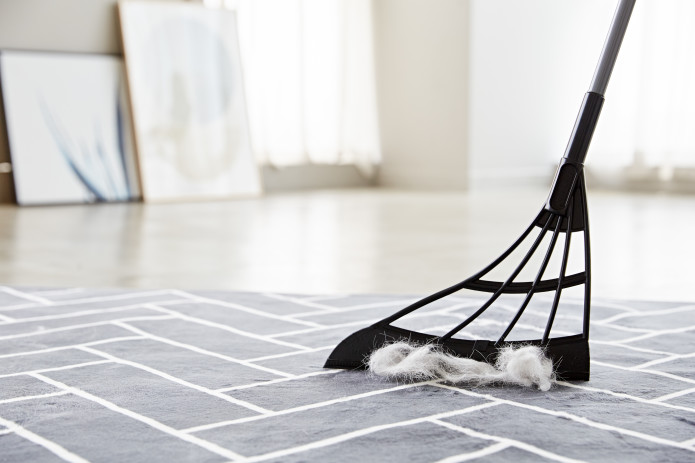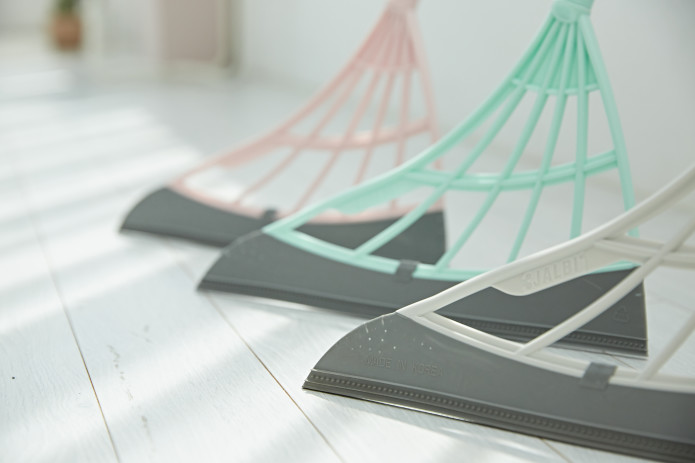 WE NEED YOUR SUPPORT
Currently, we are at the stage where various mandatory testing, including functionality and durability, have been completed for the final prototype of BROOMBI. We are sitting at the mass production stage of our fully developed product, and we need your support to push us past this stage so that we can manufacture and distribute this globally.
THANK YOU!
Team Broombi