Caleb Leisure Wines: The California Qvevri Project | To craft natural wines in California using ten authentic qvevri from the country of Georgia.
Caleb Leisure Wines:
Introducing the California Qvevri Project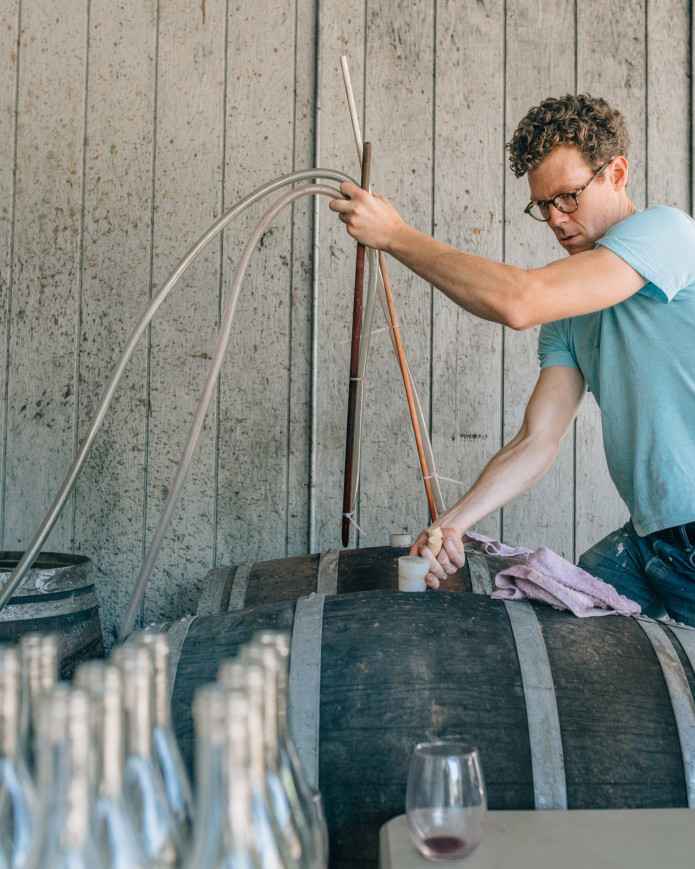 My goal is to make natural California wine inspired by the traditions of the country of Georgia, including the use of the large clay vessels known as qvevri. This is arguably the oldest and most natural method of winemaking still used today. I want to bring a little bit of ancient purity to a California wine industry that is increasingly obsessed with the modern.  
So what's a qvevri?
Qvevri are large, egg-shaped clay vessels that have been used to ferment and age wine in Georgia for an estimated 8,000 (!) vintages. They are buried in the earth where they remain for generations.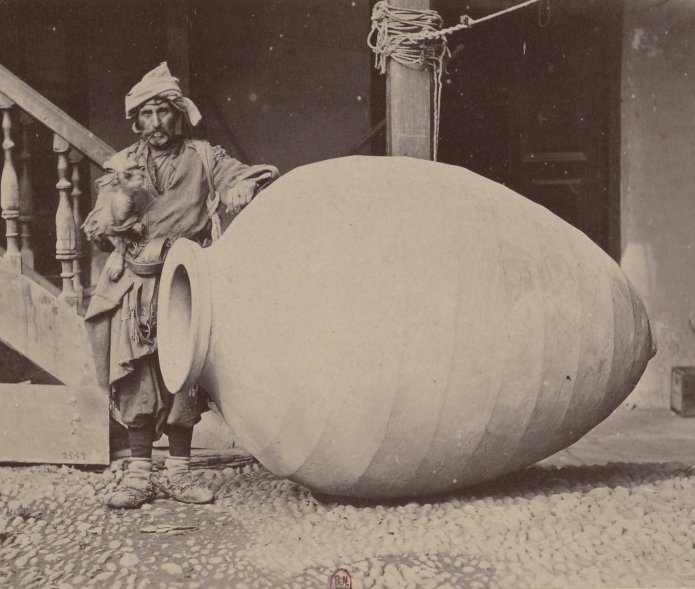 Qvevri are built by hand, with successive ropes of clay, and undergo week-long firings in wood-burning kilns whose temperatures exceed 1000 degrees. They vary in size, from 2 liters to upwards of 8,000 (nearly 40 barrels).
Each is a singular piece of an ancient craft that nearly vanished during the oppressive regime of Stalin's Soviet Union. There are, to my understanding, only seven traditional qvevri makers in Georgia. The vessels are totems to history and to perseverance; they hold not only wine but story. 
The plan:
Ten authentic qvevri have been ordered from the artisan Malkhaz Kapanadze in Western Georgia. The vessels will be carefully lowered into a deep trench in the cave at Coturri Winery in Glen Ellen, CA, where I am fortunate to be the assistant winemaker. They will be buried to their necks with sand and volcanic rock. As is custom in Georgia, several silver coins will be tossed in before each qvevri for good luck.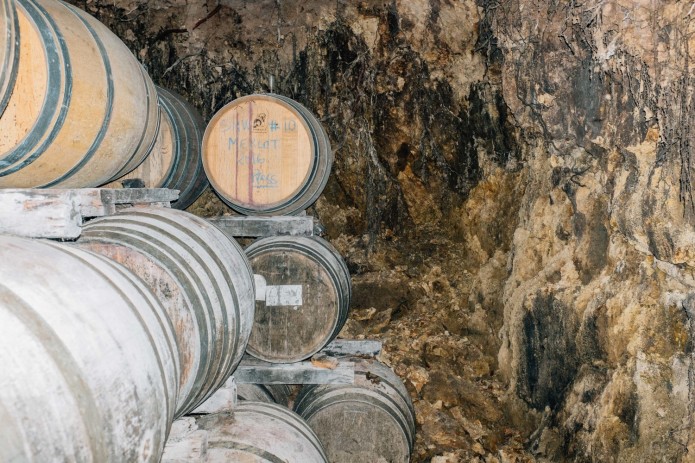 The ten vessels will be various sizes – between 300 and 600 liters. I will both ferment and age my wines in qvevri, and I will use the vessels for both red and white grapes, with a focus on making whites with extended skin contact (known in Georgia as amber wines). The grapes will be sourced from organic and/or biodynamic vineyards across northern California (Sierra Foothills, Sonoma Valley, Mendocino Co.). I'll be mostly working with Rhone varietals: Marsanne, Roussanne, Viognier, Semillon, Mourvedre and Syrah.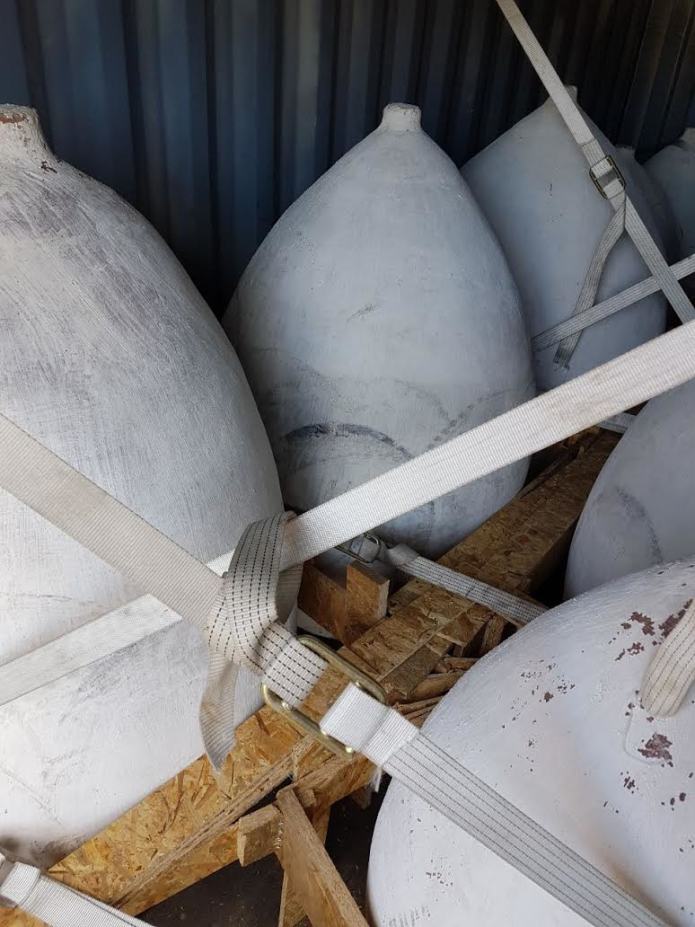 My long-term goal is to pair Georgian-made qvevri with Californian-made qvevri. I'd like to source clay directly from the vineyards from which the grapes come, and to work with local potters to make truly indigenous California vessels and, thusly, truly indigenous California wine. This project is the first step.
How you can help:
I am asking for $19,000 to get this project off (or rather, into) the ground. The financial support will help cover the cost of the ten qvevri, their installation, and the grapes required to fill them. It will make this unique winemaking project possible for the 2017 harvest.
If I exceed my funding goal, I will be able to make more wine, and making more wine will translate into a better understanding of what it means to make qvevri wines in California.
About me: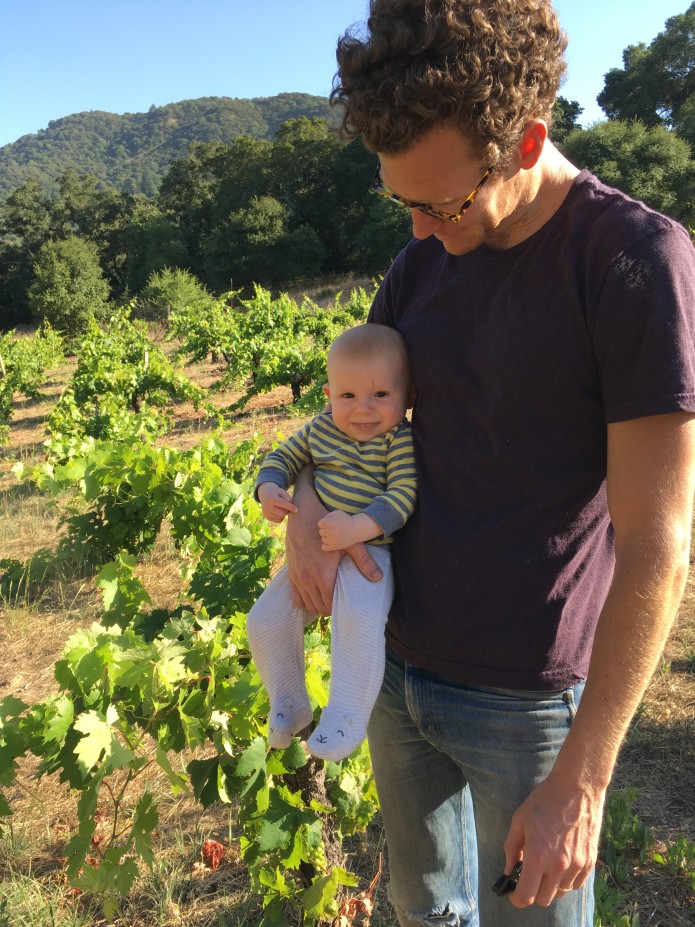 Wine was not always part of the plan. Although I grew up in the Bay Area, close to wine country, it wasn't until I moved to New York that I became interested. I worked at a wine shop focusing on natural wines–wines made with organic or biodynamic grapes, with minimal intervention in the cellar. It was here that I tried my first Georgian wine – it blew me away. 
When I moved to London some years later, I became embedded in the thriving natural wine scene there. My job as a cheesemonger–working with traditional, mostly raw-milk British cheeses–informed my culinary philosophy, and I began to understand wine as food. I took advantage of my proximity to France, traveling to wine regions, meeting producers, eventually working harvests and landing internships. This was my education. 
My mentors are among the small subset of producers growing grapes and making wine without the use of chemicals. They are maniacal about purity, and they champion the idea that wine is not made so much as it is shepherded. They believe that the grape provides all that is necessary to make great wine, and that nature is wiser than man. 
I returned to California with the intent of acquiring a cellar position, and I was fortunate to land with Tony Coturri, a pioneering producer of natural wines whose first commercial vintage was 1979. Tony has been making wines the same way since: with organic or biodynamic fruit, with indigenous yeast, and without any additions or subtractions in the cellar, including sulfites. (In California this is considered radical. In Georgia, it is simply winemaking.) I'm very lucky to have the guidance of Tony and his 38 years of natural winemaking.  
Finally, in 2016, I made my first trip to Georgia. It changed the way I think about what wine is and should be, and it ignited a quest to bring qvevri winemaking to California. 
Last harvest I made wines under my own label, a sparkling and a white from the Sierra Foothills. They were made without any additions; they are honest wines. 
Why I'm doing this:
I prefer to drink truly natural wines, those made without any additions or subtractions. Georgia is not only the birthplace of such wines, but a current hotbed. In 2013, qvevri winemaking joined the UNESCO heritage list, and these traditions have influenced a new wave of producers in Italy, Slovenia, Spain, France, Australia and the US (to name a few).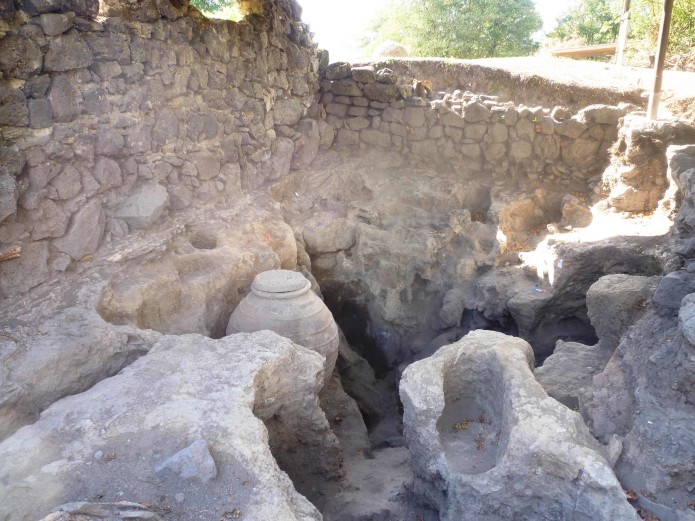 In California there are many nods to Georgian qvevri–egg-shaped polymer tanks, concrete eggs, Italian and Spanish amphoras–but where are the qvevri? These currents all have as their headwater the traditions of Georgian winemaking. I want to bring ancient techniques to a place where winemaking is too often clinical and scientific, safe and soulless. 
So how is qvevri wine made?
Pretty much like it was 8,000 years ago. Traditional processing of white grapes (check out the diagram below) results in unique amber wines.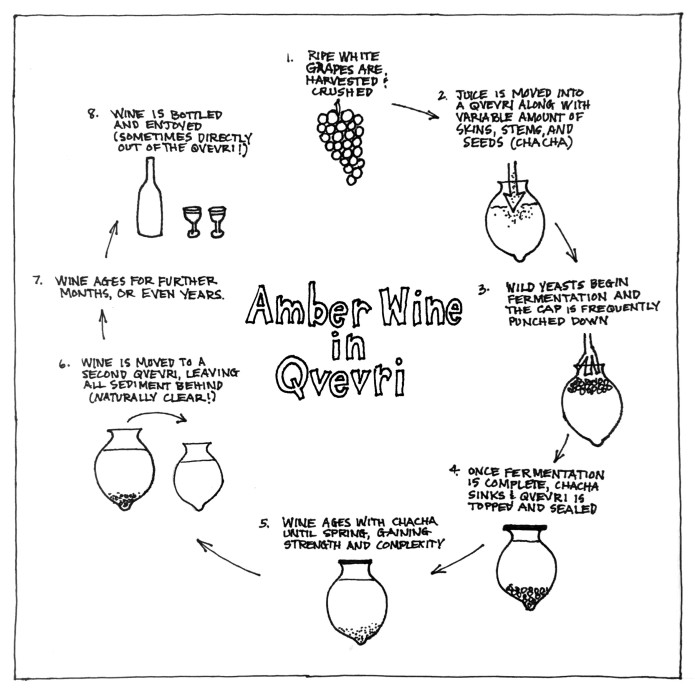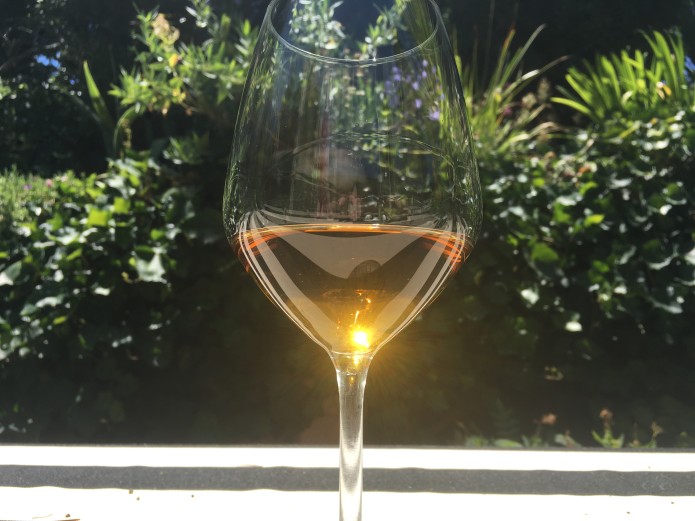 And what are the benefits?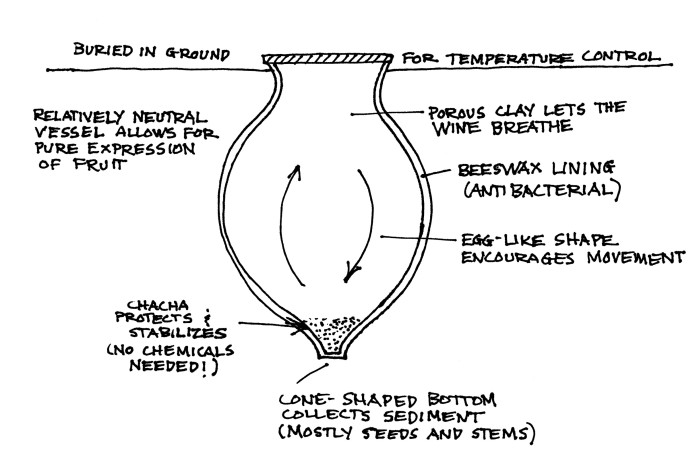 Finally, there is the beautiful logic, the cyclical completeness, the simple rightness, of bringing the grapes–which came from the vine, which came from the soil–back to the earth in the form of clay, and in the literal burying of the vessel.
A quick note on redeeming vouchers and shipping:
Vouchers will be sent via email unless otherwise requested. Shipping charges (and sales tax, if applicable) for wine will be charged when the voucher is redeemed. Shipping charges can be avoided by picking up wine at the winery. Delivery to the UK may be subject to small delays, but we will do everything we can to ensure prompt delivery while complying with regulations.