Campaign for Real Change In Pet Health | A grassroots David and Goliath campaign to fight the pet health epidemic with real food.
To say we are living in a time of unprecedented change has become an understatement in just the last few days.  However,  healthy diets are even more important right now in this time of stress to keep all members of our family healthy through this challenging times ahead and into the future.  
We are trying to raise $50,000 (yes, I know the campaign says $250K but with all that's going on we are adapting and refocusing) so we can fight for the health and wellness of pets on our terms, free from the influence of corporate agendas. 
Our Goal for the Future:  $50,000 will fund:
Fund ongoing education initiatives and training programs 
Fund ongoing sustainability initiatives
Tell the world that real food for pets matters and pet parents are willing to stand up for it!
FrontFundr campaign which will allow us to sell shares to pet parents and make this a company that's truly accountable to pet parents and looks out for best interest of pets. (See more info below)
Yes … this is a LONG story!  We feel we need to tell you the whole story to put things into context.  
Real Food Revolution for Pets

Red Dog Blue Kat was born out of the simple truth that there is no such thing as "pet food" – food is food … there is fresh food and there is highly-processed food.  
For many years, people have invested billions of dollars in processing food to make it more convenient and globally accessible. Today we know better … we know that these highly processed foods are at the root of many chronic diseases including obesity, diabetes, heart disease, dental diseases, and even cancer. We know today that eating a variety of fresh or minimally processed foods will help us live longer and healthier lives. Even a small amount of fresh food can make a huge difference.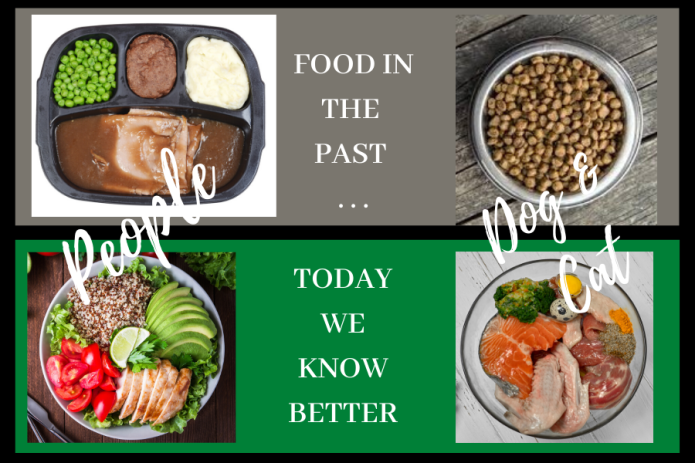 Yet, the majority of the pet industry continues to ignore these facts and promote highly processed foods as healthy.
The pet food industry is dominated by large multi-billion-dollar corporations that have a lot on the line. To protect their investments and profits they spend millions on fear campaigns to tell us … real food is dangerous! They lobby government and vet associations to push their agendas. Think about this – veterinarians are the only health professionals promoting highly processed food over fresh food!   They try to convince us that their products are safer, more scientific, better than nature, and more economical. But we know better …
We know that pets are sick and getting sicker, suffering from many of the same diseases as people …
1 out of 3 pets is Obese (and this number is increasing at an alarming rate)
Diabetes has increased by over 79% in dogs in the past 10 years
Diabetes is nearly three times more common in cats than dogs
Dental disease is rampant in both species – over 50% of pets today suffer from some form of dental disease and that number is on the rise!  
1 in 3 cats (or more) develops some form of kidney disease
We could keep going about other health issues like allergies, GI issues, and cancer but you get the idea …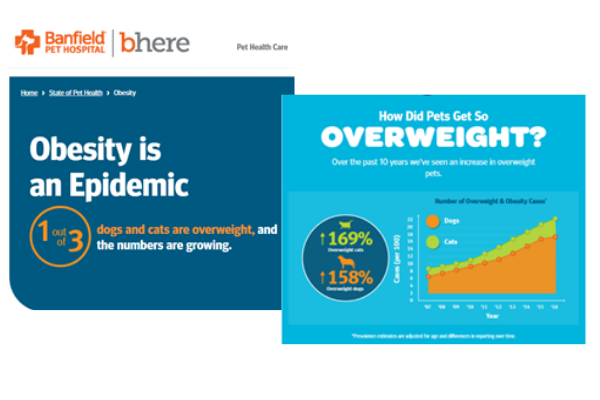 From the Banfield Hospital State of Pet Health Report … https://www.banfield.com/state-of-pet-health/obesity
Banfield Hospital State of Pet Health 2016 Report https://www.banfield.com/Banfield/media/PDF/Downloads/soph/Banfield-State-of-Pet-Health-Report-2016.pdf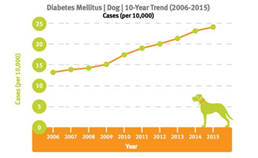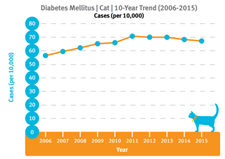 Banfield Hospital State of Pet Health 2016 Report https://www.banfield.com/Banfield/media/PDF/Downloads/soph/Banfield-State-of-Pet-Health-Report-2016.pdf
We also know that, just like for people, these diseases are preventable with a quality real food diet!
If you want to learn more about some of the challenges with the pet industry, we recommend the following documentary:
At Red Dog Blue Kat, our goal is to get that message out to more pet parents and empower them to make choices that promote health and longevity for dogs and cats!  We know that we all deeply care about our pets … and when we know better, we can do better.
We believe in putting health for people and pets over profits. We believe in transparency and integrity and telling the truth. And the TRUTH is that THERE IS NO SUCH THING AS "PET FOOD" … there is real, minimally processed food and there is highly processed food!  
The Whole Story
Back in 2004, inspired by the difference real food made for their own pets, and frustrated by the lack of information about pet diets and health, a group of friends got together and started Red Dog Deli Raw Food Company Inc. They embraced an ambitious mission to help as many pets as possible live longer and healthier lives. Their goal was to create a company that put pets and their health first, above profits. A company that would operate with integrity and transparency. 
Since it's inception, Red Dog Deli has been instrumental in setting standards for the emerging real food industry for pets. In addition to creating a quality raw food line under the Red Dog Blue Kat brand, the company and its owner have heavily invested in:
Education and research … including building a robust education platform, researching diseases and dietary solutions, hiring a full-time nutritionist to support customers and develop tools and educational materials for pet parents, and ongoing training initiatives.
Raw food formulation expertise by working with leading pet nutrition experts like Dr. Karen Becker, Julie Ann Lee, and Steve Brown. We are continually reviewing our formulas and adjusting them with the most up to date information. 
Food safety and quality manufacturing standards including building a state-of-the-art food manufacturing facility and implementing a rigorous food safety program (HACCP Certification). We have a full-time microbiologist and quality control expert on staff. 
Ethics and sustainability – we have always believed that all animals should be treated with respect and only use suppliers that share our values and commitment to animal welfare. We are continually reviewing and revising our processing practices and programs to reduce waste and materials used both in our packaging and in our manufacturing process.
We often joke that "We put all our money into your pets' mouths …"  We always try to keep our pricing as low as possible, but real food is not cheap. By the time we pay for raw materials, labour, delivery costs, and overhead for the facility, there is not much left over. We invest everything that remains into education and raising the bar in the pet food industry … but often this is not enough.  In contrast, kibble companies have large margins (due to the use of low-quality ingredients and/or extensive processing practices) and millions to spend on marketing. 
In 2016 we faced a very difficult and costly decision. Due to a significant contractor error in the construction of our freezer, our facility would have become unusable in less than a year. We literally had an iceberg forming under our building. We were running out of time and building a new plant required a significant investment.
In order to be able to move and continue our good work, our only option at the time was to bring in an outside investor group to help us build the new amazing facility that we are in today. For a while, things seemed to be going well … However, most investors don't often invest in education and social purpose, unless there is a quick financial return. And our investors are no exception. They are now looking to exit the business because our growth and profitability did not meet their early timeline expectations.
If we do not find a different financial solution, these investors could force the sale of the RDBK business to another investor group that does not share our values or … they may even force RDBK to shut  down in order to recover their funds. So once again, we find ourselves fighting against the clock …
Our Campaign
This grassroots campaign is about changing a century of "pet food" misinformation and our battle for independence  (from our investor group) to ensure we can continue to help pet parents and set the bar for food quality for our pets unhindered by predatory financial agendas. After an exhausting fight on both fronts, we have come to realize that if we are to win this battle on OUR terms, we can't do it alone. We need your help today!
How YOU Can Help … and Three RDBK Goals!
You can help in two ways: 1) with funds and 2) by spreading the word to other pet parents who want to see positive change in the pet food industry and significantly improve the statistics around pet health and longevity.
Goal for the Future:  $50,000 will fund:
FrontFundr campaign which will allow us to sell shares to pet parents and make this a company that's truly working for our pets. (See more info below)
Fund ongoing education initiatives and training programs
Fund ongoing sustainability initiatives
Signal to the world (and our investors) that real food for pets matters and pet parents are willing to stand up for it!
I LOVE the idea of a pet food company owned and empowered by pet parents – in fact that is my goal! However, I can't sell shares through Indiegogo, because selling shares is regulated by the Securities Commission and this process has to be done through an approved platform, like FrontFundr. We are building a campaign for FrontFundr, but this requires funds to both set up the campaign, go through a screening process, and put together all the legal information required for the securities regulations. 
So, part of the initial funds raised in this campaign (roughly $15-20K) will go toward implementing this bigger vision.
Before we launch this ambitious campaign on FrontFundr to offer the RDBK company to pet parents, we need permission from our current investor group, and they need to know that there are enough passionate pet parents out there who are interested in supporting us. So, the more funds we can raise ASAP through this Indiegogo campaign, the more confidence the investor group will have, and the more quickly we can launch the next campaign.
The rest of the funds raised will go to ensuring we can continue to build our education platform and work on our sustainability initiatives. We have already invested a significant amount into our education platform and want to ensure we can keep going on this.  
RDBK Goal for Freedom: $2,000,000+ will be used for educational and sustainability initiatives as described above and to buy our independence. We will be launching a campaign on FrontFundr to raise funds and sell shares for every pet parent that wants to be part of the real food revolution for pets.
OUR DREAM is to create a company that belongs to YOU – the pet parents, so we can ensure that health is never compromised by corporate greed!  
If you are an accredited investor and interested in learning more about being a partner in our company or think you can help in another way? Please contact us at: [email protected].
About Us
"Health is a state of complete, physical, mental and social well-being and not merely the absence of disease or infirmity." –  World Health Organization   
As a company, we're committed to creating positive change in the pet food industry and the way we look at nutrition. We envision a world where all food is grown naturally and sustainably and is processed in a manner that preserves its natural nutrients. We envision a world where food safety is based on a natural balance and medicine is based on prevention, not disease and suppression.
We believe integrity and ethics are paramount in life and business.
We are values-driven but profit-responsible. We believe in honoring all business partners, associates, staff, and even our competitors.
We believe in the ethical treatment of all animals.
We believe in food safety (we are HACCP Certified).
Above all, we believe that even a small local company can be a big force for good in the world!
We're making a substantial investment in educating all pet advocates and pet lovers about food processing, pet food safety, food quality, and other aspects of the food industry that impact the value of the foods we feed our pets.
If you want to learn more? We suggest you check out our FREE online LEARNING CENTER and FEEDING GUIDE
We are constantly challenging ourselves to do better and push the bar even higher. As pet parents, we are fortunate to share our lives with amazing dogs and cats who show us daily the real meaning of love and loyalty. We want to empower people to feel informed and free to feed real food to their pets and give them the best chance at a healthy life, free from nutritional disease. Because pets make us better … and we need to do right by them!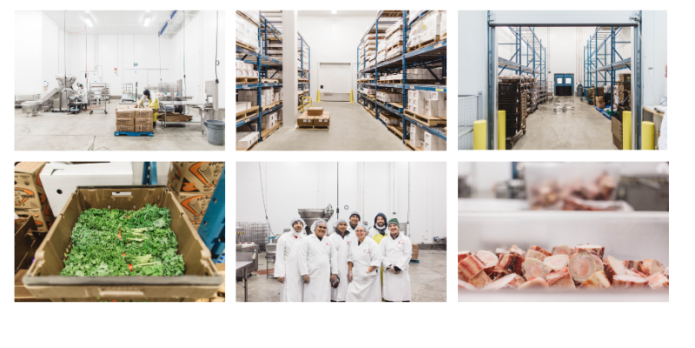 Other Resources
There are volumes of research about food for people that support the link between processed food and disease, and similarly, the link between fresh food and health. There are also studies being done about food for pets (YES, apparently, we need studies to prove that nature was right all along). Check out some of our favorite studies: