Capsule Personal Dishwasher | Spend less time washing dishes and more time living your life.

It's time for a dishwasher that fits effortlessly into your lifestyle. Powered by Scottish spirit & our love for sustainability, Capsule was designed to have the smallest footprint on your countertop and the planet.
It also works with or without plumbing, so you can use it anywhere you like.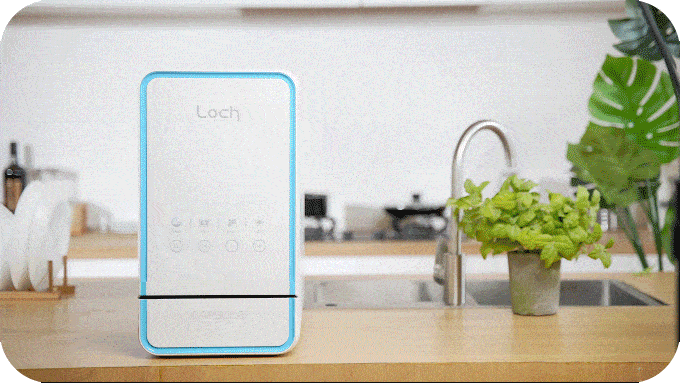 Capsule was created to address the needs of a modern household or office space. Small but mighty, with three powerful functionalities at its core, Capsule allows you to reclaim your time and use it for stuff that matters.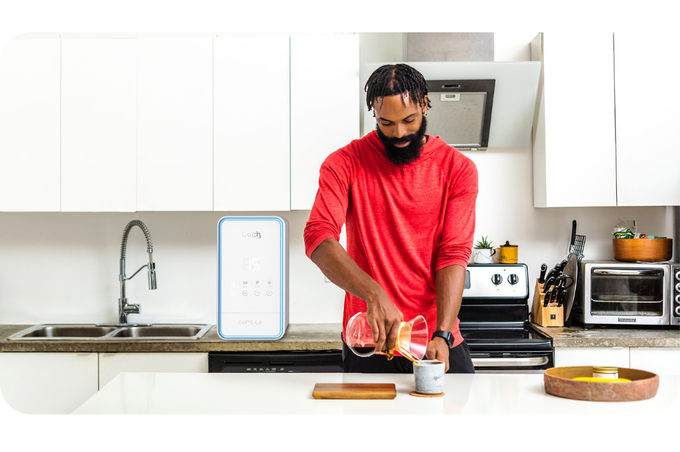 Key Features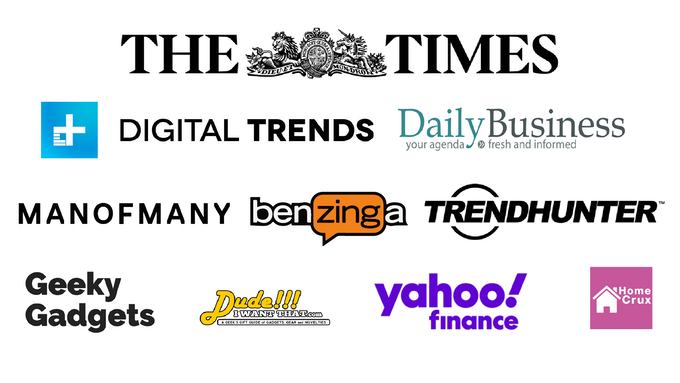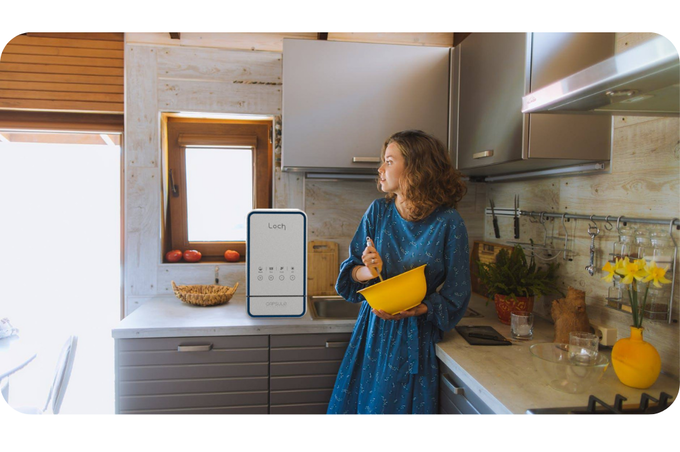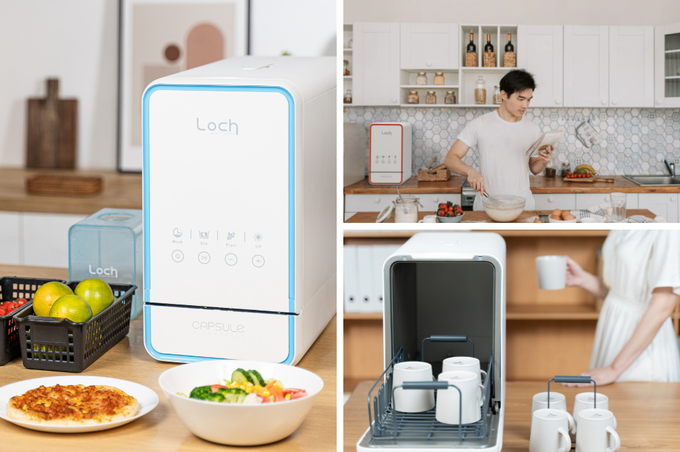 Capsule only takes 25cm/9.8in on your countertop and still it's big enough to wash all your dishes from a meal for 2. It's also big enough to wash large frying pans and chopping boards. We made no compromises on convenience.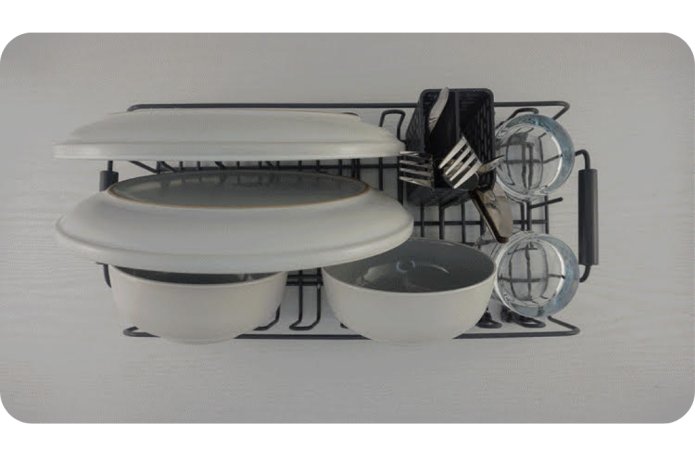 see in action here: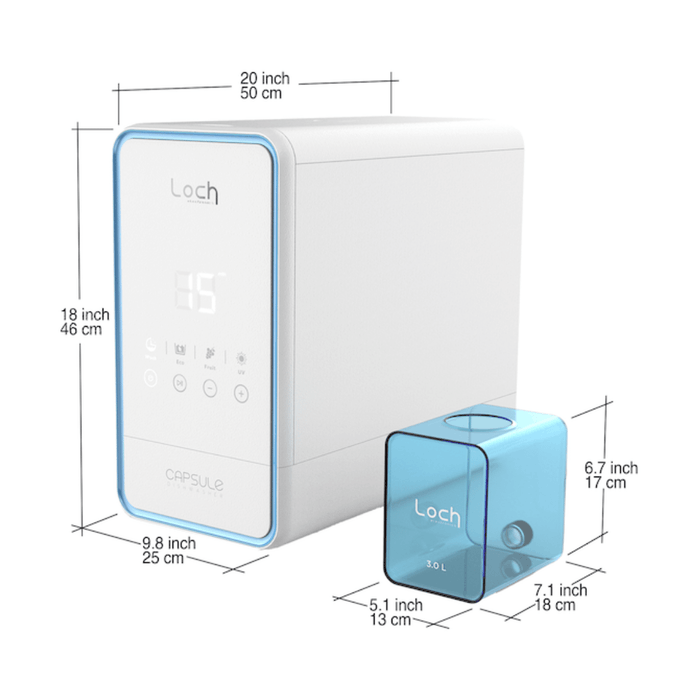 Ideal for a small flat, office, RV, caravan, boat and studio.
Capsule was designed to complement the modern lifestyle. So can spend less time washing dishes and more time living your life.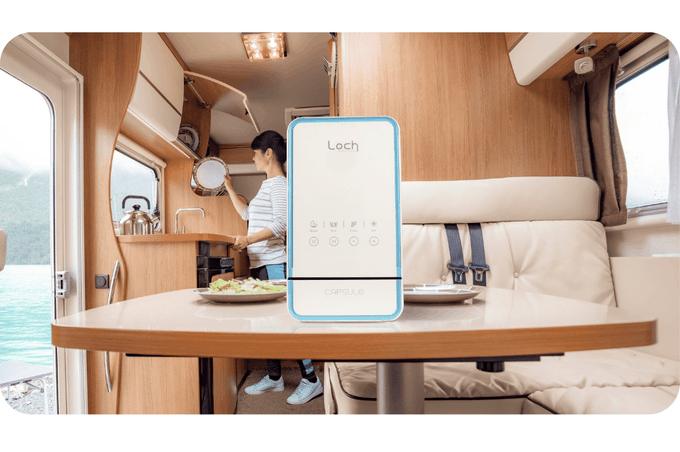 Small and light, Capsule weighs only 10kg/22lb and bound to fit any lifestyle. Camping? Business trip? Going on holiday? Moving home? Capsule can be brought along with no hassle.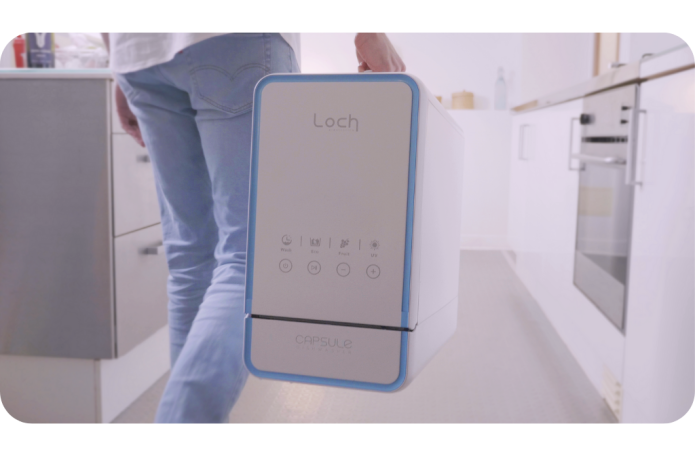 see in action here > https://gph.is/g/Zr8970J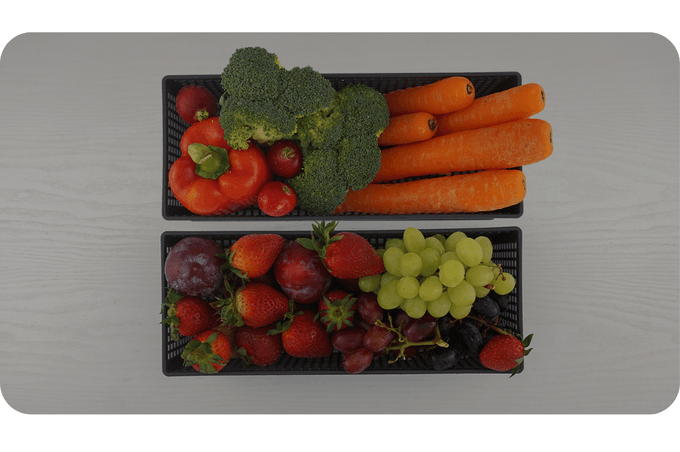 It's not just dishes that need washing. Love your greens, but hate the broccoli florets crumbling and getting stuck in your strainer? How many hours are wasted in frustration trying to wash sieves and colanders? With the Capsule, you can rinse your fruit and veg easily and thoroughly, with no mess.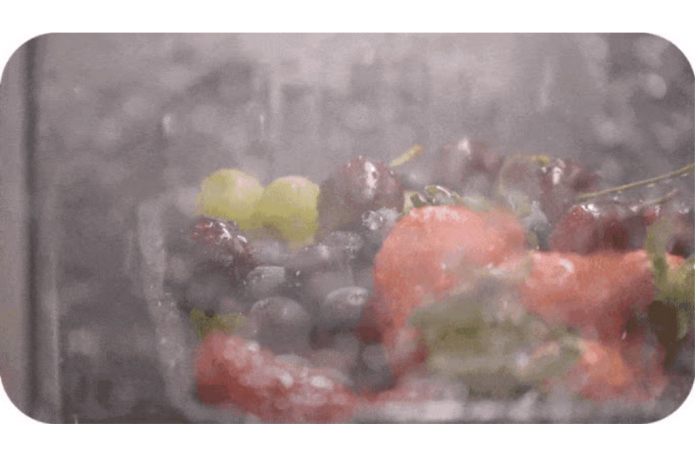 see in action here > https://gph.is/g/4AgG7gV

Disinfect your phone, face masks, mail, keys, baby bottles… the list goes on. Capsule uses state-of-the-art UV-C disinfection, requiring zero water.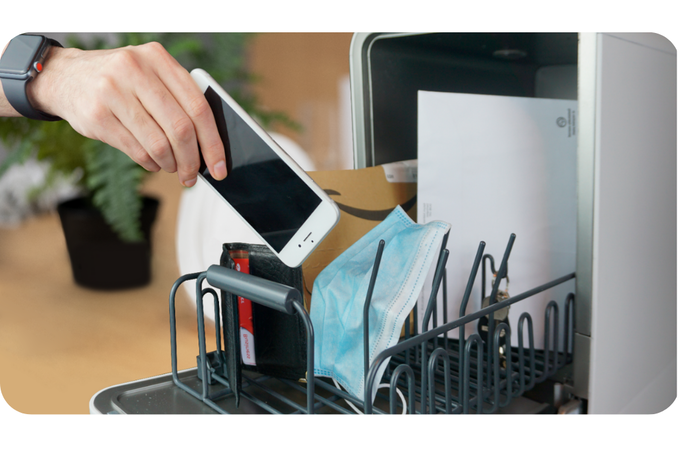 Simply select UV and press play. It is recommended 10 minutes for hard surfaces like phones and bottles and 30 minutes for paper and textiles. Capsule UV-C light uses LEDs with a wavelength of 265-275nm.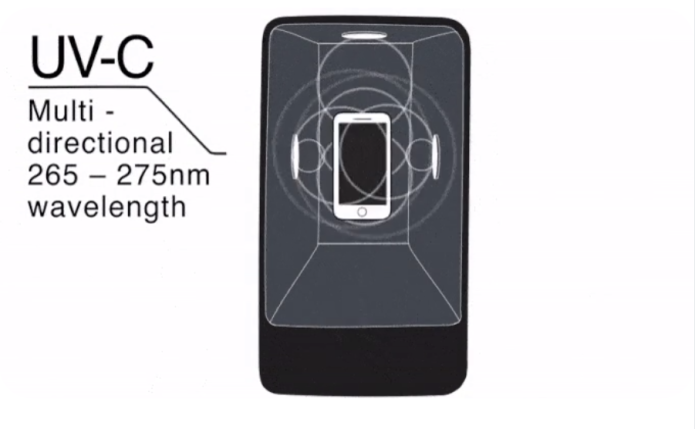 see in action here > https://gph.is/g/4D9oNJP 
Capsule is probably one of the few appliances used for baby care that you will keep using way after the baby is not a baby anymore.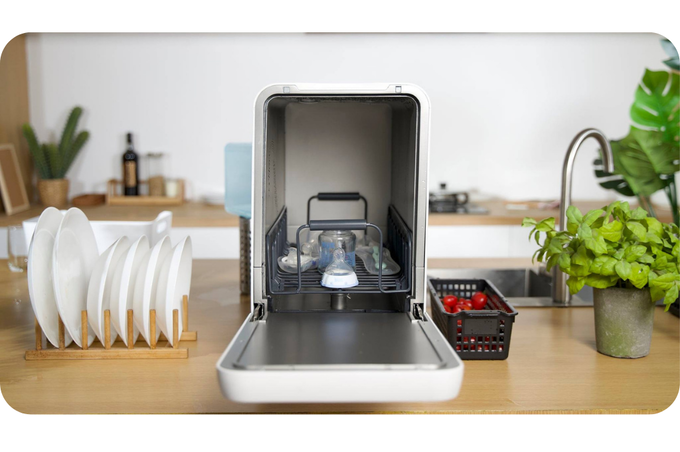 We recognised the need for a countertop dishwasher which isn't limited to side plates, cups, mugs, and other small items. Capsule is designed to fit larger items used in the kitchen on a daily basis:  dinner plates,  frying pans, chopping boards, baking pans and more.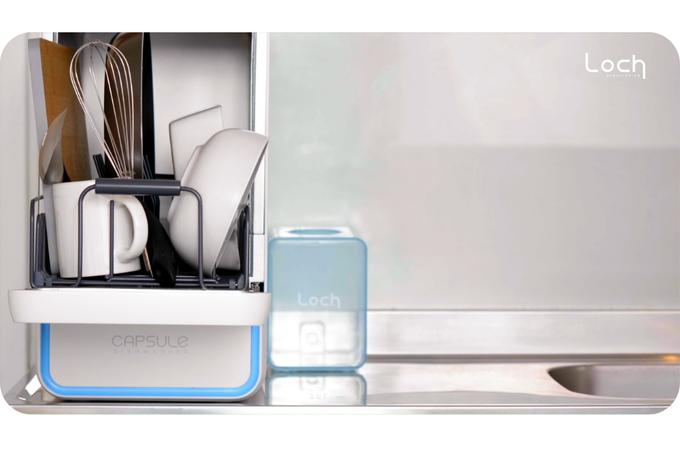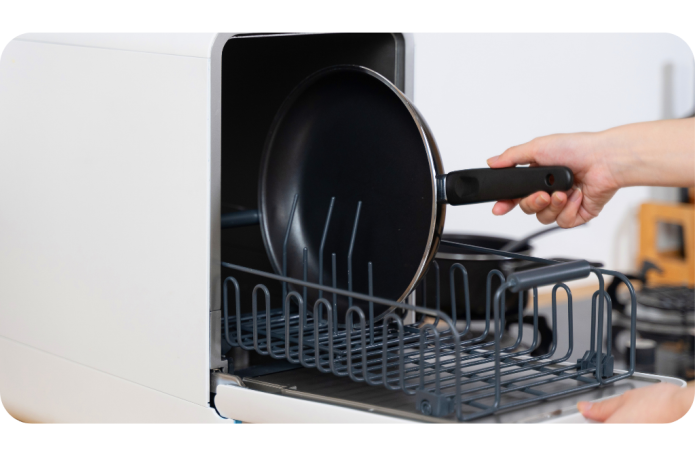 see in action here > https://gph.is/g/4M0xwBV

Load dishes into Capsule, add detergent on the door, add water to the water tank. Select Wash or Eco, adjust the timing if needed with the +/- buttons, press play and your all set.
Capsule requires 5-10 grams or 0.18-0.35oz of detergent (powder/liquid/gel) for normal wash and eco wash. Small tablets equivalent to that quantity are available on the market as well. **Never use detergent made for manual washing**
An open receptacle will be added in the final product as part of the door with a mark for 5g and 10g  as to guide you on how much detergent you're adding.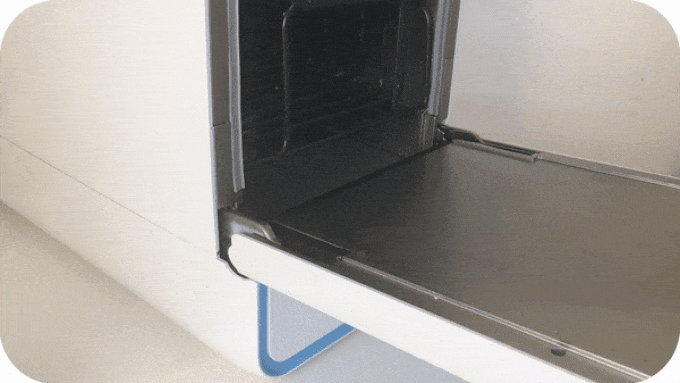 Dishwashers come with so many programmes and buttons, but how many of those do we really use? We designed Capsule to be intuitive and easy to use. One button for normal wash, eco wash, fruit wash and UVC disinfection. If you need more/less washing power just increase the time with plus/minus buttons. Capsule will adapt temperature, water pressure and running time accordingly. Use less time for delicate items like wine glasses and more time for heavy soiled items like frying pans. Easy.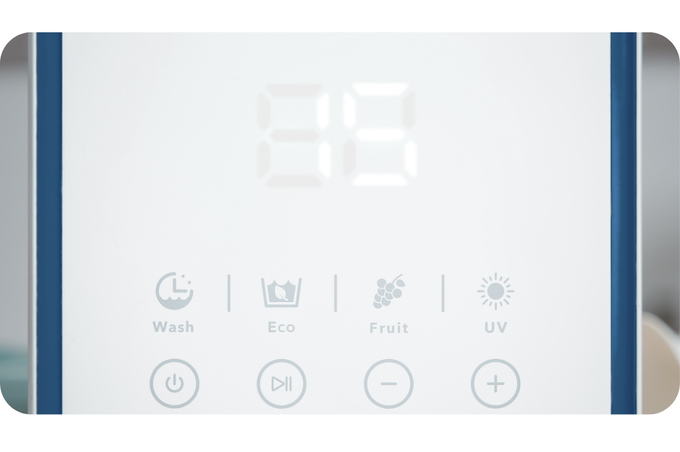 You can use Capsule straight out of the box. It comes with with 3L independent water tank for fresh washer.  After a cleaning cycle water can be drained onto the sink through the provided 1m hose. If you prefer, you can plumb it in.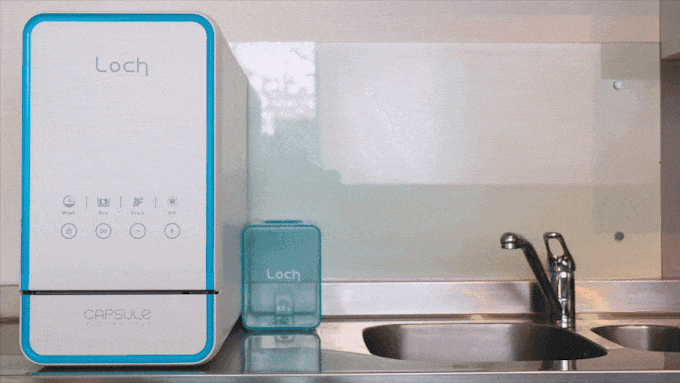 How It Works
Capsule features two twin powerful sprayers that distribute water throughout the entire tub. The water jets will hit the dishes, bounce on the roof and hit the dishes again on its way down.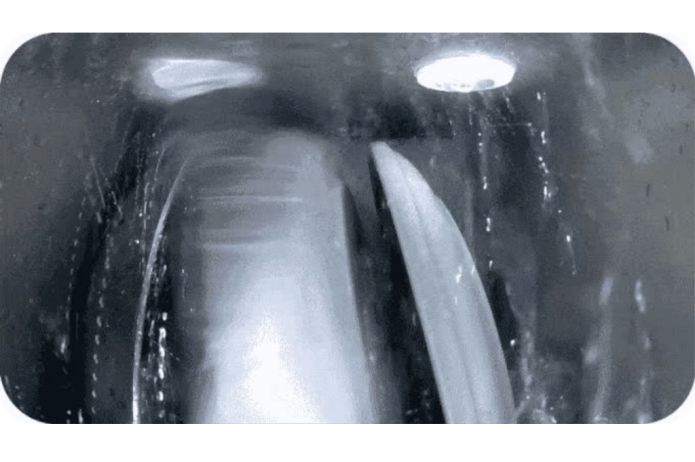 see in action here > https://gph.is/g/EvXnxjg
Capsule's form factor provides a tight space to improve air flow through each item and increase air velocity on each surface to accelerate the drying process.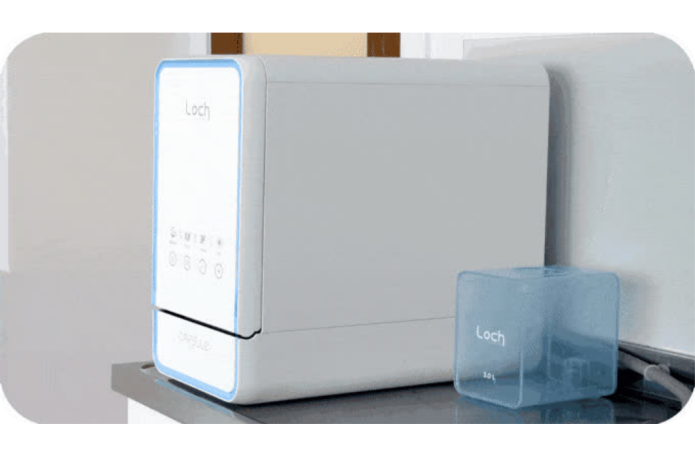 see in action > https://gph.is/g/4D9oNO6
Capsule ships worldwide and will have the right voltage and power cord plug for your region.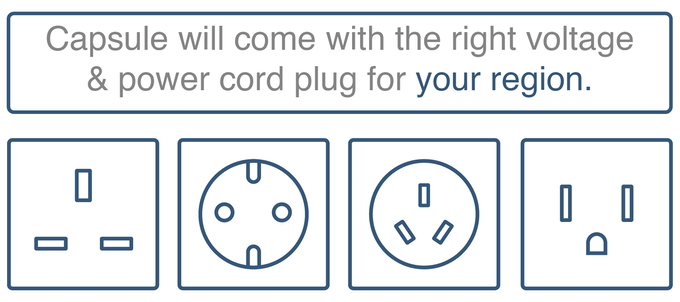 Programmes
Four programmes is all you need to get the most of Capsule. Wash is the normal washing programme, Eco is designed to save maximum energy, Fruit cleans fruits and vegetables and UV sanitises with UV-C light.
Capsule has a power rating of 950W and heats up to  75ºC/167ºF for sanitising and drying.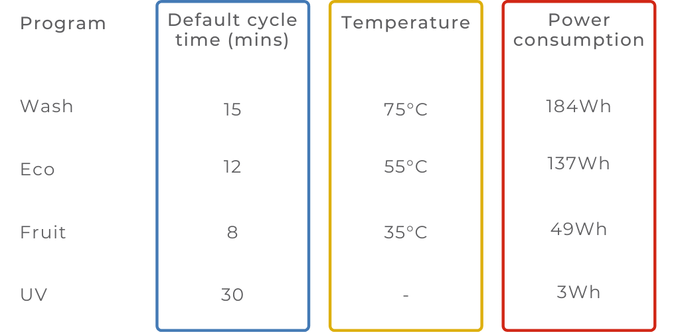 We know that an educated choice is the best choice. So if you're still considering your options: good on you! Here's how we compare against other dishwashers: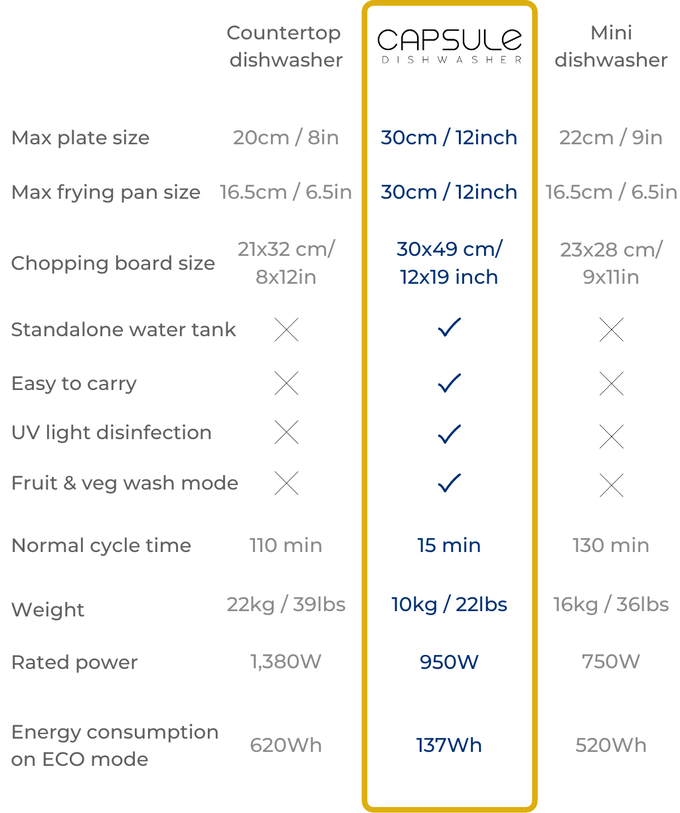 Loch Electronics is first and foremost and environmentally-driven company. Our mission is to reduce the carbon footprint of households and offices. We achieve out mission by creating compelling products that improve your daily life, are easy to use and look great.
Capsule does just that. 
The Capsule uses 4 times less energy and 7 times less water than washing dishes by hand. So it will not only allow you to save time washing up, but also help reduce your monthly bills and minimize your carbon footprint.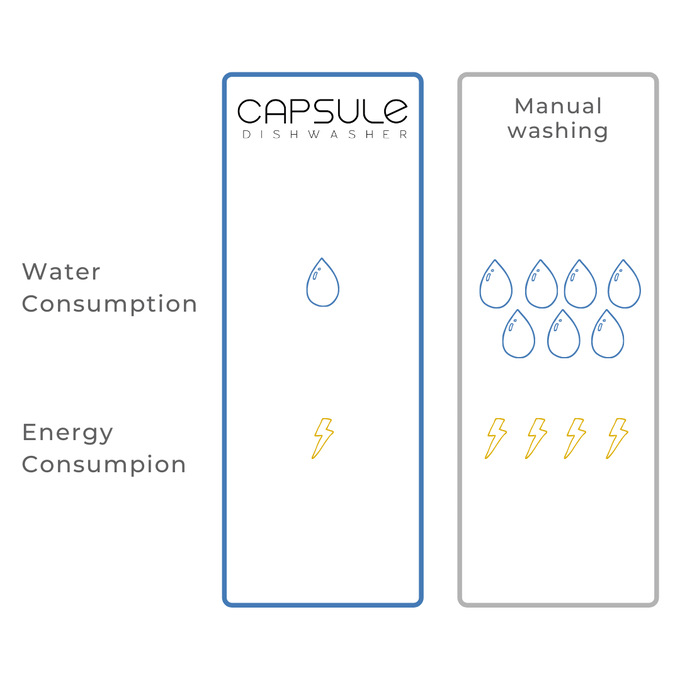 The Capsule comes in many different colours to fit with your space. We chose names to celebrate nature and remember that our planet is a shared space. We're all neighbours and the wellbeing of one is the wellbeing of all.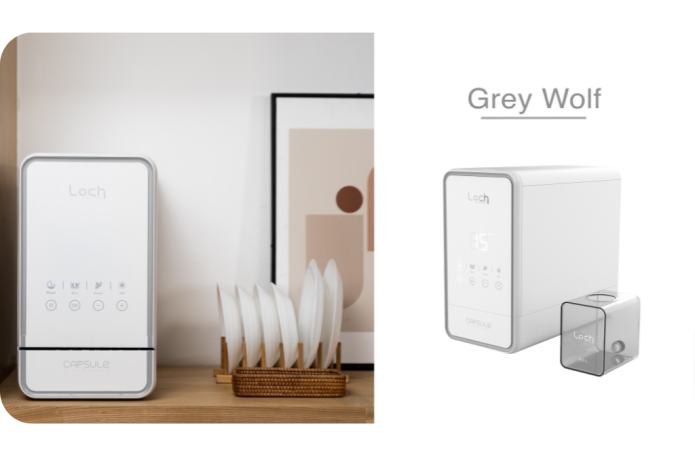 see all colours here> https://gph.is/g/am8x7BP

We don't stand for ambiguity so here's a detail breakdown of all the elements that come with your CAPSULE dishwasher.
With the Capsule perk you will get Capsule dishwasher, fresh water tank, rack, cutlery basket, fruit basket, hoses and power cable.
The additional water tank perk is for users that want complete autonomy from a sink. You'll be able to use the additional water tank to collect the drain water.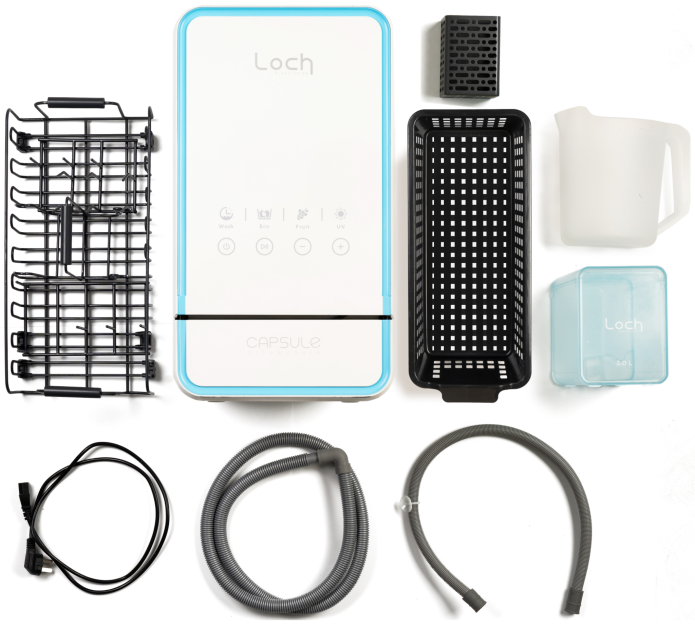 Design and innovation is how we aim to change the world for the better. We pay attention to every detail, every notch and every button; we design with every user in mind. We create both functional and beautiful products that enhance our lives and lifts our spirit. We find immense joy creating them and hope you find the same joy using them.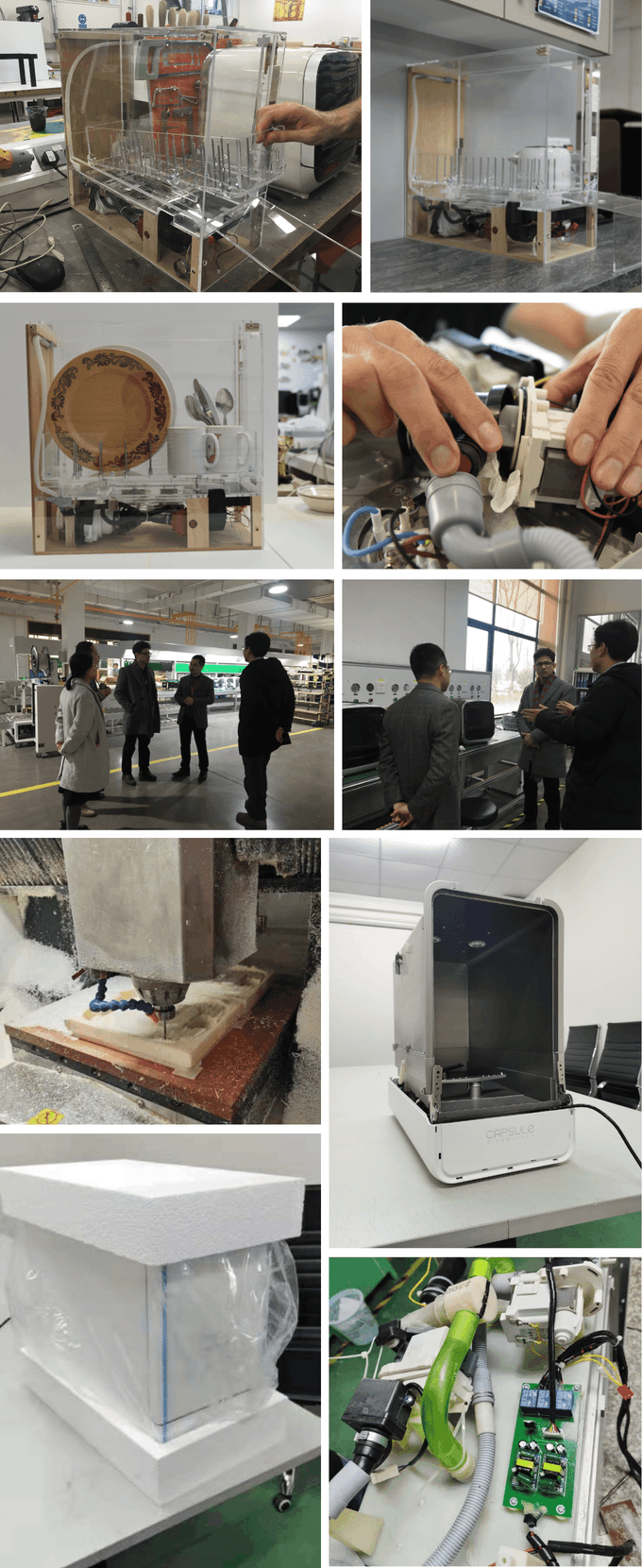 One step closer towards full sustainability…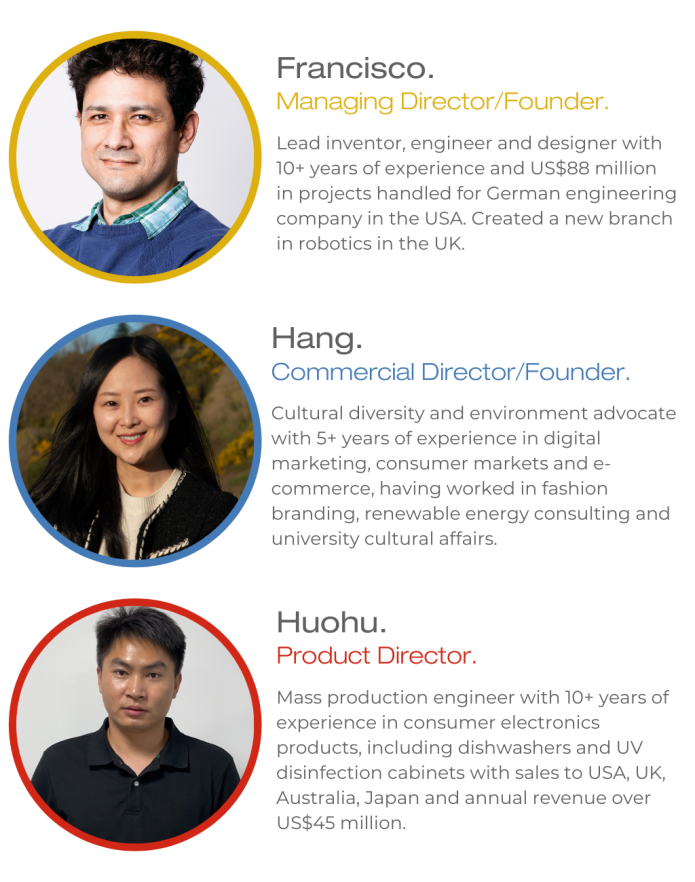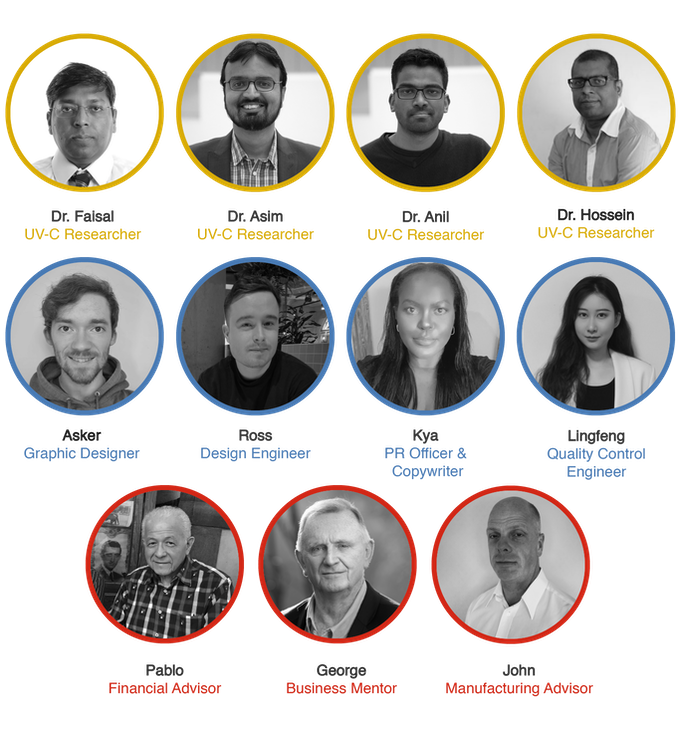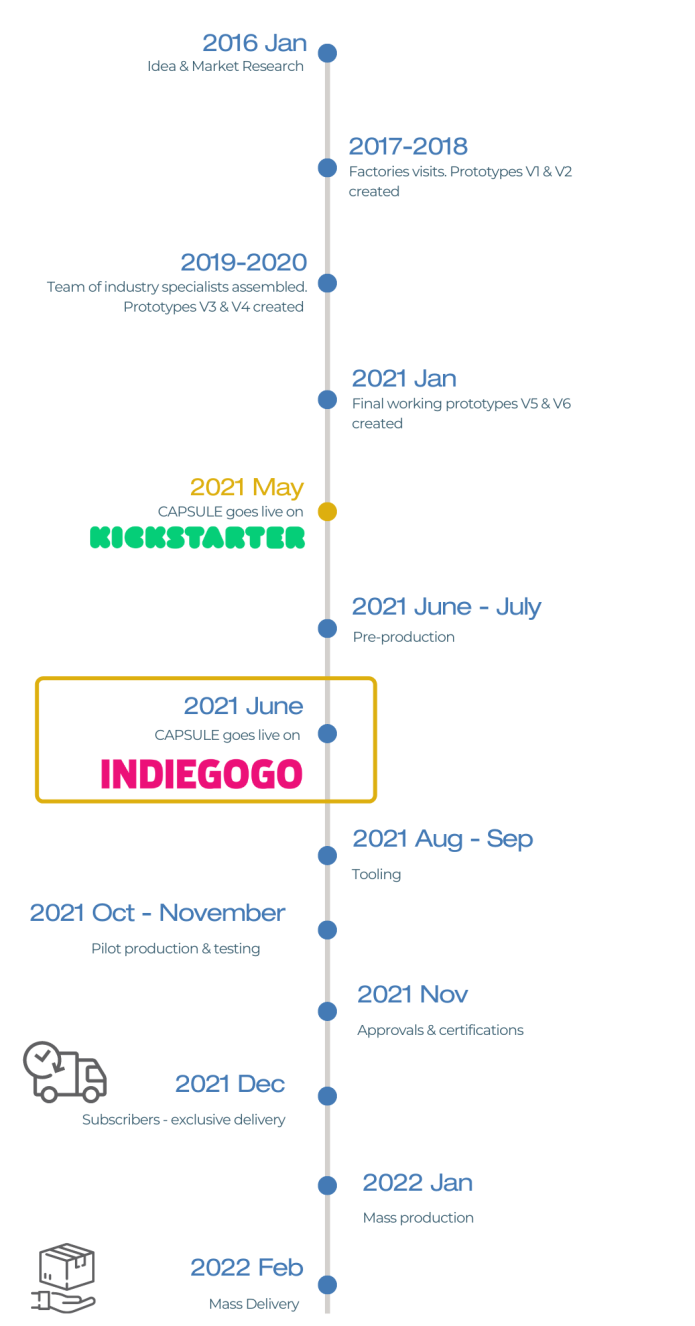 Loch Electronics is an award-winning start up company supported by private and public institutions and universities in Scotland, United Kingdom and European Union.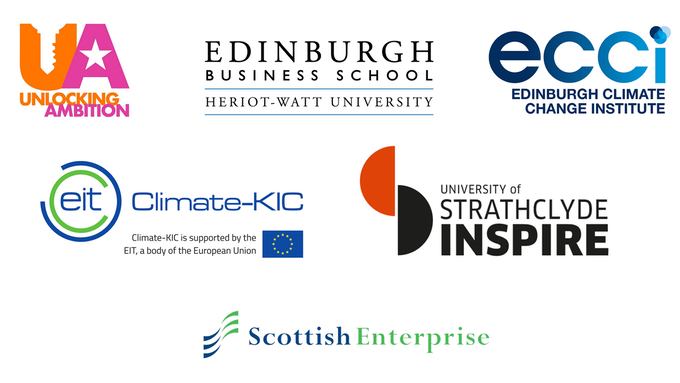 Risks & Challenges
This is our first campaign on Kickstarter. However, we've built a team with over 10 years of experience in design and manufacturing of consumer electronics including full-size dishwashers, UV-C disinfection cabinets, air purifiers, air quality monitors, air extractors, humidifiers, rice cookers, kettles, food processors, mixers, blenders. We've carefully selected our partners to ensure we provide our backers and customers with the best experience we could possibly deliver. Our electrical appliance manufacturing partner produce 10% of the global appliances market and is listed in the Fortune Global 500. Our partners for shipping, logistics, fulfilment and customer service have over 64 global centres, operate in 55 countries and territories and 30 languages. Our marketing partner have lengthy experience in crowdfunding marketing. They raised $2.5 with Milo $2m with Lumi, $1.4m with Silo and $767k with Lupe Vacuum among over 100 campaigns on Kickstarter and Indiegogo. Unexpected issues may arise and if they do we will always deal with them with your satisfaction at the top of our priorities and we will handle all enquiries with care.