Chef's Collection Kitchen Knives 2 – Cooking Knife | The brand that is shaking the industry, at an incredible price! Design, Performance, & Durability.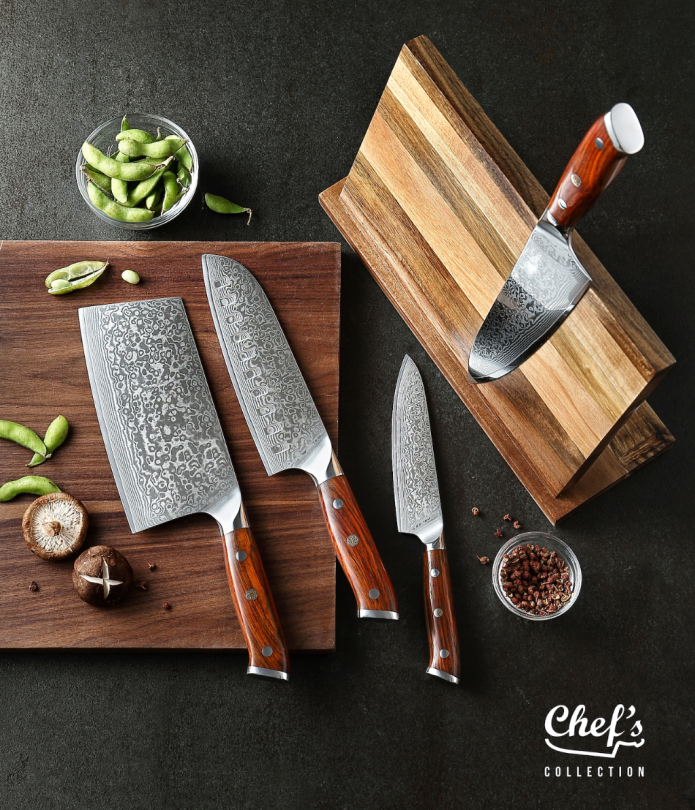 Learn more about the Artisan Collection: 
Chef's Collection was born to redefine what premium cutlery should be about. We have designed each collection to deliver the best in class experience to customers, by utilizing high-quality materials and meticulously handcrafting each knife to achieve the perfect balance of performance, precision, durability, and elegance.
After a successful launch on Indiegogo, we are bringing a second project to life, and introducing the Artisan Collection. A premium set of kitchen knives forged with 67 layers of premium VG10 Damascus steel, full tang design, and Rosewood handle. 
The blades of this collection are incredibly sharp and resistant, with a core of high carbon steel and handcrafted finishing. The knives are designed with full-tang structure to deliver ultimate performance and lasting durability.
This collection is an expression of art that will excite cooking enthusiasts around the world. We are proud and passionate about the products we are developing and have no doubt that you will fall in love with them as well.
​Join us, and help bring Chef's Collection to life.
Risks and challenges
This is our second project on Indiegogo. The first project was successfully funded and all rewards were shipped to backers in less than 30 days. The knives of this collection have already been designed, tested, and approved for production. The initial batch will ship the knives in March 2021, targeting the delivery for the last 2 weeks of the month.