Circa – the stand-alone alarm that helps you sleep | The better alternative to waking up with your phone.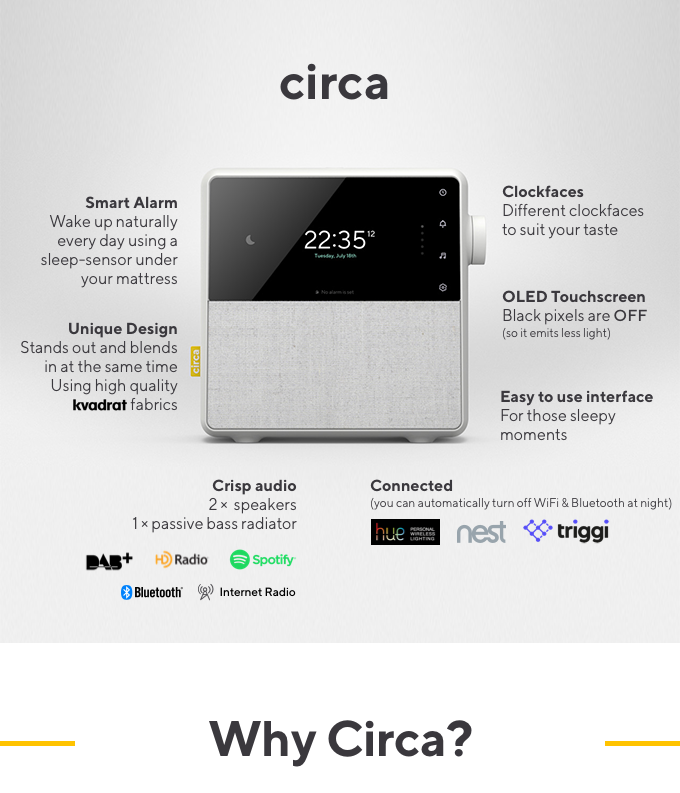 More than 60% of people use their smartphone to wake up in the morning. However, we often find ourselves scrolling through our timelines late at night, and get sucked into our phones before starting the day.
Circa wants to change that.
Circa is a stand-alone device designed to help you sleep better, while offering less distractions. With every clock, a sleep-sensor is included. The sensor lives under your mattress, and allows circa to analyse your sleep and determine in what sleep-stage you are in. This way, Circa can be intelligent about waking you up and provide you with insights and actionable feedback that can actually help you with your sleeping habits.

Where the smartphone is designed to do hundreds of different things well, Circa is designed to be great at one thing: helping you sleep better!

Smart alarm
Circa features a thin sensor underneath your mattress that measures your movement and respiration to understand your sleep cycles. Normal alarms wake you up on a fixed time, no matter what. In a timeframe of 30 minutes before your alarm is set, Circa will find the best time to wake you up in your light sleep. This way, you'll wake up easier and more refreshed in the morning.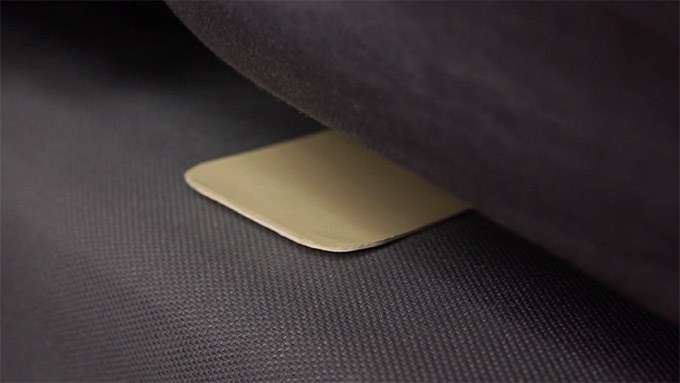 Insights
A lot of "smart" sleep products provide you with an arbitrary sleep score and graphs about single nights. Although fun at first, they do not provide actionable feedback to improve your sleep in the long run. Circa collects data over multiple nights, to provide you with insights and feedback that help you to adjust and improve your routine.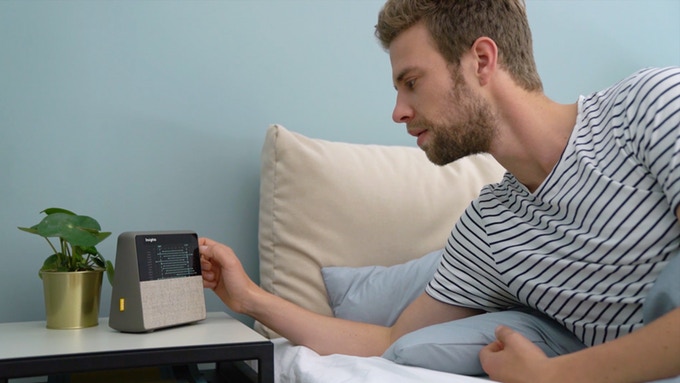 Coaching
In order to make it easier to keep your routine, Circa can send you a friendly reminder on your phone when it's time to go to bed. 

Soothing sounds 
Fall asleep with soothing sounds like whistling birds, trees blowing in the wind or ocean waves. 
White, pink or brown noise 
Circa can provide you with white, pink or brown noise to shift your focus. The constant layer of sound works like a muffling blanket that masks disturbances in your environment like ticking radiators, dripping faucets and outside noise.
Breathing Assistant 
Circa's Breathing Assistant emits a slowly pulsing light. Slow down your breath by closing your eyes and following the light to calm your body down before sleep.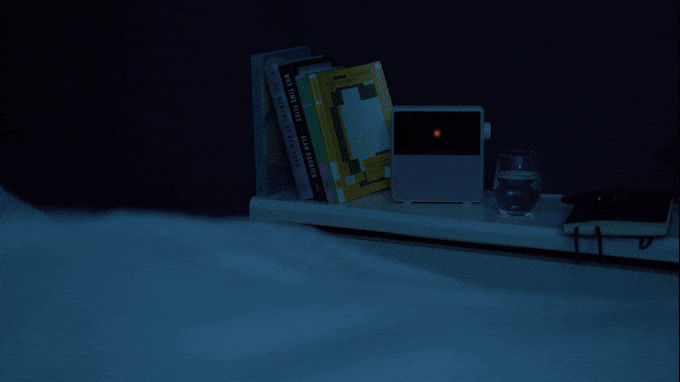 Wake up with your favorite sounds and music 
Circa features a carefully designed audio system that makes your music and alarms sound rich and clear. Wake up with beautiful alarm sounds, nature sound or your favorite music.

Circa has DAB+, HD Radio and Internet Radio inside to listen to your favorite stations from around the world and with Spotify inside you can listen to your favorite artists and playlists.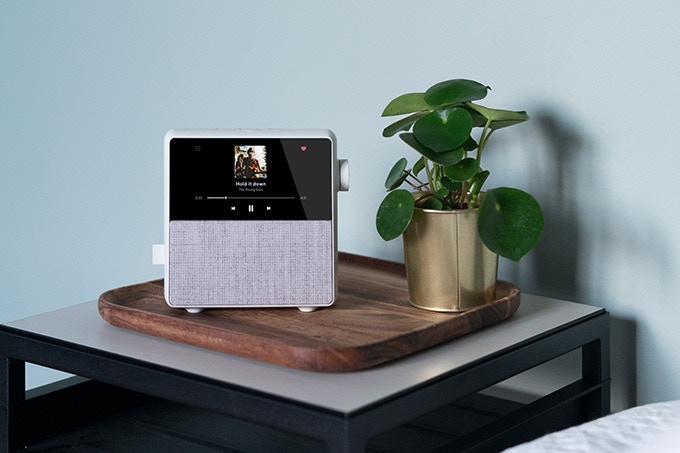 Waking up comfortably with the Internet of Things 

Circa can connect to your smart home using Triggi. Connect Circa to your connected lights to slowly light up your room or let your thermostat start making your home comfortable based on your waking time. You can use the Triggi app on your phone to link Circa to more connected things.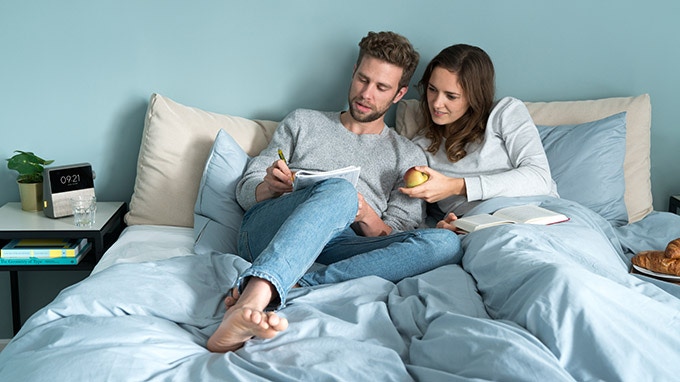 Never not waking up 
When you turn off the light, Circa will quickly reassure you that an alarm has been set. Because of the backup battery, it will always wake you up, even if the power is down.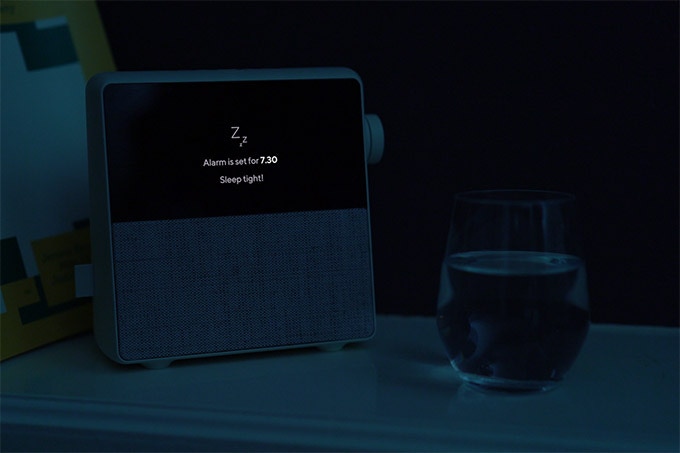 Dark screen 
Circa features an OLED display, where black pixels are completely off and don't emit light. In combination with a specially designed dark interface and automatic brightness adjustments, Circa emits less light at night then your average red-digit alarm clock.
Sleep experts advise to hide the time at night. If you're a sensitive sleeper, seeing the time at night can start a whirl of calculations that won't help in falling asleep again. Set Circa to "Dark at Night" and it will only show you the time when you tap the device!
No wireless connectivity at night
Going dark also means automatically shutting off Bluetooth and WiFi at night, when you don't need it. Then, a few minutes before waking you up, it will switch them back on.

Circa is designed by Dutch industrial designer Robert Bronwasser.

Circa's design is unique yet modest and fits within a variety of interiors. We offer several color combinations and a wide variety of clock faces to adapt Circa to fit your taste.
We selected the highest quality materials and components to create a product that will be a joy to use for years to come. Circa's friendly appearance is defined by the use of fabric on the front and back, we're working together with leading Danish textile design company Kvadrat to give the product a unique and beautiful finish.
Circa is available in 3 beautiful colors, Day, Night and Dawn.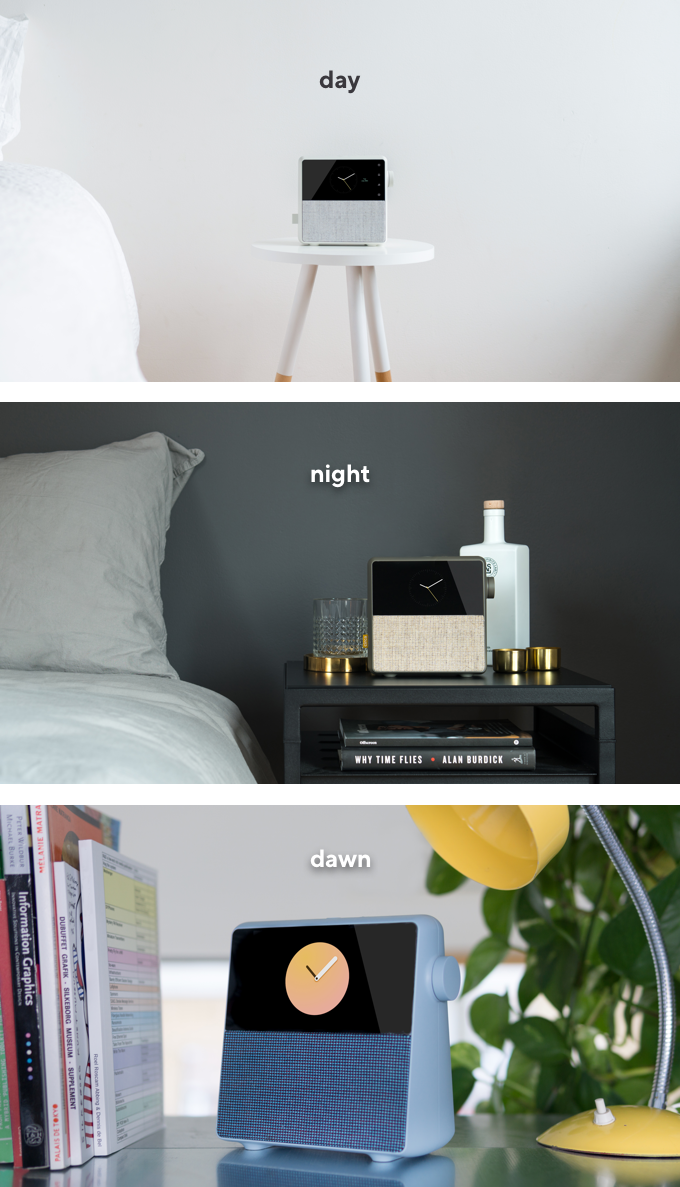 Founder Hans Brouwer — a product developer with over 25 years of experience — conceived the idea of creating a 'new' alarm clock years ago. While working on other projects it kept popping up in his mind. Together with Grinn, a partnering technology development company in Wroclaw, Poland he created the first functional prototype back in 2014. 
At the end 2016 he got in contact with Robert Bronwasser and Yannick Brouwer to develop form and functionality in what would eventually become Circa. In April '17, Daan Weijers joined the team, and the team continued developing what Circa is today; a beautiful alarm clock that helps you to sleep better!
Timeline
In the development and testing of our final electronics we faced some issues that resulted in delays in the manufacturing process. We therefore updated our planning accordingly as can be seen below. We do a monthly update here on Indiegogo to keep everybody up to date about where we are in the process. You can find these here.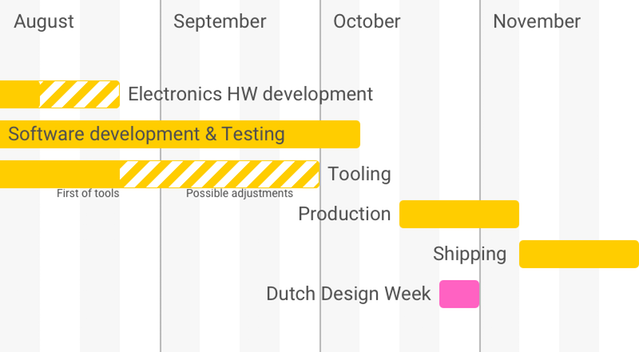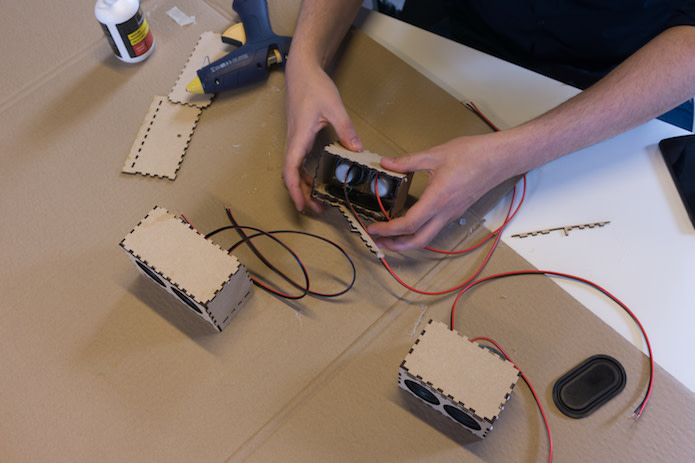 One of the dozens of speaker prototypes that we made to get to the final audio design.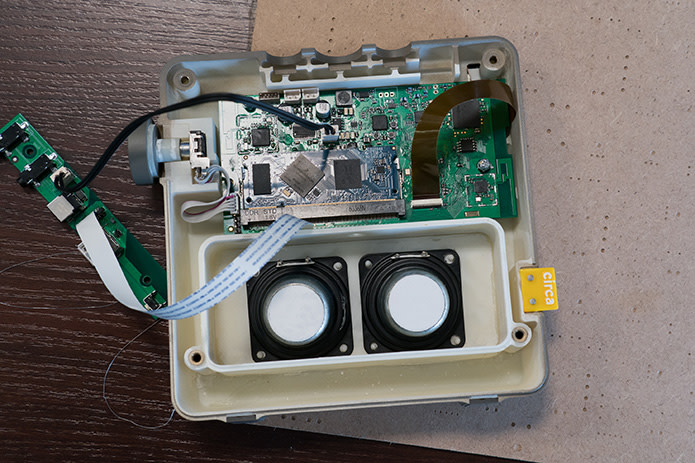 \
Inside of the prototype featuring the main PCB and speakers in their enclosure.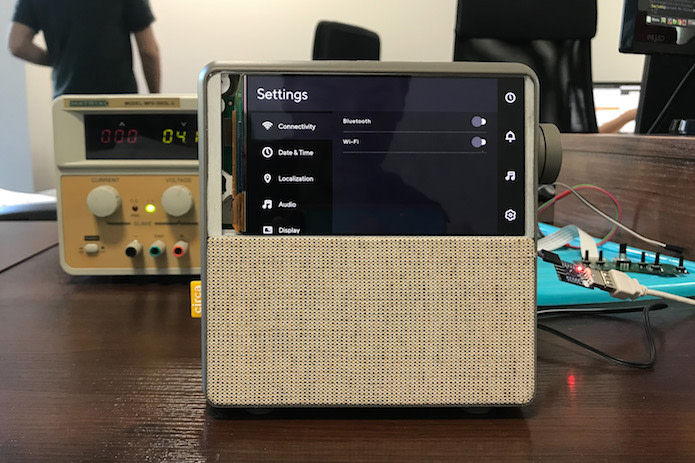 The prototype without the front cover, showing the OLED display.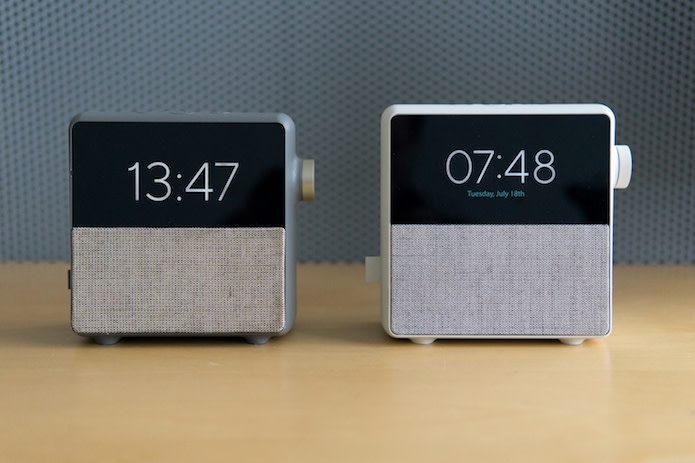 Old (Left) and New (Right) appearance prototype to come to the final proportions.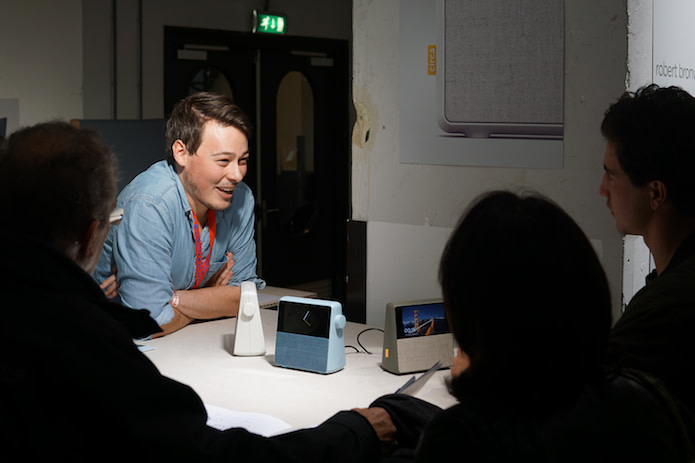 Functional prototypes during the Dutch Design Week 2017.
Our current design prototype is CNC milled and it runs on our own hardware and software. We're working hard on further implementation of software and finalizing hardware.