Circadia: Your Personal Sleep Assistant with AI | Contact-free Tracking & Adaptive Therapy.

If you don't like mounting things on your wall, we've designed an optional nightstand. To select the nightstand, simply increase the total amount of your pledge by $29 to add the nightstand.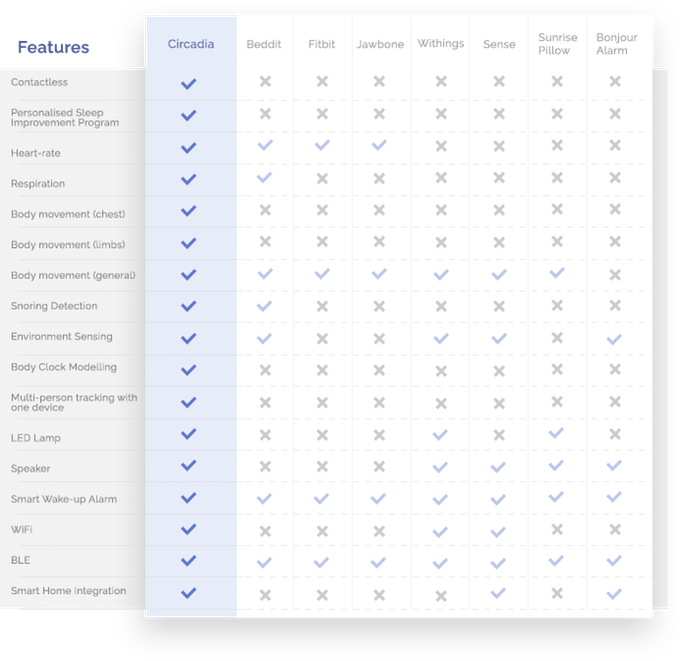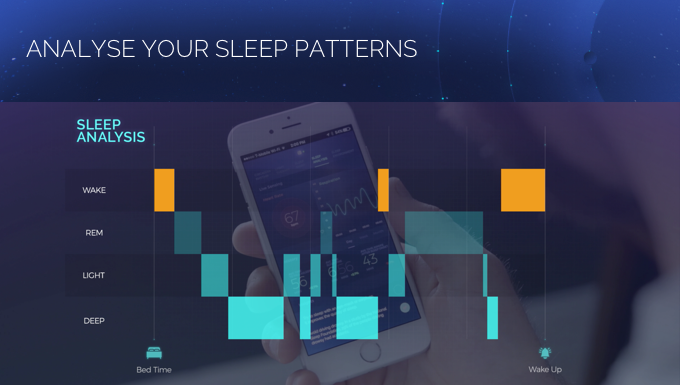 In order to enhance your wake up process, the integrated light & audible work together to determine your optimal wake-up time.
1. Light: a built-in dawn simulating wake up light triggers 15-30 minutes before your ideal wake up time to help you wake up naturally.
2. Sound: a customizable audible alarm allows you to set your favorite wake-up sounds like that's your Spotify playlist, soothing tunes like birds chirping, a digital radio station or the classic buzzer.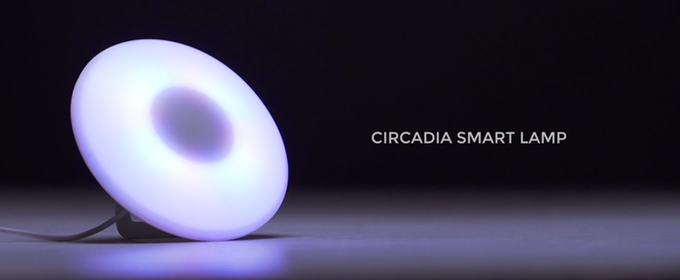 The Circadia Smart Lamp uses data from your sleep to help you re-sync your body clock throughout the day.  A personalized sleep improvement programme based on light is automatically generated to help you re-adjust your body clock.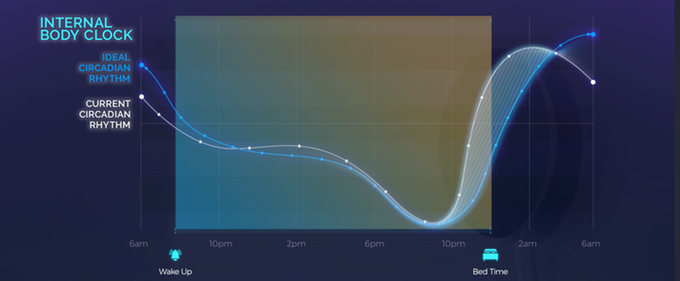 Here's how it works:
Morning: up to 45 minutes of exposure in the morning can help you beat your morning grogginess using blue light technology.
Afternoon: for the post-lunch dip just 20 minutes of exposure can help suppress melatonin, the hormone that makes you drowsy.
Evening: just 30 minutes of use pre-bedtime can help you wind down your body and prevent your natural melatonin cycle from being disrupted.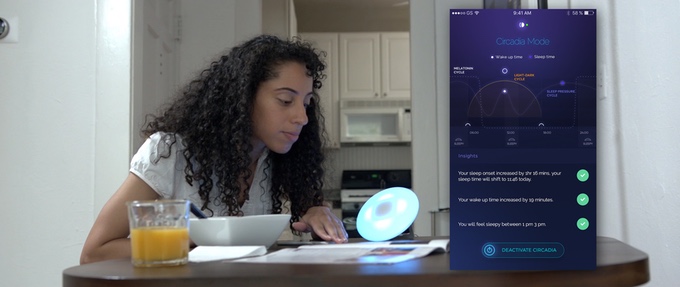 Using data from your sleep, Circadia automatically creates a personalised light therapy programme from the second you wake up. With just 20 minutes of exposure after you wake up, it helps you warm up for the day and suppress melatonin, the hormone that makes us drowsy.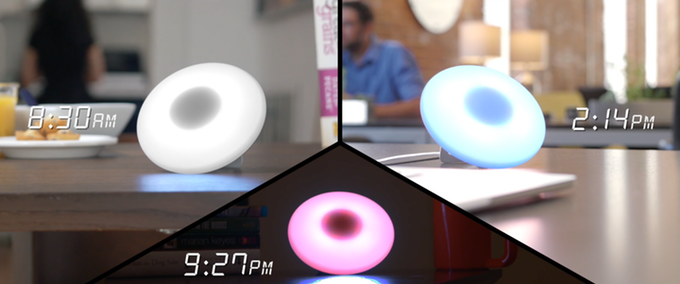 The Circadia Smart Lamp is designed to help you boost your performance throughout the day. Dynamic lighting technology allows the Smart Lamp to help you with a shot of "visual caffeine" during the day, and powers through the night when you need to burn the midnight oil. Light stimulation can give you this boost without the 6-hour half-life of caffeine which may make you restless at night.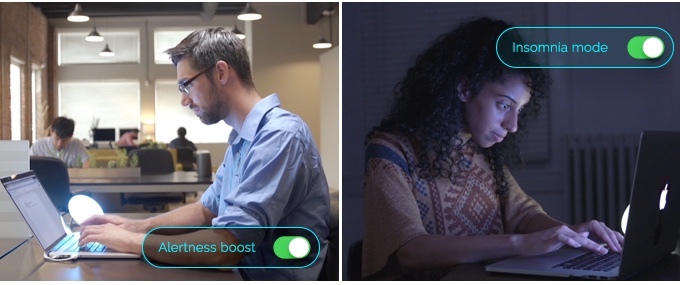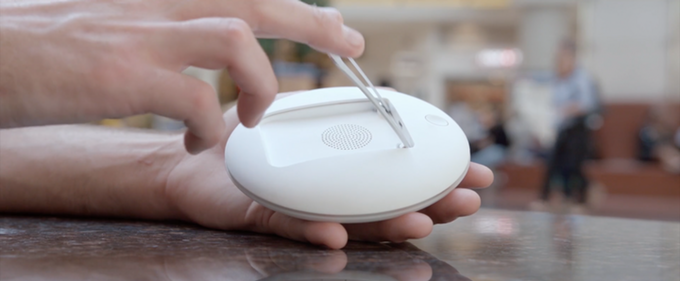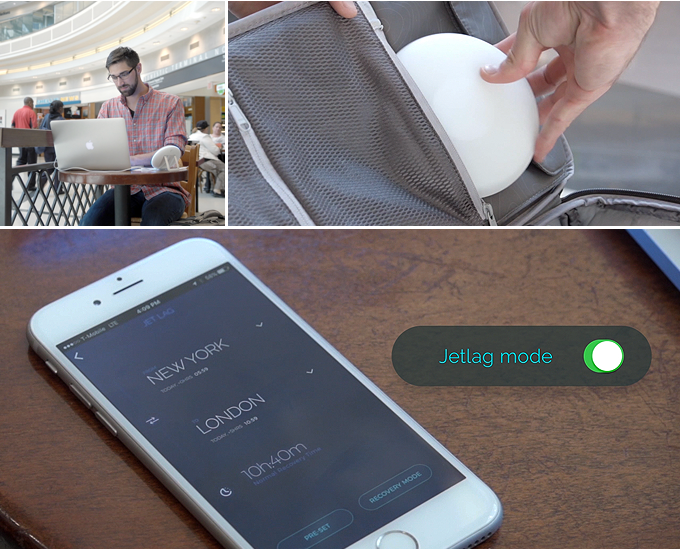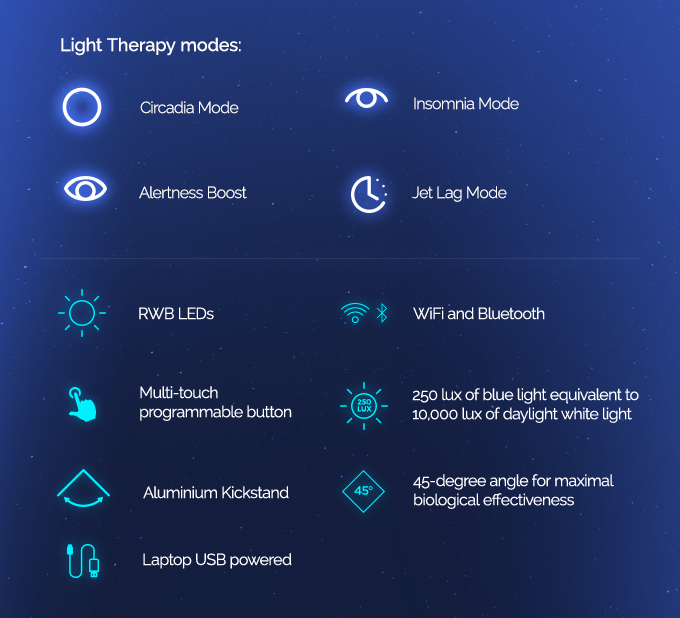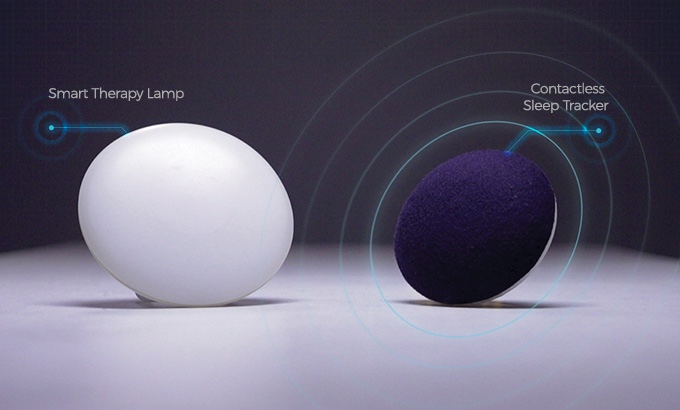 The Circadia Contactless Sleep Tracker and Circadia Smart Therapy Lamp when used together, work day & night to help your sleep, work and live better. Here's how using both products in tandem helps you.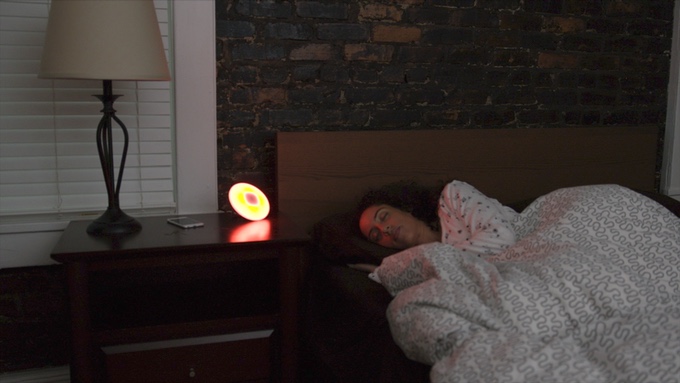 The Sleep Tracker allows Circadia to detect, down to the exact minute, the exact moment you fall asleep. The Sleep Tracker then sends this information to the Therapy Lamp to automatically generate a wind-down light therapy mode.
Using the Smart Lamp for 30 to 90 minutes before you sleep allows you to begin preparing your body for a good night's rest. Mimicking dusk, it allows you to wind down mentally and promote the release of hormones which induce sleep by preventing your body clock from getting out-of-sync.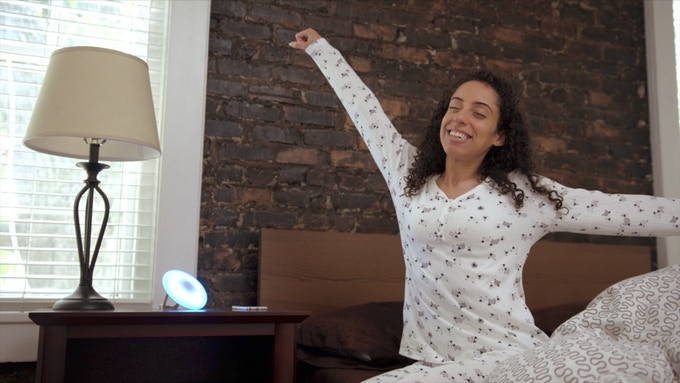 The Sleep Tracker works in tandem with the Smart Lamp to wake you up in the right stage of your sleep. 
For light sleepers, the integrated light and audible alarm features in the sleep tracker will be sufficient to wake you up. 
For deeper sleepers who take longer to get started in the morning, the Smart Lamp boosts your wake-up process by suppressing hormones that make you feel drowsy and beginning to resync your body with its natural rhythm from the moment you wake up.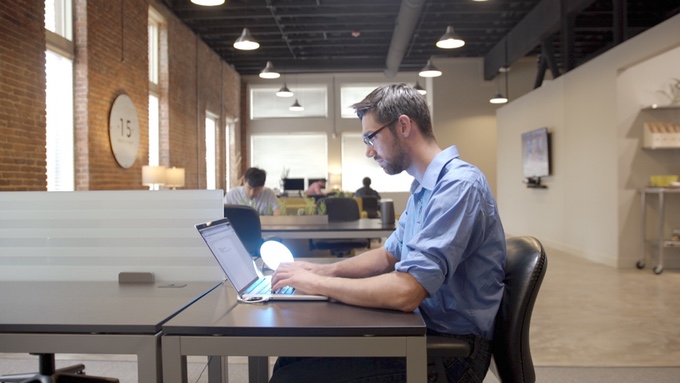 By analyzing data from the Sleep Tracker, learning algorithms predict how your sleep quality from the night before, will affect your performance throughout the day. 
Circadia then uses this information to automatically generate a personalised light therapy programme delivered by the Circadia Lamp known as the Circadia Mode helping you readjust your body clock throughout the day or when you need it the most.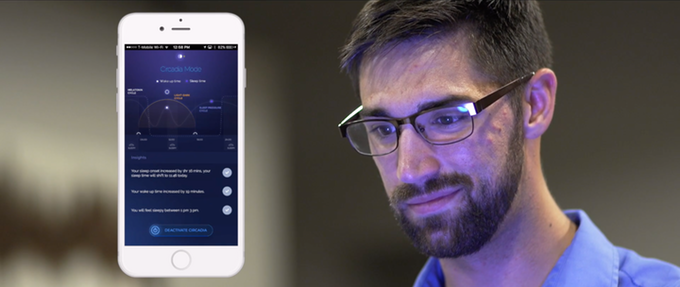 Light is the biggest external factor that controls our body clock. It controls our mood, energy and performance throughout the day by controlling the release of hormones such as melatonin which make us drowsy and cortisol which keeps us alert.
Here's how light controls our body clock: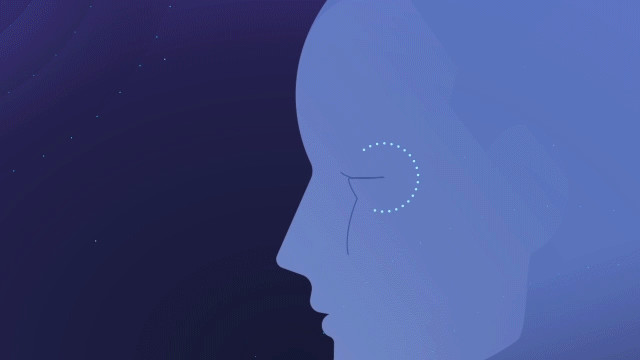 By nature, our bodies are programmed to run in sync with natural light of the sun, which changes in wavelength, intensity and patterns throughout the day. 
However, we live in an era where we spend 90% of our daily lives indoors, under artificial static light which does not mimic the light of the sun. This causes our circadian rhythm to become out-of-sync, leading to problems such as difficulties falling asleep, waking up in morning, and a lack of energy and focus at work. 
From day one, our approach at Circadia has always been to work with the leading sleep and light scientists from around the world. We're relying on over 20 years of scientific research to help combat this problem, working with very closely with pioneers in sleep science like Professor Russell Foster.
If you are curious to know more about the science and technology behind Circadia, please view our scientific report.
University of Oxford, Professor of Circadian Neuroscience, Russell Foster (and Circadia advisor) on the why and how of sleep:

We're a small design team, dedicated to improving people's lives by helping them sleep better. The question we constantly ask ourselves is: What would it take to create a complete sleep solution that that not only helps you understand and optimize your sleep but also helps you improve it? 
For our contactless sleep tracker, we worked very hard to design a product that had several functionality constraints, yet fit into the bedroom. The use of a unique soft fabric texture makes the product feel at home on your bedroom wall.
Working with leading sleep and light scientists from the University of Oxford and Harvard Medical School, we realized very early on that for our light therapy device, we had to develop a product as effective as a traditional lamp yet as versatile a light bulb. 
A classic form factor helped us achieve an ideal solution for both of our products: a completely new product archetype.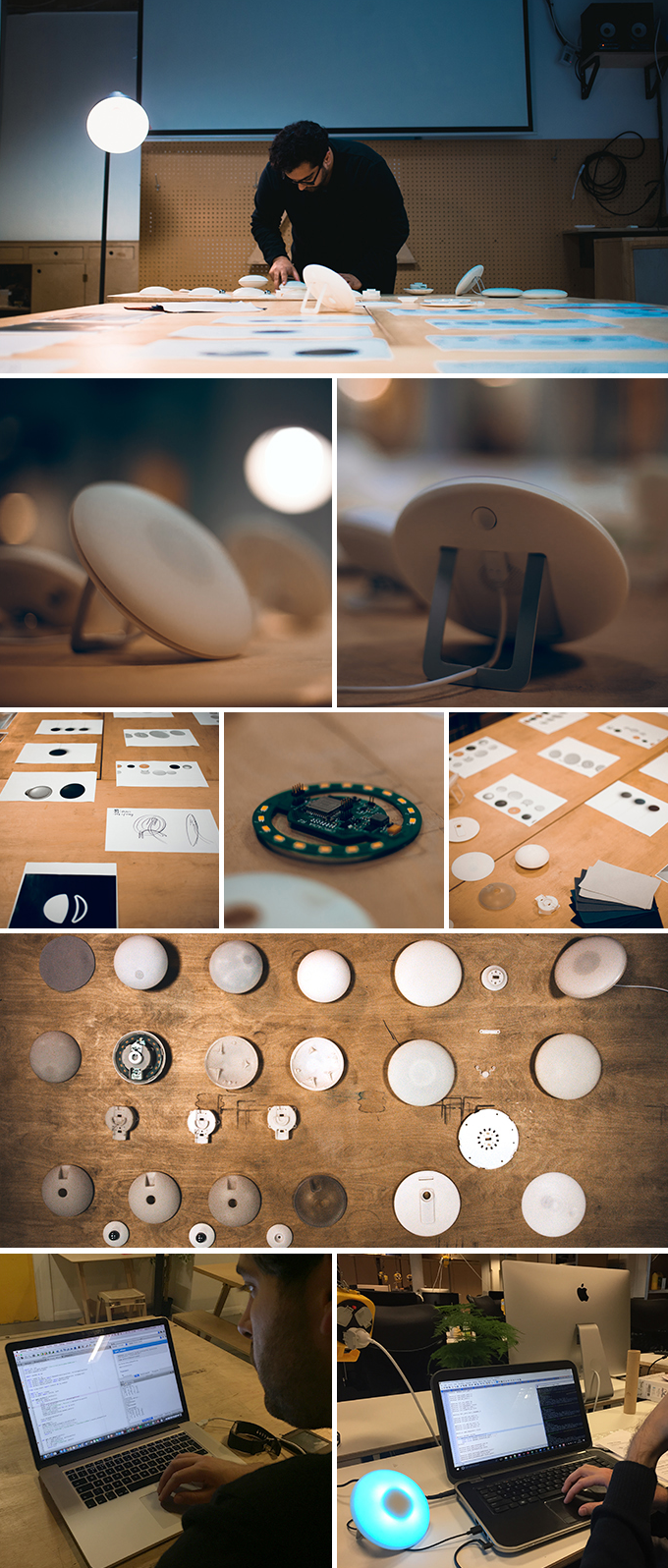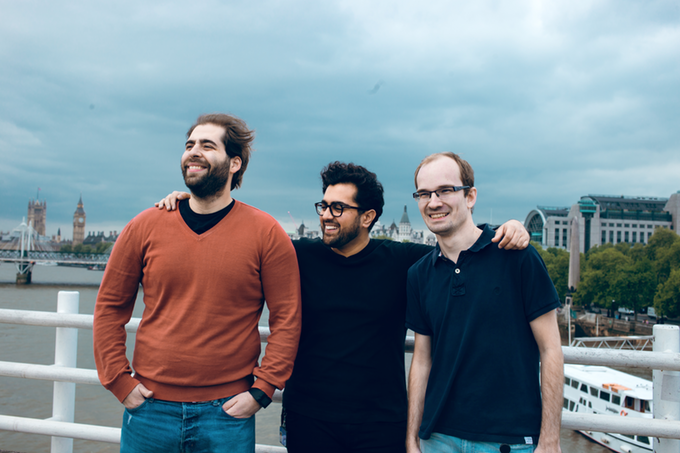 As an engineer and designer, Fares first set out to design a smart mood lamp that could sync with music as a hobbyist project. He was surprised when an acquaintance, a PhD in circadian rhythms from Oxford mentioned to him that the color of light (wavelength) has an effect on sleep quality.
Fares teamed up with Michal with this discovery and pair spent the next 2-months validating the claim and cold-emailing hundreds of leading scientists around the world. Only 2 replied, Professor Russell Foster from the University of Oxford and Shadab Rahman from Harvard Medical School. 
The first breakthrough for the idea was a 2007 study that Fares read on the discovery of a third photoreceptor in the eyes responsible for processing light information and synchronizing our body clock. The study was funded in part by the National Space Biomedical Research Institute (NSBRI), which is funded in turn by NASA's Johnson Space Center. 
The pair spent months prototyping to study if it would be feasible to build this solid state lighting technology and fit it into a portable lamp. The pair realized once they had achieved an early working prototype that if the goal was to reset circadian rhythms to improve sleep, they needed accurate sleep data and a model of a user's body clock. 
This led to the concept of creating a closed-loop experience combining tracking and therapy in one system. Where data from the sleep tracker would also be used to model your circadian rhythm to predict shifts. The pair met Stylianos who told them this was achievable by using machine learning. 
After months of testing competitors' products like wearables and other contact-based technologies, they realized all other sleep trackers in the market were extremely inaccurate and based on the premise of wearing something to bed, a crucial barrier to the use of most sleep products.
So they set out to build their own accurate and completely contactless sleep tracker paired with a portable light therapy device. A first of its kind, a complete sleep solution. Having confirmed the feasibility of the idea, they started working on the core technology.
In September 2016, we were accepted into the…
HAX Accelerator, the world's first and largest hardware accelerator based in Shenzhen and San Francisco) which has an incredibly low (3%) acceptance rate. 
We left behind everything, our friends and families, to spend four months in Shenzhen, China, the center of the universe for hardware manufacturing. We worked around the clock and extensively with manufacturing experts, designing, developing, testing, coding and breaking hundreds of prototypes to ensure Circadia is ready to prepare for mass production.
We worked very hard with manufacturing experts, developing hundreds of prototypes to ensure we can take Circadia to production.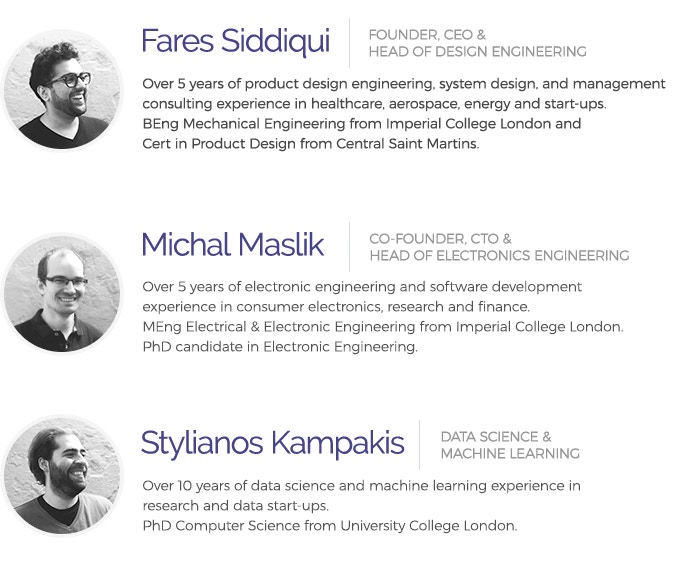 We've put everything on the line for Circadia. From the very first day of our journey, we've put people first. Our inspiration behind the project and what drives us is solving genuine problems that people face every day like sleep. That is the core of why, how and what we do.
Being sleep sufferers ourselves, we've designed Circadia from the ground up, from the first person perspective. We know what if feels like to have problems sleeping at night, waking up in the morning groggy and being fatigued at work.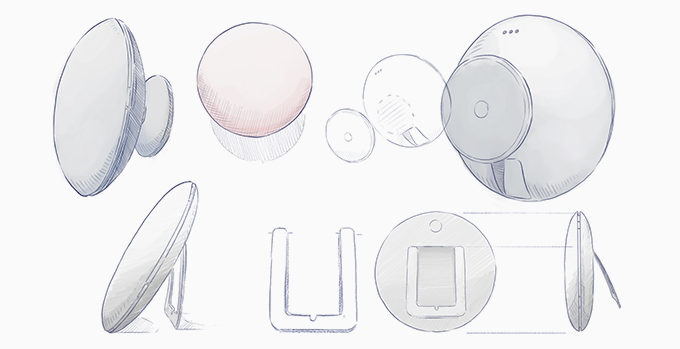 Our journey to take Circadia to production starts here. Like you, we're tired of technology that doesn't live up to standards. We believe that the only way to help solve the problem of sleep is by working together with people because together we can do so much more.
It's about making a dream become a reality. It's about sharing our mission of solving sleep and building relationships with our backer community, who we promise never to disappoint.
We're creating the first completely personalized sleep solution and to make sure we make the best product, we believe in listening and understanding to people that really care.
We welcome your feedback with open arms and will make every effort to incorporate it on our quest to make the Circadia experience of sleeping and living even better
The funds we raise will go directly to help us deliver a high-quality product, rigorously tested and manufactured using state of the art technology. It will help us invest in tooling for production, testing and quality assurance.
Partnerships & Credits
30-day money back guarantee 
We know that most backers won't have the opportunity to experience Circadia before pledging, but we are confident that you are going to love Circadia. We will reward your faith in us by offering a 30-day money back guarantee. It's simple. If you don't like or think the Circadia Lamp or Sleep Tracker is helping you, send them back within 30-days for a full refund.
Additional resources: