Claridream PEACE: Be Calm and Peaceful | Ultra-premium supplement to help you be calm and peaceful during the day – and dream easily at night
Are you stressed or peaceful?
Anxious or calm? 
How's your energy and general well-being?
And does your mood and mindset measure up?
Look.
It's easy to imagine having the strength of a bear, the constitution of a horse, the mindset of a monk and the patience of a saint…
But chronically elevated cortisol levels are the medical curse of the 21st century.
The stresses of work, study, relationships, family, finances and everything build up.
And unless you take steps to manage your stress levels, you can finish the day feeling drained, anxious and without the mental energy needed to pursue your ideas or passions.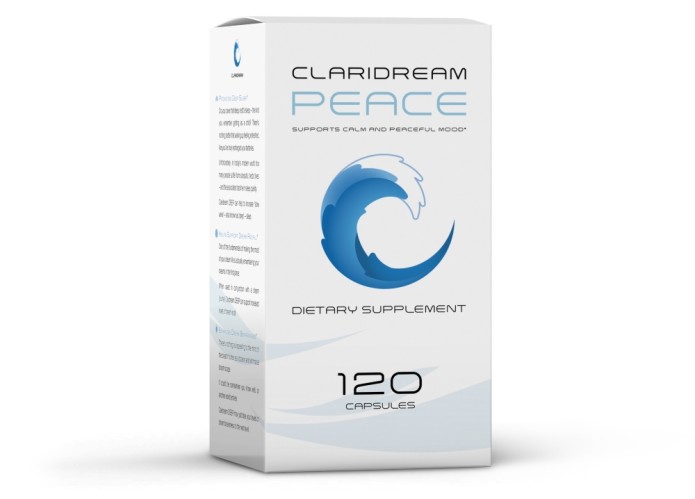 Be Calm and Peaceful
Claridream PEACE is a collection of super high grade botanicals that promote calm and peaceful mood throughout the day.
This unique supplement has been designed to help foster the ideal mindset for activities that require consistent mental energy – such as writing, meditation or lucid dreaming.
Using research proven adaptogens, it will restore equilibrium to your para-sympathetic nervous system, activating a broad range of life benefits:
Reduce nagging anxiety
Handle stress more easily
Improve your mental energy
Increase your sense of general well-being
Plus, it contains dream herbs that will boost your levels of dream recall and surrealism into the bargain!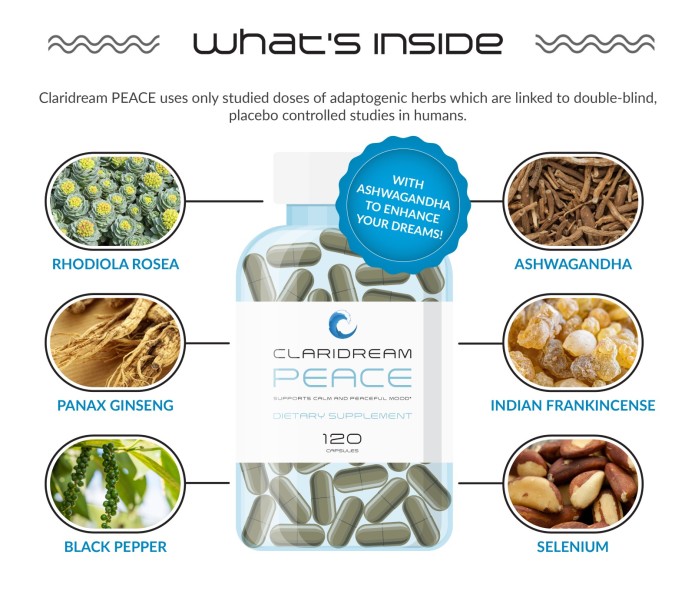 Quality
Claridream PEACE has been engineered from inception to be the demonstrably superior choice in terms of measurable criteria: supply chain, dosage, quality of research and value for money.
This is not the same as the average anxiety relief supplement you can pick up in Walmart, or on Amazon. This is not another copy cat product or a marketing gimmick.
There is no filler, fluff or fabrication.
We don't use "proprietary blends" to hide the amount of active ingredients
We use patented extracts supported by audited supply chains
We use effective doses based on clinical studies
We base our claims only on double-blind, placebo-controlled studies in humans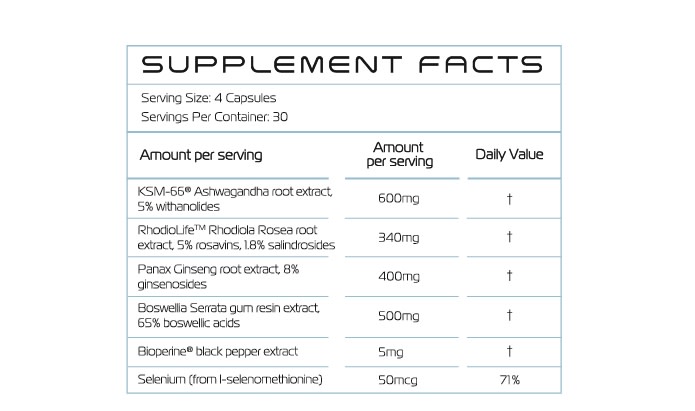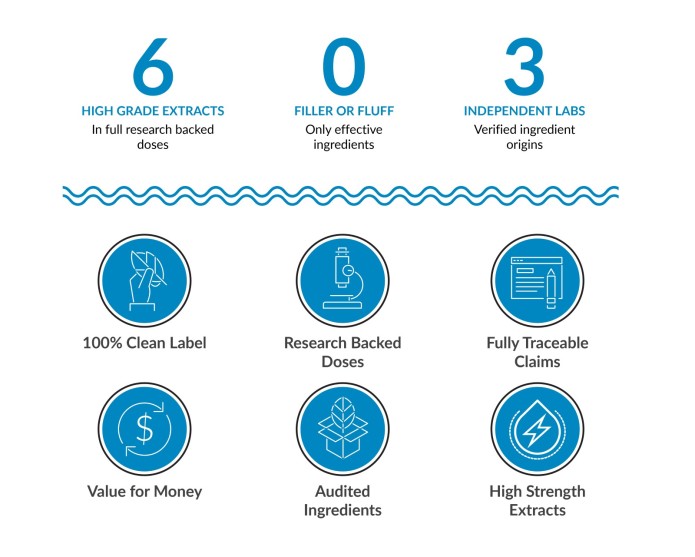 Rhodiola from Altai, Siberia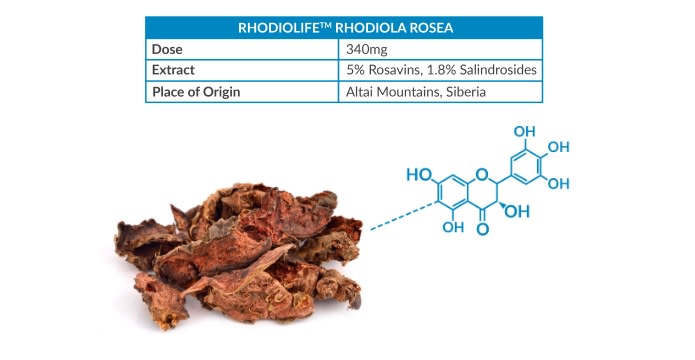 In the last 12 years the market has been flooded with rhodiola rosea, to the extent that most brands are now sourced from China, contain a different species, or have the wrong balance of rosavins to salindrosides.
The issue became so bad that 6 months ago the American Botanical Council issued a warning on adulterated rhodiola rosea.
Claridream PEACE is the first product to be made available in the USA that provides a full 340mg clinical dose of RhodioLife™ Rhodiola Rosea Extract 5% Rosavins.
This unique, ultra-high grade botanical is wild-crafted in the Sayan region of the Altai Mountains, Siberia.
The shrubs are hand collected by rural co-ops in strict accordance with WHO Agricultural Best Practices – and its identify and supply chain have been independently verified by two high profile labs.
After careful extraction and distillation it maintains the natural balance of rosavins to salindrosides contained in the roots – being 5% to 1.8%.
Make no mistake, this is the star ingredient in Claridream PEACE and after much work is now available in the US at a clinical dose for the first time.
Ashwagandha from Rajasthan, India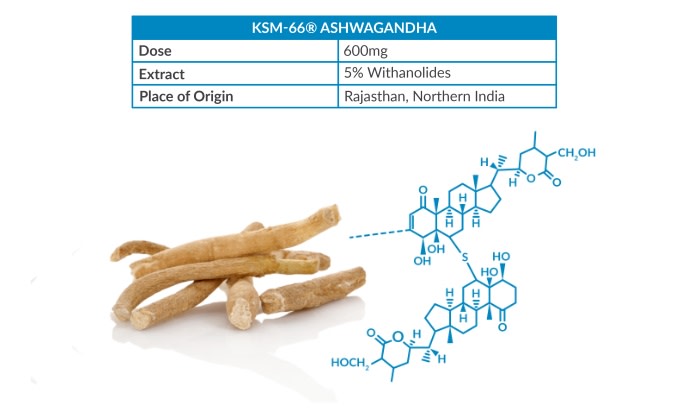 ​
Claridream PEACE uses KSM-66® Ashwagandha, the highest concentration full-spectrum root extract on the market today, retaining all the natural constituents of the herb in the original balance.
You see, unless your ashwagandha supplement contains a branded extract, you simply can't be sure of what you're getting or where it came from. Whereas KSM-66's production can be tied to the exact fields in Rajasthan, Northern india.
It is the ashwagandha root extract with the most extensive set of research studies and clinical trials.
And its maker is the only ashwagandha manufacturer in the world with its own farms, production facilities, testing laboratories, research center and distribution.
While other companies are seeking to decrease costs by using Ashwagandha leaf as well as  roots, we have opted to use the traditional Ayuverdic preparation in the highest quality form available.
How to Use It

To use Claridream PEACE, simply take 1 dose in the morning before breakfast.
It's strong and effective, so we suggest starting with just a half-dose for the first couple of days – as you may not need more than this!
If you desire, you may also take a second half-dose in the afternoon.
You will feel the acute effects on your energy and vigor within 1 hour. As the day goes on your stress levels will re-balance and you'll start to feel like yourself again – calm and peaceful. With continued use, expect longer term benefits to manifest – as your body's equilibrium is restored.
Then – after a long day – simply hop into bed and feel the dream enhancing properties of ashwagandha as you sleep!
Production
Claridream PEACE is expensive because it costs a lot to make. We are a small business and simply don't have the spare capital available to bring it to market without your help.
Here is what will happen if we reach our goal:
15th March – Manufacturing starts
15th May – Manufacturing complete
1st June – Logistics complete
7th June – Delivered to you (+ 1-2 weeks for International customers)
This is our second crowd funding campaign, so we know exactly what to do to deliver a great outcome for you – on time.
All manufacturing is carried out in a CGMP certified facility, in accordance with all FDA standards for Dietary Supplements.
Disclaimer:
These statements have not been evaluated by the FDA. This product is not intended to diagnose, treat, cure or prevent any disease.
Who We Are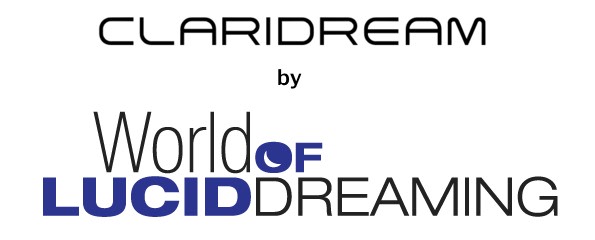 Founded in 2008, we receive over 4 million visitors every year, have 273,000 Facebook fans and over 50,000 email subscribers.
We have over 300 free articles on the fascinating subjects of dreaming and sleep.
And like everything we do, every one is based on solid research and peer-reviewed studies.