ClearView – A Better Bird Feeder! | Designed with Birds' Health in Mind!
Finally a Better Bird Feeder – ClearView Deluxe!
Designed with Birds' Health in Mind!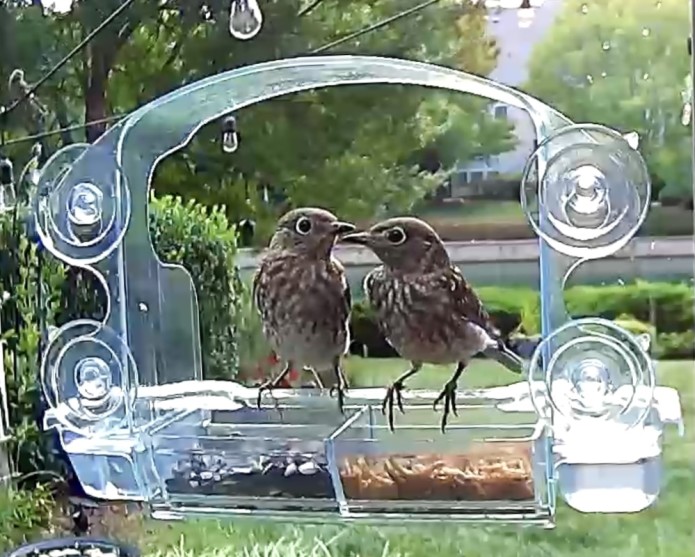 Designed by bird lovers
for bird lovers!
We successfully designed a clear window-mounted bird feeder with a 100% unobstructed view and 4 layers of protection for the birds.  Design objectives:
1.    Easiest to clean and maintain with a dishwasher safe interlocking removable tray and an integrated perch.
2.    Keep the birds on the perch instead of jumping in the seed to eat for better hygiene.
3.    Embed an antimicrobial to reduce growth of bacteria, molds, and fungi to make it cleaner between cleanings.
4.    Include a clean water source physically separated from the seed so it stays free of debris longer.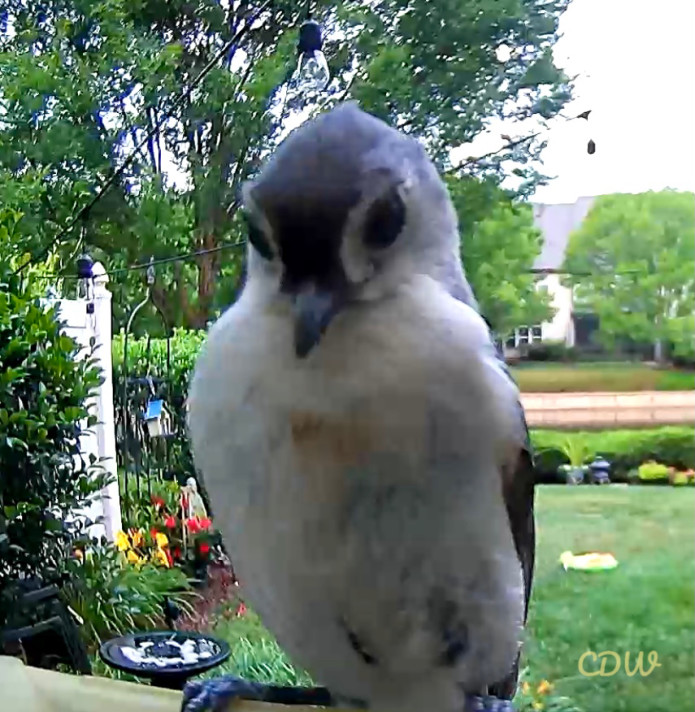 This is the first bird feeder of its kind with these 4 layers of protection, designed with birds' health in mind!  

ClearView Deluxe features our advanced patented NatureCare® Technology to protect birds and extend the life of your feeder:

Antimicrobial – to reduce the growth of harmful bacteria, molds, and fungus
Anti-yellowing – better lifetime value!
Dishwasher safe – Heat, detergent, bleach and chemical resistance – to make your feeder easier to clean and maintain while looking great for years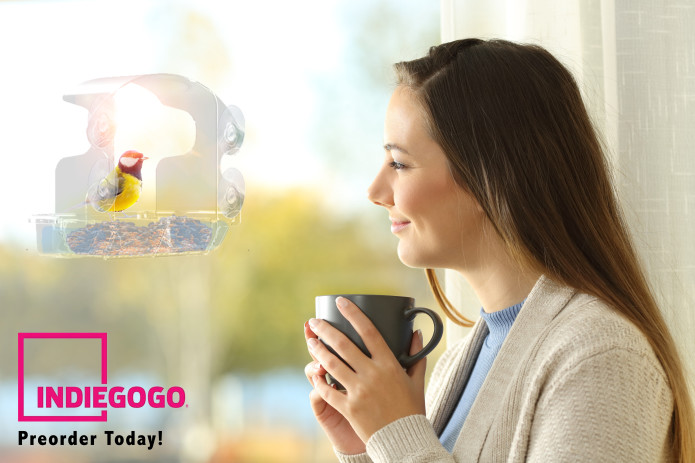 Most bird feeders are not designed to withstand the heat and chemical detergents from a dishwasher.  ClearView Deluxe was specifically designed to be the easiest feeder you'll ever own to clean and maintain.
NatureCare® is embedded in the acrylic.  It won't wash or wear away and provides protection for the lifetime of the feeder.  

ClearView Deluxe costs a little more than the low-end glued together feeders, but it is expected to last 2-3X longer, so ultimately it's a better investment.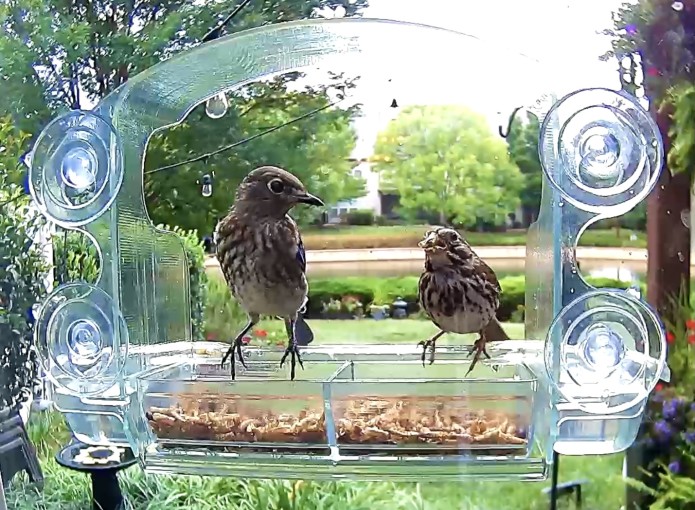 My Story
I discovered my passion for birds during the pandemic. Their visits, their energy, and their beauty were all welcome during the lockdown, when few other people were venturing out. This new pastime of connecting with nature was entertaining, even therapeutic, and I looked forward to seeing my new feathered friends daily.
When I purchased the top "Amazon's Choice" brand, I soon realized I wasn't happy with it. 
It, and many of the other top selling brands, have suction cups or material in the way of viewing the birds.  They are difficult to clean and maintain, crack and haze in a dishwasher, and often yellow prematurely and become an eyesore in your window before they are unceremoniously discarded.
So, I assembled a team to design a better bird feeder for my new friends!

Our focus was to design a window-mounted feeder where you could actually see the birds that come to visit (instead of trying to look around or past suction cups) – we decided to call it ClearView Deluxe!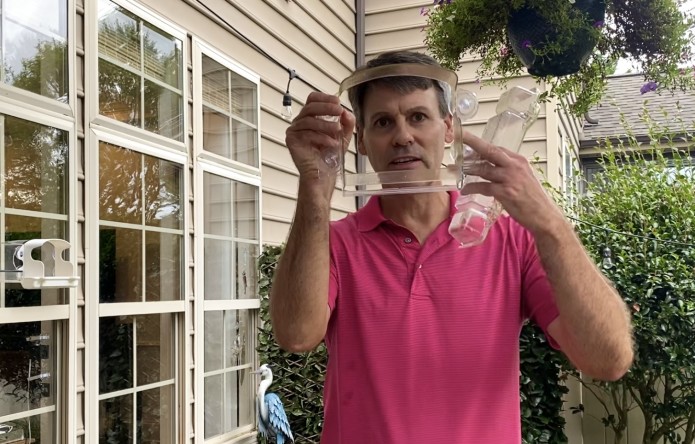 Inventor, Craig Wacaser, showing the 100% unobstructed view.
We decided we could design a feeder with birds' health in mind.  So we set to work.
Vision Drawings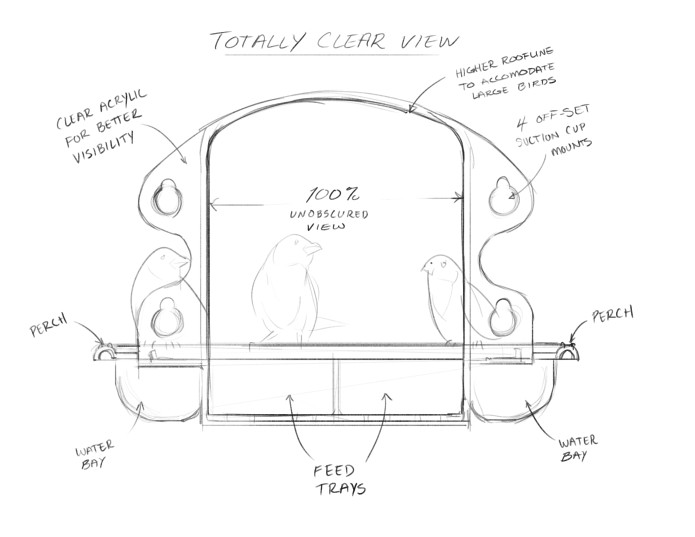 Suction Cups are off-set for a 100% Totally Clear View!

The seed compartment is physically separated from the water.  Rainwater is channeled down the sides into the water bays.

The dishwasher safe interlocking removable tray makes ClearView Deluxe the easiest feeder to clean and maintain of any feeder on the market.
Prototype Photos
These photos are actual pictures of my prototype on my backyard window. The prototype shown is a 3D SLA (Stereolithography) print of the ClearView Deluxe feeder. The final product will be transparent acrylic (even more clear).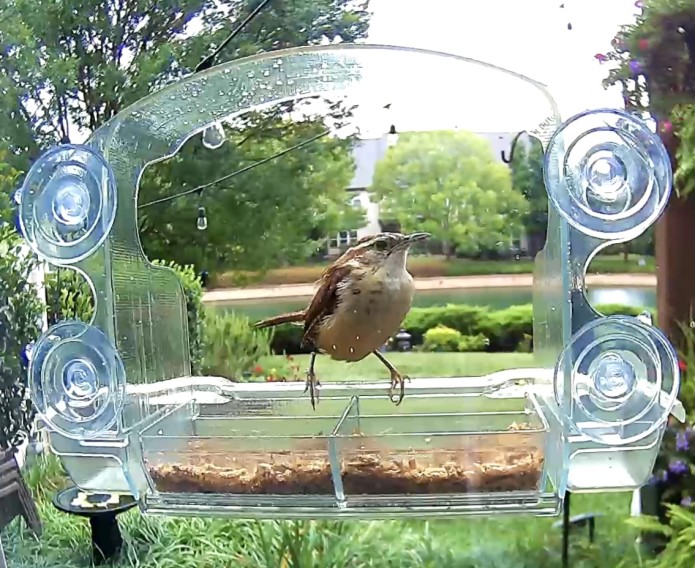 Notice the suction cups are offset for a 100% unobstructed view of your birds. Having the cups spread out on the sides also allows for a stronger hold on the window.
Competition
As a comparison, here is a picture of the top-selling acrylic feeder on Amazon: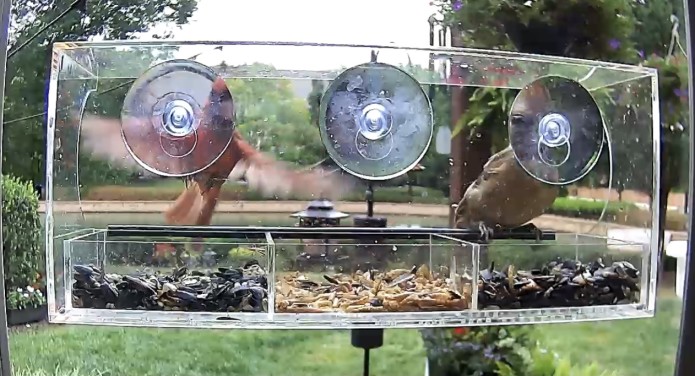 What do you notice from the picture? You can barely see the birds because the suction cups are in the way!   Why would anyone make a window feeder where the suction cups are blocking the view of the birds you want to see?
Here is a video of the feeders side by side – ClearView is on the left – Amazon's top seller on the right.  It's a Clear Choice the one you'd rather have on your window!
Proof of Clarity!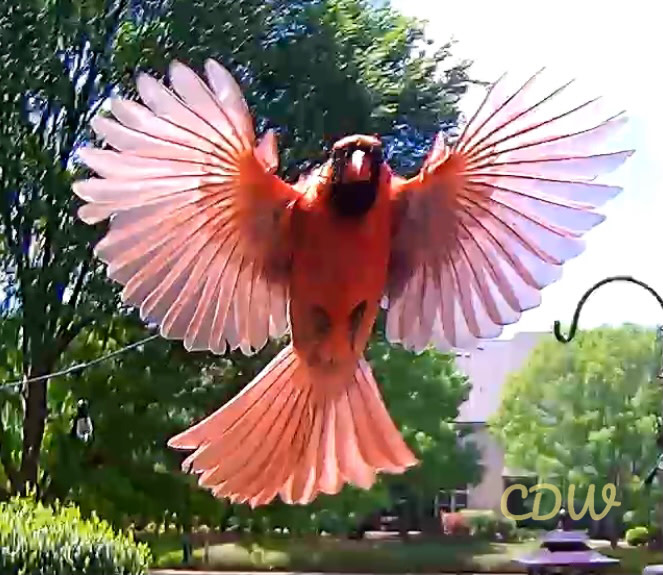 In absolutely clear contrast, one day I was able to capture this amazing photo of a male cardinal coming in for landing on my ClearView prototype.  I posted it on my local NextDoor app and received over 4000 reactions.  I knew then that others would also appreciate a totally clear view of birds, and it would be the perfect image for my logo.
Here is another totally clear video of three baby bluebirds coming in for (sometimes awkward) landings on my first ClearView prototype (white – not transparent prototype).
Designed with Birds' Health In Mind
ClearView Deluxe provides the safest feeding environment available!  
Bird-borne diseases (like Salmonella) typically spread through contaminated fecal matter from infected birds. Poorly maintained bird feeders and bird baths are strongly suspected as the primary culprits for the spread of the diseases, as birds congregate at these high-traffic areas and infect others. 
Many people don't realize that as good as their intentions are, by not regularly sanitizing their feeders they are harming birds.
These areas are contaminated when birds step in their own or another bird's feces and then share perches or, in some cases, walk in and amongst their feed.  Sadly, many die within a day or two of being infected.
The best way to protect birds from diseases like Salmonella is through regular, intensive cleaning of your feeder(s).  In my experience, none of the feeders I have purchased in the past make for an easy cleaning and maintenance routine.    We've made it much easier to care for your feeder and your birds!
You can make a difference one feeder at a time with ClearView Deluxe embedded with NatureCare®!
For more information on bird health and our innovative design –
https://www.clearviewbirds.com/birdhealth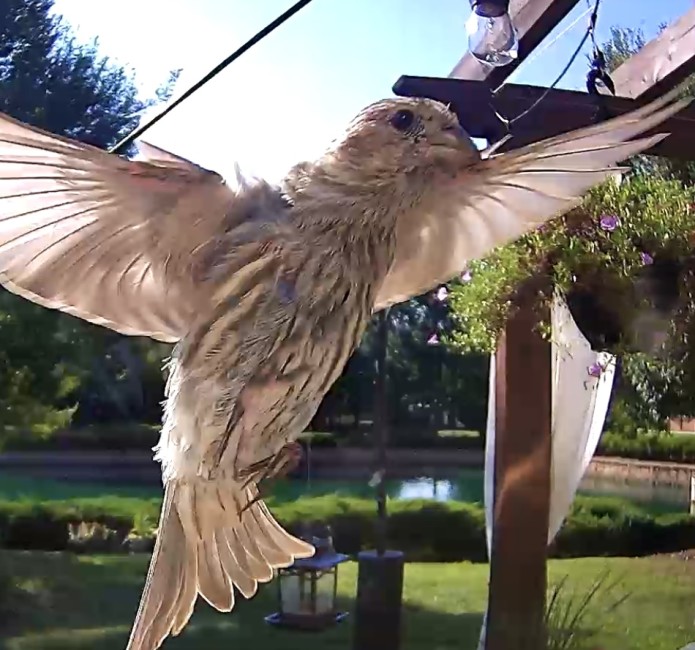 What We Need & What You Get
Our innovative, modern 2-part interlocking design is produced via injection molding instead of simply gluing together or heat bending acrylic sheet like cheaper competitors, so we're looking for funds from pre-orders to help defray the cost for the more expensive thermoplastic molds required to manufacture the feeder as well as to conduct lab tests to confirm the efficacy of the antimicrobial.
Some friends have told me that most people won't care and will just buy the cheapest feeder they can find.  I'm convinced there is a market for people who want to protect birds and purchase a premium product that will look better and last longer.
Even if you are not able to back us today, please forward to other people or groups that you believe are also concerned about nature, animals' and birds' health.
Together we can make a difference to provide more hygienic food and water sources for our feathered friends!
Early Bird Offer!
Designed by Bird Lovers for Bird Lovers, we're proud to say ClearView is made exclusively in the U.S.A.  The price of the feeder will be generally released at $37.  We are offering an Early Bird price for $31, or save and buy two for $59.
Share with a friend or family member to help them protect their birds as well! ClearView Deluxe would be a great and thoughtful gift for them AND their bird friends.  When you buy two you save 20% AND get free shipping AND anti-strike bird window decals.