Cocoa & Spice Expansion | Chocolate classes, private events, & custom favors: Charlottesville Downtown Mall Fall 2019!
Summary
Cocoa & Spice will be relocating to York Place on the Downtown Mall in Charlottesville, VA. We created this project so we can offer new interactive experiences to the Charlottesville community and create a chocolate destination that everyone will love. Below you can read more about what we want to create, our journey, how we give back to the community, relocation expenses, and how you can help! And if you read all the way to the end we'll include a few fun facts about owner/chocolatier, Jennifer Mowad.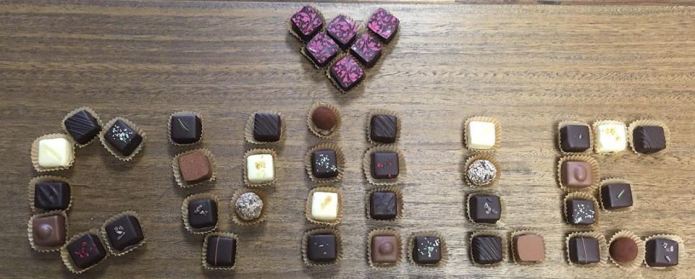 What We Want To Create
Mentoring CAYIP & Mountaintop Montessori interns has inspired us to create this project. You can read more about them in the Cocoa & Spice Gives Back section. Over the years we've taught them how to work with chocolate and guided them as they created their own product. Our customers have been asking for chocolate classes and we're pleased to announce you can temper some chocolate with us beginning this Fall. As an Indiegogo backer you'll be among the first to experience these opportunities at York Place! In addition to classes and private events we've outlined a few other ideas we will be implementing in the new space. 
Create Your Own Chocolate Bar –  Private hands-on class for 2 guests. Create your own chocolate bar using milk, white, or dark chocolate. We'll provide you with a variety of spices, flavors, & toppings for you to create something unique. Name your bar and we'll design a label for you to wrap your finished product. Take home 6 bars to share with family/friends – or keep them all to yourself! 
Chocolatier Class –  Private hands-on class for 4 guests. Cocoa will demonstrate how to make a chocolate shell and fill it with our signature salted caramel sauce. Then it's your turn! Learn how to decorate a chocolate mold with cocoa butter, create a chocolate shell, fill it with delicious caramel, cap it with more chocolate, and release it from the mold. Each guest will create a 4pc box to bring home! 
Private Events –  Who wouldn't want to have a private party inside a chocolate shop! Now offering private 2 hour parties for up to 12 guests. We'll load the store with samples for you and your guests to enjoy throughout the evening. Cocoa will demonstrate how she makes our signature dark chocolate salted caramel.
Custom Wedding/Party Favors –  We'll help you select the perfect Cocoa & Spice product for your event. Visit our store to taste a variety of products, review packaging options, & design a custom label. This is ideal for events taking place in Charlottesville, but we are happy to discuss delivery & shipping options for out of town backers (additional cost).
Warm Brownie –  According to our customers we make the best brownie in Charlottesville! We'll warm it up for you and let you select 2 toppings to create your own masterpiece – Cocoa's favorite is salted caramel sauce & toasted coconut! 
Chocolate Library – We want to bring craft bean to bar chocolate from around the United States (and eventually the world) to Charlottesville! Cocoa has already met with chocolate maker William Marx in Madison, WI and visited Charm School Chocolate in Hunt Valley, MD. Over the next couple of months we'll meet with other chocolate makers so we can fill our library with a variety of chocolate for you to check out (pun intended).
Vendor Pop-Up Events – We know first hand how difficult it can be to set-up as a vendor outside – rain, wind, extreme heat, etc. We'll be inviting vendors from the Charlottesville City Market to set-up shop for a day. We consider them our work family and look forward to collaborating with anyone interested.
First Fridays – Cocoa & Spice is a member of the Crozet Artisan Depot & C'Ville Arts which has enabled us to make connections with many local artists. We'll host artists at the store and invite you to our First Fridays events.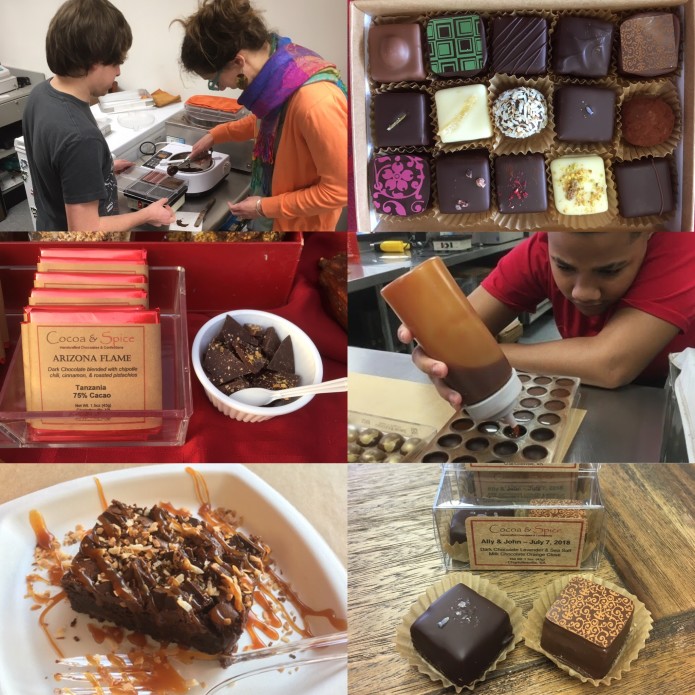 Lina & Isaac creating a chocolate bar, 15pc box of truffles, Ian's chocolate bar – Arizona Flame, Talia piping caramel into a chocolate shell, Warm Brownie with 2 toppings, Wedding Favors
Our Journey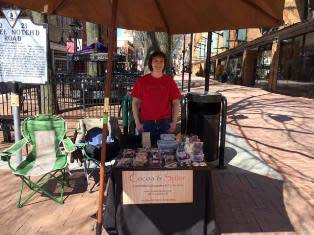 Jennifer Mowad, aka Cocoa, launched Cocoa & Spice out of her home kitchen in February 2015. She started selling as a street vendor on the Downtown Mall and would walk a cart full of product and everything else needed for set-up from her apartment to one of the vendor spots. Many of our longtime customers discovered Cocoa & Spice while street vending and it is where we met the staff from the City Market & Sprint Pavilion to discuss our vendor applications – this is our 5th season as a vendor at both locations!
April 2015 – 1st day vending on the Downtown Mall
In 2017 Cocoa & Spice moved production to a commercial kitchen on Stewart Street – most people don't know where that is so we created this map to help customers find the place.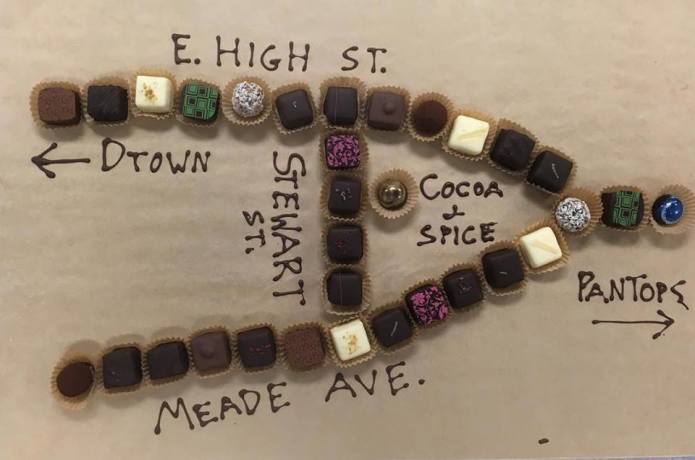 Map to show the location of our store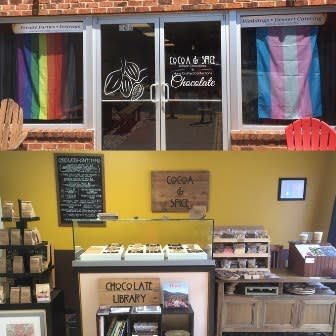 The location was previously rented by a BBQ food cart and needed lots of TLC. With the help of family & friends we made improvements to the store to create a warm & welcoming environment for customers.
Stewart Street has been a great space to grow our business and we've loved sharing what we created with our customers! Now it is time for us to expand and move to a new location that is spacious enough for us to host private parties & chocolate classes. We're headed back to where we started – from street vendor to store front owner – Charlottesville, Downtown Mall, Fall 2019!
Cocoa & Spice Gives Back
The Charlottesville community has been very supportive of our journey over the years and Cocoa & Spice has given back to the community in a variety of ways:
We've hosted 6 interns through the Community Attention Youth Internship Program (CAYIP) and 2 interns from Mountaintop Montessori. Cocoa teaches the interns all about chocolate, how to operate a small business, and mentors them as they create their own product to market & sell.
Cocoa volunteers as a bench manager for the Charlottesville Derby Dames (CDD), donates brownies for them to sell at bouts, and has hosted a few fundraising events. You can find the CDD pinball machine at the store, with all proceeds going to the team.
Represent the LGBT community by participating in the annual CVille Pride Festival and displaying flags of support at the store to ensure customers know this is a safe space. We display our flags ALL YEAR ROUND!
As a young adult cancer survivor, Cocoa is involved with First Descents. She's donated a portion of sales and even closed the shop for a week on two separate occasions to volunteer as a Camp Mom – lot's and lots of dishes! We've also hosted events for local survivors at the store.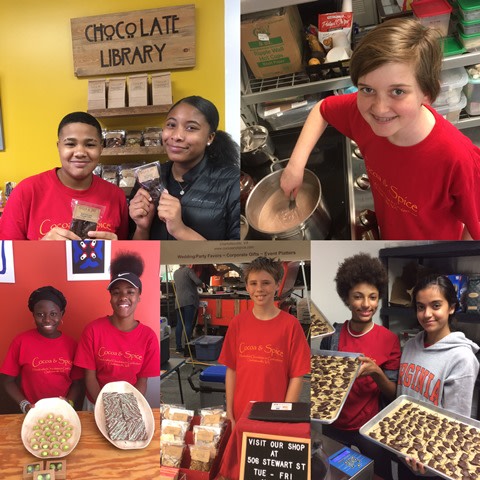 CAYIP & Mountaintop Montessori Interns 2017-2019
Relocation Expenses
We've outlined many of our expenses below. We're only asking for $2,500 to get us started, BUT we'd love to raise $10,000 so we don't have to delay any of our improvements. 
Plumbing ($1,000) – Most of the plumbing is already in place. We'll be shifting one of the lines and need to have sinks installed in the kitchen.
Electrical ($1,700) – We can't make our brownies without the right connection for our oven. We'll need to add this connection plus a few more standard outlets and overhead lights.
Lighting ($1,500) – We want you to see our chocolate! The previous tenant left some lighting unfinished and we'll need to add a few more to make our product shine.
Painting – Gray doesn't scream CHOCOLATE. We're gonna pick out something colorful for most of the store and add a fun design as an accent wall. 
Signage – Amyrose from Nouveau designed our logo and signage at the current location. She's mocking up some designs for the new space and we love her enthusiasm.
Carpentry – We'd like to create a viewing window so you can watch us work. We'll even add a counter so you can hang-out, chat, and enjoy a cup of drinking chocolate. Plus we need some cool looking shelves for our Chocolate Library!
Moving – We have some pretty heavy equipment at our current space and we refuse to ask our friends to move it for us. We'll need to hire professionals.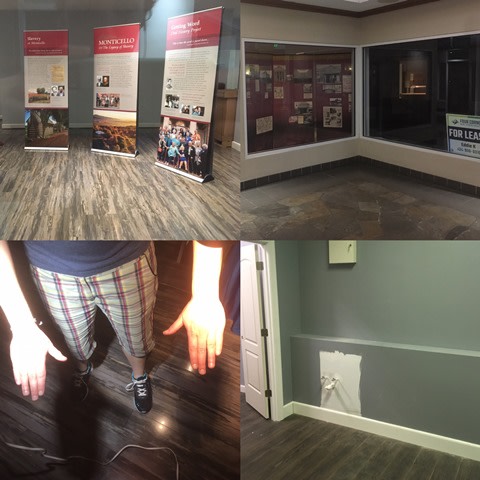 Sneak peak of the new location pre-renovations
How You Can Help
Below are a few ways you can support our vision. Please don't hesitate to ask any questions via phone, email, or in person!
Back our project – We've created a variety of pledges and rewards to engage the community with our project. Select the one that works for you and we will be forever grateful!
Share our project – Financial support is not the only way to help (though it is appreciated). Even if you can't back our project right now we'd love it if you can share it with your family, friends, co-workers, anyone!
Sublease our current store – We've outlined this in the Risks and Challenges section. We're looking for someone to sublease our Stewart Street location until April 30, 2020.
Risks & Challenges
Double rent – The lease at my current space does not end until April 30, 2020. I had not planned to relocate until next year, but when I was presented with the opportunity to move to York Place this year I couldn't pass. I have budgeted for double rent for August & September and plan to sublease the remaining 7 months. If I am not able to find someone to sublease it will cost me almost $15,000 which will have a significant impact on both my personal & business finances for the next year. If you or someone you know is interested in subleasing my current space please contact me immediately!
Construction delay & cost increase – During my initial meetings with a plumber & electrician I was informed the work I need done is minimal and should take no more than two weeks to complete. Once they start the project there is always the risk of an issue that will increase both the timeline & cost. Pending any timing delays I can continue to work out of my current space. A significant increase in budget may delay the relocation until I can secure more funding.
Lose customers because of relocation – Prior to signing the lease at York Place I asked many of my customers if the move would impact their ability to shop at Cocoa & Spice. Most said they are excited for the move and will be able to shop more. However, A few did tell me they like the convenience of parking at my current spot (I have 5 dedicated spots) and they don't go downtown that often. I plan to follow up with these customers to see what I can do to keep their business.
Thank you for taking the time to review our project. We'll be posting progress updates throughout the campaign!
<3 Cocoa
Fun Facts About Cocoa:
When I was 3 year's old I was so excited to find my Easter basket I fell over. I then proceeded to hit my head on the basket while eating an egg (the video abruptly stopped at that point).
Throughout grade school we had to sell chocolate bars as a fundraiser – I earned a bike selling over 20 boxes (72 bars per box)!
I was paid to make ice cream pies & novelties at our local grocery store in Nutley, NJ.
In college I made one of those ice cream pies for a college professor as part of a pitch in one of my business classes.
The first chocolate product I ever made was a giant peanut butter cup – with unsweetened baker's chocolate – it tasted terrible! I enjoyed it much better once I switched to bittersweet chocolate.
I didn't have an umbrella my first day vending on the Downtown Mall and the sun melted the ear of one of my chocolate bunnies. 
While apprenticing at East Van Roasters in Vancouver, BC I burned a pot of caramel and the fire department showed up 🙁
Many years ago I submitted a cover letter, resume, and chocolate portfolio to a well known chocolate shop two years in a row – I was never contacted for an interview, so I decided to start my own business!
Since 2015 I've made over 10,000 triple chocolate chunk brownies – each one cut and wrapped individually.