Cod3fi: Next-gen router that protects your home | Cod3fi is a next-gen wireless router mesh dedicated to secure home gadgets!

Are Internet hackers giving you sleepless nights? 
Are you worried about your baby monitors getting hacked?
Do you frequently download security apps and pay huge monthly cloud subscription fees just to protect your home gadgets?
Look no further, Cod3fi (pronounced codify) might just have a solution for you!
Cod3fi is a wireless smart router mesh that protects all your smart home gadgets with an enterprise grade security. This includes your baby monitors, your loved one's smart phones or even your laptops and devices like smart TV, or surveillance cameras.
Out of the box Cod3fi provides dynamic firewall capability for your home. This capability assures strict URL filtering and allows only approved and secure domains to pass through. Keeping privacy in mind, all security rules and polices never leave the Cod3fi router and best of all – no cloud subscription fee. In fact we provide you with a private cloud on your own router!
Each router comes with 64GB of memory that runs on a 1.2 GHz Quad core processor. And with Cod3fi's app one can monitor bandwidth consumption, run diagnostic tests, create a separate guest network, prioritize devices, play/pause Internet on any device and many more. Cod3fi is currently supported on Android, iOS, Windows OS 10 and macOS.
Truly the next-gen smart router!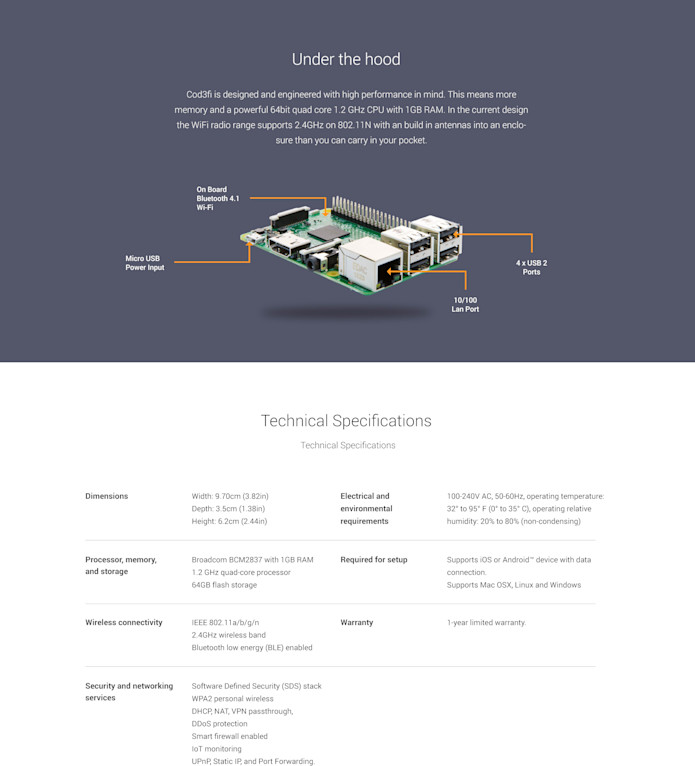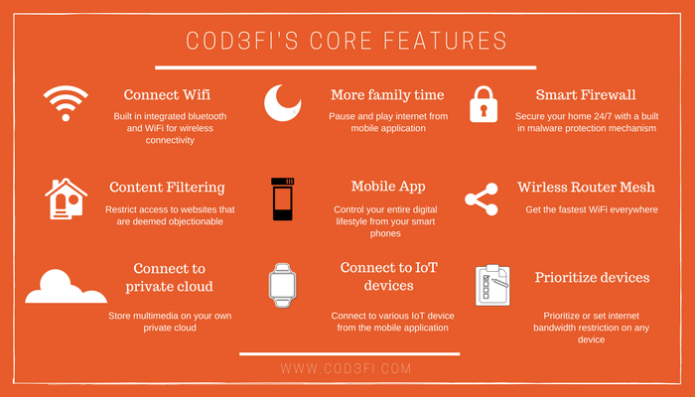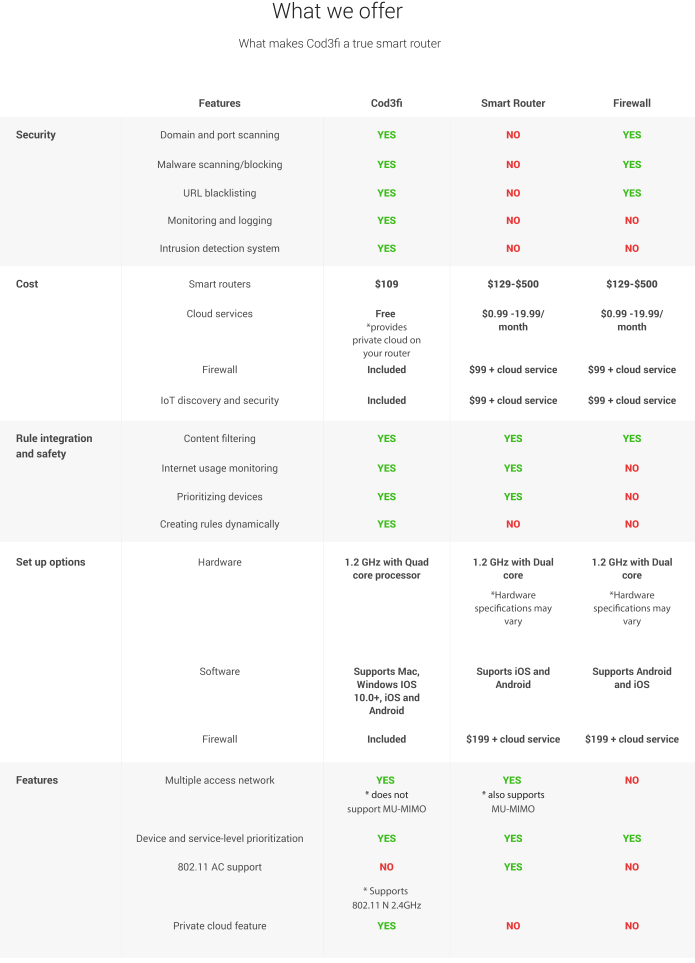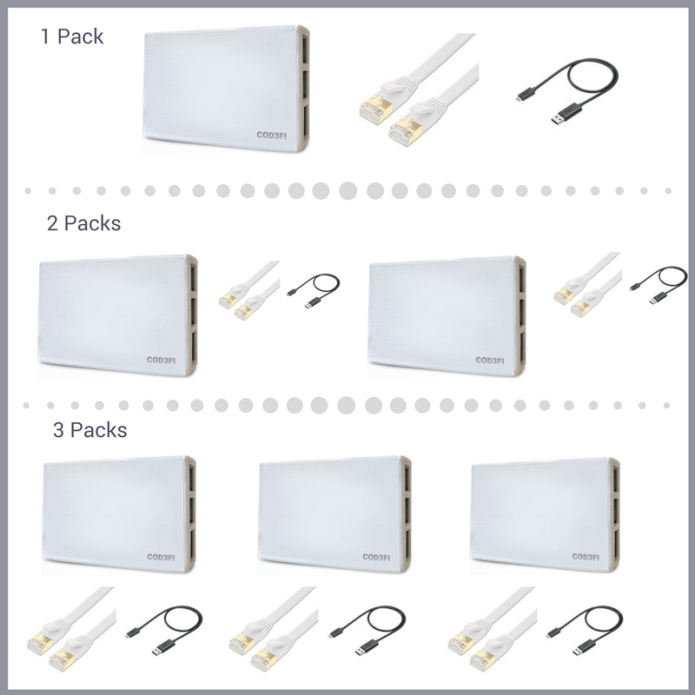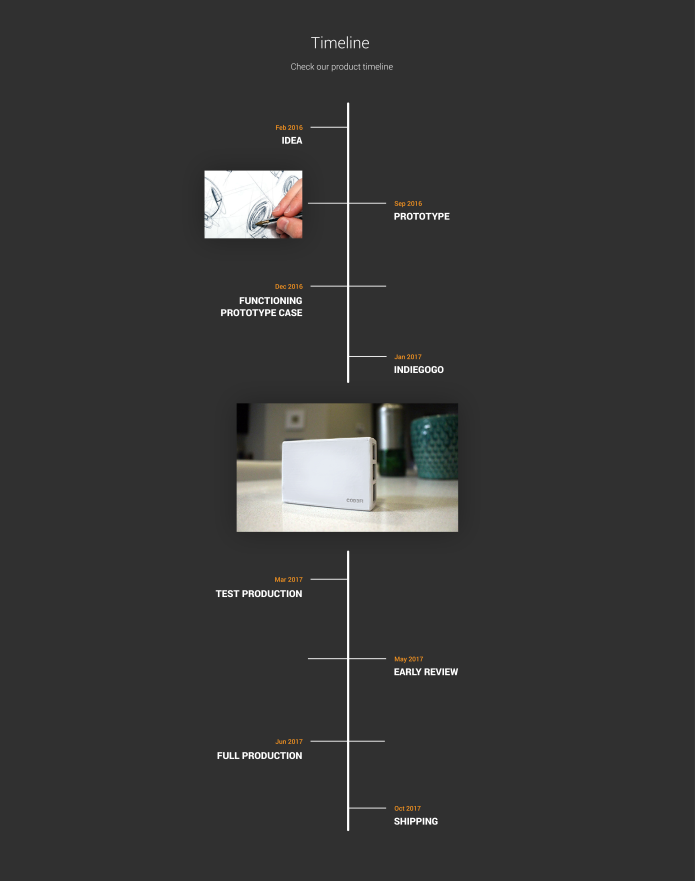 How many router mesh do you need?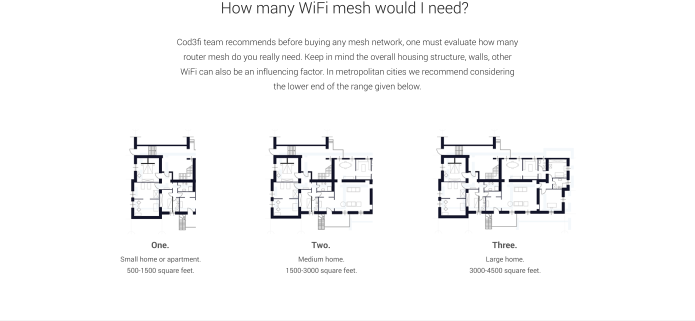 When will the router mesh be delivered?
An early version of the router mesh will be out by May 2017. It will be the first iteration of the production grade product. We will open this beta test with our current backers. After perfecting this experience, Cod3fi router mesh will be delivered in October 2017.
Do you have a working prototype?
YES. We have a working prototype that allows router mesh to control and monitor devices from command line. The next stages of the software development will focus on integrating apps and perfect its interaction with Cod3fi.
Mass production of hardware and software development begins on March 2017 as we move into the security and quality assurance phase.
Is Cod3fi a wireless router mesh?
YES. Cod3fi router is a wireless router mesh with a built in smart firewall.
Is the product's design finalized?
YES. However, the production's design will have a minor tweaks compared to the prototype design.
Does Cod3fi have out of the box support for Amazon Echo or Google Home?
NO. Currently we have a smart firewall mechanism that will protect such smart devices. However, the first generation of Cod3fi routers will not have a support for Google Home and Amazon Echo.
What IoT devices can Cod3fi protect?
All devices including laptops, servers, mobile and IoT that interact over the internet can be monitored and analyzed by Cod3fi router.
Where will you ship?
We will ship internationally, and shipping costs are automatically calculated when you pre order.
When will I select my colors?
We will send you an online form to collect your color preference.
Can I be a beta tester?
We will invite a select group of the early bird supporters to become beta testers. This will be an invite only event based on certain factors, such as geography and use cases. We'll send a notice early April 2017 as an invite for beta testing.
How can I reach out to your team?
Community portal is on its way! In the meantime, message us on twitter or reach out to us at [email protected] and we'll be sure to respond as soon as possible.
I'm having trouble making a contribution. What should I do?
Please email Indiegogo at [email protected]

Thank you for your support. Please help us spread the word.
— Cod3fi team