Coffee By Benjamin: The Home Roasting Kit | Roast coffee in your own oven, with the Coffee by Benjamin Home Roasting Kit.
Everything you need to become a homeroaster
What is Coffee by Benjamin?
Roast coffee in your own oven, with the Coffee by Benjamin Home Roasting Kit. The kit contains everything to turn you into a home roaster. Three high quality, single-origin Arabica coffee beans from Tanzania, Ethiopia and Kenya. The included tray is suitable for every (hot-air) oven and, thanks to all-over perforation, ensures airflow that turns your beans perfectly brown. Connect the Bluetooth thermometer to the Coffee by Benjamin iOS or Android application to keep track of the temperature, time and statistics of your roast.
What is included in the kit?
Coffee by Benjamin is the toolbox for coffee roasting. The Home Roasting Kit consists of four items, with which you can turn your oven into a coffee roaster.
Custom metal tray
Bluetooth Thermometer
Coffee by Benjamin app
Three high quality coffees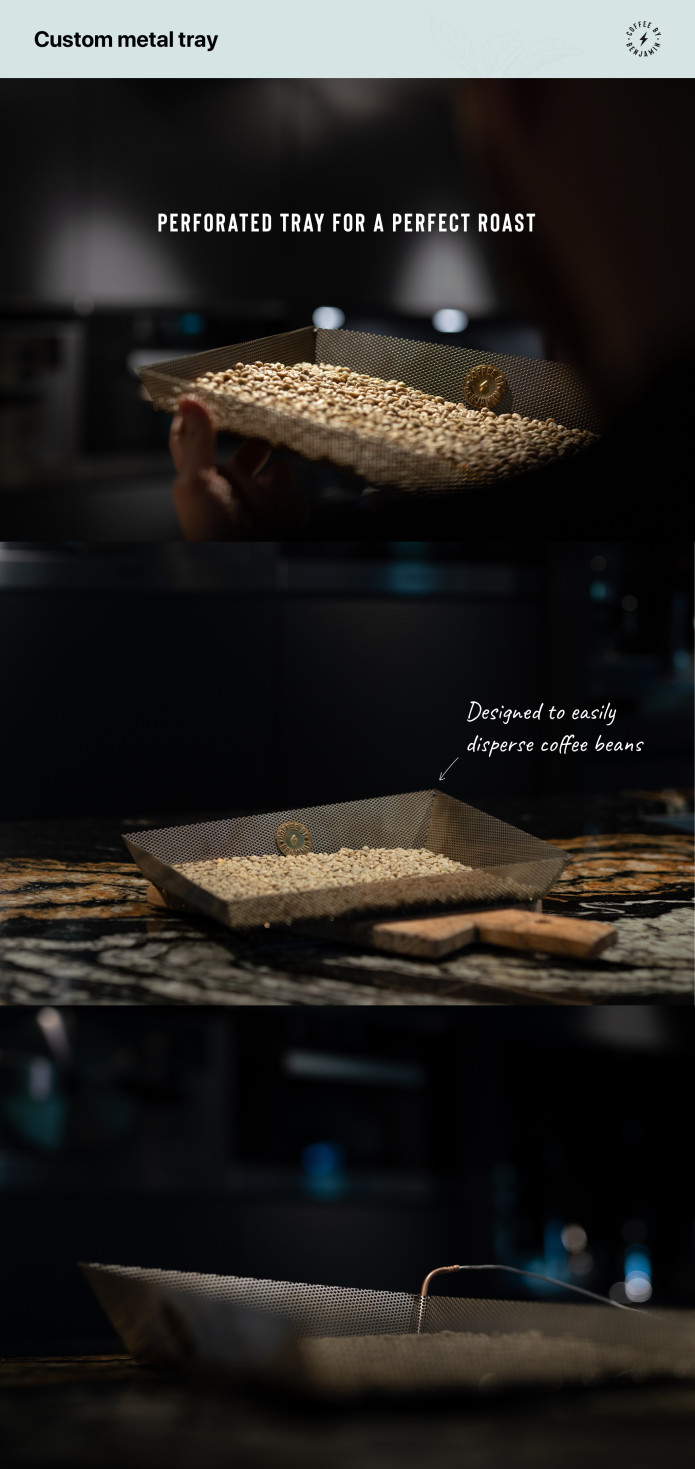 We have specifically designed the tray for the roast process. The metal housing is of the same material as that of a professional roaster and is perforated all-over to provide enough hot air supply to evenly roast your beans!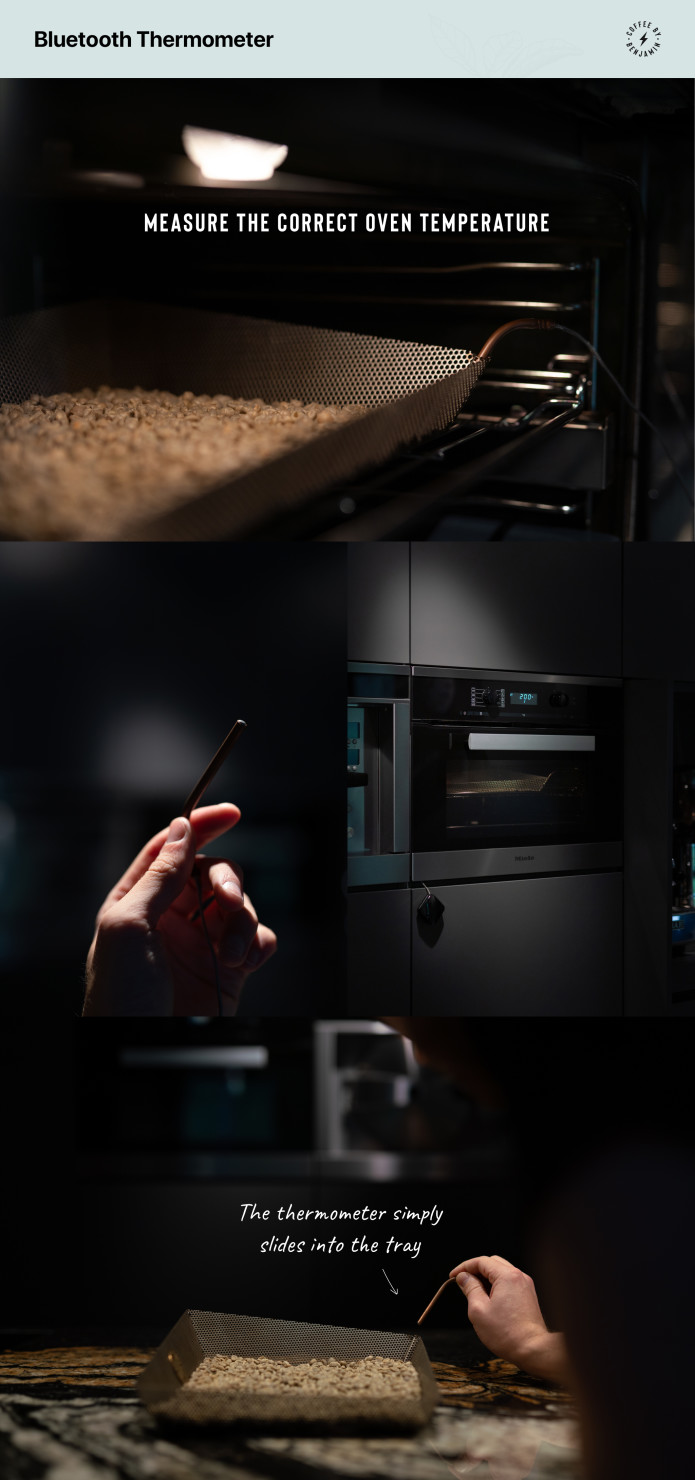 During your roasts, we are going to heat your oven to that sweet spot. Because we want to ensure that your oven indicates the correct temperature, we have supplied a wireless Bluetooth thermometer. Knowing the right temperature is going to help you reach that perfect roast!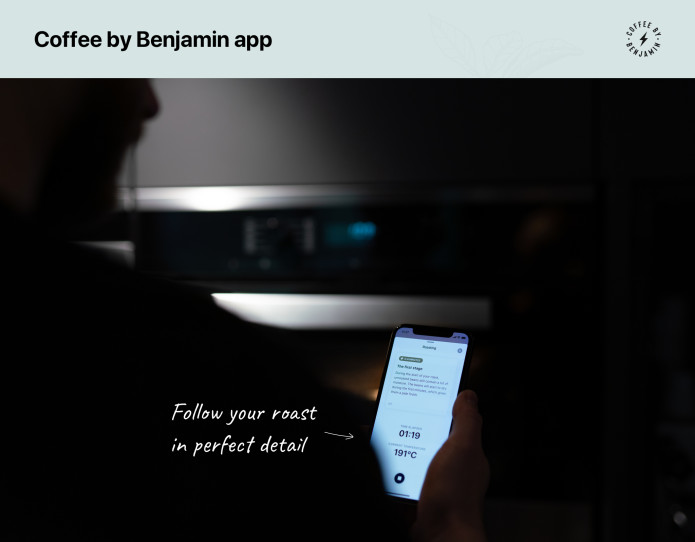 The Coffee by Benjamin app (iOS/Android) is going to help you during the roasting process. Download the app and connect your Bluetooth thermometer to easily keep track of the temperature, time and statistics of your roast.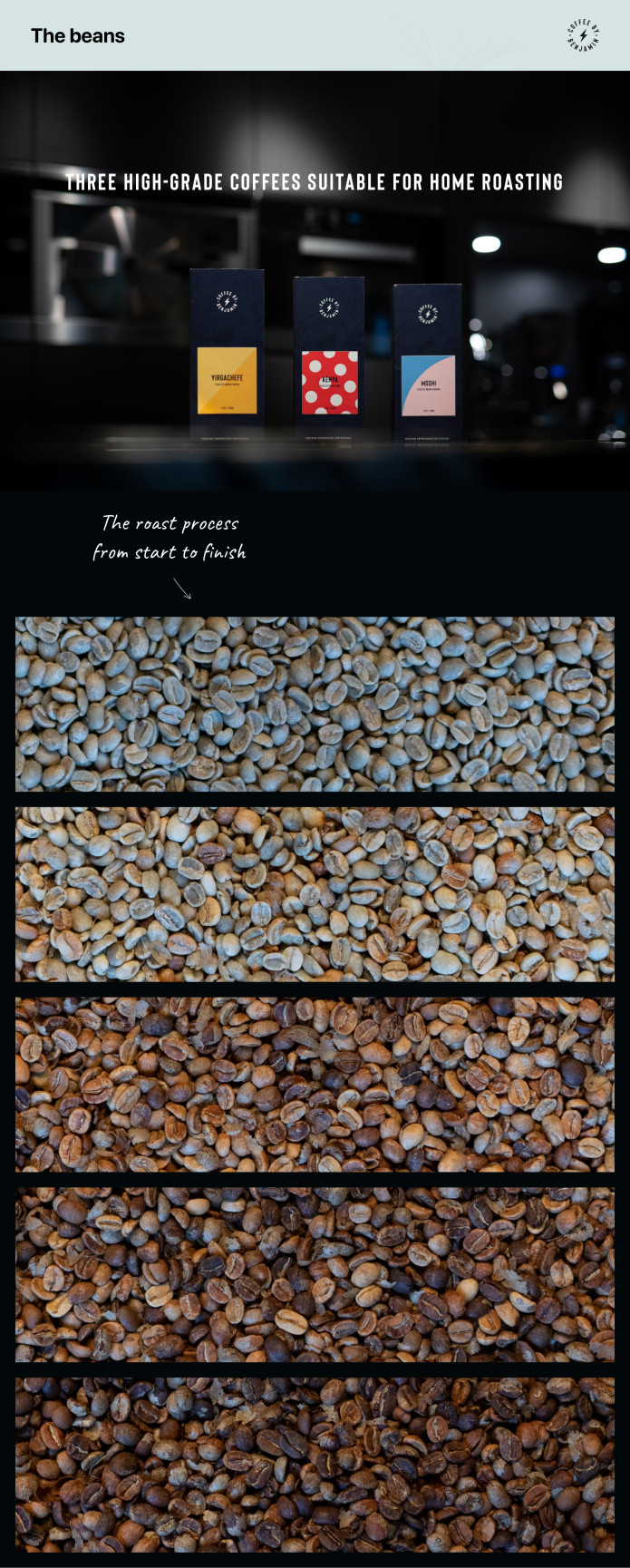 Three types of the highest quality coffee beans complete the package. Raw coffee beans from the east coast of Africa: from Kenya, Tanzania, and Ethiopia. These are specifically selected because of their home roasting capabilities.
How it works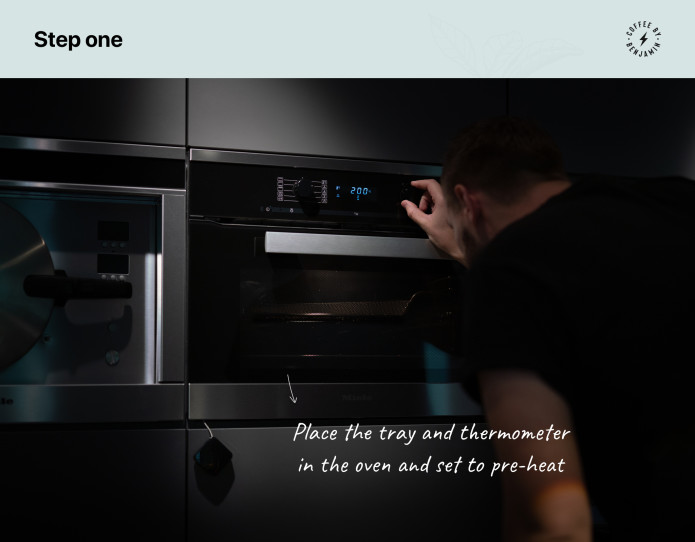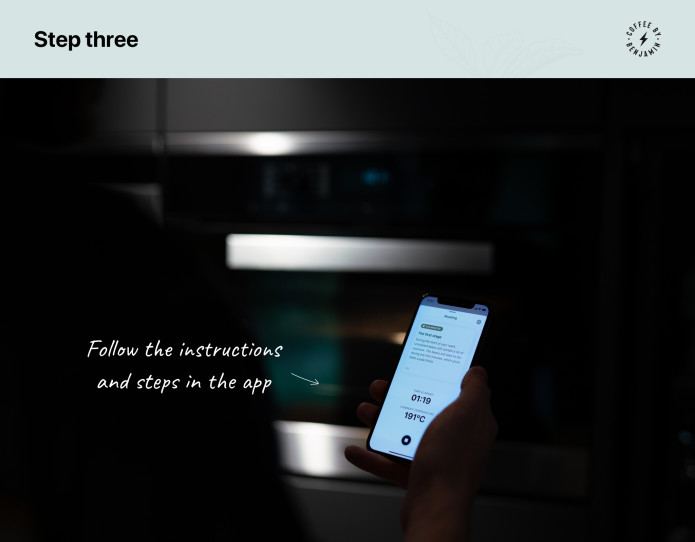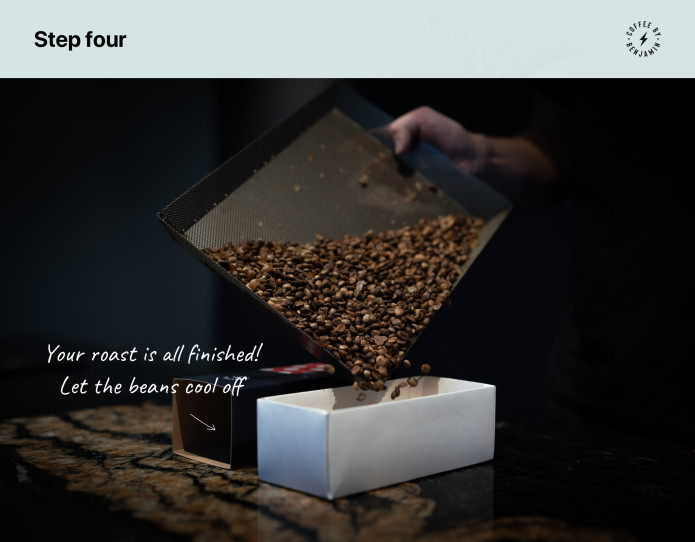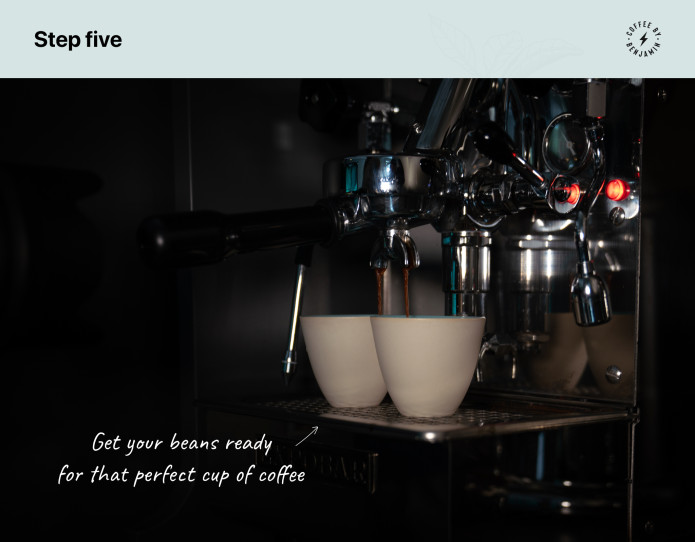 Included coffee beans
One starter kit contains 900 grams (or 32 OZ) of unroasted East African coffee beans, selected by us. Three premium (AA) single-origin coffees, with various flavors and enough for a month of your own home roasted coffee. All out of beans? Not a problem! Shortly after our Indiegogo campaign, we will introduce our Coffee by Benjamin store where you can replenish your stock of unroasted beans.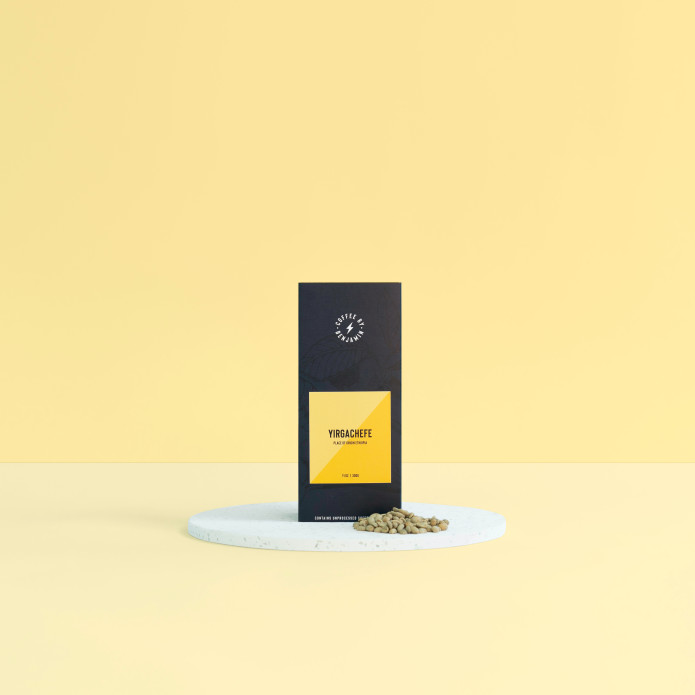 Yirgachefe –  Ethiopia 
Well-balanced and accessible, this single-origin coffee has a full body with nutty tones and flavors ranging from sweet to spicy.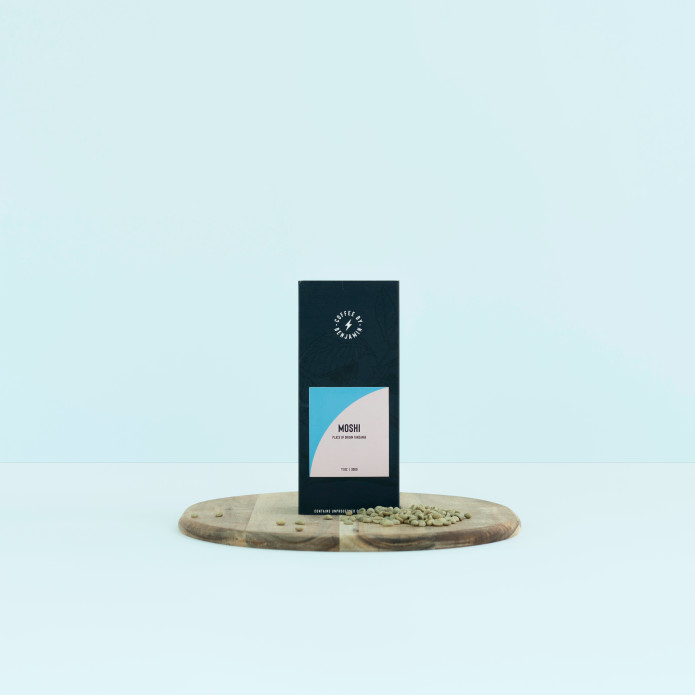 Moshi – Tanzania
Heavier, less crisp and with a stunning full body. Moshi is gathered from the slopes of Mount Kilimanjaro where you can find elephants parading through the fields.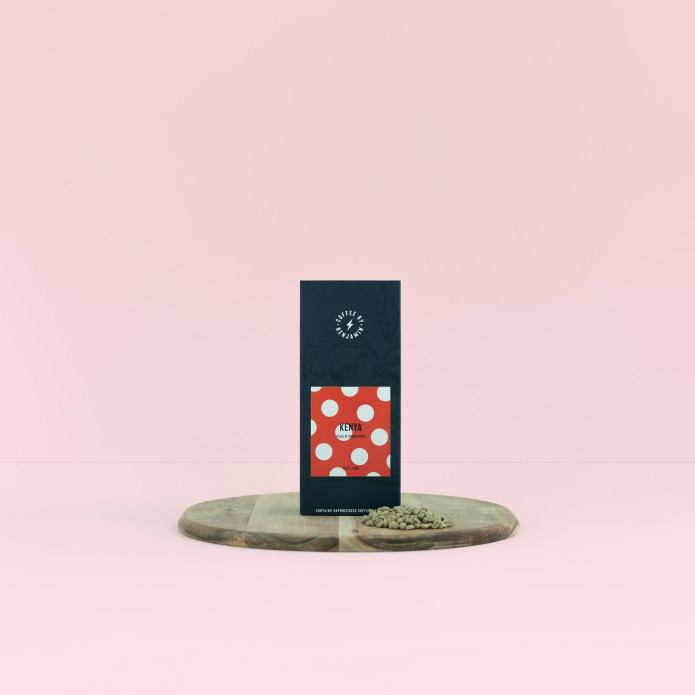 Kenya – Kenya
A truly one-of-a-kind coffee. Slightly less accessible because of its sourish taste and citrus flavors. Nonetheless a must-try, and a very pleasant coffee.
Reorder your coffee
After a successful campaign on Indiegogo, we plan to release coffees from other regions on our website and app. If Coffee by Benjamin makes you excited about roasting, wait until you have experienced your own coffee roasts with beans from all over the world. We're planning to add three new coffees from Rwanda, Zimbabwe, and Tanzania.
 
Our Story
A cooperation between a former coffee producer and a digital product company seems unlikely, but that is exactly how Coffee by Benjamin was founded. We wanted coffee lovers like ourselves to experience the process of coffee roasting, and challenged ourselves to make this process more efficient and easier. Coffee by Benjamin was a small spark in the mind of Rob Kooij, who has been actively working in the coffee industry for over a decade. As a coffee enthusiast, home roasting was a natural thing for him. A routine he passed on to David van Leeuwen, co-founder of digital product agency Awkward, who quickly became an avid home roaster himself. Now, we see it as our mission to pass on home roasting to people all around the world.
Rob Kooij
Rob has traveled all over the world to find the best possible coffees. In 1988 he founded his own coffee production company called Santas. The company became one of the first to think of more sustainable ways to produce coffee. He sold his business two years ago to focus on unroasted coffee.
David van Leeuwen
David is the co-founder and CEO of Awkward, a digital product company in the Netherlands. As a software engineer he likes to tinker, which also resulted in an interest in hardware. His interest in coffee grew when Awkward received a proper espresso machine, which was the moment David became fanatic in making good coffee.  
Why Indiegogo?
We wouldn't be able to accomplish our mission without Indiegogo; the community, its drive and spirit, with people who are willing to bring certain projects to life. This is our first Indiegogo but some of us have been backers since the early days, we know what might go wrong. That's why we've been preparing for a long time: To bring this product to people who are just as enthusiastic about roasting coffee as we are.
Thank you
We have long worked towards making Coffee by Benjamin a reality and it is an incredible feeling to finally see its Indiegogo page live for the first time. Even if you do not end up backing our project, it is great to know that real people from all over the world are checking out our product. We cannot tell you how much we appreciate it.
Indiegogo is a place where dreams come true. It is our dream to see a Coffee by Benjamin Home Roasting Kit in the households of coffee lovers. Join us on the road to making this a reality.
Risks and challenges
We're incredibly excited, but also a bit nervous. We've had lots of experience in building companies, software, and relationships. But building a physical product, that's something else. This is also our first Indiegogo campaign and we're not sure if you're as enthusiastic as we are. Did we cover everything? Well, we've done our best, but please add any issues or questions that you may have to the comments section of the campaign. Our goal is to keep you informed on what is happening every step of the way. We've done lots of groundwork and are already working with manufacturers to make test versions of our product. Some parts are manufactured locally to have more control over the quality (e.g. the metal tray), while the thermometer is produced in Shenzhen. However, we will assemble the complete product in the Netherlands and it will be sent from here. We want to guarantee quality and our intention is to ship it as quickly as possible without delays.