Coffee For Rights seeking to improve women's lives | By creating our own coffee brands, we want to develop our economy and overcome the armed conflict.

Our History / Nuestra Historia
We, as women, deserve to have a space in society, and we deserve to be valued not only for being moms or for doing household chores. But we also need to be recognized for our talents and abilities to be able to take on roles in other areas–as women farmers, entrepreneurs and saleswomen of our very own coffee at a fair price. During these past years, we have been able to show our communities and the men in our communities that we can contribute. Now our efforts are being recognized, and we are given a space to interact through others. And what we do is seen with value. 
Nosotras las mujeres merecemos tener más espacio ante la sociedad y que nos valoren no solo por ser mamas o por hacer oficios de la casa, también necesitamos que se reconozcan nuestras capacidades para poder desempeñarnos en otros ámbitos y como mujeres campesinas, emprendedoras y vendedoras de nuestro café a precio justo. En estos años hemos podido enseñar en nuestras veredas, a nuestros hombres, que nosotras podemos aportar. Hoy ellos nos reconocen y nos dan un espacio  para interactuar a través de otros y que  lo que hacemos  se vea con mucha altura.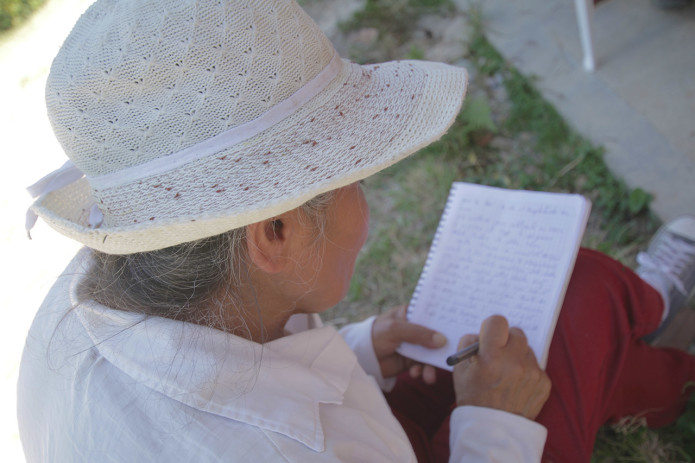 If we received a fair price for our coffee, we would have other ways to give our kids a foot in the door for other opportunities such as higher education. Since our kids barely finish high school, they don't have the opportunities to create small busineses—they are day workers. The girls have to help the mothers because their economic situation doesn't allow the mothers to study. As for health, we would be able to have decent health…This project brings us hope because our life would change for the better.
Nosotras si tuviéramos un precio justo por la venta del café, tendríamos otras entradas para poder ofrecerle a nuestros hijos que puedan ir a estudios superiores, porque los hijos se nos quedan escasamente terminando bachillerato, no tienen oportunidades ni de formar una microempresa, están de jornaleros. A las niñas, les toca ayudar a la mamá porque la situación económica no nos permite que estudien. En el tema de salud, nosotros tendríamos una salud digna…Este proyecto es la esperanza porque nuestra vida cambiaría para mejor.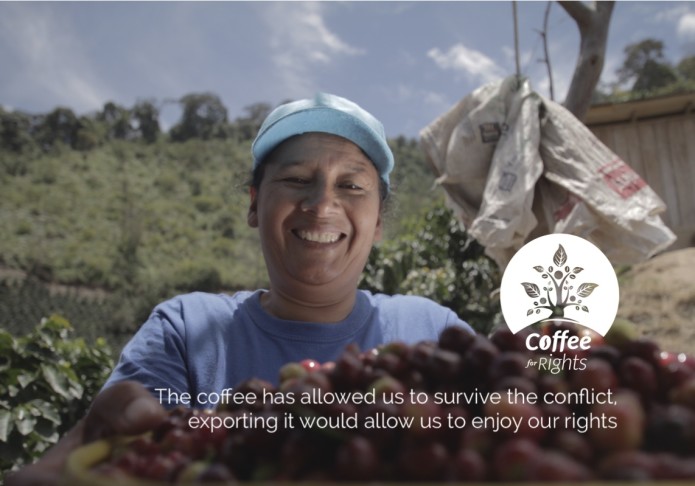 This project "Coffee For Rights" for us means opening spaces in society and being able to improve the quality of life for our families. As women coffee growers, we're tired of producing beans, selling the raw coffee, and not getting what we deserve for the work we put in. Coffee For Rights is our hope. 
Para nosotras este proyecto de Café por los Derechos significa seguir logrando espacios ante la sociedad, y poder ayudar a la calidad de vida de nuestras familias. Nosotras somos cafeteras, y estamos cansadas de producir el grano, de venderlo en materia prima y no recibir lo que merecemos por nuestro trabajo. Para nosotras, Café con Derechos es esperanza.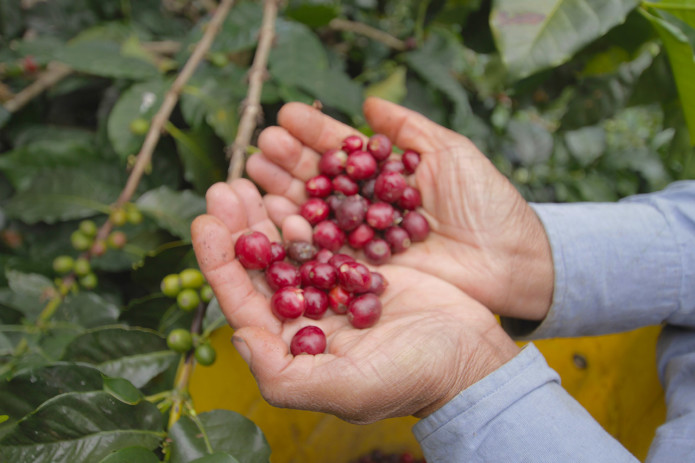 You contribute to the world when you donate for "Coffee for rights" because through us, you are building peace. We think of peace as being able to improve all aspects of our conditions of life. Thanks to your contributions, from this small corner of Colombia, we will be able cultivate our coffee and ultimately cultivate peace.
Usted le aporta al mundo, cuando dona a "Café por los derechos" porque a través de nosotras forja paz. Nosotras pensamos que la paz es poder mejorar en todos los aspectos nuestras condiciones de vida y en este rinconcito de Colombia gracias a sus aportes podemos sembrar el café, que es sembrar paz.
OUR Region / Nuestra Región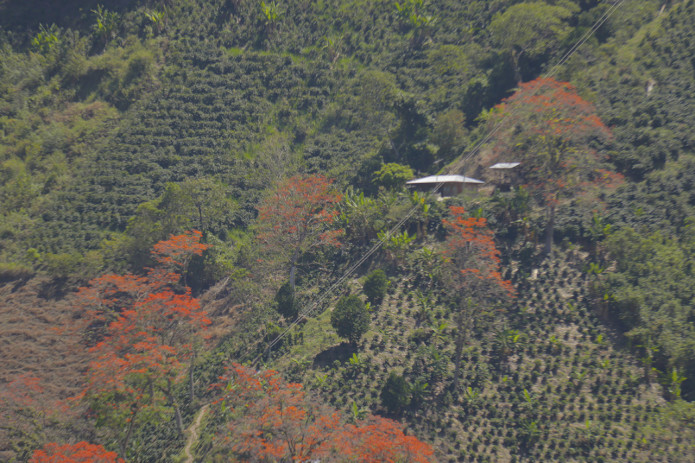 El Cañón de Las Hermosas is a rural región of Colombia. It is located in Tolima, at the top of the Central mountain range. To get there from Bogota, it takes more than 8 hours of travel on a bus. From Chaparral, Tolima, the highway is road is tough and unpaved. The trip contrasts the beauty of the mountains, with a long path that twists, steep walls full of coffee plantations and deep gulfs that flow into the Rio Amoyá.  
El Cañón de Las Hermosas es una región rural de Colombia, está ubicado en Tolima, en lo más alto de la cordillera Central. Para  llegar allí desde Bogotá en bus son más de 8 horas de recorrido. Desde Chaparral, Tolima, la carretera es difícil, no está pavimentada. En el viaje contrastan la belleza de las montañas, con la vía estrecha que serpentea paredes empinadas llenas de cafetales, con profundos abismos que desembocan en el Río Amoyá.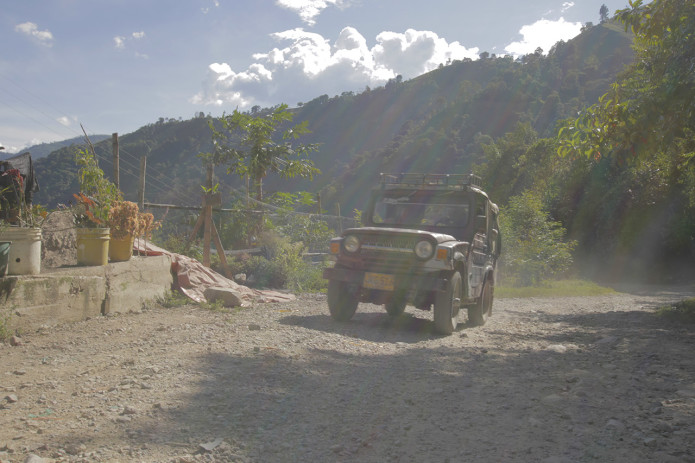 The area of San Jorge, in el Cañon de las Hermosas, is inhabited by mostly women farmers, from all ages. These women have suffered from the armed conflict first hand, as shown by the evident exclusion and stigmatization they experienced living in a zone where the guerilla were present. The enduring inequality has hindered the ability of these women and their families to enjoy their rights.
La vereda San Jorge, en el Cañón de las Hermosas, está habitada en su mayoría por  mujeres agricultoras, de todas las edades. Ellas sufrieron en "carne propia" el conflicto armado, representado en la exclusión y la estigmatización por vivir en una zona donde estaba también la guerrilla. La inequidad permanente les impidió a las mujeres y a sus familias disfrutar de sus derechos.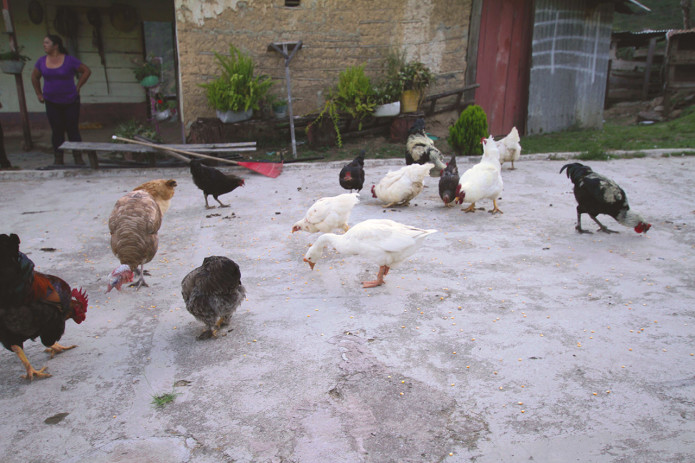 San Jorge is a territory of 45 families, all coffee growers, where human life is impressive. We befriend everyone, and we are always happily willing to have people. We have great biodiversity: birds, crops such as beans, corn, vegetables, fresh herbs; we have animals such as bees, chicken, and pigs. There are water sources and three thermal floors. We make arepas, and we eat 'calentao' for breakfast with grilled plantains and egg soup. We drink orange lemonade.
San Jorge es un territorio que tiene 45 familias, todas cafeteras, donde la calidad humana es impresionante. Nosotros ofrecemos amistad, y siempre estamos dispuestos a recibir a las personas con mucha alegría. Tenemos gran biodiversidad: aves, cultivos como fríjoles, maíz, hortalizas, huerta casera; y animales como abejas, gallinas o cerdos. Aquí hay fuentes hídricas y tres pisos térmicos. Hacemos arepas y desayunamos "calentao" con maduro asado y caldo de huevo. Almorzamos sopa de plátanos y yuca, se sirve con arroz y carne con salsa de tomate y cebolla de la huerta. Tomamos limonada con naranja.
 I think the conflict affected us in different ways: I've had friends from the community die, we always lived in fear being in the crossfire between the guerrilla and the public forces. Sometimes, we thought that we were good one day and then another day weren't sure if we were better off leaving. We suffer from strong stigmatization. The State never came to our communities. With the signing of peace, this changed. The community now has more confidence in the State. We see institutional mechanisms are present and we are envisioning projects.
Yo creo que el conflicto nos afectó de diferentes maneras: hubo amigos de la comunidad muertos, vivíamos con temor y entre dos fuegos, el de la guerrilla y el de la fuerza pública. Pensábamos que un día estábamos bien y al otro día no sabíamos si irnos. Sufrimos estigmatización permanente. El Estado no llegaba a nuestras veredas. Ahora, con la firma de la paz, esto cambió. La comunidad ve que hay más confianza en el Estado, vemos que la institucionalidad hace presencia y estamos visualizando proyectos.
Our Partners / Nuestros Aliados

During the conflict, we women felt like we were lagging behind. While the war went on, we had couldn't even legalize a foundation. Now we have our own foundation of women and we started to have projects: one with laying hens that ISAGEN supports and another with small bee keepers. We produce honey. These are the things that we never thought we would be able to achieve.
En el tiempo del conflicto nosotras las mujeres nos sentíamos rezagadas. Cuando lo duro de la guerra, nosotras no podíamos legalizar ni siquiera una fundación. Ahora ya tenemos nuestra fundación de mujeres y comenzamos a presentar proyectos: uno con gallinas ponedoras que ISAGEN  apoya, y el otro como pequeñas apicultoras, producimos miel. Estas son cosas que jamás pensamos que se lograrían.
UN Human rights was the only organization that came to our communities during hard times of the conflict. They were the only ones that were able to get here. Every time they came, they were a sign of hope. They taught us how to recognize of the rights that we had, because before we didn't know what our rights were. We thought that things were the way they were, until they explained that we are entitled to these rights. And they empowered us to know how to stand up to armed groups.
ONU derechos Humanos fue la única entidad que entró a nuestras veredas en las épocas duras del conflicto. Ellos eran los únicos que podían llegar hasta aquí. Cada vez que llegaban eran la esperanza. Ellos nos enseñaron a tener conocimiento de los derechos que teníamos, porque nosotros antes no conocíamos los derechos. Nosotros pensábamos que las cosas eran como eran, hasta que ellos nos explicaron a qué teníamos derecho y nos empoderaron para saber pararnos al frente de los grupos armados.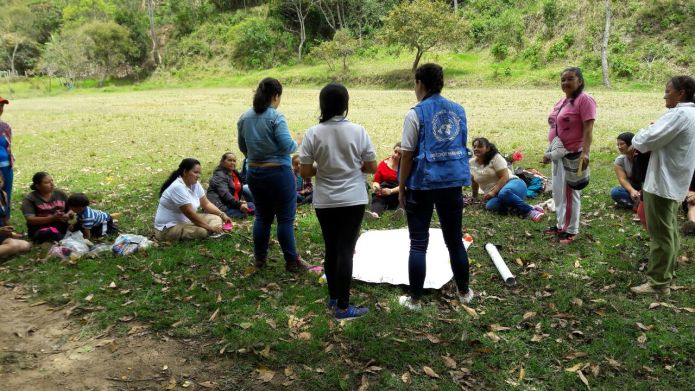 Now we see UN Human Rights and we see them as family. We have a lot of trust in them. We like seeing them and we're always happy when they visit the community.
Ahora vemos a ONU Derechos Humanos y sabemos que son como de nuestra casa. Hoy en día les tenemos mucha confianza. Para nosotros es muy satisfactorio verlos y tenemos mucha alegría cuando llegan a la vereda.
Perks / Recompensas

$ 5 USD
JUST A LITTLE, BUT A LOT OF LOVE / Poquito, pero con mucho cariño
. Don't have much to give, but still want to show your support for women coffee growers? Donate $5 and receive a thank you e-mail from them.
¿No tienes mucho para dar, pero quieres mostrar tu apoyo a la mujer caficultora? Dona $ 5 y recibirás un correo electrónico de una de ellas
Included: / Elementos incluidos:
Thank you e-mail / Correo electrónico de agradecimiento
$ 15 USD
I want to help change the world! / ¡Quiero ayudar a cambiar el mundo!
Show us that you want to change the world! Donate $15, and we'll send you a personalized thank-you letter as well as a shout-out on social media!
¡Muéstranos que te gusta la idea de ayudar a cambiar el mundo! ¡Dona $15 y te enviaremos por correo una carta de agradecimiento personalizada, así como también daremos un saludo en las redes sociales!
Included: / Elementos incluidos:
Shout-out on social media / Saludo en redes sociales
Thank-you note / Correo electrónico de agradecimiento
30 $USD
Wall of Friendship / Muro de la Amistad
With your donation, your photo or the photo of a loved one will have a secure place on the Wall of Friendship, around the coffee processing plant. With this wall, we want to inspire ourselves daily to give our all when working, just as you do.
¡Con tu donación tu foto o la de un ser querido tendrá un lugar asegurado en el muro de la amistad alrededor de la planta de proceso de café, con el queremos inspirarnos día a día a dar lo mejor en nuestro trabajo, así como tú lo haces!
$50 USD
Let's create the future! / ¡Sembremos futuro!
Did you know that climate change can affect coffee cultivation? With your help, we want to make our contribution too. Donate $50 and a group of teenagers will plant a tree as a sign of appreciation in your name in a forest reserve that will be called the Forest of Hope!
¿Sabías que el cambio climático puede afectar la caficultura? Junto a ti queremos aportar nuestro grano de arena. ¡Dona $ 50 y un grupo de jóvenes como muestra de agradecimiento sembrara un árbol que llevará tu nombre en la reserva forestal que ellos llamarán el Bosque de La Esperanza!
Included: / Elementos incluidos:
Picture of the planted tree and plate with your name. / Foto de árbol sembrado y placa con tu nombre.
Shout-out on social media / Saludo en redes sociales.
$ 100 USD
Try it and let us know what you think! / ¡Pruébalo y dinos que te parece!
Donate $100 and we'll send you a prototype of one of our coffee brands! You will also receive a mug with the logo. Coffee will be included. Available only for the US.
¡Dona $ 100 y te enviaremos un prototipo de una de las marcas de café! También recibirá una taza con el logotipo de la marca. Incluye el café. Solo en EE.UU.
Included: / Elementos incluidos:
Mug with our logo / Taza con logotipo
1 pound of coffee in its prototype version / 1 libra de bolsa de café en versión de prototipo
$ 500 USD
You're part of us!​ / ¡Eres de los nuestros!
Show us your support by donating $500 and we will send you a t-shirt and a pound of coffee in its final prototype stage. Available only for the US.
Muéstranos tu apoyo donando $ 500 y te enviaremos una camiseta y una libra de café prototipo final. Solo en EE.UU.
Included: / Elementos incluidos:
T-shirt / Camiseta.
1 pound of coffee in its final prototype stage. / 1 libra de bolsa de café en versión de prototipo final.
$ 1000 USD
Coffee Addict!​ / ¡Café Adicción!
Donate $1000 and receive 5 pounds of Limited Coffee Edition from the best lot to your front door or office. Caution! There is a risk that you will become addicted to this coffee. Available only for the US. 
Dona $ 1000 y recibe cinco libras de Café Edición Limitada del mejor micro lote en la puerta de tu casa u oficina. ¡Atención!!!  corres el riesgo de volverte adicto a este café! Solo aplica en EE.UU.
Included: / Elementos incluidos:
5 pound of limited edition coffee / 1 libra de café edición limitada.
T-shirt, hat, and mug / Camiseta, gorra y taza.
Our Project / Nuestro Proyecto

This campaign seeks to contribute to guaranteeing social and economic rights for these women coffee growers, through the direct exportation of their 3 very own coffee brands. With that said, the following will be carried out:
Esta campaña busca contribuir a garantizar los derechos sociales y económicos de las mujeres caficultoras, a través de la exportación directa de tres marcas propias de café, y para tal efecto se desarrollarán los siguientes componentes: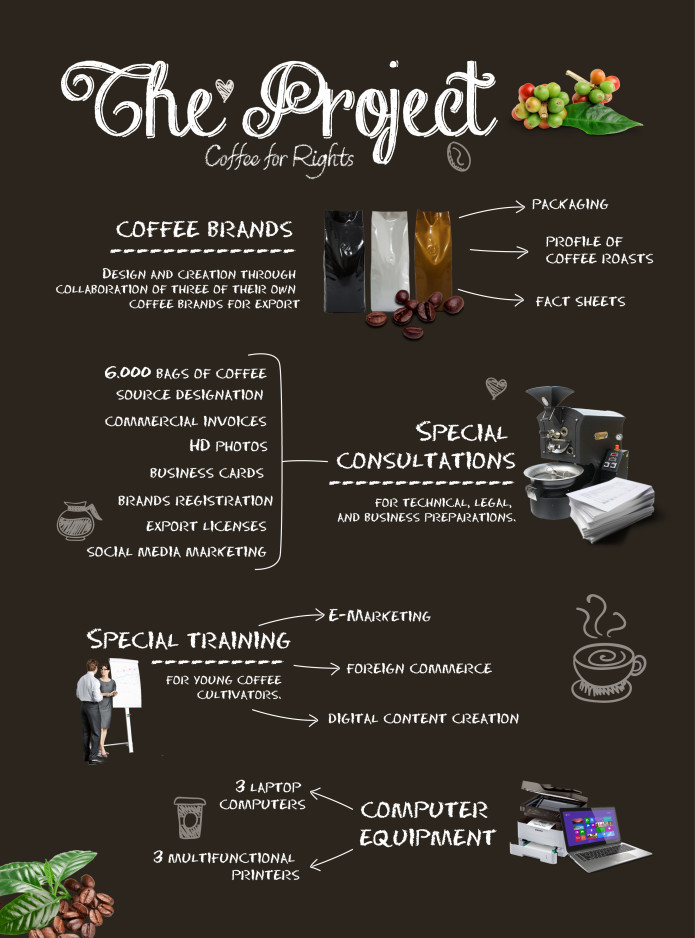 Project Schedule
End of the campaign: December 26, 2017
Design and product development: February..
Delivery of Equipment: April 21, 2018
Technical, legal, and commercial preparation: April 22, 2018
Training for young coffee growers: May 8, 2018
Start of exportation: May 16, 2018
Advertisements on social media: Until June 20, 2018
Cronograma del proyecto
Cierre campaña de crowdfunding: Diciembre 26 de 2017
Diseño y desarrollo de productos: Febrero 15 de 2018
Entrega de equipos de cómputo: Abril 21 de 2018
Alistamiento técnico, legal y comercial: Abril 22 de 2018
Capacitación a jóvenes caficultores: Mayo 8 de 2018
Inicio oferta exportable: Mayo 16 de 218
Publicidad en redes sociales: Hasta junio 20 de 2018
Investment
1. Design and Product development: This includes the collaborative design of 3 brands and packaging for coffee, creating profiles of coffee roasts and fact sheets.  Total investment: USD$ 2.542. Participation: 10%
2. Tecnical, legal, and commerical preparation: This includes the development of 6,000 bags of coffee, high definition photos, development of commercial invoices, business cards, process of attaining export licenses, registration of the brand and source designation for each brand. Payment for advertisements on social media. Total value: USD$ 13.450
3. Training for young coffee growers: This includes 24 hours of training for a group of 20 young coffee growers in foreign commerce, creation of digital content and digital marketing. Total value: USD$ 815
4. Provision of computer equipment: This includes 3 laptop computers and 3 multifunctional printers. Total value: USD$ 2.288
5. Other costs: This includes the costs for project management, taxes, and finance costs. Total value: USD$ 5.921
Inversión
1. Diseño y desarrollo de productos: Esto incluye diseño colaborativo de tres (03) marcas y empaques para café, definición de perfiles de tostión y fichas técnicas. Valor de la inversión: USD$ 2.542. Participación: 10%
2. Alistamiento técnico, legal y comercial: Esto incluye la elaboración de seis mil (6.000) bolsas para café, fotografías HD, elaboración de facturas comerciales, elaboración de tarjetas de negocio, trámite de obtención de licencias de exportación, registro de marca y denominación de origen para cada marca. Pago de publicidad en redes sociales. Valor de la inversión: USD$ 13.450
3. Capacitación a jóvenes caficultores: Esto incluye venticuatro (24) horas de capacitación a un grupo de 20 jóvenes caficultores en comercio exterior, generación de contenidos digitales y marketing digital. Valor de la inversión:  USD$ 815
4. Suministro de equipos de oficina: Esto incluye tres (03) computadores portátiles y tres (03) impresoras multifuncionales. Valor de la inversión: USD$ 2.288
5. Otros costos: Esto incluye el costo de dirección de proyecto, impuestos y gastos financieros. Valor de la inversión: USD$ 5.921
Press Notes / Notas de Prensa
– (W Radio) ONU y empresas colombianas crean programa para capacitar a caficultores
– (Periódico El Espectador) ONU y empresas colombianas crean programa para capacitar a caficultores