Cold Drip Espresso Made Easy with ATMOS | Make full flavored, barista-style cold drip coffee at home with ATMOS – Just fill, tamp and flip.
Introducing ATMOS
ATMOS creates café-grade cold drip coffee, using a unique filtering process and compact, elegant design. Based on a three step attach-and-flip design, ATMOS is easy to setup and is completely automated – and very easy to clean.
Made from high grade stainless steel (316) and borosilicate glass, ATMOS is very strong and won't leach nasty chemicals into your coffee.
Cold drip coffee provides a unique flavor that is great on its own, making the perfect summer coffee drink on ice, or as a base for your favourite hot and cold coffees.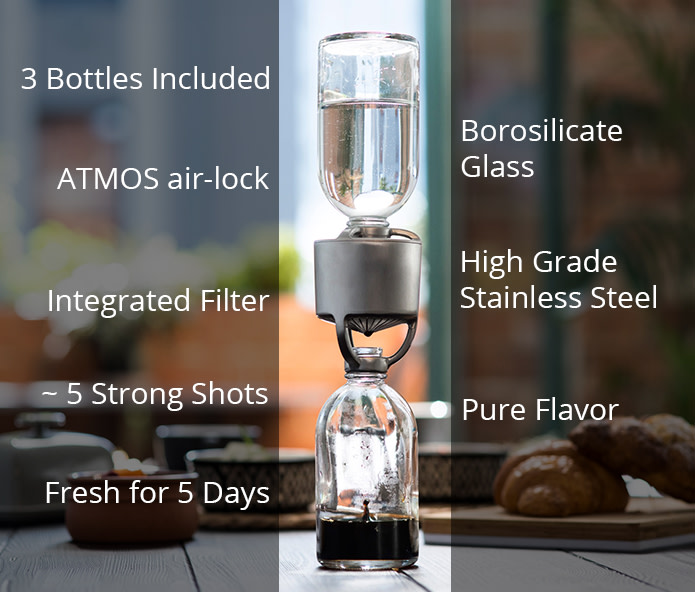 In the press






The expert opinion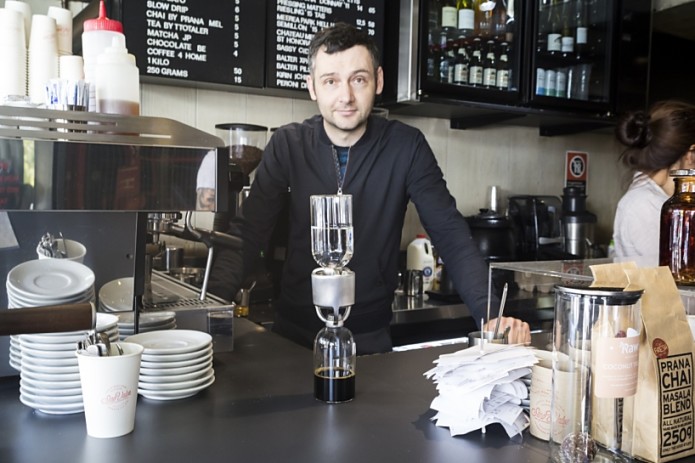 "We were able to extract an incredible, juicy flavour from our Reformatory single origin (Ethiopian Keffa Wush Wush) using a much finer grind than our regular cold drip tower. Setting up ATMOS took seconds and didn't have the hassle of checking and adjusting the tap throughout the day. It's a beautifully finished product and produces a perfectly consistent drip." – Daniel Corke, Stop Valve Espresso, Darlinghurst. 
Coffee like you have never had before
ATMOS is optimized to use a finer grind than most cold drip devices, this results in a much richer extract that we call cold drip espresso. Cold drip espresso combines the delicate flavors of cold drip coffee with the strength of hot brewed coffee. This means you can enjoy cold drip espresso hot or cold, like a cold drip cappuccino, on the rocks or in your next espresso martini.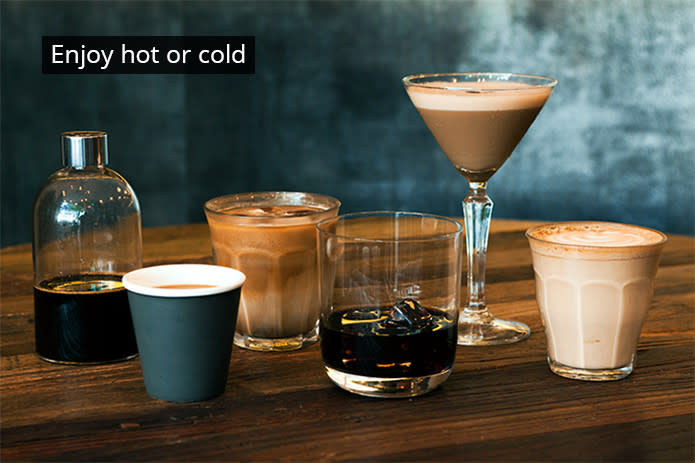 Cold Drip Vs Immersion Brew
ATMOS is a cold drip coffee maker. Cold drip brewing produces coffee with a richer flavor than immersion brewed coffee whilst highlighting subtleties in your coffee. 
Cold drip coffee also has a faster brew time and requires much less ground coffee than an immersion brew.
This is due to the difference in brewing method, with cold drip brew, the water moves over the coffee grounds compared to the immersion brew where the coffee grounds soak in the water. This results in a different amount of time each water molecule is in contact with the coffee grounds.
This difference is similar to Pour Over vs French Press hot coffee brewing methods.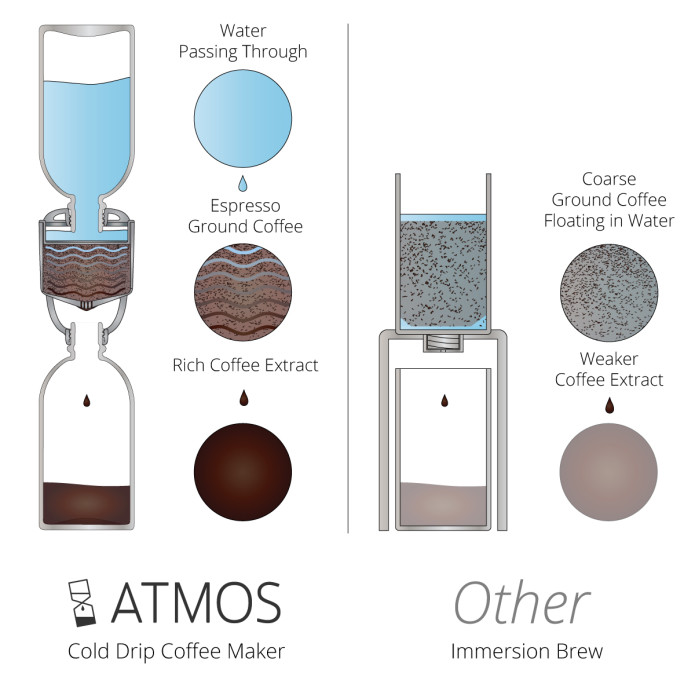 Consistent, full flavored cold drip espresso
ATMOS brings out the subtle coffee flavors that hot and immersion brews tend to mask. Our cold drip method produces up to 5 shots of rich extract – perfect on its own, or as a base for your favourite coffee. Just add hot or cold milk, water or spirits to suit your taste.
You can also customize your coffee by experimenting with bean types, size of grind, amount of coffee and water volume. This will change the flavor, strength and brew time.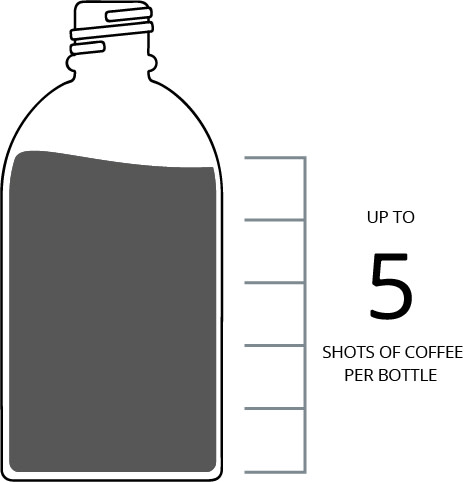 Takes 30 seconds to start
Brewing cold drip with ATMOS is easy.
Step 1: Fill one glass bottle with water and attach to ATMOS.
Step 2: Tamp coffee into ATMOS.
Step 3: Attach an empty bottle, and flip.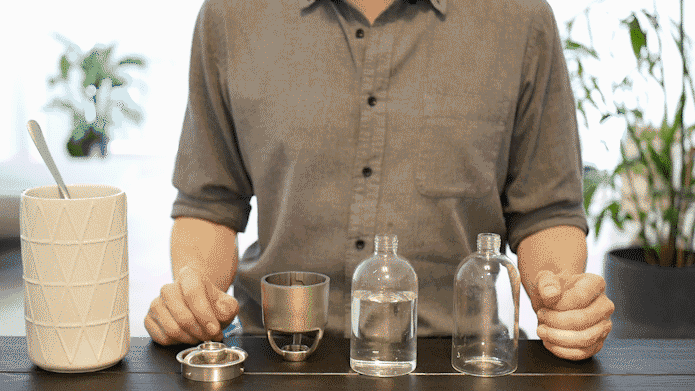 How it works
Once these three steps are complete, the water filters through the tamped coffee within ATMOS into the collection bottle, using a unique filtering process that ensures a consistent, full-flavored brew. The process is automated and requires no intervention or monitoring.
Coffee is then extracted across the full width of the basket. After extraction, cold drip coffee flows along the grooves on the underside using surface tension, collecting in the glass bottle below.
Once all the water has run through ATMOS, disassemble and enjoy your coffee any way you prefer. The total time for water to turn into delicious coffee depends on the grind and water volume. Our suggestion is to run ATMOS overnight, so you can enjoy fresh cold drip the next morning.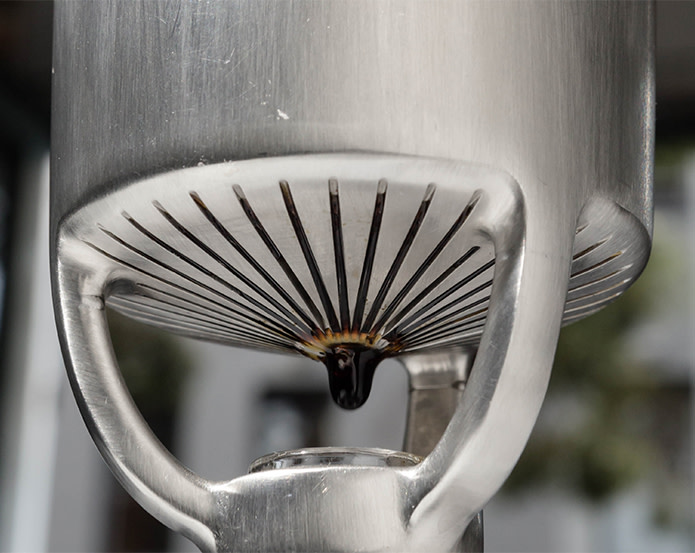 Comes with 3 bottles
Each ATMOS comes with 3 borosilicate glass bottles (with lids) – so you can have cold drip ready while you brew your next batch.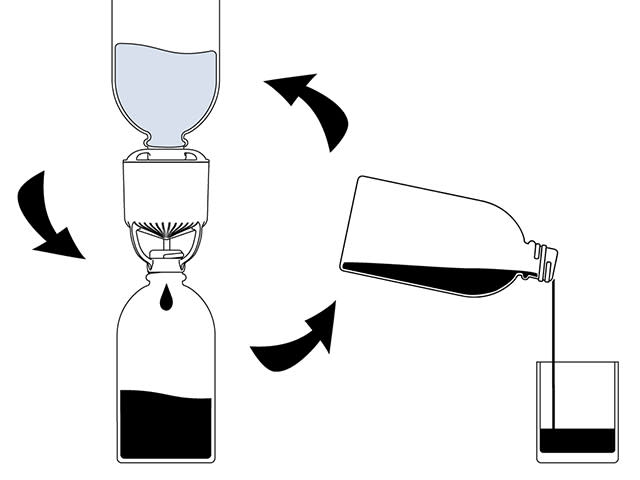 Unique integrated filter design for easy cleaning
The unique feature of ATMOS is the atmospheric valve, which eliminates the need for a drip control tap. No filter and no funnel also means there is nothing to remove or replace, making cleaning a breeze.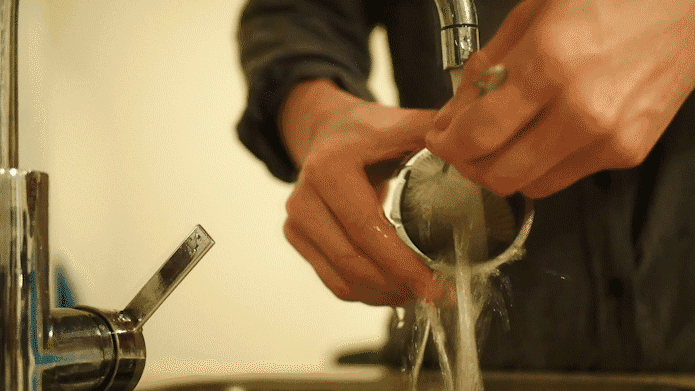 The design process
ATMOS uses 316 marine grade stainless steel – the highest grade of steel commercially available – along with borosilicate glass bottles, which ensures there is no risk of flavor or chemical leaching.
The seamless, precise and integrated design of ATMOS is achieved through a cutting-edge process known as Metal Injection Moulding, combined with Investment Casting. Laser welding and hand polishing provide a stunning finish.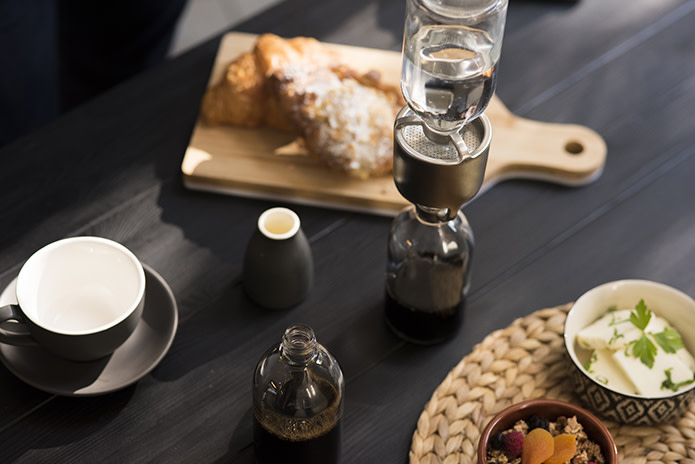 What's in the ATMOS Pack?
The ATMOS Pack includes:
1x Stainless Steel ATMOS body with integrated filter and air-lock
3x Borosilicate glass bottles with lids
1x Cleaning brush
1x Food safe coffee descaler sachet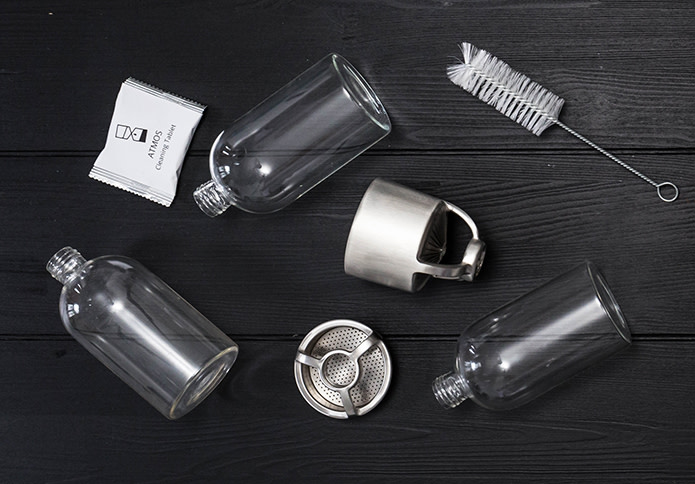 Production ready
Along with working prototypes, the ATMOS team has sourced all suppliers and manufacturers ready for production. Following the success of this campaign, we can fulfil tooling and minimum order requirements and begin production.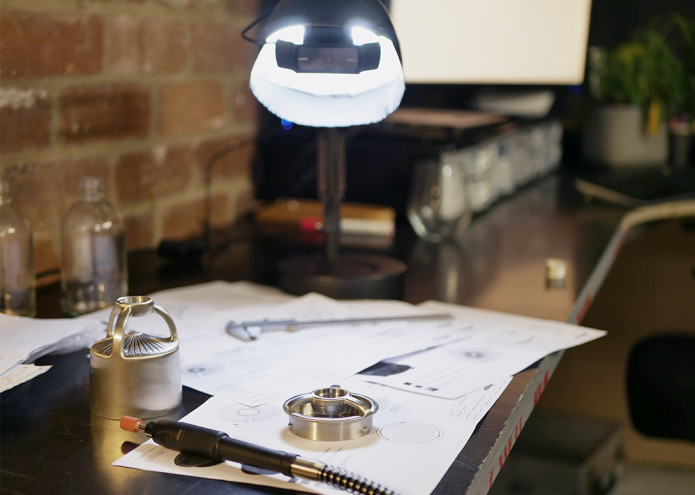 The ATMOS Team
The ATMOS team sought to create a new way to extract cold drip coffee – an elegant solution, providing the best quality extract, coupled with an aesthetic design. The team have been developing and perfecting ATMOS for over two years, as well as sourcing suppliers ready for production.

* above shipping dates are projected only and subject to change. Our manufacturers, suppliers and shipping providers are all lined up, however subject to our high quality standards some delays are possible if any piece needs improvement before delivery. 
Back us now to secure your own ATMOS!
We need your help to make ATMOS a reality, backers like you are what make crowdfunding new products possible. Together we can make something beautiful!
Frequently Asked Questions
You are in Australia, why are you raising in USD?
All of our manufactures work in USD, we are raising in USD to avoid any complications due to currency fluctuations.
What is the coffee/water capacity of ATMOS?
The ATMOS body holds 40-50 grams of ground coffee. Each glass bottle is ~250ml.
How can I adjust the brew time/strength?
You can adjust the flavor profile by adjusting the amount of water and coffee and how fine the coffee is ground.
Brew time is a combination of how much water you use and how dense the coffee is. The more coffee you pack in and the finer you grind, the slower your brew time will be.
Strength is determined by the amount of water and density. Coffee is brewed by water extracting flavor from the coffee grinds. The longer the water is in the coffee, the more flavor will be extracted. Additionally, the finer the grind, the easier it is for water to extract the flavor so less time is required.
NOTE: different flavors are extracted at the beginning of the brew compared to the end of the brew. The end of the brew is generally weaker and more bitter, compared to the beginning of the brew being stronger and sweeter.
Each type of coffee (region and roasting profile) is different and adjusting your brew ratios can help you get the flavor you are after.
Can I back to receive more than 2 ATMOS units in the Indiegogo Campaign?
YES! Please contact directly and we will open up a secret perk just for you with the amount requested and a shipping quote for your country of choice. All ATMOS bulks orders will come in individual retail packaging.
Can I use my own bottles with the ATMOS?
Unfortunately no. ATMOS is designed to be stable standing on it's own bottles and our thread and neck length is designed to work with our atmospheric air-lock and hold the whole unit straight up for stability. This is something we can't control with third party bottles.
Can I get additional bottles?
Yes, once we have fulfilled all Indiegogo Perks we will make available additional bottles on our website.
How does shipping work?
We will be shipping in backer order. All shipping will be express and delivered by DHL, FedEx or TNT. If any damage has occurred during shipping please contact us and we will get another ATMOS sent to you.
All orders will be shipped directly from our manufactures with international flat rate shipping. Shipping direct from our manufactures reduces costs by only shipping once.
How will you ensure quality?
We have engaged with many manufacturers of all types, comparing samples, tolerances and processes to find the best manufacturer in each class. We have produced final samples of each part and tested them for months in our own kitchens. Once we begin mass manufacture, we will personally inspect samples from every batch and provide strict quality control guidelines for every single part. This quality assurance process may, of course, lead to some delays – but we are confident in our work already completed and will do our everything possible to get your ATMOS delivered on time. If an imperfect Atmos Pack does manage to make it's way to your door, we will send you a ​replacement as quickly as possible.