ComfortAdjust Pillow: Combat Symptoms of Tech Neck | The only adjustable pillow designed to alleviate pain & re-align your posture during sleep

A Growing Epidemic
If you're reading this while looking down at your phone, tablet or computer, you probably already suffer from Tech Neck. Tech Neck is the chronic pain in the neck caused by the forward head posture formed from overuse of technology. Simply put: our muscles, ligaments and spine are not designed to support our 10 pound head in a constant forward position.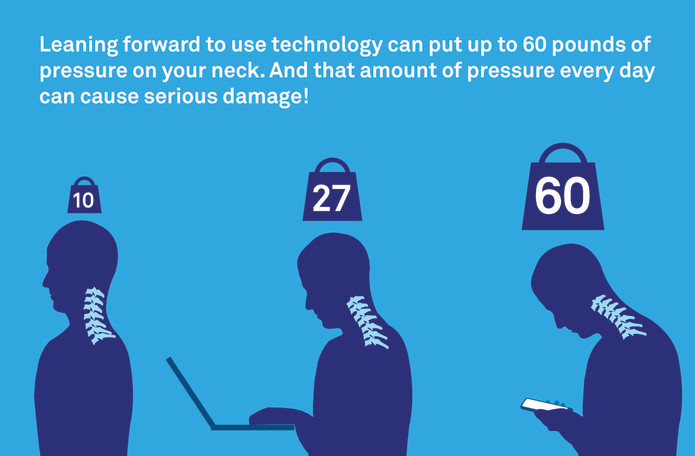 Tech Neck Symptoms include:
Chronic headaches & muscle aches
Radiating pain
Numbness/tingling
Strained neck muscles
Limited mobility
These symptoms also contribute to a decrease in healthy habits of our daily life:
Sleep Deprivation/Fatigue
Anxiety
Poor Work Performance
Loss of Focus
Decrease of Energy
Digestive Issues
Weight Gain
If left untreated it can lead to serious and irreversible side effects such as nerve damage, arthritis and spine degeneration (aging of the neck).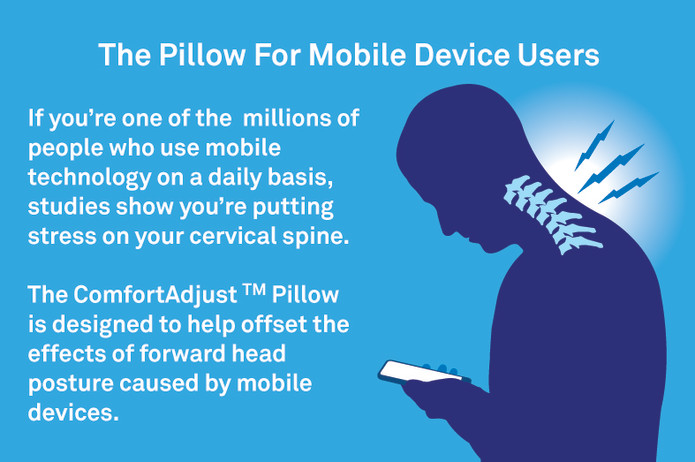 Medical studies suggest that no one is immune; Tech Neck affects everyone from middle-schoolers to people in their late 70's and shows no signs of slowing down. And the symptoms aren't just due to modern-age technology; Typing, reading and any other common activity done while looking down at something can trigger the side effects mentioned above.
Tech Neck is Real

"Over long periods of time, maintaining this head-forward posture can lead to muscle strain, disc injury, nerve impingement and arthritic changes of the neck—and the potential for developing ongoing neck and shoulder pain, headaches, and pain radiating down the arms."
-Spine-Health.com – 5 Simple Steps to Prevent Tech Neck
 
"But it's poor posture, and it can lead to a lot of neck pain.
This 21st Century problem is being called "tech neck," and it can be caused by straining your neck forward to see that screen. As you type out an email to a colleague or answer your boss' latest urgent request, you're holding your neck at an unnatural angle. And it stays there for much longer than it should, causing muscle strain and pain."
-SpineUniverse.com – High-Tech Can Be a Pain in the Neck
 
"We did a study on the issue of poor posture and how it affects you, especially when you're on a cell phone or smart device," says Hansraj, chief of spine surgery at New York Spine Surgery & Rehabilitative Medicine. "It's a lot of load, an amazing amount of weight to be carrying around your neck….When your spine is in neutral position, the head weighs about 10-12 pounds," he says. "At 15 degrees [forward], the neck sees 27 pounds. At 45 degrees, it sees 49 pounds, and at 60 degrees, it's 60 pounds."
That's 60 pounds of weight stress on muscles and nerves that are meant to handle 10-12 pounds of stress, and that much load can do a lot of damage over time.
-WebMD.com – 'Text Neck' and Other Tech Troubles
 
Fight Technology with Technology
The ComfortAdjust pillow was designed in collaboration with medical professionals and innovative product engineers to pro-actively combat Tech Neck symptoms and re-align your posture – all while providing restorative sleep. 
Exercises and massages may help temporarily alleviate tech neck symptoms, but they aren't enough to fully restore your body's healthy alignment necessary for long term healing. Just as a broken bone won't heal properly without the cast, a strained neck can't heal properly and restore without neck support and sleep posture alignment.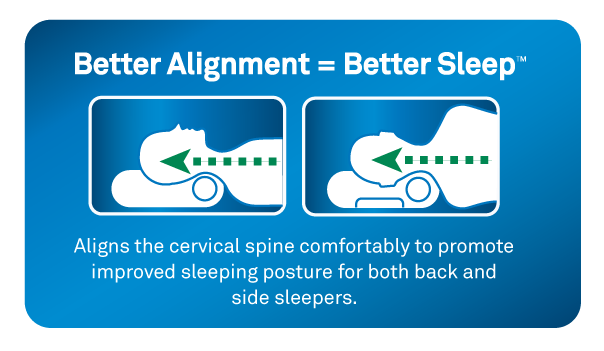 ComfortAdjust both combats the neck strain of a day's worth of technology use and re-aligns your posture. It is the only pillow uniquely designed to alleviate the symptoms of tech neck while providing you with the best sleep posture alignment necessary for a restorative night's sleep.
The first and only pillow with an adjustable patent-pending Alignment Core (like a neck roll) that can be rotated to find your optimum blend of comfort and support, fitting seamlessly inside a premium memory foam pillow that works to align, adjust and relieve strain to give you back a much-needed full night's rest.
The Test Results are in!
We tested the ComfortAdjust Pillow against the top-selling interlocking fill pillow using an Xsensor X3 Medical Version 5.0 pressure imaging system. We tested each pillow with the same person, on the same mattress, and in the back-lying position. The results speak for themselves! ComfortAdjust Pillow is the only pillow that provides significant support in the neck area.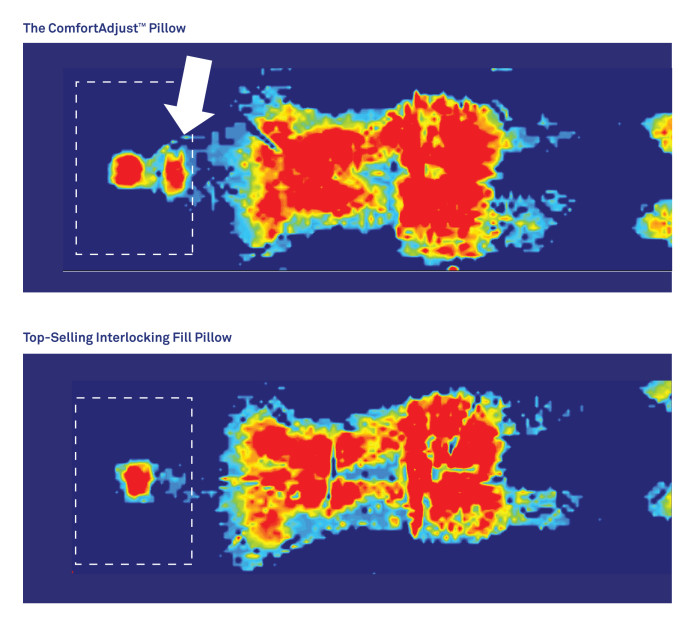 Different by Design
The ComfortAdjust™ Pillow is designed to provide optimal support for both BACK and SIDE sleepers (stomach sleeping is not recommended for healthy sleep posture).  It couldn't be easier to use:
STEP 1: Select either the BACK sleeper or SIDE sleeper side (the BACK sleeper side has the head well in the center)
STEP 2: Unzip the cover
STEP 3: Turn the dial until you find a comfortable setting
STEP 4: Zip the cover
STEP 5: Enjoy sweet dreams and improved sleep posture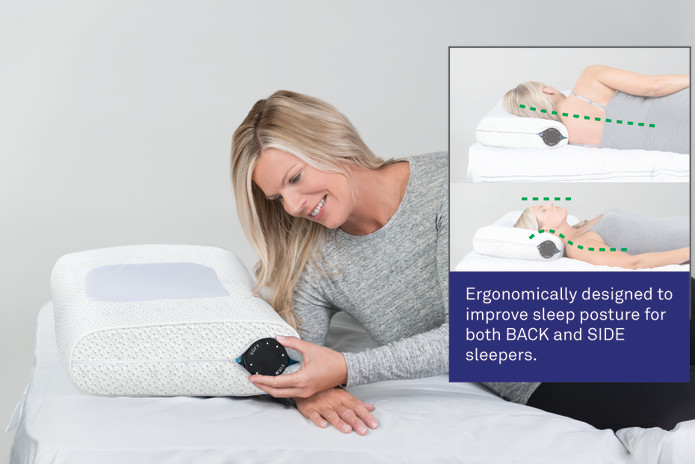 A Truly Universal Pillow
Tech Neck affects everyone: children, young adults, the elderly. The ComfortAdjust pillow is for anyone who suffers from the symptoms of Tech Neck and wants to combat poor neck posture and get a better night's sleep, which in turn can lead to an increase in energy, less pain and more focus throughout the day.
Feedback
ComfortAdjust is taking on the Tech Neck epidemic one well-rested and properly aligned consumer at a time: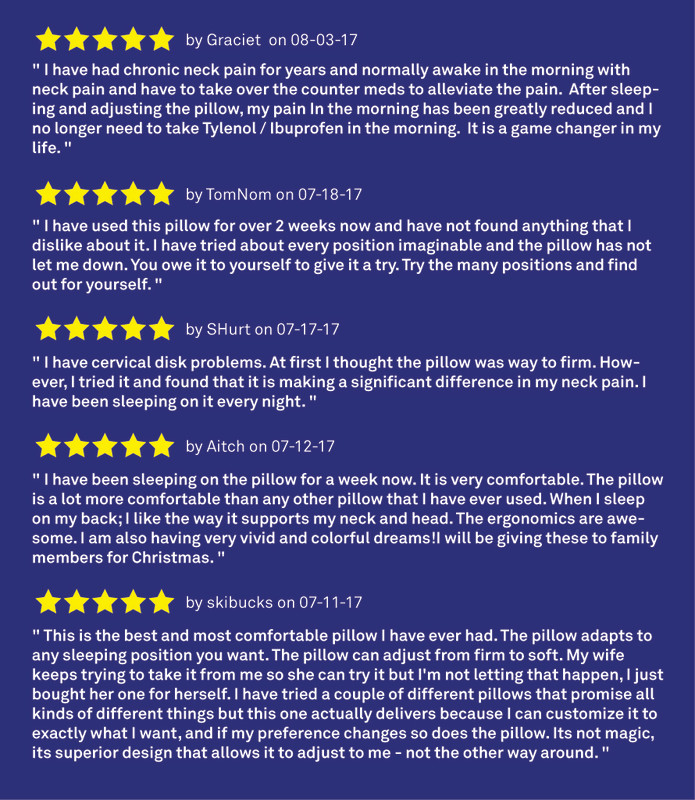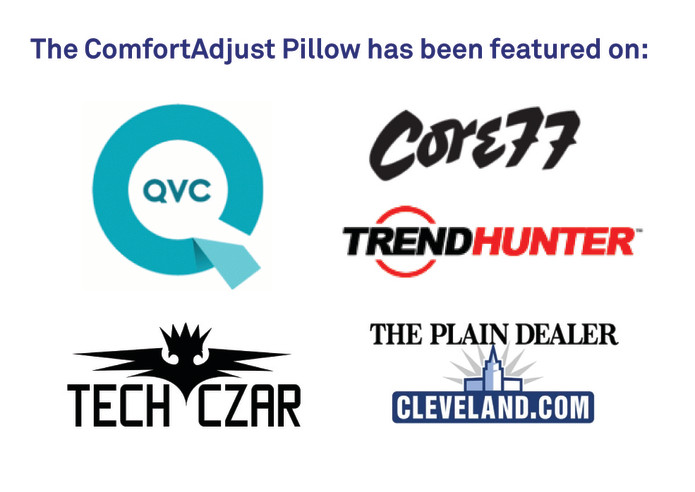 What You'll Get
Each ComfortAdjust Pillow comes with the innovative Alignment Core adjustable neck support and a machine-washable cover. It fits in a STANDARD/QUEEN-sized pillow case.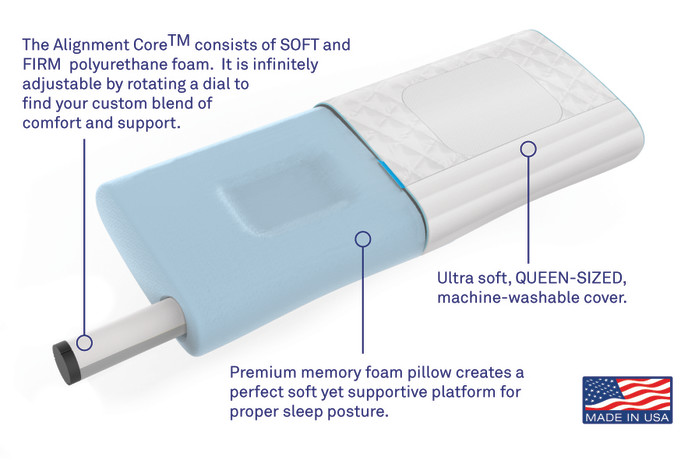 We're ready to go
Your Early-Bird ComfortAdjust Pillow is guaranteed to arrive to you in December. We will begin a production run as soon as the campaign ends on November 10th.
We've already produced a small number of sample pillows using a production-ready tool and a great US manufacturer. Our pillow met stringent, 3rd party quality standards. Once the campaign ends, we'll start production.  The first 500 pillows should ship this December.

Why we need you

Anyone who uses technology on a daily basis needs a new pillow geometry for restorative neck support. We need your support so that we can produce a product that will truly help improve lives. Once we achieve our goal, your pillow will ship in 6-8 weeks.

The team

Having a great idea is a start. Making that idea real takes a team of dedicated people with expertise in many areas.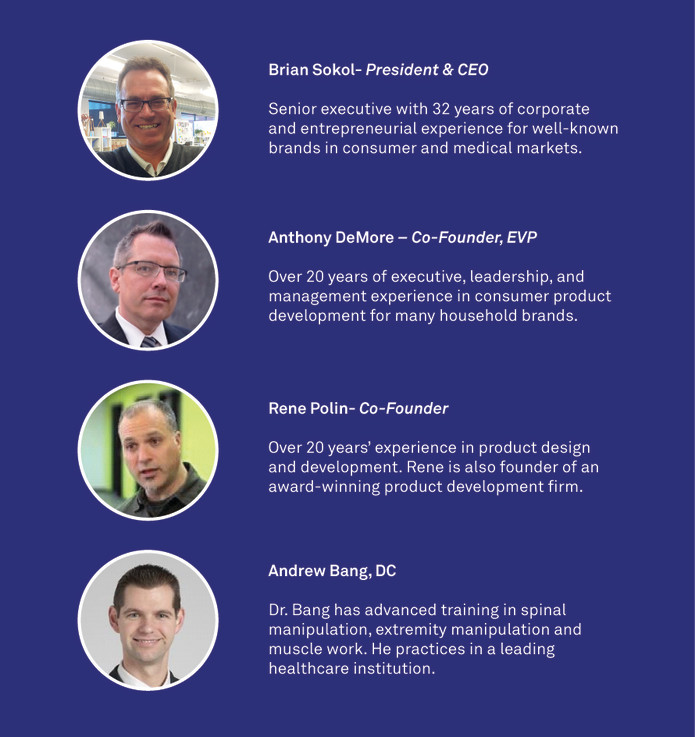 FAQ
How do I use the ComfortAdjust Pillow?
Your ComfortAdjust™ Pillow represents an entirely new approach to sleep alignment. You will immediately feel comfortable support when lying on the pillow for the first time, but it could take up to 30 days for your neck to completely adapt. For this reason, the ComfortAdjust™ Pillow has an integrated Alignment Core™ which can be easily adjusted to different comfort levels.
The ComfortAdjust™ Pillow's ergonomic design thoughtfully accommodates back sleepers and side sleepers, and can improve sleep posture. Just pick your side and dial in your comfort.
The side with the mesh square is designed to align and support back sleepers. If you're a side sleeper, just turn the pillow over for optimal alignment and support.
Can I wash the cover?
Absolutely. Carefully remove it and machine wash on cold with a mild soap. You may use a non-chlorine bleach. You must allow the cover to air dry flat.
How do I wash the pillow and/or Alignment Core?
Both of these parts should be spot cleaned with cold water and mild soap. You should never put these parts in a dryer. You must squeeze any excess water out and allow the parts to air dry.
What is the ComfortAdjust Pillow made of?
The ComfortAdjust ™ Pillow is made entirely in the USA. The memory foam component is of the highest quality. It is normal for your pillow to have a slight odor initially. This odor is not harmful. We recommend removing the cover and placing the pillow in a well-ventilated area for up to 72 hours for the odor to dissipate completely.
What size pillow case will fit the ComfortAdjust Pillow?
The ComfortAdjust ™ Pillow will fit in a STANDARD/QUEEN-sized pillow case.