Comper SkinEnergy, Supercharge your skin | 4 technologies in 1 to act on aging skin
You take such good care of your skin through your diet, your exercise regime, expensive facial products and weekly spa trips – but is it the best you can do in 2020?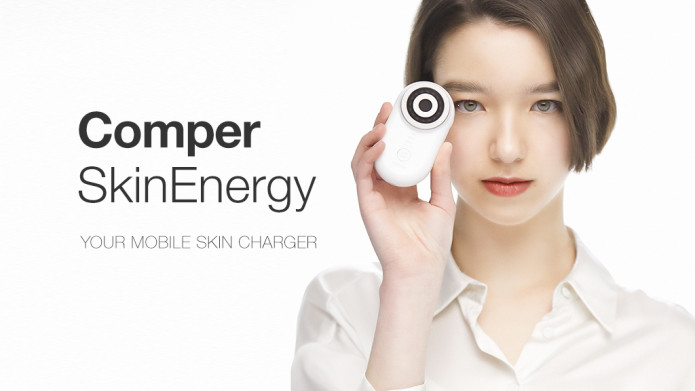 Backed by science, SkinEnergy gives control back to you, the user, and makes it easy to see the difference that tweaks to your lifestyle and exercise regime can actually make to your skin. Your skin is up to you – you can decide what you want to do more – or less – of as you learn what works for you and your skin and what doesn't.
Powered by the latest in smart tech, Comper SkinEnergy will improve your skin health layer by layer.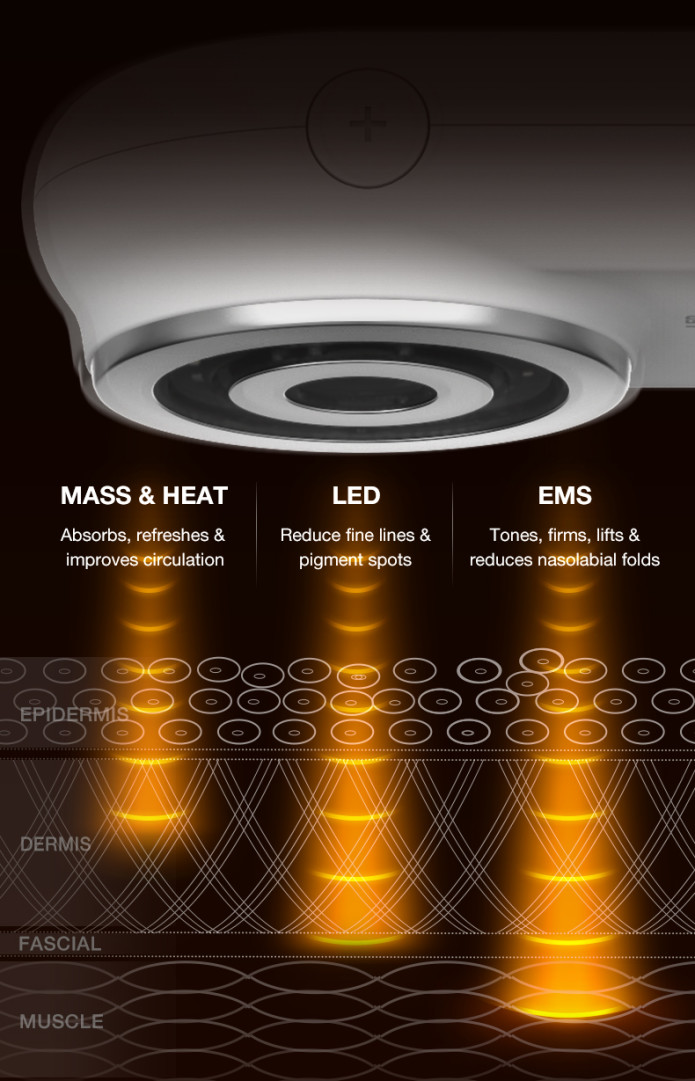 From the deeper muscular level right up to the epidermis, SkinEnergy resolves your anti-aging issue – but it comes with the same price tag as one bottle of fancy cream.
Of course, going to a beautician or dermatologist can help, but regular visits are expensive and time-consuming. Their skincare routine process may make you feel confident and relaxed, but its impact is only skin deep. In reality, skin aging happens from the inside out: from muscle to fascial level and then from dermis to the epidermis level. SkinEnergy works across all levels and gets to the heart of the matter.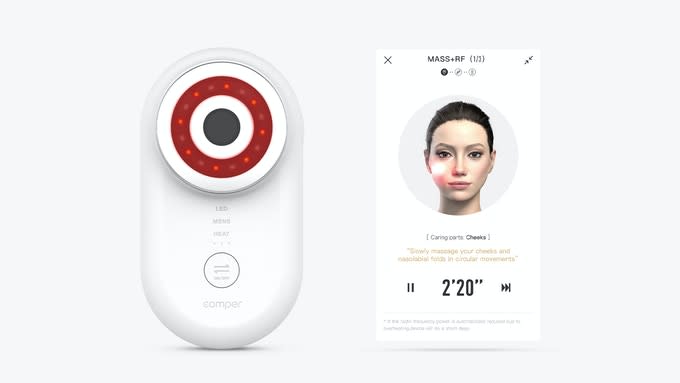 How it works:
The Comper SkinEnergy is a lightweight, hand-held device that uses MENS, red LED, massage, and heat to improve your skin from the inside out in just 5 minutes a day. You don't have to worry about the unnecessary bells and whistles because we've only used tried-and-tested technologies with scientific evidence to back their impact up.  
​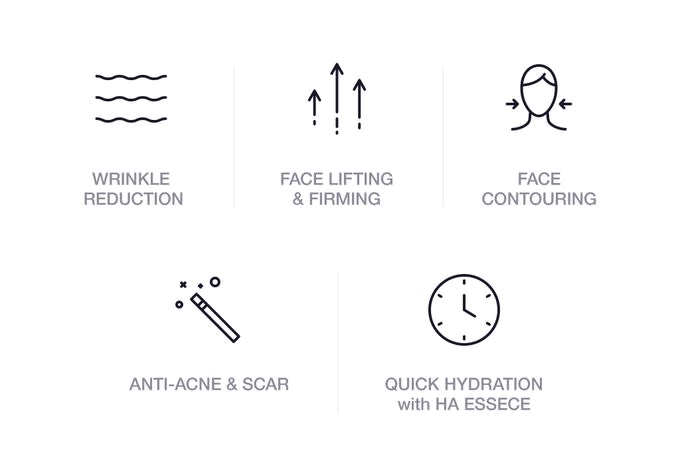 MENS
Microcurrent treatments (MENS) have been used in medicine and physical therapy for over four decades. Gentle, hardly-perceptible, pulses mimic the body's natural bio-electric currents to heal and tone both large and small muscles. When used in cosmetic applications, this treatment is proven to energize the small muscles beneath the skin, lifting wrinkles and rejuvenating damage from sunburn, acne, stretch marks, cellulite, and scarring. It's so effective that it's been called a "non-surgical facelift.
"
Red LED 
Red and near-infrared wavelengths promote adenosine triphosphate (ATP) nitric oxide release, blood flow, reactive oxygen species increase and stem-cell tissue repair and healing. Dermatologists routinely apply Red LED technology for the treatment of wrinkles, acne scars, hypertrophic scars and UV healing.
MASS (Massage)
A 2017 study from L'Oréal Research and Innovation concluded  that using a massaging device on skin leads to higher rates of decorin, fibrillin, tropoelastin, and procollagen-1 expression. It was noted that massage created an anti-aging response across an 8-week trial along which, along with anti-aging cream, showed notable improvements in subjects' facial wrinkles, skin texture, lip area, cheek wrinkles, neck sagging and neck texture.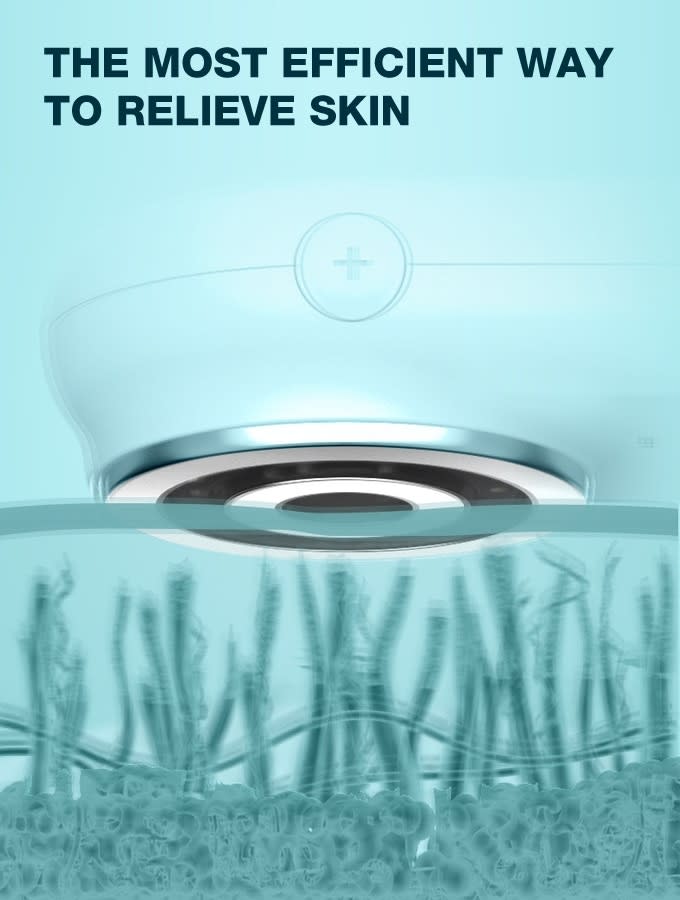 Heat 
When targeted energy heats deep down through layers of skin, it stimulates collagen and elastin production, which gradually improves skin tone and texture. The American Board of Cosmetic Surgery describes this type of treatment as a non-surgical skin tightening procedure and states that they can effectively tighten moderately lax or "crepey" skin on the face, neck, and body.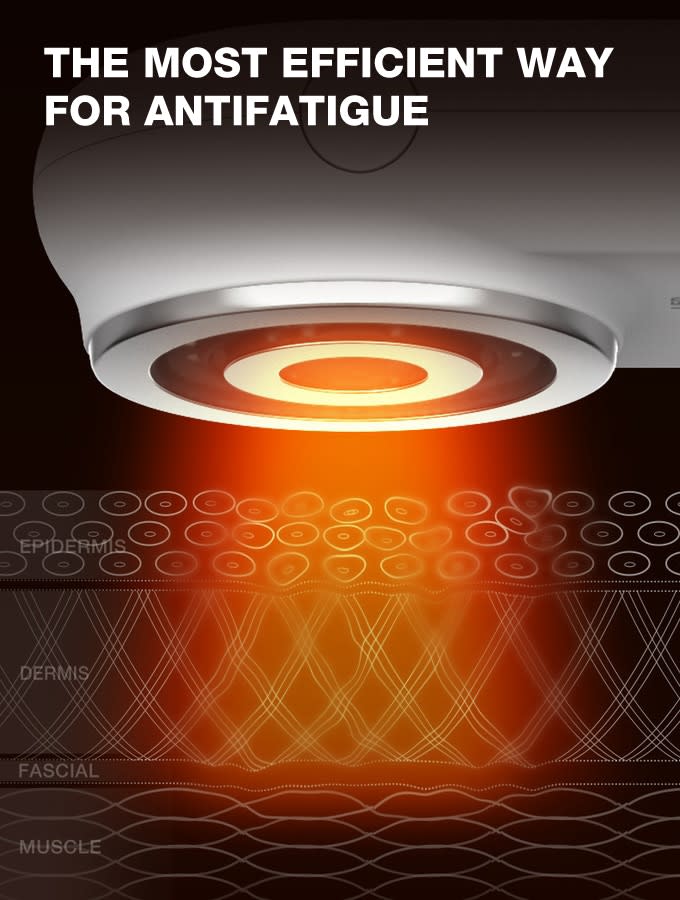 Your 3-step guide to SkinEnergy  
Step 1 – Virtual consultation on the app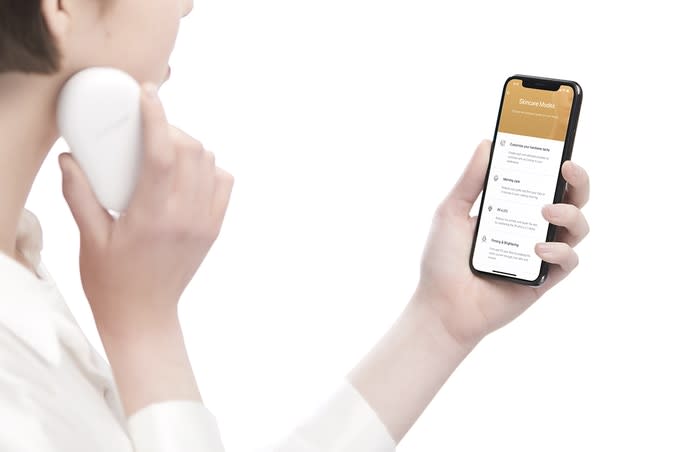 The Comper app creates a personalized, tailored skincare routine that's just right for you. It then syncs your optimal routine with the Comper SkinEnergy to bring both sides of the science together. There's no need for you to fiddle with buttons and settings – our virtual beautician will develop a treatment plan.
Step 2 – Daily routine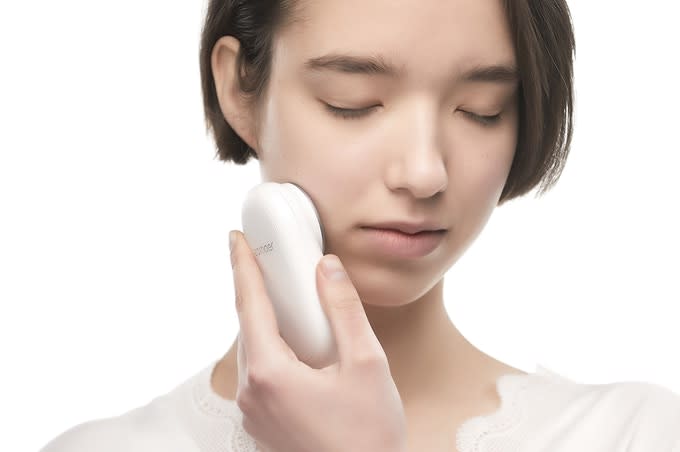 Enjoy your blissful little moment of self-care every day when you use SkinEnergy and follow your own, personalized routine. It's natural, perfectly matched to your skin and totally refreshing.
Step 3 – Collect those compliments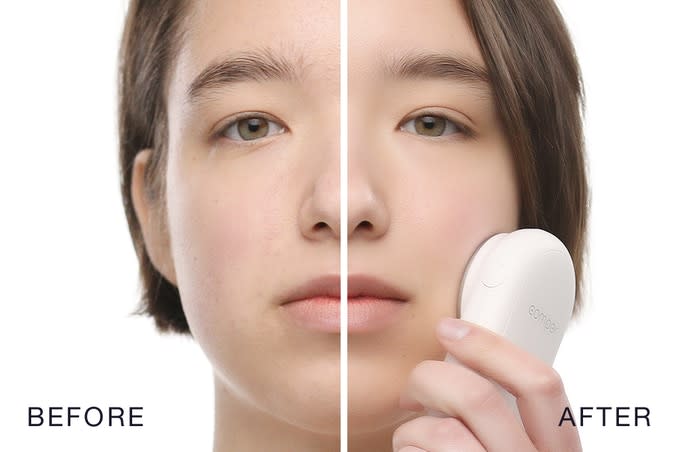 After just two weeks, your skin will be firmer, look rested and you will look radiant. Improved circulation will give you a healthy glow. Nothing crazy. Nothing plastic.
Your personal beautician is just a tap away
You've seen how our tried and tested technologies will help you to get perfect skin, but – just as with any good beauty salon – sophisticated technology is nothing without an experienced and knowledgeable beautician. That's why we created the Comper app that connects to your SkinEnergy device. The app determines what skin type you have and what kind of treatment will work best for you.  
Statistics show that, after 2 weeks of constant use, the skin elasticity and compactness of the skin increase noticeably.

Who's behind comper?
Comper is a female-run startup founded by Du Han, a serial entrepreneur, and Kickstarter creator. We're extremely passionate about thoughtful technologies that make our lives happier and healthier.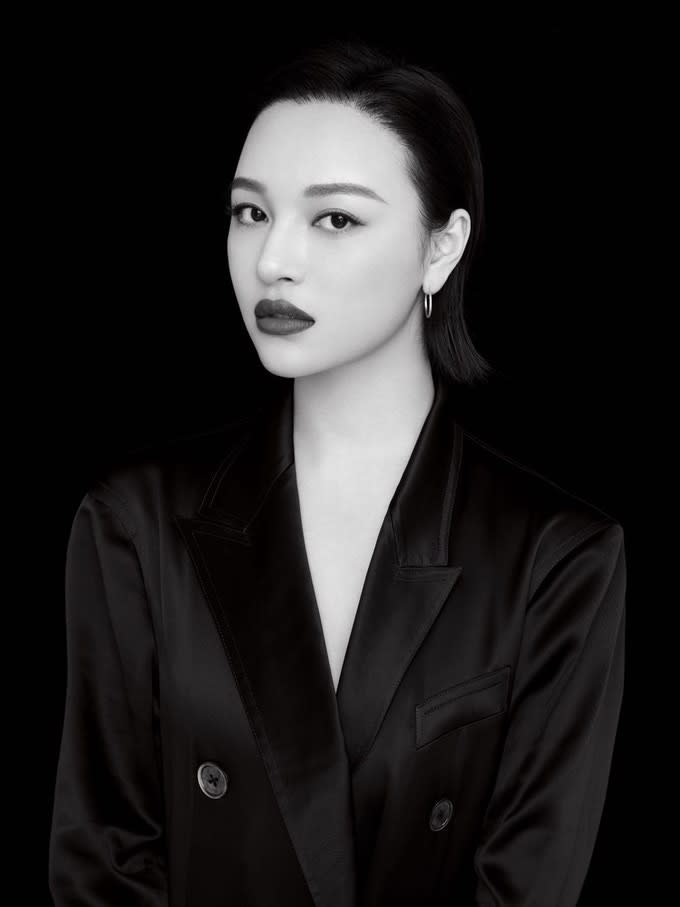 Founded in 2014, Comper Healthcare is a leading independent designer, manufacturer, and supplier of smart medical devices. Comper's smart products range from fertility trackers, body scales, and thermometers to facial rejuvenation devices. The thing that connects these high-quality products is not only how easy-to-use they are, but also their sleek design and smart functionalities.
When you can expect your reward
We've already started pre-production on Comper SkinEnergy and we've produced the first 20 samples. We're confident we can deliver your Comper SkinEnergy on time, and it should be shipped out before the end of August. Since we are all still grappling with the realities of COVID-19.

Competitors comparison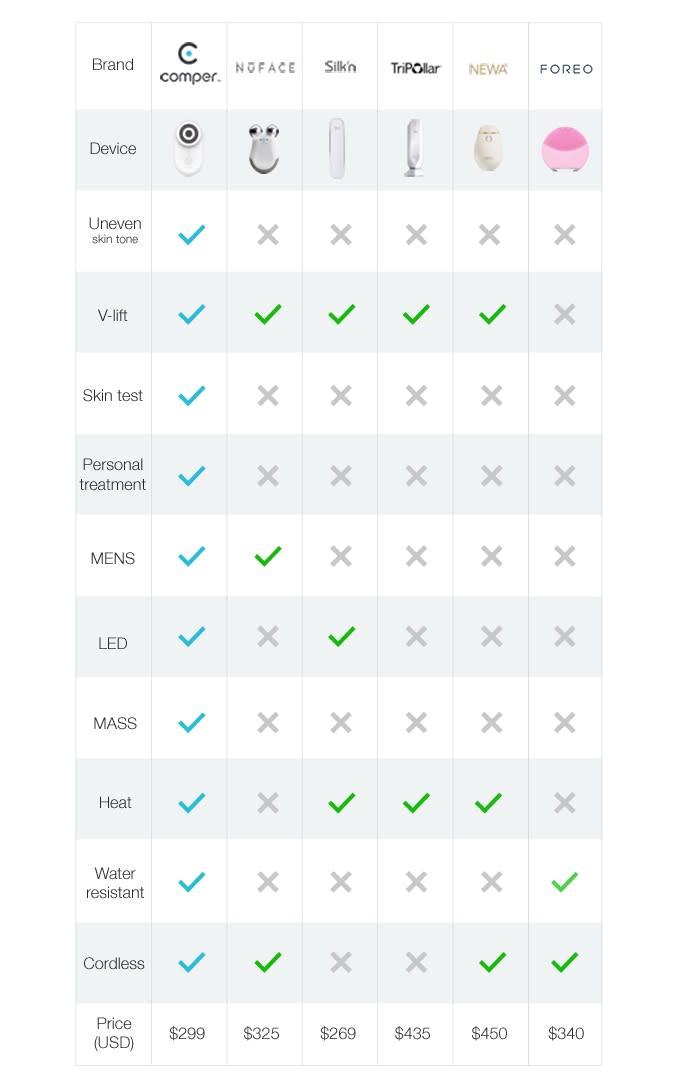 R&D journey
Here's a peek behind the curtain, showing our R&D process. We've iterated a lot, striking a balance between portability, powerful features, smart design and portability. Our previous product, Smarkin, is used and loved by many, but it's not cordless, which was the number 1 feature we hear from users they'd love to see. SkinEnergy is completely cordless, and it's also splash-resistant and built to last.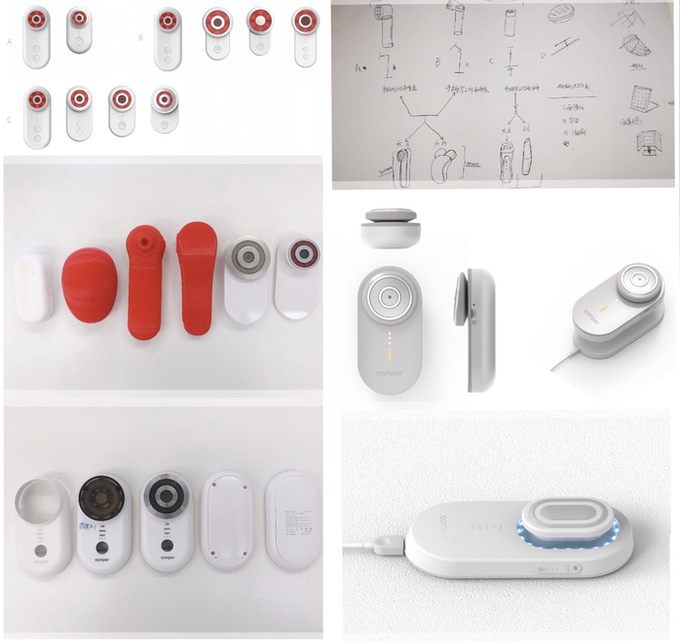 Our prototype in action
Kickstarter asks all creators to show the stage of their prototype in a short video, so here's ours! As you can see, all functionalities that we talk about are already working on a production sample. This means no surprises when we go into manufacturing.