Coral UV 2: All-Purpose UV Sanitizer | Dual Protection. Sanitize, Filtrate, and Smart-Dry All-in-One. No Water, No Chemicals, No Mess.


Offices, restaurants, grocery stores and gyms, have one thing in common: germs. They travel from one thing to another in a heart beat, just by opening doors, hanging onto the bus railing, working out at the gym, paying for coffee, and inevitably touching your belongings in between trips. Life gets busy and keeping your things clean 24/7 can be a pain.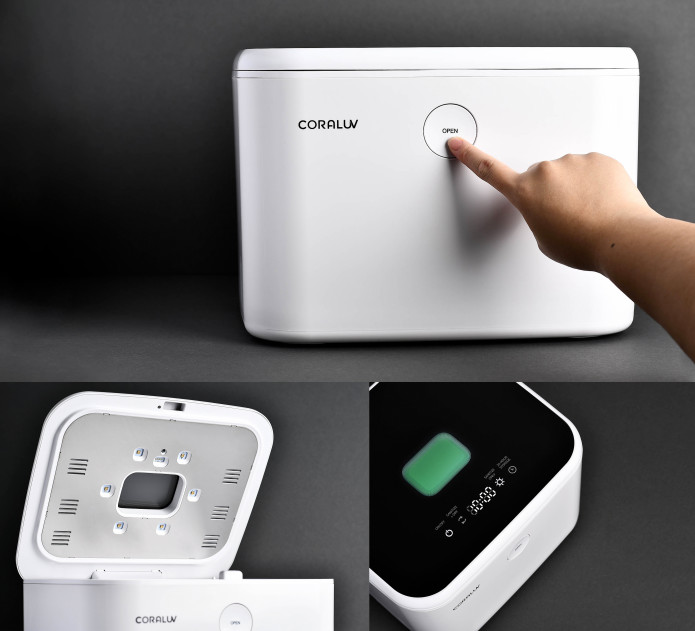 We are thrilled to introduce you to the: Coral UV 2, the world's first UV multitask device that sanitizes, filtrates, and smart-dries, all-in-one. In the last two years, we have listened to our backers and customers of generation one and from there we have been making improvements day by day.
Coral UV 2 is now reborn with an eco-friendly UV-C LED technology that brings a more powerful, smarter, and safer sanitation on your everyday items in your living and working spaces.

Most sanitizers on the market just sanitize, but Coral UV 2 does more than that. In order to eliminate the harmful contaminants completely, it is reinforced to provide dual layers of protection for you and your family.

With science backed UV-C LED technology, Coral UV 2 kills up to 99.9% of harmful germs in just 10 minutes! We use 12mw LED lights which are SIX times more powerful than other LED sanitizers on the market.

Coral UV 2 captures 99% of airborne contaminants such as dirt, dust and vapor, ensuring that only clean air enters the sanitizer. Competitor UV sanitizers lack an optimal filtration system, exposing your belongings to harmful air pollutants and allergens.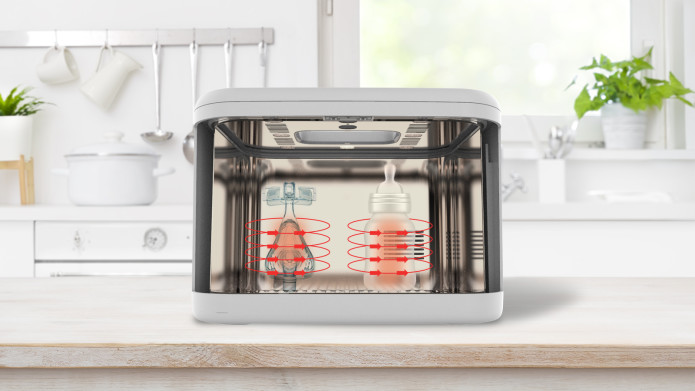 Moisture is the perfect breeding ground for bacteria. Coral UV 2 features a function that dries washable items such as: baby bottles, CPAP masks, and toys. Our dryer ensures a safe temperature that reaches up to 140F/60C—dries perfectly without damaging your belongings.
 This feature operates separately from the 'Sanitize Only' function. You can sanitize only or sanitize and dry together.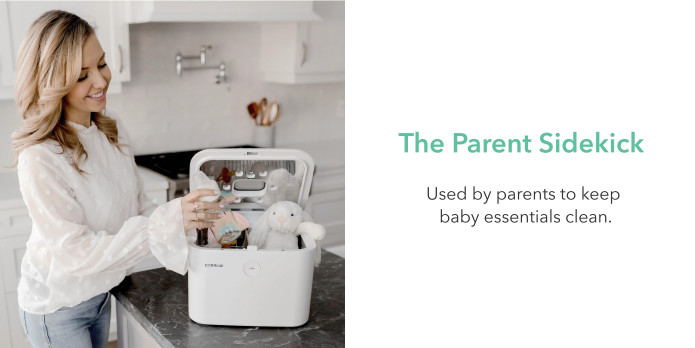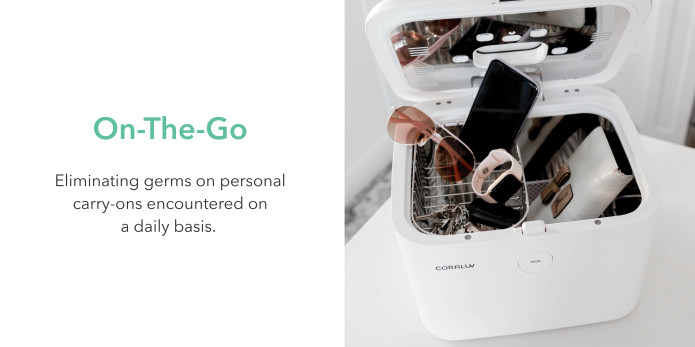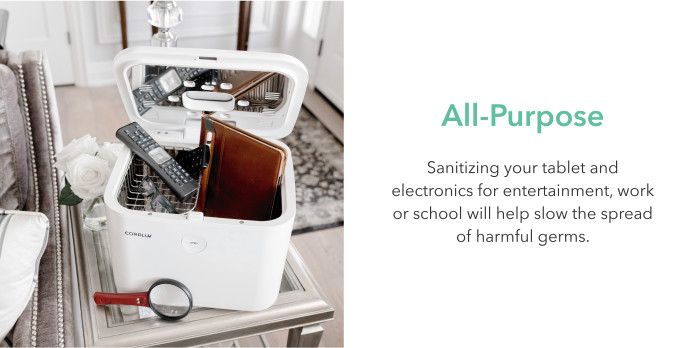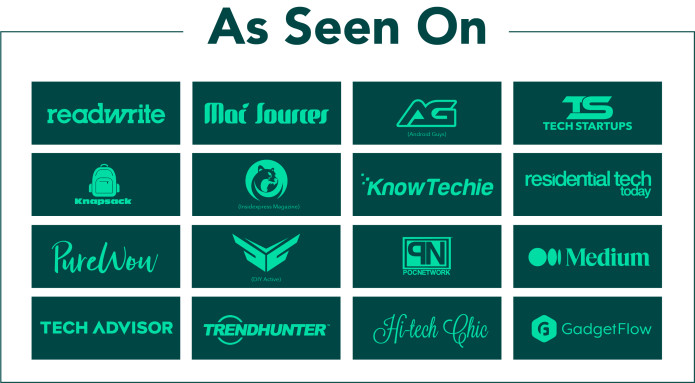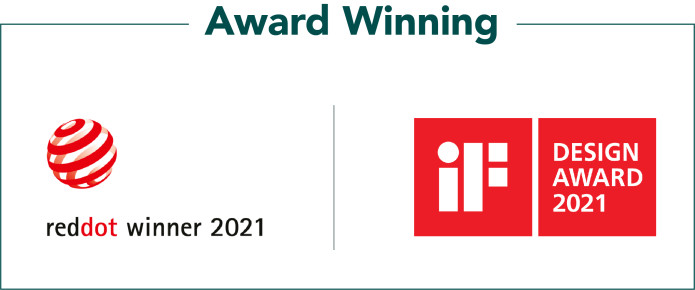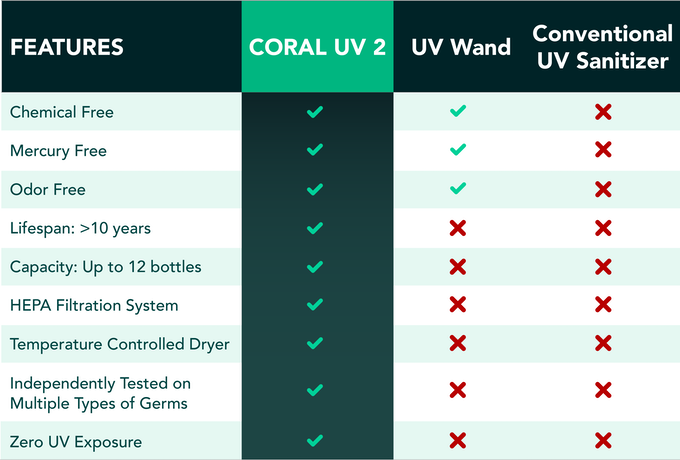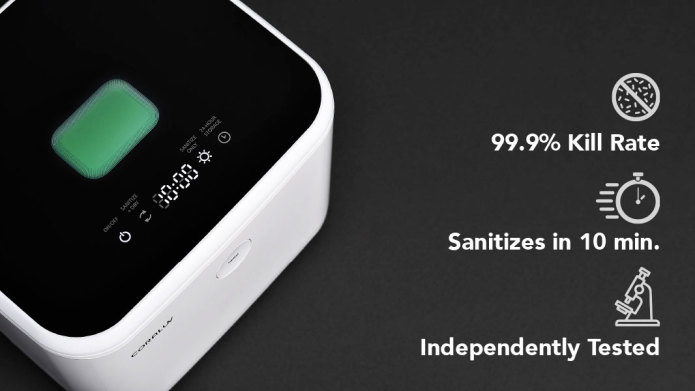 While most competitors test only 1 kind of bacteria, Coral UV 2 has been independently tested against multiple kinds of germs and proven by third party lab tests. Our 268 nm UV-C LED is also ozone free, safe and durable to operate at home or workspace. CLICK HERE to find our lab reports.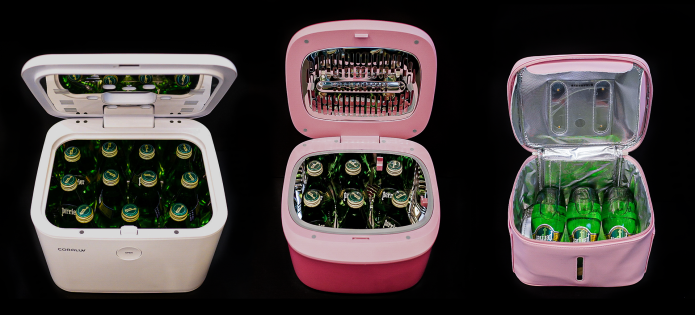 Tired of not being able to clean all of your daily essentials in one cycle?  Coral UV 2's increased interior chamber will save you time, energy and the work of running multiple cycles! For a size reference, it now fits up to 11 Perrier water bottles (330ml/11oz) or 12 Dr Brown's bottles (8oz).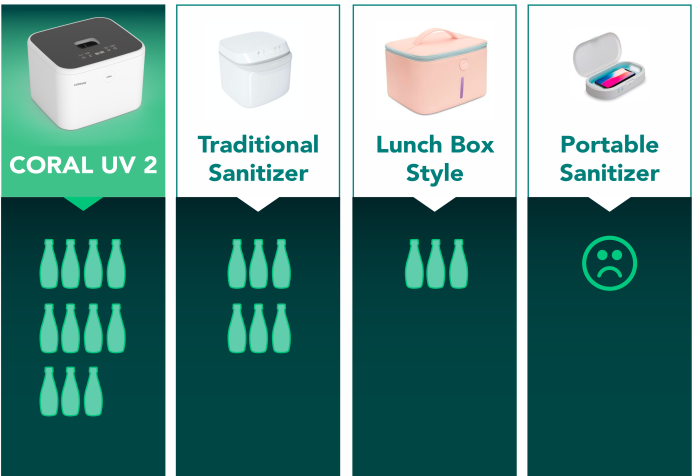 Coral UV 2 fits all purposes. It can be used to sanitize your daily carry-ons such as wallet, keys, phone, mask, and this list goes on. It can also sanitize and dry washable items at the same time, such as baby bottles, shakers, cosmetic tools, utensils and more.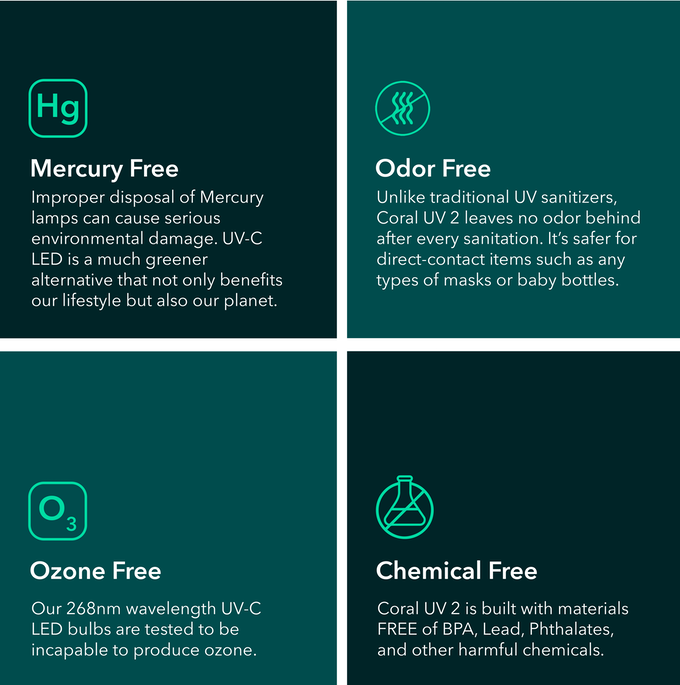 Coral UV 2 uses high performance UV-C LEDs that can run over 30,000 cycles. This is equivalent over 16 years of usage(1).  We have added moisture and surge protection to the LED bulbs along with an automatic cooling feature to ensure optimal and consistent performance throughout their life.
You will never need to replace the LED bulbs. In any case where the bulbs do not operate, your kickstarter order comes with a lifetime product warranty and we will replace the product for FREE. Filter replacement is also free and covered for life!(2)
(1) Assuming five 10-minute cycle are used per day.
(2) Shipping cost may apply.Full terms can be found on Q&A.

Coral UV 2 comes with an operation window and a cycle indicator. The cycle indicator light lets you know when the device is in operation. While the window shines green, UV lights are on. When the window shines orange, it indicates the dryer is on.
A lot of people ask us: How do I know when it's working? We have programmed the indicators to tell you when something is wrong. If you do not see any indicator lights through the window during a sanitizing or drying cycle, it means either the lights are out or the dryer has malfunctioned. If that's the case, reach out to us and we will send you a new one!
Mechanical safety switch automatically turns off the lights when the lid is open. Coral UV 2 mechanical switch does not wear out compared to the standard magnetic switches. Therefore, the safety mechanism will not deteriorate over time.
Child-proof filter locks prevents the little ones from accidentally opening the filter. To remove the filter, simply twist the arrow to the unlocked position with a coin or a flat object. To secure the filter, twist the arrow to point towards the locked position. And that's it!

"The advantage of the LEDs are they are very reliable and last very very long time, where you don't have to worry about them burning out, whereas typical UV bulbs sometimes do burn out and have to be changed "
– Dr Arthur Bradley, NASA Engineer
"I am sterilizing (tools) in between each client…It makes me feel much more confident and comfortable servicing my clients, and I know that my clients feel much safer"
-Jarrod J Salon
"With the new features that have been presented with the new Coral UV 2, I think it is going to be great and I think it's something a lot of people are going to like."
-Ericka, Mother and Journalist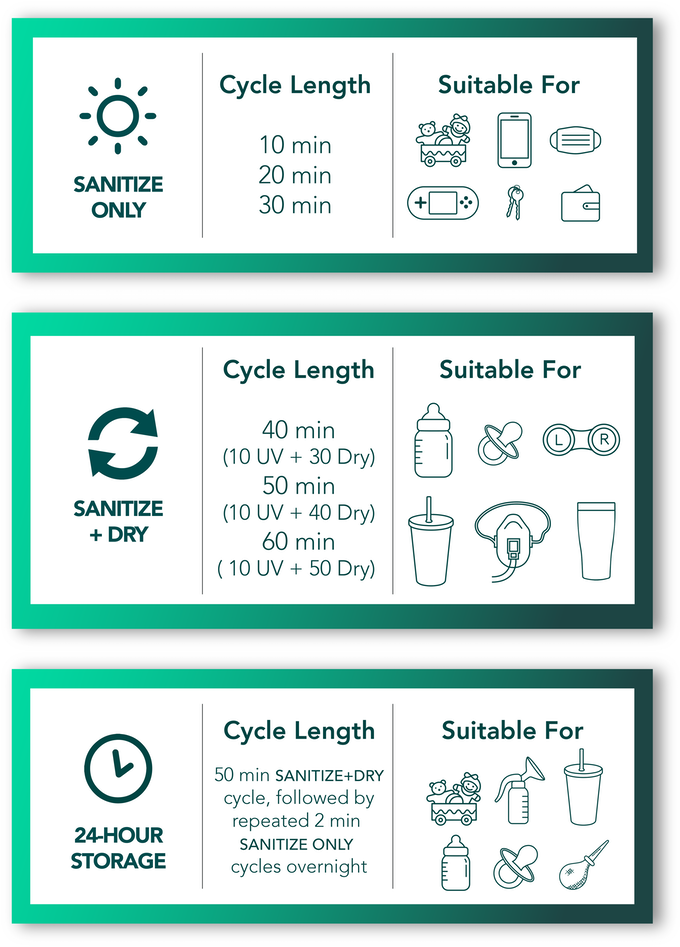 Step 1 : Push to open.
 Step 2: Load the items and close the lid.
 Step 3: Press the 'ON/OFF' button and choose your desired cycle. THAT'S IT!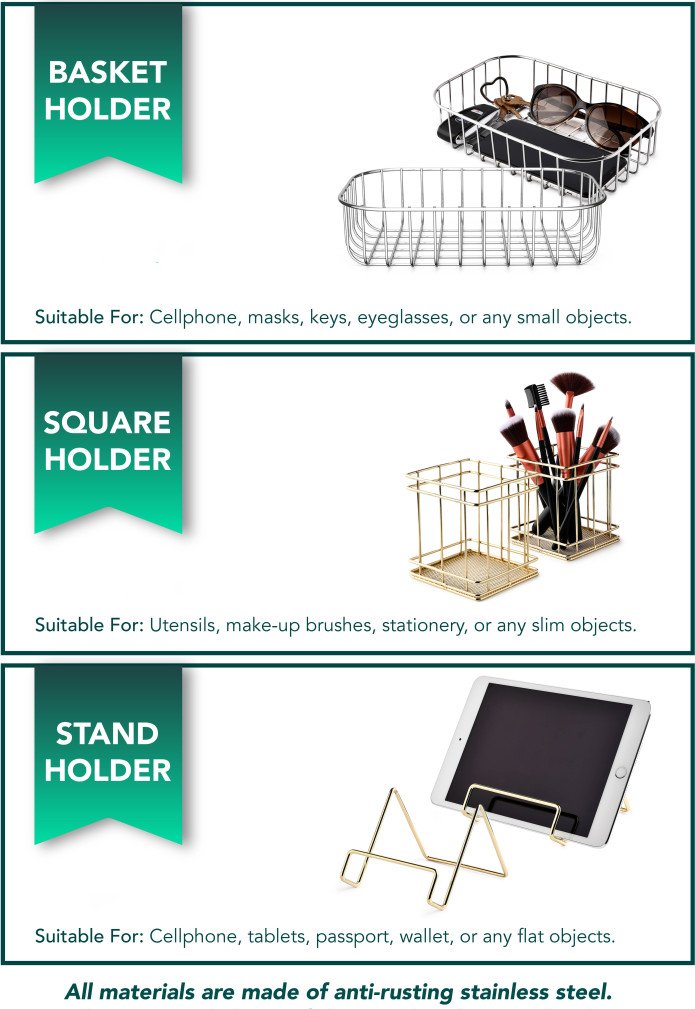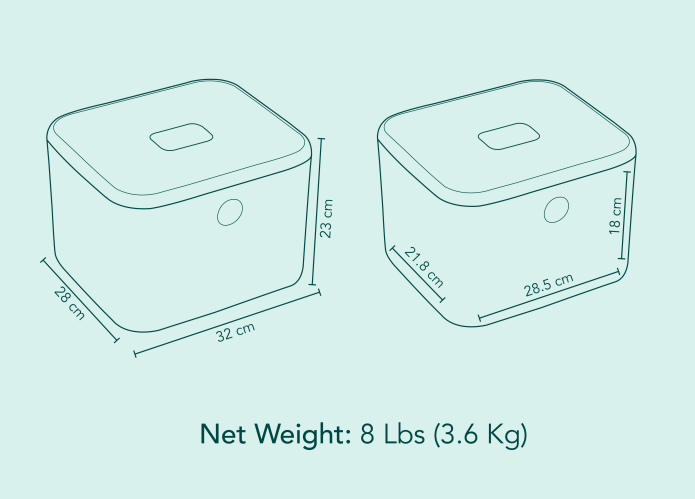 We love to create products that helps make your living and work-space safe, clean and neat.  Our team started in Toronto, Canada; now we are based in both Toronto and Houston, Texas.
We came up with our first-generation UV sanitizer in 2018. Ever since we launched, we have never stopped improving. We take pride in listening to any feedback from our customers because without you, we wouldn't be here today with our second generation model.  An improved manufacturing quality is our second focus. The Coral UV 2 is now being produced at one of the largest factory for consumer electronics in China, who also manufactures for multinational brands such as Costco, Samsung, and Philips to name a few. We source our machine parts from Mainland China, Taiwan, Japan and Korea.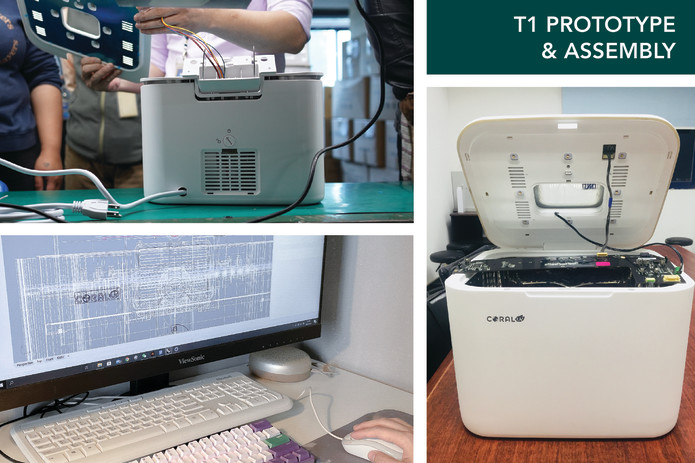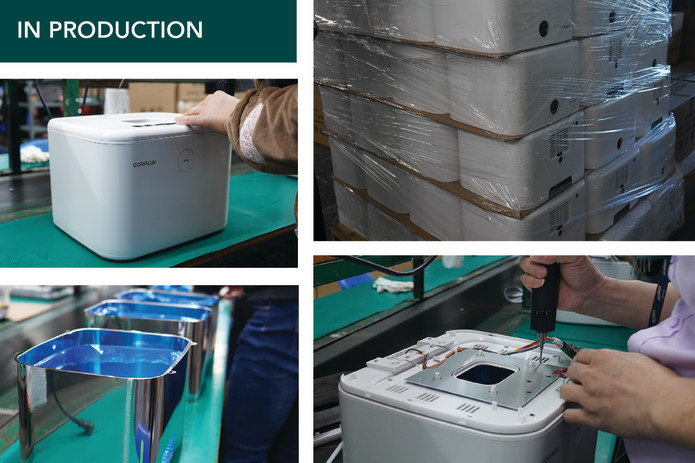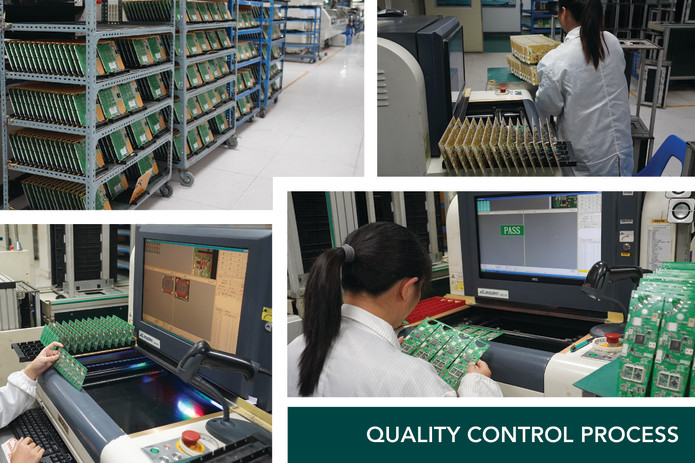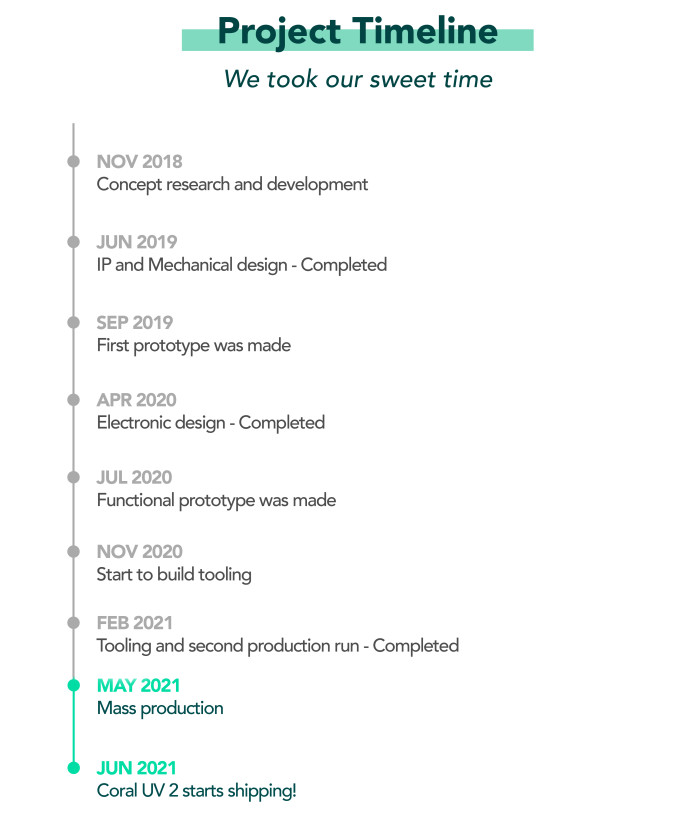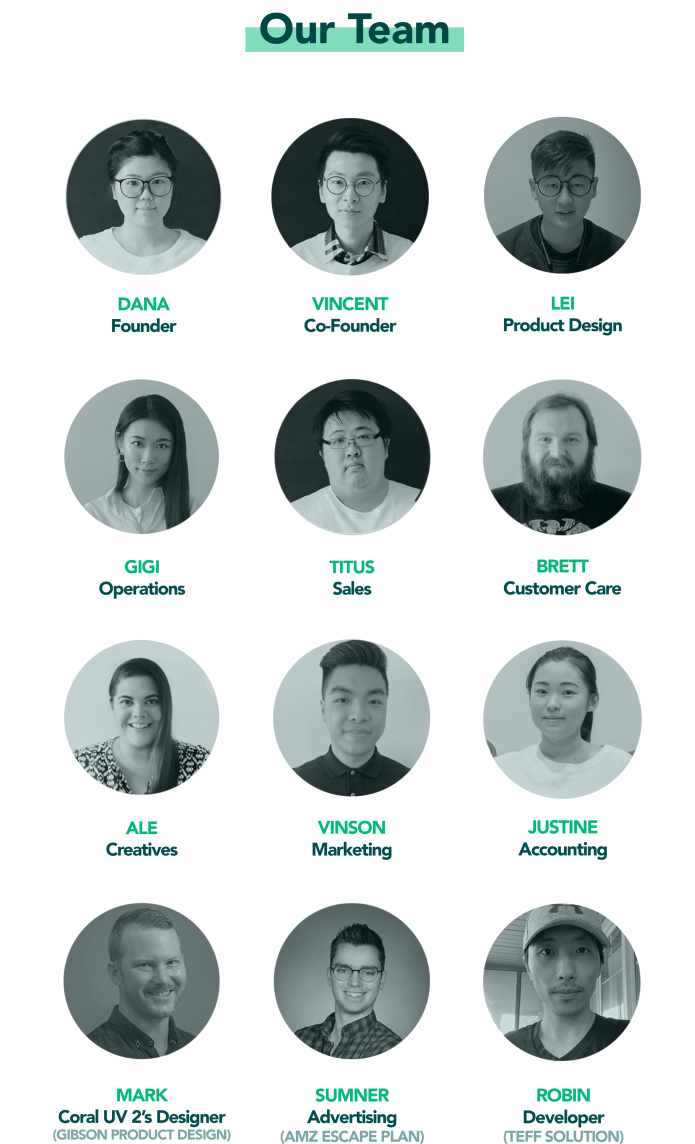 Shipping and Tax
USA, Canada, UK, EU Zone : the shipping cost we charge is actually the sales tax/GST/VAT in your shipping destination.  For USA, We charge based on the lowest %  state sales tax at 5% (except states with zero sales tax). When we fulfill your orders, if you shipping destination is one of the zero sales tax states, we will be refunding the shipping cost to you when your address is finalized and your order is being shipped(except Hawaii and Alaska). For Canada, we only charge 5% GST.  For UK, we charge 20% VAT.  For Euro zone, we charge based on the lowest % of VAT at 19%.
Outside of the sales tax/GST/VAT , we actually do not charge any cost in shipping your order, and there will be no additional fees or duties to receive your package.
Shipping carriers we will use are:
USA: UPS or USPS depending on your address. 
Canada: Canada post.
UK & EU: Royal Mail, DPD, La Poste, UPS, DHL depending on your address.
Rest of World: Since we do not set up fulfillment center outside of US, Canada, UK and EU zone, the shipping cost we charge is DHL or Fedex Air shipping directly from our manufacturing plant.  Please note, you may be charged duties by your local custom prior to receiving your package. Duties are not included in the shipping cost.