COVID-19 Detection Dogs | We are training dogs to detect people with COVID-19 to help us get back to normality quicker

Dogs are one of the world's greatest biosensors, capable of detecting odours associated with drugs, explosives and food and are now being used in practice for public health.
We believe we could use dogs as a diagnostic tool to screen high numbers of people to detect people who are infected with COVID-19. If we can do this, it could help us to get back to normal life, quicker.  The project has begun but to complete it, we need your help!
This work could be profoundly impactful in the fight against COVID-19.
Who are we?
The study is led by Professor James Logan who is the Head of the Department of Disease Control at the London School of Hygiene and Tropical Medicine, along side Dr Claire Guest, CEO of Medical Detection Dogs and Professor Steve Lindsay, from Durham University, and their respective, highly experience teams. We are also working with local NHS hospitals in London.
We have already trained dogs successfully to detect the presence of malaria in human odour with a high degree of accuracy (see the TEDx talk video below!). Importantly, the dogs can detect odours from infected people who have no symptoms.  As well as malaria, we have trained dogs to diagnose cancer and Parkinson's disease and many other medical conditions that change human body odour. If COVID-19 has a smell – we are confident the dogs will detect it.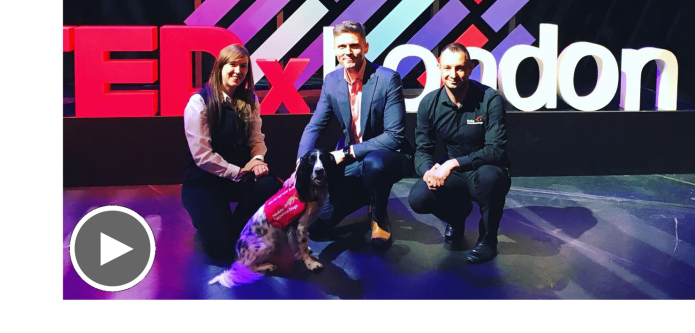 Does COVID-19 Smell?
Many diseases change our body odour. This has been shown many times in scientifically robust experiments. Recent research on flu viruses, and other respiratory diseases, has shown that these diseases also interact with the human immune system and change human body odour. There is a very good chance that COVID-19 has a distinctive body odour. 
Based on our previous work, we believe that dogs will be able to detect it with great accuracy.
How Will We Do It?
Proof-of-principle: First we need to collect odour samples from people who are infected with COVID-19, and people who are uninfected. Then, we will use those odour samples with 6 dogs that are already pre-trained and awaiting training with the COVID-19 samples. Through an intensive training programme, we will test the method rigorously and, if successful, we could deploy dogs within as little as 8-10 weeks after training.
Scale-up: If successful we will scale-up our operations rapidly to deploy the trained dogs during the ongoing COVID-19 epidemic. Once trained, our medical detection dogs could be deployed in airports or other venues to screen large numbers of people, providing a rapid non-invasive screening for COVID-19. One single dog can screen up to 250 people per hour!
Once we have shown this works, we will scale up operations on a global scale, by working with dog training agencies, the military and police forces, to deploy dogs in as many countries as possible. We are already in discussion with local governments and border agencies in several countries.
Are there any risks associated with this study?
Any scientific study carries an element of risk, but from our own research, and work in other laboratories, we know that most diseases have a distinctive odour, and we think COVID-19 does too. If it does, we are confident the dogs will be able to detect it.